Lancashire v Warwickshire Friends Provident Trophy April 29th 2007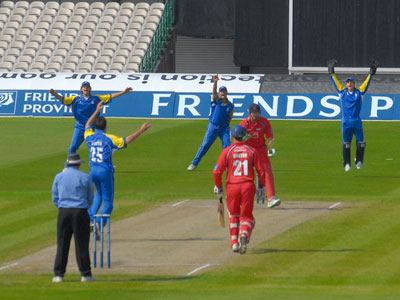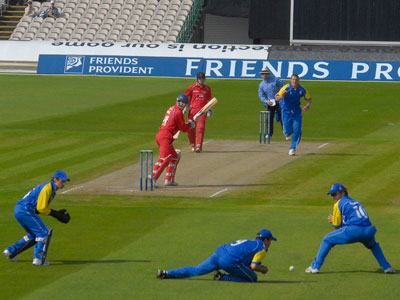 Having won the toss and deciding to bat Lancashire lost an early wicket with the departure of Mal Loye leg before to Steyn for 7. Lancs 1 for 7
Chilton edges through the slips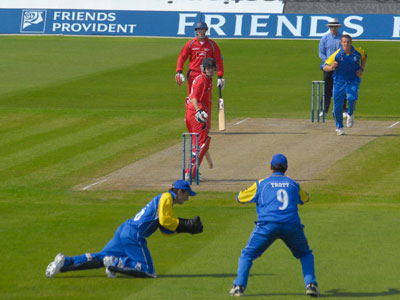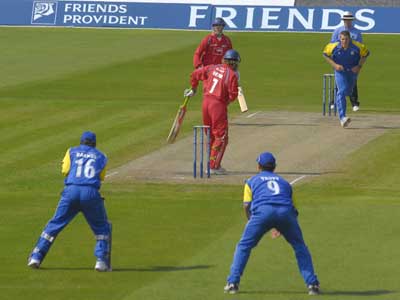 Horton was next to go, caught behind by Barnes off Anyon for 3. Lancs 2 for 18 and in trouble.
Five runs later and Croft is hit on the pad and up goes the dreaded finger. Croft out for a duck lbw Steyn. Lancs three down for 23.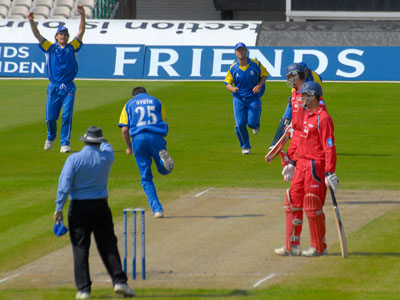 Could it get any worse- oh yes it could !
Three minutes later Sutton is caught behind by Barnes off Anyon for a duck. Lancs 4 for 24 and all is not well.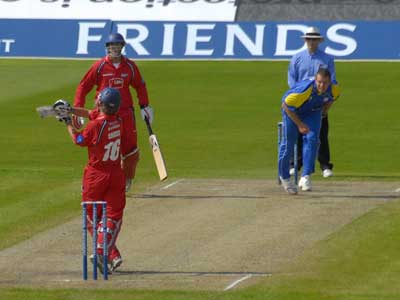 Cross and Chilton gradually added some runs - Here Gareth Cross sweeps for 4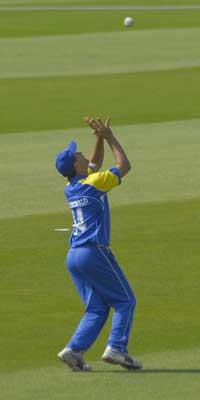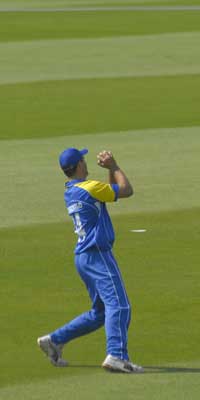 At 62 Cross mistimed a pull off Anyon and was caught in the deep by Groenewald for 36. Lancs 5 for 62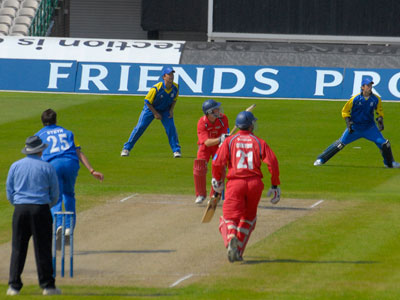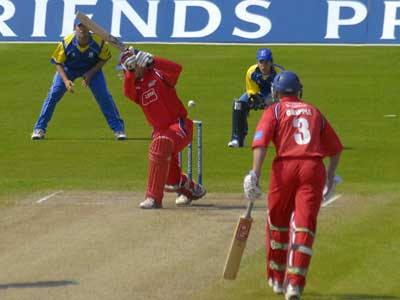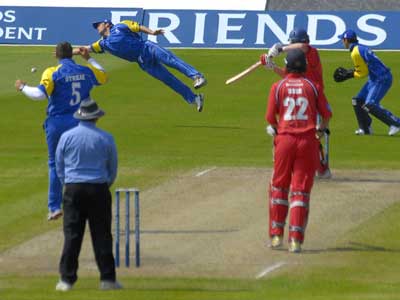 A few minutes later Chilton flashed at Streak and he was caught behind for 16. Lancs 6 for 63
Glen Chapple edges Streak just wide of slip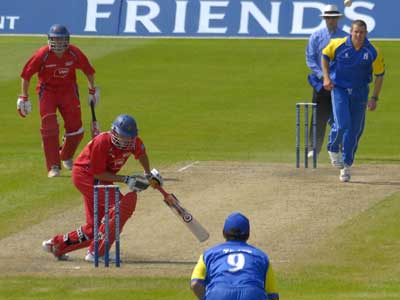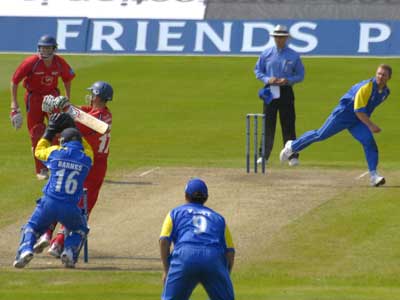 Marshall is hit by a ball from Anyon
Marshall hits out to bring up the 150 for Lancashire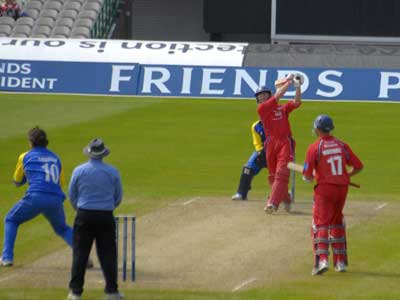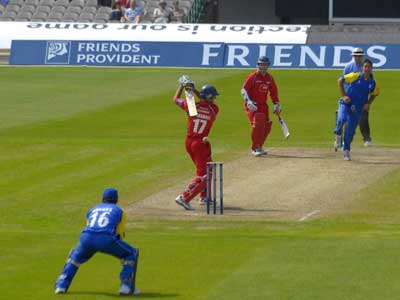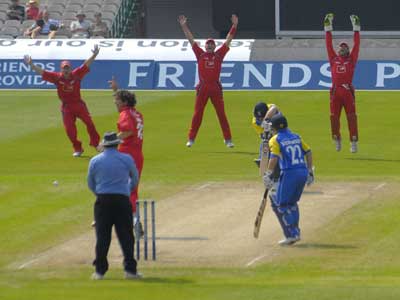 Chapple hits Loudon for 6
Marshall is caught behind for 22 and Lancashire are all out for 183 in 42.2 overs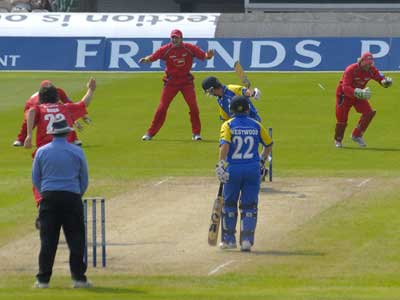 Lancashire soon struck an early blow when Warwickshire batted. Maddy was first to go legbefore to Hogg for 2
Soon after Hogg struck again bowling Trott for 5. Warwickshire 2 for 10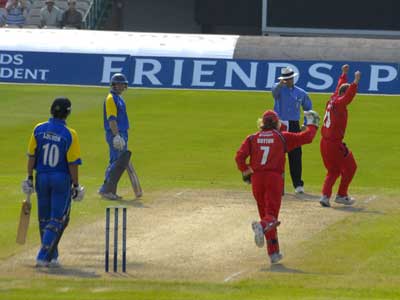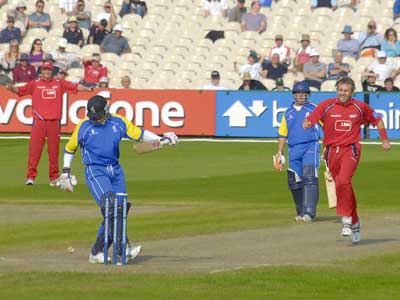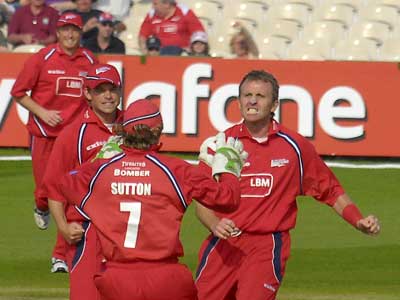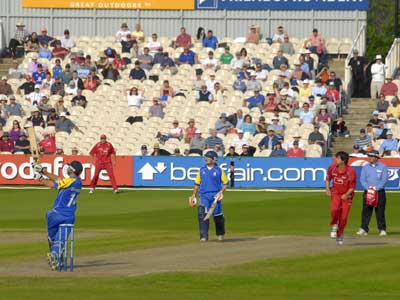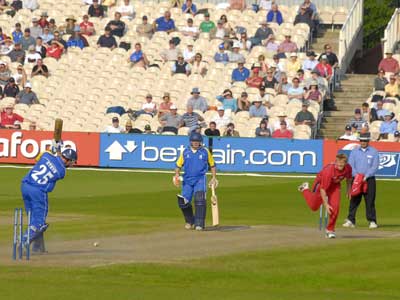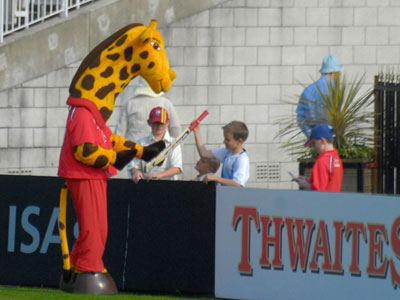 Lancashire claimed a fifth wicket when Louden was legbefore to Keedy for 22. Warwick 5 for 70
Lancy was also doing his bit for the County signing the odd bat for the youngsters
Dominic Cork was particularly enthusiastic when he had Streak out for 28 when the batsman stepped onto his own wicket. Warwickshire 6 for 128
Groenewald wallops one of his 5 sixes to put Warwickshire in the driving seat as they moved towards victory
Chapple bowls Steyn for a duck to put Warwickshire 8 for 179 but they go on to win by two wickets with two overs to spare.