Lancashire v Notts C & G Trophy
May 29th 2006
This image above sums up this frustrating day at Old Trafford. It was cold -dropping to well below 50 deg (old money) at times - very wet - and at times - sunny - but rarely!
You can click on many images for more details and a larger picture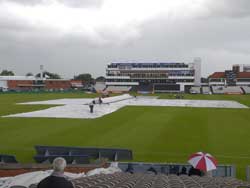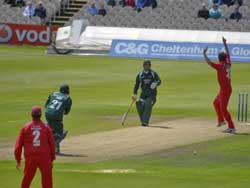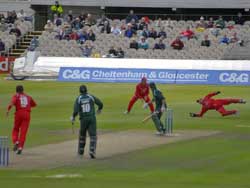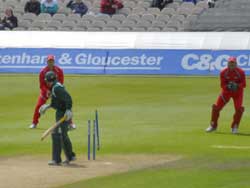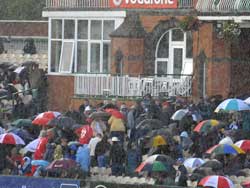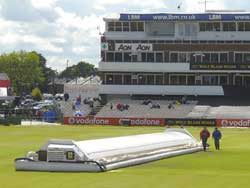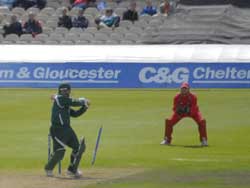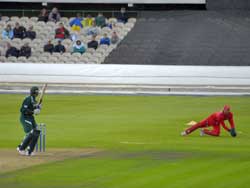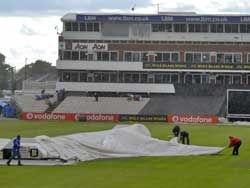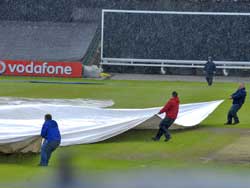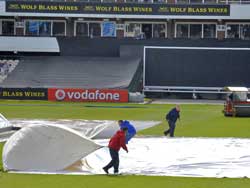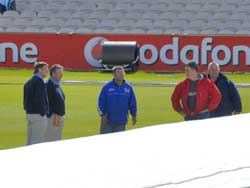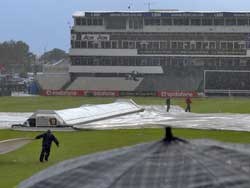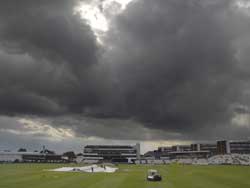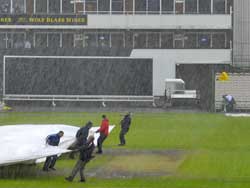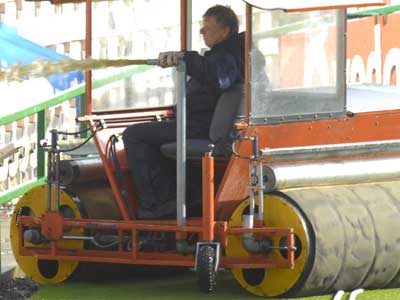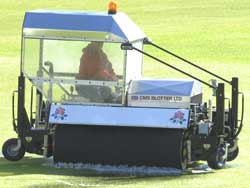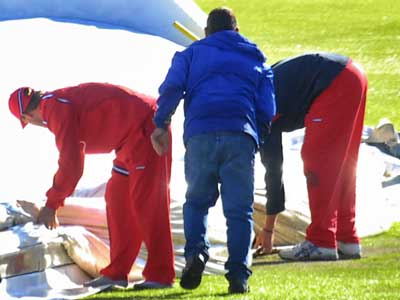 A heavy shower 30 minutes before play was due to start delayed proceedings until 2-0 pm. Lancashire had put Notts in having won the toss in a 30 over per side game. Hogg had Patel lbw for 7 at 15 and then after Cork had taken a sharp catch to dismiss Smith, Sutton pulled off a good one handed catch to dismiss Hussey for duck. Notts were then 23 for 3.
Read was bowled by Smith for 0 and then a shower arrived and after the players played in the rain for a short spell they all retired to the pavilion and some shelter.
After only a short break the players are out again and Ealham was the next to go bowled by Smith - Notts 46 for 5. Fleming had a lucky escape, dropped by Sutton before rain came again.
The groundstaff had their work cut out with the stop start situation. Just when they got the covers off along came the next black cloud and down came the rain. The umpires came and went and one wondered why there were so few groundstaff available when the result of the game was so important to keep Lancashire hopes of the Lords final alive .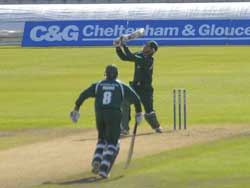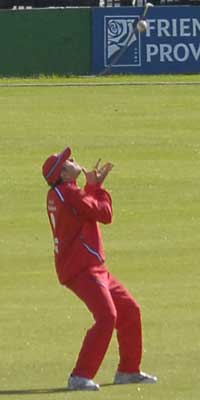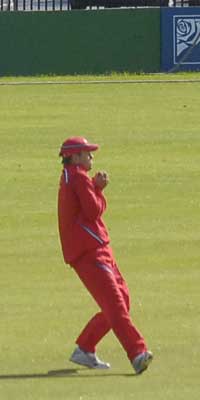 It was nearly 5-0 pm when play was resumed
and Notts lost another wicket -Fleming -caught by Law - before their greatly reduced innings of 19 overs was completed
Lancashire were only able to bat for 2 and a half overs for 15 runs before another shower arrived and when blue skies finally came overhead there was no time to get the ground fit before the cutoff time of 6-0pm. The arrival of some of the Lancashire players to help the groundstaff was I felt, a move to appease the waiting spectators. If more effort had been forthcoming earlier in the day the game might well have had a positive result. Should Lancashire not win the North Conference group and reach the Lords final there may well be questions to be asked as a win in this game would have made their path to the final easier.