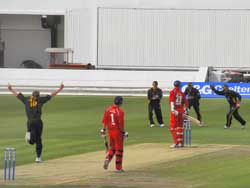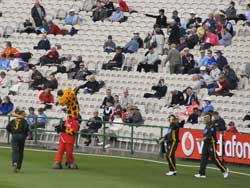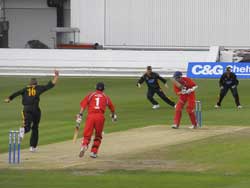 Lancashire v Leicestershire at Old Trafford April 23rd 2006 C&G Trophy
Leicestershire won the toss on a warm bright day and put the home side into bat. Early runs were difficult to get on a wicket giving assistance to the bowlers and Lancashire soon lost the wicket of Chilton caught behind by Nixon off Stuart Broad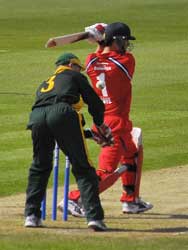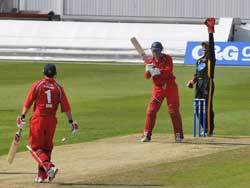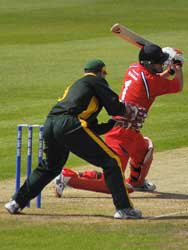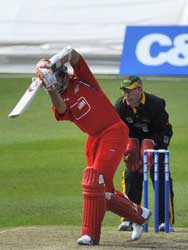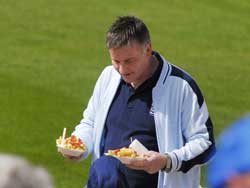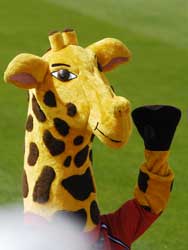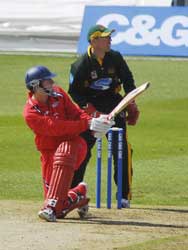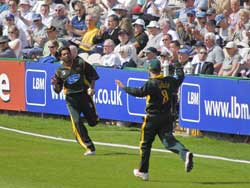 Lancashire's Loye and Crook found batting difficult against the bowling of Asif and Broad but when they were rested the Lancashire batsmen slowly built up the score helped by the support of Lancy the mascot
Click on image for larger version and technical details
Lancashire lost their 2nd wicket at 68 when Loye drove and missed a ball from Henderson and was stumped for 32. Stuart Law came in and was soon among the runs.
While some supporters had an early lunch Lancashire lost their third wicket when Andrew Crook's stubborn innings came to an end when he smacked Mongia to leg only to find Mohammad Asif on the pavilion boundary ready to catch him. Lancs 3 for 108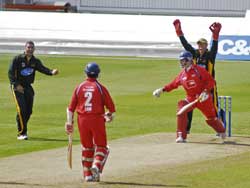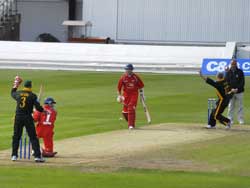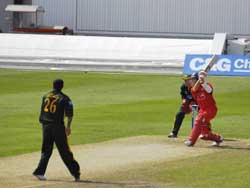 Lancashire continued to make slow progress despite appeals by the visiting side but as the 150 mark approached Law hit Mongia straight to Maddy and he was out caught for 42. Lancs 4 for 141.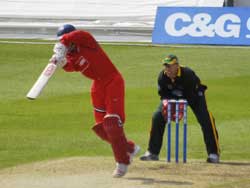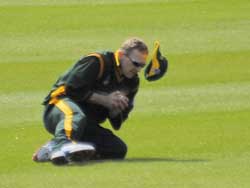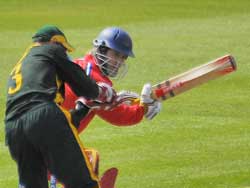 Glen Chapple was soon out caught by Maddy for 2 off Mongia and Lancashire had lost 5 for 148. Sutton was joined by Cork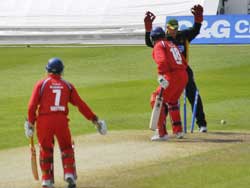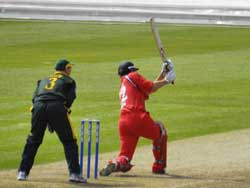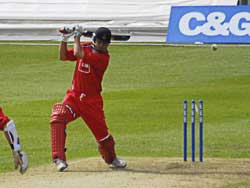 Cork was soon bowled by Mongia for 2 (Lancs 153 for 6) and shortly after Hogg hit a six he was bowled by Asif for 14. He was the last wicket to fall and Lancashire finished on 194 for 8 after 50 overs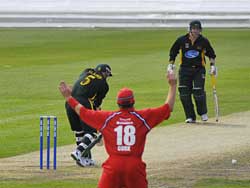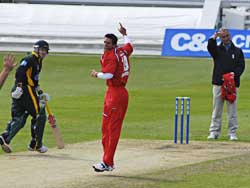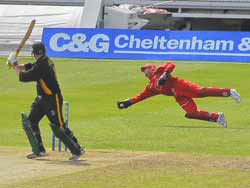 Lancashire got off to a good start with Mahmood getting Maddy out lbw in the first over. The home side struck again when Sutton dived to take a great catch to dismiss Sadler for 6. Leicestershire were rocking at 15 for 2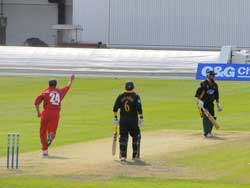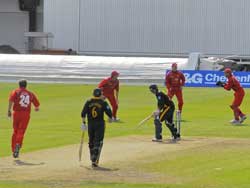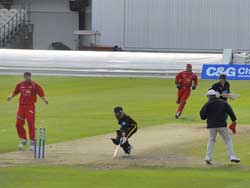 After Maunders had attacked the bowling of Mahmood hitting several 4's Smith captured the wicket of Mongia and followed this up with the wicket of Ackerman. The visitors were 4 for 64 and with Chapple and Smith putting a stop to the scoring things looked bright for the home side.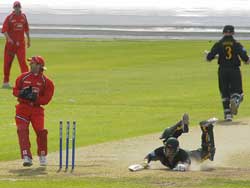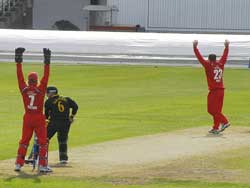 Snape didn't last long becoming Smith's third victim for 2. After a near run out episode Maunders finally got out for a stubborn 38 and Leicestershire were 6 for 83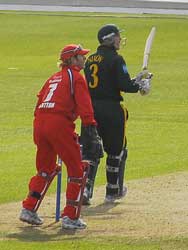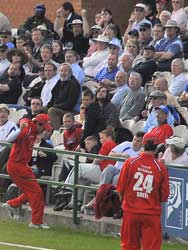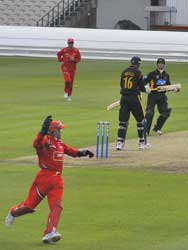 Nixon pulled the only six of the visitors innings, the ball being caught ... just over the boundary and at 111 Leicestershire lost their 7th wicket when Broad was caught behind by Sutton off Mahmood.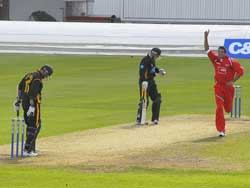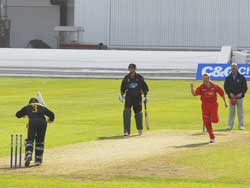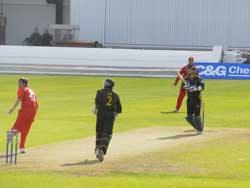 Lancashire quickly wrapped the game up with Mahmood having Henderson caught behind. Then Chapple bowled Nixon and finally Hogg had Masters caught off a skier to end the match with Lancashire winning by 69 runs.