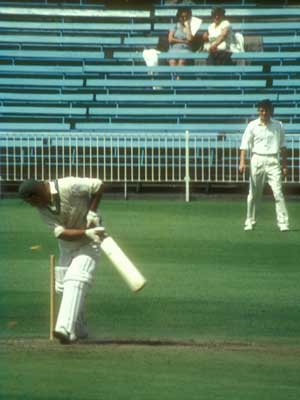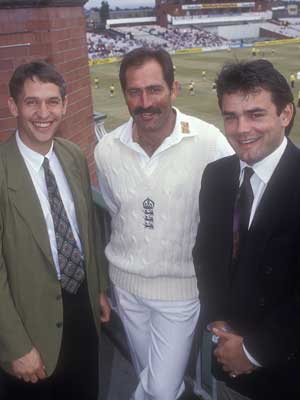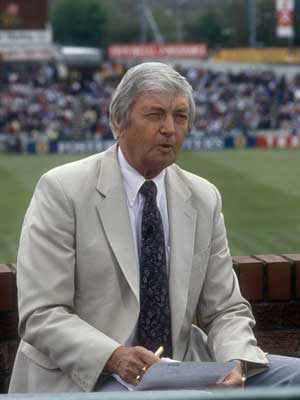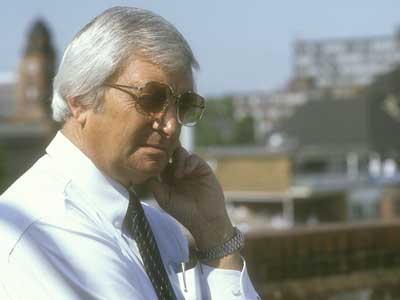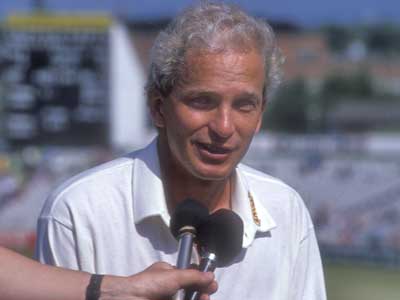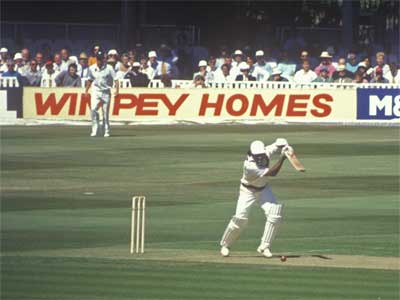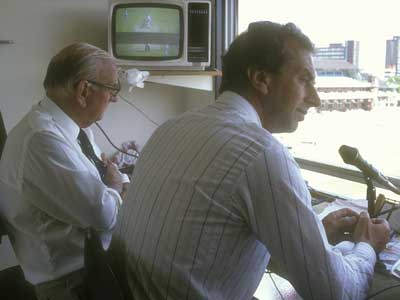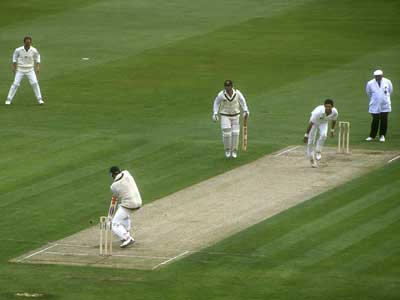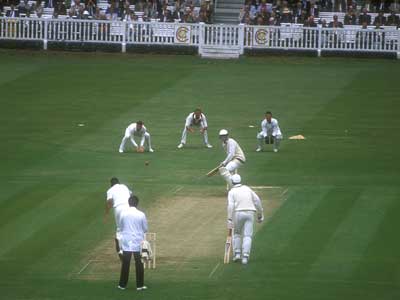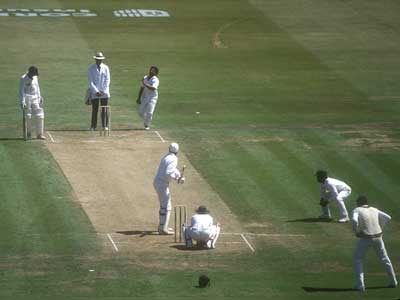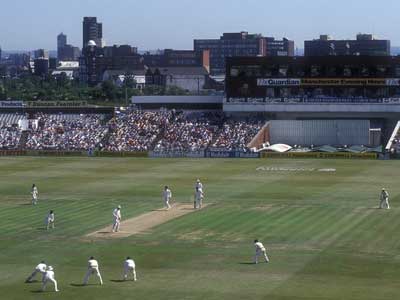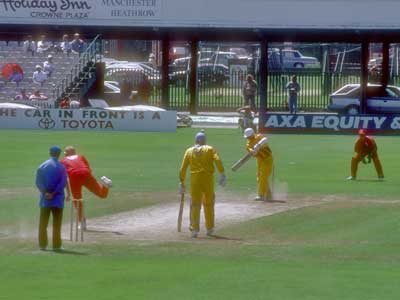 I have managed to find among my vast collection of old trannies some cricket pictures linked to Lancashire cricket or Old Trafford. You will find a selection below . They will be added to as 'sorting' continues. Click on most images for a larger version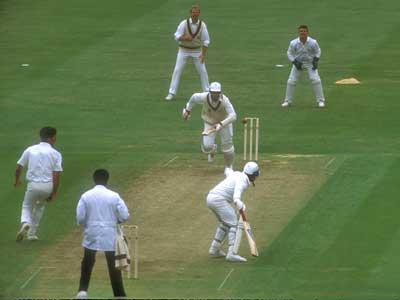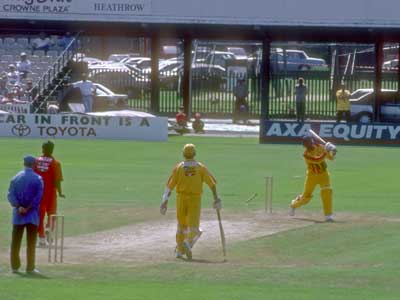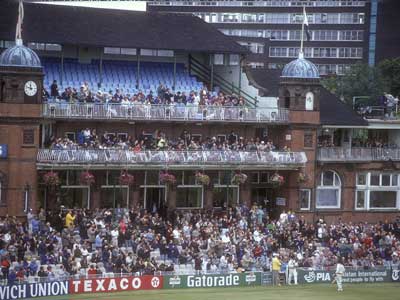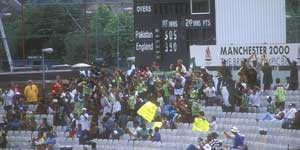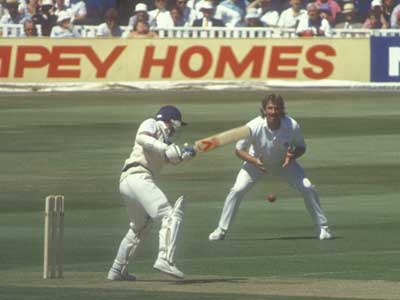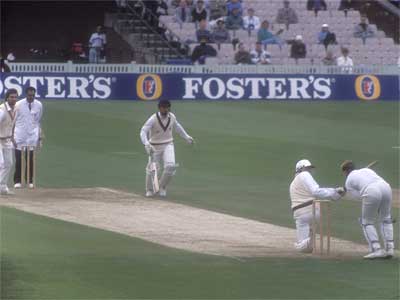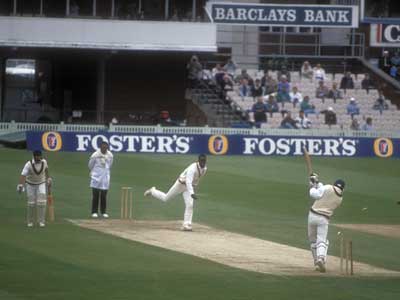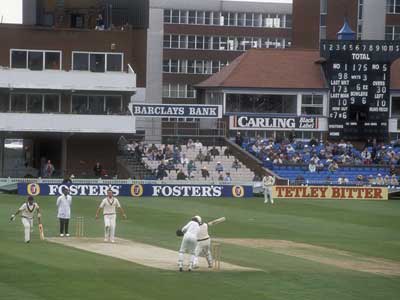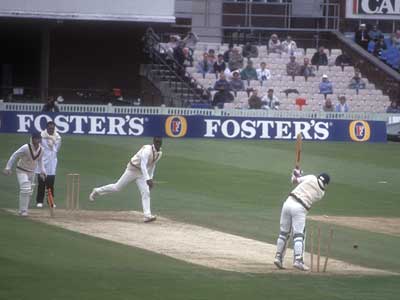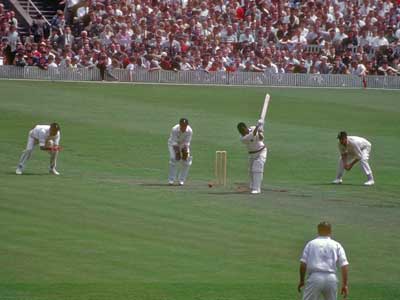 Above is Conrad Hunte of the West Indies driving (probably Fred Titmus). In the slips is Colin Cowdry, The keeper is Keith Andrews, At short leg is Fred Trueman and at mid off is Brian Close. Hunte scored 182 out of 501 for 6 declared and in the West Indies team were such players as Worrall, Sobers, Kanai, Hall and Griffiths. England lost by 10 wickets in this first test played at Old Trafford in June of 1963. Note the spectators sitting on the grass right upto the boundary and no helmets to face Hall and Griffiths!
Above is a shot of Don Kenyon of Worcestershire being bowled. Don't have date for this game but suspect it's in the early 1960's.
Clive Lloyd driving - a familiar sight-in a county game for Lancashire in the 70's.
England v Pakistan 3rd Test July 1992
Three England captains - Gary Linacre (soccer), Graham Gooch (cricket)and Will Carling (Rugby Union) taken on the England dressing room balcony
Richie Benaud delivering his piece to TV
David Gower being interviewed after passing Boycott's total of test runs.
Richie Benaud in pensive mood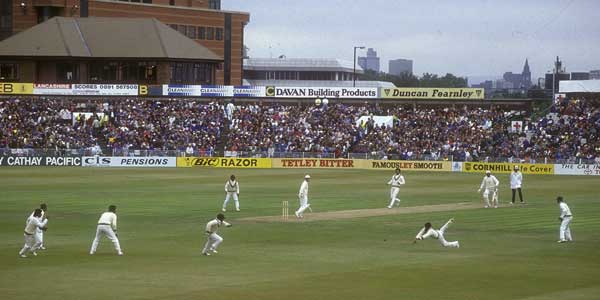 Brian Johnstone and David Lloyd in action in the Test Match Special box
Boycott and Gower being interviewed by Tony Lewis
England openers Gooch and Stewart keep the slips busy
Mushtaq Ahmed bowling to Graham Gooch
Wasim Akram bowling to Gooch
The pavilion rise to Sohail after he scored 205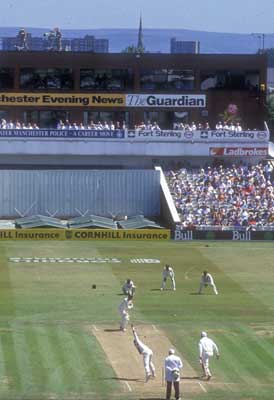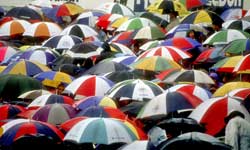 Pakistan supporters celebrate
Nat West Trophy Final at Lords 1990- Lancs v Northants.
Lancs won by 7 wickets
De Freitus bowling- Atherton and Allot in the slips.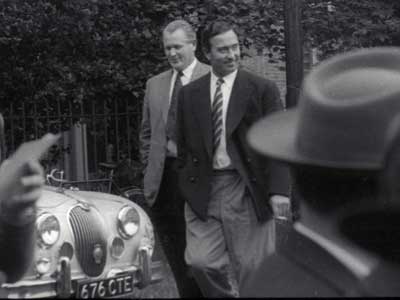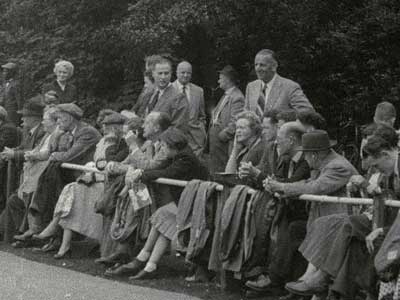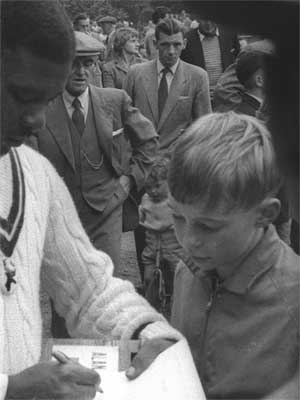 Lancs v Leicestershire Refuge Assurance League May 1990
Fowler sweeps Willey for 4
Fowler reaches his 100 with a cut for 4
Lewis bowls De Freitus for 7
England v Australia Old Trafford Texaco Trophy May 1993
Caddick bowling to Taylor
Pringle bowling to Merv Hughes
In the days when there was no Test Match play on Sundays ,Didsbury CC in Manchester used to host a Charity game on the Sunday of an Old Trafford test and it often included players not involved directly in the test and commentators etc.
Above right shows the original 'Brylcream Boy' Denis Compton strolling along - and is that Morse's car!
Above you can see Brian Johnson among the watching spectators and on the left is the great West Indian batsman George Headley signing an autograph.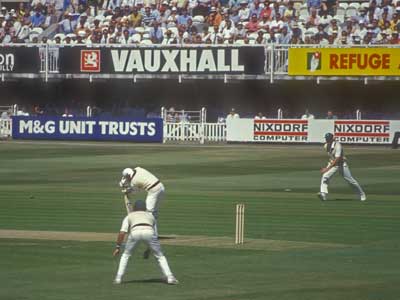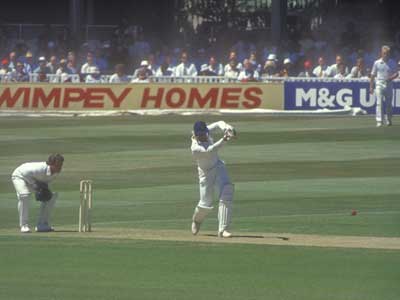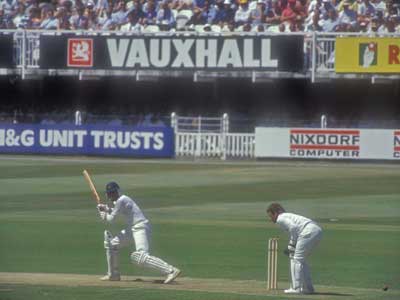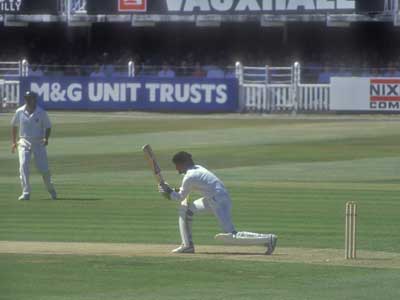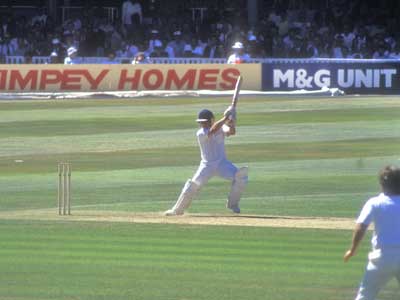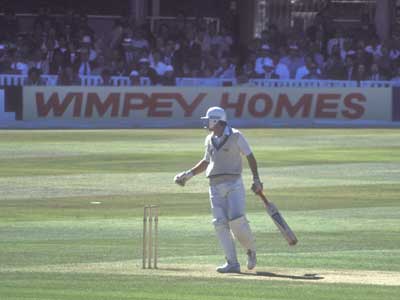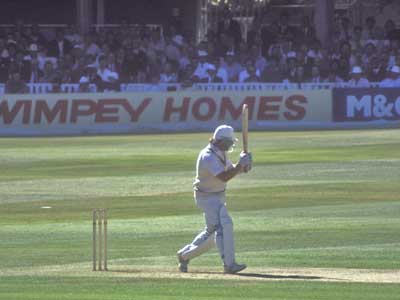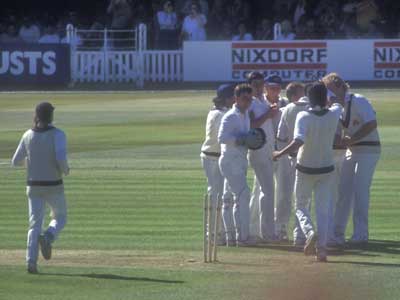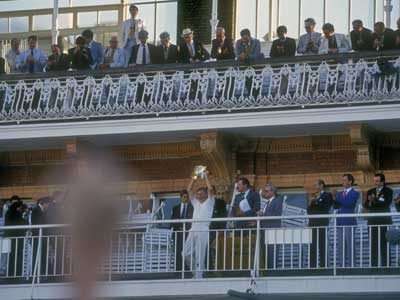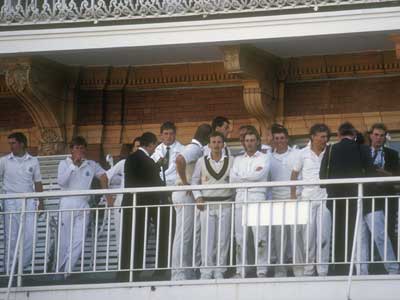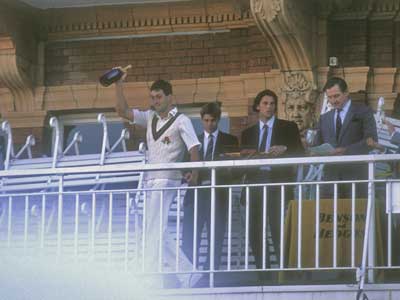 Lancashire v Worcestershire Benson &Hedges Final at Lords July 1990
Fairbrother cuts, Botham fielding
Hick is caught behind off Wasim
Lancashire players celebrate the fall of a wicket
Skipper Hughes holds the trophy aloft
'Man of the Match' Mike Watkinson collects his award