For many City fans who made the long journey down to Wembley the only thing to remember about this game was the use of the white foam to mark the ten yards at a free kick for the first time in the UK. There was little to admire about the football played by a weakened City side. Only one player - Yaya Toure - could be guaranteed a certain place in the Premiership side after the first 45 minutes. The first half display showed up the limitations of Boyata and Nastasic in central defence.We were outplayed in many areas and no doubt changes will be made. There was an improvement in the second half when Silva came on and Jovetic hit the post and had a good effort well saved.
With a number of regular first team players - Kompany, Zabaleta, Aguero, Demichelis, Fernandinho only just back from the World Cup and new signing Sagna yet to play and probable new player Mangala yet to train with City - it was a depressing display by the ones who turned out.
New keeper Willy Caballero did not have an outstanding game and some might say should have saved two of the goals. He did make one good stop to deny Sanchez but I think Joe Hart will be in goal next week. Clichy - out of position at right back - is better defensively than Kolarov who is better attacking so I guess it will be a battle between the two for the left back position. Yaya Toure was not at his best while new signing Fernando must improve. Nasri took a lot of stick from Arsenal supporters and made a few errors. Navas failed to deliver his best form and Dzeko was pretty well starved of support. Jovetic who had played well in several pre-season games missed some chances and may well find himself on the bench when Aguero is ready to play.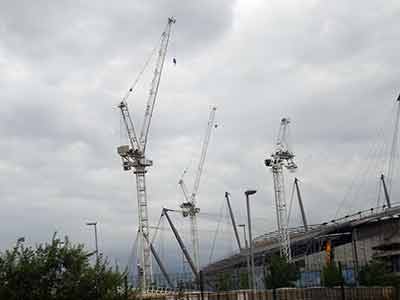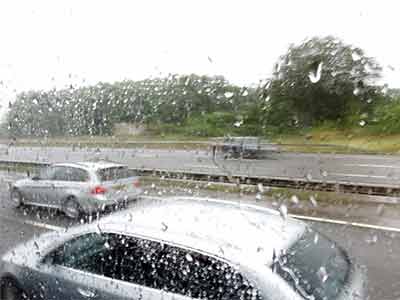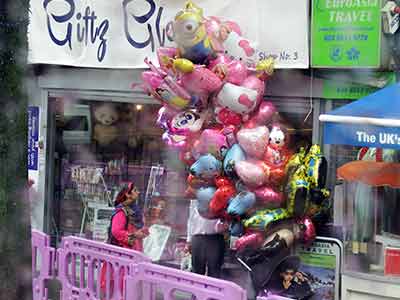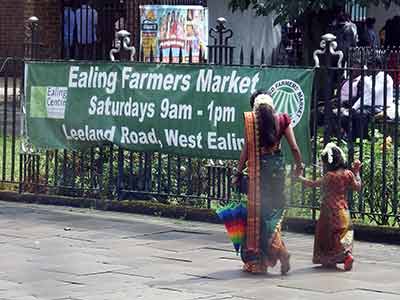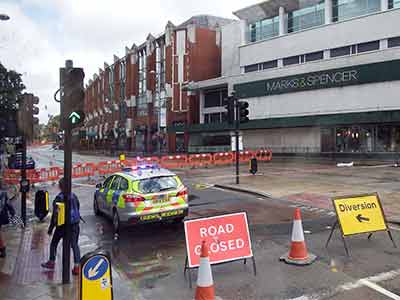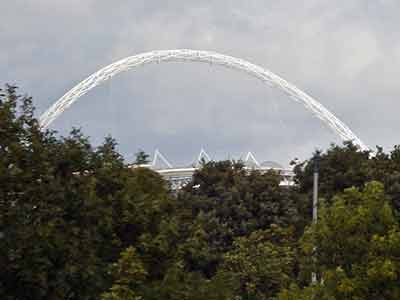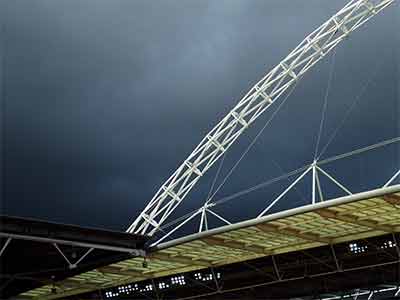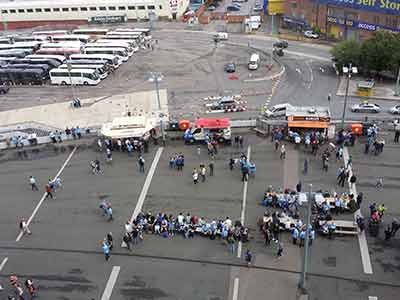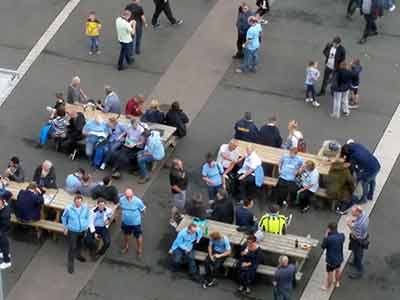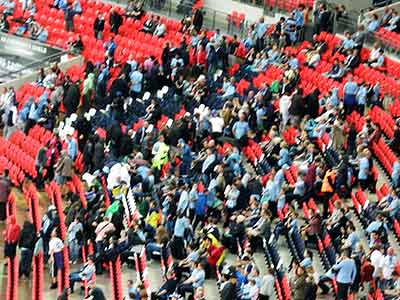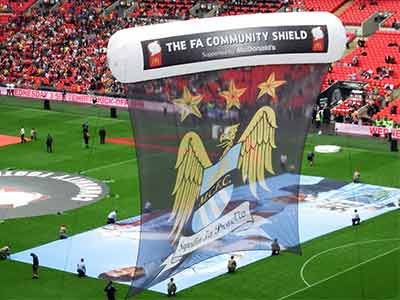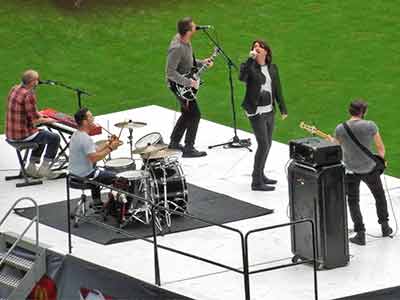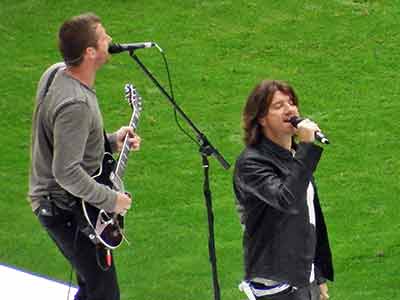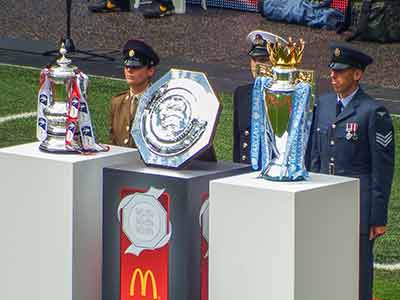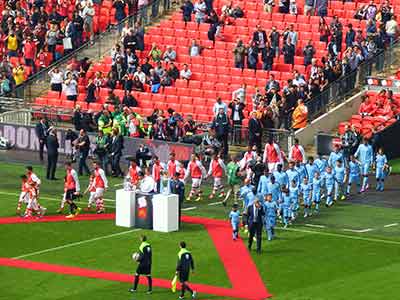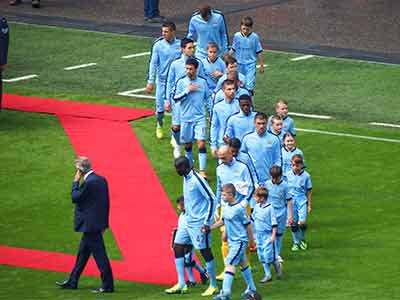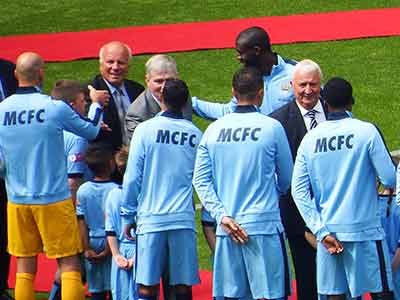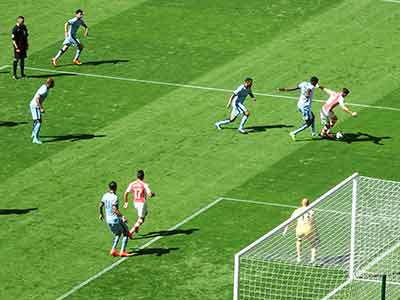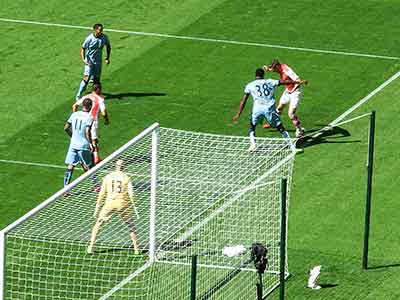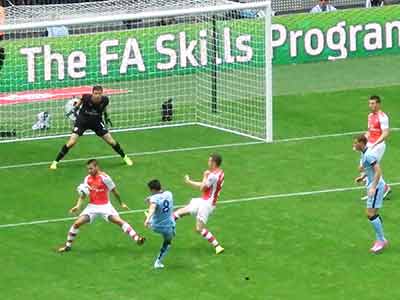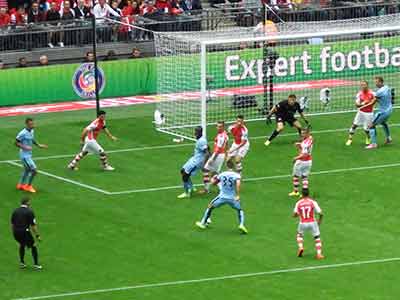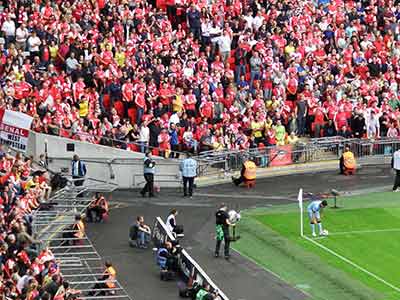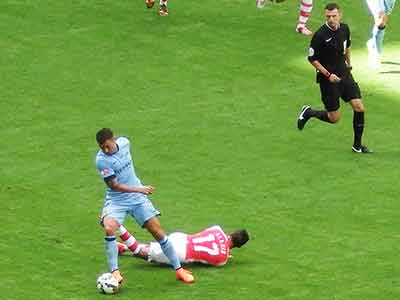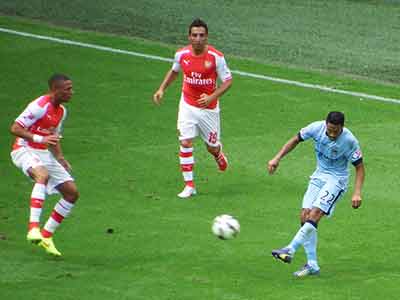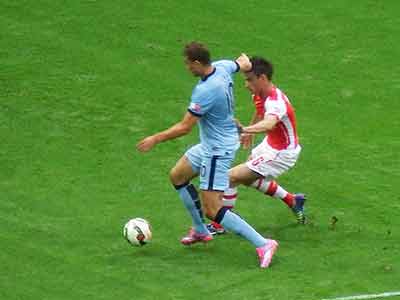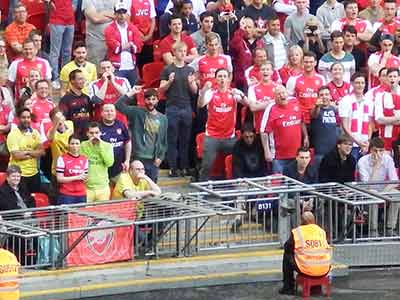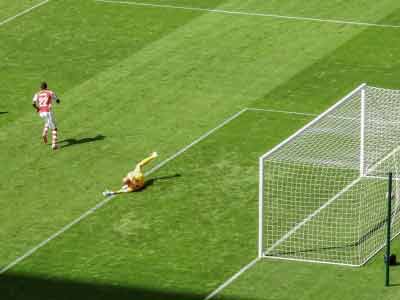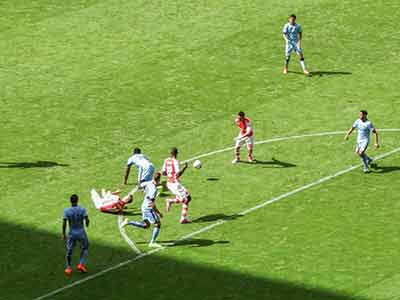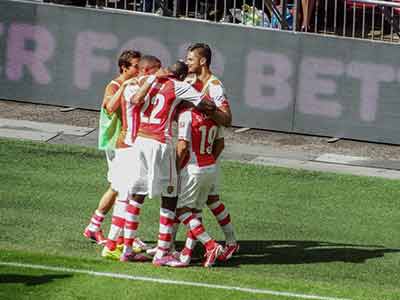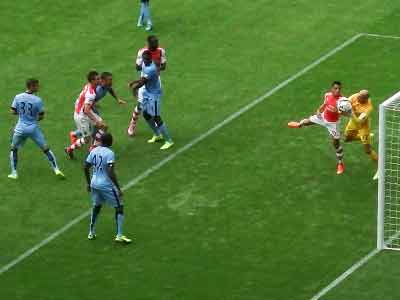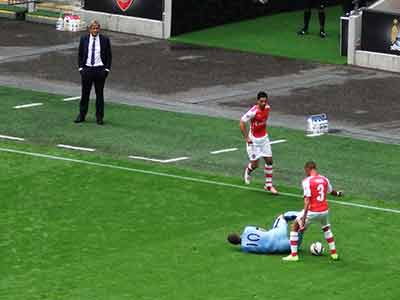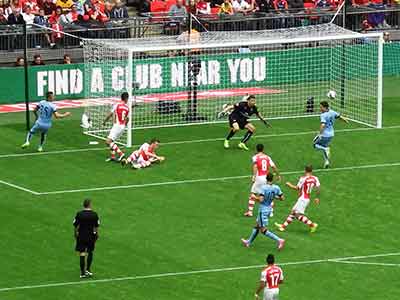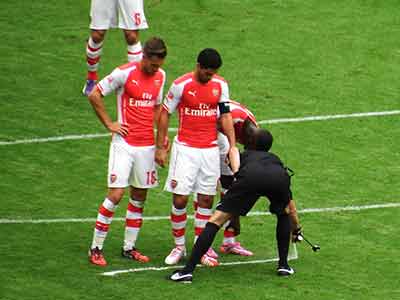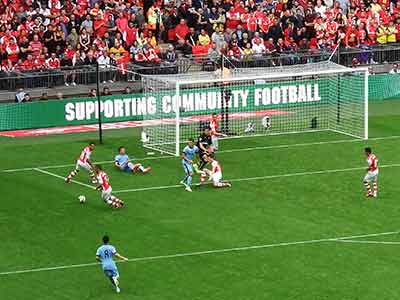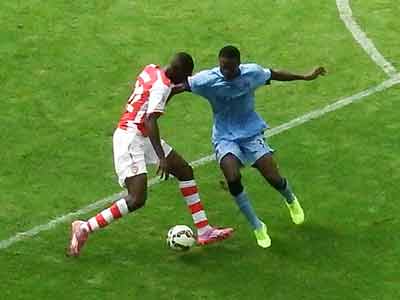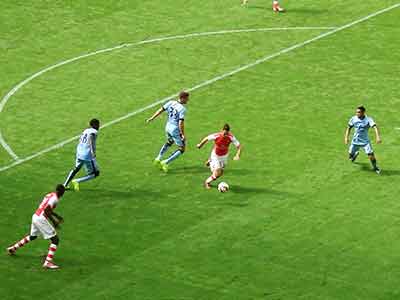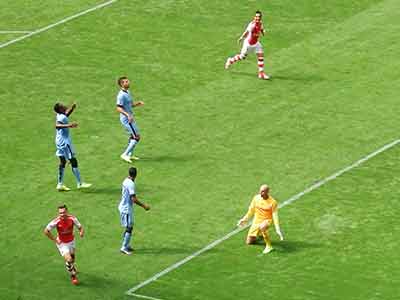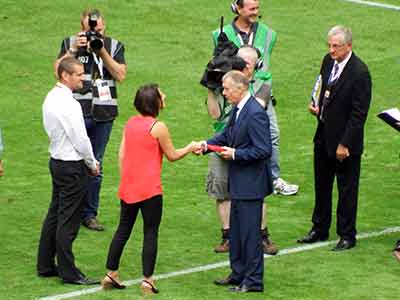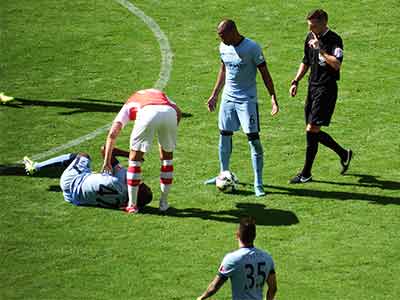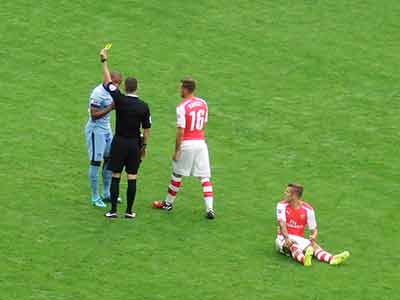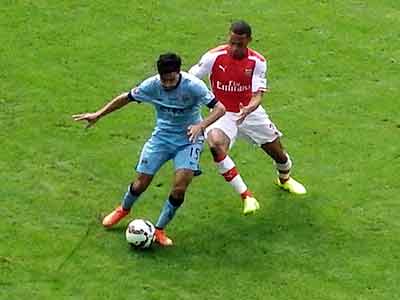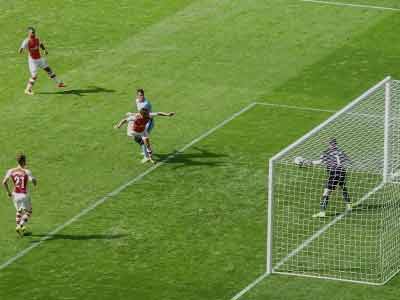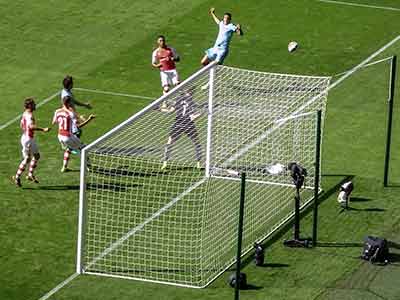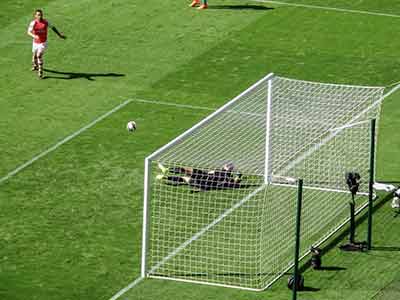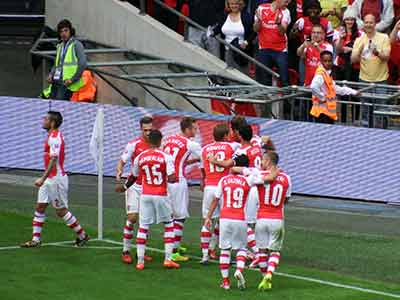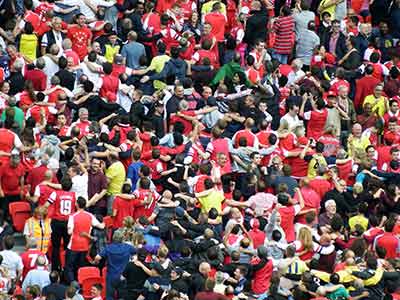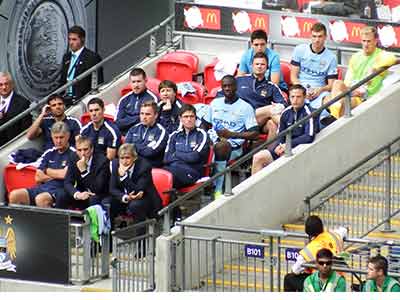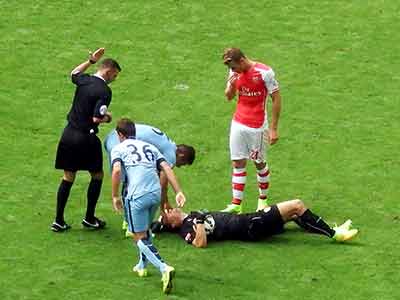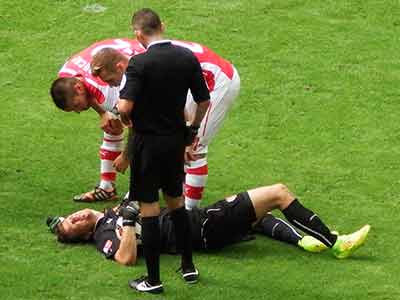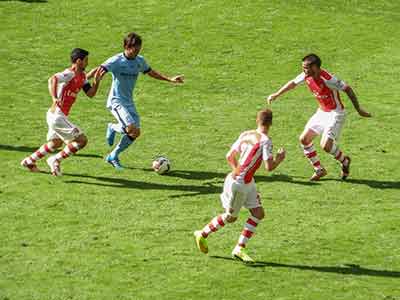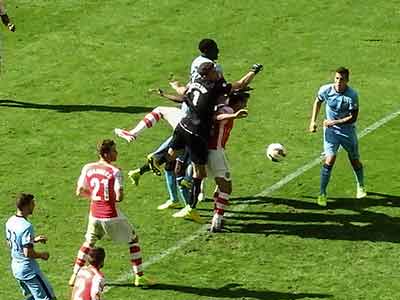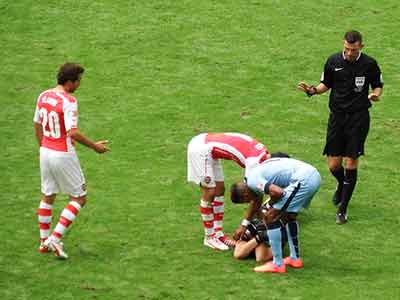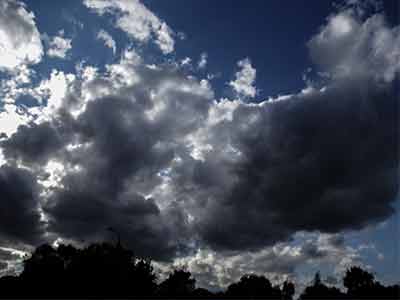 The big cranes at work on the South Stand at the Stadium
A very wet journey South on the coach
The driver took an unusual colorful route through Uxbridge and Ealing
It was a different route than normal but eventually we spotted Wembley in plenty of time
Mostly City supporters among the early arrivals at the ground
AS the dark stormy clouds gathered overhead the early seated City supporters ran for cover as the rain fell
before the game there was a march past of youth football clubs
We were also entertained by rock band Embrace
Jut before the teams came out members of the armed services brought out the FA Cup, Community Shield and the Premier League Trophy
Lots of spaces in the posh area and at the City end
The teams were introduced to Greg Dyke, ex Arsenal Pat Rice and Mike Summerbee
Arsenal were soon on the attack
Nasri has a shot blocked -it looked like hand ball! Arsenal eventually cleared -would that have made a difference!
Nasri gets a lot of stick as he goes to take a corner
On 21 minutes Arsenal scored with a shot from Cazorla
Though Sanogo had run into an offside position in front of the keeper the goal was allowed
Kolarov brings down Sanchez
Dzeko tries to get through
Nasri gets more aggro from Arsenal supporters
Caballero catches under pressure
City fail to take advantage of a chance
Referee Oliver is the first referee on UK soil to use the white marking foam at a free kick
Sanogo beats Boyata -passes to Ramsey...
.... who beats the City keeper to give Arsenal a two goal lead after 42 minutes
At half time Sir Geoff Hurst presents some awards
Yaya Toure is brought down
Fernando gets a yellow card for a foul on Wilshere
Navas gets through to cross.....
...... and Jovetic hits the post with a header and then shoots wide from a narrow angle following up
On 55 minutes Szczesny saves from Jovetic
60 minutes and Giroud catches Caballero and me out as his surprise shot beats the City keeper and the Arsenal crowd do the Poznan
no smiles on the City bench
The Arsenal keeper saves from Jovetic and is hurt
He has to get some attention after his fall
The introduction of Silva at half time was the one bright spark in the second half
Szczesny under pressure again
he gets more treatment and the game soon ends with Arsenal three nil winners
The dark clouds gather as we return home to a very wet Manchester
There were lots of empty seats at the East end of the ground but not exactly surprising due to prior knowledge of the City team selection and rail disruptions
Team
Caballero 6.5: Clichy 6.5, Boyata 4, Nastasic 5.5, Kolarov 7 ( Richards), Yaya Toure 6.5 (Zuculini), Fernando 7, Navas 6.5 (Sinclair), Nasri 6.5 ( Silva 7.5) Jovetic 7 , Dzeko 6 (Milner)