City 1 West Ham U 2
September 19th 2015 53,545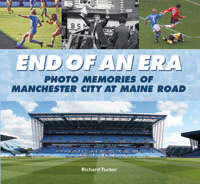 Now available from Amazon ( click on image for link)
WH Smith and the City shop
Well our winning run is well and truly over. Despite a second half onslaught on the West Ham goal the two surprise goals by the Hammers in the first half hour decided the game. Kevin De Bruyne on his first start was easily City's best player and scored just before half time. He showed us just how good he is and why we spent so much for him. His passing and general coverage of the pitch was excellent and it was a shame that Silva had to withdraw from the team after the warm-up as his successor Navas although showing plenty of speed failed to deliver a decent final ball. In fact none of his many crosses found a City player. Aguero is still no way at his best and his shooting was poor. I hope Iheanacho gets a run at Sunderland as Bony is nowhere near showing the form he had at Swansea. Maybe like Sagna he needs a flow of games. Otamendi who also made his first start didn't have a bad game but his partner Mangala should have done better and Kolarov too was targeted by the West Ham attack. Sterling failed to make an impression and rarely beat the visitors defence who were well organized. Yaya Toure had some good chances but failed to find the net.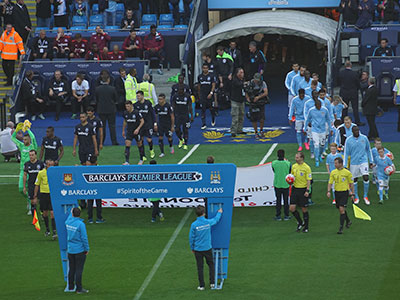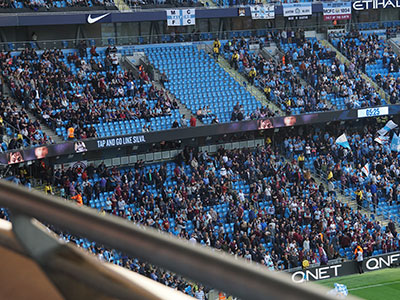 City made several changes with injuries to Silva Kompany and Nasri. De Bruyne and Otamendi made their first starts
West Ham had a fair number of supporters at the game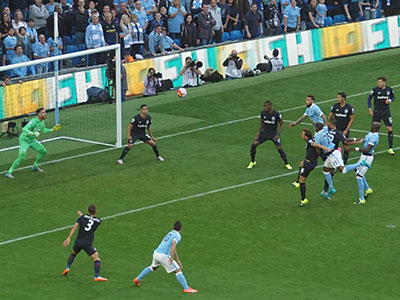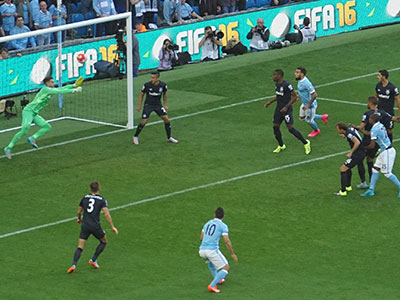 City had a chance early on but Fernandinho's header was saved by Adrian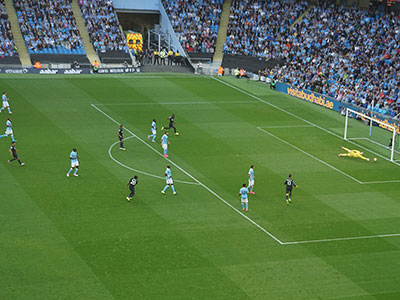 On 5 minutes West Ham took the lead when Mangala failed to close down Moses who shot from distance and the ball just beat Hart's outstretched hand. It was the first time City had conceded in 572 minutes!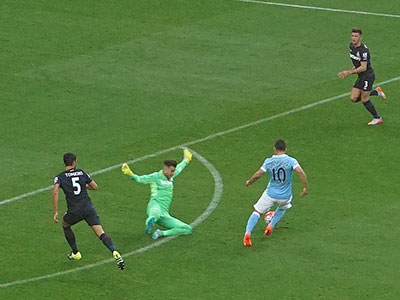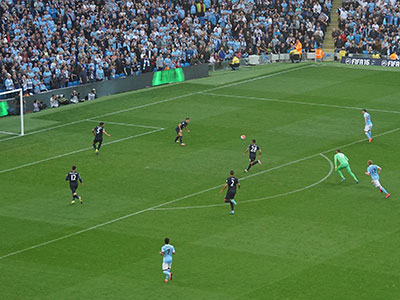 three minutes later and Aguero had a great chance when he rounded the keeper and shot......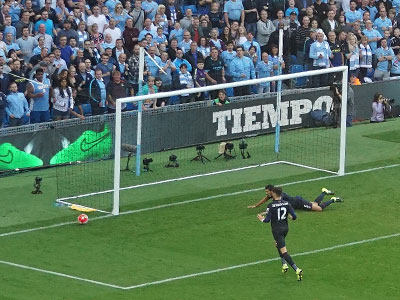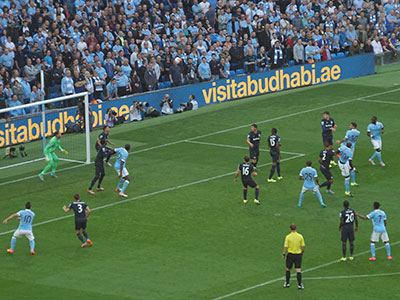 ...but the shot went wide - a bad miss
a header from Otamendi goes wide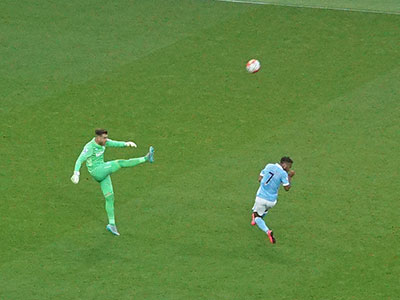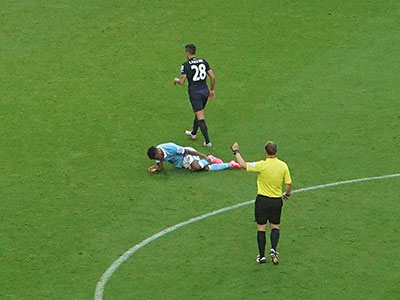 Adrian clears from Sterling who takes evasive action
Sterling is fouled by Lanzini who is booked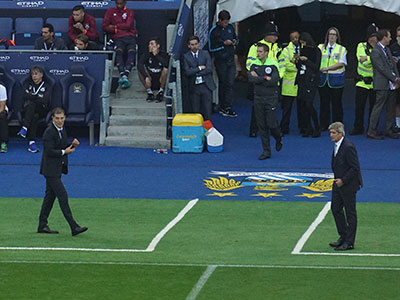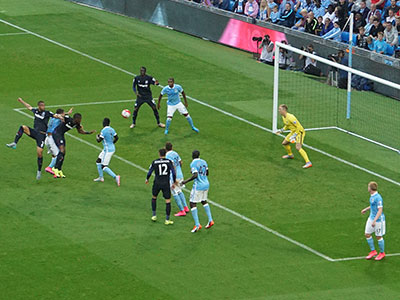 I'm sure Bilic is the happiest of the two managers
On 30 minutes West Ham get a corner .....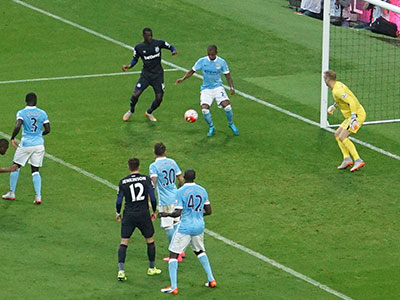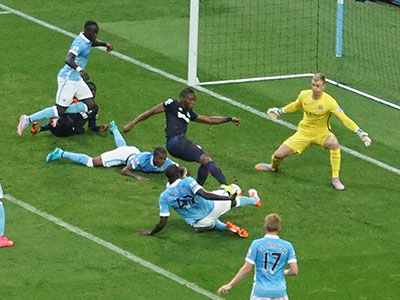 Perhaps Fernandinho should have cleared the ball at first which ran onto ....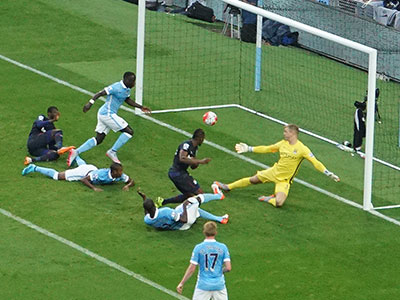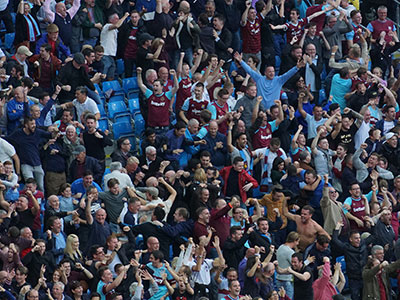 ....Sakho who scores from close range and the Hammer's supporters can't belief their luck - West Ham two up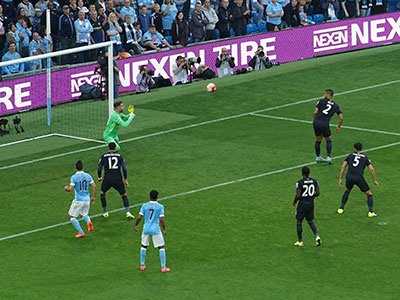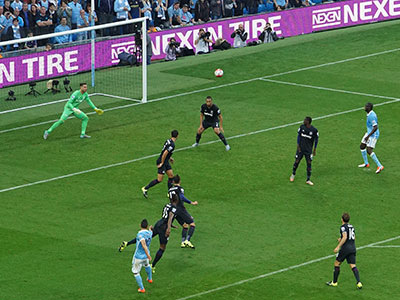 City fight back and first Adrian saves from Navas and then Aguero shoots over the bar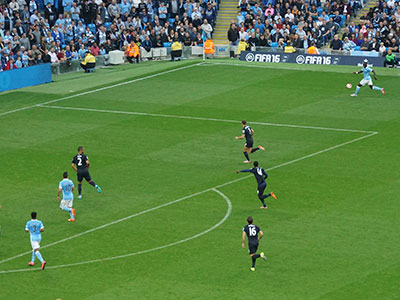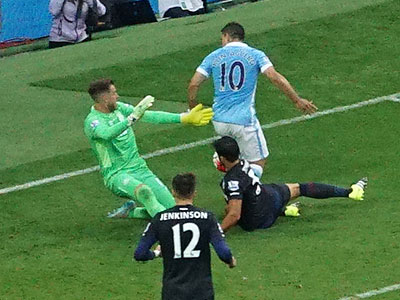 on 39 minutes Sagna puts in a good cross and Aguero tries to score from close range.....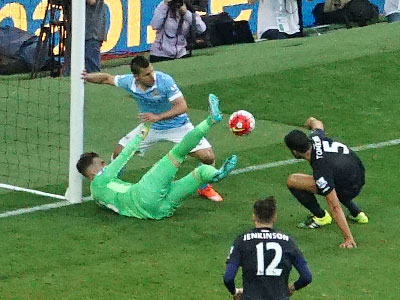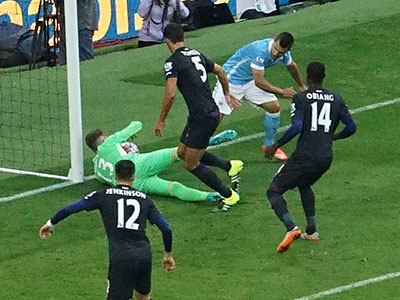 ..but despite several attempts Adrian finally saves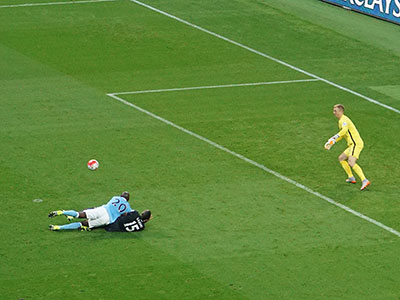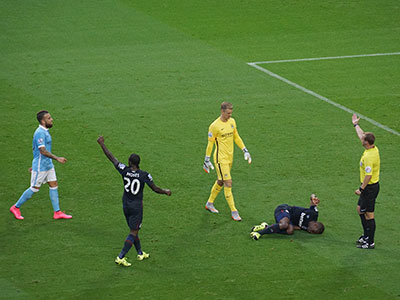 Sakho goes down after a close encounter with Mangala and has to have 'treatment' but is soon running again as West Ham play for time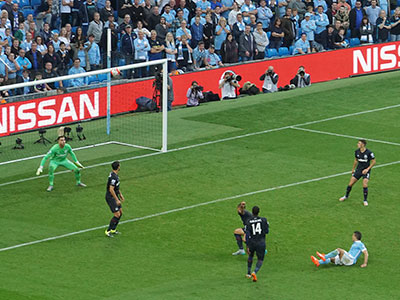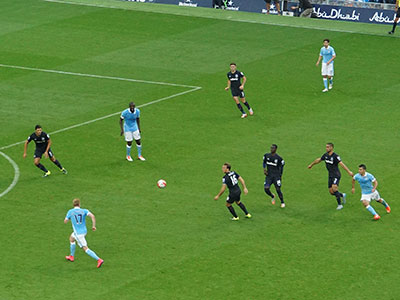 Just before half time Aguero again shoots over
As we go into added time Aguero passes to Kevin.......

...who shoots past Adrian to City a goal and chance of a come back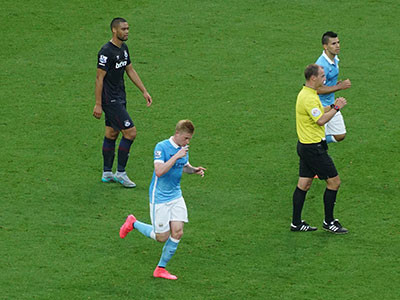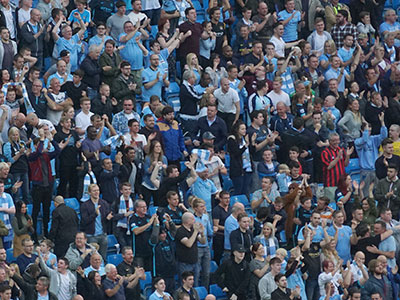 There are no big celebrations as City know they have a lot to do and at half time its 2-1 to West Ham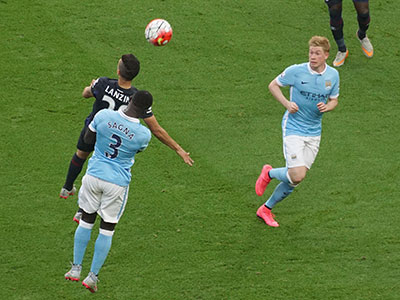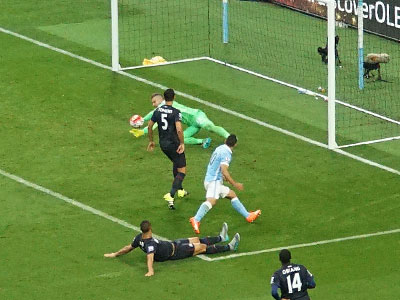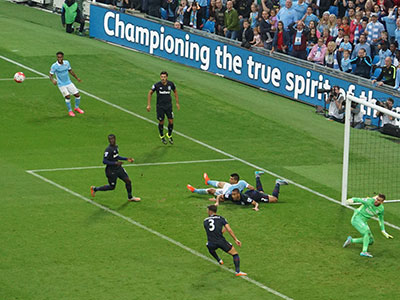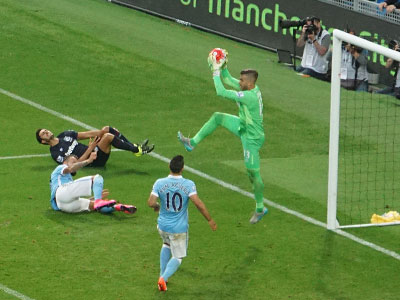 Sagna and Lanzini compete for the ball
Adrian has an easy catch for once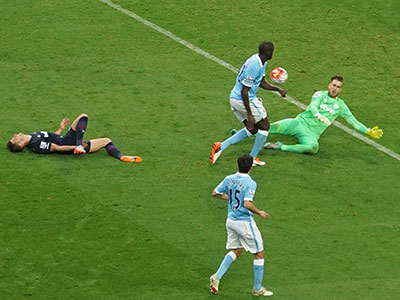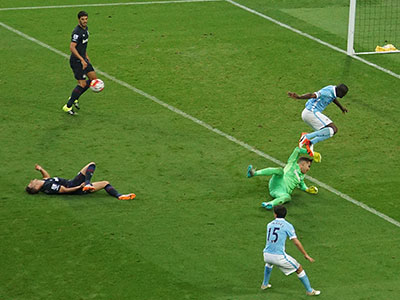 Yaya Toure breaks through but Adrian saves once more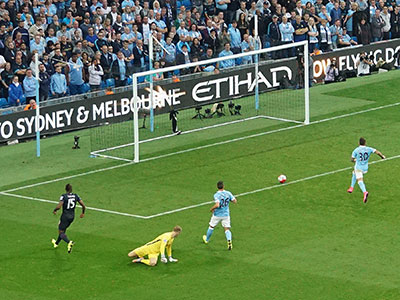 In a rare counter attack Sakho slips the ball past Hart but it misses the goal - thank goodness!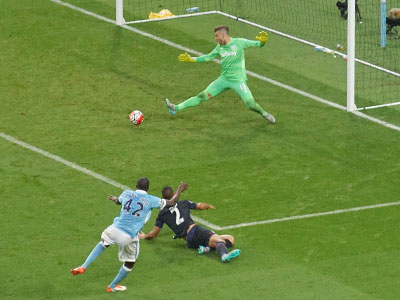 Yaya Toure beats Adrian for once but the ball curls just wide of the far post! We are having no luck at all today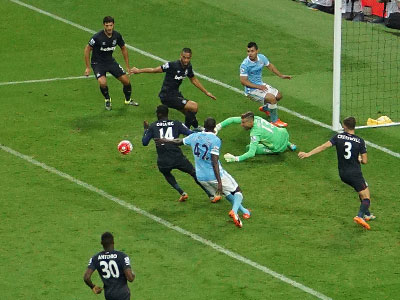 The West Ham defence continue to hold out against the City pressure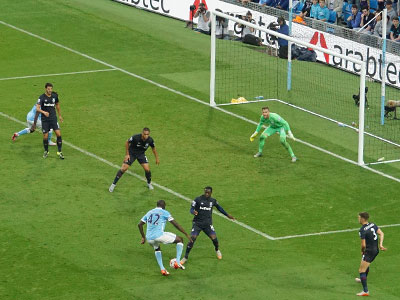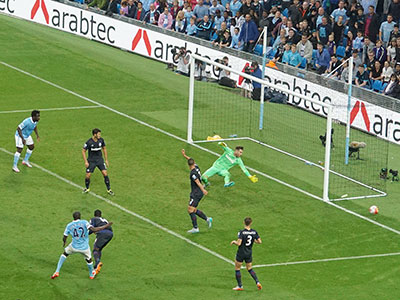 Yaya Toure has yet another go at goal but this time a defender deflects the ball for a corner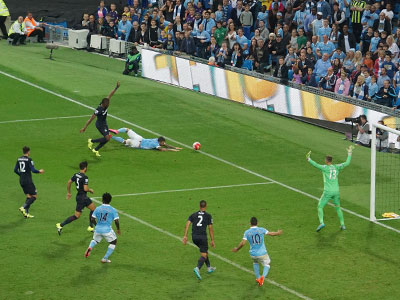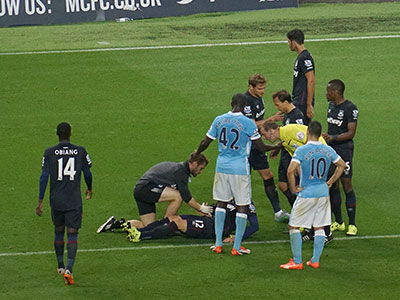 Not the best attempt to get a penalty by Kolarov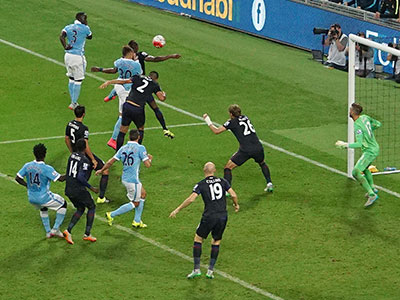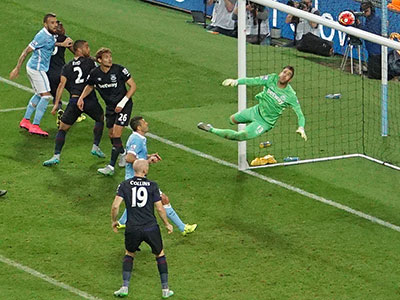 With five minutes left a corner taken by de Bruyne is headed by Otamendi but West Ham's man of the match Adrian again makes a great save and City lose their unbeaten record but stay top of the league
team
Hart 6.5: Sagna 7, Otamendi 7, Mangala 6 (Demichelis 7) Kolarov 5.5 (Iheanacho) :
Toure 7, Fernandinho 7, Navas 5, De Bruyne 8, Sterling 5 (Bony 5.5) Aguero 6