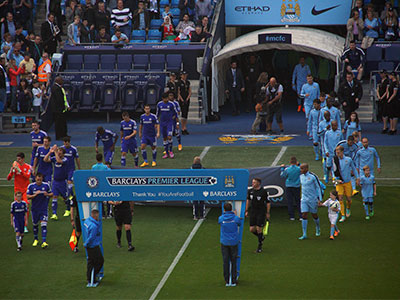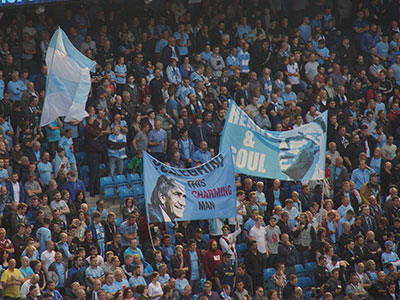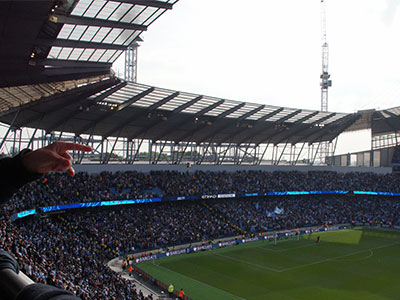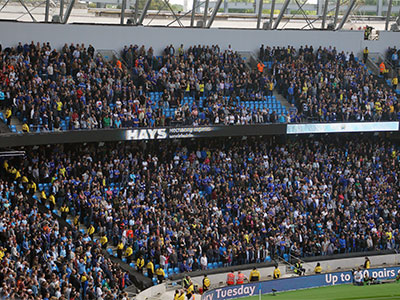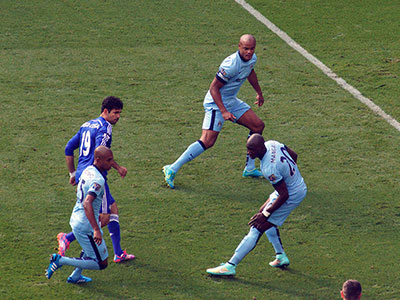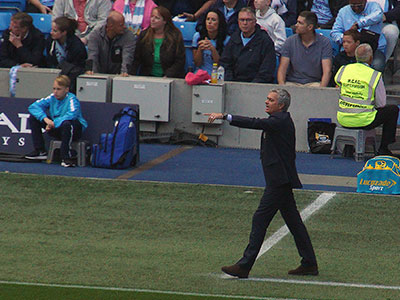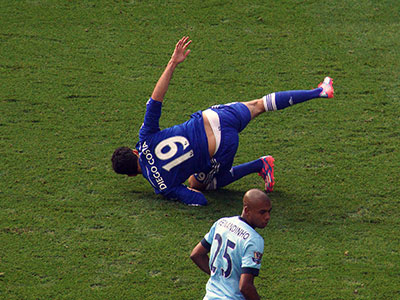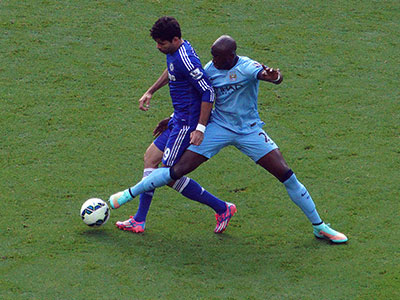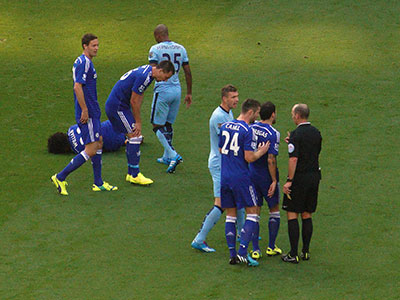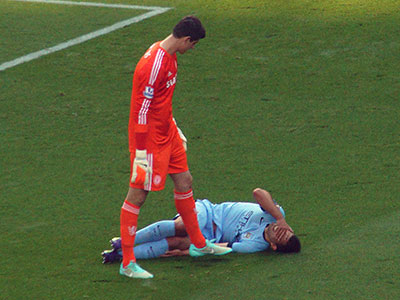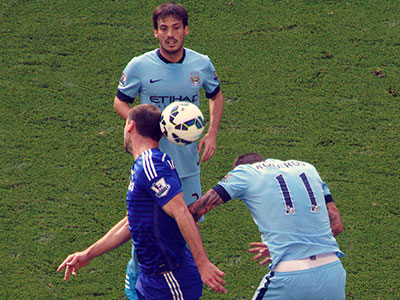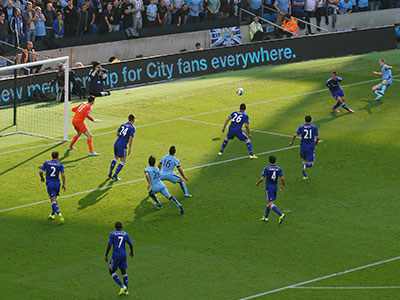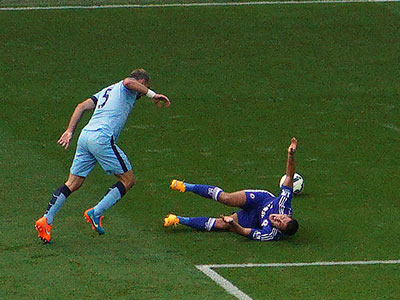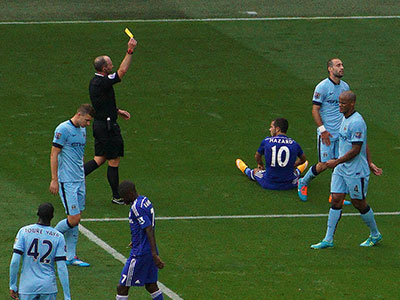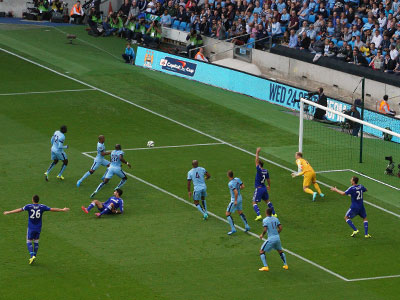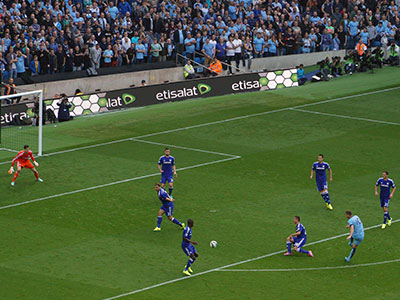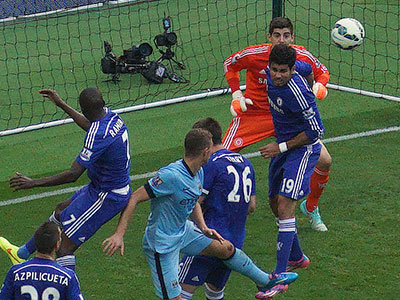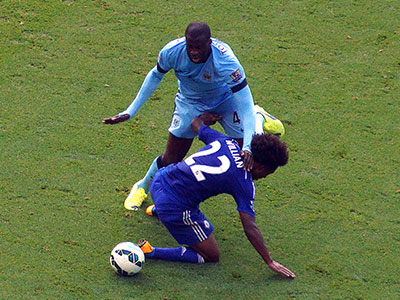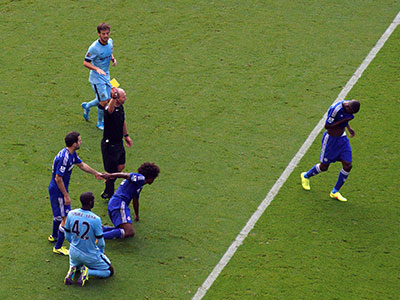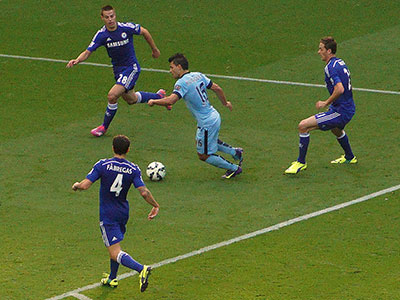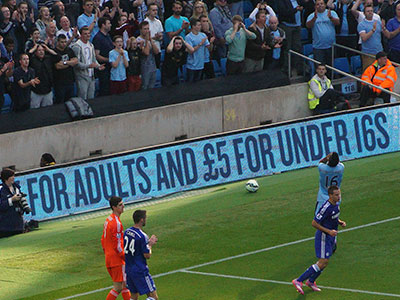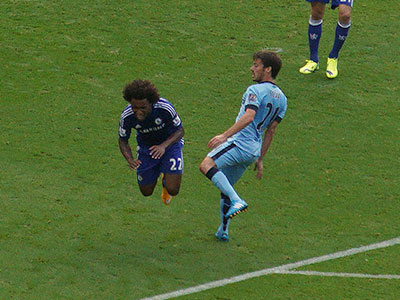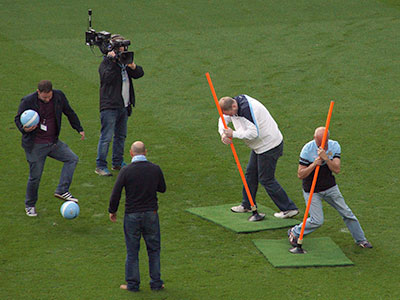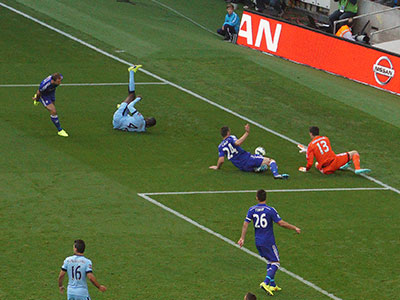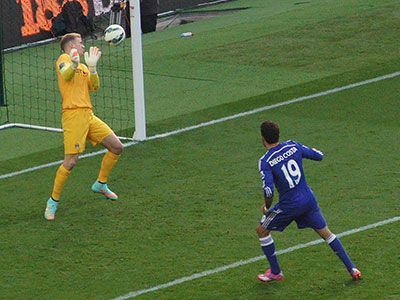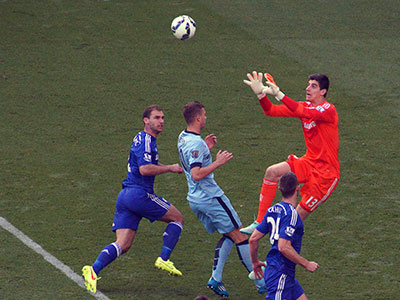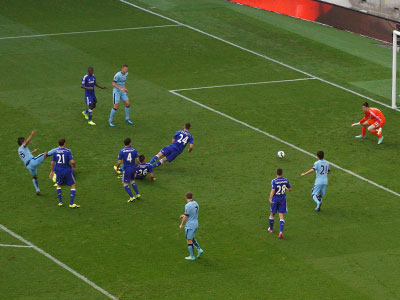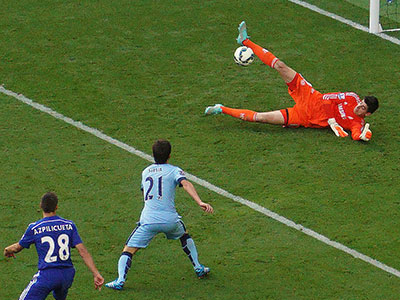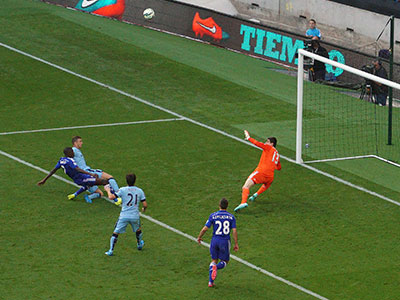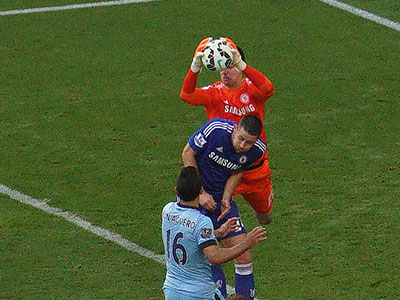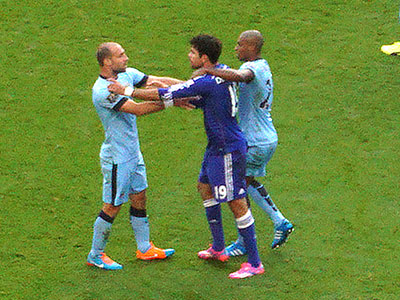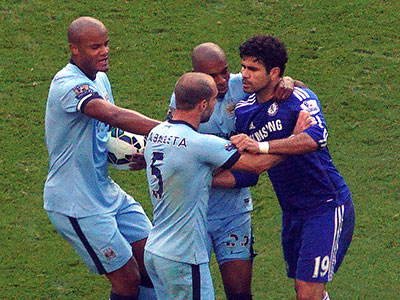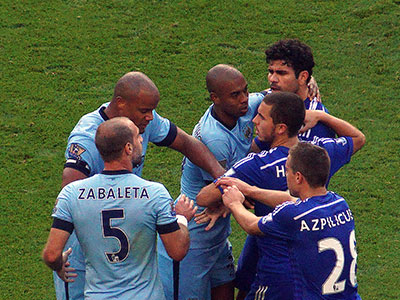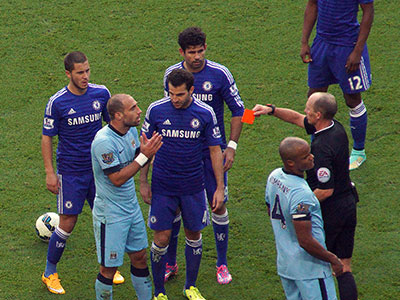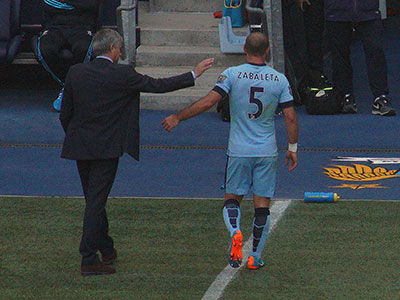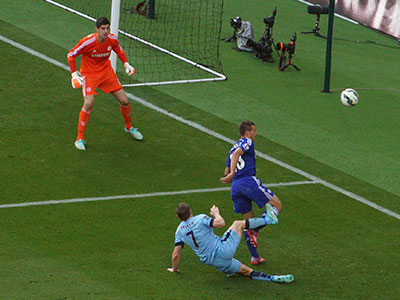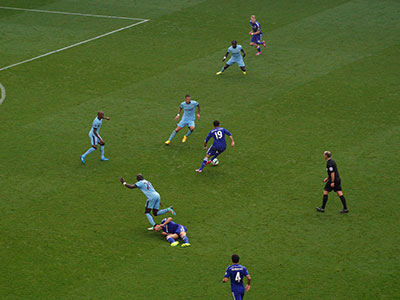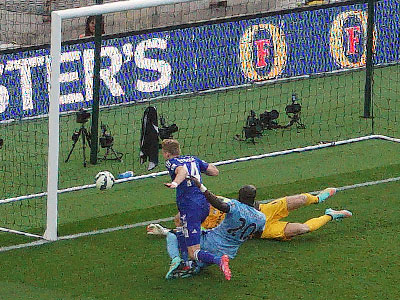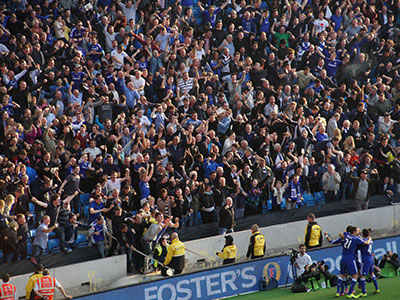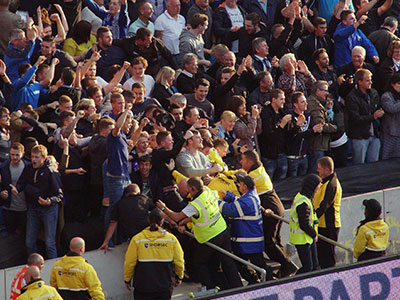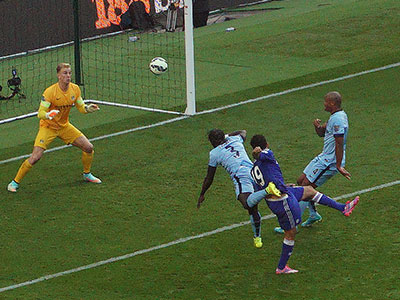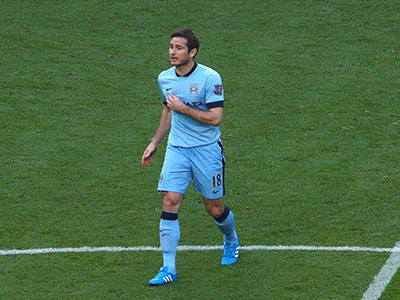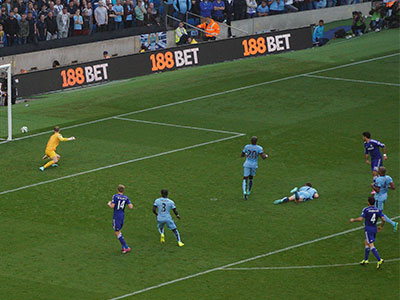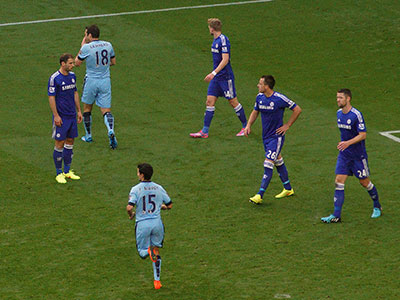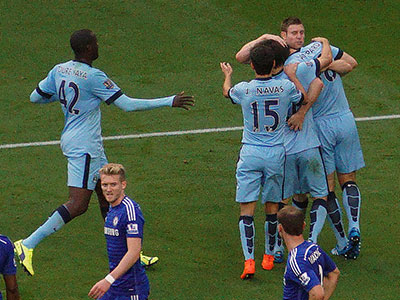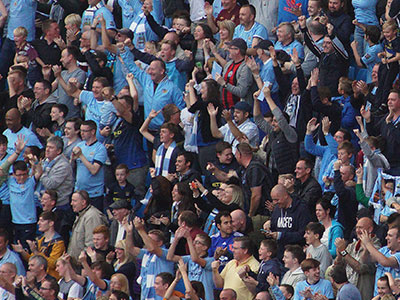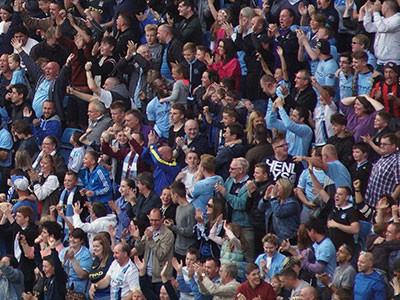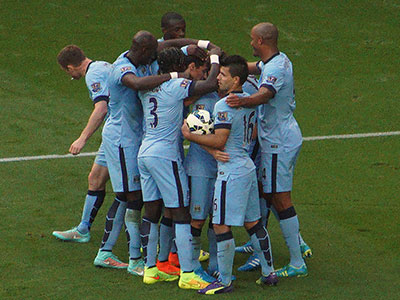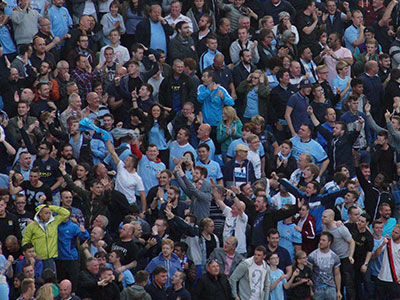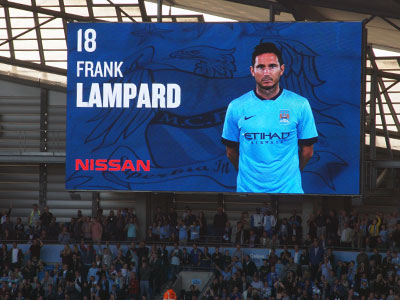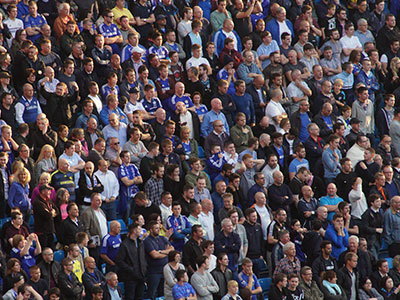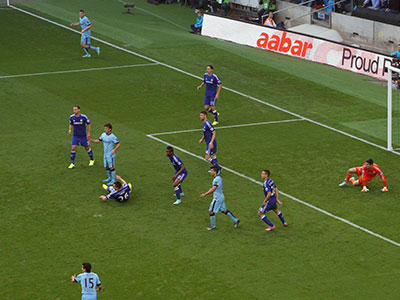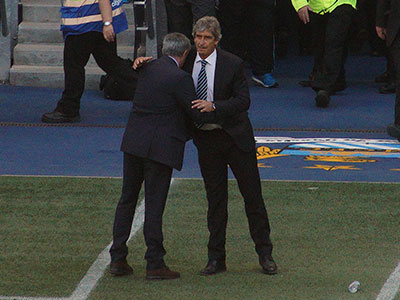 Mangala made his debut and both Aguero and Dzeko were up front.
The flags were out for City
work continues with the South Stand extension
City kept an early watch on Costa
Mourinho does some early finger pointing
Willan is down injured for which Fernandinho got booked but Aguero is injured too
Kolarov in a heading duel with Ivanovic
Milner pus in a dangerous cross
from a corner Aguero shoots too high
31 minutes and Zabaleta fouls Hazard .......
....and gets a yellow card
A Dzeko shot is blocked and goes for a corner
Costa clears a City corner
Now its Toure's turn for a yellow card after fouling Willan - already the 6th card of the game
Aguero has a half chance just before half time but alas no goal
Willan is hurt in an accidental collision with Silva
two City supporters indulge in some pole dancing during the break
an Aguero shot is saved by Courtois
Hart makes a good save from Costa who is offside
Courtois just beats Dzeko to the ball
Aguero has another effort saved by the keeper and as the rebound goes free.....
.....Dzeko moves in for the kill but his effort is blocked for a corner - a near miss
The keeper catches the corner - number umpteen for City!
65 minutes and disaster for City as Zabaleta and Costa clash
things look quite heated as the players are separated
Costa gets a yellow card but Zabaleta gets a second yellow and a red!
Mourinho bids Zabaleta a fond farewell !!
Milner forces a corner but following it Chelsea broke away with Costa
He passed to Hazard who put in a great cross which Schurrie managed to get past Hart from close range - one nil to Chelsea
The visiting supporters were quite enthusiastic!
On 75 minutes a Costa header went straight to Hart
two minutes later and on came Frank Lampard for his home debut for City
80 minutes and Costa hit the post with a shot
a minutes later and Silva went close with an effort
On 84 minutes came a moment to remember! Milner passes to Silva who put through a great pass back to Milner who crossed it on the volley....
...to Frank Lampard who hit it past the keeper to equalize for City against his old Club -amazing stuff!
He did not celebrate but his team mates did!
What a relief for the City supporters who enjoyed the moment
It was a well earned point having dominated the game for the most part
The goal had certainly subdued the Chelsea supporters
City could not add to their score and had to be satisfied with a point against the leaders
The two managers shake hands after the game
team
Hart 6.5: Zabaleta 6 , Kompany 8.5, Mangala 8.5, Kolarov 7 ( Lampard) Toure 7.5, Fernandinho 7.5 ( Navas) , Milner 9, Silva 8
Dzeko 7 ( Sagna) Aguero 7 ,
City 1 Chelsea 1
Sept 21st 2014 45,602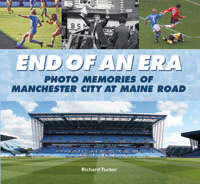 Now available from Amazon ( click on image for link)
WH Smith and the City shop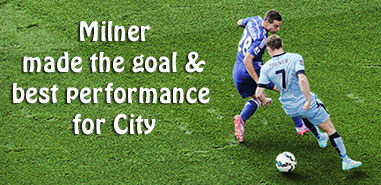 A tough game with City ending with ten men and ex Chelsea star Frank Lampard scoring for City in the dying minutes to earn City a valuable point. Surprise for City was the debut of Mangala who had an excellent first match and looks an ideal partner to Kompany. The City central defence was very good and kept the dangerous Costa at arms length for most of the game. Chelsea for the most part were happy to do a Stoke and park the bus and it was difficult for City to get really good chances in the final third. Another City player who did well was James Milner who had his best game for the sky blues. He played all over the pitch and gave 110%. After his average display in midweek against Bayern Munich Yaya Toure was back to form to silence his critics. Chelsea for the main part relied on counter attacks to trouble Joe Hart and it was not until City were down to ten men after Zabaleta got a red following second yellow for a foul on Costa that they managed to score. I did not think referee Mike Dean had the best of games dishing out far too many yellows too early.
I think Aguero is not yet at his best and both he and Dzeko need a goal or two to lift their confidence so that City can once again be a free scoring team.