City 5 Wigan Athletic 0
September 24th 2013 25,519
Capitol One Cup R3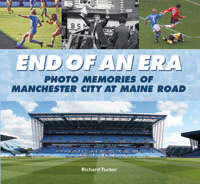 An easy win for a City side that had ten changes from the side that trounced United a few days earlier. Wigan had many changes too and as the game progressed the visitors tired and in the second half City ran riot and added four goals to the half time score. Fernandinho was the only player not be be rested for this game but he only lasted until half time when he was subbed by Yaya Toure so we knew Pellegrini really wanted to win this Cup! Yaya went on to score another fabulous free kick and two goals by Jovetic making his full debut won't have harmed his efforts to be a first choice. Milner had a very good game too and Navas coming on as a late sub for youngster Lopes ( who scored on his debut last season in the FA Cup) notched the fifth goal. Negredo came on late on for Dzeko who had scored City's first half goal.
The 'new' back 4 of Richards, Boyata, Lescott and Clichy had an easy time and Pantilimon in goal barely touched the ball.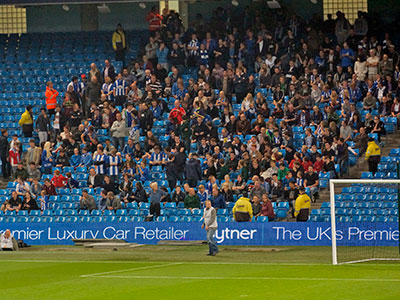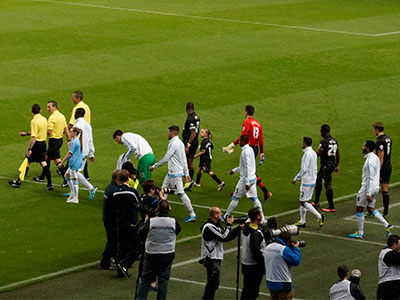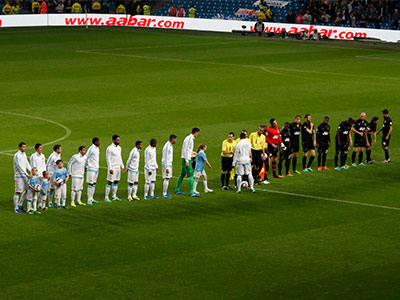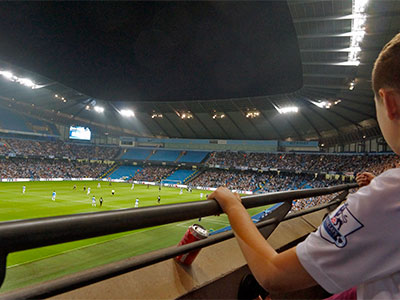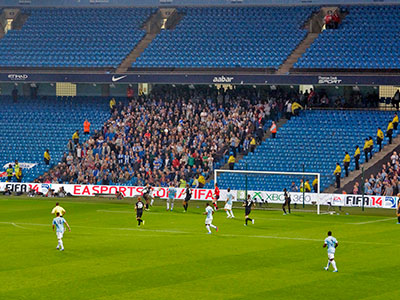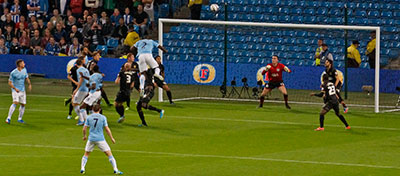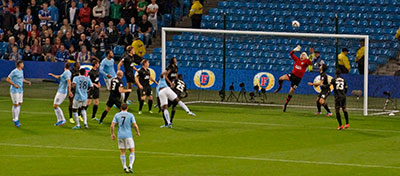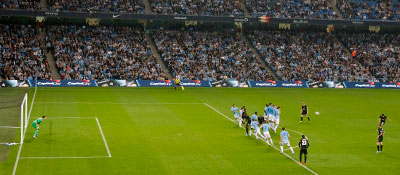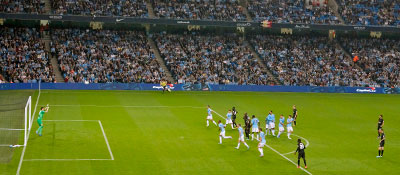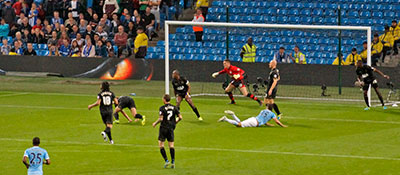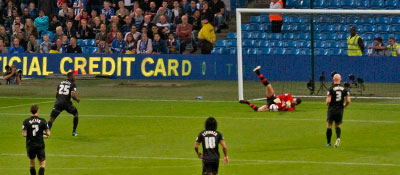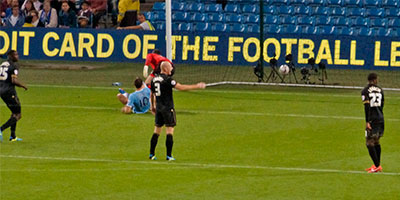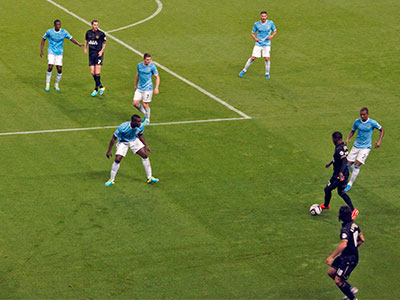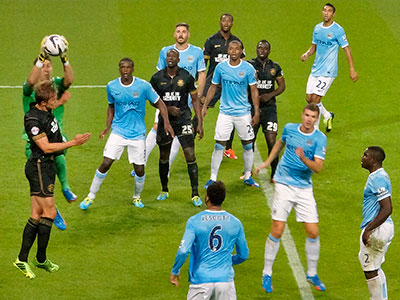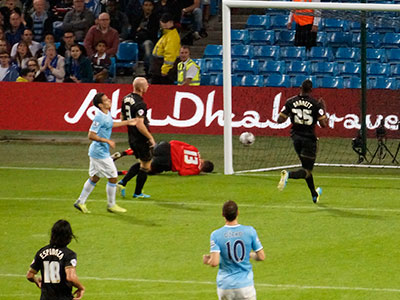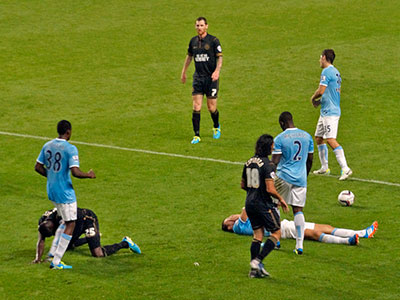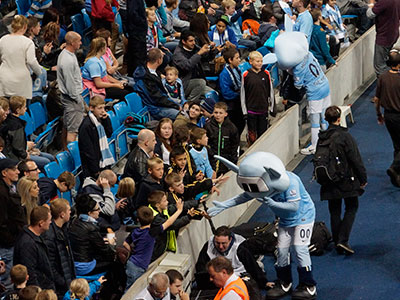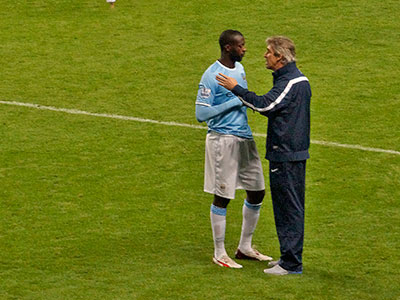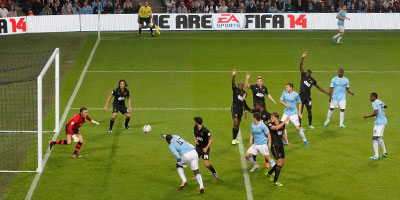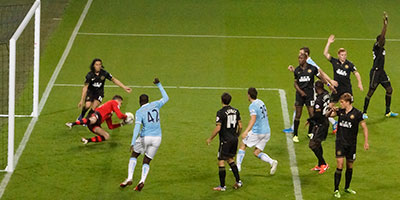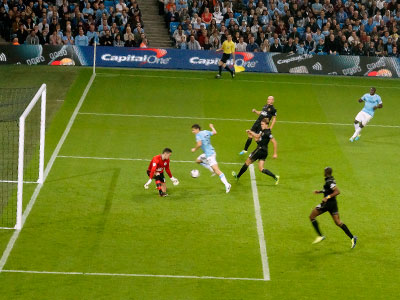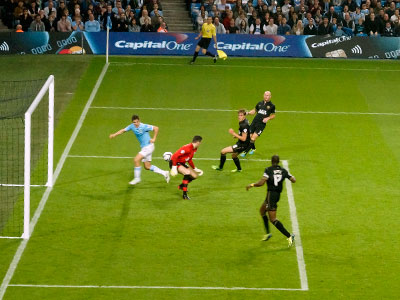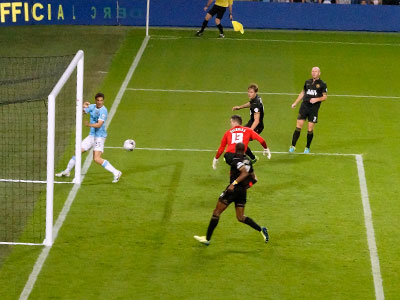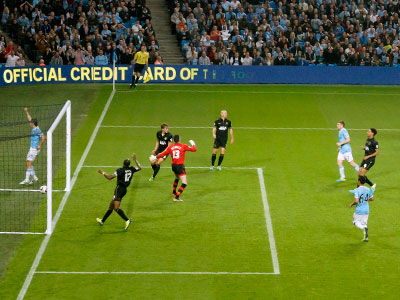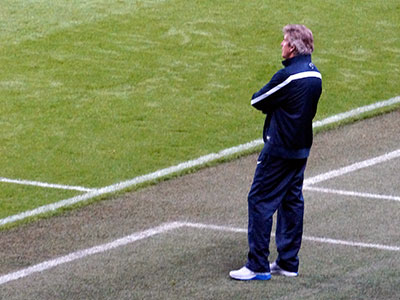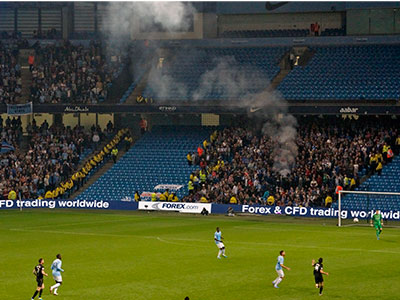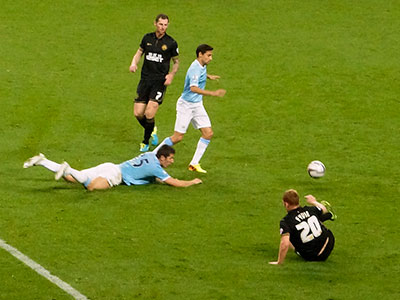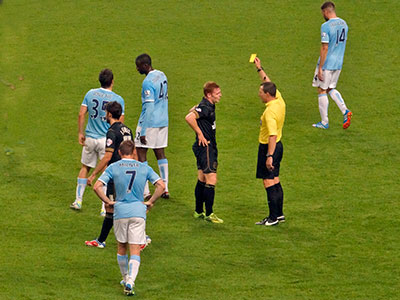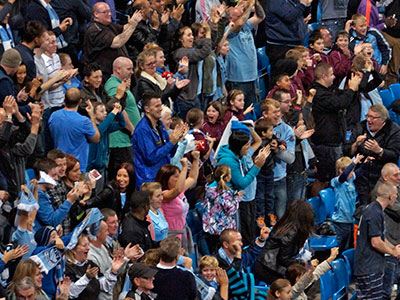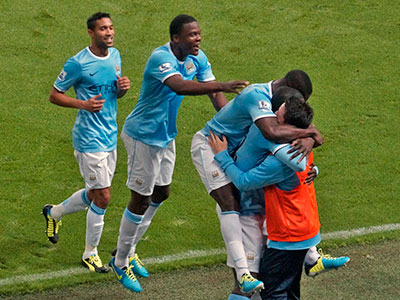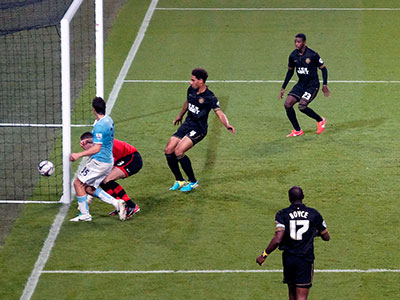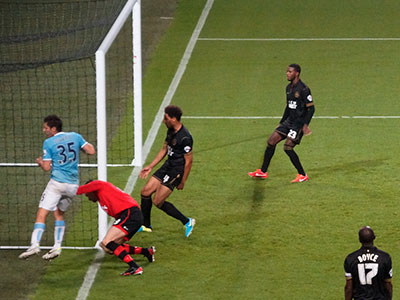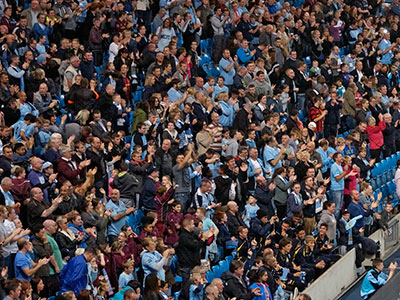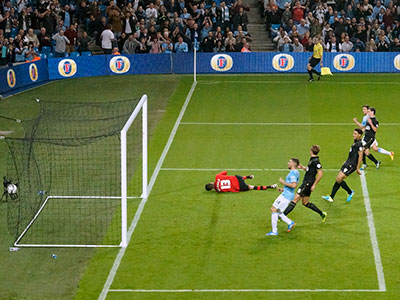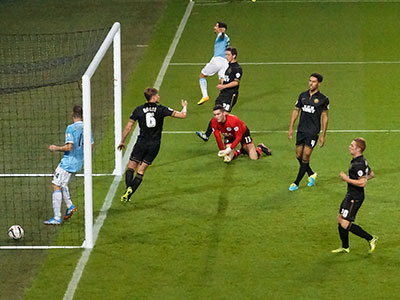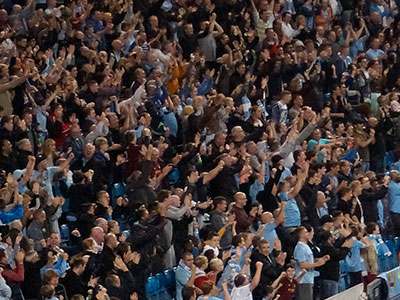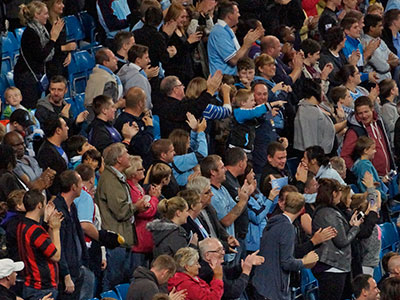 Now available from Amazon ( click on image for link)
WH Smith and the City shop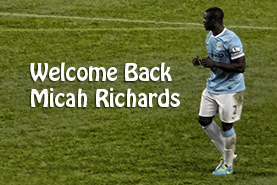 Its not often I get round to this side the ground but nothing much has changed
I am afraid the visitors did not have much support
City made ten changes and Wigan nine from their last league games . It was good to see Richards and Clichy back from injury and another outing for young Lopes.
Not a full house with both third tiers closed and there looked to be more stewards than Wigan supporters!
A corner to City and Nichols has to make a good save pushing the ball over the bar from a header by Richards
25 minutes and Wigan's first effort on goal - a free kick by Gomez that sails well over the bar
After Lopes had hit the bar with one effort the Wigan goal was coming under a lot of pressure.........
....so it was no surprise when a flick forward by Fernandinho found Dzeko who dashed forward to score past the keeper 1-0 to City on 32 minutes
Wigan did make the odd attack on the City goal but hardly got a shot in
Jovetic just fails to score
Dzeko and Barnett clash but Dzeko is OK after treatment
Moonchester and Moonbeam have a chat to supporters!
Manager Pellegrini tells Yaya Toure what wants in the second half
After 60 minutes City scored their second goal. A cross by Richards was met by Jovetic and although the keeper initially saved the effort the ball rebounded off Nicholls onto Jovetic again and into the net. They all count!
Nicholls saves from a header by Yaya Toure but Wigan are appealing for something
Manuel Pellegrini keeps a eye on the performance
A flare goes off in the Wigan section!
Jovetic is brought down by Fyvie and gets yellow card. Oh and it's a good position for Yaya to score.
and yes there it goes flying into the net to make it three nil - Yaya Toure scored his third free kick of the season
He rushes over to Nasri warming up on the touchline to celebrate
The crowd appreciate his efforts
82 minutes and Jovetic is quick to beat the keeper to make it four nil
Its now looking like an easy win as the goals keep coming
85 minutes and Negredo finds Navas who cuts in and blasts the ball past Nicholls to score his first goal for City and the final score 5-0
City fans celebrate the convincing win over Wigan and maybe a little revenge after the Cup Final defeat
Team
Pantilimon 6: Richards 8, Boyata 7.5, Lescott 7.5 Clichy 7.5; Fernandinho 7 ( Yaya Toure 8), Garcia 7, Milner 8, Lopes 7 ( Navas 7.5) Jovetic 8, Dzeko 7 (Negredo 7)