City 1 Arsenal 1
September 23rd 2012 47,318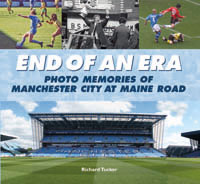 Now available from Amazon ( click on image for link)
WH Smith and the City shop
We would have been very pleased to have won this game one nil and we had chances to seal it late on but a poor defensive header by Lescott ( the hero at half time) went straight to Koscielny who cracked the ball past Joe Hart. A draw was I suppose a fair result as Arsenal passed the ball well and but for their poor finishing they might have taken all three points. City were lethargic at times and too many key passes went astray. I wonder how much the absence of De Jong in front of the back four has affected the recent form of the defence. We are looking far more vulnerable this season. Garcia is a little slow at times and it will take him a while to get used to the Premiership I think. Yaya Toure's shooting was well off today several shots going well wide of the mark. Sinclair did little and it was no surprise when he was substituted at half time. Silva did his best but he is well short of his form of last season. Surprise selection Dzeko held the ball up well and had one good effort saved. He needs a few goals to get more confidence. Aguero looked very tired towards the end but was unlucky not to score on a few occasions. Generally though we need to speed things up in the final third and we must work on our passing which was quite poor at times. We were fortunate to be one up at half time as Arsenal outplayed us at times. In the end though we could have won it in the very last minute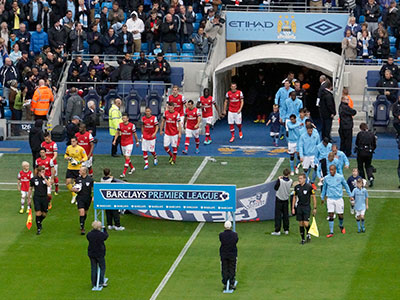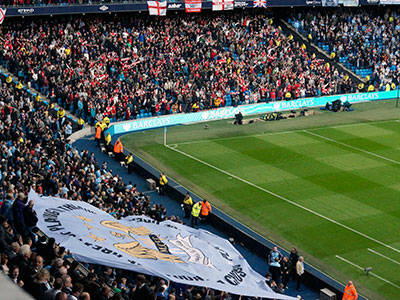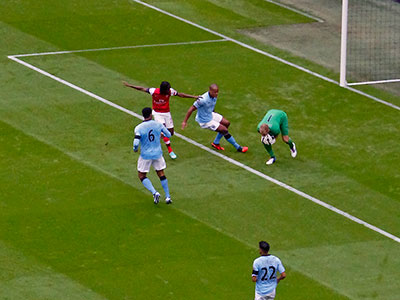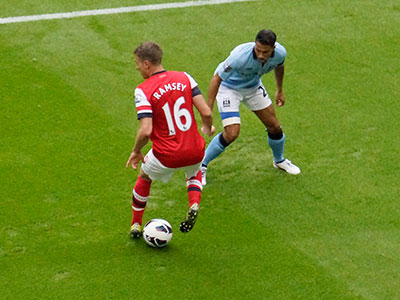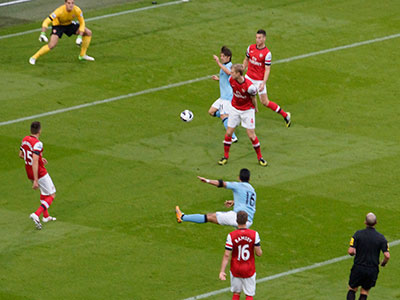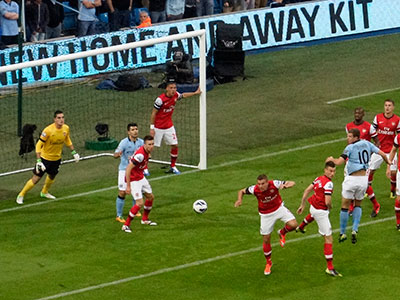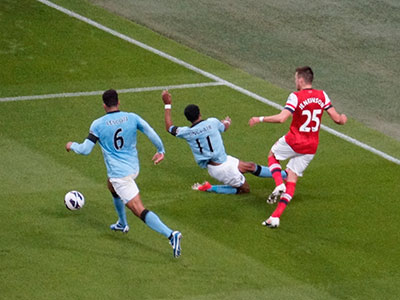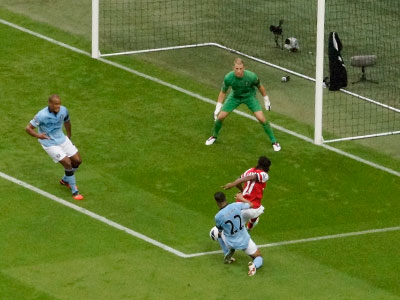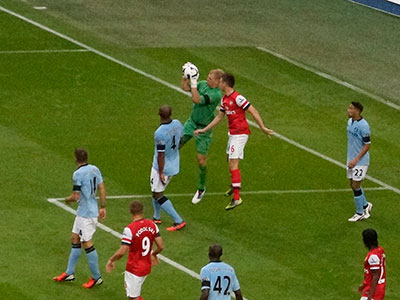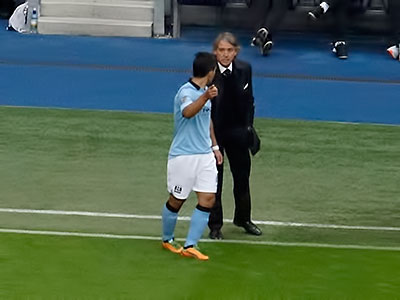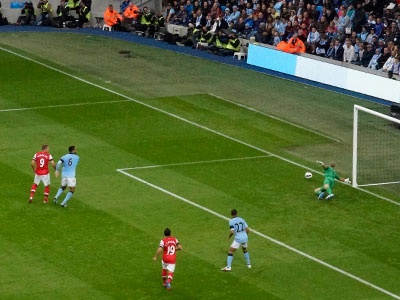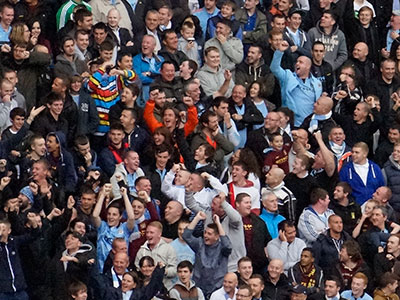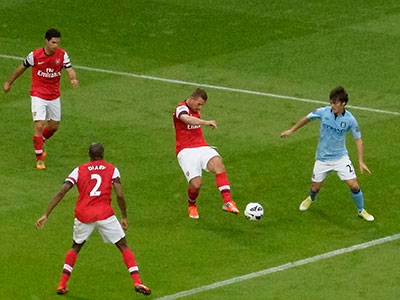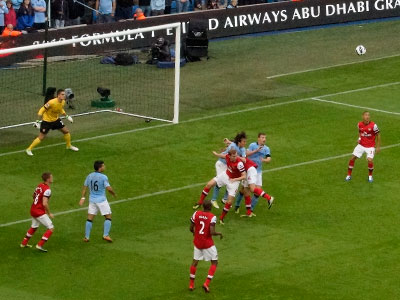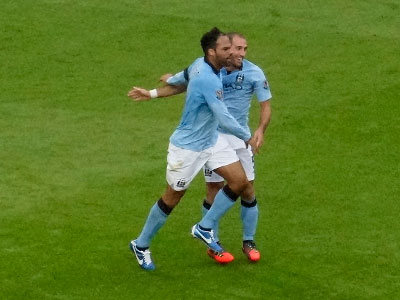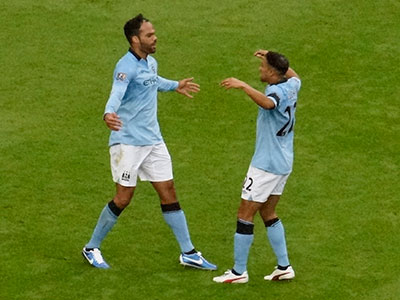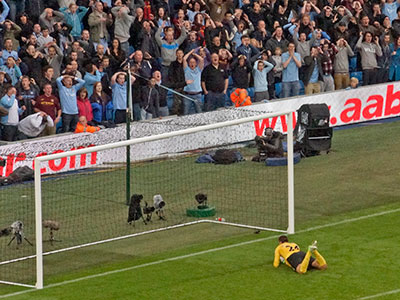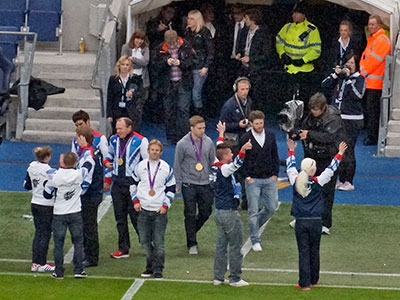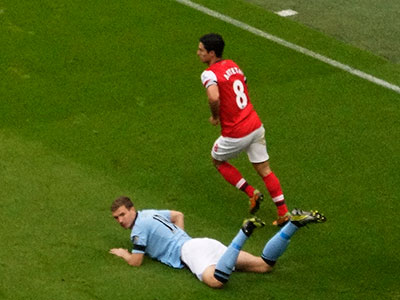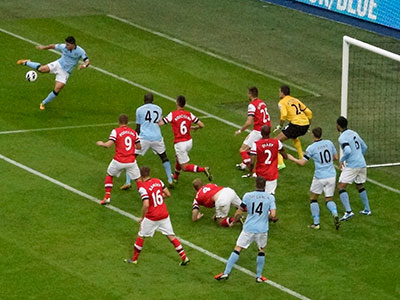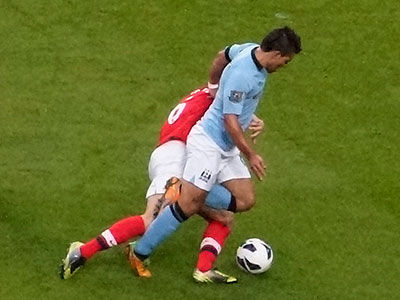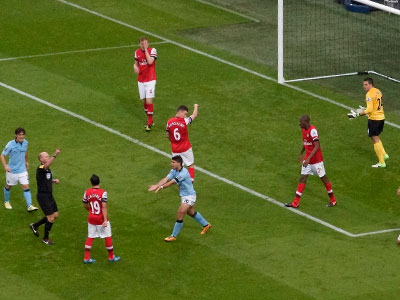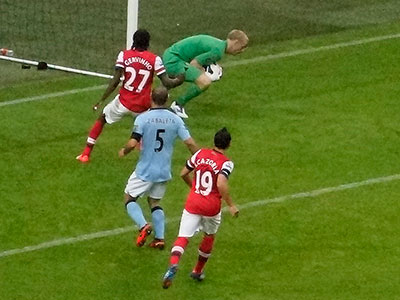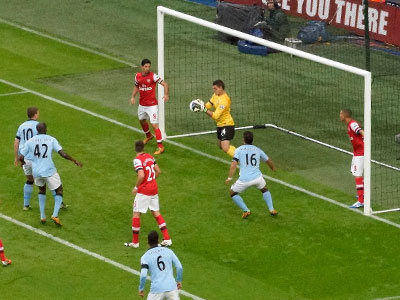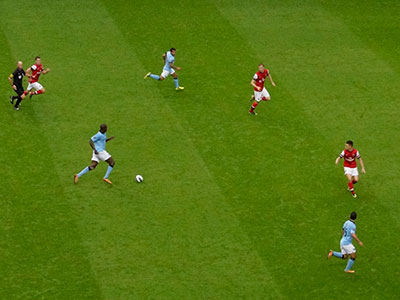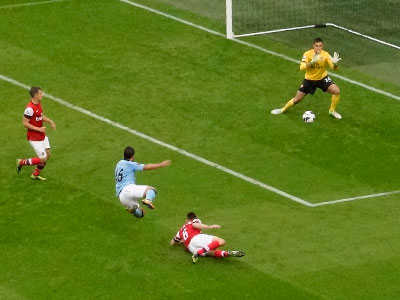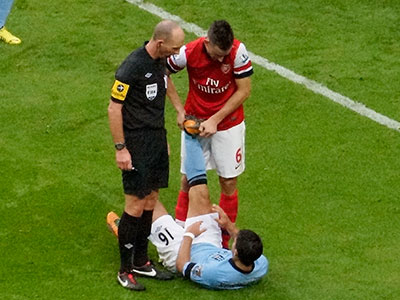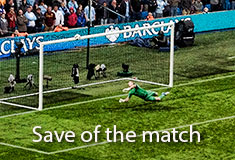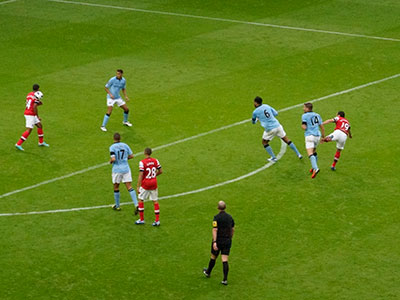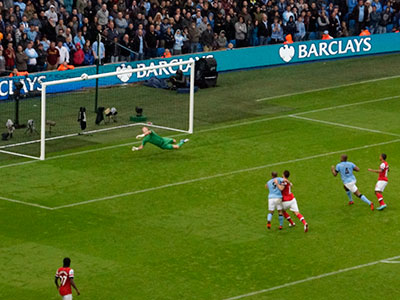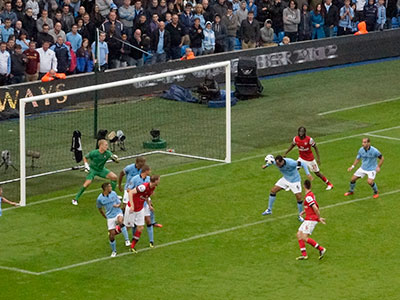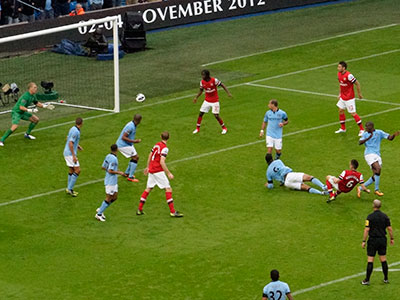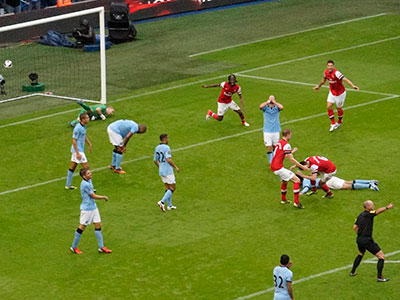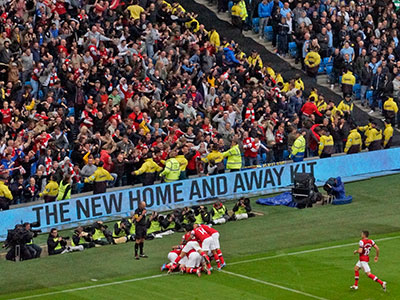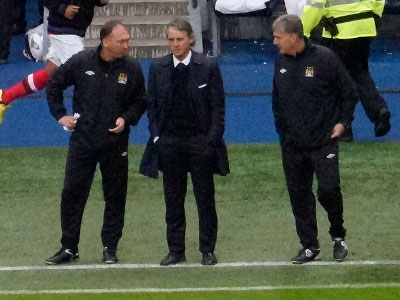 Arsenal brought a lot of support and the ground was pretty full
City had the usual back four but Tevez was on the bench with Aguero back to partner Dzeko up front. Sinclair was in for the injured Nasri
Joe Hart was soon in action
Aguero has a shot saved by Mannone
Arsenal clear a City corner
Clichy and lescott clear from Jenkinson
Clichy makes a great tackle on Gervinho
Aguero gets instructions from Mancini
Joe Hart catches a corner by Arsenal
On 36 minutes a shot by Gervinho goes just wide of the post and as the Arsenal fans think they have scored they raise a cheer which leads to the nearby City fans giving them some stick
As half time approached Gibbs gives away a corner.......
...... which is taken by Silva and Lescott rises above everybody and heads into the top corner
As Lescott receives congratulations we cannot believe we have gone in front against the run of play
City supporters in the South Stand show their appreciation
Just before the interval Dzeko has a first time effort tipped over the bar
Some gold medal winners from the recent para olympics meet the crowd
Dzeko is brought down and he checks whether the linesman has seen the foul
From the free kick Aguero puts a narrow angle effort over the bar
After 54 minutes Aguero is fouled in the box but goes on nd his effort is blocked but we should have got a penalty
Both keepers were kept busy as play went from end to end
On 80 minutes City broke away and it was three against two for a few moments. Yaya Toure passed to Aguero who failed to beat Mannone
Aguero had a touch of cramp that Koscielny put right
a minute later Cazorla takes a shot ....
...... which Joe Hart brilliantly saved pushing the ball for a corner
From the corner Lescott heads clear - but only to Koscielny....
.... who is quick to react and bang the ball past Hart to give Arsenal the equalizer
As you expect the Arsenal fans went mental and on the half way line the meeting of minds took place -
so what do we do now boss ?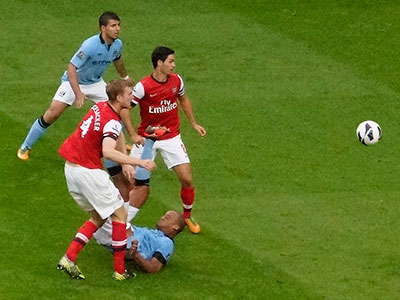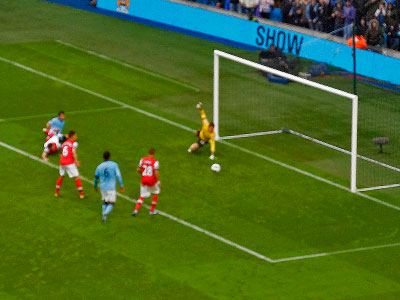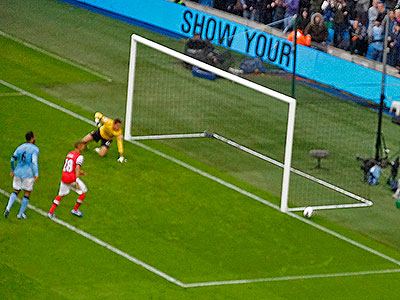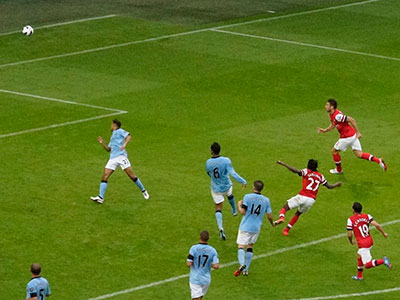 Shortly after City won a corner and a splendid overhead effort by Kompany was saved by the keeper and when the ball reached Aguero his shot......
..... just went wide of the post
In the dying seconds Arsenal had a chance but Gervinho's effort went well over the bar
team
Hart 7.5, Zabaleta 7.5, Kompany 7, Lescott 7, Clichy 6.5; Yaya Toure 7, Garcia 6.5, Sinclair 6 ( Rodwell 6) , Silva 7, Aguero 7 ( Balotelli) , Dzeko 7 (Tevez 6.5)