City 3 Wigan Athletic 0
Sept 10th 2011 46,509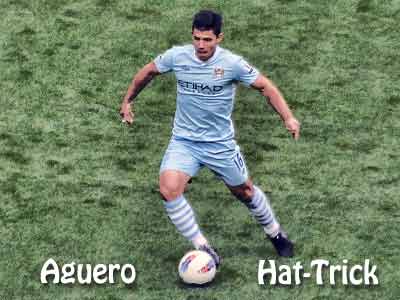 Yet another outstanding performance by City as they cruised past a well beaten Wigan side. Star of the show was once again Kun Aguero who scored three perfect goals. Actually it could have been about six or severn as Tevez missed a penalty and the post was hit twice and the number of chances that went begging was considerable. Playing very good football City were on top for most of the game and joe Hart had very little to do. The strength of the City squad enabled several of City's first choice players to have a rest before the game against Napoli on Wednesday. Even 'four goals against Spurs' Dzeko sat on the bench. With both Barry and de Jong injured Ya Ya Toure did a good job in front of the back four while the two fullbacks played a splendid attacking role. Milner worked his socks off in midfield while Silva once again was prominent in displaying his exquisite creative skills and two of his passes ended with goals by Aguero. A new look Tevez was back and although he missed the penalty one could not fault his work rate for the team. Johnson disappointed a little. He sometimes overdid his dribbling and often the end result of his work ended with a misplaced pass. Nasri had 30 minutes at the end and immediately made an impact on the game - a clinical pass making Aguero's second goal. Nasri making his home debut looks like he has been playing with his colleagues for ages! All in all a very good performance and now we face the Champions League. With Napoli first ( who won 3-1 away) and then Bayern Munich ( who won 7-0 at home) and then Villarreal who drew 2-2 at home.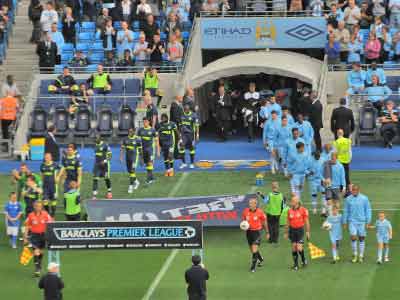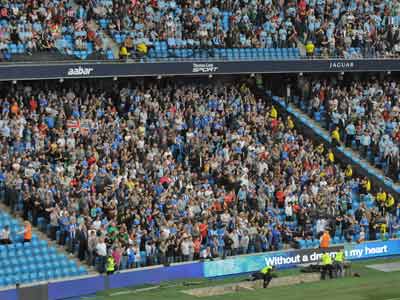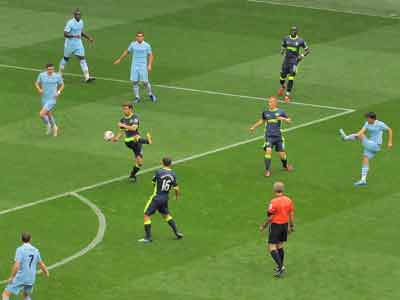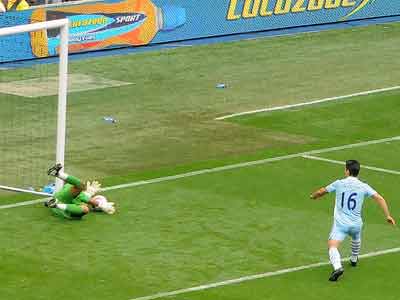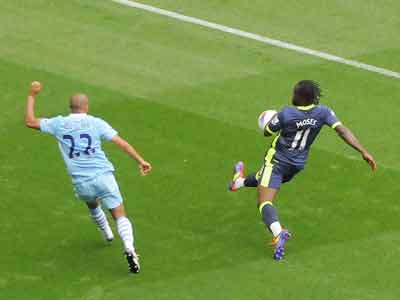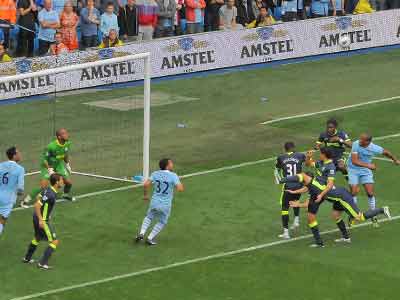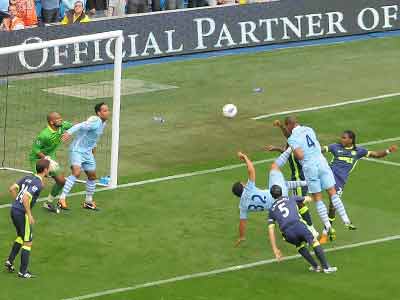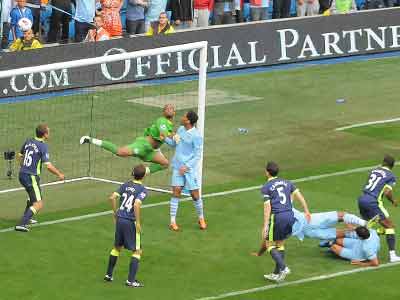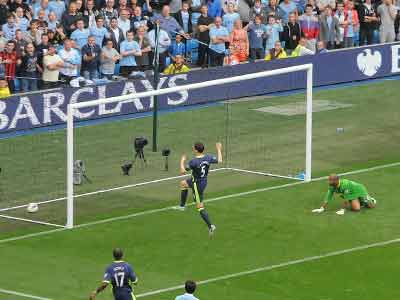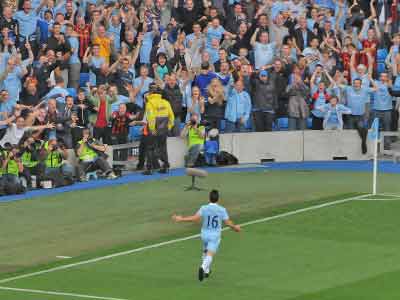 Silva was the first to have a shot which was saved by the keeper with Aguero ready to pounce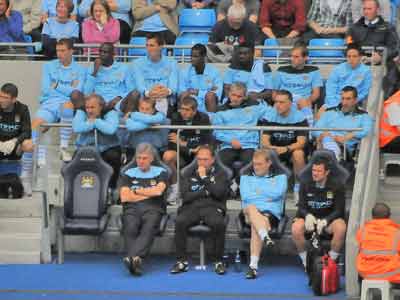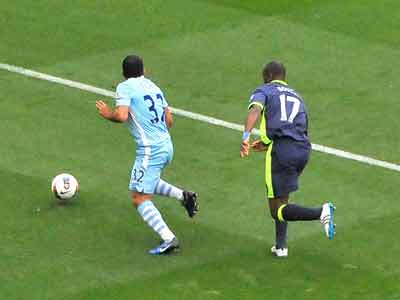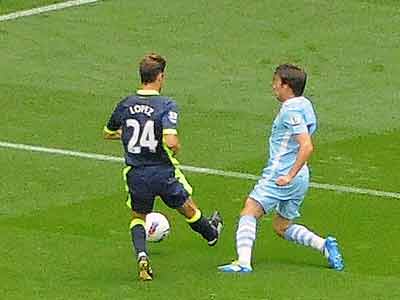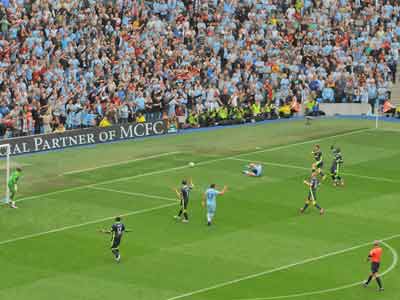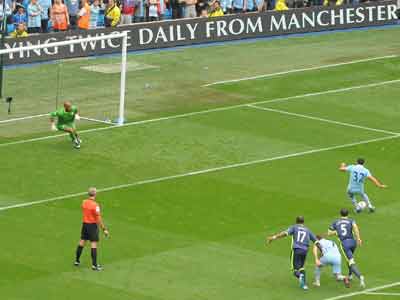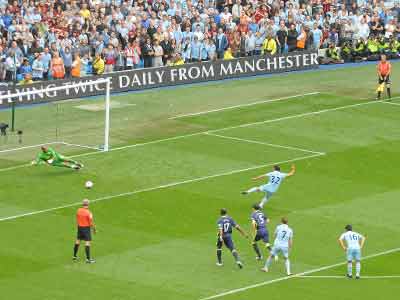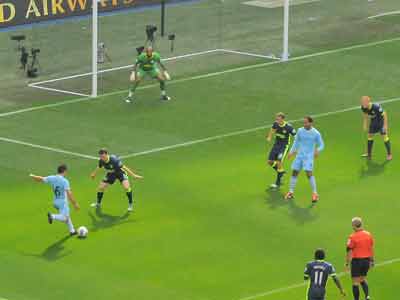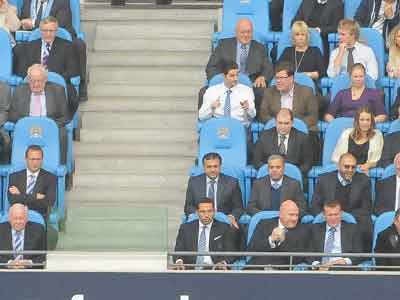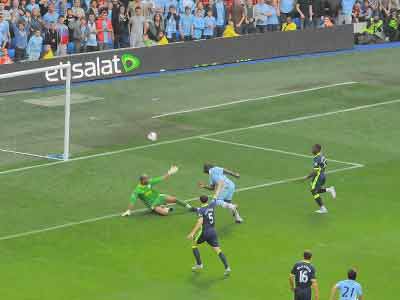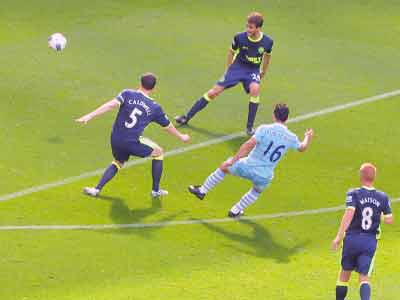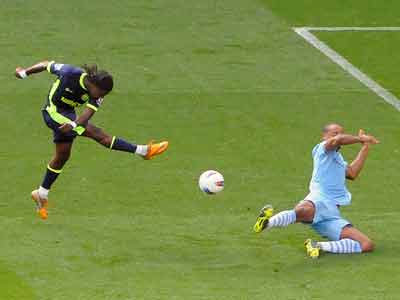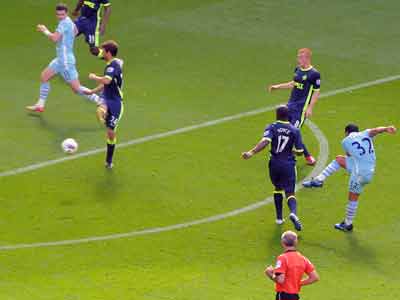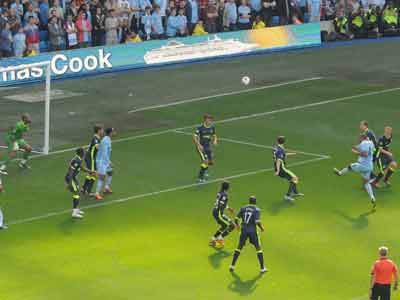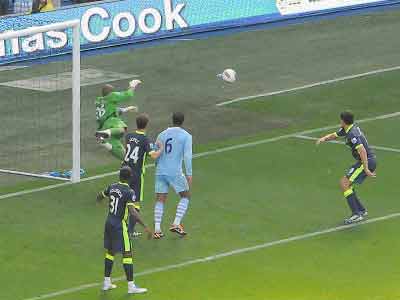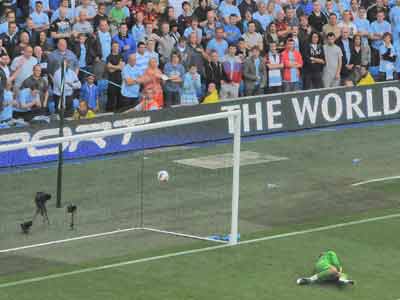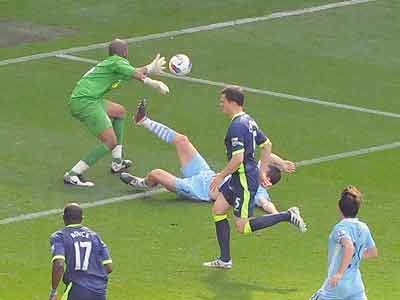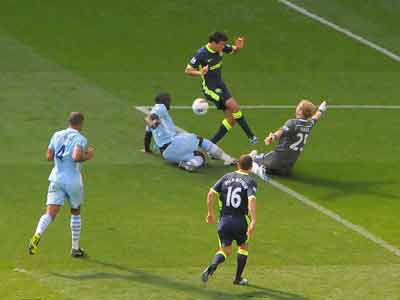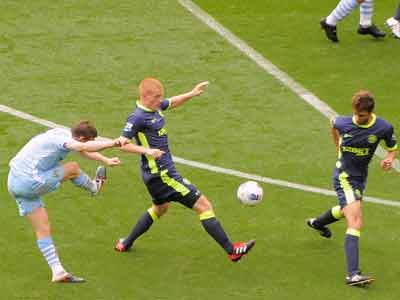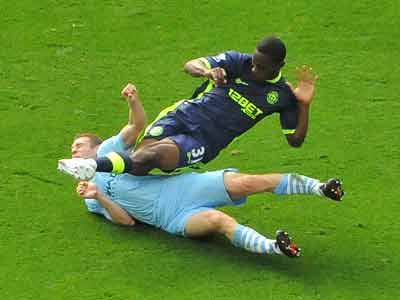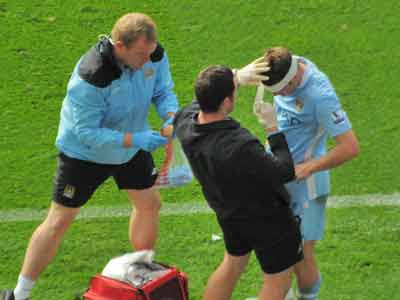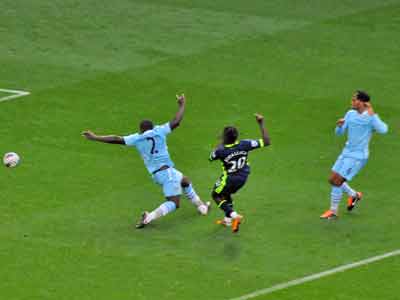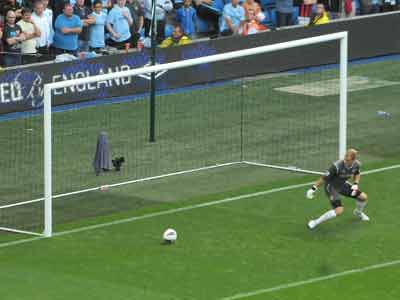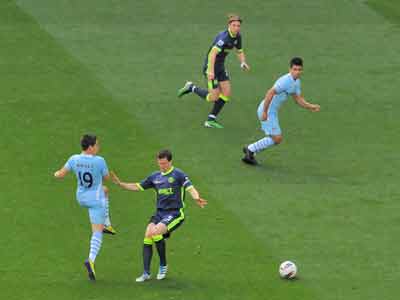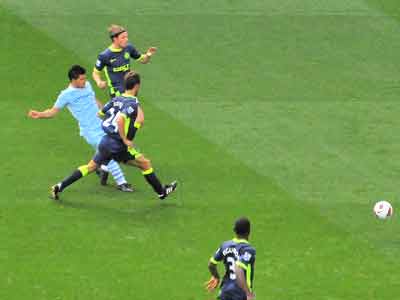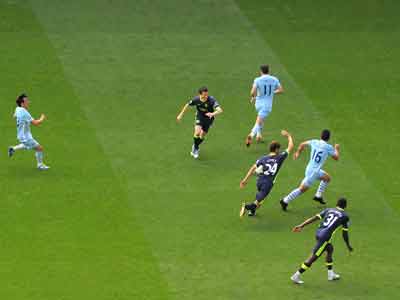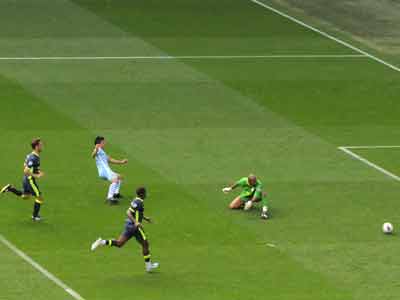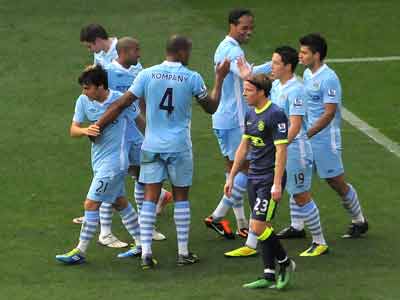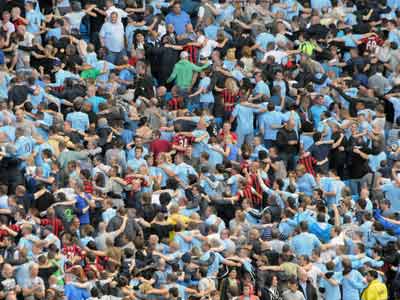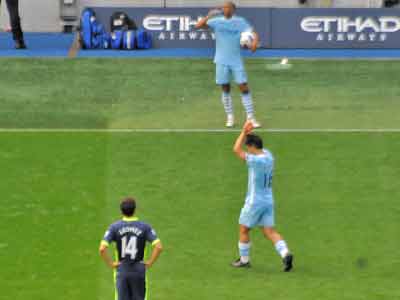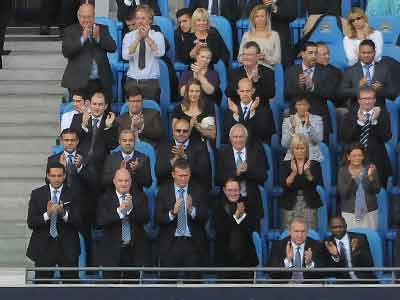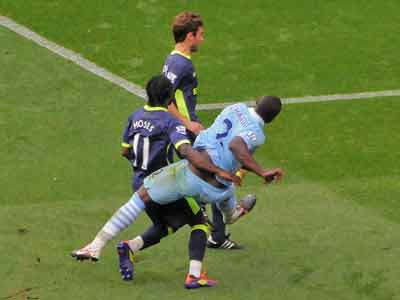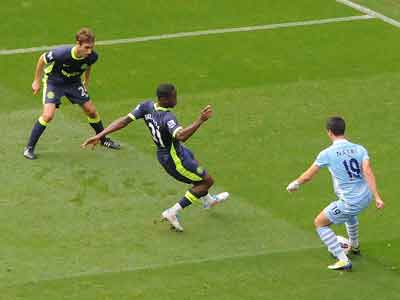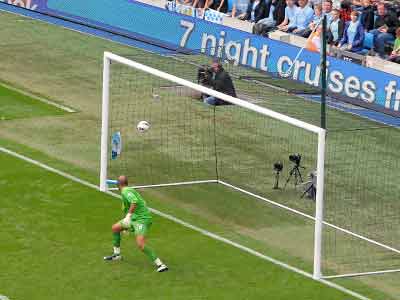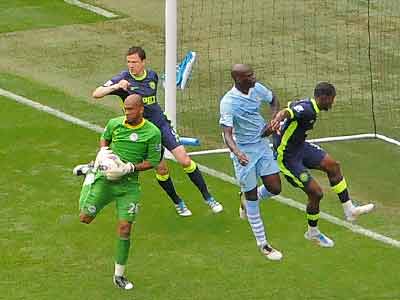 Tevez made his first start and Dzeko was rested. Milner was in for the injured Barry. Johnson started with Nasri on the bench
Wigan supporters only filled a couple of sections of the visitors area
A good run by Clichy earned a corner which was headed goal wards by Kompany......
The ball eventually was headed over by Lescott from just in front of the keeper
The bench looked a bit glum as the chance went adrift but they were soon smiling as good work by Tevez ended with Silva slipping the ball to Aguero......
......who shot past Al Habsi to give City the lead
It was a well placed effort and Aguero got a terrific reception
a few minutes later and David Silva is brought down by Lopez and a penalty is awarded
Tevez took the penalty and instead of his usual blast he tried to side foot it past the keeper but the kick was saved. Notice how the keeper has moved forward quite a bit before the kick was taken. It is rare nowadays that penalties are retaken
after 20 minutes an Aguero effort just goes wide of the far post
Our chairman was present today. We all wondered who is going to take over from Garry Cook
On 27 minutes Richards was put through by Silva but his effort hit the post and another chance was lost
It was hands on heads in frustration for the City supporters too!
A minute later and Aguero just shoots wide and we wonder whether we will ever score again1
A rare effort by Diame goes well wide
An effort by Tevez goes just wide
On 34 minutes Kompany hits the post from a corner and ball runs out .........
....to Yaya Toure and his cross is almost turned into the net by Lescott - yet another escape for Wigan
Al Habsi saves from Milner
Just before half time Richards was injured in making a late tackle
A Milner shot is blocked by Lopez
A Victor Moses shot was blocked
on 56 minutes Milner got injured with a clash with Figueroa and had to have treatment
Shock! Horror! - on 58 minutes Joe Hart had to make a save from Rodallega
On 62 minutes just after Nasri had come on for Tevez he slipped the ball through to Aguero who once again placed the ball past the keeper to give City a two goal lead
A minute or so later and its three nil. A great through ball by Silva gives Aguero his chance and he makes no mistake
The City team and supporters congratulate Aguero on his three goals
A few minutes later and Aguero is subbed by Balotelli and the board and supporters give him a standing ovation
Richards powers through but his final effort goes wide
From a narrow angle Nasri has an effort ......
..... goes just wide of the far post
City continued to pressure Wigan but the score stayed at just three - it could have been eight!
Hart 6.5: Richards 8 Kompany 7.5, Lescott 7.5, Clichy 7.5: Milner 8, Johnson 7, Silva 9, Yaya Toure 7.5( Razak): Aguero 9.5 ( Balotelli 7) Tevez 7.5 ( Nasri 8)