City 3 Everton 1
October 5th 2013 47,267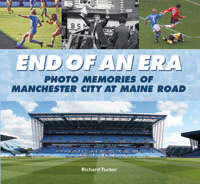 Now available from Amazon ( click on image for link)
WH Smith and the City shop
After the poor display against Bayern we were due an improvement - and we got it against an unbeaten Everton. It certainly wasn't easy and when Everton took the lead against the run of play - to hit back quickly was essential and a great pass inside the full back by Yaya Toure ended with Negredo prodding the ball past Howard to equalize within a minute or so. Aguero who had missed two easy chances scored an excellent goal to put City ahead and in the second half a rather soft penalty taken by Aguero put the game beyond Everton's reach. A big plus point for City was the return of Silva who had an excellent game as did Negredo who led the line well and should be starting every game. Yaya Toure had a better game than his last as did Fernandinho.
An injury to Kompany did not help the defence and we had two left sided central defenders in Lescott and Nastasic to keep Lukaku and company at bay which they did pretty well. Kolarov too was injured in the second half so once more we have defensive problems with 4 away games coming up.
Joe Hart kept his place despite the probability of him being dropped after the Bayern errors. He did Ok but did not have many saves to make.
I don't know if it's a record but referee Moss dished out 9 yellow cards !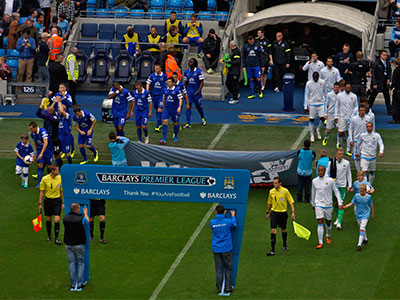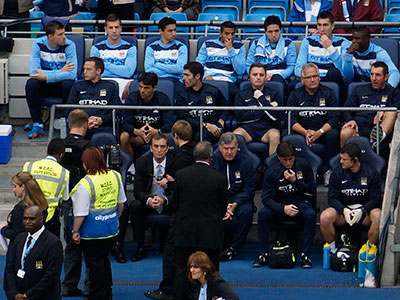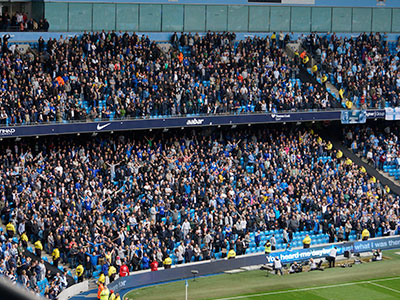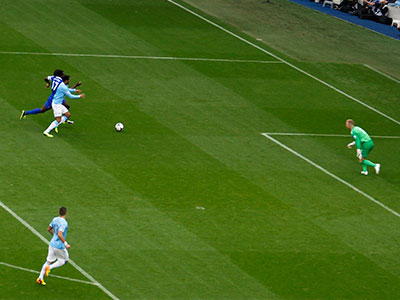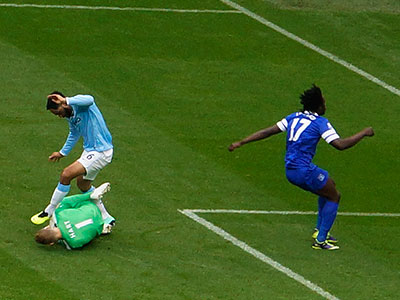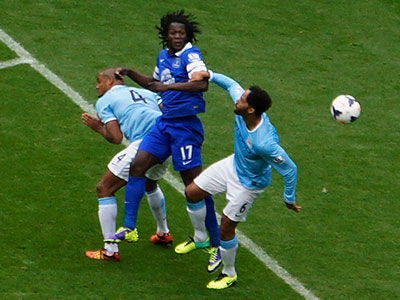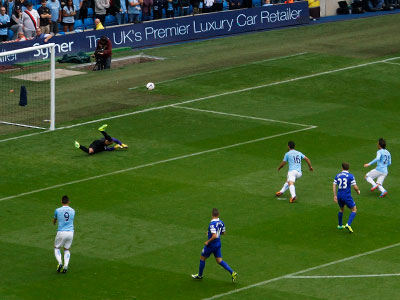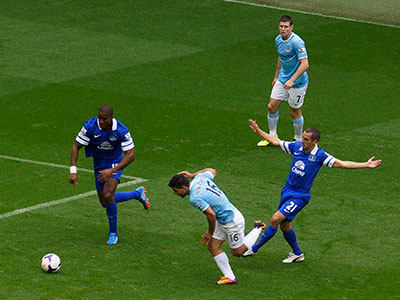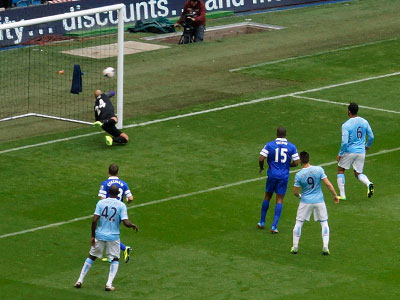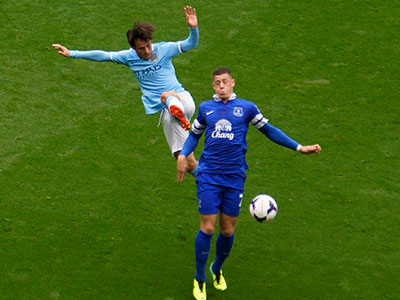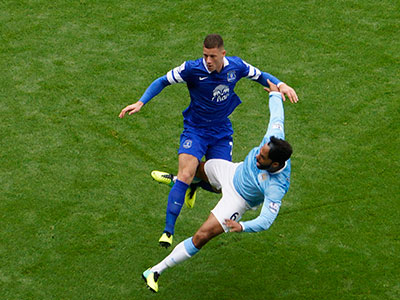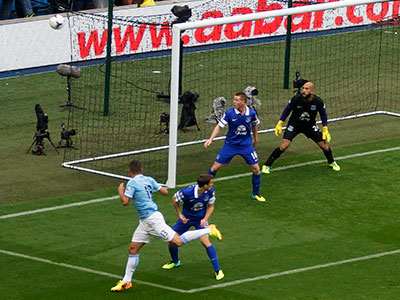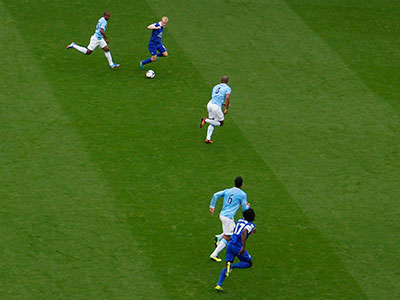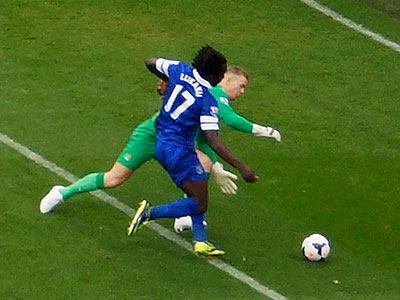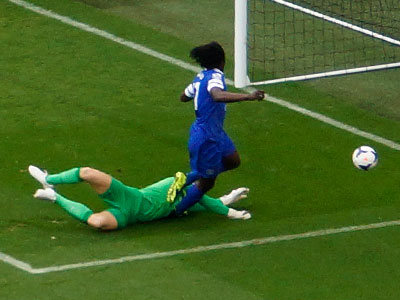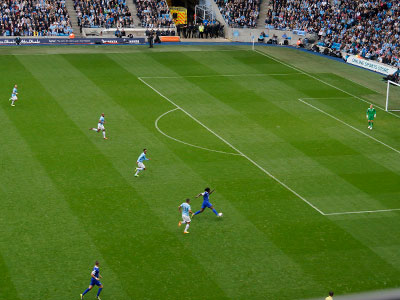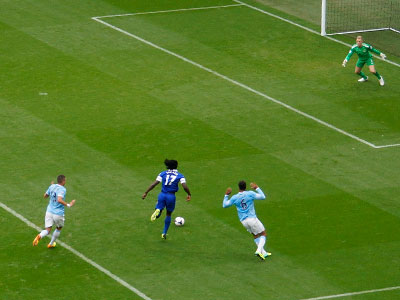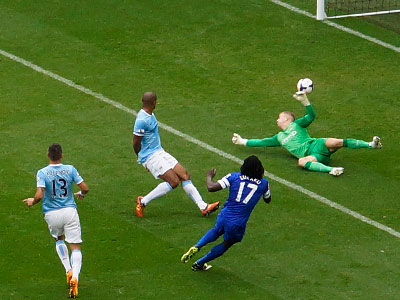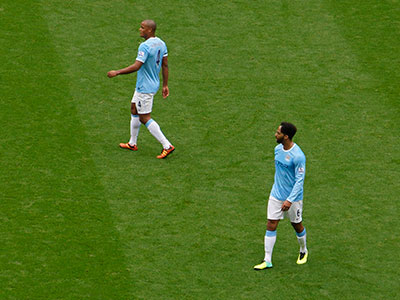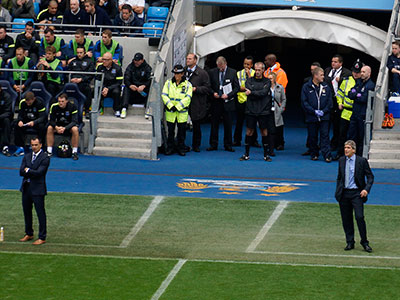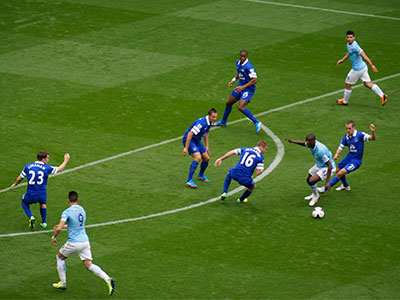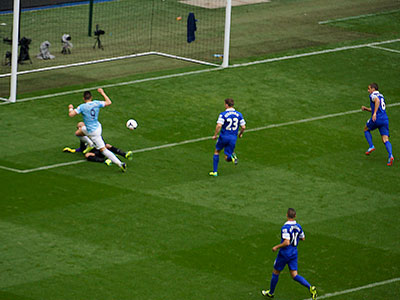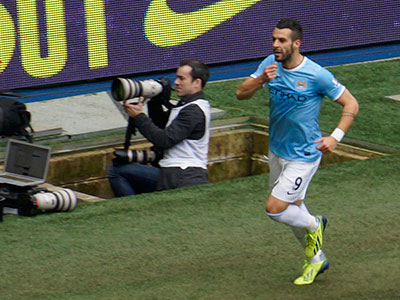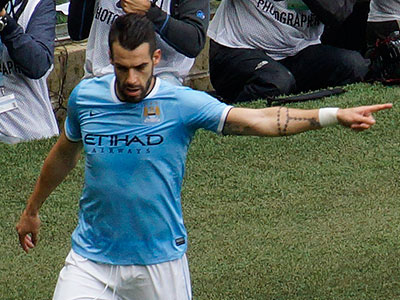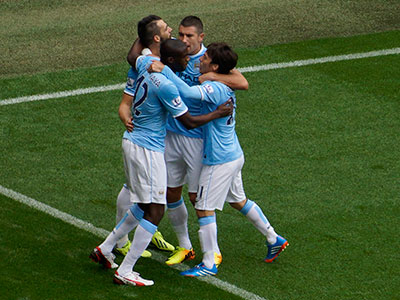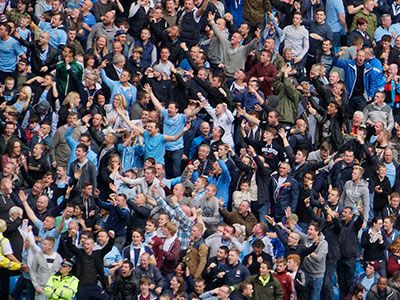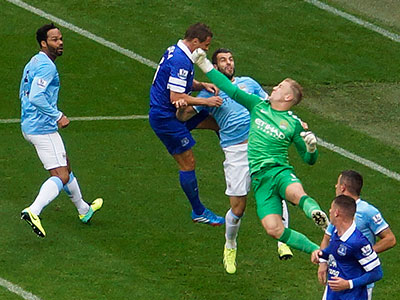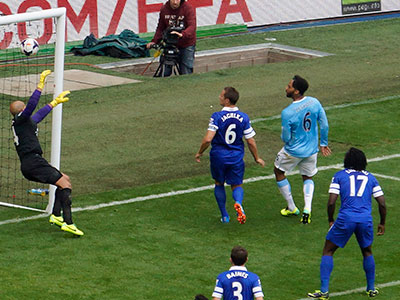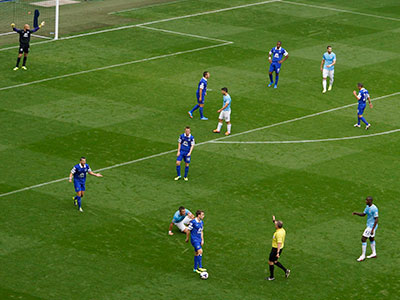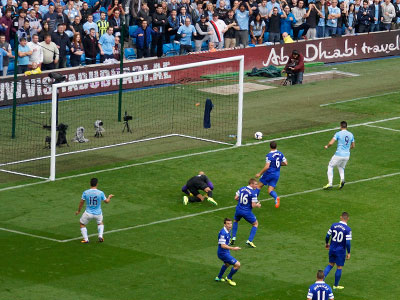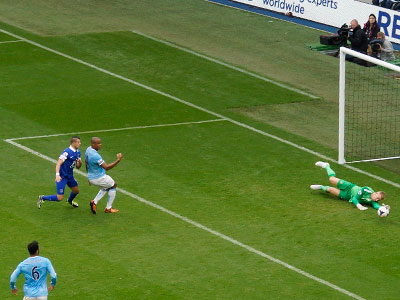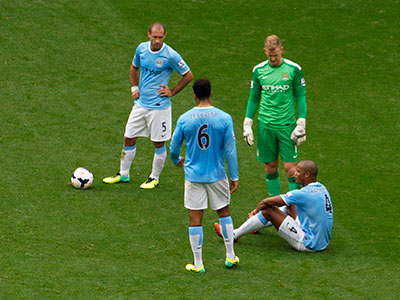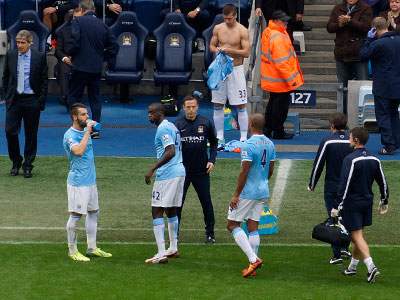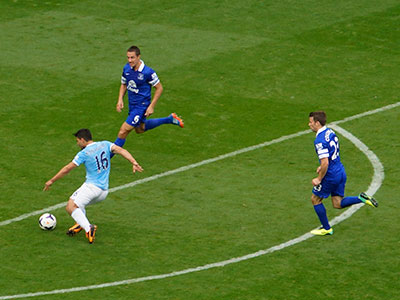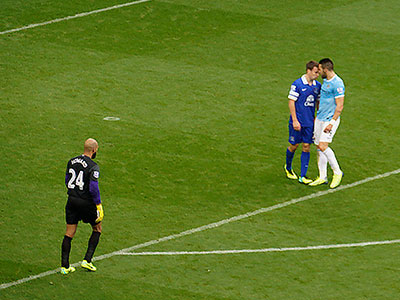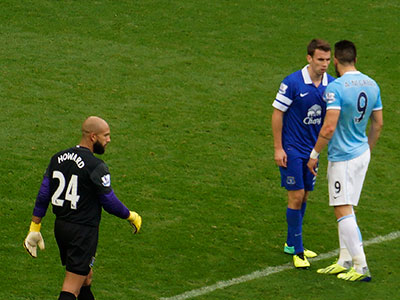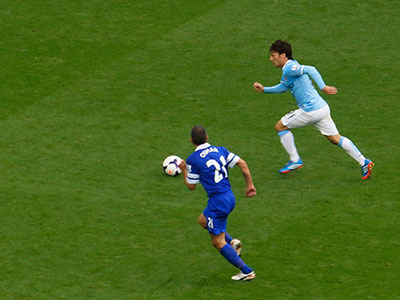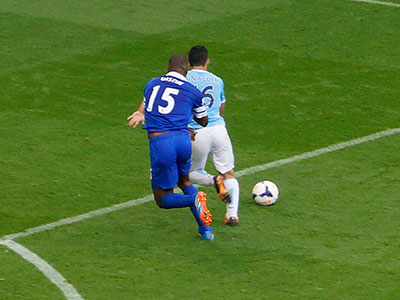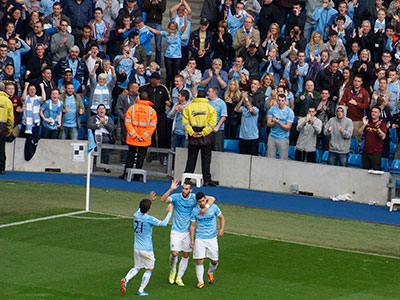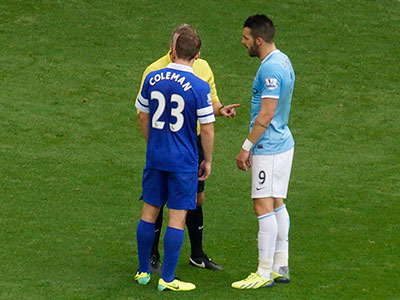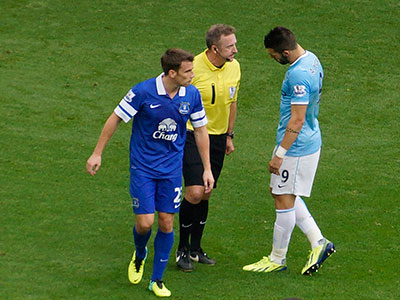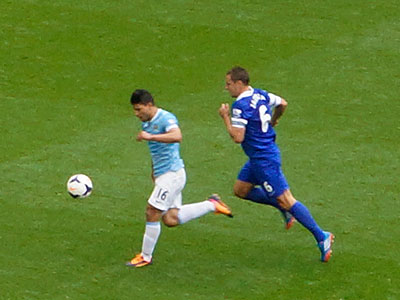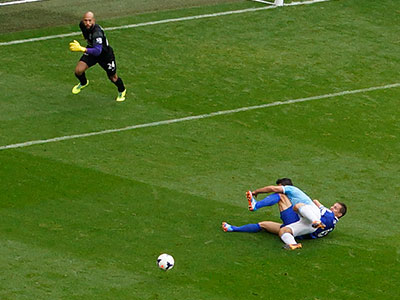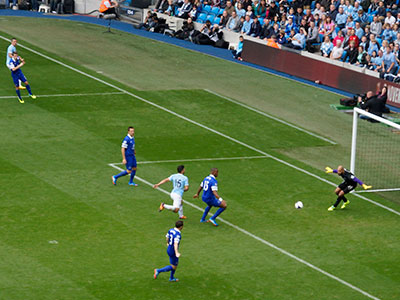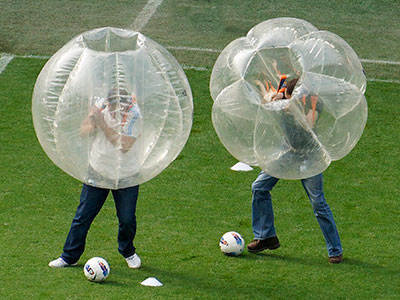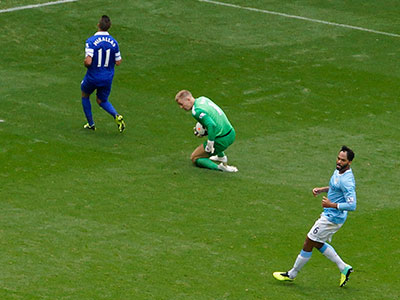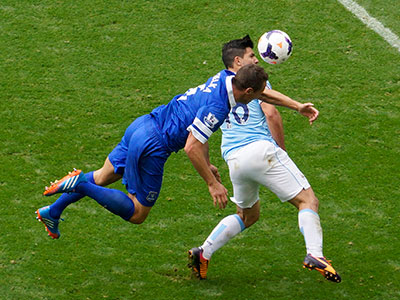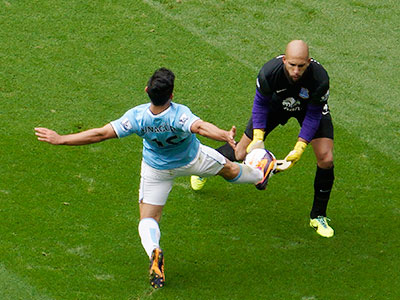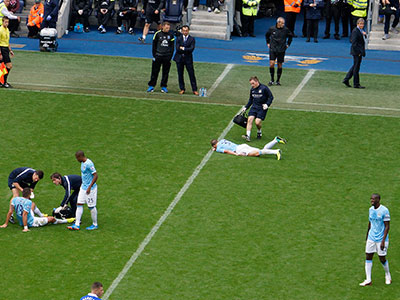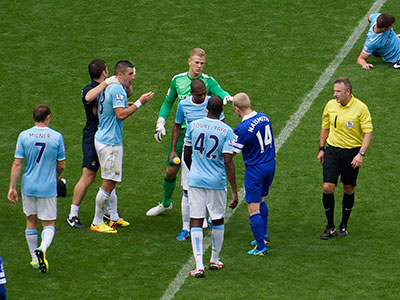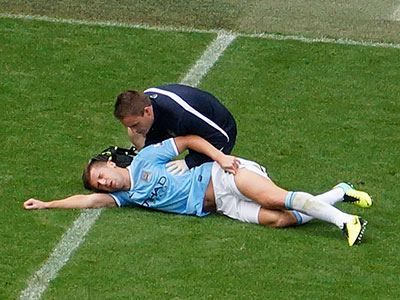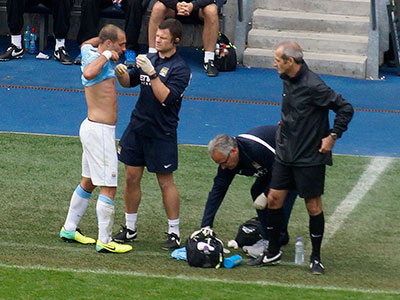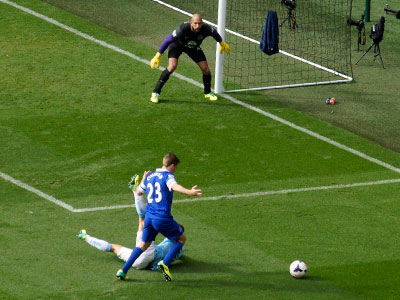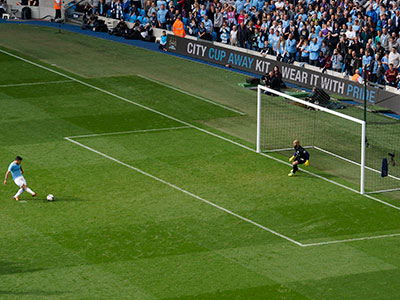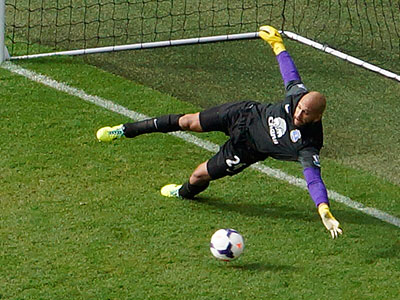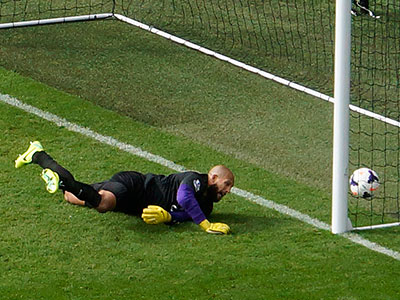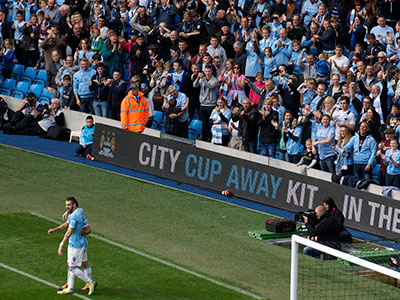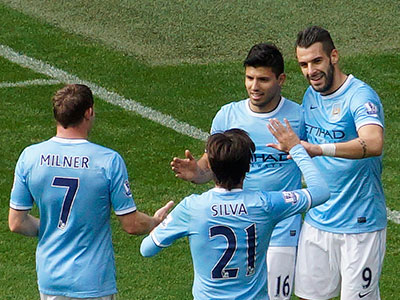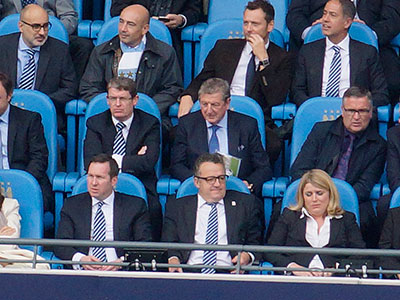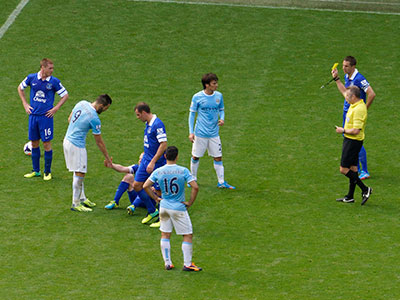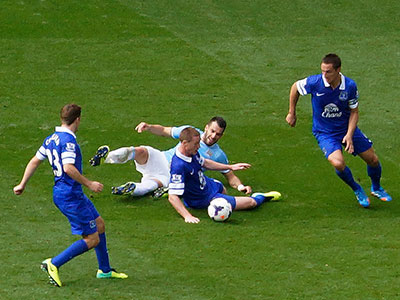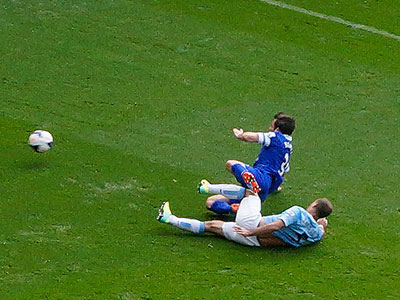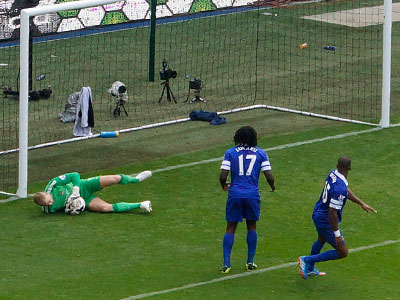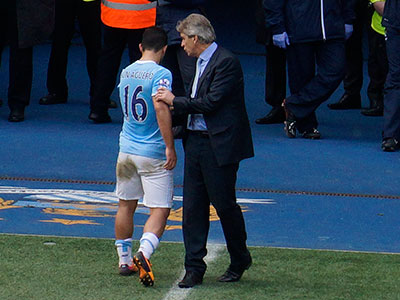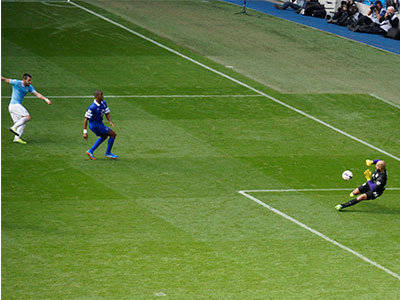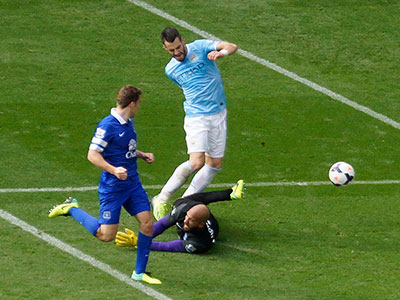 City made 6 changes from the Bayern game - Zabaleta, Kolarov, Lescott, Milner, Negredo and Silva coming in. For some reason they do not announce the subs now!!!
Everton had excellent support in their section
An early attack by Lukaku required urgent attention......
A Yaya Tore effort is saved by Howard
Aguero is fouled by Osman but Kolarov's free kick hits the side netting
Kompany and Lescott deal with Lukaku
Silva battles with Barkley
An Everton counter attack sets up Lukaku and Hart ......
.....has to thwart the striker
but a minute or so later Lukaku is away again put onside by Kompany.....
He cuts inside and beats Hart though the keeper did get a hand to the ball and Everton are one up after 15 minutes
Kompany and Lescott exchanged a few words after the goal
The managers had their own feelings!
A minutes later and City were level. A great pass by Yaya Toure inside the full back and Negredo was onto it in a flash and shot past Howard
It was a well taken goal by the 28 year old Spaniard
As the City players celebrate the City supporters in the South Stand let the Everton fans know what the score is!
Hart punches clear a corner
At the other end a City corner fails to result in a goal
A free kick for a foul on Kolarov is brilliantly taken but Aguero shoots wide when he should have scored
After 32 minutes Kompany appears injured.....
and eventually he is subbed by Nastasic
then to make matters worse Aguero misses the ball completely when he had a good chance to score
Following a tackle by Coleman on Negredo the two players didn't see eye to eye so went forehead to forehead!!
The City attacked again and Silva put a great pass through to Aguero who outpaced Distin.....
.... and shot past the keeper from a narrow angle to give City the lead on 44 minutes
It was a much more difficult chance than the earlier misses but the fans forgave him
The referee then had words with Negredo and Coleman about their previous disagreement
Aguero continued to unsettle the Everton defence
At half time City were ahead 2-1
A minute after the restart Kolarov put in a great cross but there was nobody there to finish it off
The Mirallas broke away put a poor touch enabled Hart to gather the ball
Aguero in action again and Howard had to make a save
On 54 minutes 2 City players were injured - Kolarov and Nastasic
Nastasic was able to resume but Kolarov was subbed by Clichy
To make matters worse Zabaleta had to go off to get his kit changed - no doubt to be checked by the local CSI!
The new kit made the difference and when he was bundled over by Coleman the ref gave a penalty and protesting Distin and Howard got yellow cards - referee Moss is going for the record!
Aguero took the penalty and Howard dived the right way......
... the ball hit the post and bounced back hitting Howard's beard and back into the net. 3-1 and game safe - I hope!
The City players celebrate
England Manager Roy Hodgson was no doubt keeping an eye on Joe Hart today
Another Yellow card -this time for Silva for his over zealous tackling!
Everton needed three players to deal with Negredo
Down goes Baines and yes that's yet another yellow card - number 7 I think
Hart makes a routine stop
Pellegrini thanks Aguero for his efforts as he is subbed
Negredo just fails with some late efforts as City try to add to their score in the final moments
team
Hart 7, Zabaleta 7.5, Kompany 7 (Nastasic 7.5) Lescott 7.5, Kolarov 7.5 (Clichy), Fernandinho 7.5, Yaya Toure 8, Milner 7.5, Silva 8.5, Negredo 8, Aguero 7.5 ( Nasri)