City 1 Bayern Munich 3
October 2nd 2013 47,256
Champions League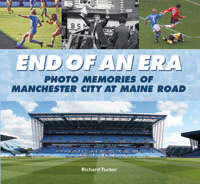 Now available from Amazon ( click on image for link)
WH Smith and the City shop
Slaughter of the not so innocents as City were completely outplayed by the European Champions Bayern Munich. Errors by Clichy and Hart were responsible for the goals conceded but we were poor overall having little or no control in mid-field and we rarely managed to get more than four passes together. It must have been one of the worst home defeats for a long time and so many players had bad games.
Even Kompany was not dominant in defence as the Bayern players ran rings round our defence. I cannot remember Yaya Toure having such a bad game and with Fernandinho only very average there were lots of shouts of bring back Barry! We failed to put the visitors under any kind of pressure Aguero was anonymous really and Navas rarely did any damage down the right wing. Dzeko was at his worst so it was no surprise when he was subbed early. It was a surprise that Richards was preferred to Zabaleta but Clichy who I prefer at left back made a bad error for the second goal and with Robben to contend with rarely got in their half.
Let's face it Bayern Munich were outstanding today but City's poor performance made them look good and we had better be much tougher against Moscow in early November.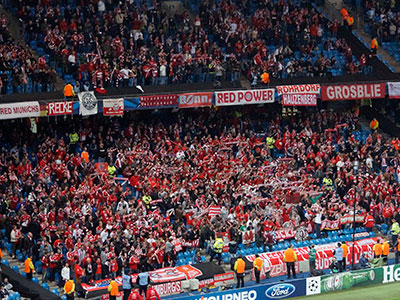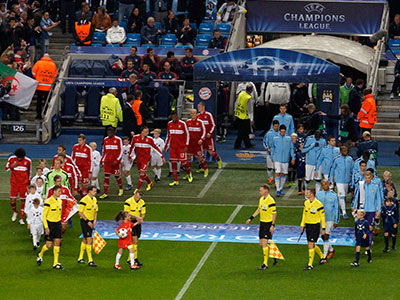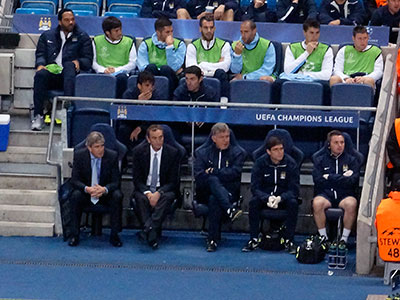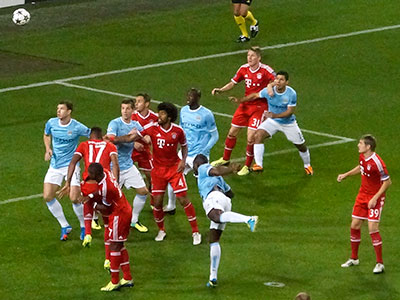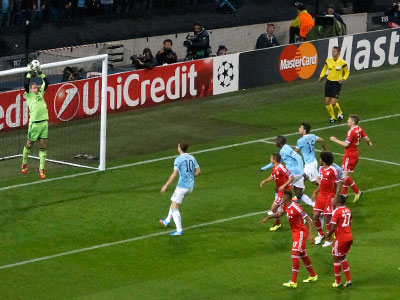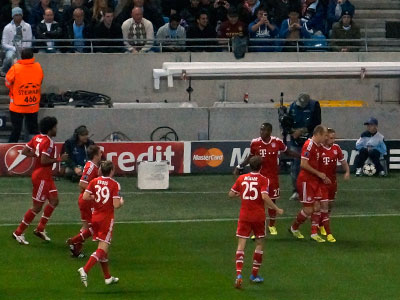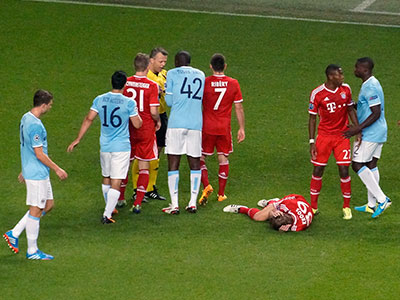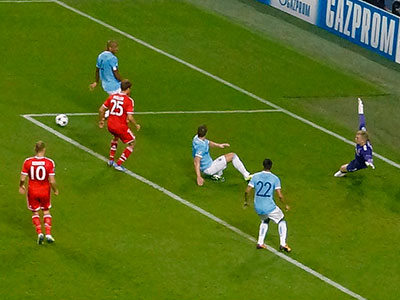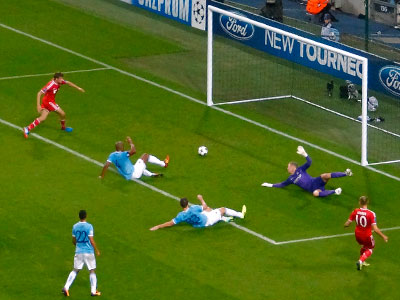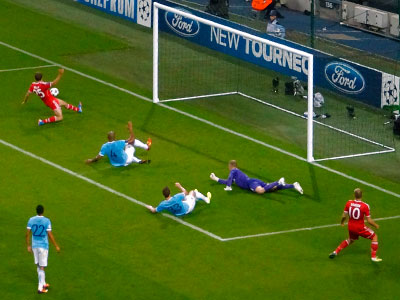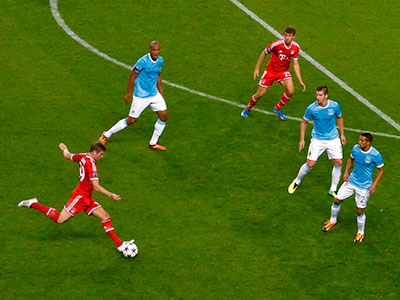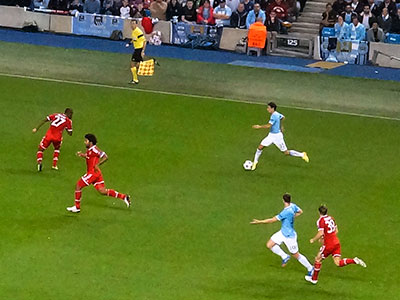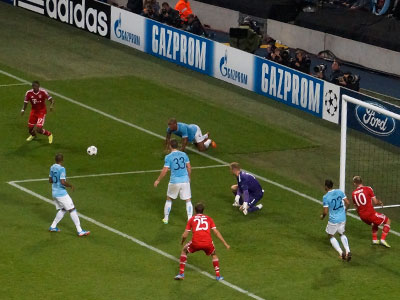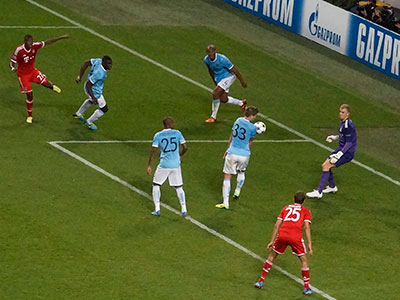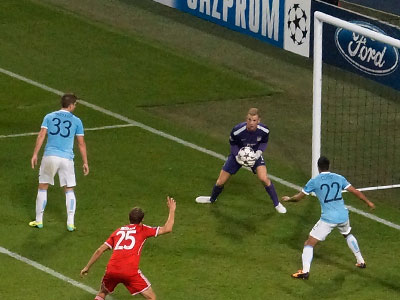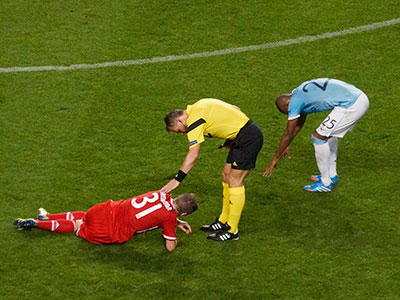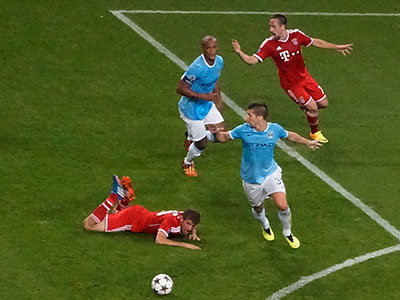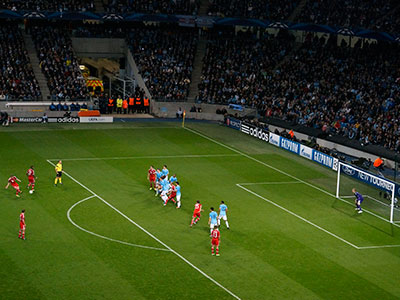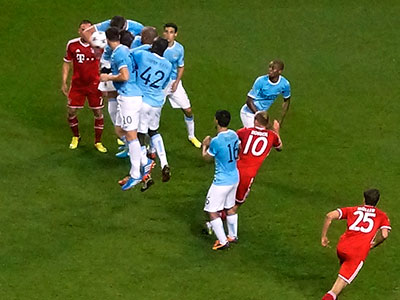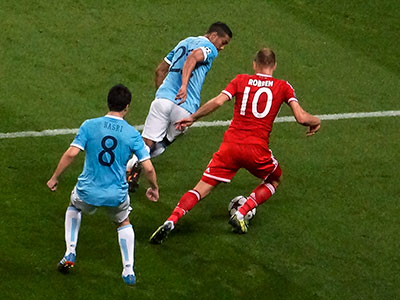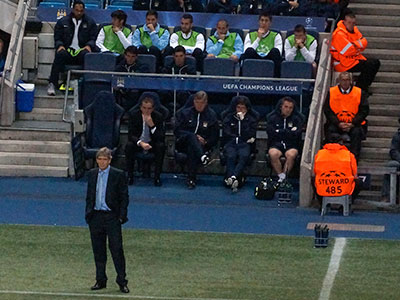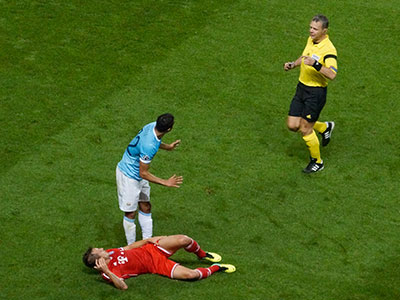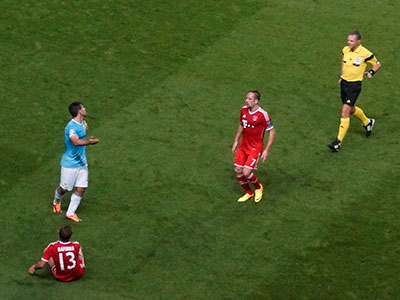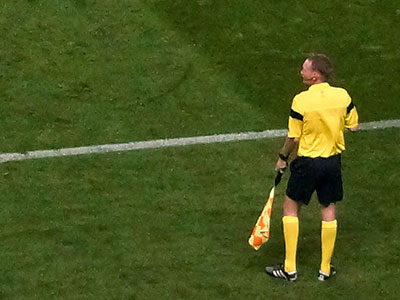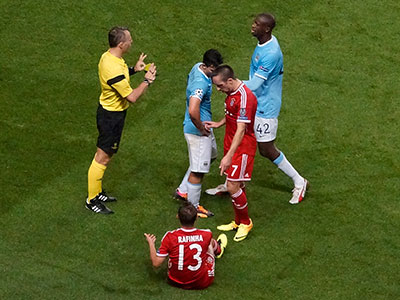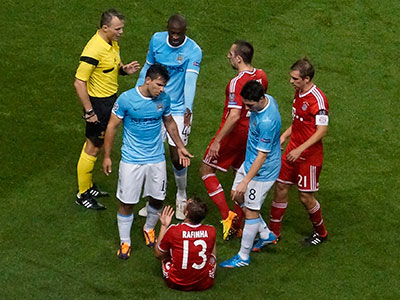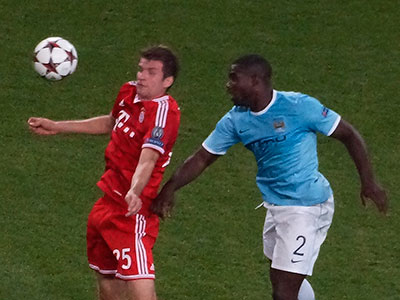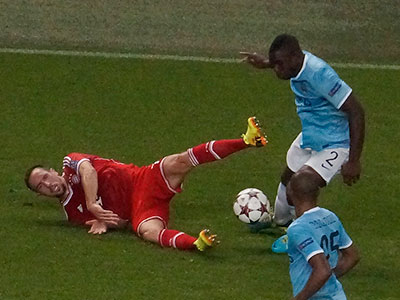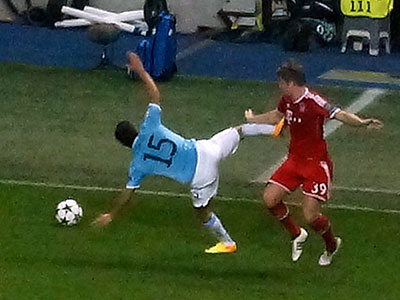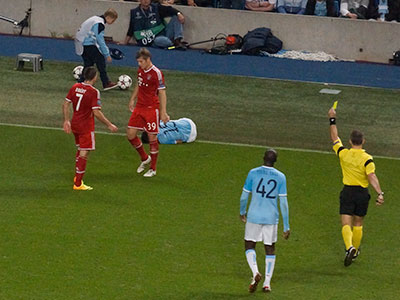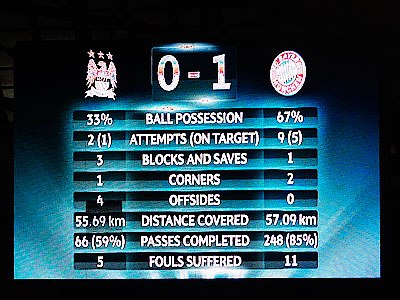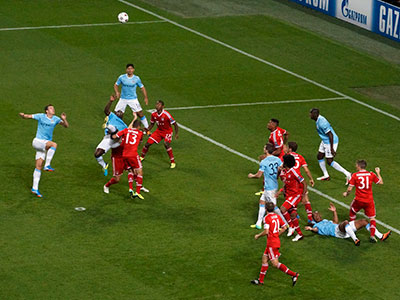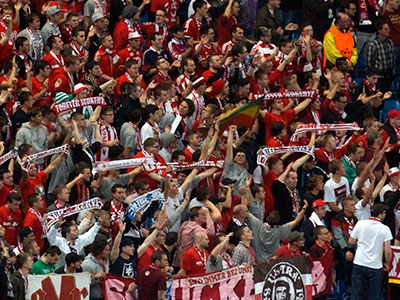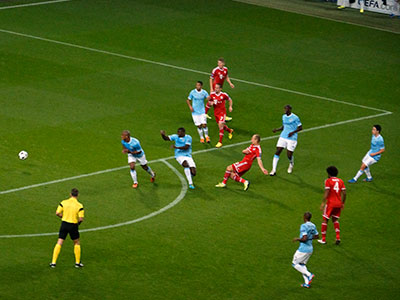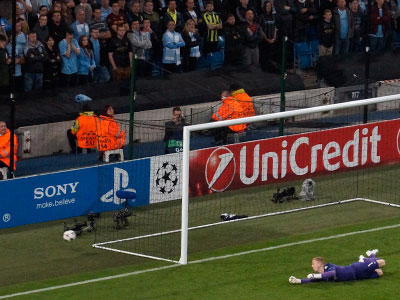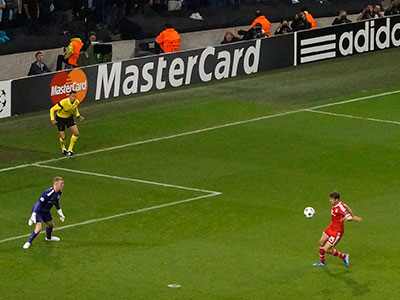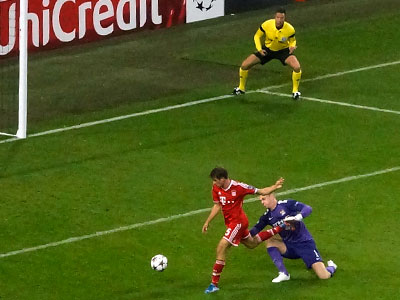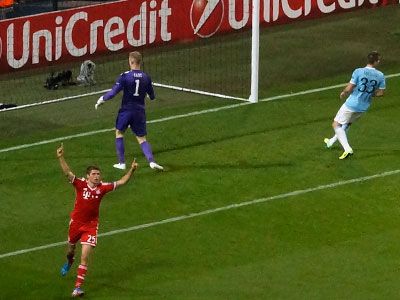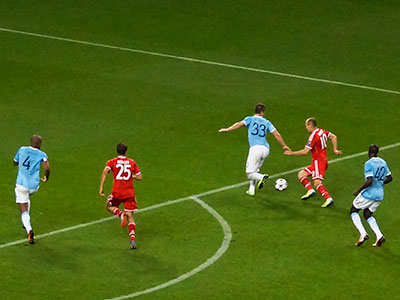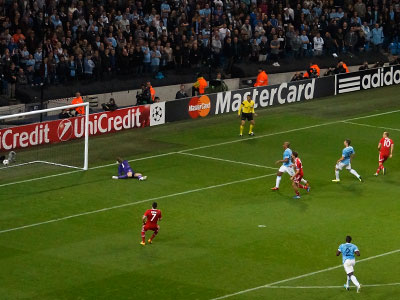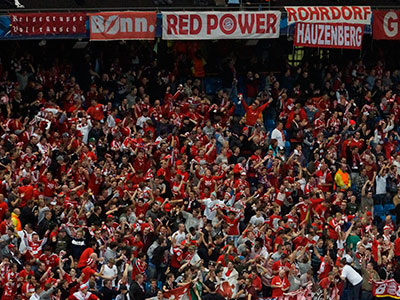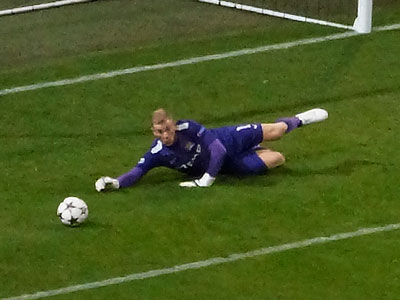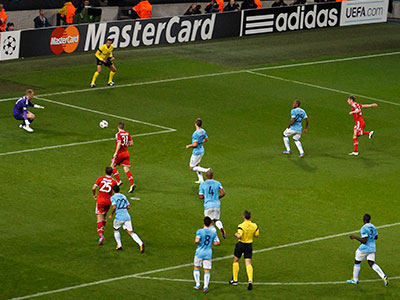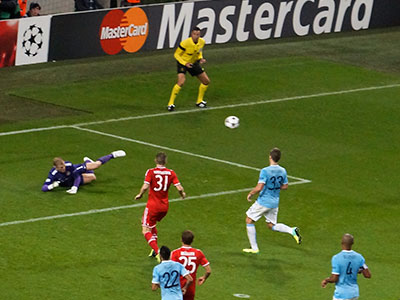 As expected there was a well organized massive support for the visitors from Munich
The family stand had a surprise in store or us as the teams emerged
City made a few changes with Aguero returning and Dzeko was preferred to Negredo. Richards and Clichy came into defence
Good to see Silva back from injury on the bench
City did get an early corner but Richards' header was easily saved by Neuer
But just after 6 minutes had gone the visitors took the lead. A surprise shot by Ribery beat Joe Hart at the near post. Hart did get hand to the shot but he could not deflect the ball.
Kroos in injured in a clash
Kroos has an attempt on goal blocked by City
Navas has a rare excursion into the Bayern half
A near miss as a cross by Robben is just missed by Muller
yet another near escape for City as first Hart saves and then the ball is deflected off Nastasic into the hands of Hart
Fernandinho does some exercises as the referee tends to Schweinsteiger
Nastasic fouls Muller on the edge of the box
City manage to block the free kick taken by Schweinsteiger
Robben was dangerous every time he got the ball
The City bench are not looking too happy about the situation
Clichy brings down Rafinha
The linesman was often standing well away from the touchline
Rafinha goes down again - a dive I thought - after a clash with Aguero who is unlucky to get a yellow card
Aguero and Nasri let Rafinha what they think of him - no Christmas cards there then!
Muller tries to control under pressure from Richards
Kroos goes in very late on Navas
...and gets a yellow card
The stats at half time don't look good for City fans
Bayern manage to clear an early second half City corner
The visiting supporters are unrelenting in their enthusiasm
Robben just fails to beat Joe Hart
A great long cross from Dante finds Muller in space and he easily beats Joe Hart
...to give Bayern a two goal lead
four minutes later danger man Robben takes a shot....
... and beats Hart at his near post to make it three and the Bayern supporters are enjoying this performance by their team
Hart in action again -this time saving from Robben
Hart was in action again as Bayern Munich continued to dominate the game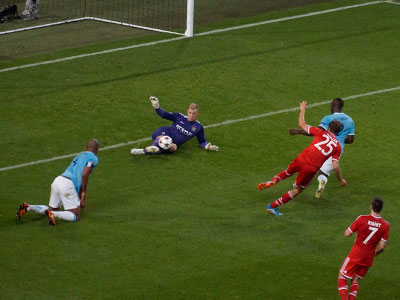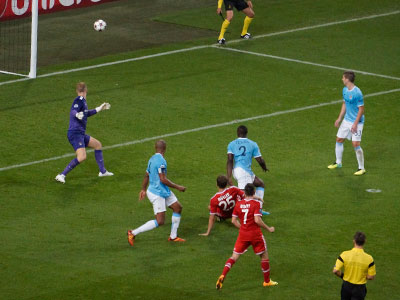 Bayern continued the onslaught and we marveled at the passing of the visitors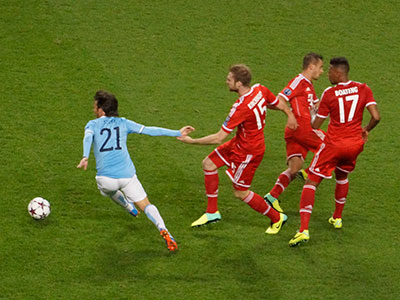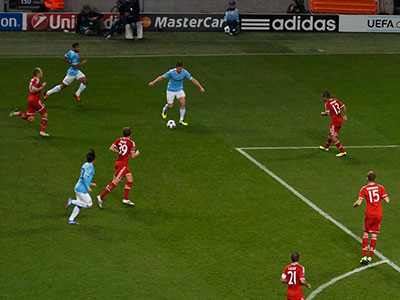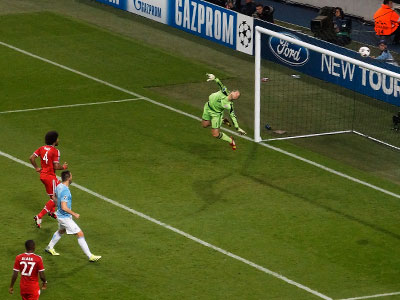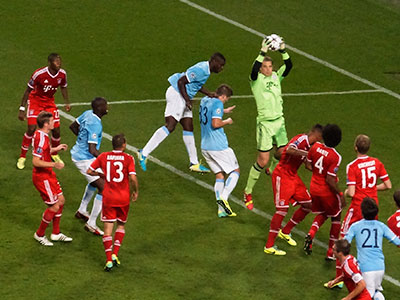 At last we had Silva on for Aguero and Milner for Nasri
Milner had a great shot after 76 minutes....
...but Neuer made a good save.... and from the corner he made an easy catch
0n 78 minutes City scored ! A great turn band shot by Negredo on for Dzeko beat the keeper - there were no celebrations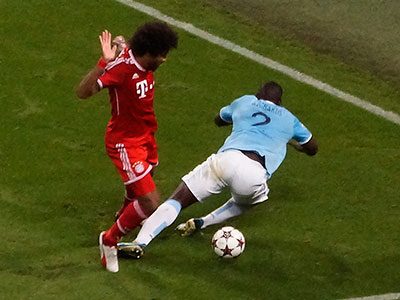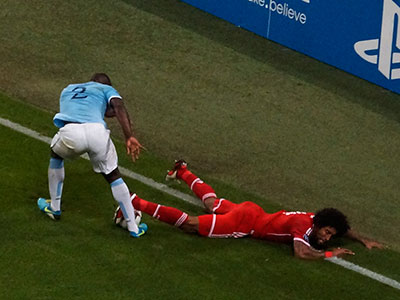 A minutes or so later Richards went through and hoped for a penalty but in the end a fee kick was given against him!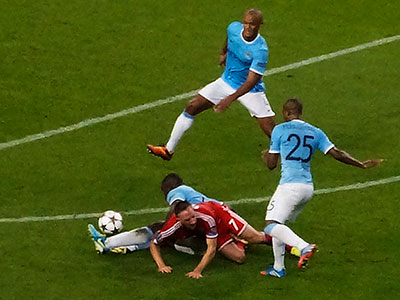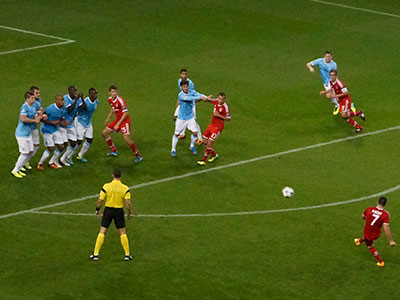 At the other end Ribery is brought down by Fernandinho but the free kick is blocked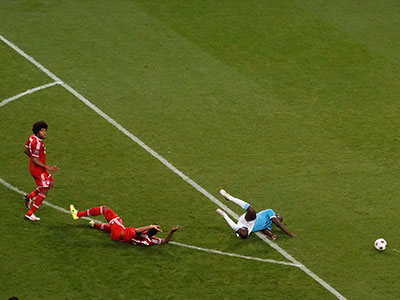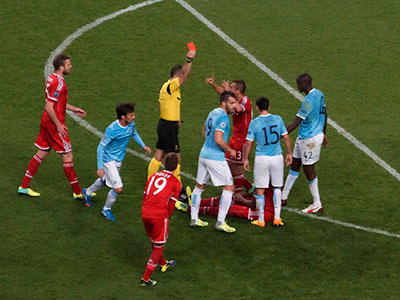 on 85 minutes Yaya Toure breaks through but is brought down by ex City player Boateng who is given a red card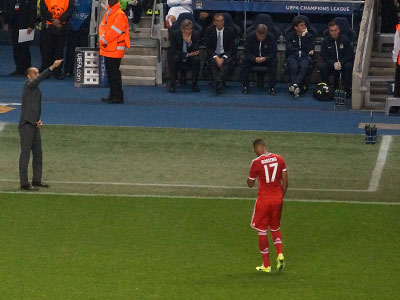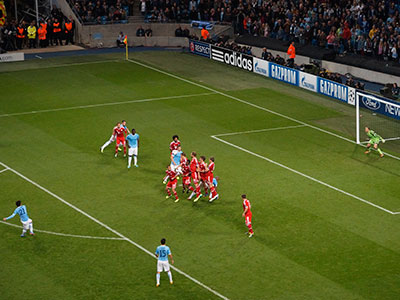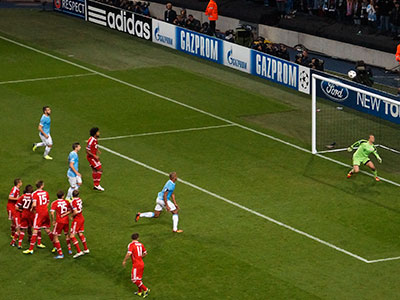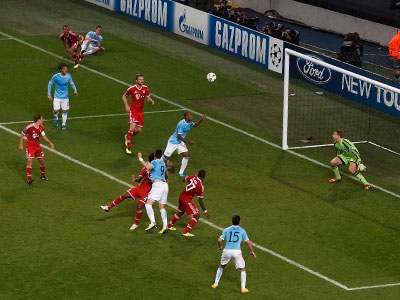 Pep Guardiola organizes his defence as Boateng trudges off
Silva takes the free kick.....
..but hits the bar and City do force a last moment corner but alas nothing comes of it
Team
Hart 4: Richards 6, Kompany 6, Nastasic 6, Clichy 5: Yaya Toure 5, Fernandinho 5, Nasri 6 (Milner 7), Navas 5, Aguero 5 ( Silva 7), Dzeko 4.5 (Negredo 7)