City 1 Borussia Dortmund 1
October 3rd 2012 43,607
Champions League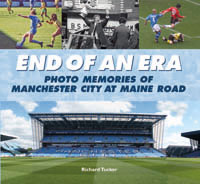 Now available from Amazon ( click on image for link)
WH Smith and the City shop
Make no mistake - this was Joe Hart versus Borussia Dortmund and how we managed a draw after being outplayed by the visitors is a mystery. It took a cool penalty taken by Mario Balotelli to save the day for City and to give them an outside chance of qualifying in the group. The penalty award for hand ball was hotly contested by the visitors who had peppered the City goal most of the game and but for a series of magnificent saves by Joe Hart it looked like we were going to have to suffer the Europa Cup later on! It was a tremendous open game and I was impressed by the speed technical skill and teamwork of the visitors. Their supporters too were excellent both in numbers and in contribution to the atmosphere. As for City - well we had some chances but their keeper did well too but overall we always looked to be outnumbered both in defence and attack. Yaya Toure hardly crossed the half way line and a terrible error by Rodwell who had come on for Garcia (injured) gave Dortmund the lead. David Silva was back to form while Dzeko and Aguero tried hard up front but it was in midfield that we were not so good and in defence we once again had problems. Yaya Toure got himself booked for a stupid reaction to a decision and Kompany also got a yellow card for a foul. With Barry on the bench and De Jong long gone we lacked cover in front of the back four and the partnership of Kompany and Nastasic is far from perfect. Zabaleta made some good runs down the wing and he always gives 110%. Nasri looked well off color and Rodwell just lacks experience at this level. To be outplayed at home is disappointing to say the least and we must be very glad we managed a draw.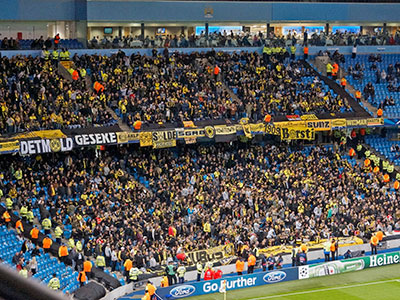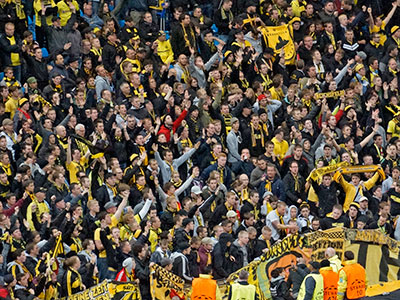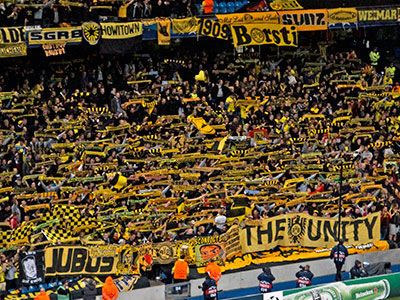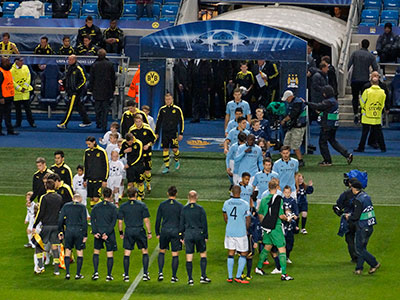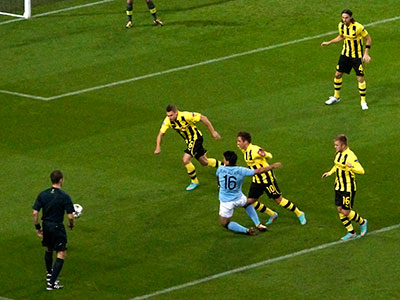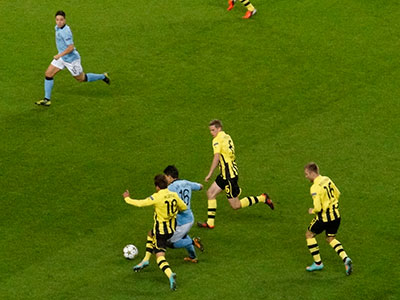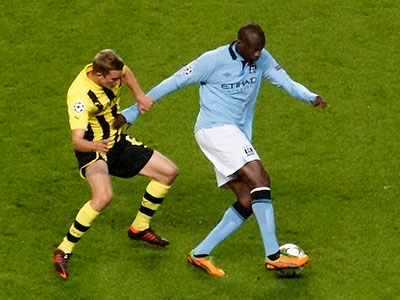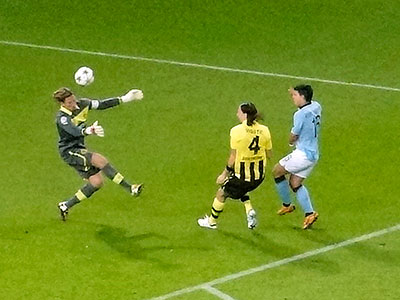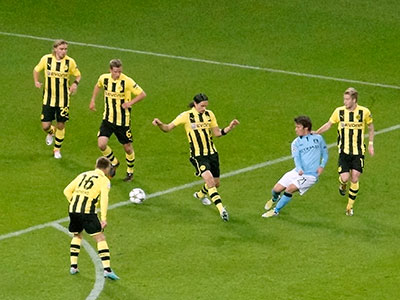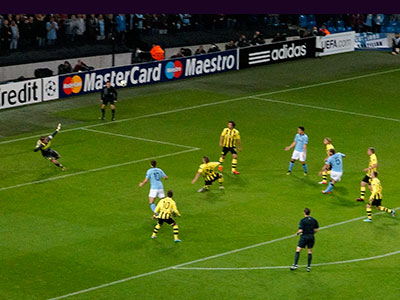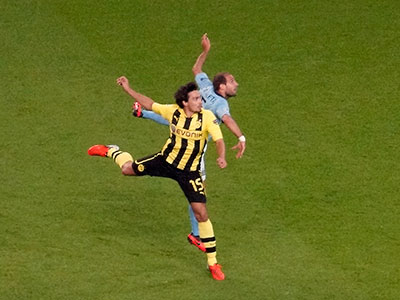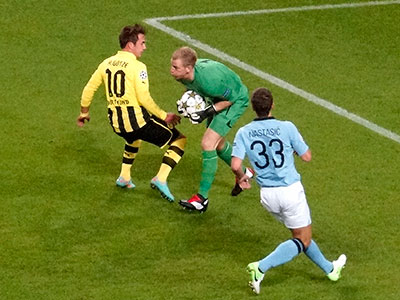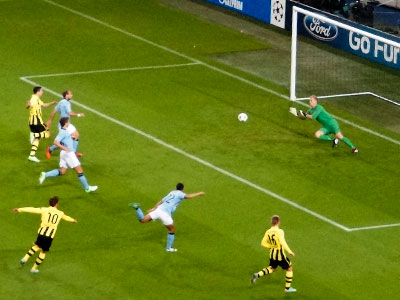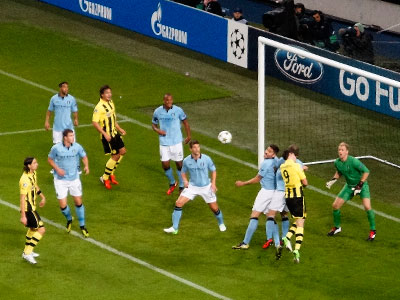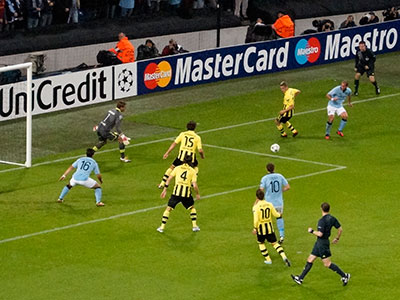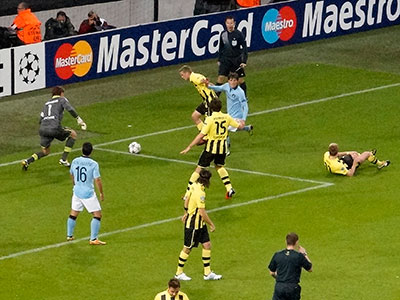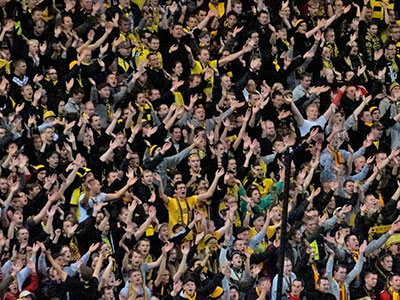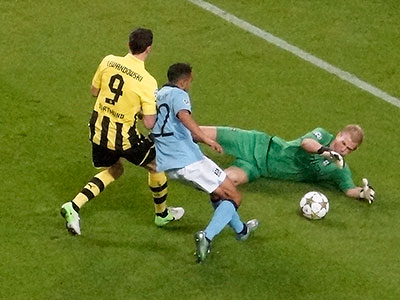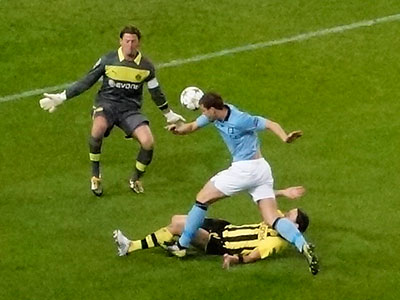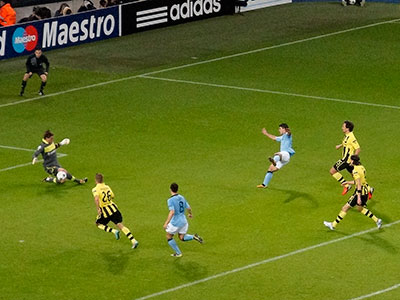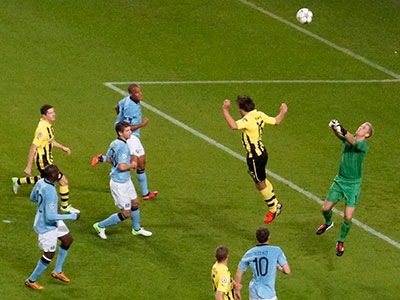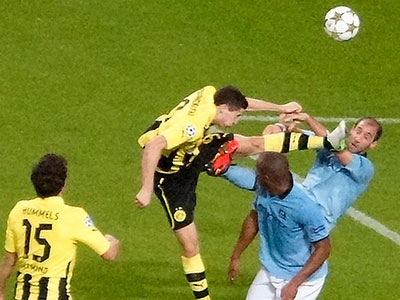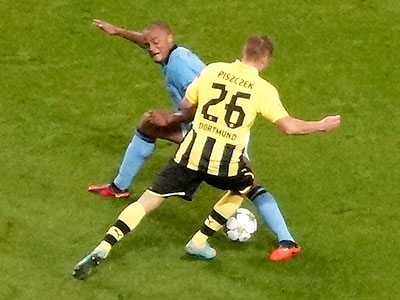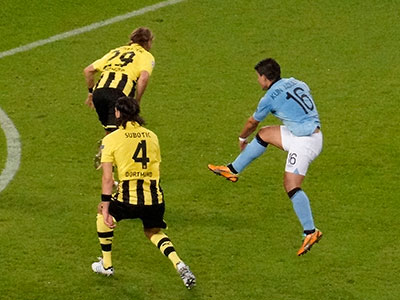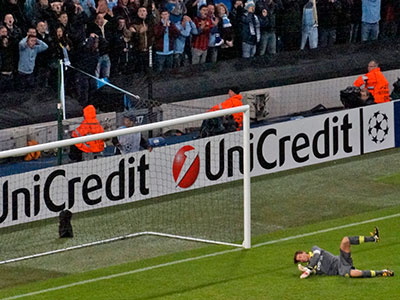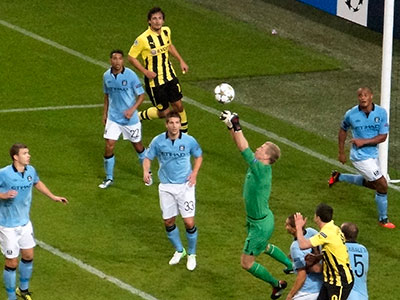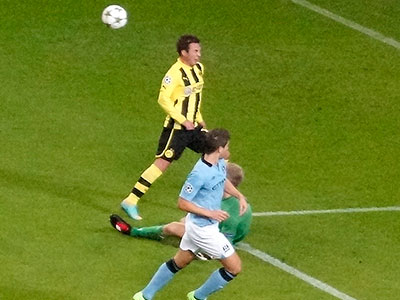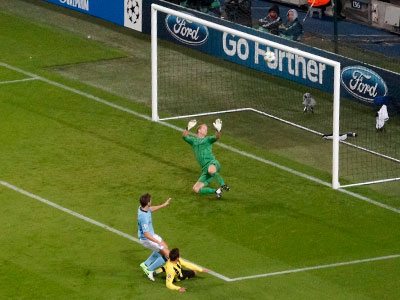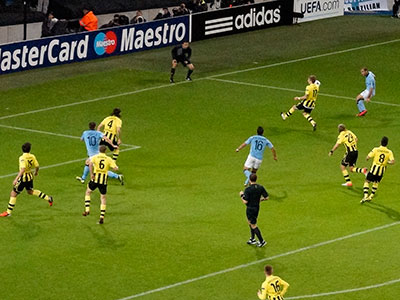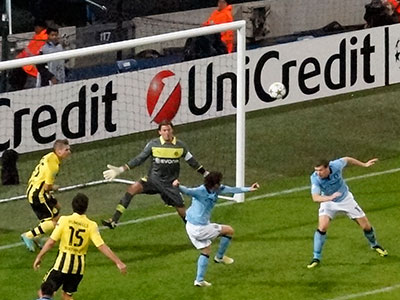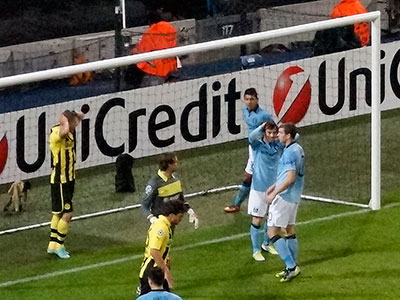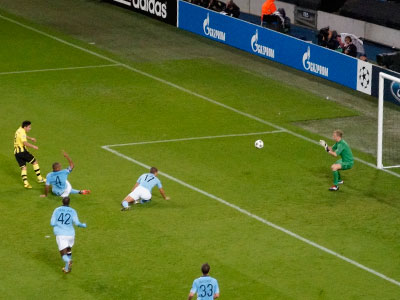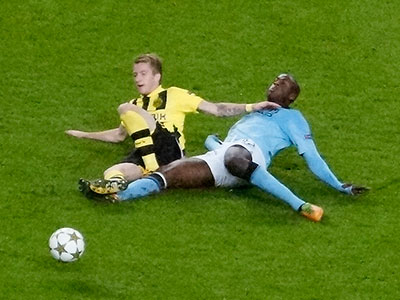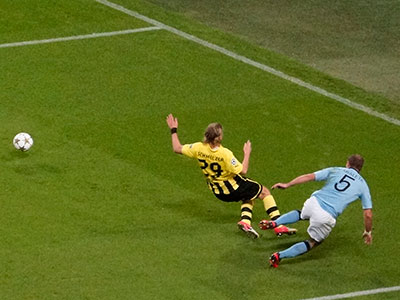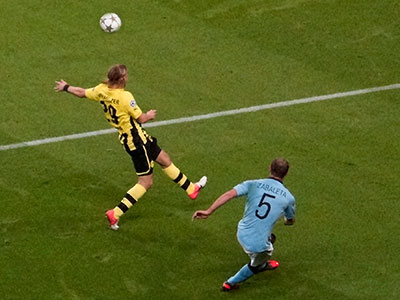 Borussia Dortmund brought a full load of fans with them and they soon made their presence felt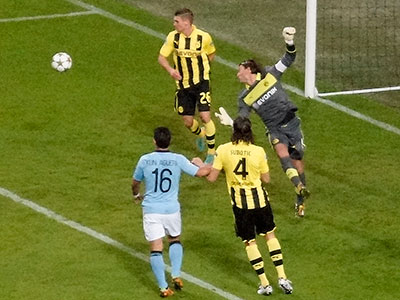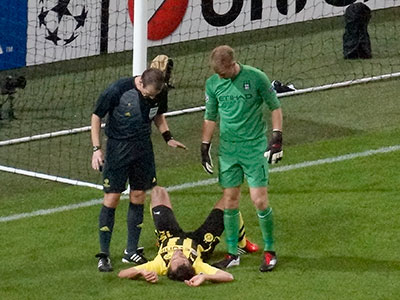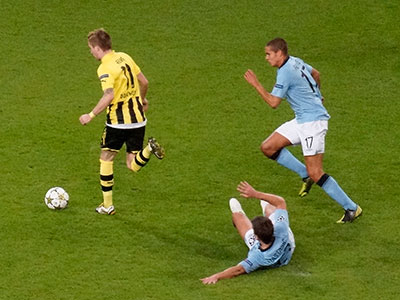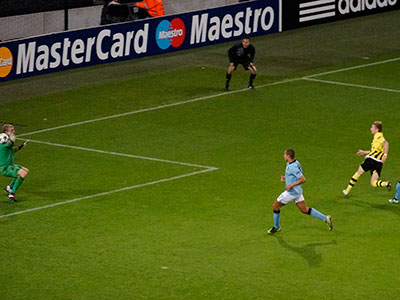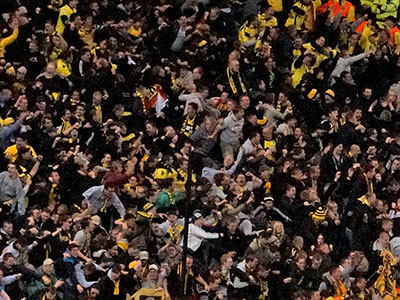 The fans gave their teams a great welcome. City had Dzeko and Aguero up front and Nasri returned
City almost took the lead after 20 odd seconds when Nasri shot from just outside the box and Weidenfeller saved
Aguero looked on better form but he was often outnumbered
Yaya Toure manages to clear
Aguero has an effort saved
Silva has five defenders to contend with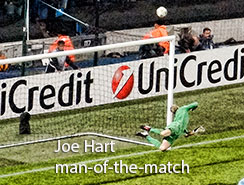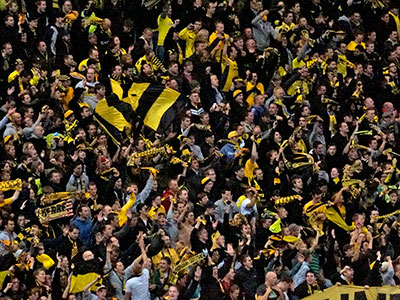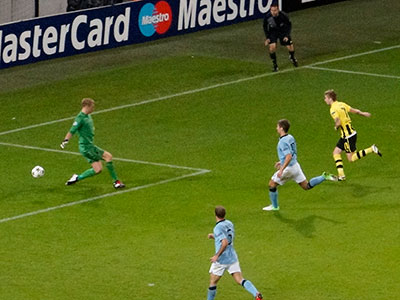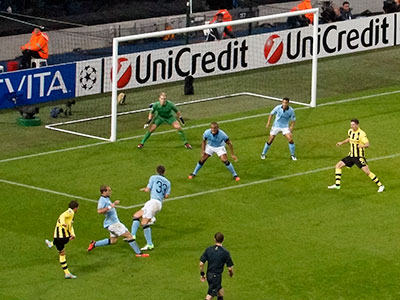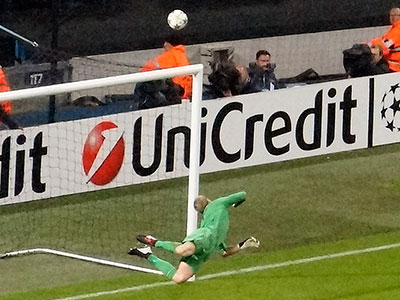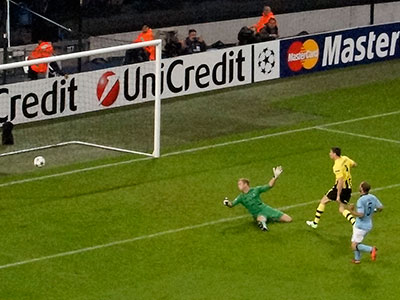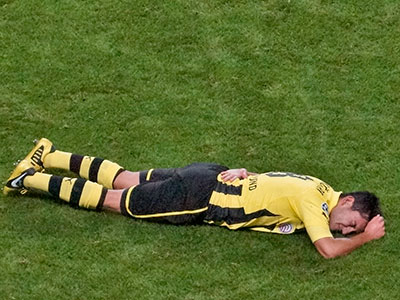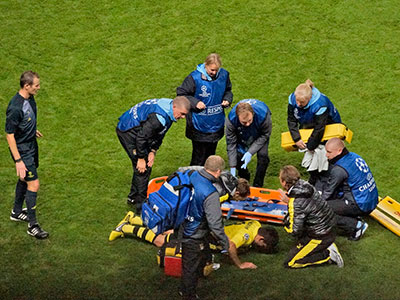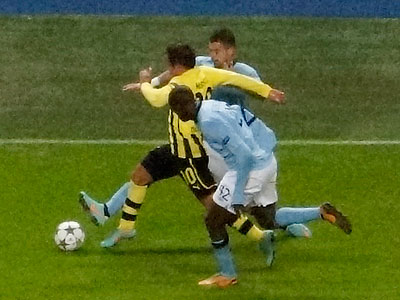 Silva fed Zabaleta but his shot is saved
Zabaleta practices his ballet moves with Hummels
Joe Hart saves from Gotze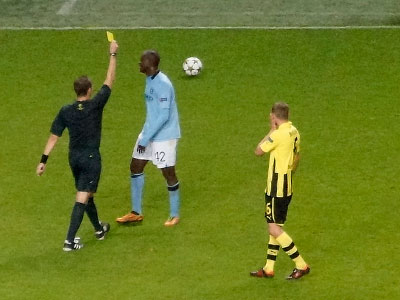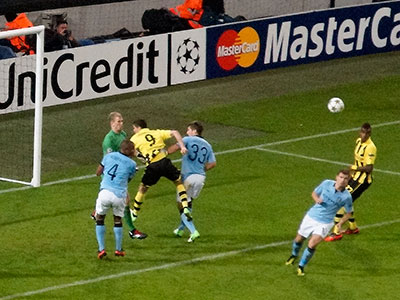 Joe Hart saves once again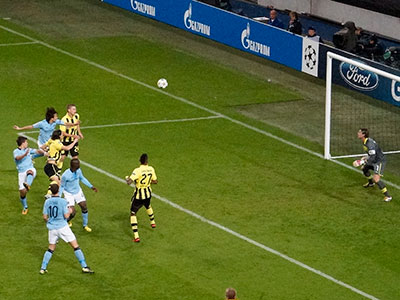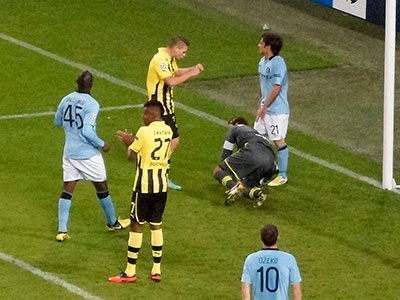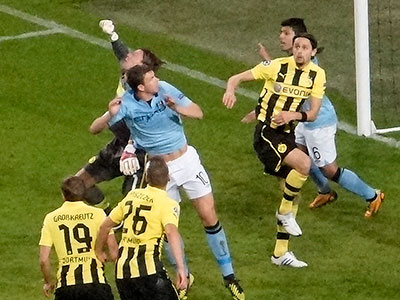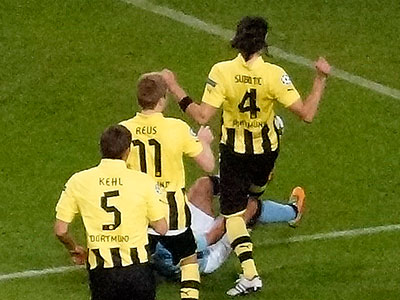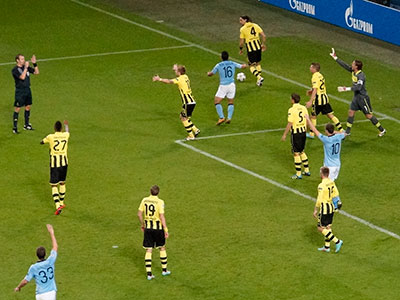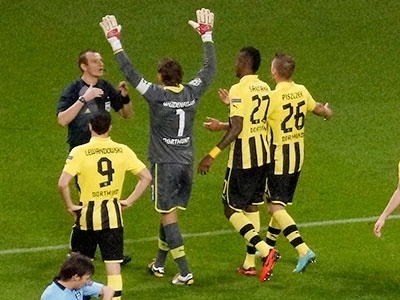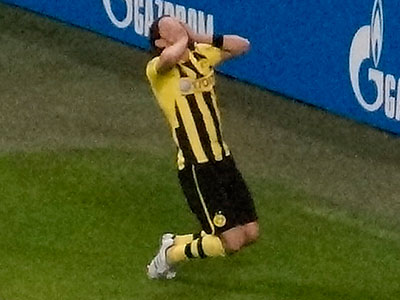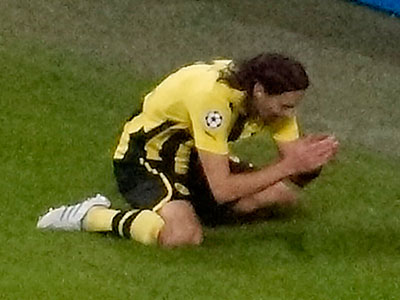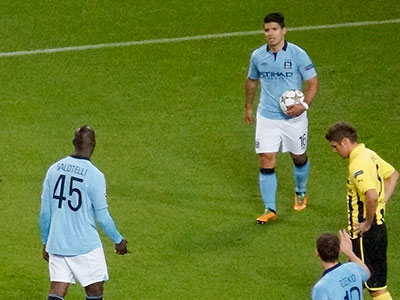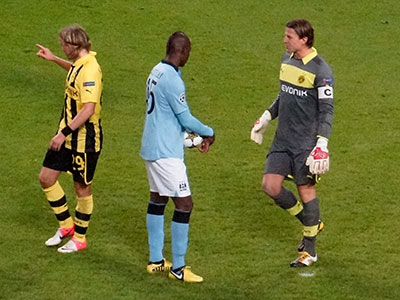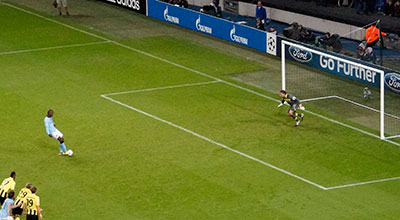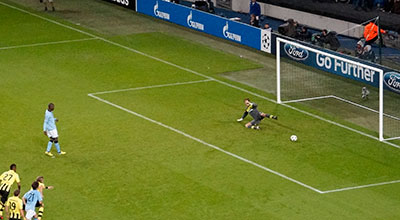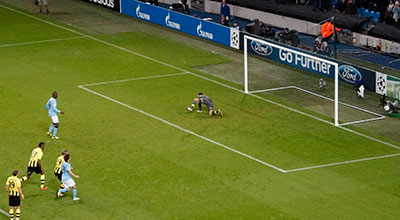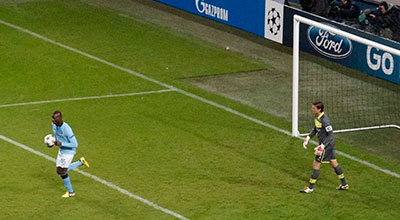 A City attack down the right flank is cleared by the Dortmund defence
German fans show support for their side
Clichy and Hart thwart Lewandowski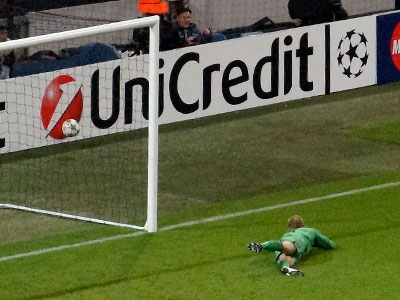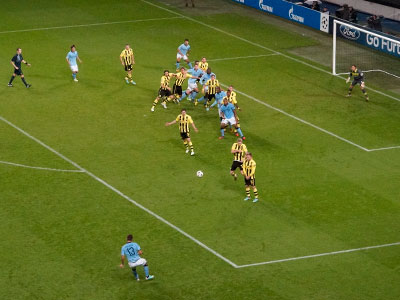 Dzeko has a chance but was offside
Weidenfeller saves from Aguero after 26 minutes
Hart punches clear at a corner
Lewandowski almost catches Zabaleta
Kompany tries to stop Pisczek
Garcia goes down injured after 30 minutes and is substituted by Rodwell
Silva twists and turns to beat opponents
After 33 minutes Aguero has a good effort......
....... but the keeper saves yet again!
Hart about to catch from a corner
On 38 minutes Hart saves from Gotze
Hart has to save yet again
Just before half time a cross from Zabaleta........
.... and Silva misses from close range. It would have been a great time to score!
Yaya Toure at full stretch
Zabaleta started the second half with some runs down the right wing - the second.......
The referee and Hart examine the fallen player!
..... ending in a save by the visiting keeper
On 61 minutes disaster struck. Rodwell side footed a pass to Reus who ran through to shoot past Joe Hart
Once again a misplaced pass in midfield has cost City dear and the visiting fans celebrated
Hart deflects a shot for a corner which is cleared
On 65 minutes Hart makes a great save from Reus
Lewandowski misses when well placed
Gundogan goes down after mild contact......
..... and the local CSI come to examine the 'body'!
Toure and Clichy attempt to stop Gotze
After giving away a free kick Yaya Toure is booked for throwing the ball down- so silly!
A header by Aguero is saved
On 87 minutes a shot by Aguero is blocked with his hand by Subotic
There was an immediate appeal by the Dortmund players
Meanwhile Subotic the guilty party prays for forgiveness!- or for the referee to change his mind
Aguero discus who is going to take the kick
Weidenfeller tries to put Balotelli off
The keeper moves before the ball is kicked but Balotelli calmly sends him the wrong way and easily scores
Coolness personified Balotelli makes it one all and we breathe a sigh of relief
The City supporters get their revenge
Harts work was still not finished and he had to make a good save from Lewandowski
City had a last minutes free kick but Kolarov on for Nasri could not win the game for City
Hart 10: Zabaleta 7, Kompany 6, Nastasic 6, Clichy 6.5: ( Balotelli) Yaya Toure 6, Nasri 5.5 ( Kolarov 6.5), Garcia 6 (Rodwell 6), Silva 8, Aguero 7, Dzeko 7