City 3 Wolves 1
October 29th 2011 47,142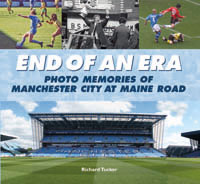 Now got a publisher for the book on Maine Road.
It's now available from Amazon -click on image for link
Not quite the goal festival we were expecting but a good win against a hard working Wolves side. The first half was very frustrating with referee Attwell making many strange decisions. City made several chances but never quite reached the passing quality we saw against United. Down to ten men for the last twenty minutes after the sending off of Kompany - one of the few decisions the referee got right City had a fight on their hands. Thankfully super sub Adam Johnson cracked in a beauty that put the game out of reach of saving by Wolves. Hart had little to do but it was his error in not holding the shot that lead to Kompany;s dismissal and the penalty. It was Richard's 200th game for City and he continued his good run of form often raiding down the right wing to good effect. I am afraid the game will be remembered mainly for the inconsistent refereeing by Attwell. I was amazed to see him late in the game look away as a City player was fouled only to award a free kick against City moments later.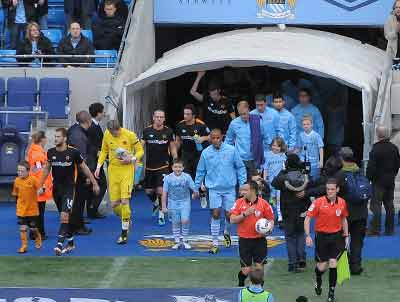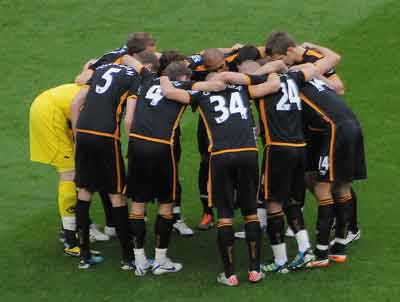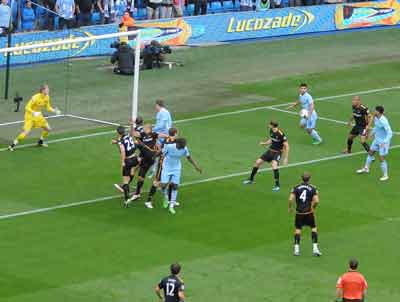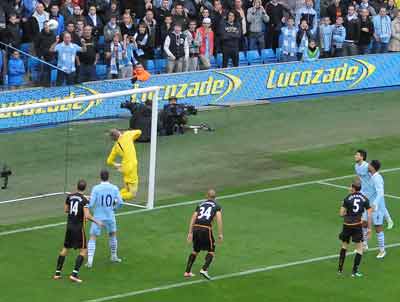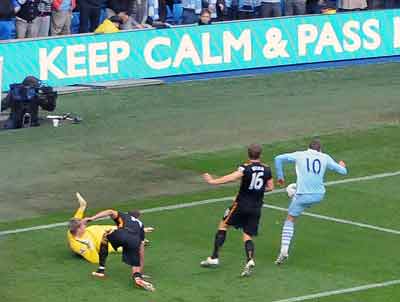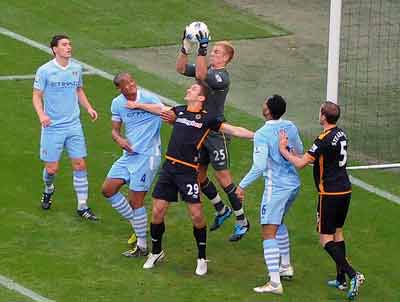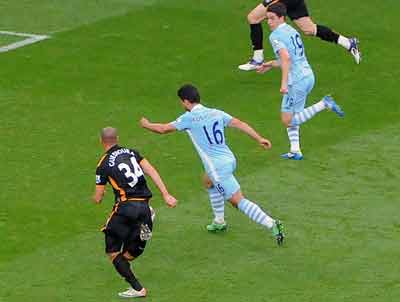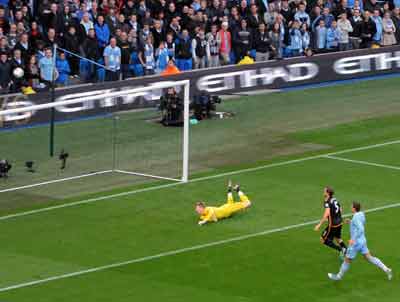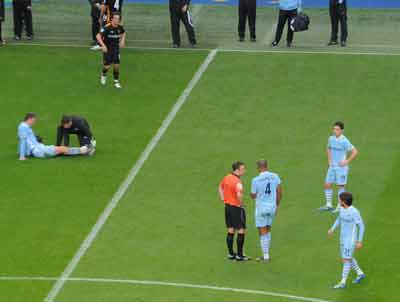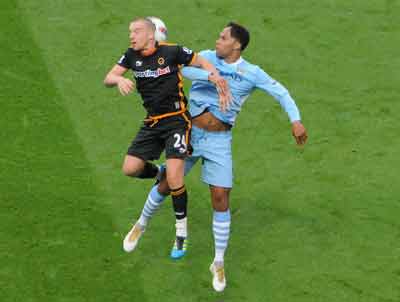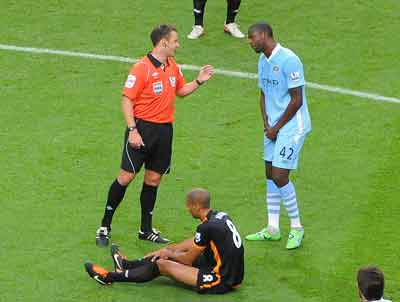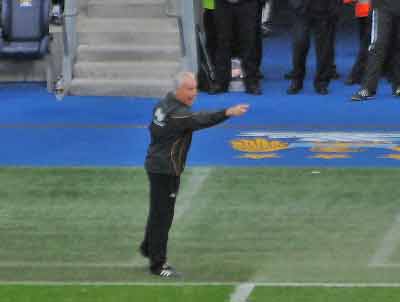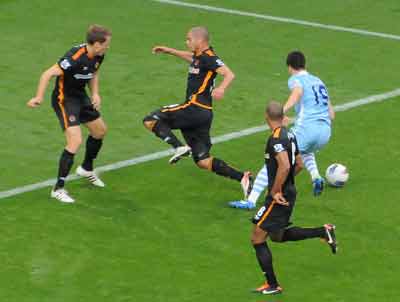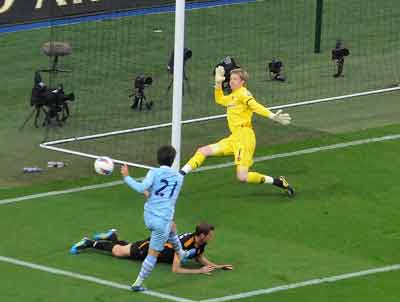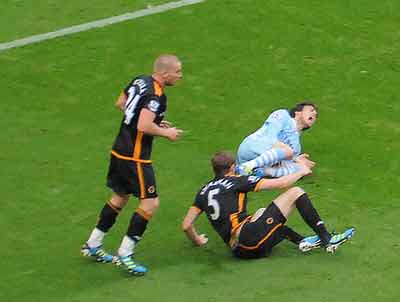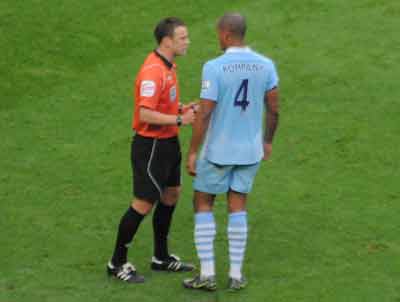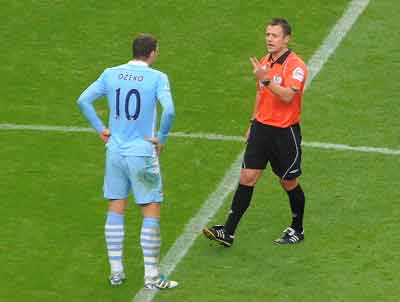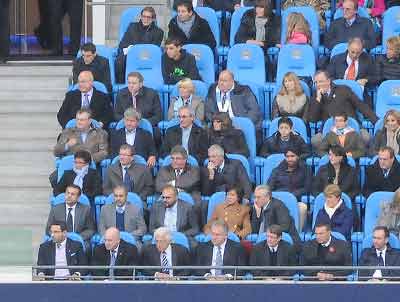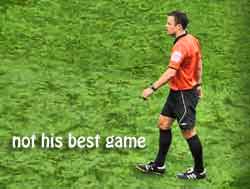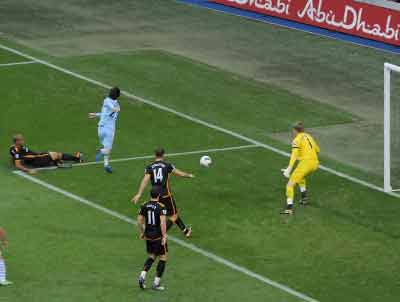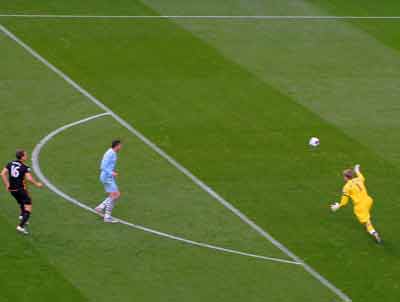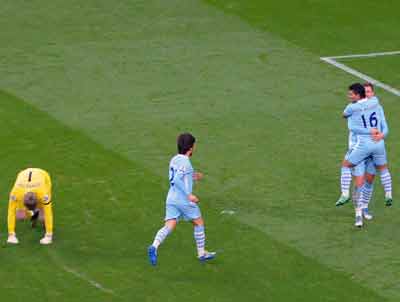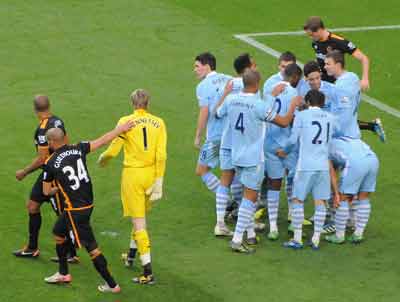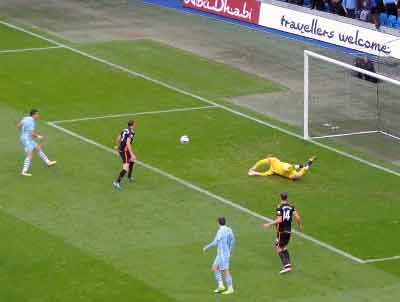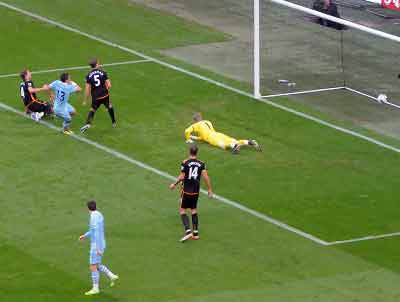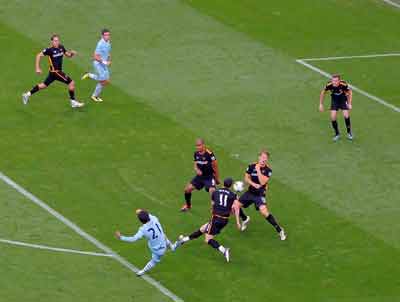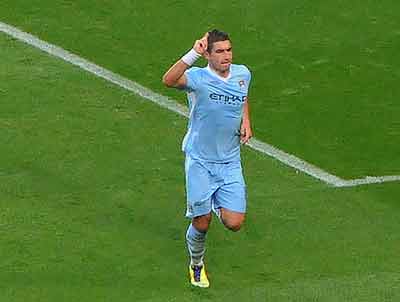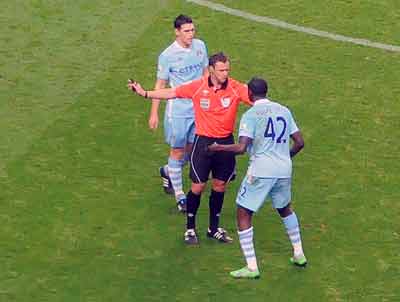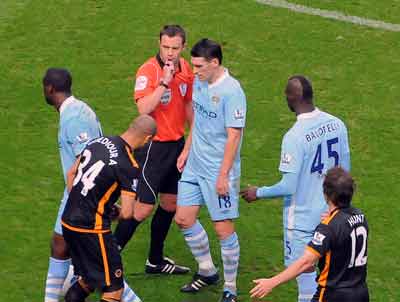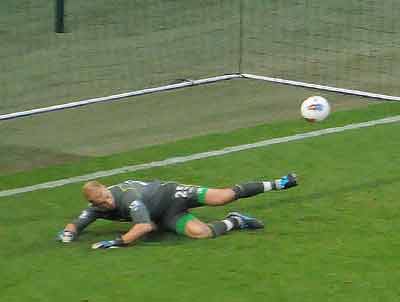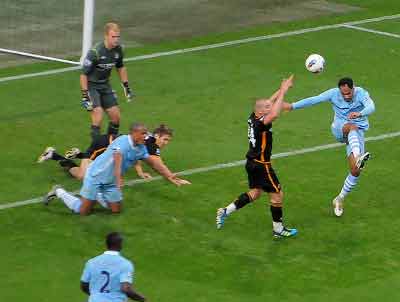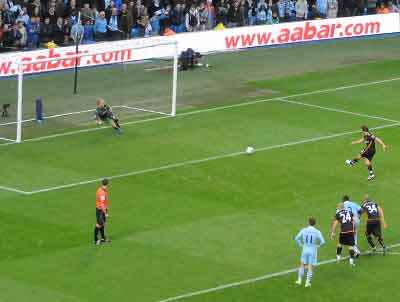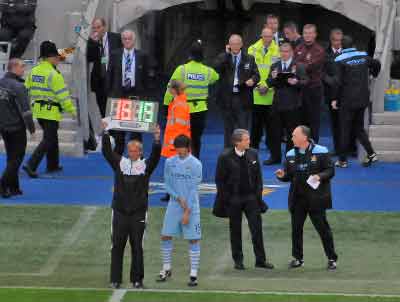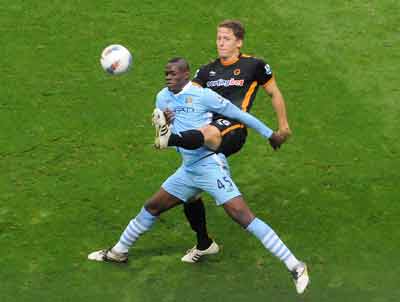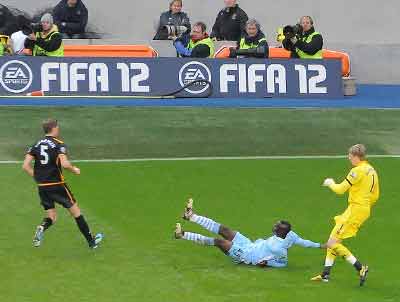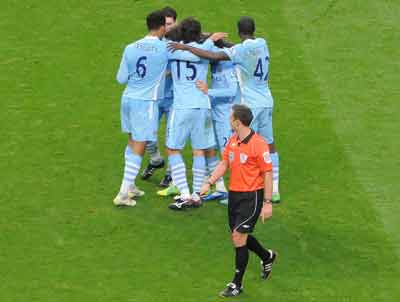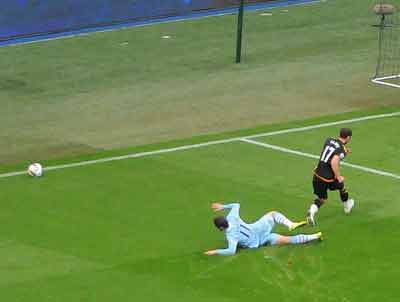 City made three changes from the side that walloped United. Dzeko, Nasri and Kolarov replacing Balotelli, Milner and Balotelli
City almost scored in the first minute - following a corner a shot from Nasri was well saved by Hennessey
A cross from Richards was met by Dzeko after 16 minutes but the ball went wide
Hart puts paid to a Wolves free kick
After 23 minutes a shot by Aguero is very well saved by Hennessey
Halfway through the first half there were several contentious decisions by referee Attwell that had the crowd roused
Kolarov clears from Edwards
Lescott clears from O'Hara
Yaya Toure's turn for a chat with the referee
Wolves manager Mick McCarthy has a go at his players
Good work by Nasri gave Silva a chance but his effort was blocked by Stearman
After 41 minutes a shot by Dzeko was saved by Hennessey to frustrate City once again
Silva was fouled but there was no free kick and once again Kompany had a chat with the referee
Now its was Dzeko's turn to get the referees' attention
As half time came with no goals no doubt the board were a little concerned
Two minutes into the second half an attack down the left wing ended with Silva shooting just wide. Then a few minutes later a back pass to the keeper was brilliantly spotted by Aguero and as Hennessey tried to clear the ball was deflected to Dzeko who had an open goal and he passed the ball into the net to give City an unexpected lead
Aguero's speed had caught the keeper out and as the City players celebrated Hennessey got a consolation pat on the back
After 66 minutes City went further ahead. Silva's shot was pushed out by Hennessey and there was Kolarov....
....... on hand to score easily for his second goal of the season
Let the celebrations begin
Yaya Toure has a disagreement with the referee
... and Kompany is called for once again
On 72 minutes a shot by Guedioura is pushed out by Hart....
..... and Kompany blocks Doyle from getting the rebound. It ends with a penalty for Wolves and a red card for Kompany
Hunt scores from the penalty and City bring on Savic for Aguero to keep two central defenders
Balotelli who had come on for Nasri soon had the Wolves defence on alert and he orchestrated a breakaway on full time. He passed to yaya Toure who then passed to Johnson.......
.......who cracked the ball past the keeper with a 30 yard effort to give City a 3-1 lead
With five minutes extra time to keep Wolves at bay Johnson still had time for a great defensive last ditch tackle
Team
Hart 6: Richards 7, Kompany 6.5 , Lescott 7 Kolarov 7.5: Yaya Toure 7, Barry 7.5, Silva 7, Nasri 7( Balotelli 7), Aguero 6.5 (Savic). Dzeko 7 ( Johnson 7)