City 2 Villarreal 1
Oct 18th 2011 42,236
UEFA Champions League Group A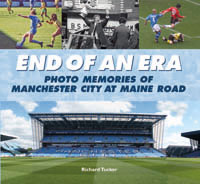 Now got a publisher for the book on Maine Road.
It's now available from Amazon -click on image for link
To miss on goal is a shame. To miss two goals for me is a first! There were at times when I was driving to the game that this note was going just going to be a traffic report! Having left J17 on the M6 at about 5-20pm I hit jams on the M56 and M60 before eventually leaving the M60 at the M67 junction. Traffic was very slow down Manchester road until near a church in Gorton where a big lorry had broken down near Chapman street. So just managing to get into my car park before it closed I ended up being told in the queue to get in that Villarreal had already cored. I thought it was a joke until I got to my seat having missed the first 10 minutes! Oh yes the game I'd almost forgotten about that! City were not at their best and were lucky to win. The passing accuracy left a lot to be desired and there seemed to be a general lack of urgency throughout the team. We were caught offside far too often with passes being delayed and with David Silva being off the boil for once it looked like we were going to be held to a draw and perhaps a place in the dreaded Europa Cup. Dzeko and Nasri were below par too and with Johnson coming off before half time in a tactical change to enable Yaya Toure to move forward I wondered whether we would ever score. Villarreal did not play like a poor Spanish side at all and thank goodness their shooting was poor otherwise we might have conceded more as their quick counter attacking was often dangerous. Having drawn level through an own goal just before half time their packed defence looked like they were going to frustrate us completely and as my stop watch showed they was just thirty seconds to go I left to avoid the rush and low and behold Aguero did the business and I bet Mancini was over the blue moon!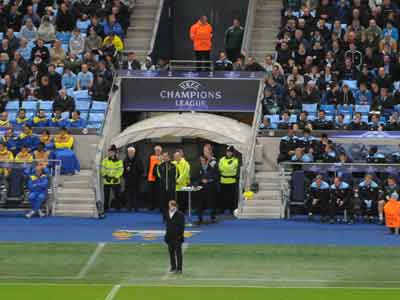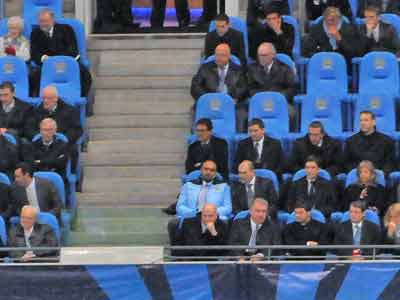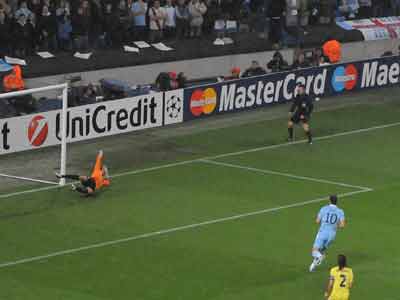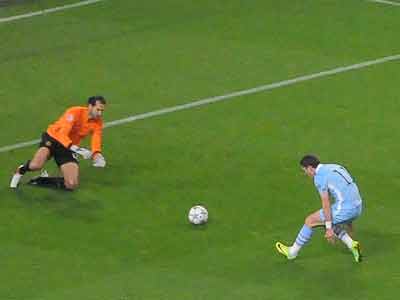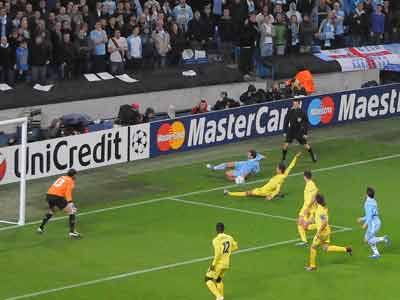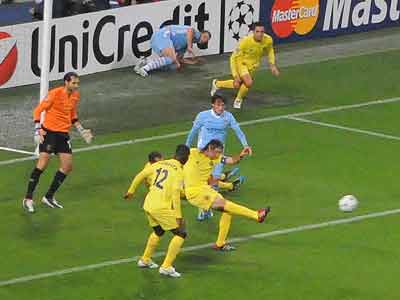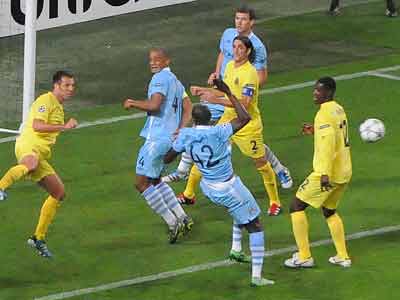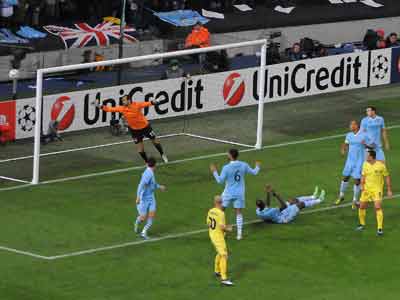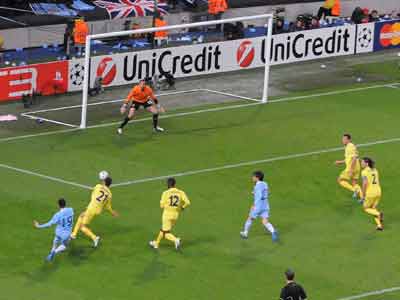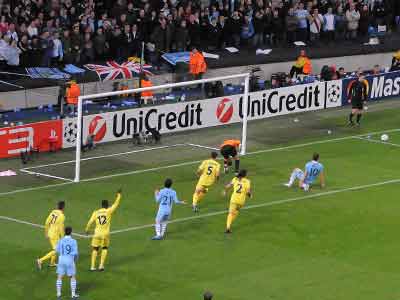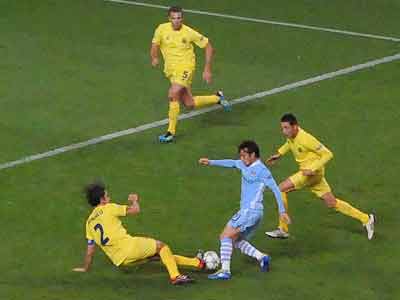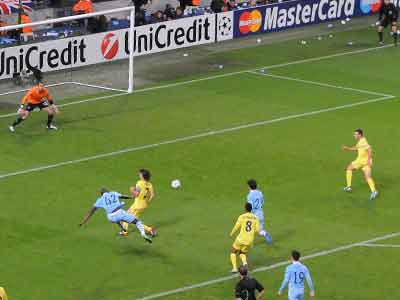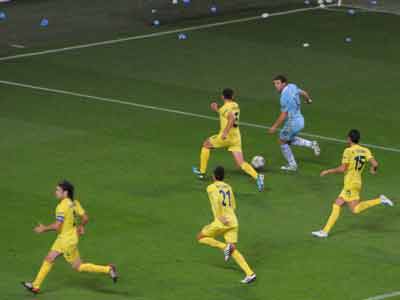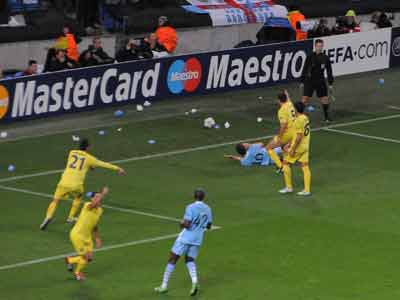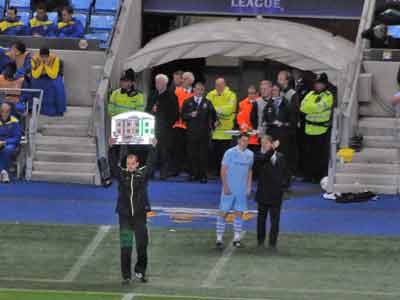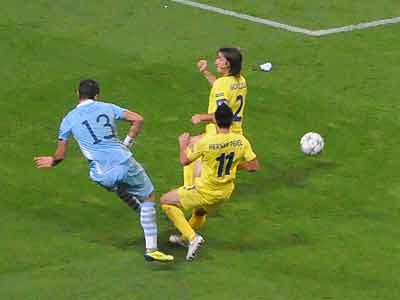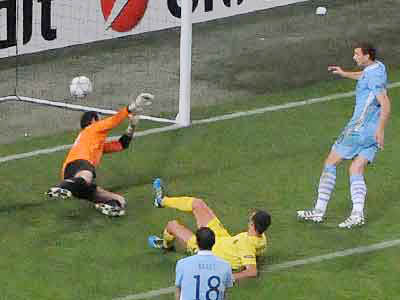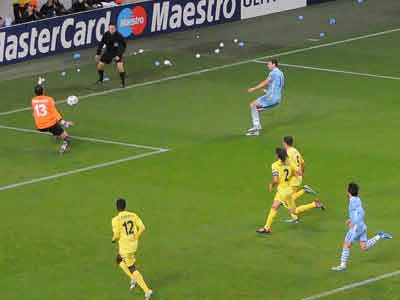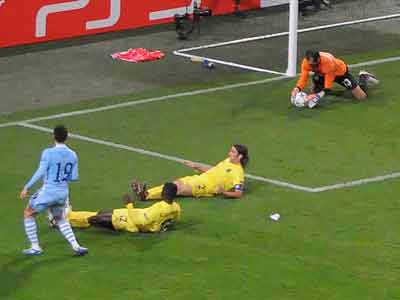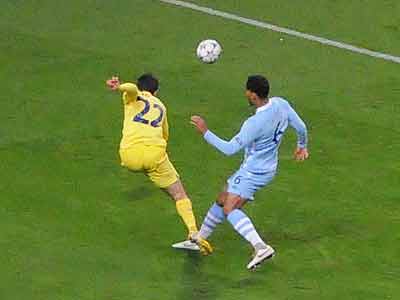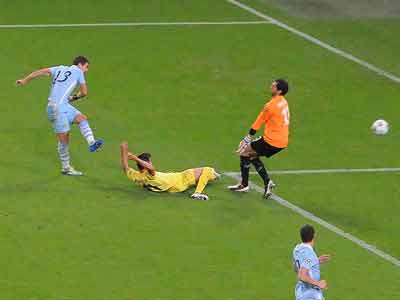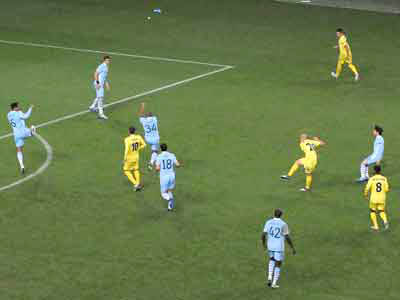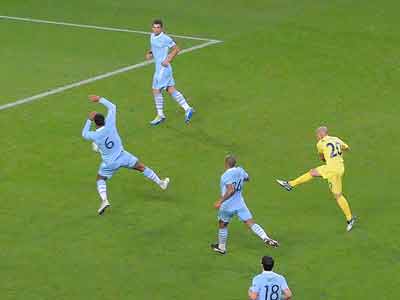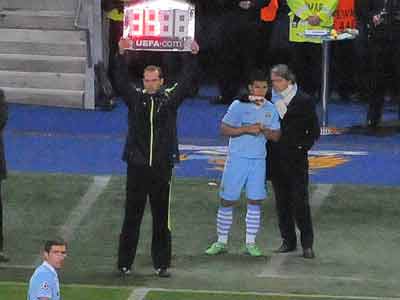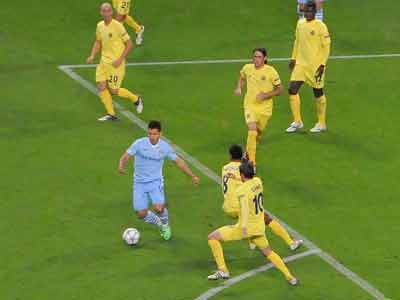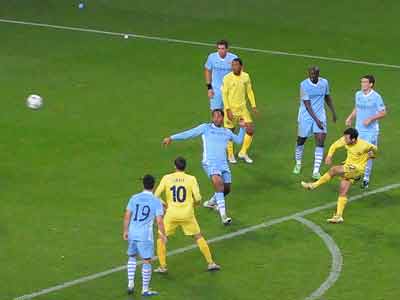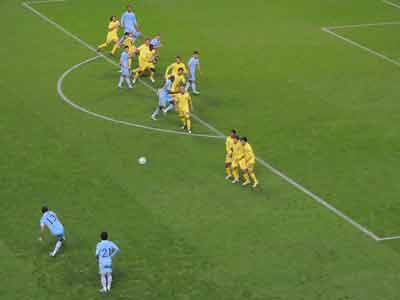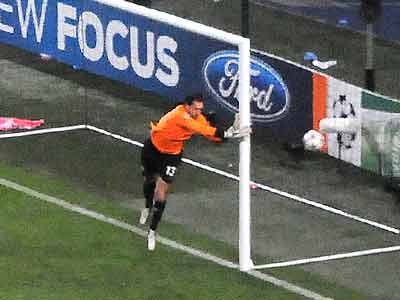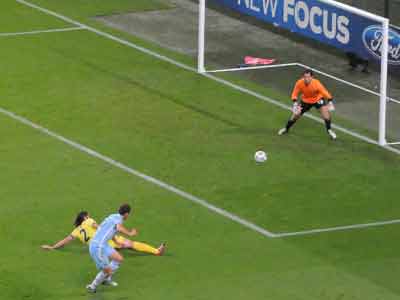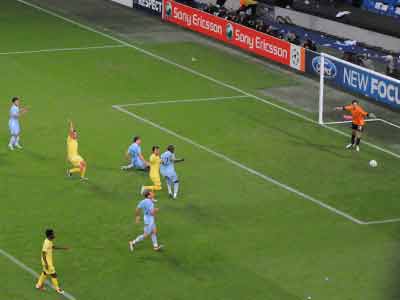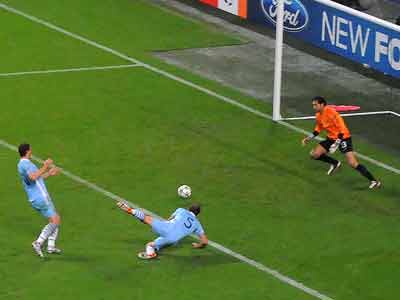 England manager Capello was watching this evening
Once again City had made some changes. However Aguero was only on the bench. Dzeko and Nasri returned
A free kick taken by Kolarov after 19 minutes almost surprised Lopez
The keeper saves with Dzeko hoping for a mistake
Dzeko fails to cross after a run
Villarreal manage to clear a City attack
City fail to take anything from a corner taken by Johnson as the ball sails wide of the post
Silva was being well marked ad was not having one of his best games
The experiment of filling the old away area with City supporters did not appear to be generating any extra atmosphere
On 35 minutes Nasri crosses but no City player is able to reach it
An effort by Toure goes so wide it ends up as a throw-in
Dzeko has a run dawn the right wing but alas nothing comes of it
Not long before half time we had a tactical change with Barry coming on for Johnson
After 43 minutes Nasri passed the ball wide to Kolarov....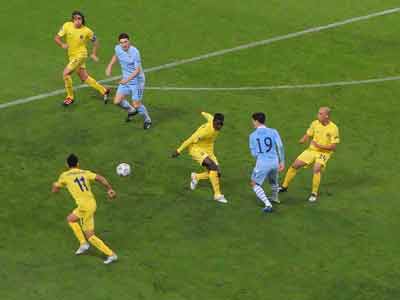 .... Kolarov then put in a dangerous cross which was put into his own goal by Marchena and by luck City were level 1-1
City had further chances before half time but the score remained at one each but it was not the best City performance in the first half
Dangerous on the break Rossi has an attempt saved by Hart
City score but the flag is up for offside
Valero shoots well over the bar
Another shot by Valero goes well wide
After 61 minutes on came Aguero for De Jong and he soon had plenty of markers
Another effort by the visitors goes over the bar
A foul on Silva gave Kolarov the chance to score from the free kick.......
.... but the ball goes just past the post
A shot by Dzeko goes just over the bar
Another chance goes past the post -time was running out
In the first minute of extra time Zabaleta had a great chance which was saved but in the final seconds of the game he put in a centre which was finished off by Aguero to give City a lucky win
Hart 7: Zabaleta 7.5: Kompany 7, Lescott 7, Kolarov 7.5: De Jong 6.5 (Aguero 7.5), Johnson 6.5 ( Barry 7), Nasri 6.5 ( Milner) Silva 6.5 , Y. Toure 7, Dzeko 6.5