City 4 Aston Villa 1
October 15th 2011 47,019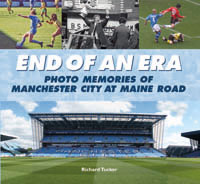 Now got a publisher for the book on Maine Road.
It's now available from Amazon -click on image for link
With United dropping a point at Liverpool City moved to the top of the League with an easy win over the previously unbeaten Aston Villa side. Villa played an attacking side and in the first twenty minutes or so they caused a few problems. However once Balotelli had displayed his moment of magic to give City the lead there was only one side in it and defensive errors helped City to lead three nil. Villa did manage a goal but it was scored while City were down to ten men with Richards off injured. Warnock took advantage of the situation to score from close range. Milner then scored against his own old side putting the issue well beyond doubt. It was a first time cracker from outside the area. With City resting several established first choices we wondered where the goals were going to come from but we should not have worried. The passing was often amazing and the days of boring boring are long gone on this form. Now City have scored 27 in 8 Premier games - equaling the record. Once City had settled it was only a matter of time and with Heskey, Bent and Agbonlahor almost anonymous Joe Hart had little to do. It was good to see the return of De Jong in front of the back four.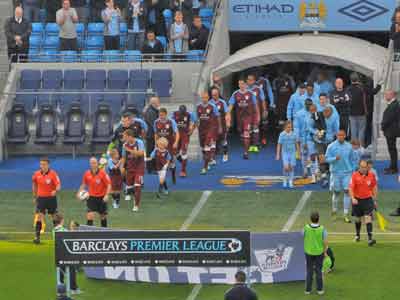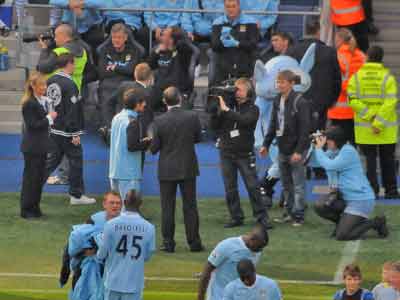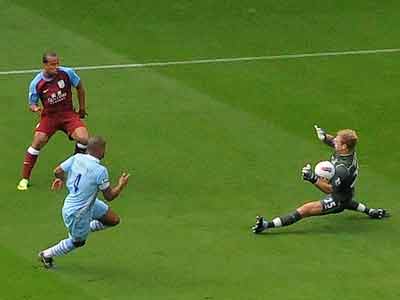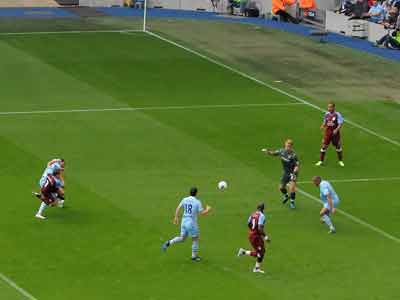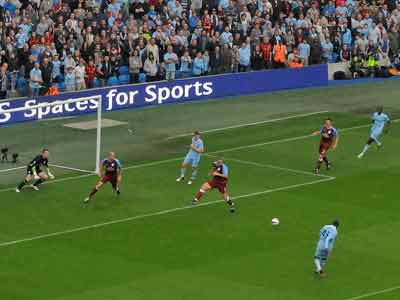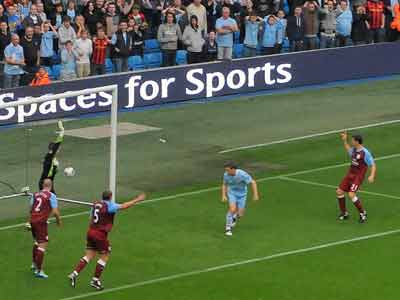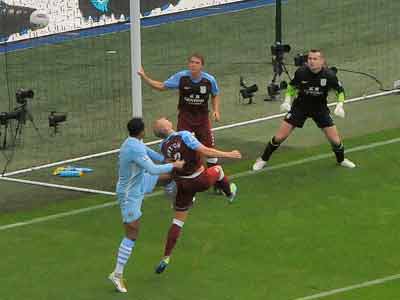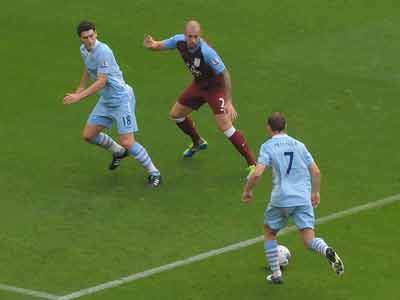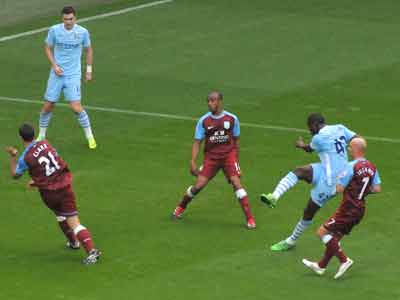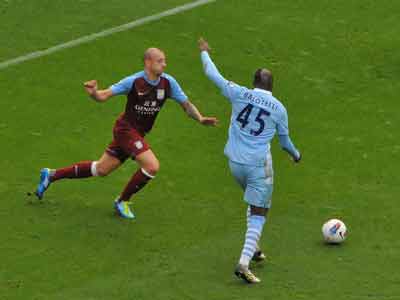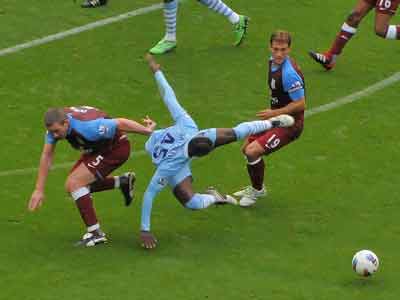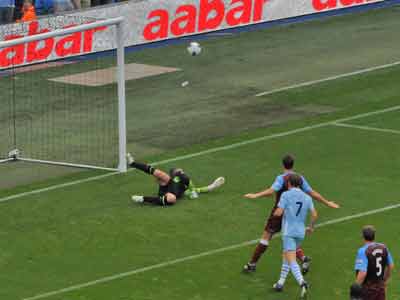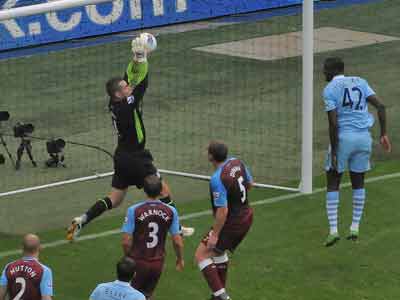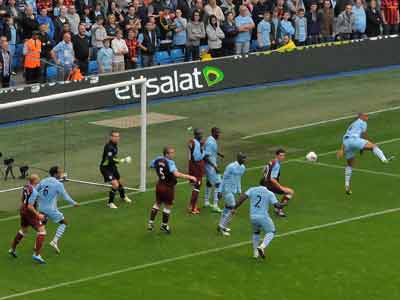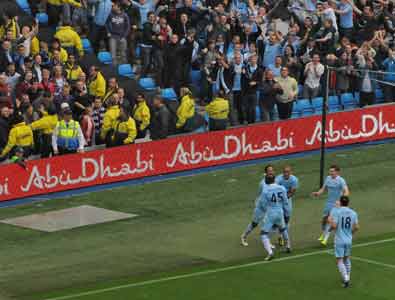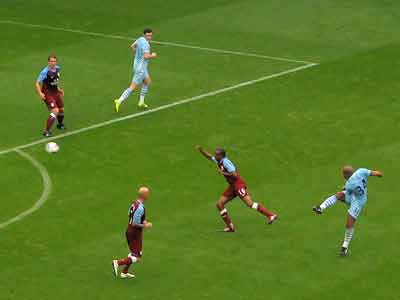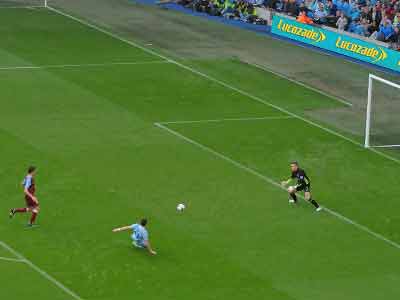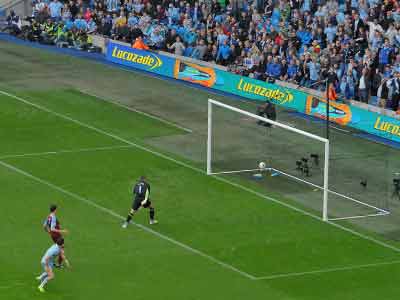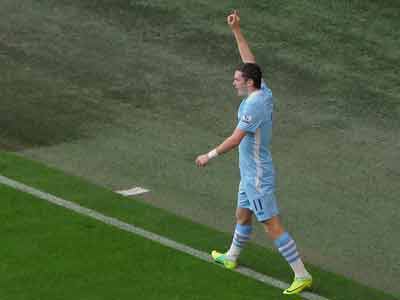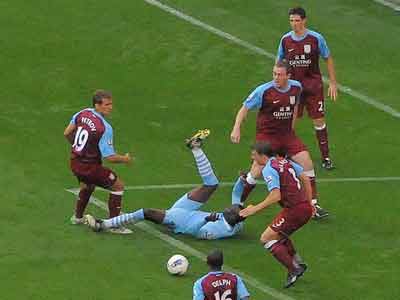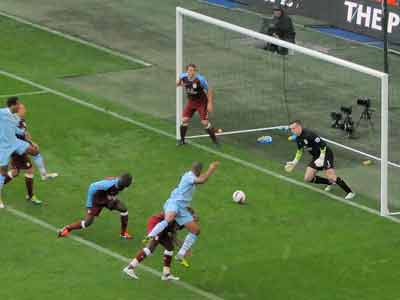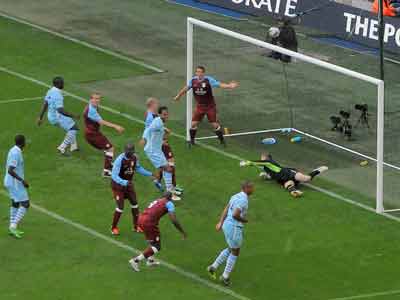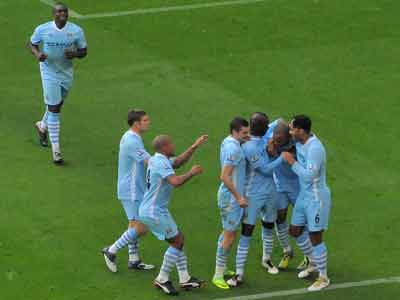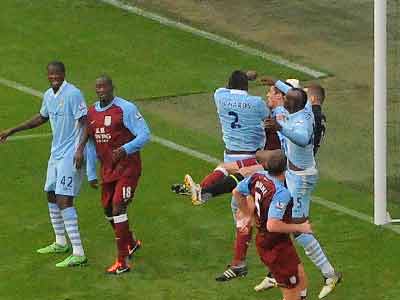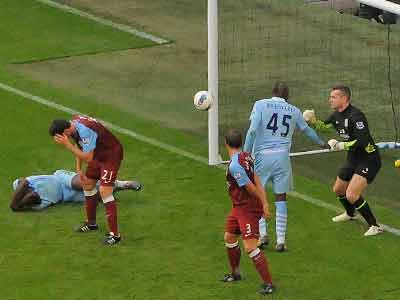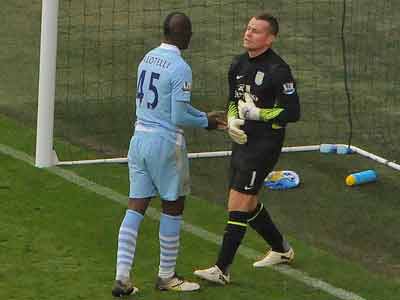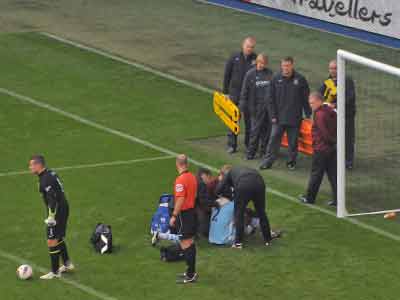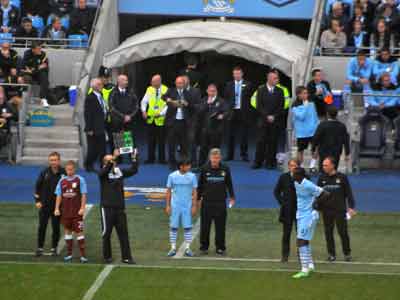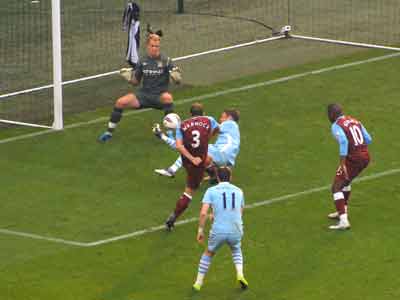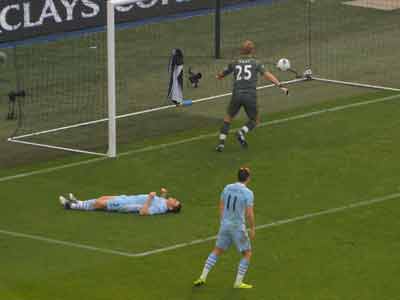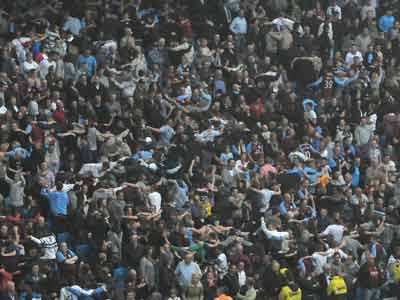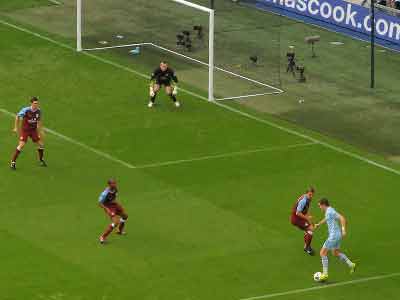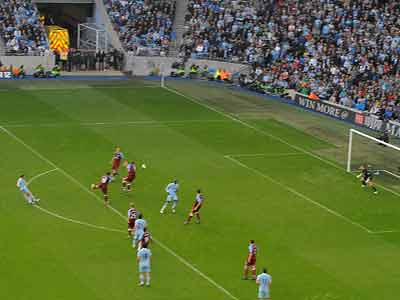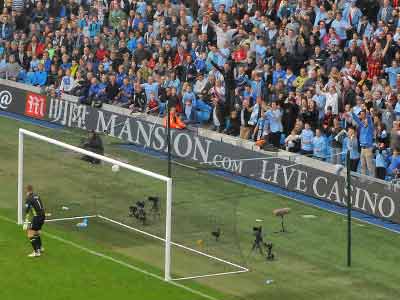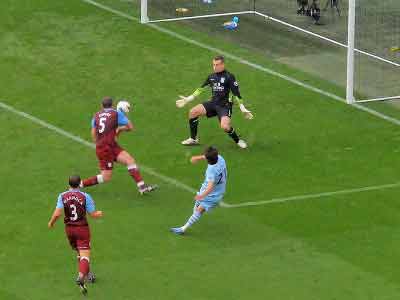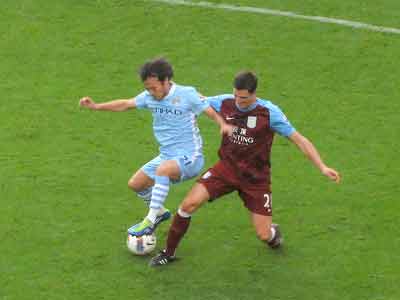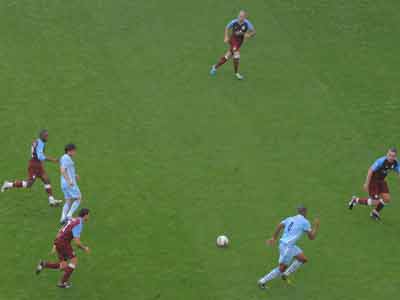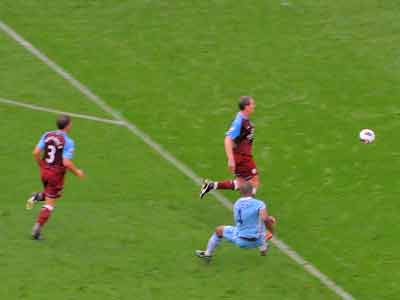 David Silva collects his player of the month award
City started without Silva, Dzeko, Aguero and Nasri but welcomed the return of De Jong. The crowd gave warm welcomes to ex City players Given, Dunne and Ireland
Villa had an early chance when after 11 minutes an error by Lescott let in Agbonlahor but Hart made a great save and then Kompany blocked a follow up by Warnock
After 15 minutes Balotelli had a good effort which Milner tried to flick in but he was offside anyway
Lescott heads wide at a corner
Milner against his old side was in good form
On 24 minutes Yaya Toure had an effort saved by Given
Balotelli was giving the Villa defence plenty to think about.......
...... and it wasn't too long before Given had to make a good save from Mario the Magician!
Given catches a corner to relieve the increasing City pressure
On 28 minutes City got another comer taken by Adam Johnson .........
The ball was headed down by Richards and then Mario Balotelli with a brilliant bit of skill kicked it overhead into goal. A Magical Moment !
Mario was eager in his celebration to let the Villa supporters know who had scored - especially after they had being giving him a bit of stick a little earlier
The City supporters added their feelings too!
Nigel Jong did have a go just before half time but only those in the second tier were in danger
There was a spot of trouble in the corner but it soon settled down
Immediately after the interval City scored a second goal. A major error by Warnock gave Adam Johnson the chance to shoot past Shay Given after a good pass from Yaya Toure
It wasn't the cleanest of hits by Johnson but they all count.
A few minutes later it looked like Balotelli was brought down but there was no whistle
City were not going to be denied and from a corner skipper Vincent Kompany headed home to make it three nil
The skipper who does not score very often got plenty of attention by team mates. It was his 100th start in the Premier League
During another corner there was a clash of heads ......
...... and Richards got the worst of it and he had to leave the field.
During the skirmish Given too suffered and was no doubt given some support by Balotelli!
Richards had to leave the field and with Silva about to come on for Yaya Toure another sub had to be sorted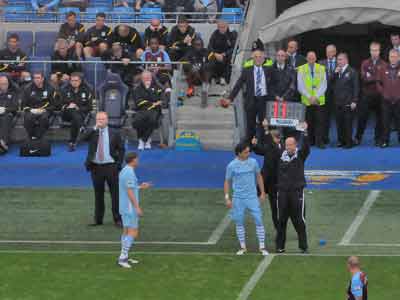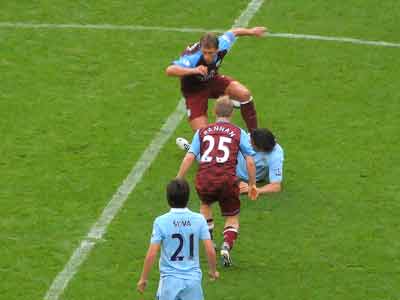 Before Kolo Toure could come on for Richards Villa took advantage of the missing fullback and the unmarked Warnock scored from a right wing cross
At last the visiting fans had something to cheer about as they did the Poznan
Their cheers soon died when a great cross field pass from Milner found Johnson on the right......
... Johnson passed to Barry who laid it off to Milner who hit it first time past a helpless Given to give City a 4-1 lead. It was a terrific goal but Milner did not celebrate scoring against his old club
Silva missed the far post late the ball just curling wide. With Silva now on City were creating more chances
On 77 minutes on came Owen Hargreaves to make his Premier league debut for City and he was soon in action making good tackles
We had a late burst from captain Kompany who shot wide after taking a pass from Silva
Team
Hart 7.5: Richards 7 ( K.Toure 7) Kompany 7.5, Lescott 7, Clichy 7: Milner 8, Johnson 7.5 (Hargreaves), Barry 7, De Jong 8, Y. Toure 7.5 ( Silva 7.5) Balotelli 8