City 1 Liverpool 4
November 21st 2015 54,444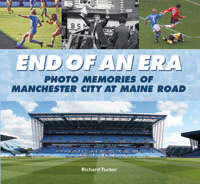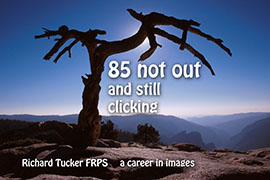 Now available from Amazon ( click on image for link)
WH Smith and the City shop
It was disaster time at the Etihad today as Liverpool cruised to a 4-1 win. The first 40 minute performance by City must rank as the poorest I have seen from them for some considerable time. Liverpool out ran us - out passed us - out smarted us and out everything else us! Our midfield simply did not exist so it was no surprise that Fernandinho and Delph came on at half time to replace Toure and Navas. Our central defenders were very poor today and as Sagna and Kolarov were not at their best Joe Hart had little cover. In fact it could have been even worse had Hart made a couple of good saves. Apart from a few passes Toure looked a lost soul and it was no surprise he was subbed at half time.
We welcomed back Aguero who scored an excellent goal but alas it was but a lone ray of light in this dark day for City. Sterling playing for the first time against his previous club failed to make any impression at all and though De Bruyne made some decent passes it just was not City's day. Liverpool came on with the right attitude - none of their players wearing gloves - and gave our team a night they will want to forget. The Liverpool manager had outfoxed Pellegrini in his tactics and the attitude of the Liverpool players gave them a well deserved victory. Many City supporters wondered why Otamendi and Fernandinho had been left out of the side - Otamendi played for Argentina against Columbia recently and Fernandinho came on as sub for 12 minutes against Peru but other Premier League players who took part in these games played at the weekend so why did they not start for City!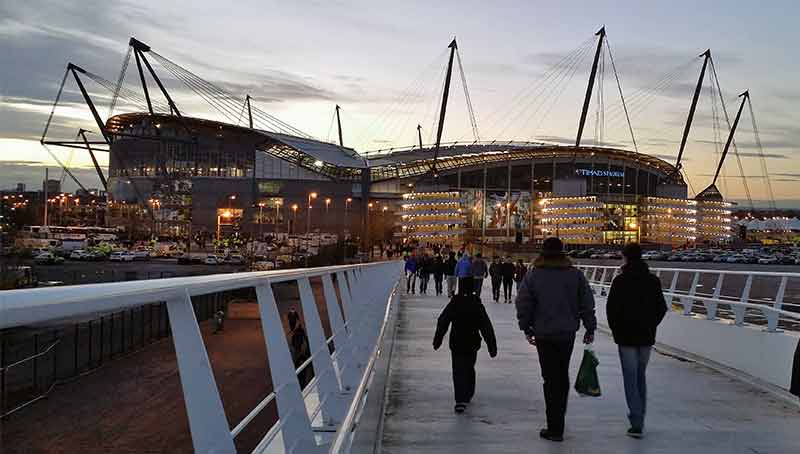 As we walked to the ground on a cold evening little did we know what was in store for us!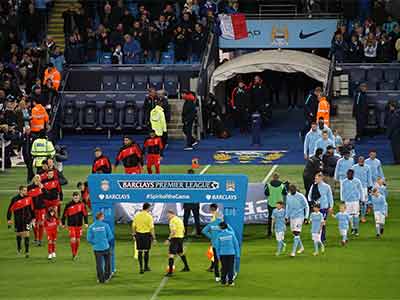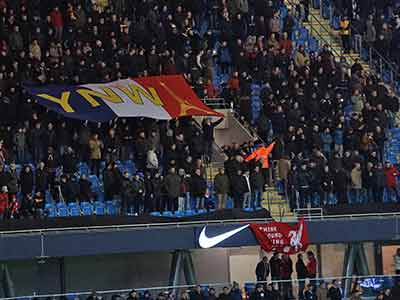 Aguero was back for City but no Fernandinho or Otamendi - Kompany and Silva still injured
French flag in the Liverpool section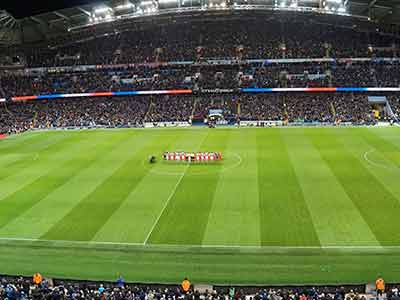 Before the game the French anthem was played in respect to the many victims of the Paris terrorist massacres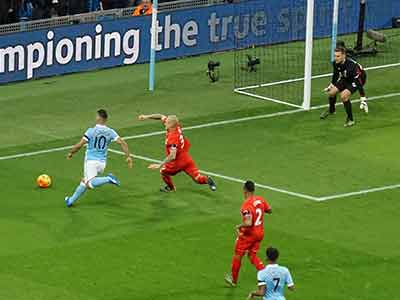 City forced an early corner by the efforts of Aguero but it was cleared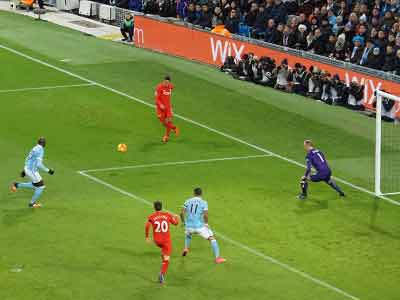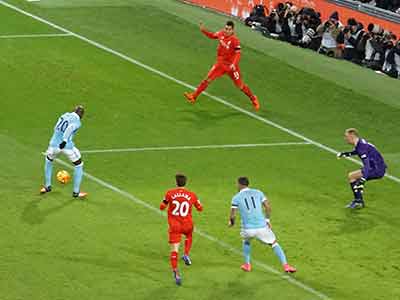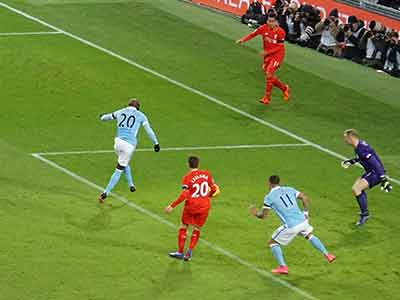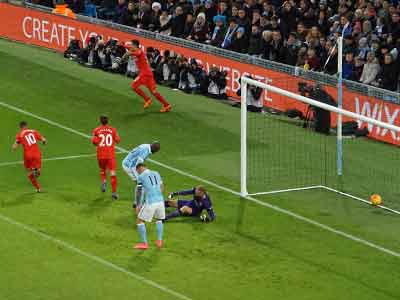 After just 7 minutes Sagna lost the ball and when Firmino crossed Mangala got his feet mixed up and passed the ball into his own net - one nil to Liverpool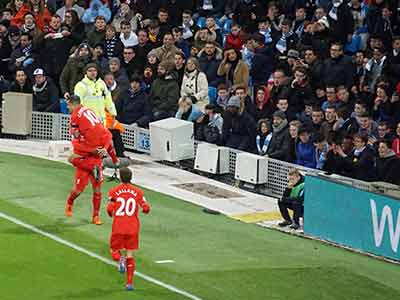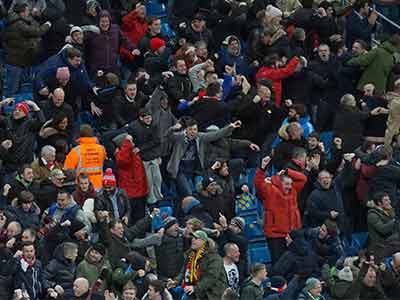 The Liverpool fans can't believe it and City supporters are in shock apart for one or two I spotted smiling !
You in the front row - take 50 lines - I must not smile when the opposition score at the Etihad!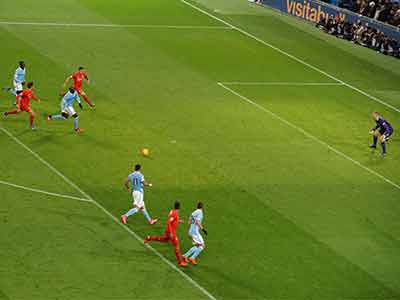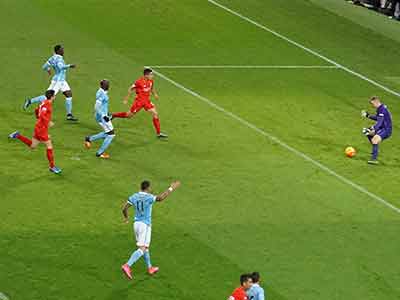 22 minutes on the clock and Firmino passes to Coutinho who shoots past Hart and it's two nil - what a defensive shambles!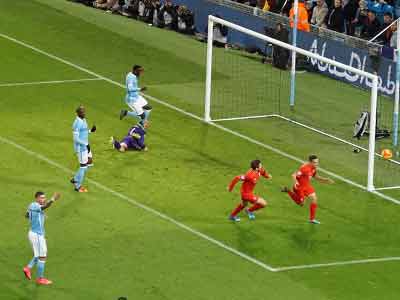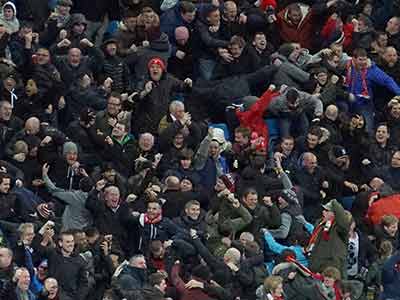 I am sure the Liverpool fans were not expecting this but they are certainly enjoying the moment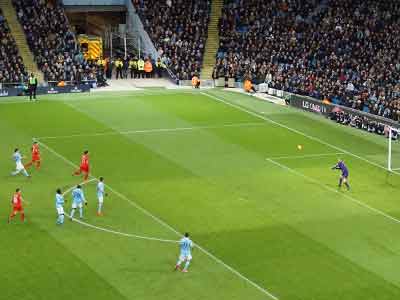 City appeal for a hand ball against Skrtel but later replays showed the ball hit his chest
Hart pushes out a shot from Coutinho - should he have caught it I wonder as.......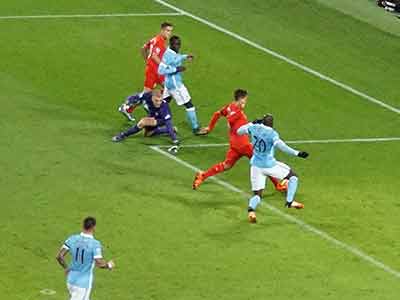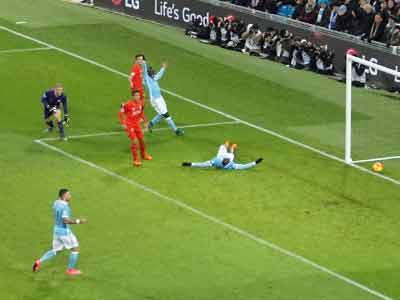 .....Liverpool take possession of the ball and Firmino has an easy chance to make it three nil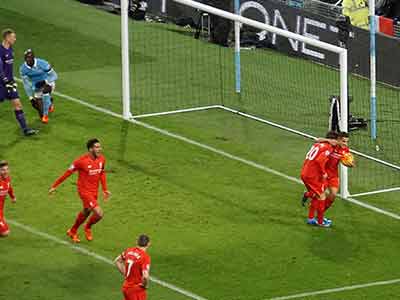 City are in shock as Liverpool celebrate and surely it is game over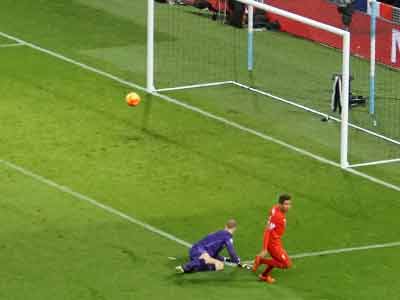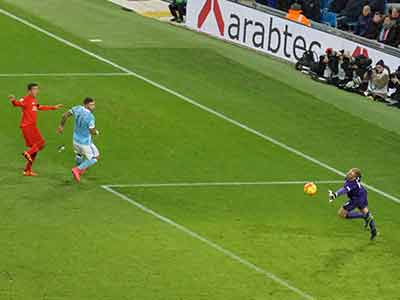 They nearly made it five as first Firmino has an effort well saved by Hart and then a minute later the same player just shoots wide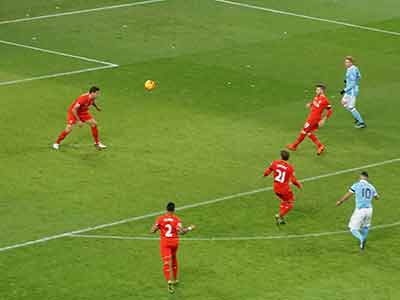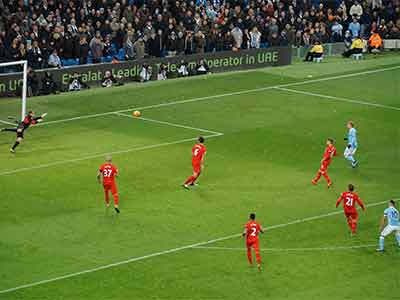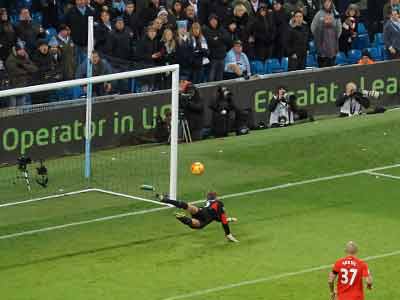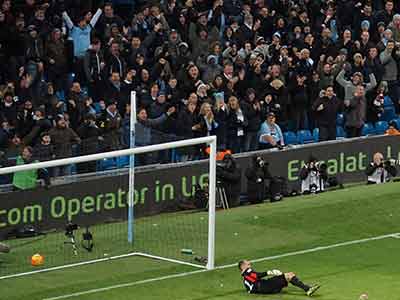 Just before half time we had something to smile about when Aguero took a great shot from outside the penalty area and beat the keeper to make it 1-3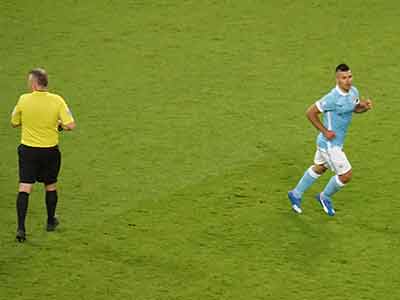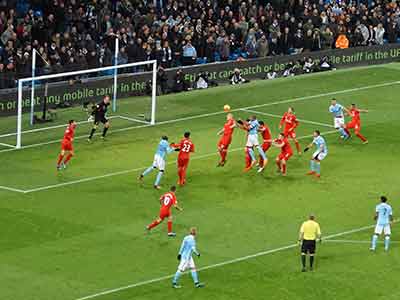 No time for celebrating as he ran quickly back to the centre and though we got a corner before half time it came to nothing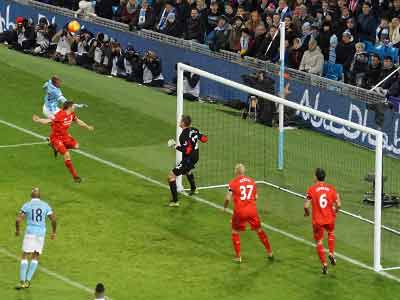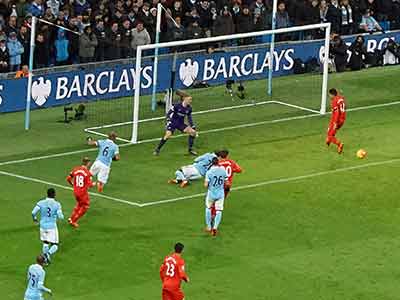 8 minutes into the second half and City get a corner but nothing happens- yet again
Shortly after the City goal has a narrow escape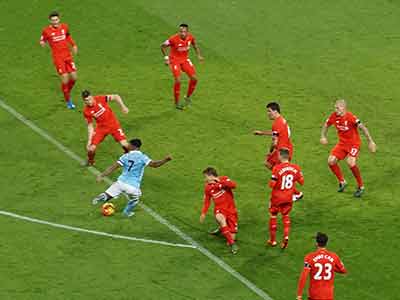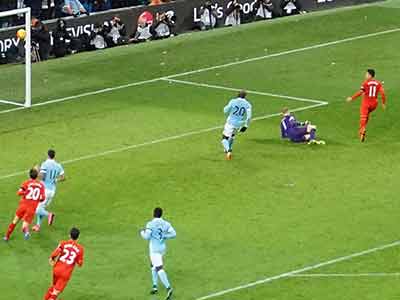 Sterling is rather outnumbered as he tries a shot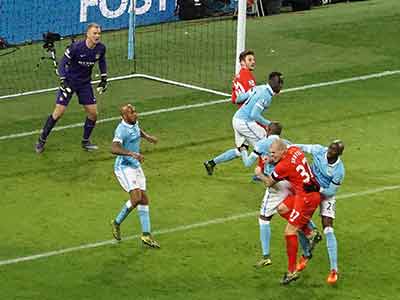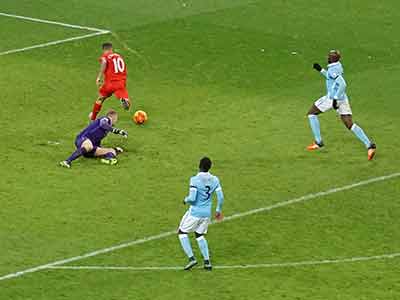 Coutinho breaks through....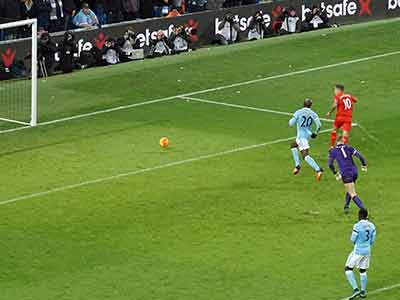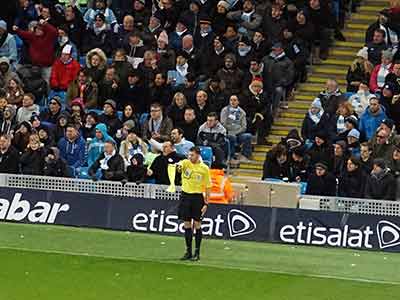 ...and scores but fortunately for City the linesman has his flag raised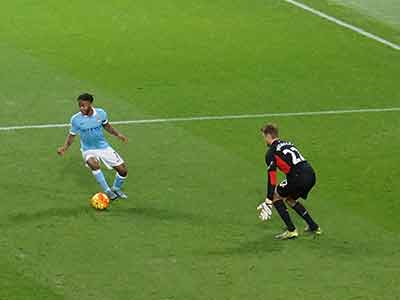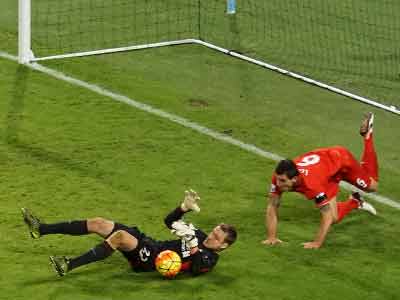 On 63 minutes Sterling gets the gift of a one to one with Mignolet but he passes to Aguero whose effort is saved by the Liverpool keeper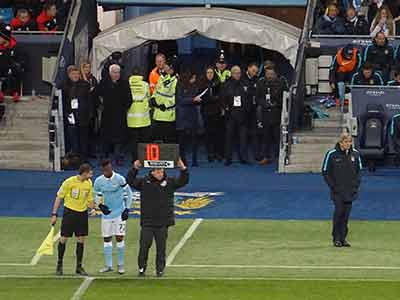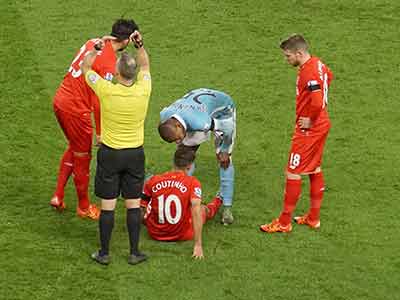 On 65 minutes Iheanacho replaces Aguero
Two minutes later Coutinho is injured and is subbed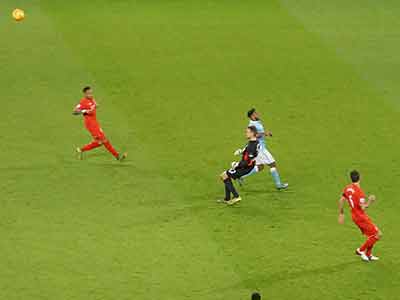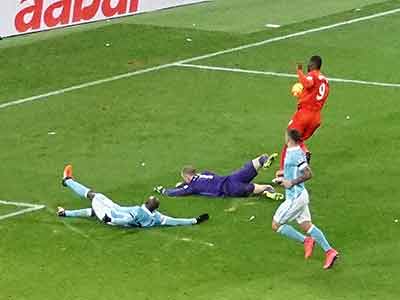 Sterling had a slim chance of getting to the ball before Mignolet but he fails to make it
On 79 minutes Hart saves from Benteke and concedes a corner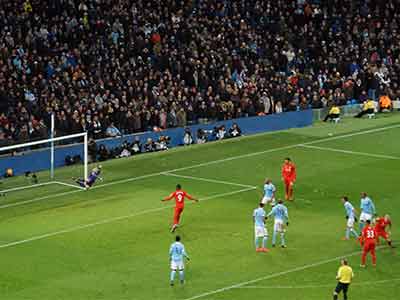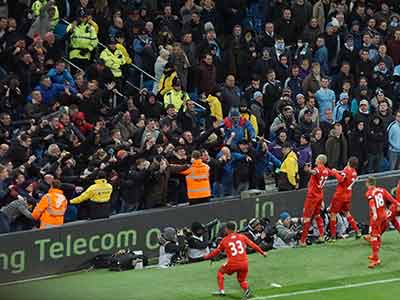 From the corner Skrtel thumps the ball past Hart to make it 4-1 and there is no way back for City
Team
Hart 7, Sagna 6, Demichelis 5, Mangala 5, Kolarov 6: Toure 5 ( Delph 6.5) Fernando 6, Navas 6 (Fernandinho 7) De Bruyne 7.5, Sterling 5, Aguero 7.5 ( Iheanacho)