City 2 Norwich City 1
October 31st 2015 53,418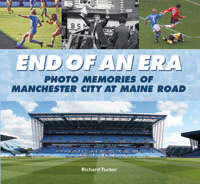 Now available from Amazon ( click on image for link)
WH Smith and the City shop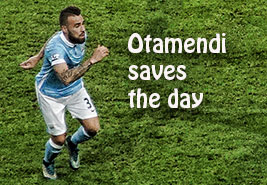 After 65 minutes I was going to give the player of the match award to one of the brass band that played before the game. Then a De Bruyne corner was quite brilliantly headed home with power by Otamendi. Up until then the game was pretty boring with Norwich defending in depth and City were unable to unlock a well organized defence. The City attack was too evenly paced and their keeper kept out the few efforts that were on target. City appeared to be happy with the one goal lead so it was disaster time on 82 minutes when Joe Hart dropped a cross following a corner. Norwich got an early Christmas gift as Jerome said thank you and the Canaries were on level terms.
With the clock ticking away towards full time Norwich keeper Ruddy also made an error as he rushed out and was caught well out of position and when Sterling shot at the empty goal Martin elbowed the ball and he got a red card and City a penalty from which Toure scored and City had the lead. Phew!
Norwich almost equalized in the final moments of added time Hart making up for his error with a good save and as I departed with Toure being subbed on 49 minutes 15 seconds I left missing the Kolarov penalty miss in the added time for Toure's slow walk off! We certainly missed the finishing of Aguero and the creativity of Silva today. De Bruyne was well marked and below his best. Bony missed a couple of good chances and Iheancho making his first start tried hard. Kompany and Otamendi look our best central pair but there was a feeling of panic in those final moments.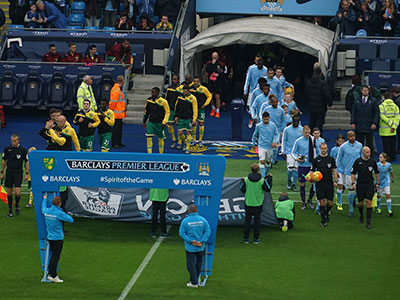 Quite a good turnout from Norwich fans
City made two changes - Iheanacho making his first start and Fernandinho returned from suspension. Sterling was on the bench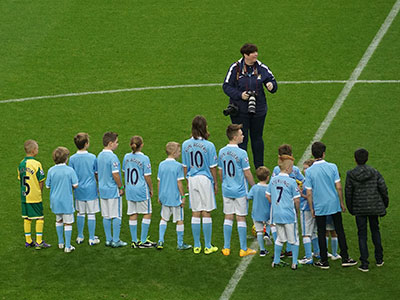 The City mascots easily outnumber the Norwich one!
Norwich players have a pre-match meeting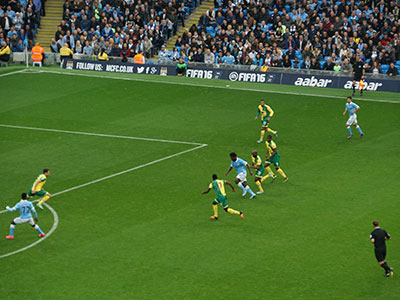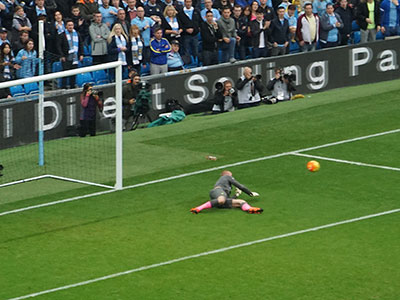 After ten minutes Bony has a chance but his effort is well saved by Ruddy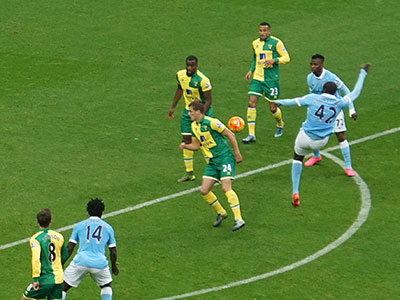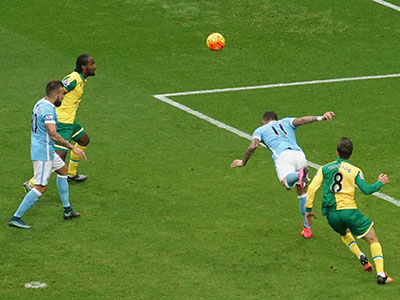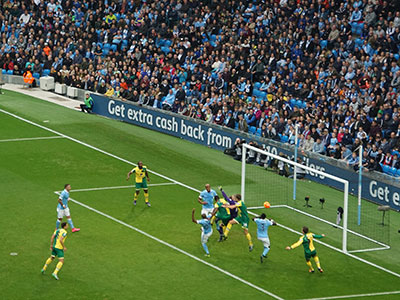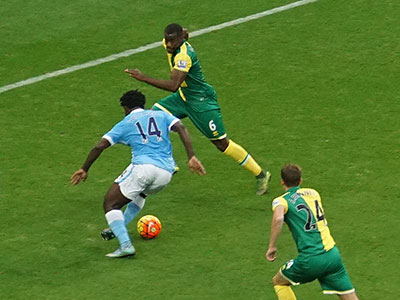 Hart misses a cross under pressure
On 20 minutes Iheanacho feeds Bony who beats his marker....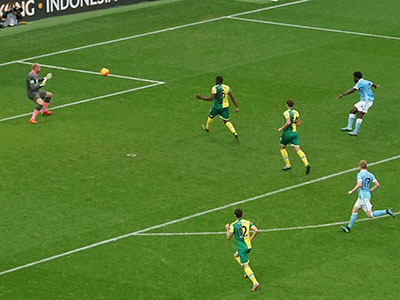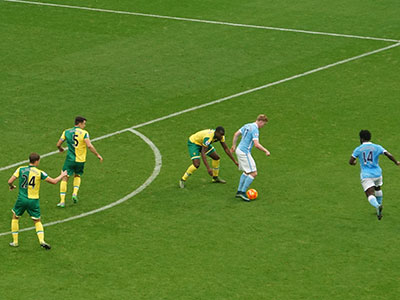 Then 6 minutes later De Bruyne passes to Bony....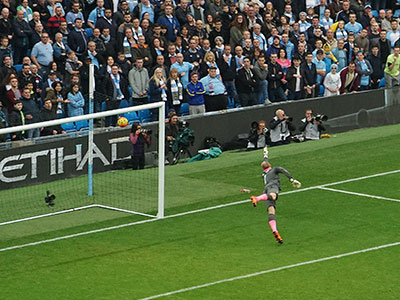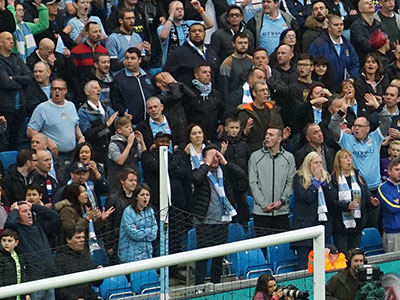 ....who shoots wide again much to the horror of the City fans behind the goal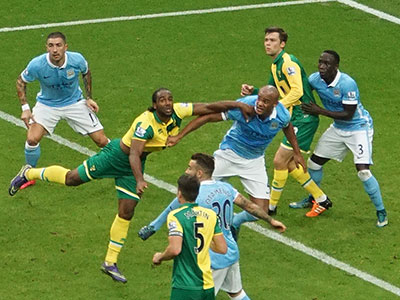 A minute later Jarvis has a shot well saved by Hart and Kompany has to head the corner clear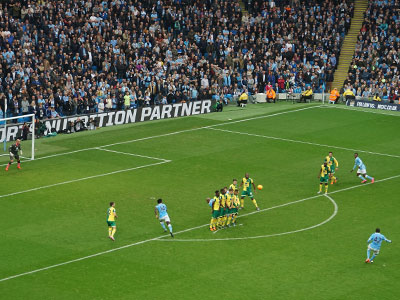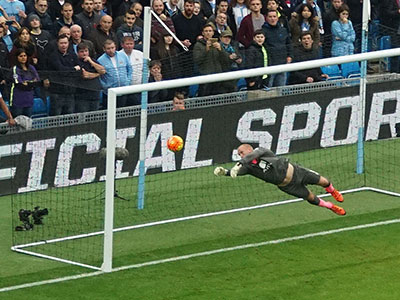 On 32 minutes City get a free kick which is taken by Toure but Ruddy makes a good save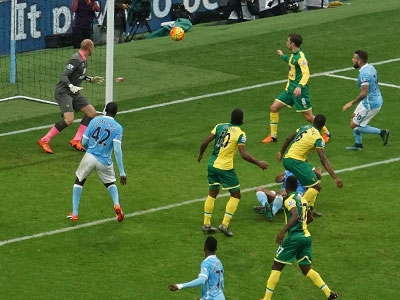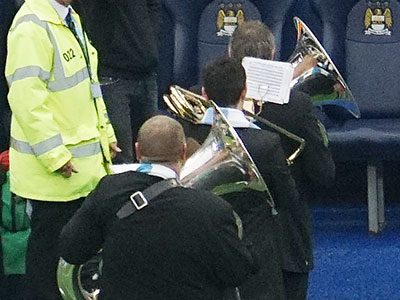 Kompany heads over at a corner
at half time it's goalless but we are not entertained by the brass band unfortunately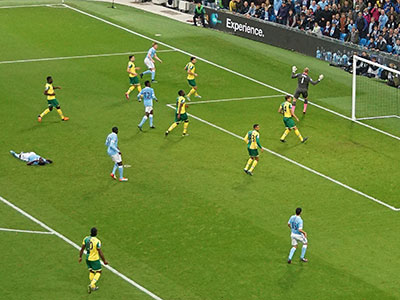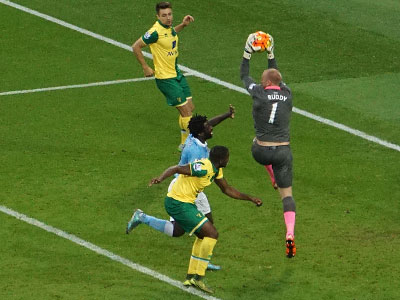 On 52 minutes De Bruyne shoots wide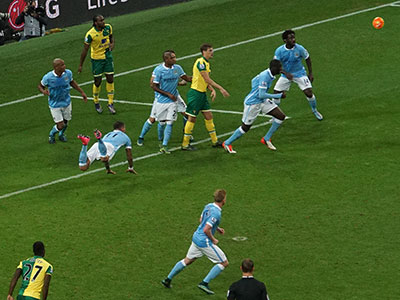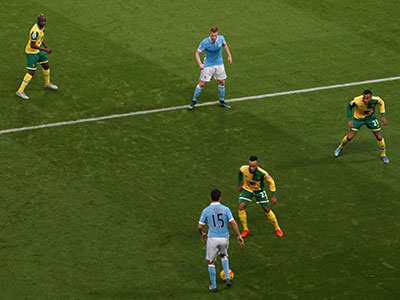 Kolarov heads a corner clear
Navas starts an attack from which City get a corner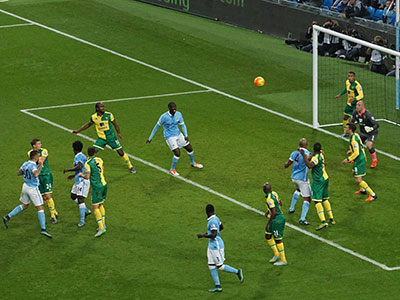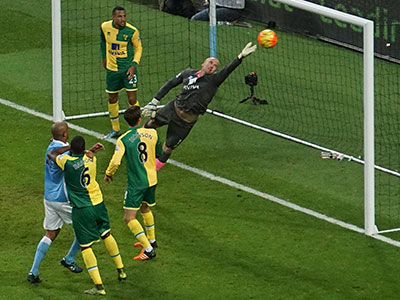 De Bruyne takes the corner and Otamendi powers in a header....

...which beats Ruddy and at last City have scored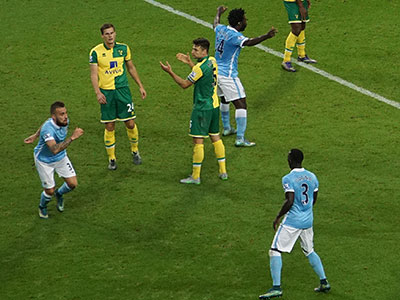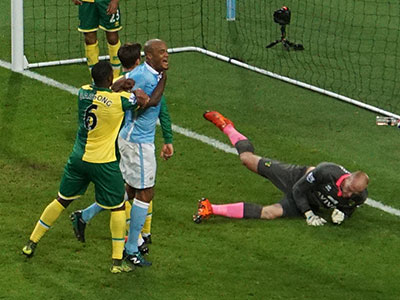 What a relief after having so much possession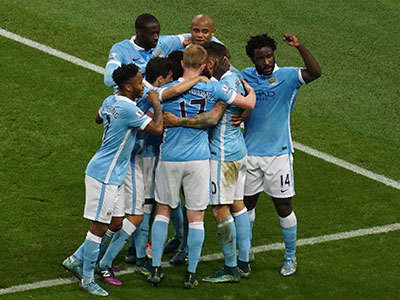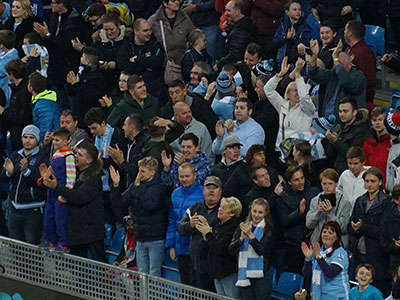 The players and supporters celebrate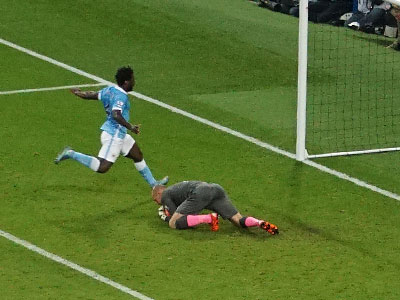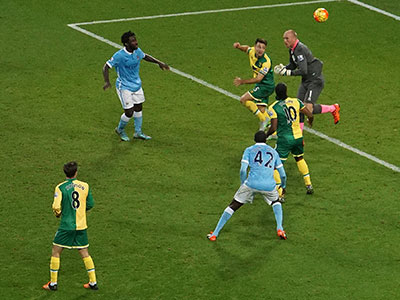 Ruddy saves at the feet of Bony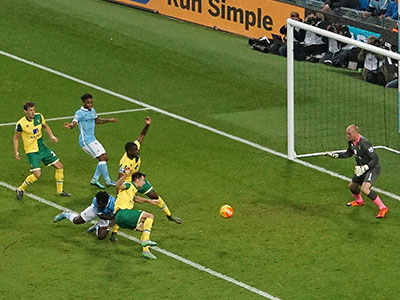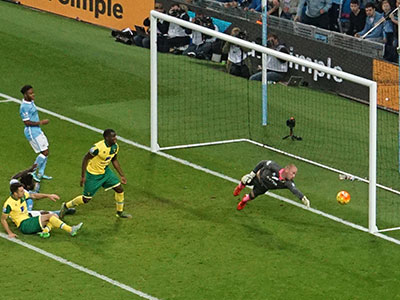 another effort by Bony goes wide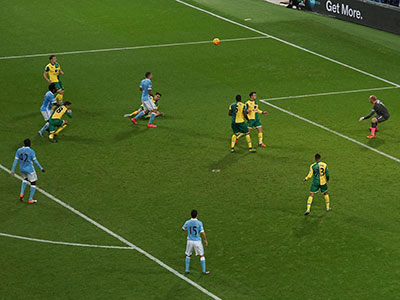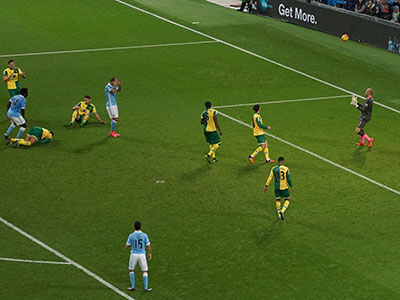 on 80 minutes yet another shot from Bony goes wide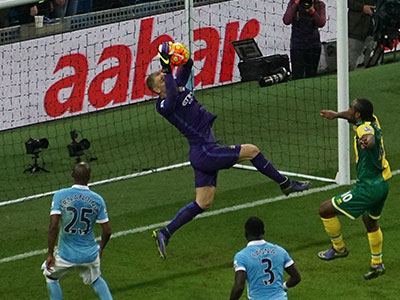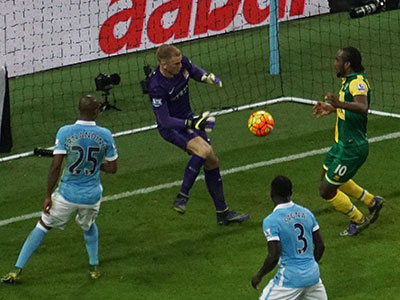 on 82 minutes it was calamity time for Joe Hart as he drops a cross following a corner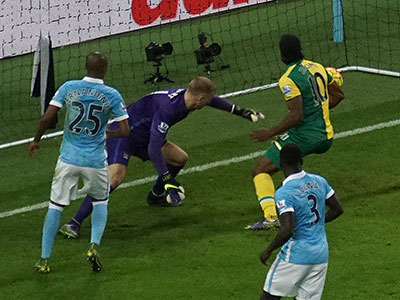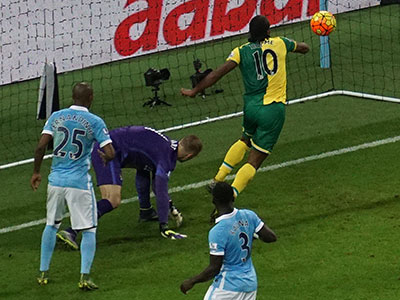 Jerome says thank you very much as he scores from very close range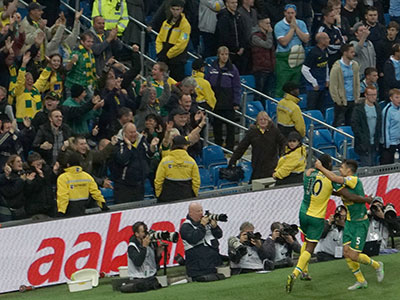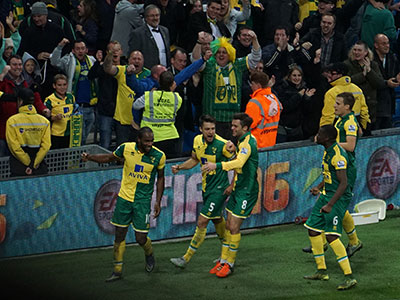 so Norwich draw level and their players and fans celebrate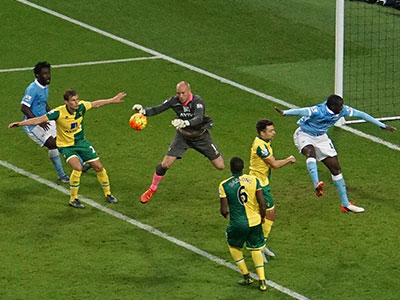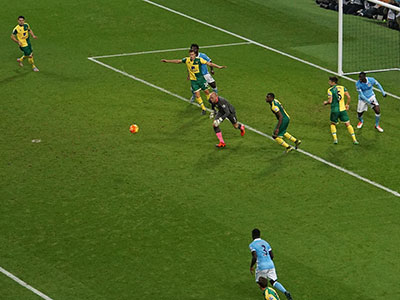 7 minutes later and Ruddy chases out after a loose ball...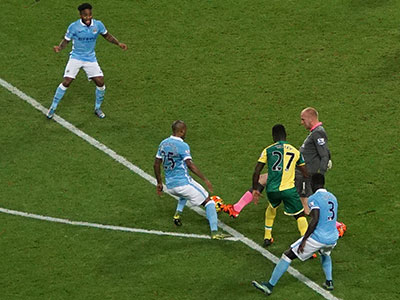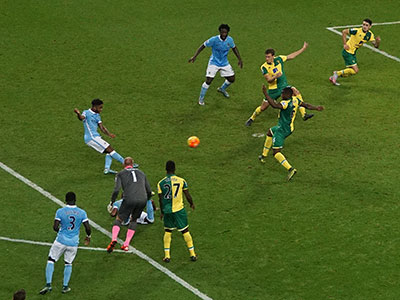 He fails to collect and the ball runs to Sterling who shoots....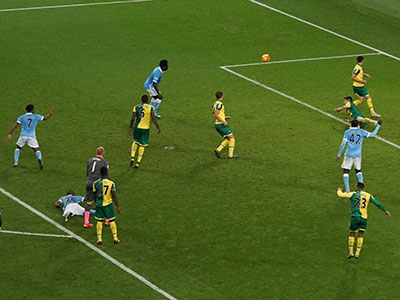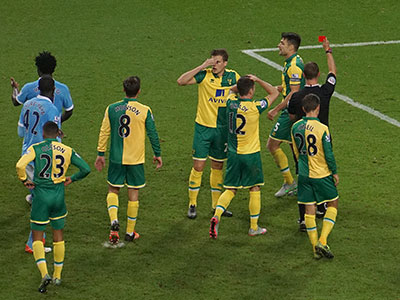 Martin stops the shot with his arm and a penalty is given and a red card for Martin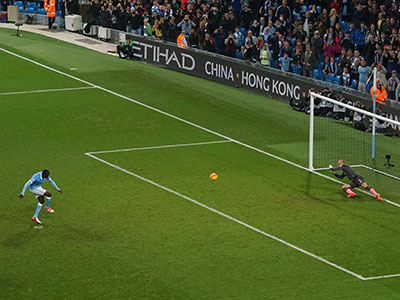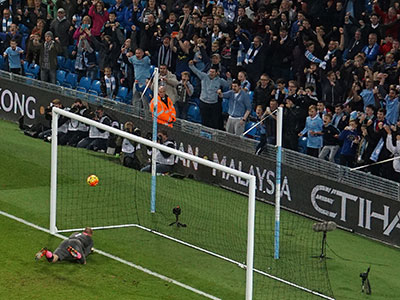 Yaya Toure takes the penalty and scores to put City ahead. Phew!!!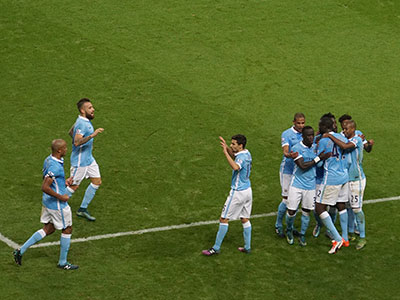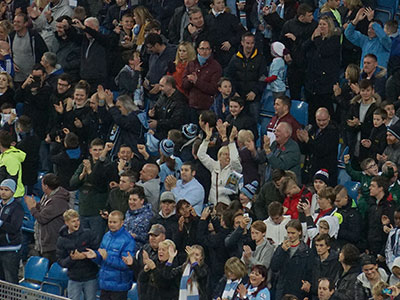 more celebrations for the City players and fans and it's five minutes of added time to endure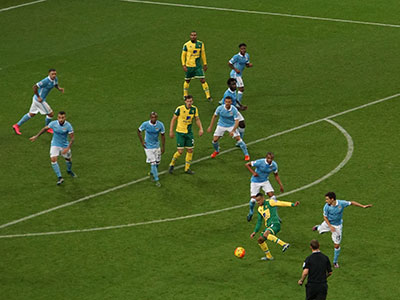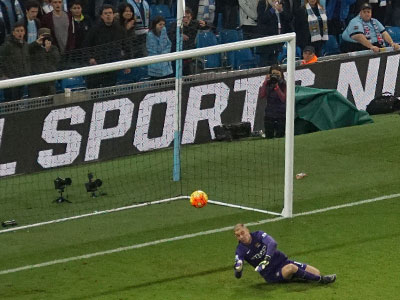 but Norwich are not finished and Hart makes a good save from a deflected shot by Olsson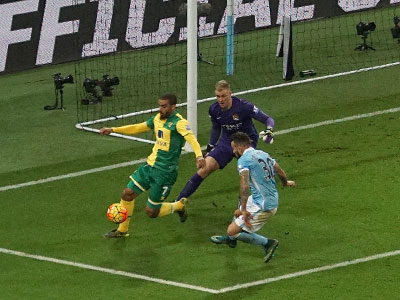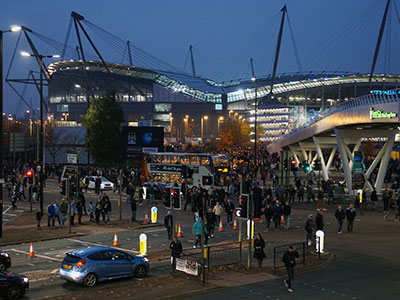 City manage to clear and as I departed won a penalty which Kolarov missed. Glad I missed that!
Well three hard won points today keeps City at the top and will our last home game in May against Arsenal be the decider I wonder.
team
Hart 6.5, Sagna 6.5, Kompany 7, Otamendi 8 Kolarov 6.5: Toure 7 (Demichelis ) Fernandinho 6.5 De Bruyne 6.5 (Fernando) Navas 6.5, Bony 6, Iheanacho 6.5 (Sterling 7)