City 4 Viktoria Pizen 2
November 27th 2013 41,000
Champions League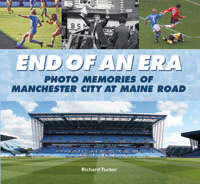 Now available from Amazon ( click on image for link)
WH Smith and the City shop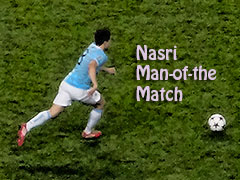 Not the best of performances by City in this final home game in the Champions League Group. One had the feeling that the team went on the field expecting a big win without having to put in any effort. Alas the supposedly poorest team in the competition played quite well and the 'reserve' City defence was put under a lot of pressure and Joe Hart had a lot more to do than he was probably expecting. He made a couple of good saves but I think Pantilimon will still play against Swansea on Sunday. City made 7 changes from the team that battered Spurs at the weekend so it was a chance for some players to catch the managers eye. I was surprised that Kolarov had been made captain for the day and he failed to make any impact. Dzeko too had some chances but seemed to lack confidence and did little apart from his last minute goal. To ensure a win City had to bring on Yaya Toure and Negredo and now all City have to do to finish top of the Group is to beat Bayern Munich comfortably in Munich! - I would not bet on it as we play Arsenal a few days later. Nasri had another good game and Aguero only had 45 minutes but managed to add to his goal tally scoring a penalty given for hand ball. That's 15 in 12 games!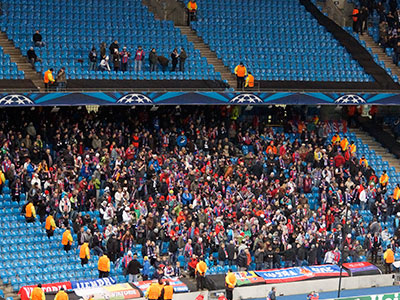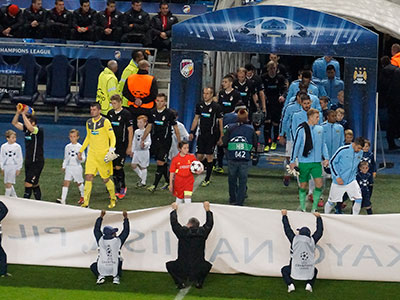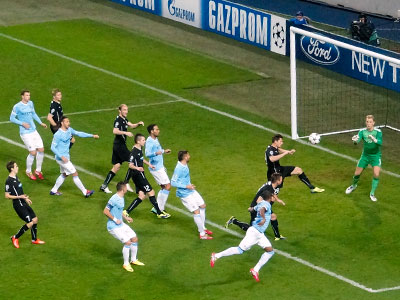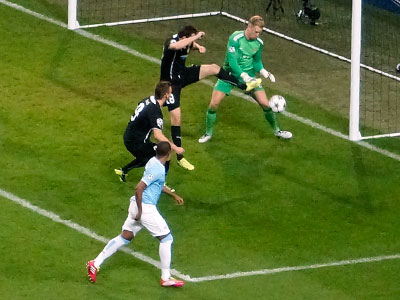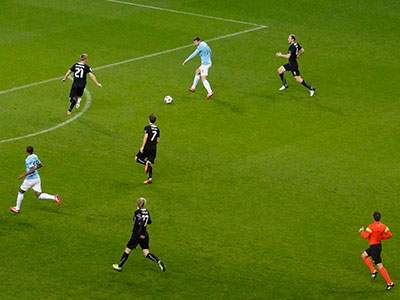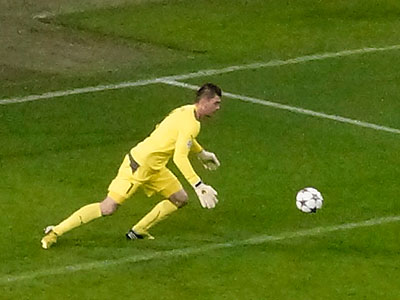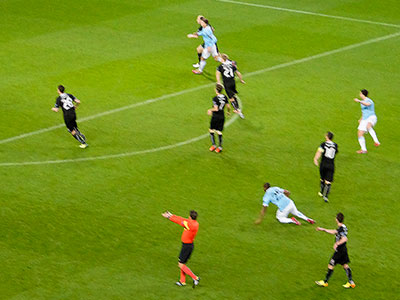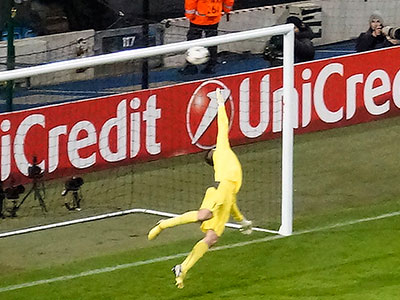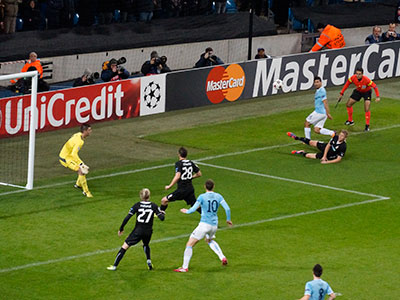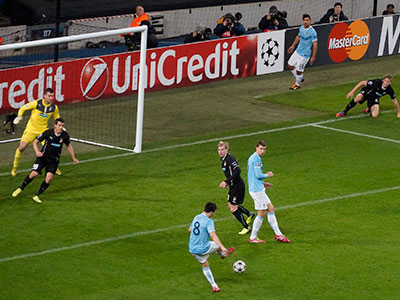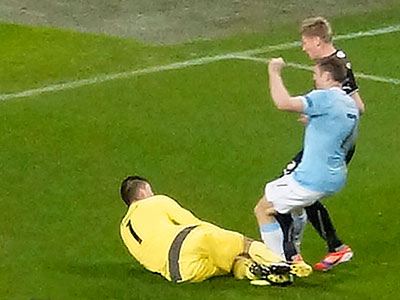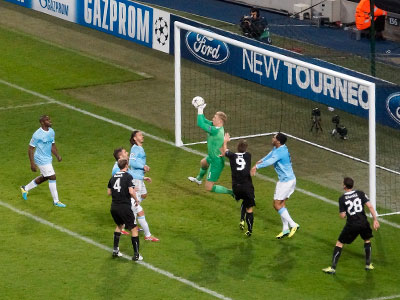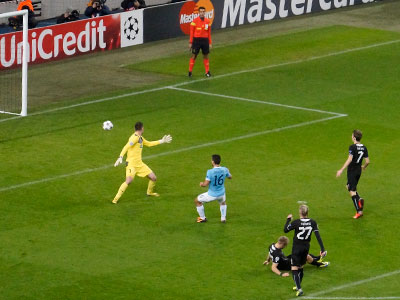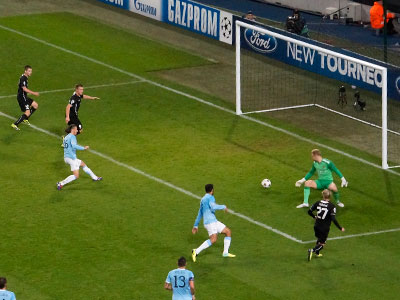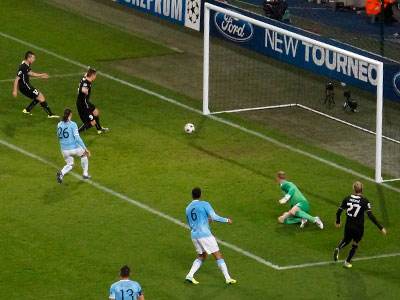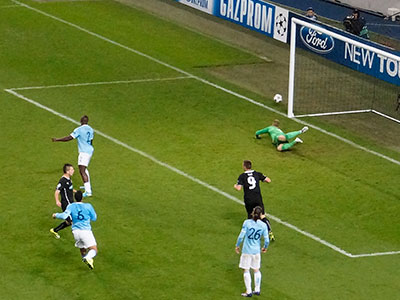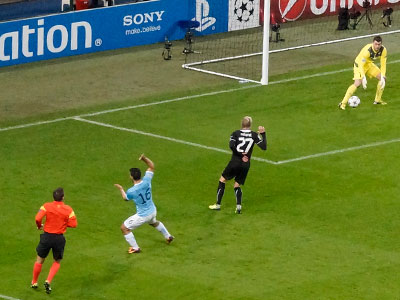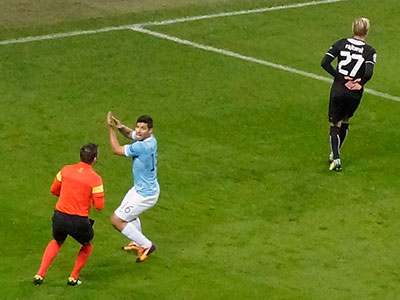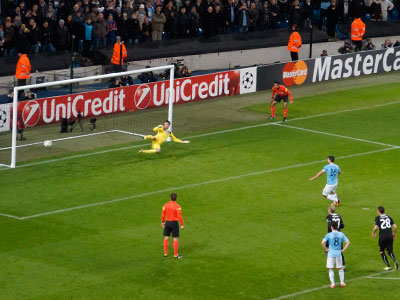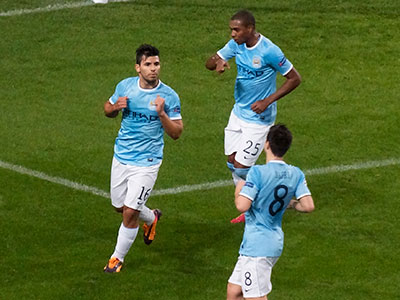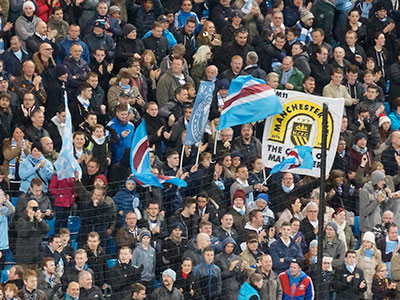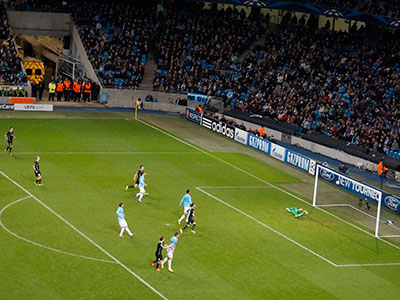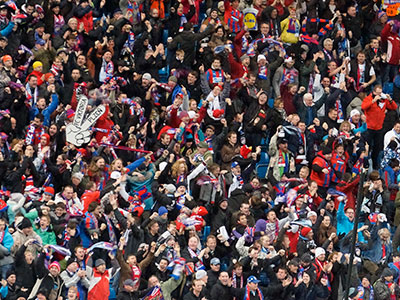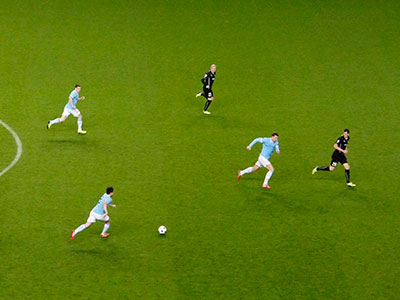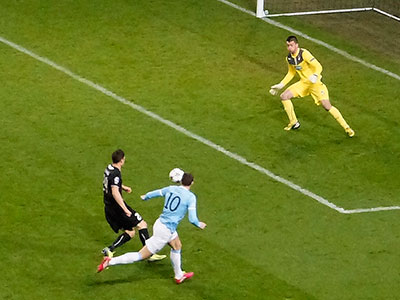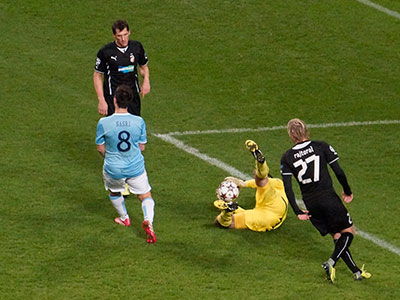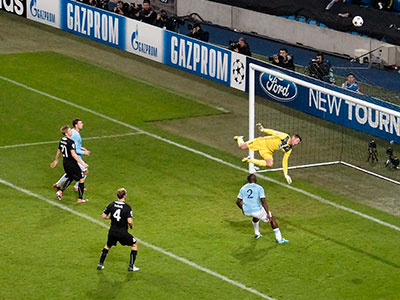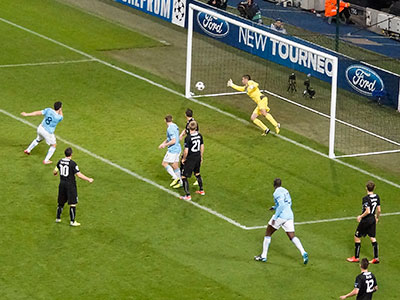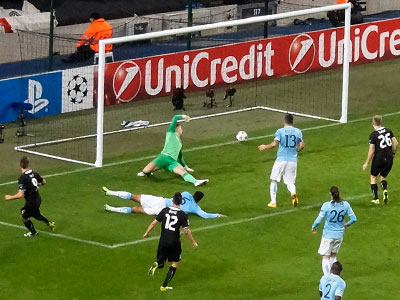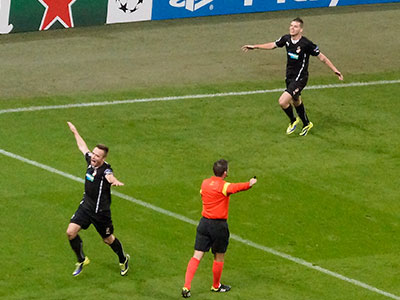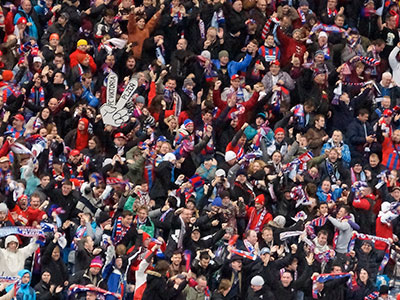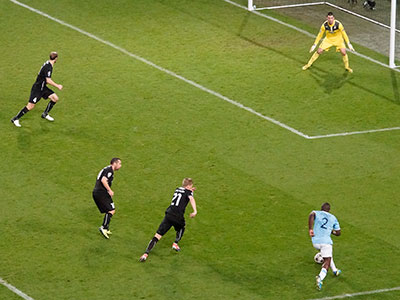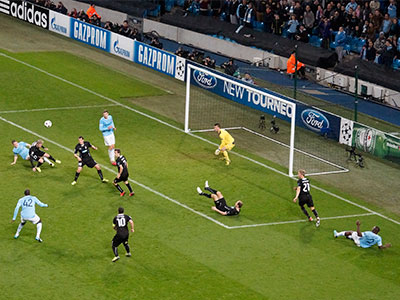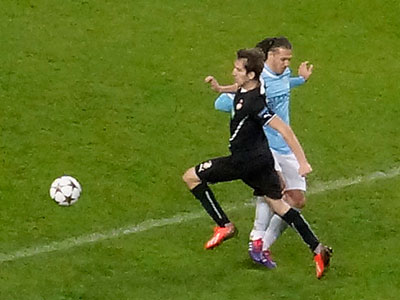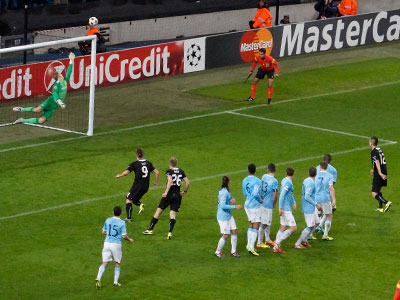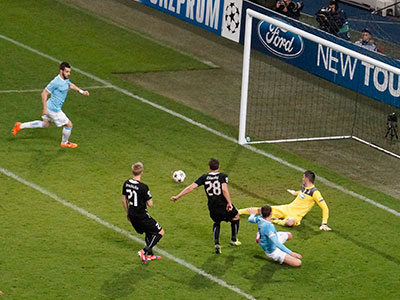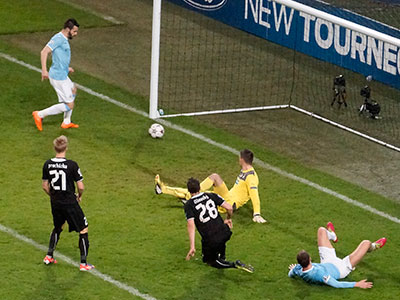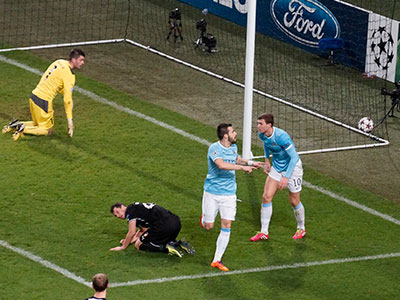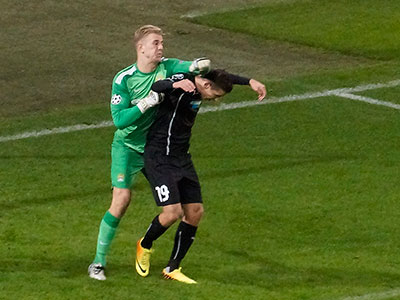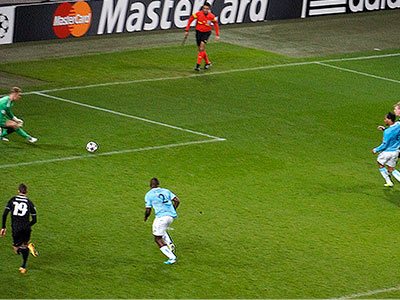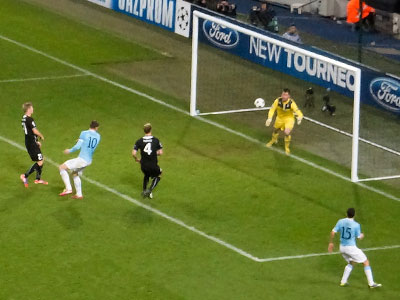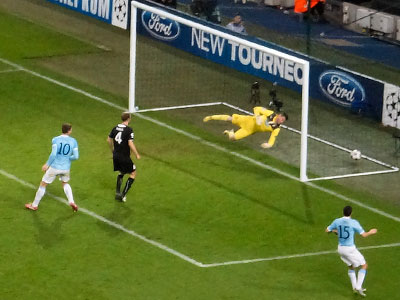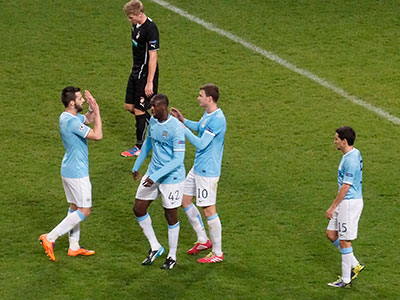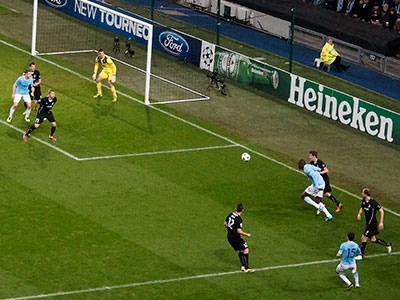 Team
Hart 7.5: Richards 6, Demichelis 6, Lescott 6.5, Kolarov 6: Garcia 5.5, Milner 7, Fernandinho 7 (Toure 7), Nasri 8 ( Negredo), Aguero 7.5 (Navas 7.5), Dzeko 6.5
The visitors had a small but very enthusiastic bunch of fans to cheer them on
City made 7 changes - good to see Joe Hart back in goal
If we thought this was going to be easy the visitors soon changed our mind as Joe Hart was kept busy early on
After 7 minutes Dzeko had a chance but failed to make the best of his chance given him by Fernandinho
on 13 minutes Nasri fed by Fernandinho had a great shot but it hit the bar and rebounded to safety
three minutes later Aguero crossed to Nasri but his hot went just went wide
Following a raid by Milner the secret sniper struck again leaving two visitors on the floor but magically they were soon up again
Joe Hart had to deal with some corners and then Aguero scored but alas it was offside so did not count
After 26 minutes City had a narrow escape when a shot from Rajtoral just went wide of the far post
Another miss by Viktoria when Duris shoots wide
on 32 minutes Aguero shoots and it's blocked......
..... by the hand of Raytoral and Aguero scores from the penalty to give City the lead
At last we score and there is much relief from City players and fans
Just before half time and it was the visitors turn to cheer as they drew level with a good shot from Horava
Immediately after the start of the second half City broke away but Dzeko failed to make the most of his chance
City continued to attack but Kozacik in the visitors goal made good saves
After 64 minutes City took the lead again. Good work by Navas and Toure enabled Nasri to shoot past the keeper
a minute later and Hart had to make a great save from Kolar
but he was beaten when Teci beat him and it was 2-2
The visitors were overjoyed and we were beginning to fear the worst!
Richard breaks through but Viktoria manage to clear
On 72 minutes Demichelis fouled Horava but luckily the free kick went wide
On 77 minutes Negredo who had only just come on scored from close range following a good cross from Navas
At last we were ahead again 3-2
Another narrow escape for the City defence as Horvath fails to score
Almost on time and a long cross by Milner is met by Dzeko......
.......and his excellent header found the back of the net to give City a 4-2 win