City 6 Tottenham 0
November 24th 2013 47,226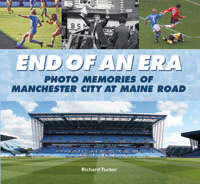 Now available from Amazon ( click on image for link)
WH Smith and the City shop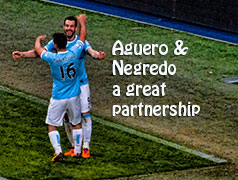 What's the score Adebayor! That was the chant of the City supporters in the second half as the score mounted. Adebayor came on second half for Spurs.
I know I like City to score early on but wow a sensational goal by Navas after just 13 and a half seconds almost caught me napping! City were magnificent today - Aguero and Negredo are a great pairing and Spurs had no answer to their efforts. Aguero scored a couple as did Negredo though one of his goals had to go down as an own goal - pity. Nasri and Navas did their stuff on the flanks while Fernandinho had one of his best game for City so far -shame he missed a sitter late in the game. Yaya Toure was a little below his best otherwise we might have surpassed the seven against Norwich.
Pantilimon kept a clean sheet and had to make a few saves but generally the back four gave him plenty of protection and Zabaleta and Clichy had time to attack down the wings as Spurs rarely used the flanks.
This was our best home win against Spurs beating the five nil victory in the 1976-77 season. Brian Kidd will remember that day as he was one of the corers City finished second that season a point behind Liverpool.
One annoying new 'feature' is the lack of naming the substitutes. In fact today the teams were not announced until just prior to kick-off and three was no mention of the change of referees - Howard Webb taking over from Martin Atkinson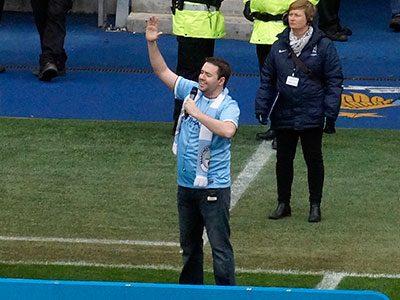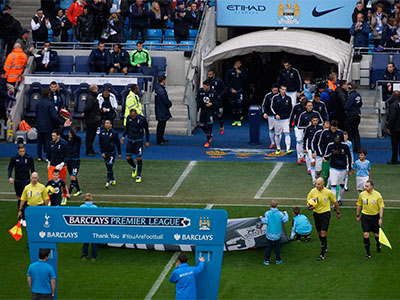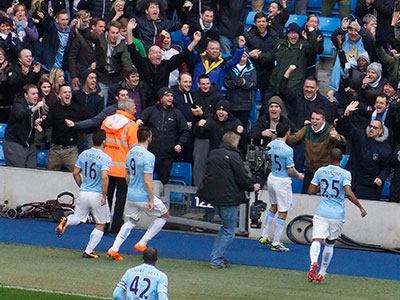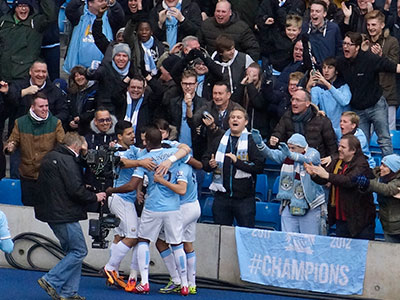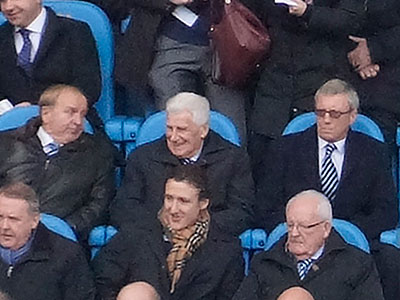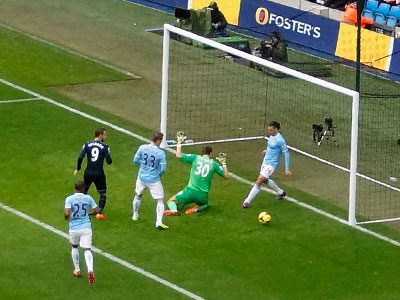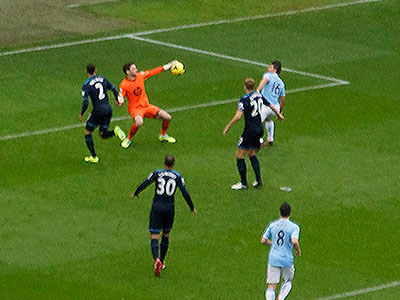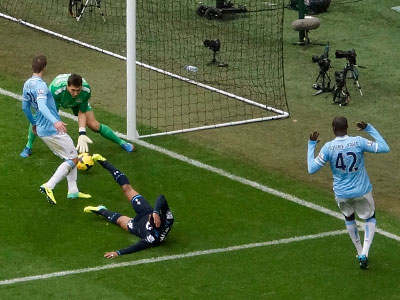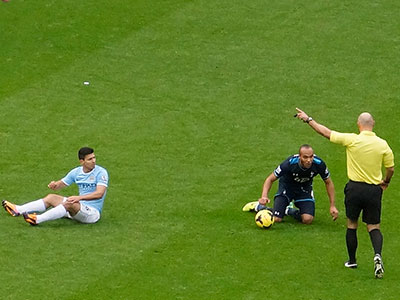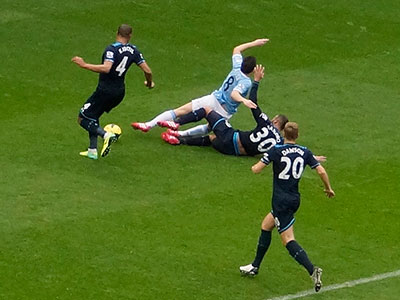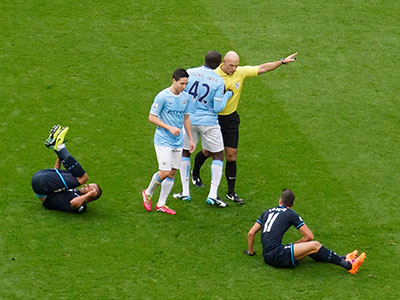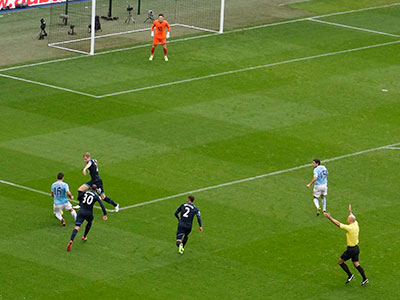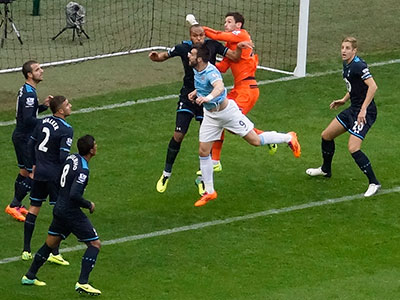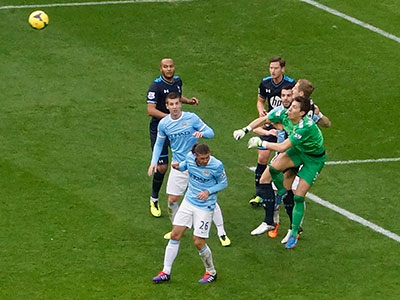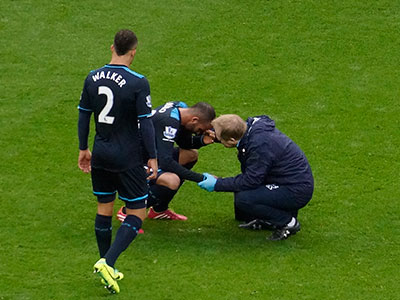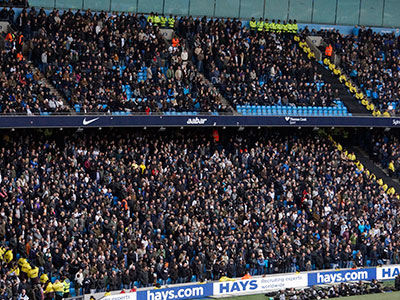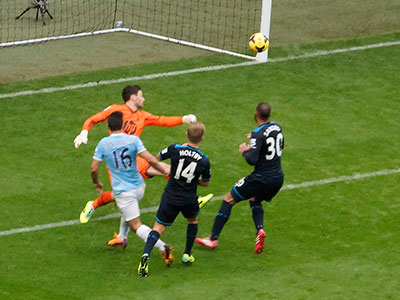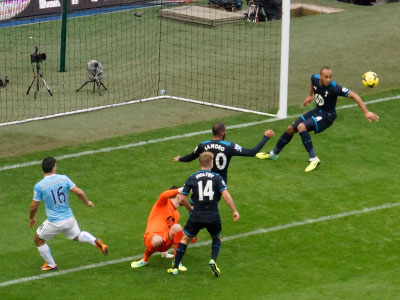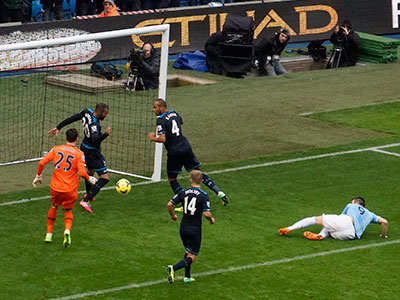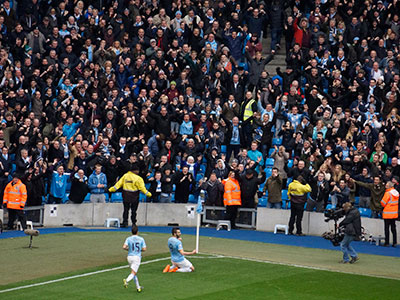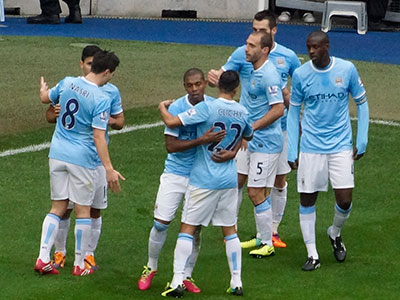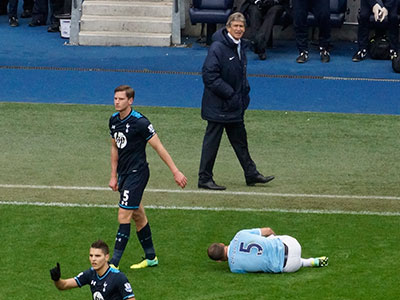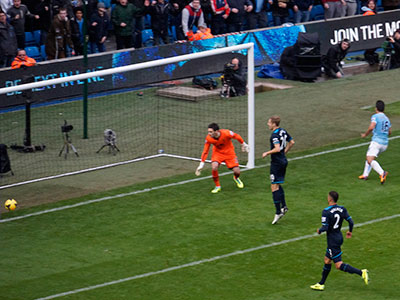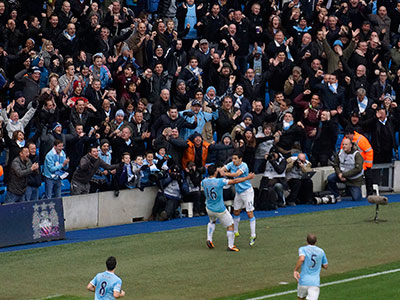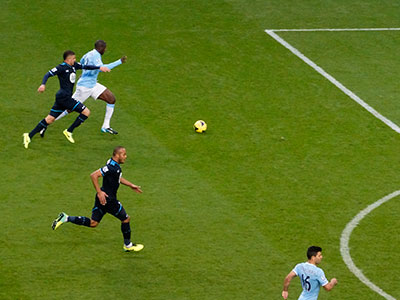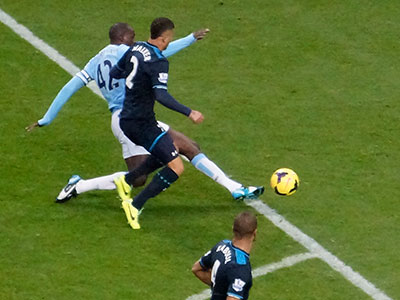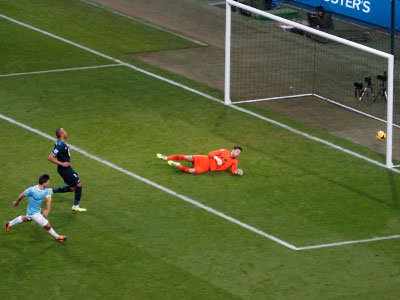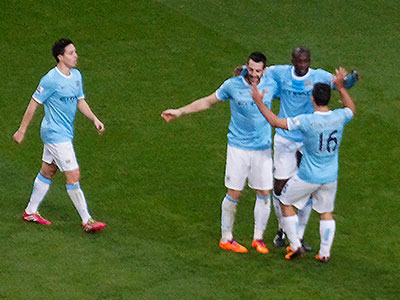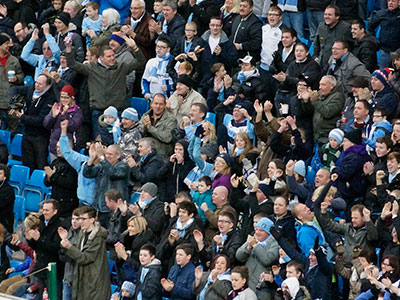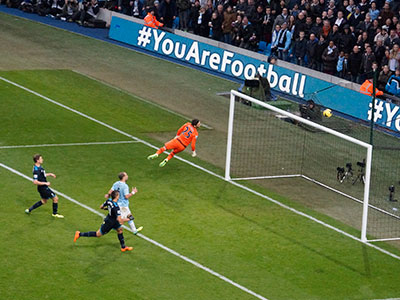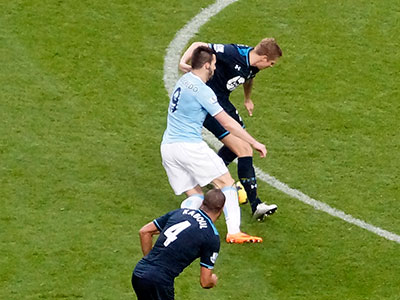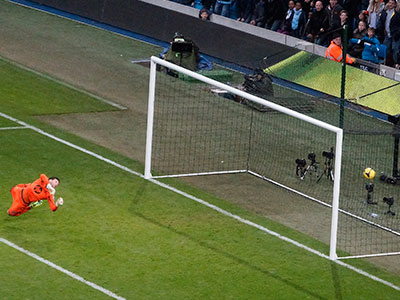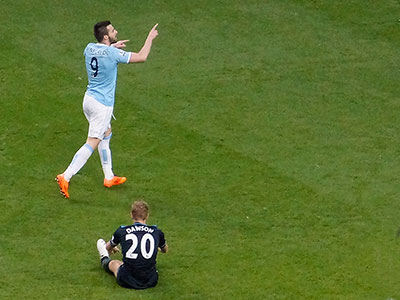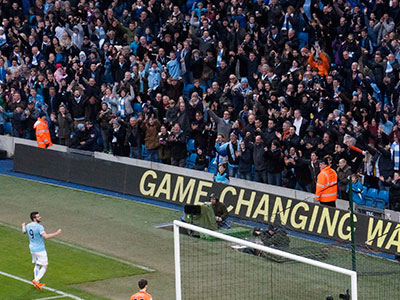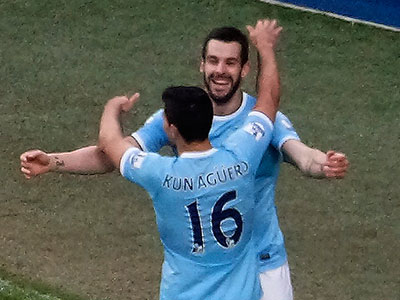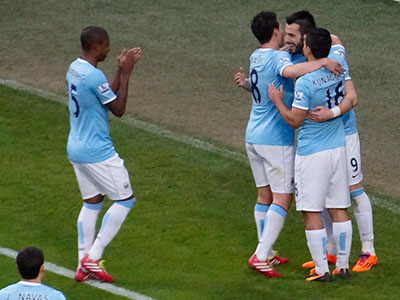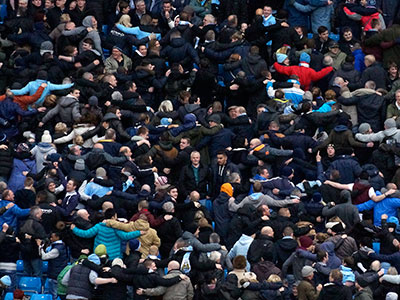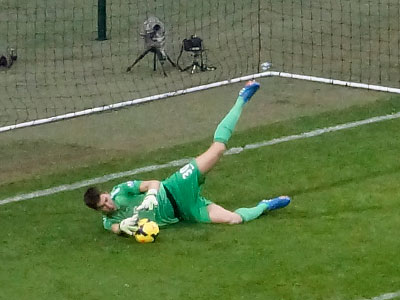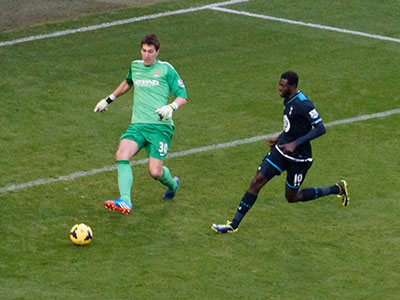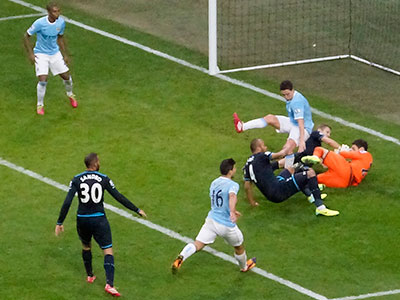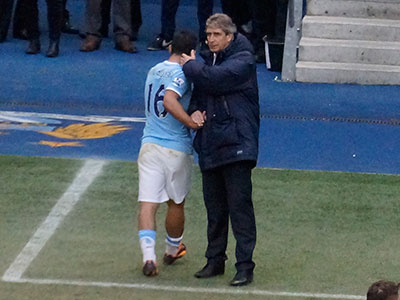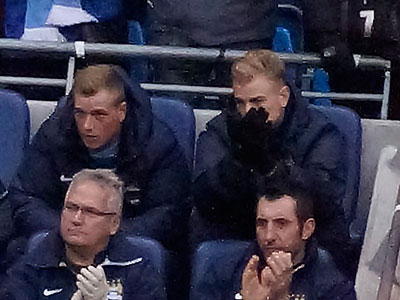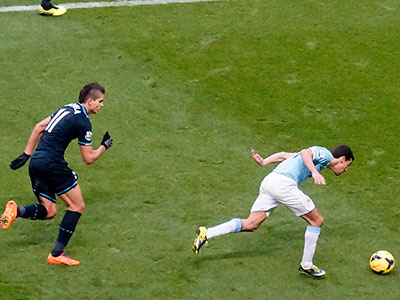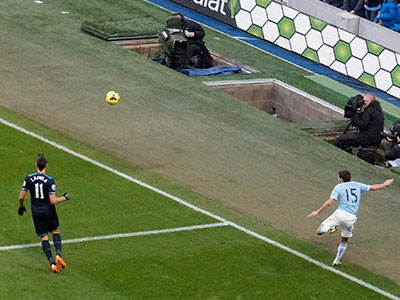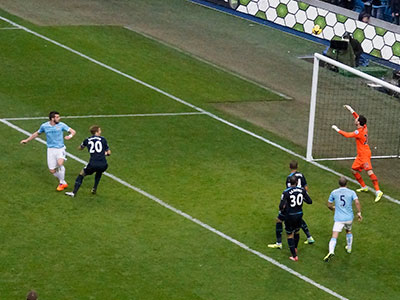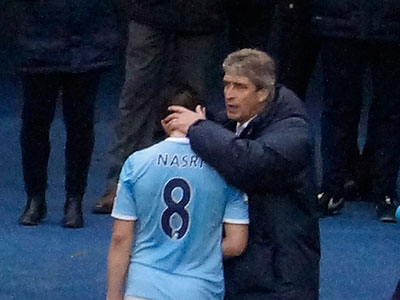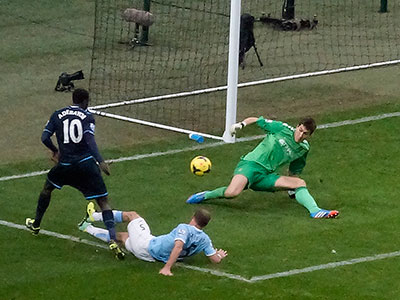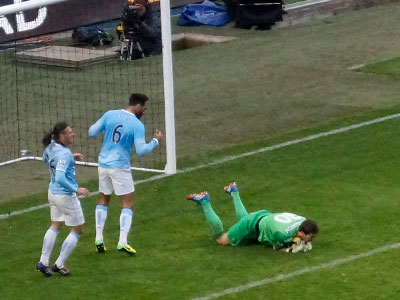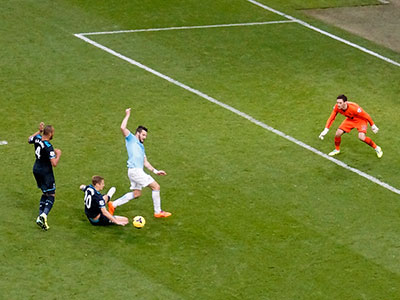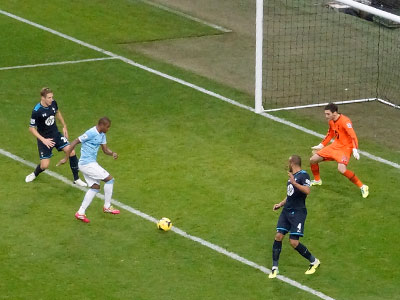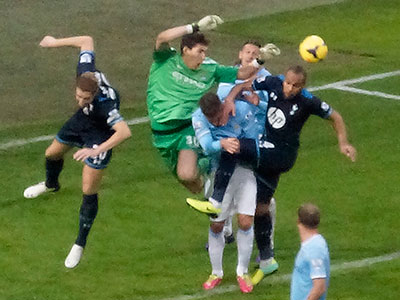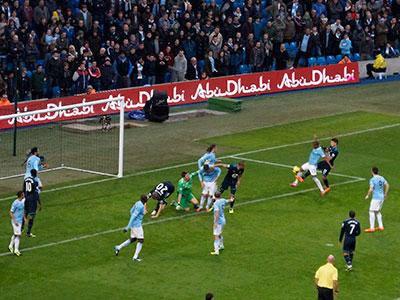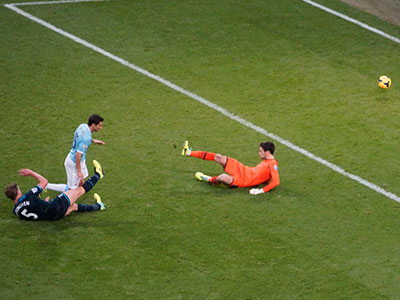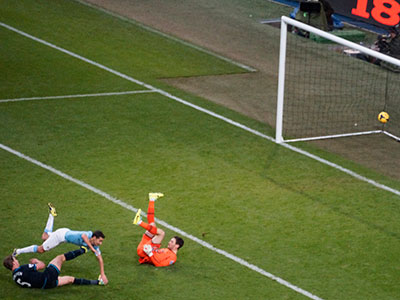 we had a rendition of 'Blue Moon ' from comedian and City fan Jason Manford
Fernandinho and Nastasic returned from injury and Pantilimon remained in goal. Still no Silva and Kompany
Straight from the kick-off the ball went back to Spurs keeper Lloris. His poor clearance went straight to Aguero who shot - Lloris saved well but the ball ran out to Navas on the wing and his first time shot from a narrow angle beat the keeper and went in off the far post. One nil in 13 seconds - not a bad start!
It was his first league goal for City and what a goal!
As Franny Lee tells Tony Book ( manager when we beat them in 1977) - I scored many like that! Colin Bell is impassive as ever!
Spurs came back at us and a dangerous cross was not dealt with
Lloris make up for his early mistake by saving well from Aguero
Pantilimon collects from Paulinho
Aguero is fouled by Kaboul
a last ditch tackle by Sandro on Nasri saves Spurs - CIty claimed for a penalty
Spurs win a free kick but it is easily saved by Pantilimon
Aguero is fouled but the ref waves play on and the attack ends with a corner
Spurs manage to clear the corner
At the other end Pantilimon has to punch a corner away
The large group of Spurs supporters had little to cheer about
Sandro appears to be sick
On 33 minutes a poor Lloris clearance went straight to Fernandinho who passed to Aguero. His shot was blocked but the ball ran to Negredo and his shot was helped over the line by Sandro that must have made him feel sicker! two nil to City
The City players and fans celebrate
a few minutes later Zabaleta is fouled by Vertonghen and gets a yellow card - Spurs manager Villas-Boas does not look pleased as Spurs are beginning to lose the plot
On 40 minutes things got worse for Spurs as Aguero brilliantly slides in a cross from Navas past Lloris to make it three nil
ex City player Adebayor comes on at half time for Spurs
Five minutes after the restart Yaya Toure breaks through .......
......and puts in a great pass to Aguero who scores to make it four nil
It was celebration time once more
Spurs had another lucky escape when a long range effort by Nasri hit the bar but soon after Fernandinho found Negredo who turned Dawson ......
....and blasted the ball past Lloris to make it five nil
Negredo conducted the cheering in the North Stand and with plenty of time to go could we beat the Norwich seven!
We even had a version of the Poznan !
Then Pantilimon had to put down his book and make the odd save!
Spurs manage to prevent another goal
After 68 minutes Aguero gets a standing ovation and a big thank you from the manager when subbed
Hart and Guidetti on the bench think of that new musical - 'Will we ever get a chance' !!
Navas tearing down the right wing......
.... gets in another great cross but Negredo just heads over
Nasri gets a thank you as he is subbed by Milner
Spurs supporters come to life as they win a corner
Pantilimon called into action once more saving from Adebayor
Negredo just fails to notch another effort
Fernandinho who has yet to score for City misses a sitter right in front of goal
As full time approaches Pantilimon has to clear a corner and then in a breakaway a long Milner pass....
...finds Navas who beats Vertonghen and nets to make it six nil just on time - brilliant stuff!
Team
Pantilimon 7.5: Zabaleta 7.5, Demichelis 7, Nastasic 7.5 ( Lescott 7) , Clichy 7: Yaya Toure 7.5, Fernandinho 8, Navas 8.5, Nasri 8 (Milner), Negredo 8.5, Aguero 9 ( Garcia)