City 5 CSKA Moscow 2
November 5th 2013 43,000
Champions League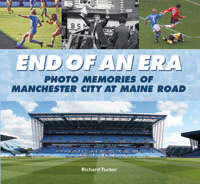 Now available from Amazon ( click on image for link)
WH Smith and the City shop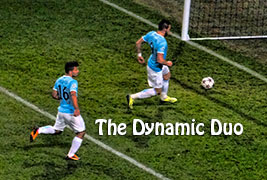 City moved into the last 16 of the Champions League after a comfortable win over CSKA Moscow. When the score reached three nil just under the half hour it meant that City had notched 10 goal in the last two hours of play - not bad from boring boring City! At least CSKA gave City a better game than Norwich and we conceded two goals through errors again - this time from Demichelis and Clichy , the latter giving away a needless penalty.
However they had little chance of containing the fireworks produced by the ferocious four - Aguero, Silva, Nasri and Negredo.. We played some brilliant football and it looks like Pellegrini has now arrived at his best front four. Aguero and Negredo were terrific and look like one of the top Premiership striker pairings. Nasri, once again played really well while Silva played an important role. Pantilimon did not have much chance with the goals conceded and will probably keep his place for the Sunderland match. When Kompany returns City will be hard to beat and with such a strong bench I will be disappointed if we don't win something this season.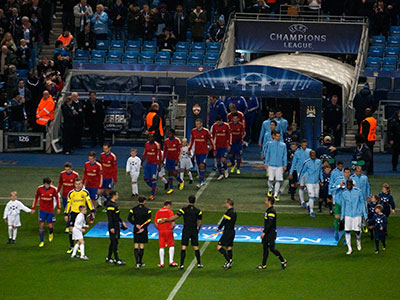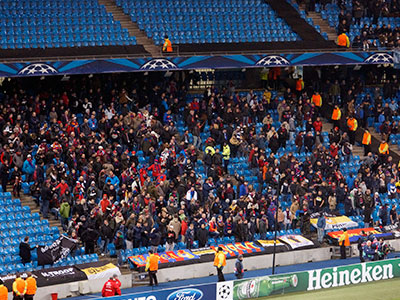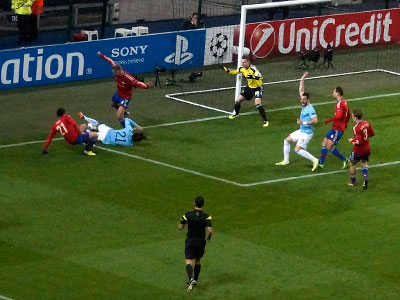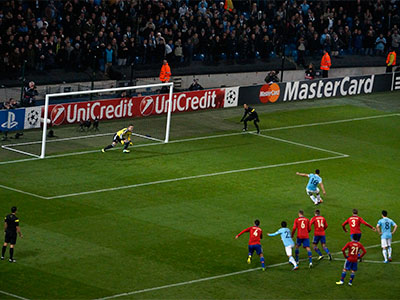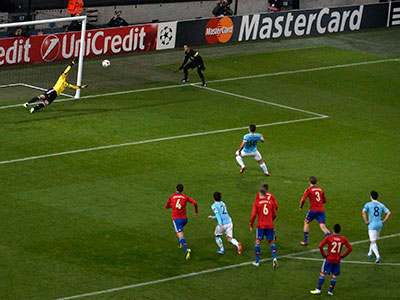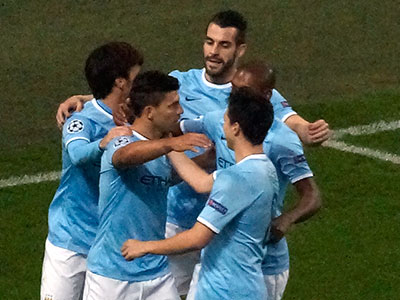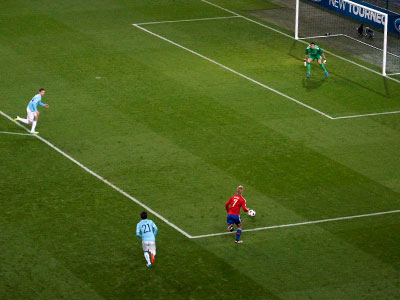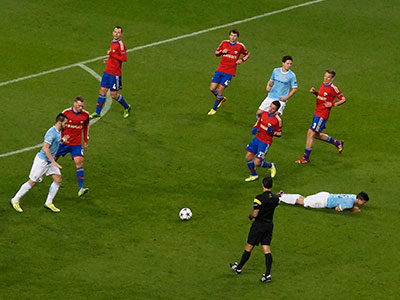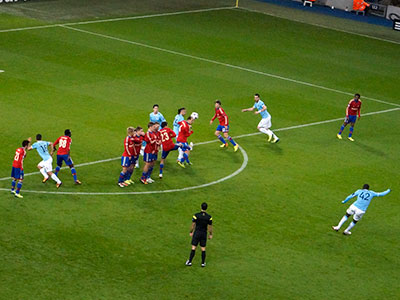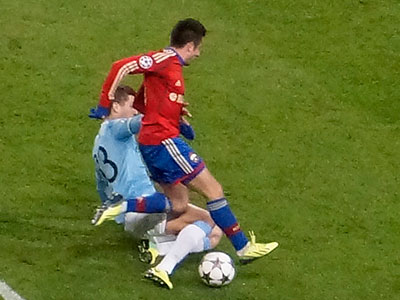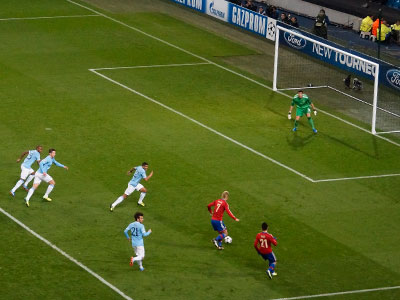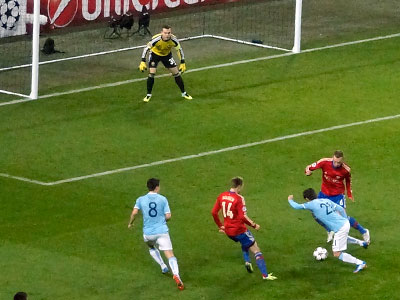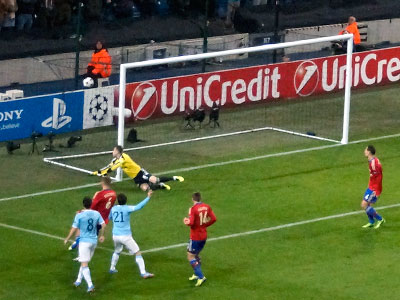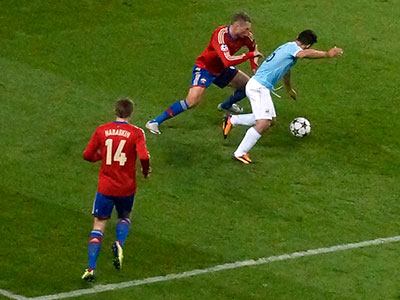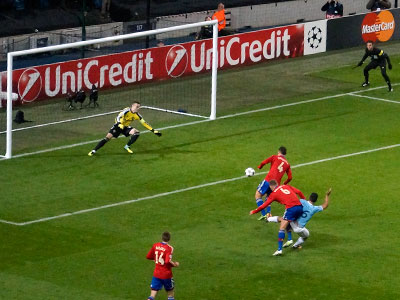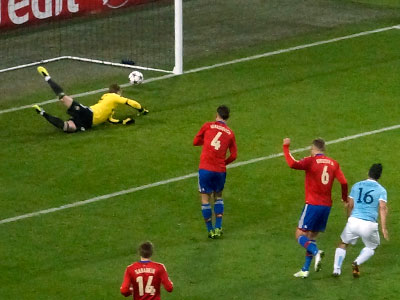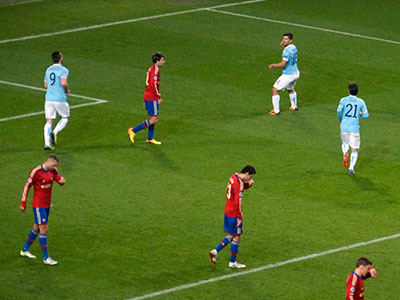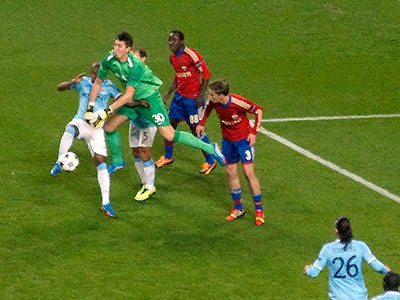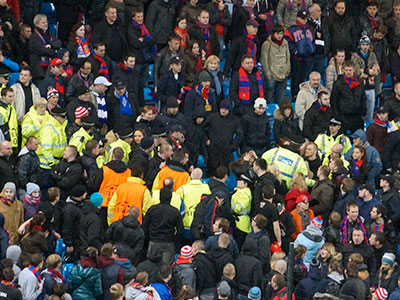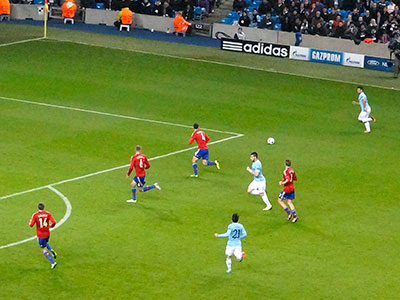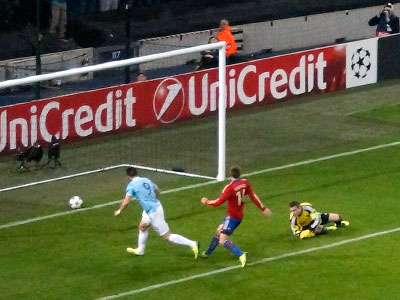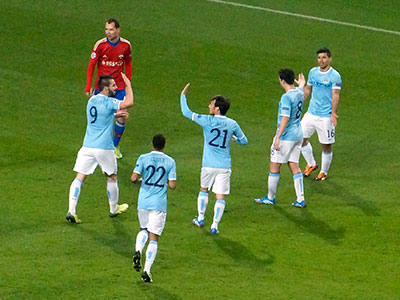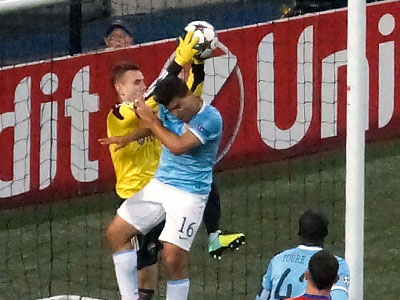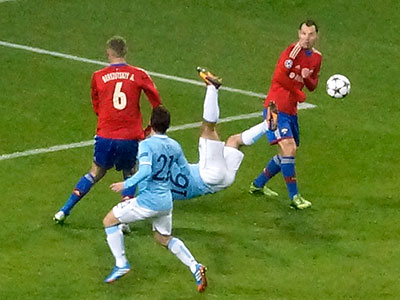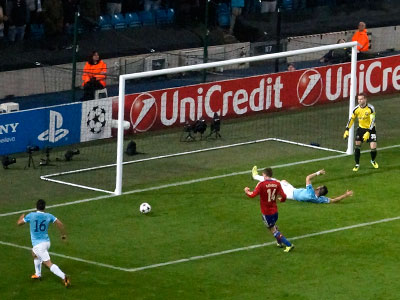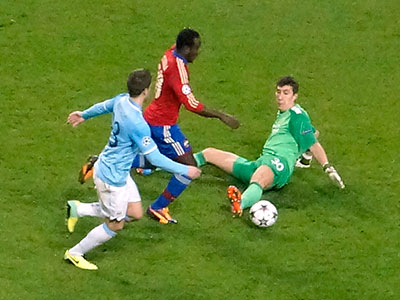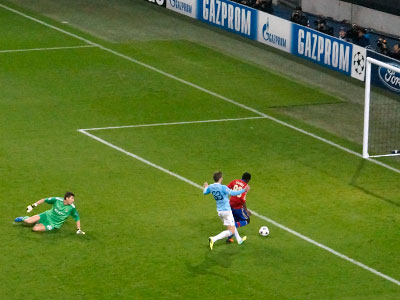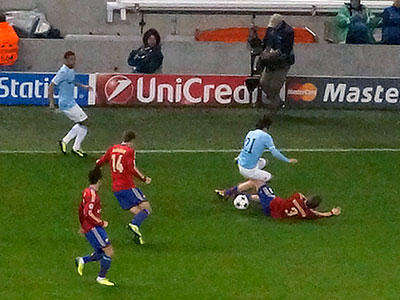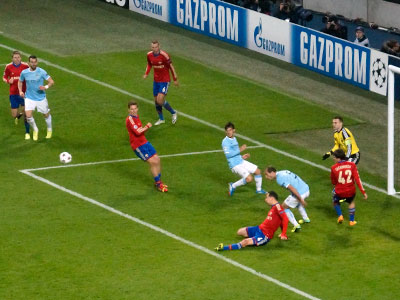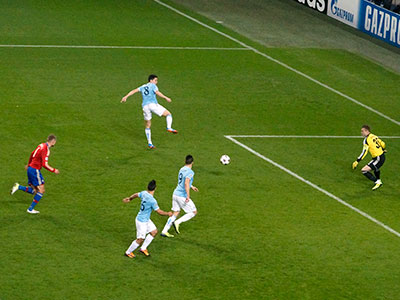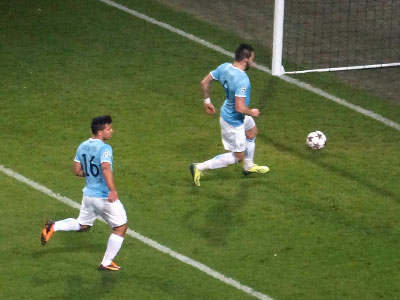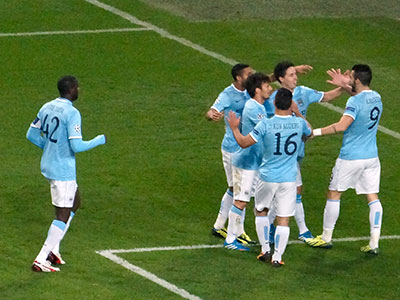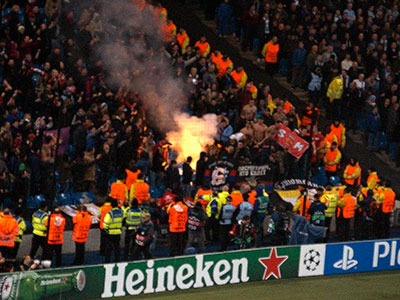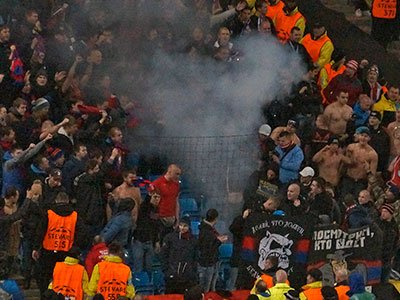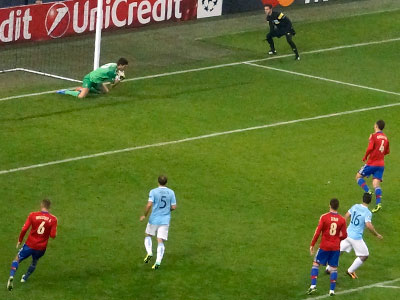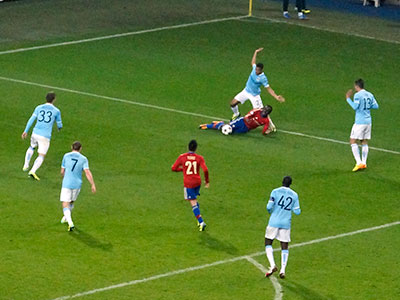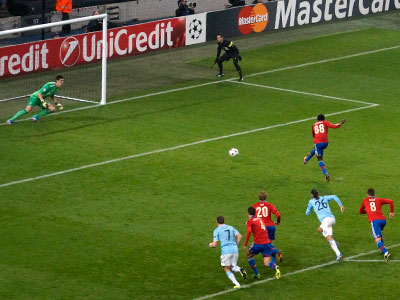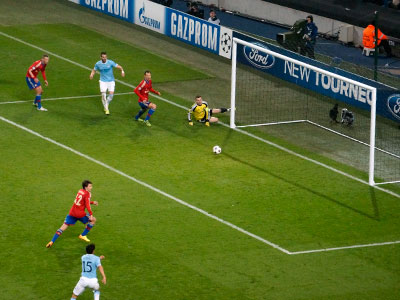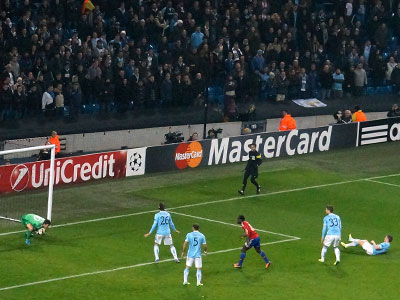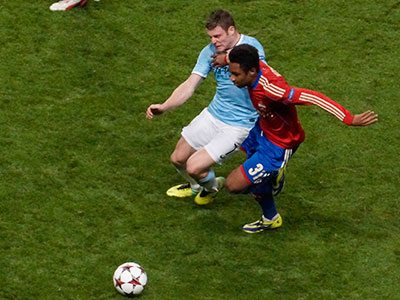 City were unchanged - not often I can write that!
Some 800 visiting fans came from Moscow
City had a great start as David Silva was upended by the goal line and Aguero dispatched the penalty with ease to give City the lead after just two minutes
With the departure of Tevez and Balotelli Aguero has taken over the role of penalty taker and is doing it well
Honda makes a break but fails to reach second gear
Some of the visitors were showing off a bit! but it wasn't too cold
Doumbia shoots over when well placed
Aguero is flattened and its a yellow card for Tosic
Alas - Yaya Toure shot well over the bar for once from the free kick
Nastasic goes in to tackle Tosic
Honda tries to break through again but fails to trouble the keeper
Silva tries to dribble through the CSKA defence......
....but his finish is just wide of the goal
Then on 19 minutes Aguero shows a bit of magic to fool the defender.......
....... and he shoots past Akinfeev for his second goal and City were two up
The Russians looked pretty downcast as City celebrated
Not the best of clearances from a corner by the City keeper
Looked like a spot of trouble and the police moved in to sort it out
On 29 minutes Aguero dashed down the right wing and passed to Negredo.......
..... who had the easy job of scoring from close range to make it three nil - high fives all round
Akinfeev catches the ball under pressure from Aguero
Aguero just fails to connect with this spectacular effort
Just before half time The Moscow goal came under pressure again and they were lucky not to concede another goal
However at the other end City were opened up too easily and Doumbia scored easily after wrong footing Pantilimon so it was 3-1 at half time
Silva brought down by Wembloom
The CSKA goal escapes gain
but not for long as on 50 minutes a pass from Toure found Nasri who broke through and Negredo again had the easy task of scoring from close range - 4-1
Another well produced move and finish
City eased off now and CSKA had more possession and Pantilimon had more to do
There was a mini fireworks display among the visitors but it did not last long - missed the big City on due to heavy traffic problems!
Pantilimon saves from Zuber
After 70 minutes Clichy brought down Doumbia and its a penalty
Doumbia takes the penalty himself an scores to make it 4-2
City just fail to make it 5-2 on 77 minutes
On 80 minutes Pantilimon saves from Zuber
Milner on for Fernandinho at half time clashes with Vitinho
Right on time Negredo completed his hat-trick . Alas I was just walking up the steps and the camera missed it! I'll ask him to finfish his hat-trick a little earlier next time !
team
Pantilimon 7: Zabaleta 7, Demichelis 7, Nastasic 7, Clichy 7: Yaya Toure 7.5, Fernandinho 7 ( Milner 7), Nasri 8 (Navas), Silva 8 (Kolarov) Aguero 9, Negredo 9