City 1 Real Madrid 1
November 21st 2012 45,740
Champions League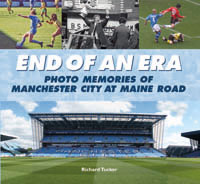 Now available from Amazon ( click on image for link)
WH Smith and the City shop
Despite a stirring second half display with David Silva having one of his best 45 minutes for City it was exit time from the Champions League. Going down very early to a soft goal following bad marking it was a tough first half with Joe Hart making some good saves with the quick Real breakaways causing lots of problems for the City defence. However switching from a back three to a back four helped and in the second half City looked more like a team that really wanted to win and but for a magnificent save by Casillas after 63 minutes City might have won. It took a penalty won and scored by Aguero to enable City to draw and whether we move into the Europa League will depend on results in a couple of weeks time. Ronaldo as expected was their main threat and he got a warm welcome from the home supporters - he was loudly booed every time he touched the ball! Kompany and Nastasic had their work cut out to hold the visitors attack but did pretty well. David Silva was magnificent today and actually made three good tackles in addition to his tireless creative attempts. If only he could add Messi's scoring ability! Aguero worked hard as usual but there were few scoring chances and I thought we should have used the attacking Maicon down the right flank a lot more.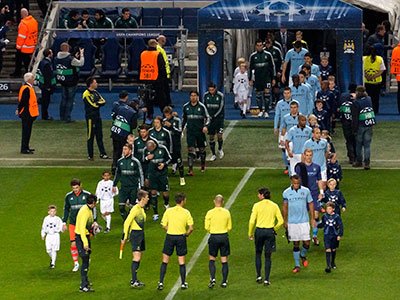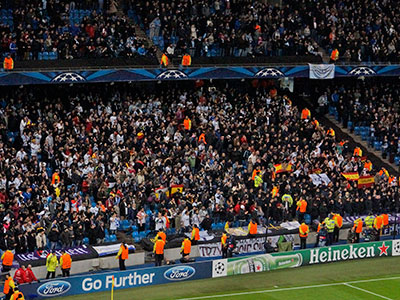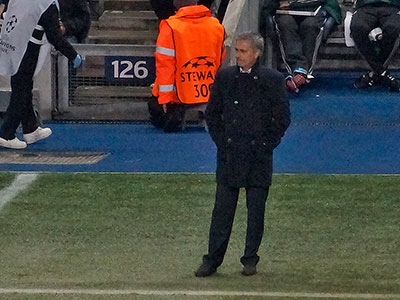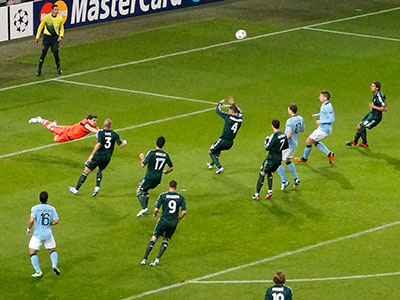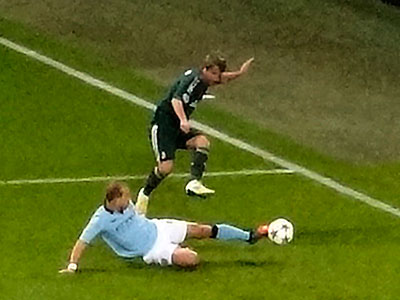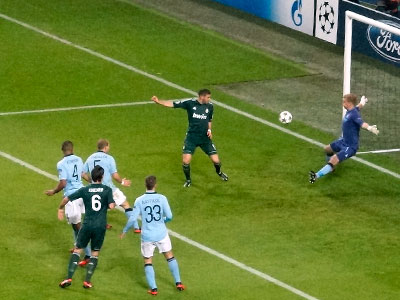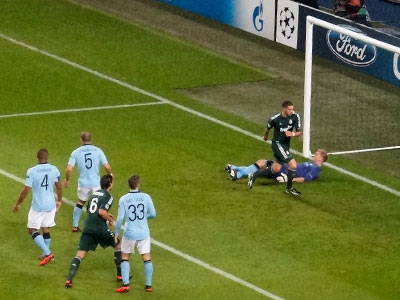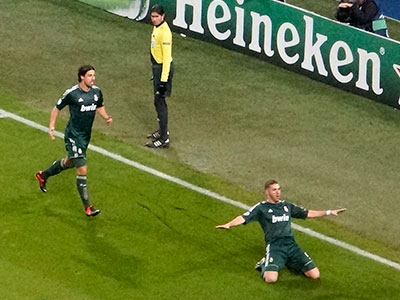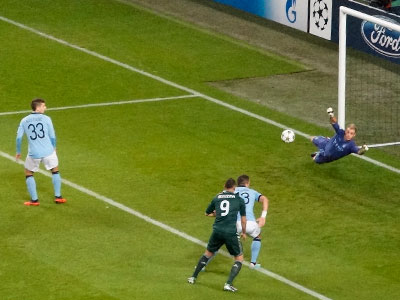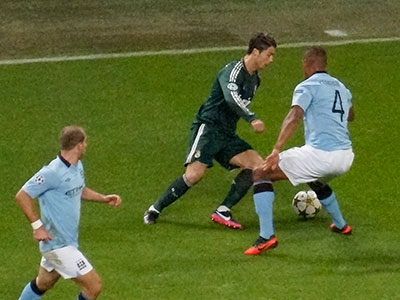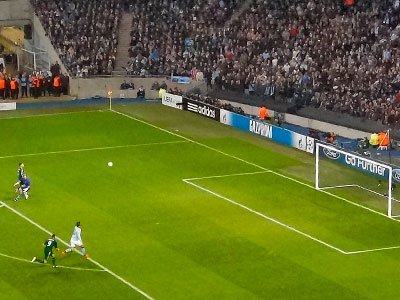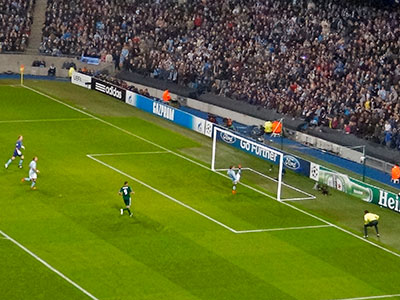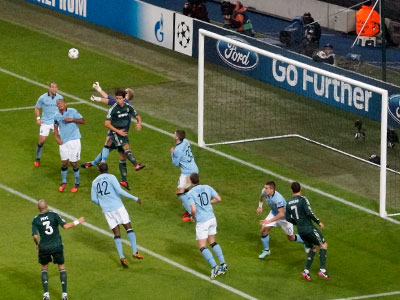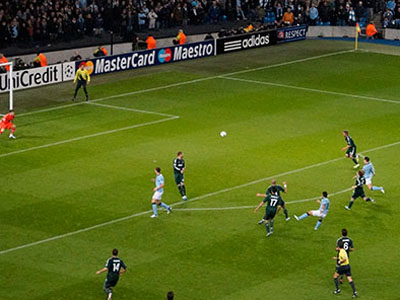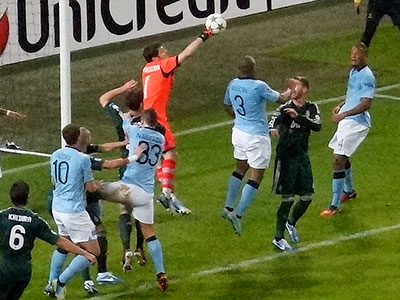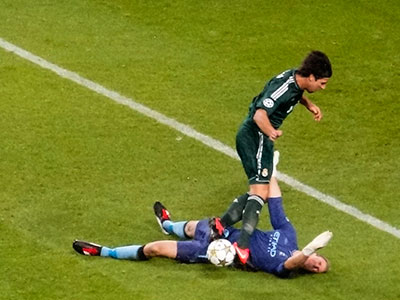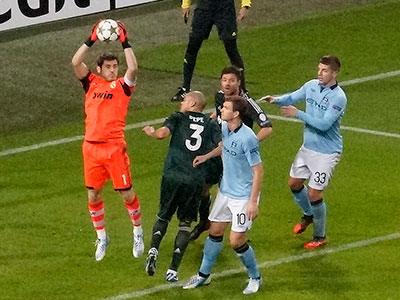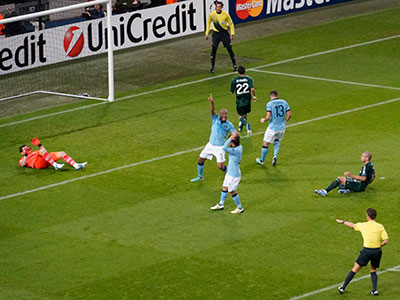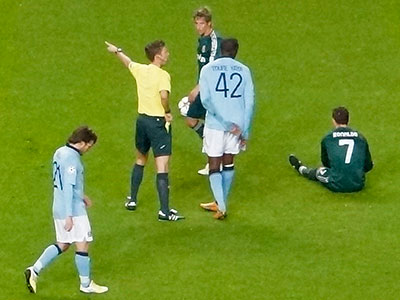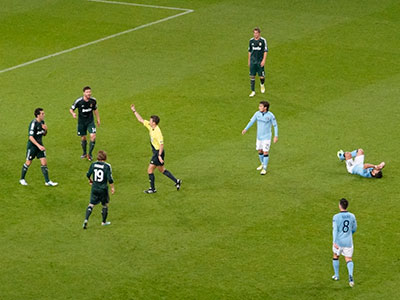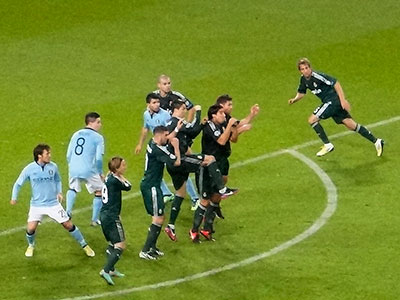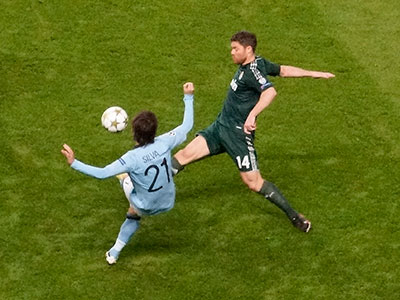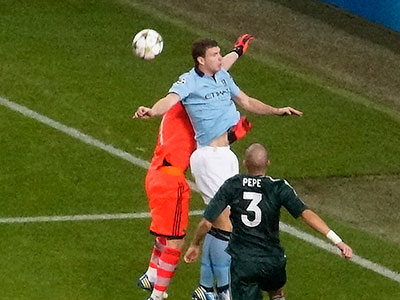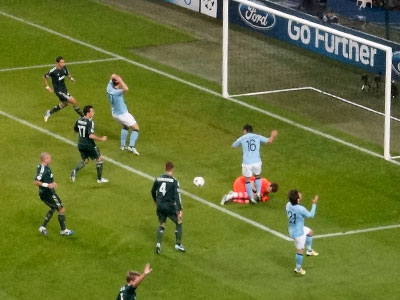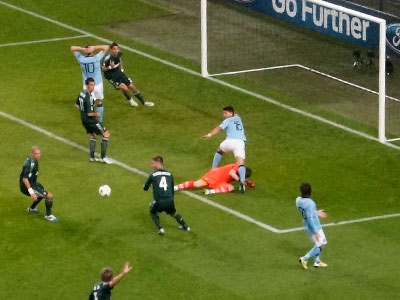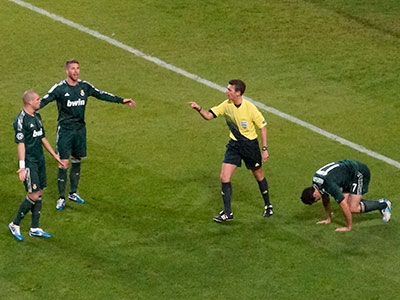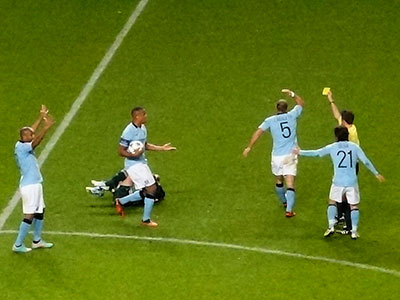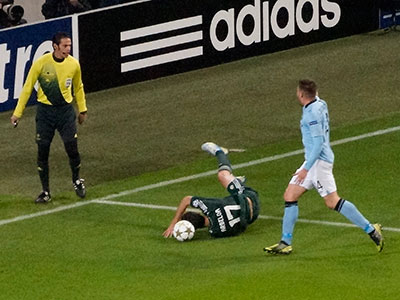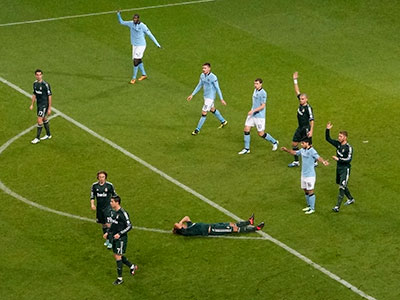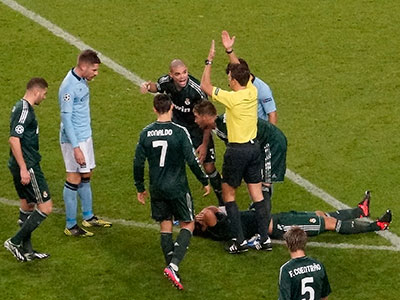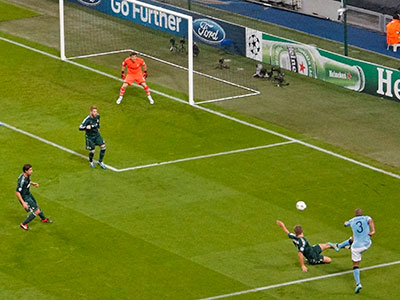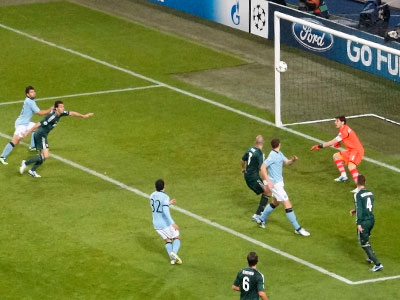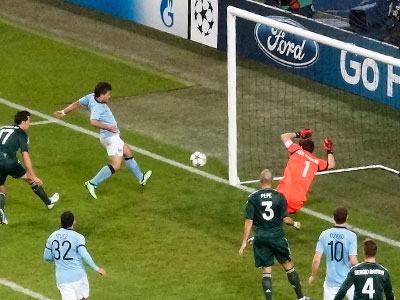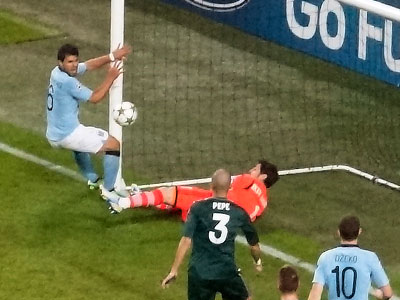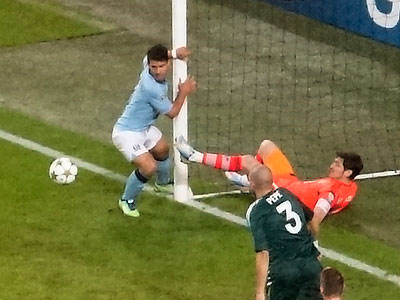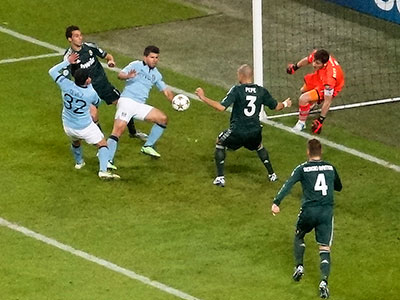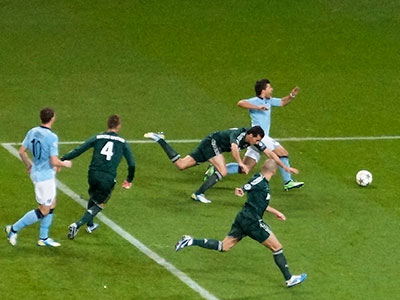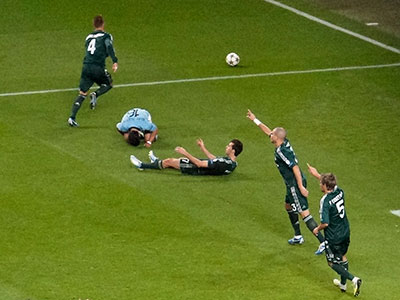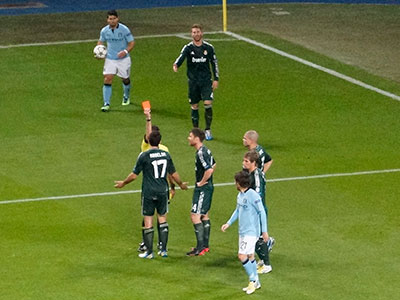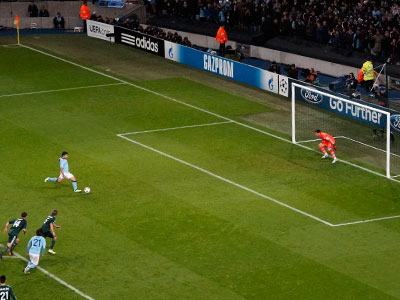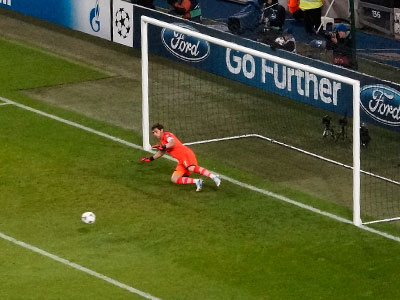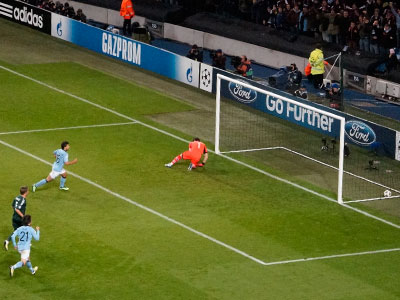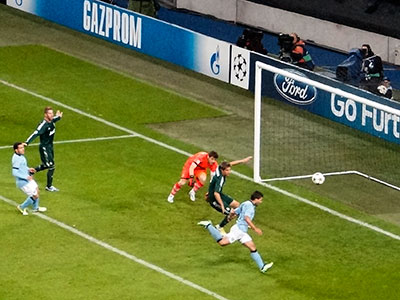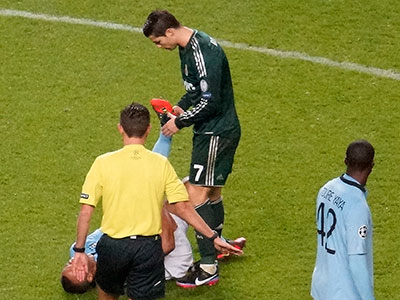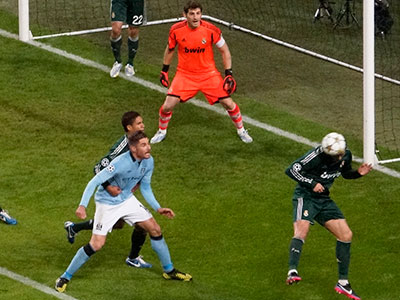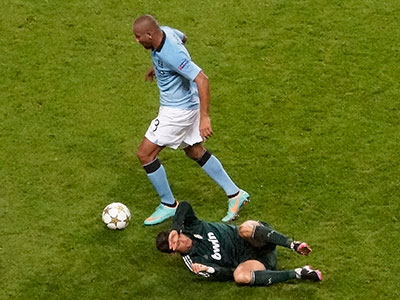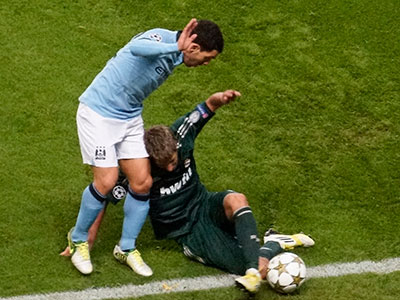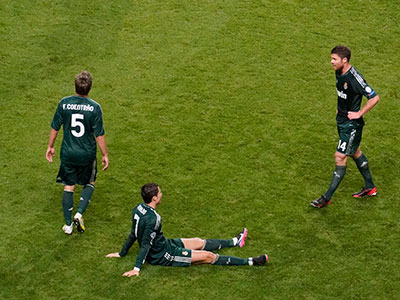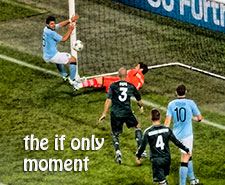 City picked an attacking team with both Kolarov and Maicon as wing backs and a back three of Zabaleta Kompany and Nastasic.
I thought there would have been more Real Madrid supporters.They only filled the lower level of the visitors section
Casillas was early in action punching away a cross
Real Madrid manager Mourinho
After just 10 minutes poor marking left Benzema all alone following a cross
He had the easiest of tasks of beating Joe Hart to give Real Madrid the lead and a mission impossible situation for City
Hart dives but a shot from Khedira goes just wide
Ronaldo tries to pass Kompany
On 15 minutes a great block on the line by Nastasic from a shot by Ronaldo with Joe Hart well out of his goal saves the day for City
A shot from Aguero is about to be saved by Casillas
Casillas punches the resultant corner clear
An easy take for the Madrid keeper
Yaya Toure is booked for a foul on Ronaldo
A few minutes later and the ref dishes out another yellow card this time to Arbeloa
Eventually the free kick is taken but Kolarov shoots wide
Silva and Alonso battle for the ball
Dzeko tries to out jump Casillas
A good chance is missed early in the second half when Aguero failed to beat Casillas
The Italian referee is kept busy with Real Madrid players often dropping down regularly and both Nasri and Zabaleta collected yellows
This time it's Arbeloa down and he is a bit miffed that nothing was given - ah the invisible sniper again
Oh dear the sniper has struck again! Send for CSI Gorton
On 63 minutes a cross by Maicon lead to a scramble in the box.......
... and when it looked certain that Aguero would score somehow Casillas managed to claw away the ball and eventually it was cleared. A narrow escape for Real Madrid
ten minutes later Aguero made a run into the area but was upended by Arbeloa and a penalty was given
Having already received a yellow card Arbeloa got a second and then a red. . Aguero took the penalty....
.....and sent Casillas the wrong way to equalize for City
Despite constant pressure on the Madrid goal City could not break down their defence
Ronaldo inspects Kompany's studs!
Maicon takes no prisoners!
Ronaldo takes a well earned rest listening to the cheers - sorry jeers of the City fans
Somebody has got his legs in a twist
Team
Hart 7: Maicon 7, Zabaleta 7 , Kompany 7.5, Nastasic 7.5, Kolarov 6 ( Garcia 6) Silva 8 , Nasri 6 ( Tevez 6.5) Yaya Toure 6.5, Aguero 7.5 ( Milner) Dzeko 6