Fort Etihad remains secure as City kept up their unbeaten home record after Edin Dzeko scored the winner after City had gone one down in the first half to Spurs. The record has lasted 35 games now. We last lost 1-2 at home in Dec 2010 against Everton - interestingly seven of today's team played in that game.
The defence was much better today and but for that error by Hart we would have had a clean sheet. The change of formation to allow Maicon to attack down the right wing certainly worked a treat. As the game progressed so did the creativity of David Silva improve and it was his genius that gave Dzeko the chance to score the winning goal to keep us in touch with the leaders from the other half of Manchester. This was a much better performance by City and had Yaya Toure been in even better form we would have won more convincingly. Kompany had a comfortable game and Clichy kept Lennon pretty quiet. Zabaleta had a great battle with Adebayor all game and the latter got quite a bit of stick from the City crowd.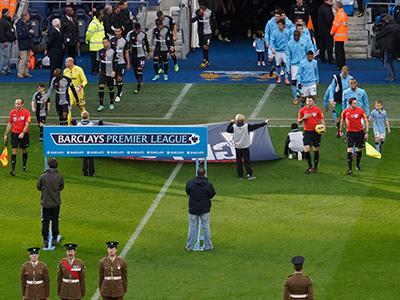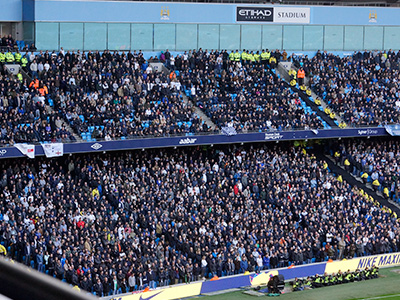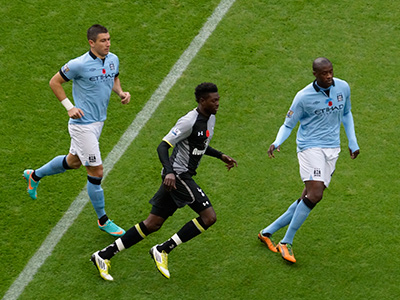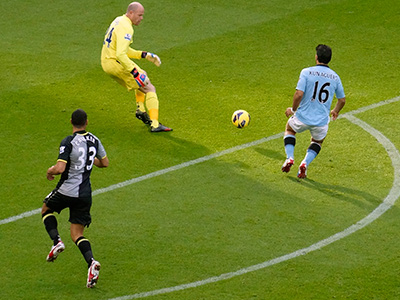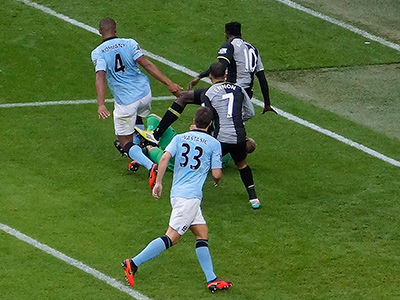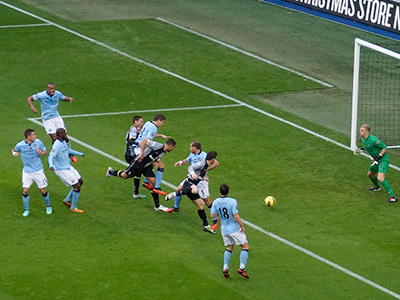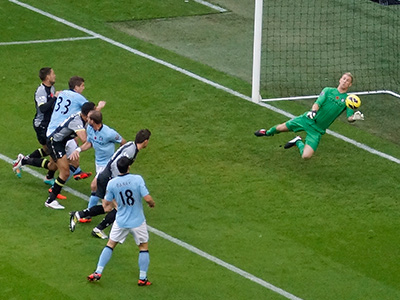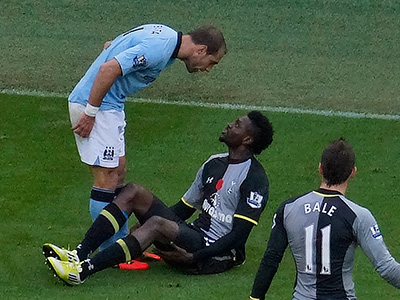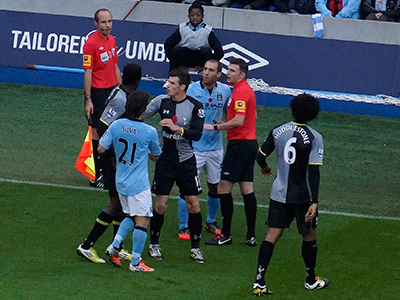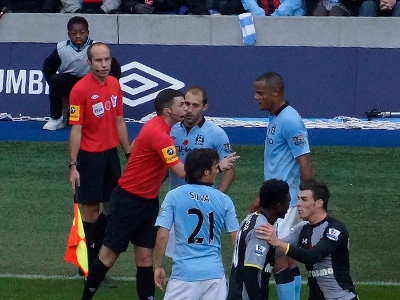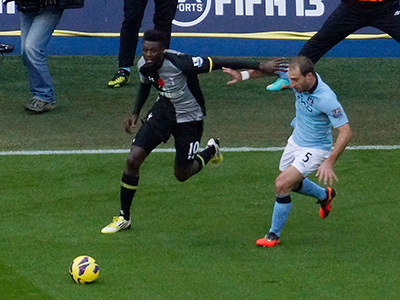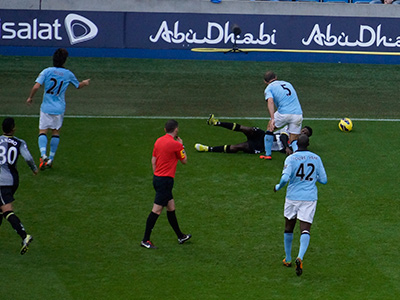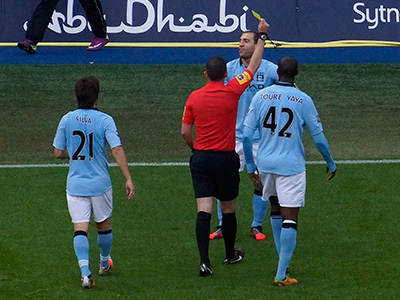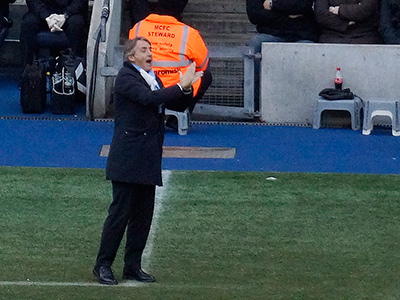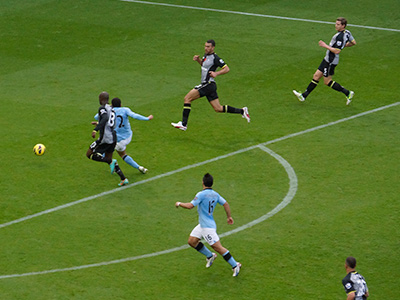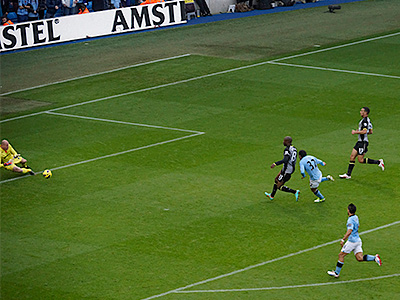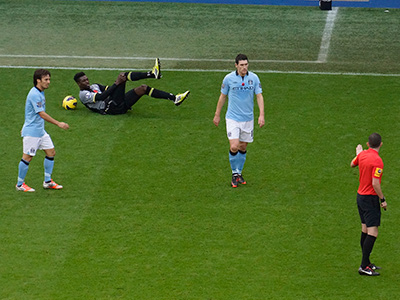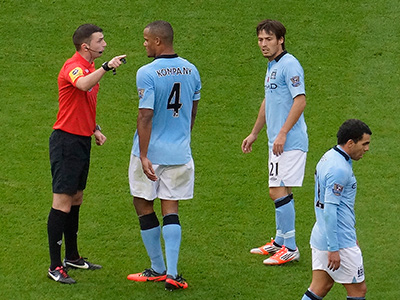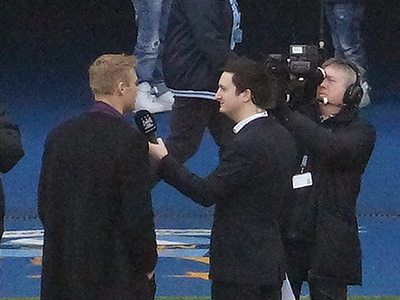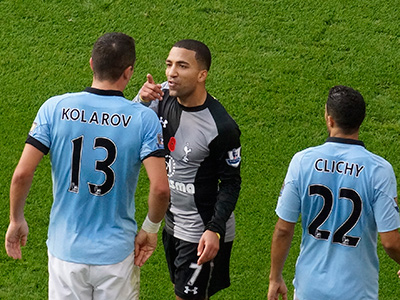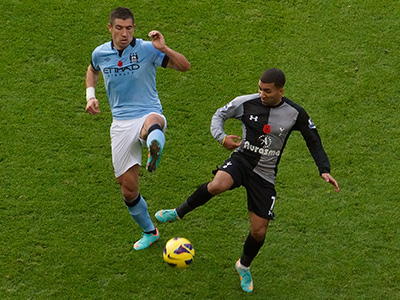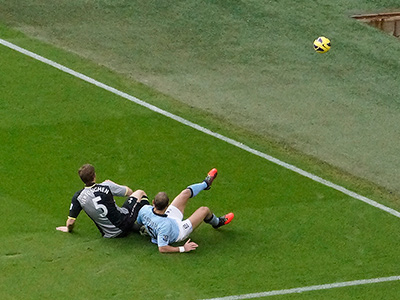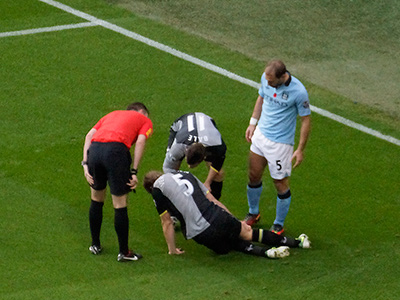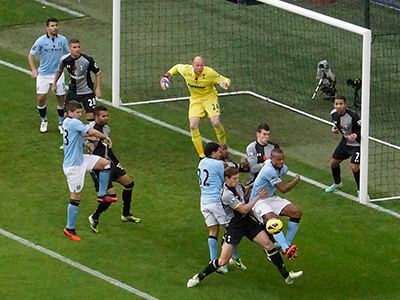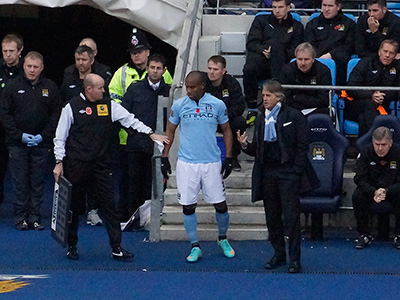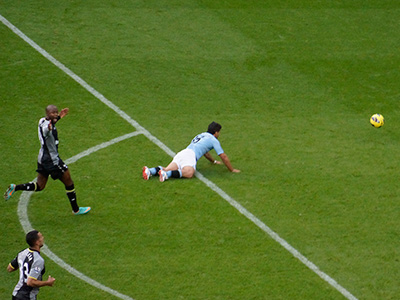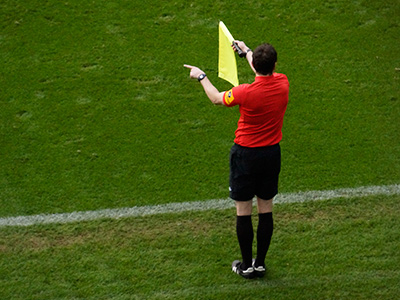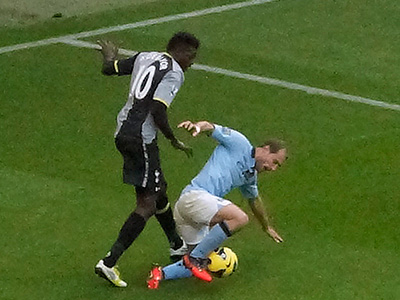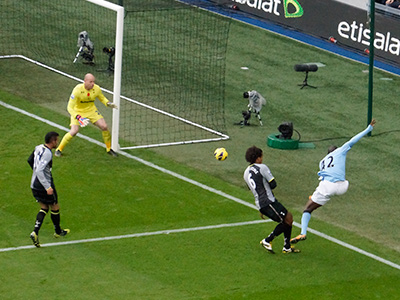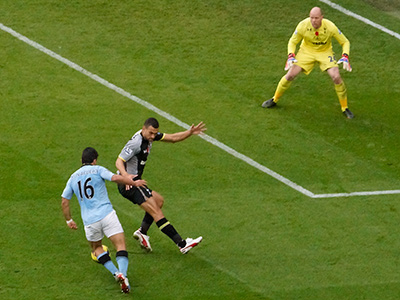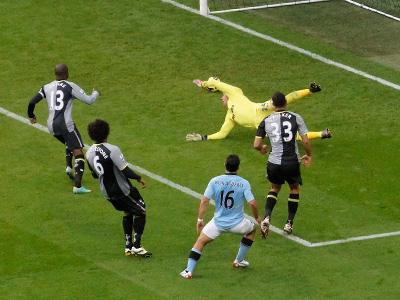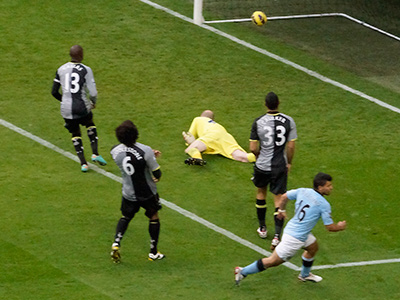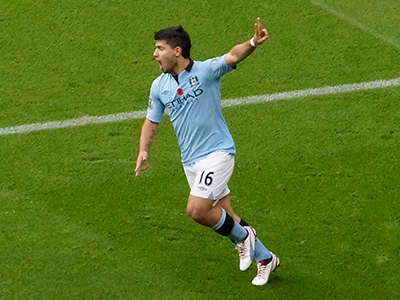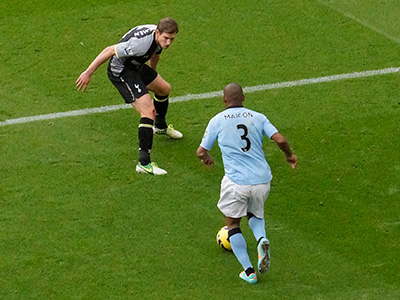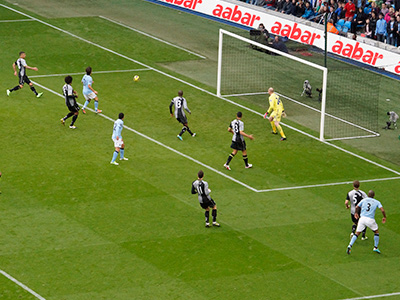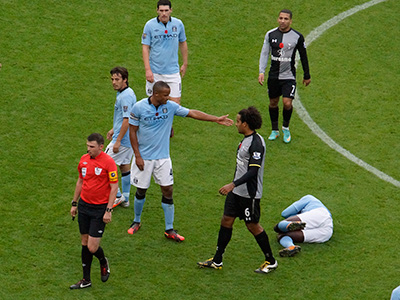 The big news was the return of David Silva to the team. No sign of Balotelli in the team or on the bench!
Good support by Spurs supporters
A return to the Etihad by Adebayor
An early run by Aguero is foiled by Freidel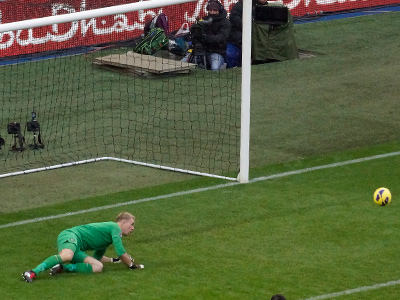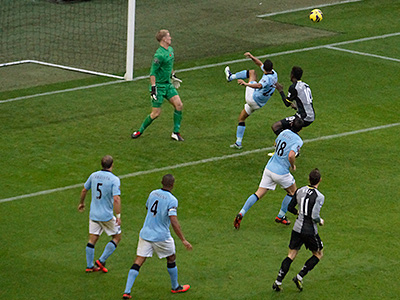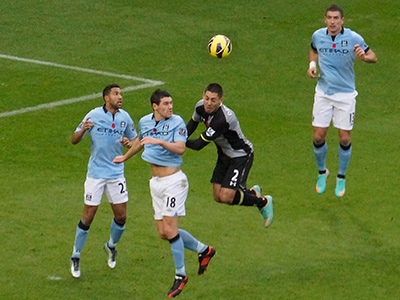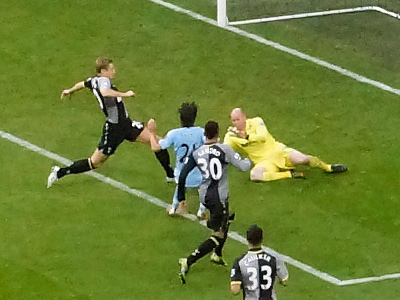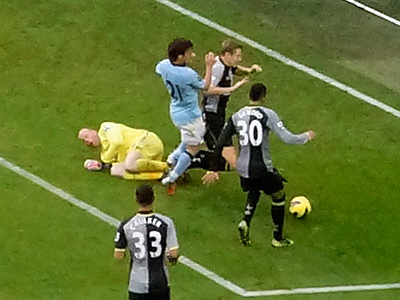 Hart saving at the feet of Adebayor
On 21 minutes a free kick on the left flank is headed down by Caulker ........
...... but Joe Hart fails to hold the ball and it rolls into the net. One nil to Spurs- Oh dear!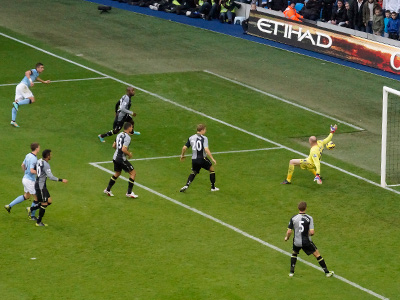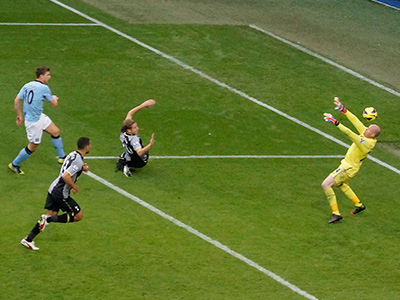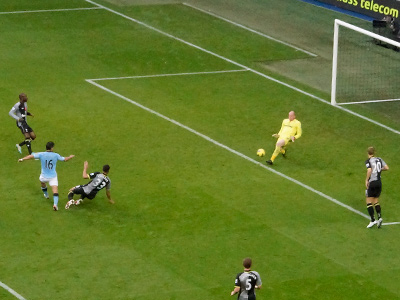 An explosive moment between Zabaleta and Adebayor.
I don't think they will be exchanging Christmas cards!.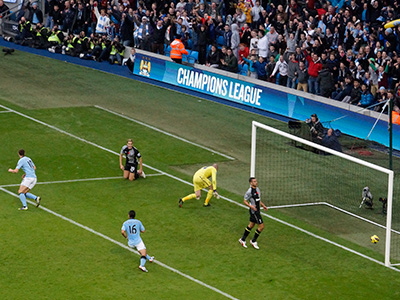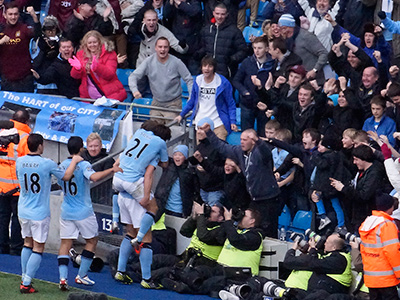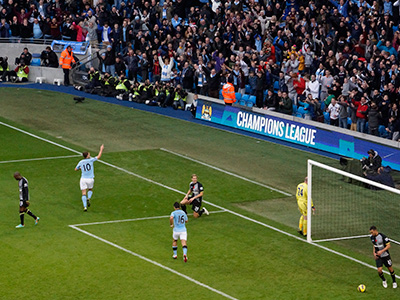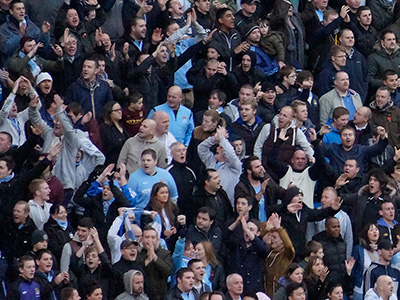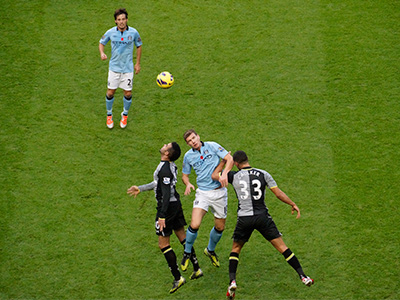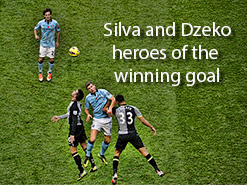 Team
Hart 6: Zabaleta 7.5, Kompany 7, Nastasic 6 ( Maicon 7.5), Clichy 7: Yaya Toure 7, Barry 7, Silva 8, Kolarov 6.5 , Tevez 7 (Dzeko 8), Aguero 7.5 ( Garcia)
The referee has a word with skipper Kompany
Shortly after Adebayor and Zabaleta meet again
...and Zabaleta ends up with a yellow card
On 42 minutes Silva puts through Tevez but his shot is easily saved by Freidel
Manager Roberto Mancini wants more action
Oh Dear ! Adebayor is down yet again!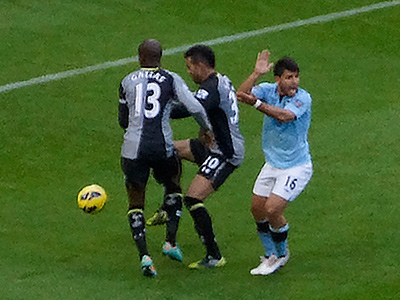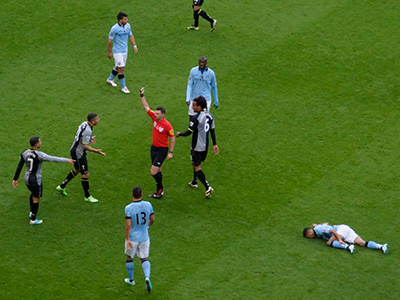 City had a good shout for a hand ball and should have had a penalty on 24 minutes
Walker is booked for a foul on Silva
Kolarov and Lennon in action
Referee Oliver was losing the plot a bit
Andrew Flintoff is interviewed about his up and coming Boxing match
Lennon and Kolarov exchange points of view!
Just half time Zabaleta and Vertonghen tangle near the goal line and the latter is injured in attempting to clear
Spurs manage to clear a corner.
On 56 minutes City make a major change. Maicon comes on for his home debut and goes to right wing back City now change to a back three.
shortly after Aguero has a great chance when through but his first touch is awful
Linesman Simon Long gets stick from the crowd after giving Aguero offside several times
Yaya Toure tries his luck from a narrow angle as City pile on the pressure
Then on 65 minutes the pressure gets its reward. Yaya Toure gives the ball to Aguero who switches from his right foot to his left and coolly passes the ball past Friedel to even the scores
Great skill and coolness under pressure and we are back in the match
The introduction of Maicon has given Spurs more problems and his crosses are dangerous -
alas nobody getting on the end of this one
More problems for the referee as players are injured in a clash
Spurs still had a chance to score when Bale who had been pretty quiet all game got in a good shot which Hart was able to parry....
..and finally Clichy cleared the danger with an excellent overhead kick
Dempsey launches himself but Barry heads clear
Spurs manage to clear a Silva effort
There is only one team in it now as City launch attack after attack
Then on 88 minutes a wonderful chip by Silva gives Edin Dzeko a great chance which he hooks past Friedel for the winner
It was his 6th league goal of the season and there were plenty of celebrations
The City supporters in the South stand passed on their joy to the nearby Spurs supporters
It was so good to have Silva back and despite his denials Dzeko really is a super sub!
City 2 Spurs 1
November 11th 2012 47,208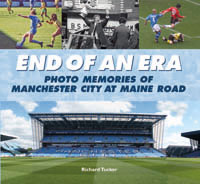 Now available from Amazon ( click on image for link)
WH Smith and the City shop