City 2 Ajax 2
November 6th 2012 40,222
Champions League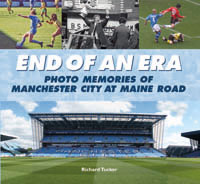 Now available from Amazon ( click on image for link)
WH Smith and the City shop
Unless there is a miracle the draw against Ajax means that City are out of the Champions League this season. We might have got all three points at the death when the officials failed to give a penalty in the closing seconds when Balotelli was held by Van Rhijn. City were also denied a goal a minute or so earlier when Kolarov was given offside. Later replays showed he was just on. That was a close call but we had the luck in the West Ham match
However this game was 'lost' in the first half when we conceded two goals from corners after just 17 minutes. Both were scored by a player called De Jong - now that's a familiar name! Was it Zonal marking to blame again I wonder! Something must get sorted out quickly to improve our defence. We started with great gusto chasing everything but once Ajax went ahead they were able to defend in depth and in numbers and we tended to attack in the centre third and rarely used the wings. We do miss David Silva. I hope he is fit soon. Joe Hart did not have as much to do as the Dortmund game but he did have a couple of good saves to make. Garcia failed to make an impression yet again.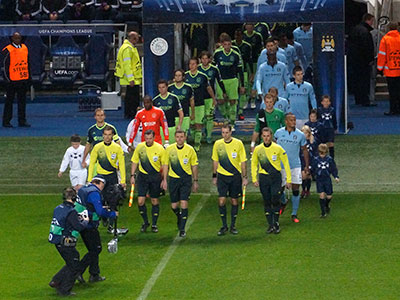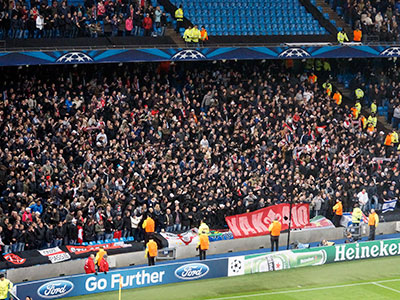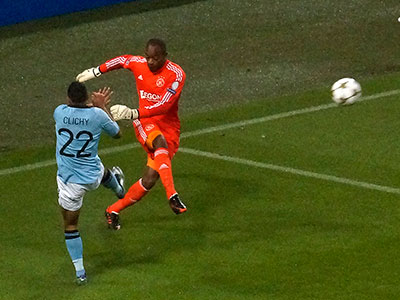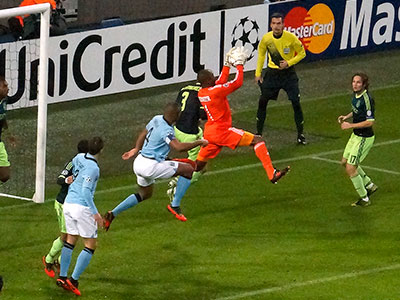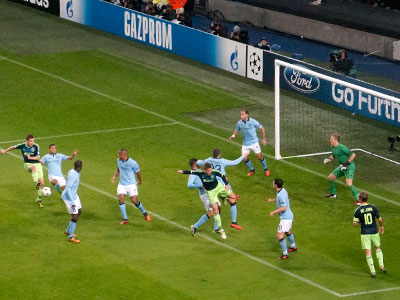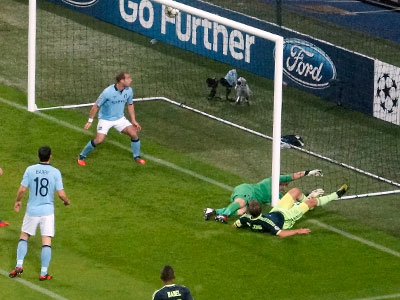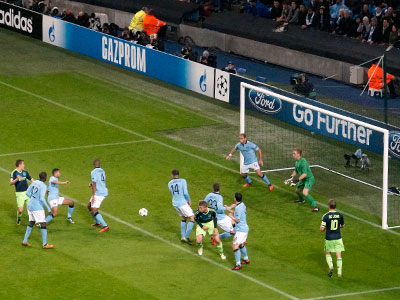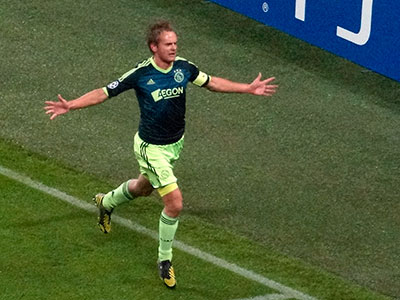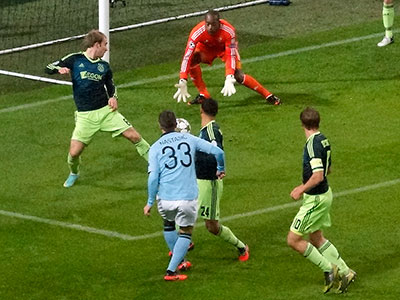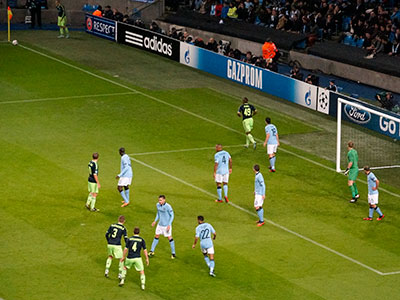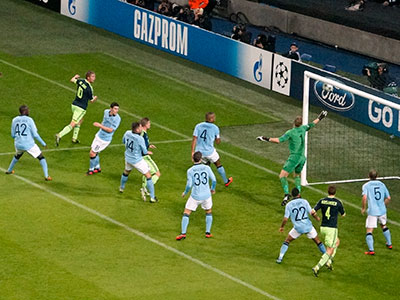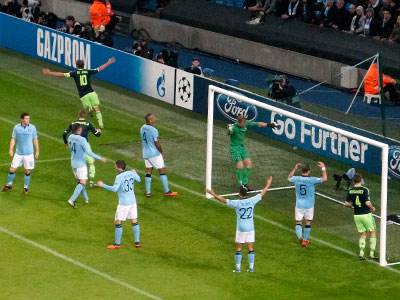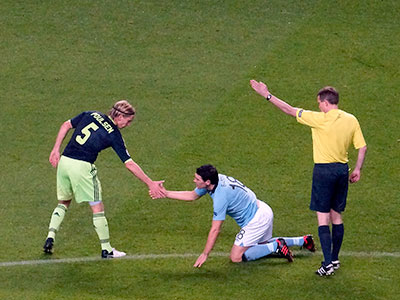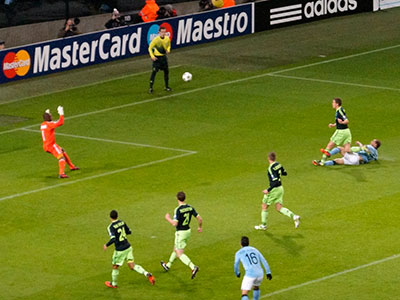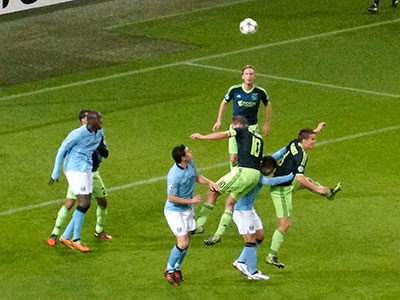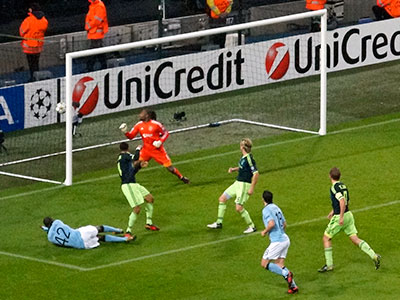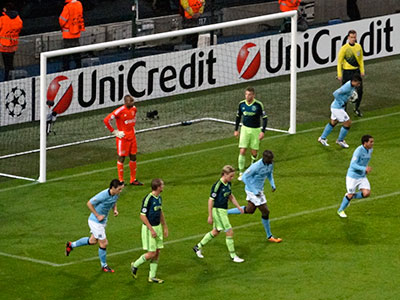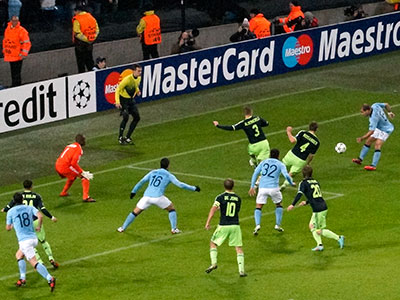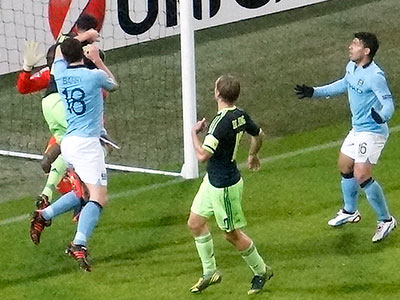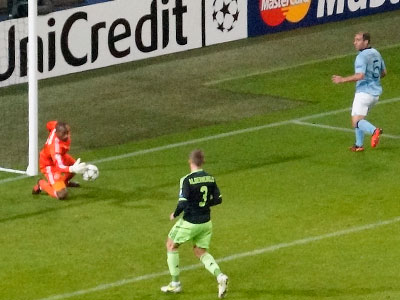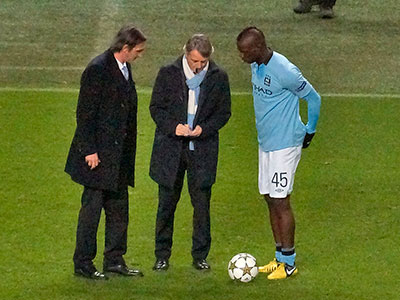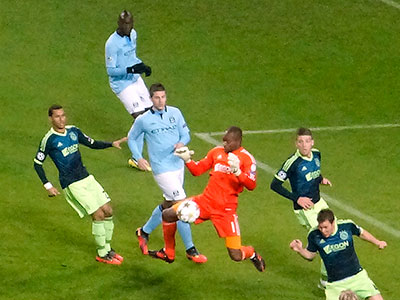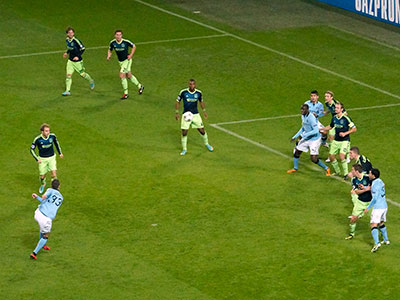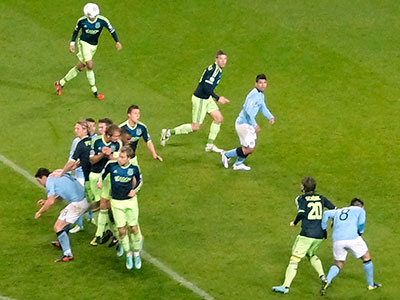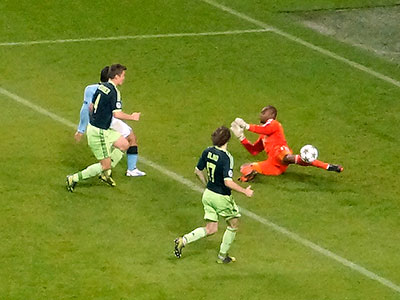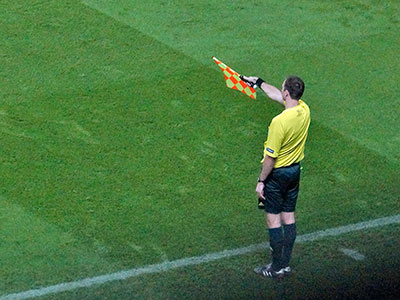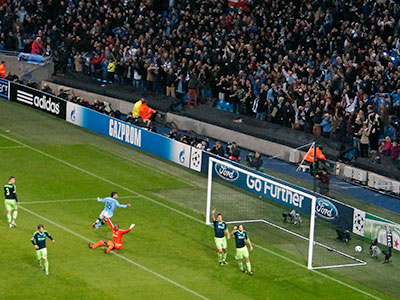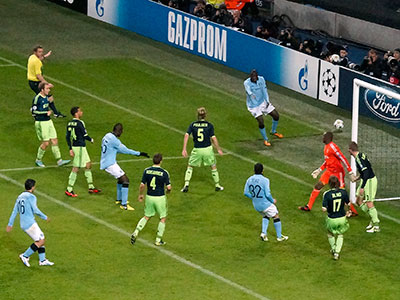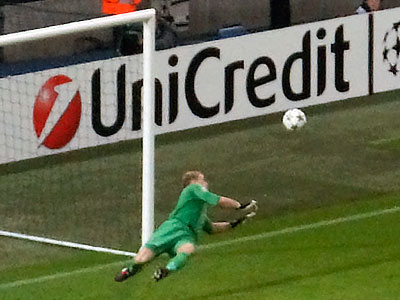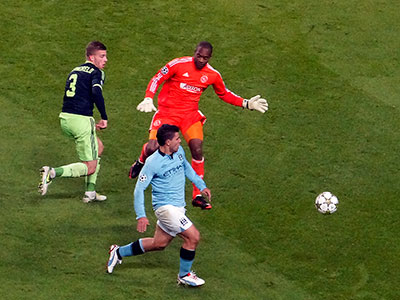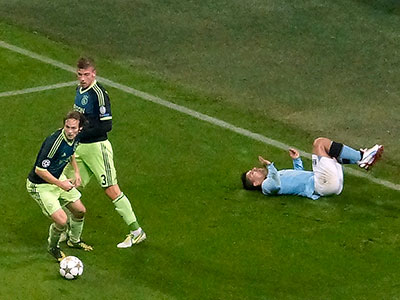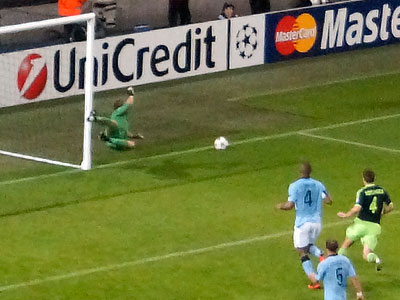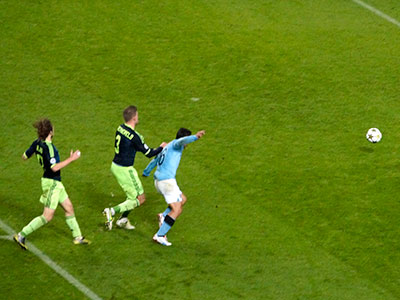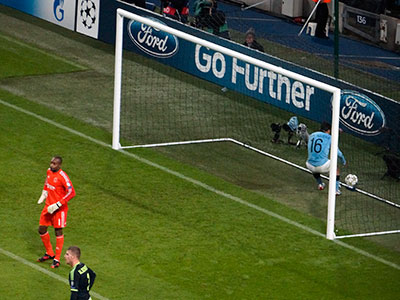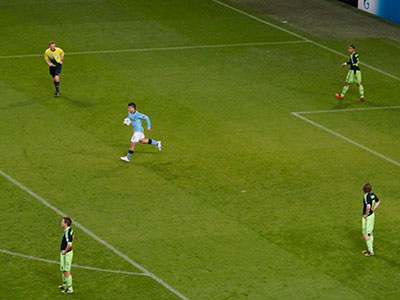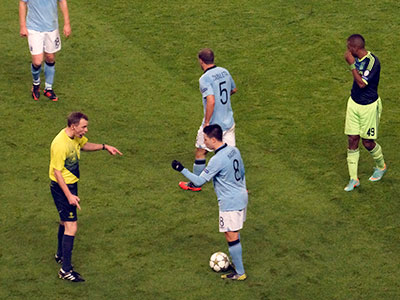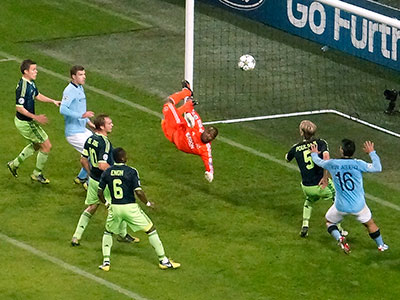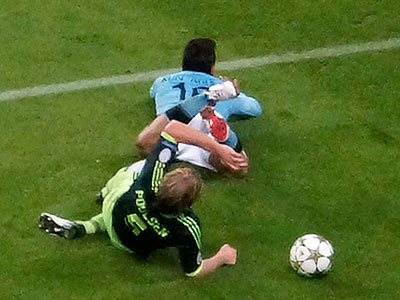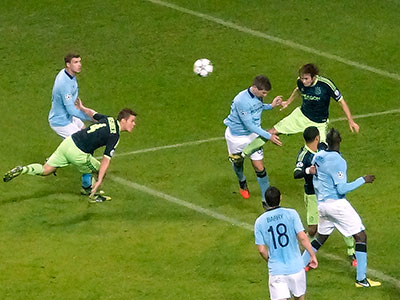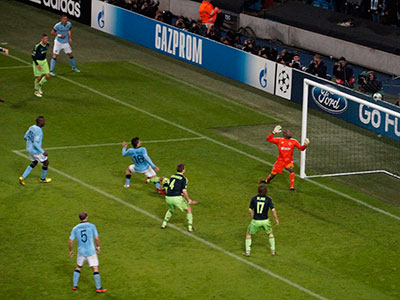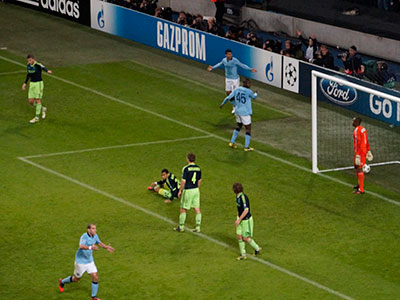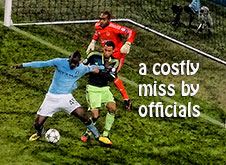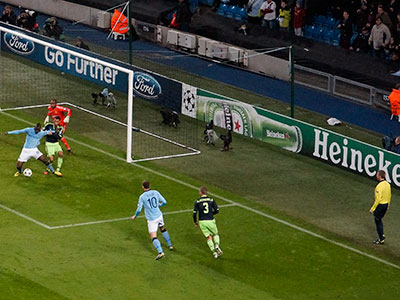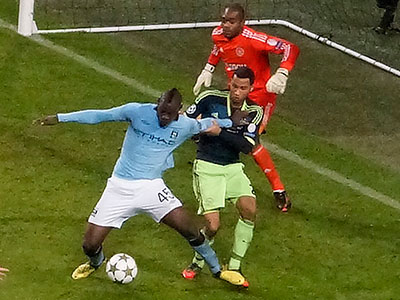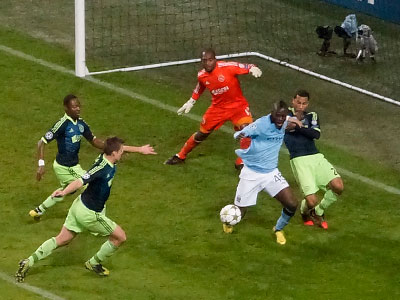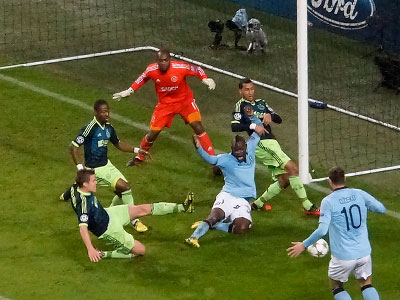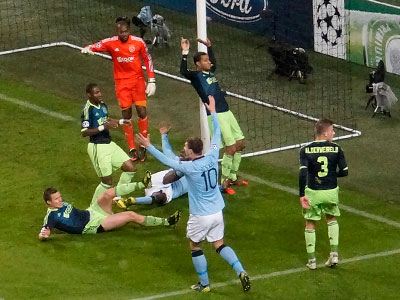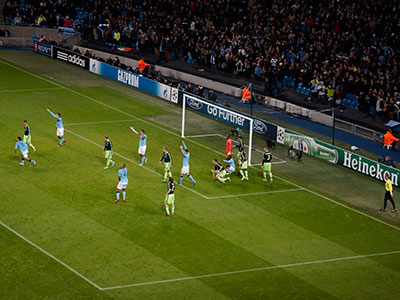 Tevez and Aguero lead the attack and Zabaleta returned as did Garcia
Ajax brought some noisy support but not as much as Dortmund
The keeper just beats Clichy to the ball
City had a good shout for a penalty in the 3rd minute when Yaya Toure was brought down
Poulsen gives Barry a helping hand
Zabaleta has an early chance shooting over
Vermeer saves at a corner
After Nastasic conceded a needless corner the ball was almost miss-kicked by Moisander ......
...and it ran across goal with City defenders just watching it until it reached De Jong at the near post....
...who squeezed it past Hart and disaster Ajax were ahead!
At a City corner Nastasic fails to trouble the keeper
On 17 minutes Ajax got another corner and here is the zone marking for this one
However as you can see Yaya Toure let De Jong get to the ball first and his very good header beat Joe Hart all ends up - Unbelievable ! We were two down in a game we had to win!
However all was not lost. After 22 minutes a cross by Nasri was miss headed by a defender to Yaya Toure who made up for his earlier error by cracking the ball past Vermeer to reduce the arrears
On 28 minutes a cross by Zabaleta.....
.....ends up with Barry being guilty of a foul
Vermeer saves a Zabaleta header after 31 minutes
At half time Balotelli gets a tactics talk by the manager
Vermeer saves from a free kick early in the second half
Nastasic hits a shot over the bar from a corner
A free kick is blocked by the wall
On 54 minutes a through ball by Clichy gives Aguero a chance and he nets... but....
..The goal is disallowed for offside
another chance goes a miss and Balotelli and Toure blame each other!
Joe Hart makes a good save from De Jong trying for his hat-trick
Aguero broke away after 60 minutes but for the third time his studs let him down as he slipped.
Hart saves again from De Jong
On 74 minutes City were level. A good header by Balotelli lets in Aguero who shoots past the keeper
Again no time for celebrations as he picks the ball from the back of the net and runs back to the centre.
Nasri has a few words with the referee after a foul on Zabaleta
Vermeer makes a good save following the free kick
Aguero is brought down at the edge of the area but the free kick is headed clear by a defender
With only a minutes or so to got Aguero scores but Kolarov who had crossed the ball is given offside.
With only seconds to go of the three minutes extra time Balotelli was held for several seconds by Van Rhijn
It was a blatant penalty but he official on the goal line who must have had an excellent view of the incident failed to let the referee know or maybe the referee took the easy way out and blew for full time. The Ajax players had that guilty look as they look at the goal line official!
Team
Hart 7: Zabaleta 7, Kompany 6.5, Nastasic 6.5, Clichy 7: Yaya Toure 7, Barry 6.5 ( Kolarov) , Garcia 5 ( Balotelli 7), Nasri 6.5, Tevez 6.5 ( Dzeko) Aguero 7