City 3 Newcastle United 1
November 19th 2011 47,402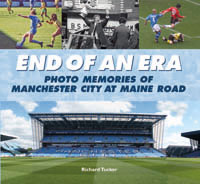 Now got a publisher for the book on Maine Road.
It's now available from Amazon -click on image for link
Also available from WH Smith
A clinical win against a previously unbeaten Newcastle side who had only conceded 8 goals in their 11 games equaled the record for the best start in the top flight after 12 games. Boring boring City have now notched 42 goals in this wonderful start. It took a while for City to beat the Newcastle massed defence but they were dangerous on the break and they could have taken the lead. However just before half time a penalty and an excellent goal by Micah Richards whose absence from the England team is a mystery gave City supporters a lift though this must have been somewhat dampened later by the announcement that there were no more chips to be had. No doubt a full investigation is in full swing!
Both Richards and Milner had outstanding games and with the return of De Jong in front of the back 4 it enabled Yaya Toure to give more support up front. I also like the idea of us keeping two players near the half way line when we are defending corners. It means the opposition have to keep more players back and there is less crowding in the penalty area. On the negative side we were offside too often and several good opportunities to score were lost
There are tough games to come in the next few weeks with visits to Napoli, Liverpool and Arsenal before the next home game against Norwich so it's going to be tricky to keep up the winning streak.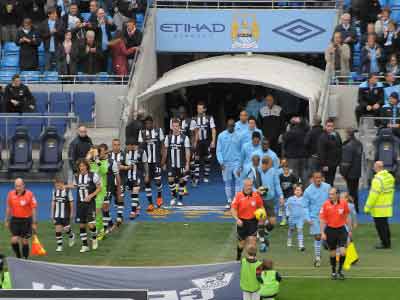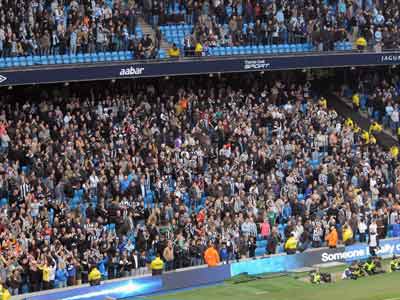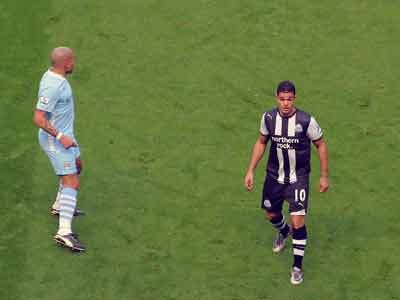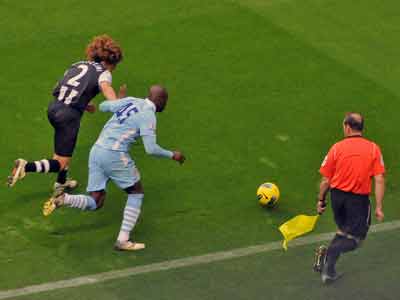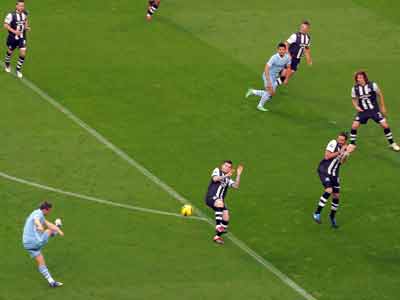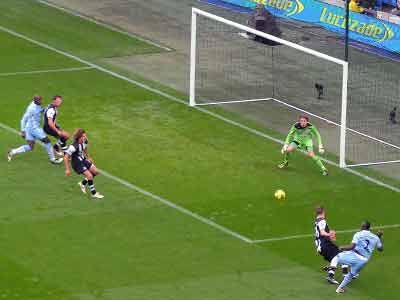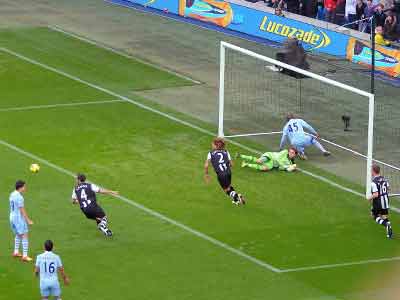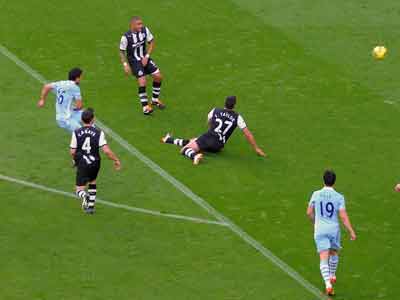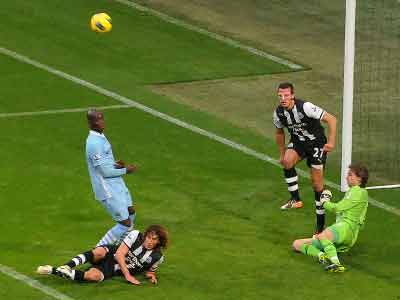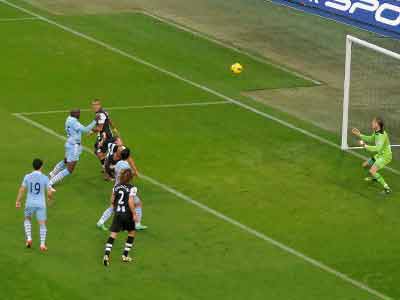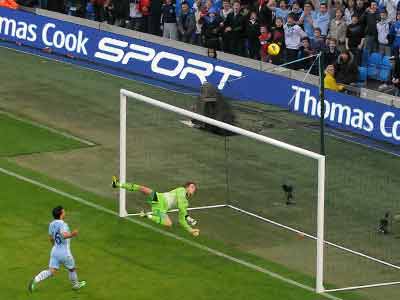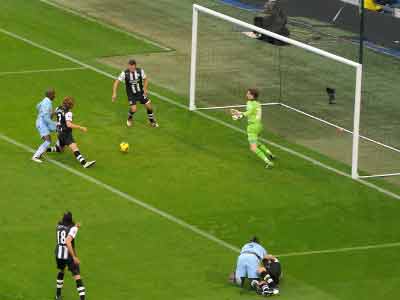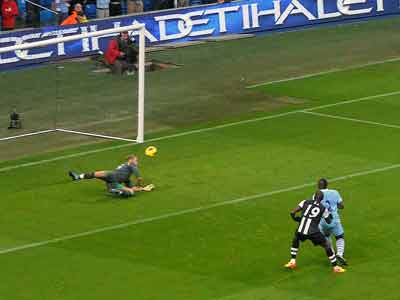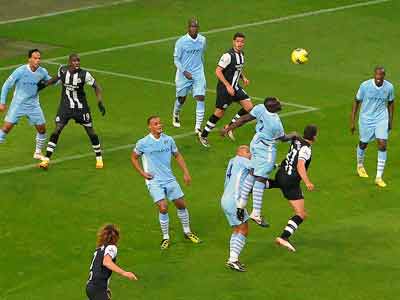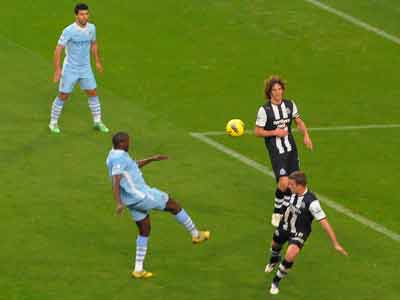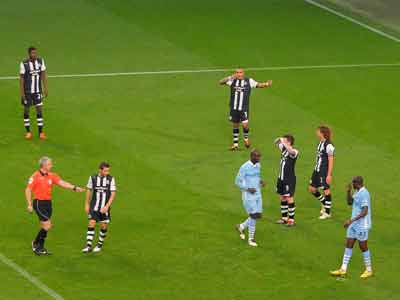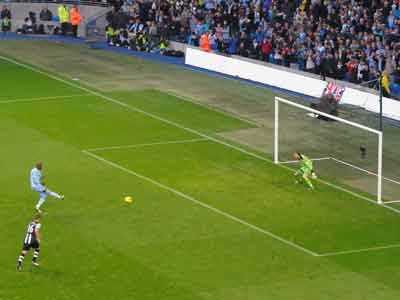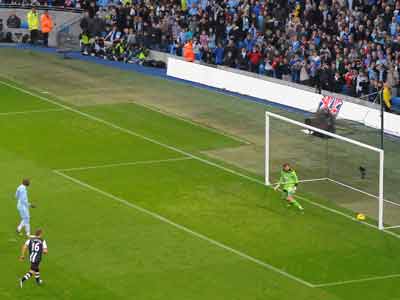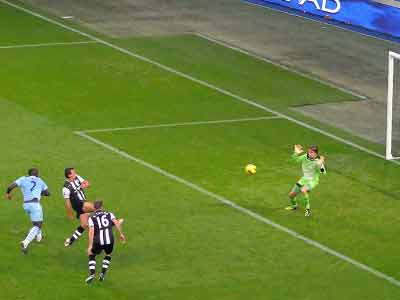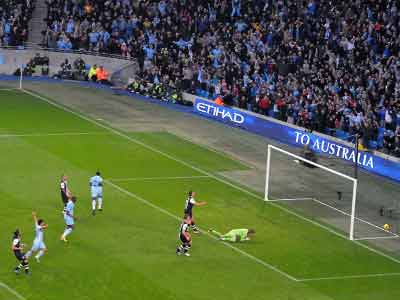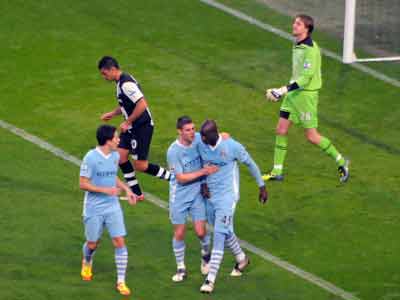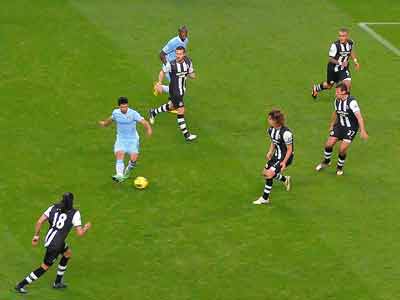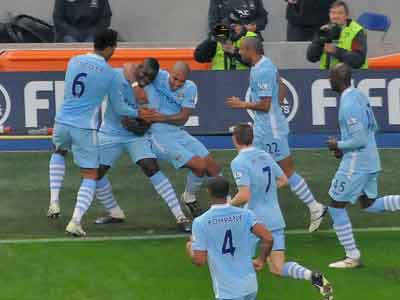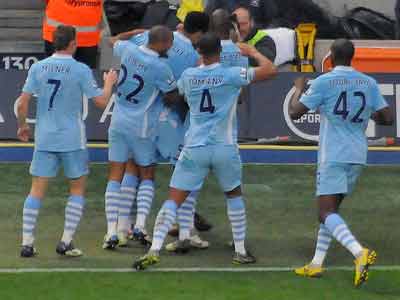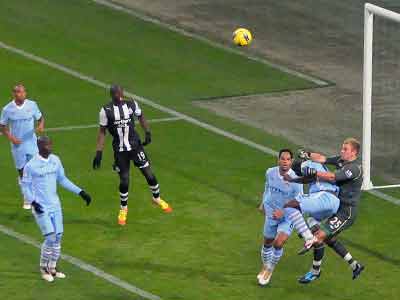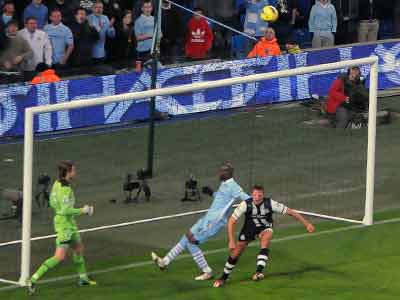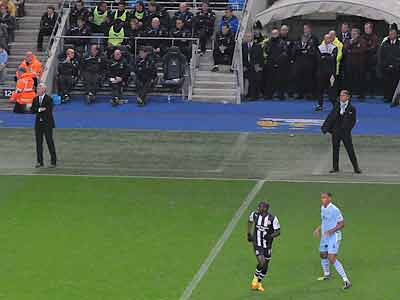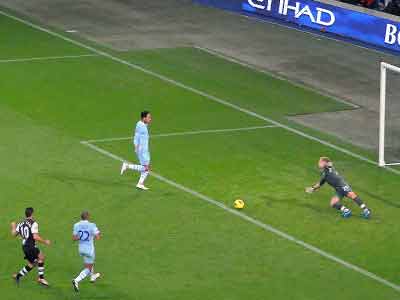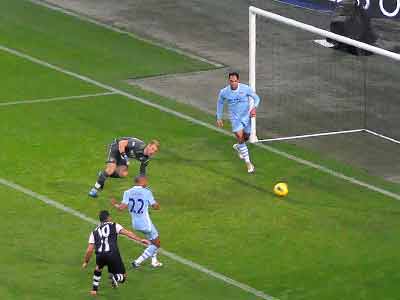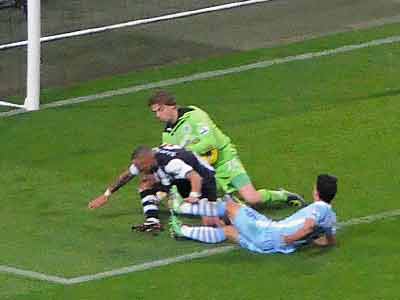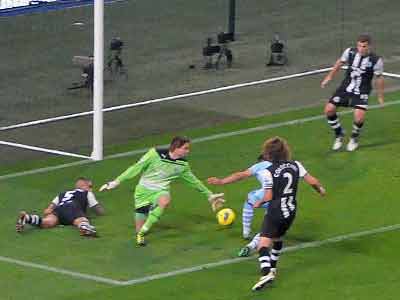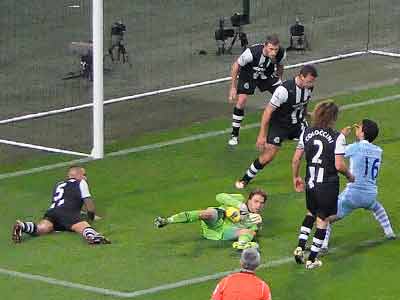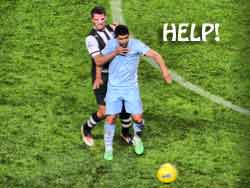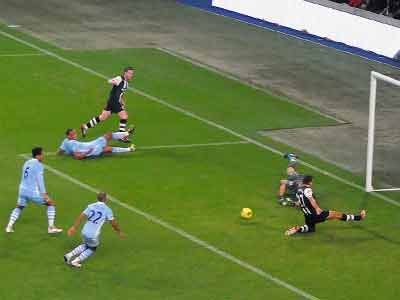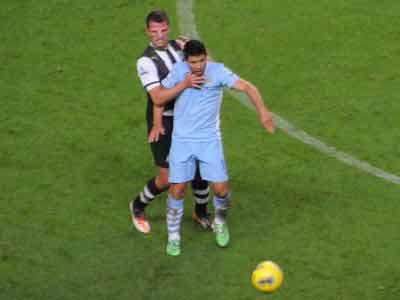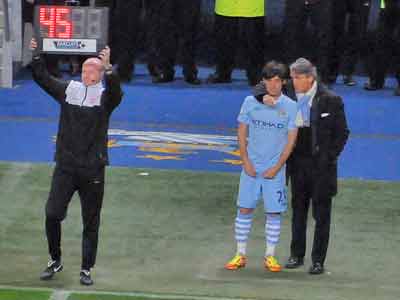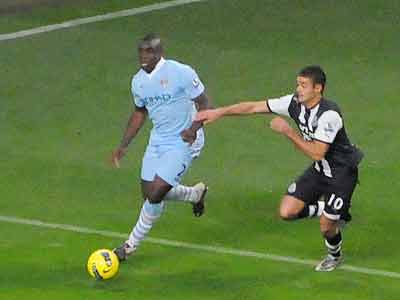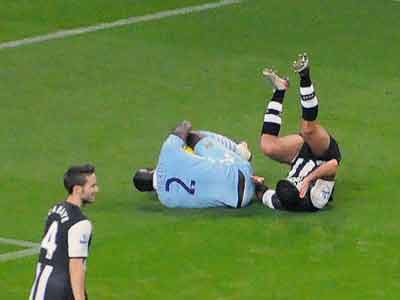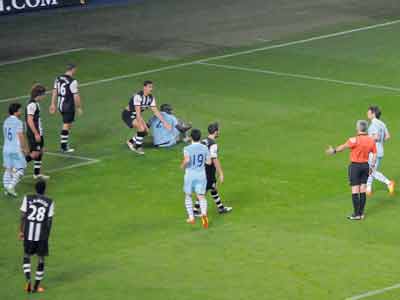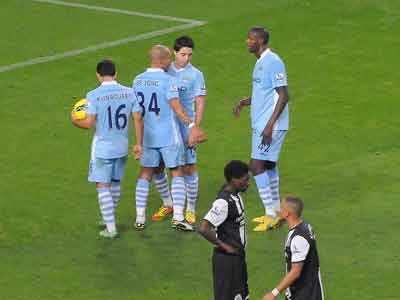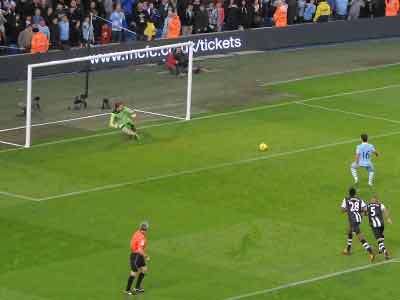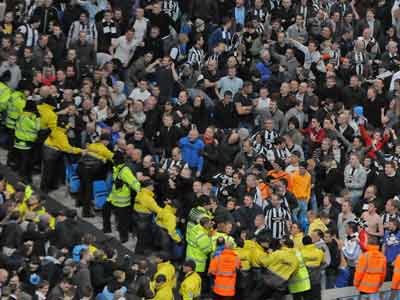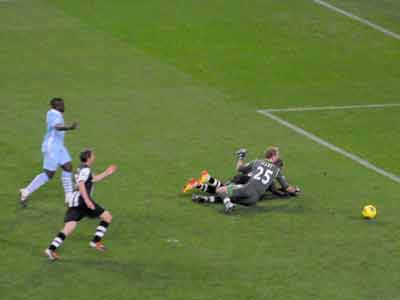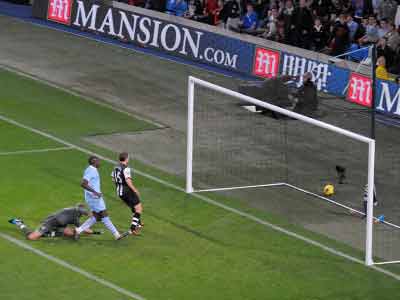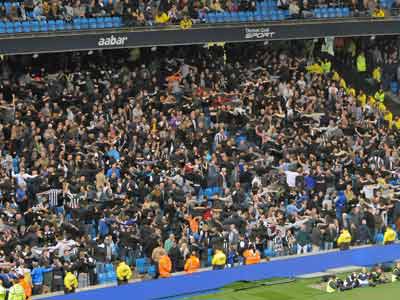 Team
Hart 7: Richards 8, Kompany 6.5, Lescott 7.5, Clichy 7: De Jong 7, Yaya Toure 7 (Barry), Nasri 7, Milner 8, Aguero 7 (Johnson 6.5) , Balotelli 7 (Silva 6.5)
The major team surprise was Silva on the bench with Barry and Dzeko. Being saved for Tuesday no doubt. There was a welcome return from injury by Nasri.
Newcastle had their usual strong loud support to add to the atmosphere
Back for Newcastle was Ben Arfa who had broken his leg in a tackle with De Jong in a previous encounter
Balotelli was soon causing problems for the visitors
A Milner effort is blocked
In an early attack down the right wing a cross by Richards......
..... is cleared by Taylor and Simpson ... just!
On 20 minutes a shot by Aguero goes over the bar
A long cross from Clichy is headed back by Richards but Newcastle manage to clear
A great cross by Milner gives Balotelli a chance but his header is well saved by the keeper
Demba Ba had a good chance but Hart managed to save and City had to resist a bit of newcastle pressure
On 40 minutes a Yaya Toure shot was handled by Ryan Taylor and a penalty was awarded.
Balotelli casually sent the keeper the wrong way and passed the ball into the corner to give City the lead
Mario rarely celebrates - just a quick posture!
A minutes or so later Aguero gives a good pass to Richards .....
..... who came inside and shoots past Krul to give City a two goal lead at half time
Everybody came to congratulate the ever popular City right back
A good move involving Nasri and Aguero ends with the latter......
....trying an effort from a narrow angle and with Balotelli rushing in to finish off the move Newcastle manage to clear
Roberto puts his hand up - surely he does not wish to leave the stadium!
A mistake by Kompany let in Newcastle United .....
....and Ben Arfa hits the post with Hart beaten and the balls rolls clear - a lucky escape for City
A good lone run by Aguero almost ends with a goal......
but alas for Aguero his luck was out and the ball ended in the keepers hands
A narrow escape for the City defence as Hart saves a Guthrie effort
Ouch! Taylor has a grip on Aguero
After 70 minutes Silva came on for Balotelli and within a minutes or so he back-heeled to Richards who broke through......
.... and got brought down by Ben Arfa and it's another penalty for City. I can't remember when we had more than one in a game
Surely Nigel is not trying to persuade his team mates that he should take it!. In the end in the absence of Balotelli Aguero takes and scores a perfect penalty to make it three nil
There is a bumper Poznan celebration in the crowd
There was a slight problem in the South Stand
Hope it wasn't about the missing chips!
With a couple of minutes to go Newcastle broke away and Ba had a shot blocked by Hart but.....
....the ball ran to Gosling who shot into the empty net and the visiting supporters were able to celebrate their consolation goal with a Geordie Poznan