City 0 Birmingham 0
November 13th 2010 44,321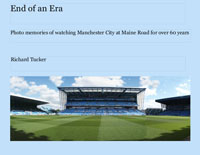 My book 'End of an Era' containing photo memories of days at Maine Road is now available from Blurb.com.
There are over 300 images on 200 pages.
Click on the image for details


Is the sun setting on the defensive reign of Manager Roberto Mancini? After yet another featureless boring goalless draw against Birmingham City no doubt the subject will be raised at the forthcoming meeting in Abu Dhabi of the top City executives. I am sure the subject of the lack of fire power and pace up front will also feature in the talks with the January transfer window looming.
City today made a poor Birmingham side look average as a slightly more attacking - I use the word with tongue in cheek - team selection failed to score once again. It is almost 5 hours since supporters celebrated a home league goal. Just in case you'd forgotten it was by Adam Johnson against Newcastle United .
The boos that greeted the substitution of Tevez by Gareth Barry with 7 minutes to go will not go un-noticed.
For me only Silva and De Jong shone in a dull performance. The defence did a workmanlike job in denting the visitors any easy scoring opportunities but the lack of zip up front and failure to test Foster enough. There was little change of pace and a lack of height when the ball was crossed did not help. Ok so we are still in 4th position with a few points gap to spare and inclusion in the Champions League next season is the prime aim but surely we must win home games against inferior teams if only to improve goal difference which may be important at the end of the season. So for the third home game on the trot City failed to score.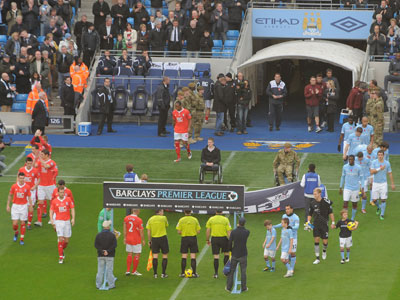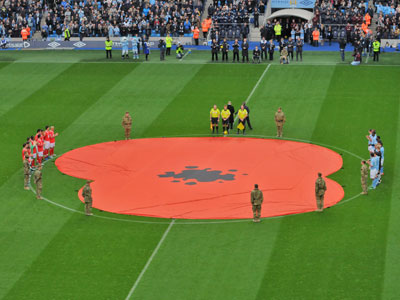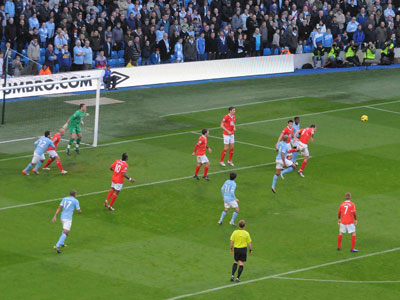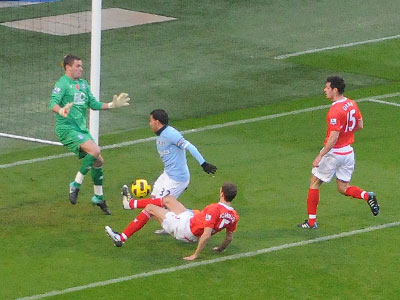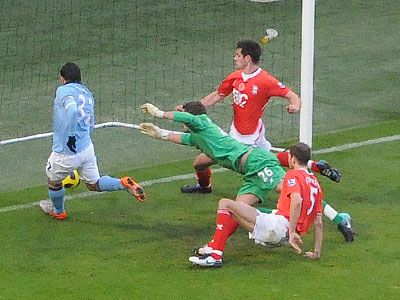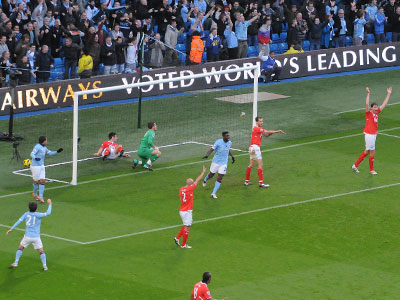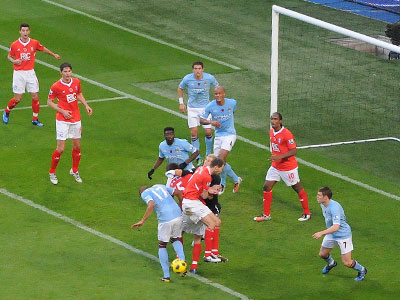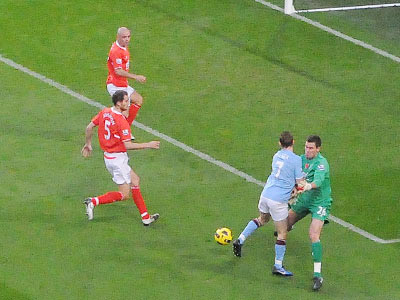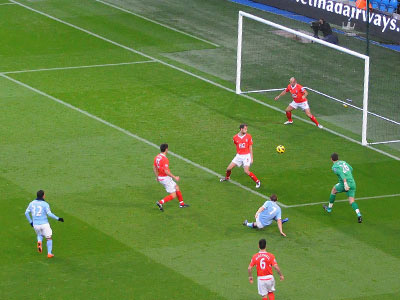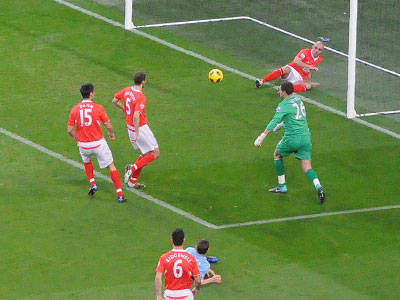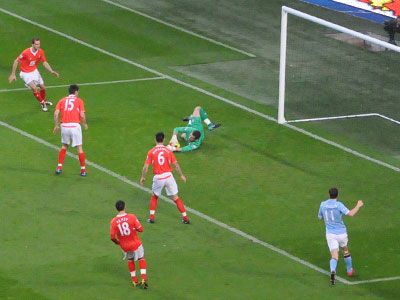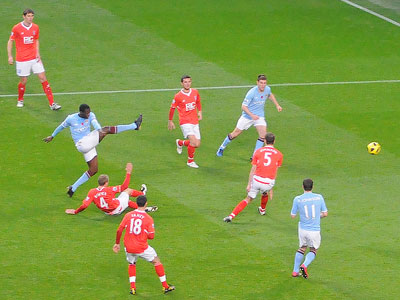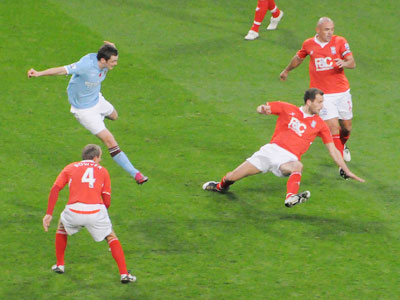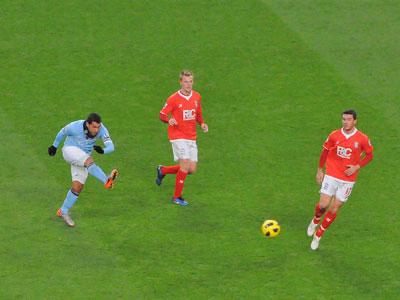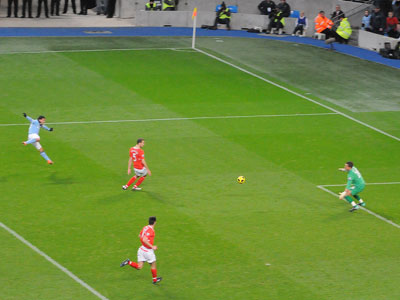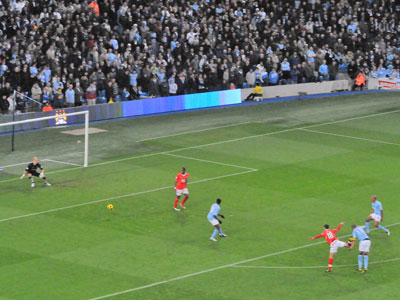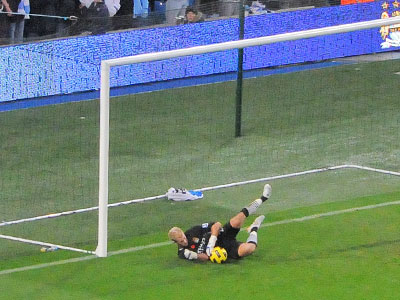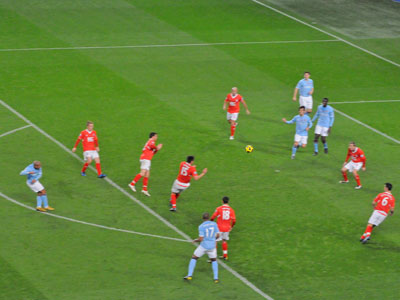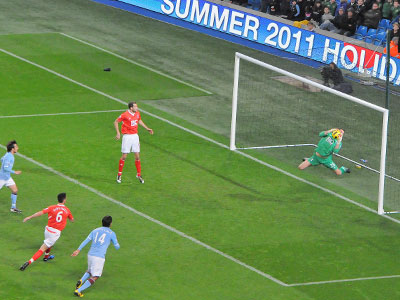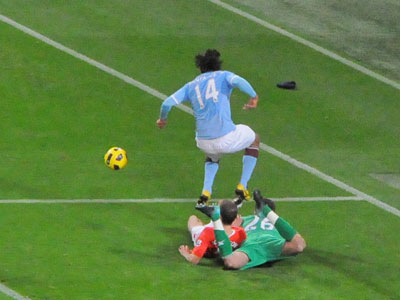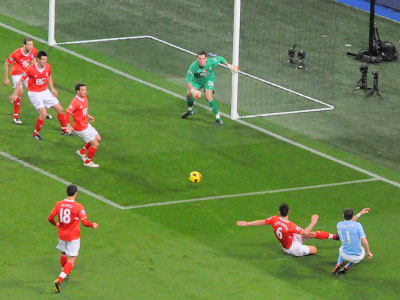 Kolarov came in for his full home debut and Johnson came in for Barry
The one minute remembrance day silence
We had to wait until almost half time before we had any major action and when a good move ended with the ball in the net........
....... but Tevez had handled and the goal was disallowed and the City skipper cautioned
Birmingham did have the odd corner which had to be cleared but Hart had little to do
There was more action in the half time game!
We should have gone ahead immediately after half time when Milner had a great chance......
...but Carr managed to block Milner's shot on the line
Foster did have the odd centre to deal with
Toure and Johnson fail to test Foster in the Birmingham Goal
Efforts by Tevez also fail to give Foster any problems
23 minutes into the second half Joe Hart had to make save from Fahey
After 85 minutes we nearly had a moment to savour when Nigel De Jong almost scored a rare goal but alas Foster saved.
Though City did pressurize Birmingham in the final moments we just knew we were not get get a result once again
Hart 7: Boateng 7, Kolo Toure 7 Kompany 7, Kolarov 7 ( Zabaleta ): Milner 7 ( Santa Cruz 6.5) Johnson 6.5, Silva 7.5, De Jong 7.5, Yaya Toure 6.5, Tevez 7 ( Barry)