City 2 Newcastle 1
October 3rd 2010 45,050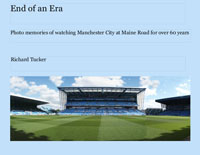 My book 'End of an Era' containing photo memories of days at Maine Road is now available from Blurb.com.
There are over 300 images on 200 pages.
Click on the image for details

City moved into second place as a result of this hard fought win over Newcastle United. It was by no means an easy win with several players having a bit of an off day. Neither keeper had many saves to make and with this 4.3.3. City formation I don't think we shall be see many 4 nil victories. It was left to Adam Johnson to win the game coming on as a late substitution with twenty minutes to go. The isolation of Tevez up front is rather worrying. He is not the tallest so passes to him have to be on the ground and he needs someone near him to link with. Get fit Mario!!! I thought some of City passes went astray too often and occasionally we were guilty of giving the ball away in dangerous areas. Yaya Toure was definitely off the boil and Milner did some good things and then bad stuff. Silva is now finding his feet in the Premiership and works hard. Yes it was a really ugly win and not up to the style and passion that we showed against Chelsea. At least I don't worry so much when the opposition get a corner!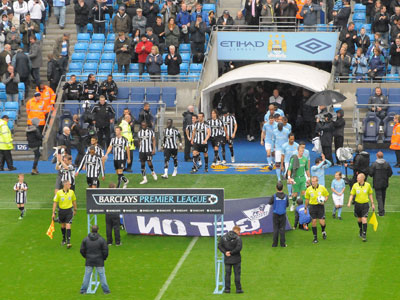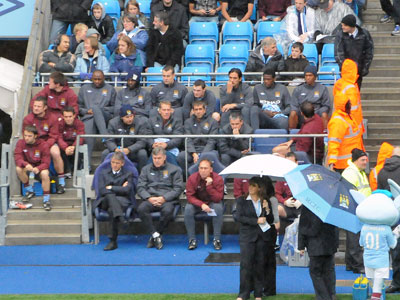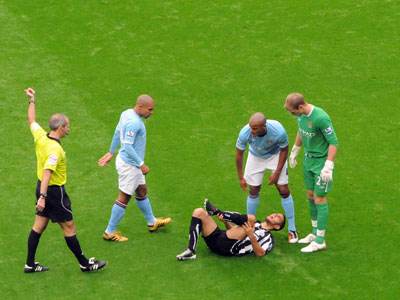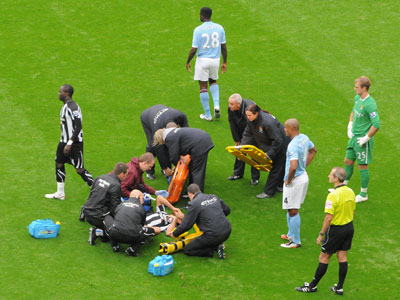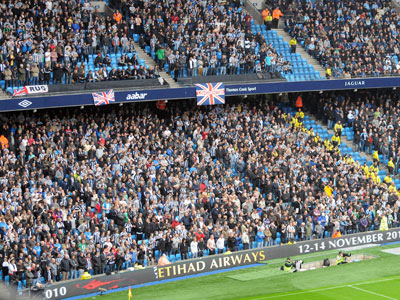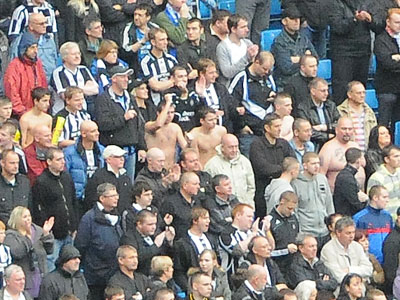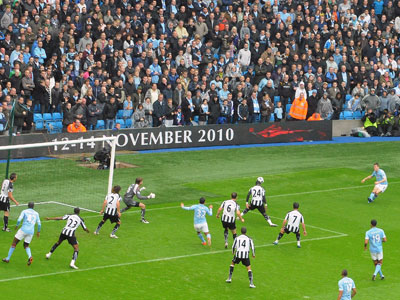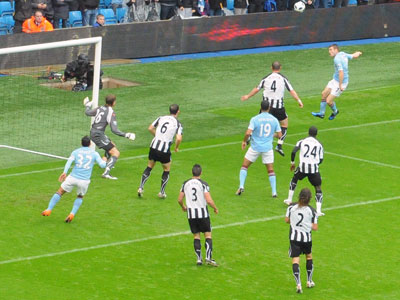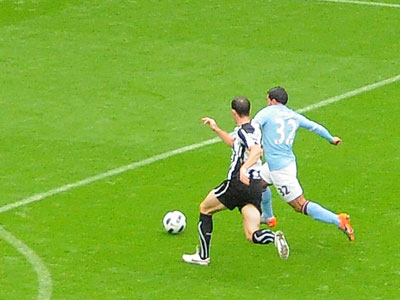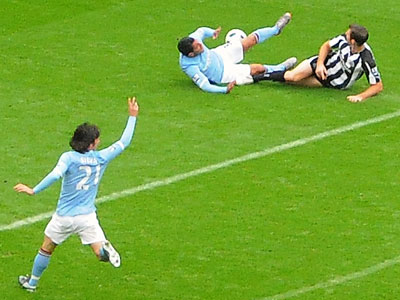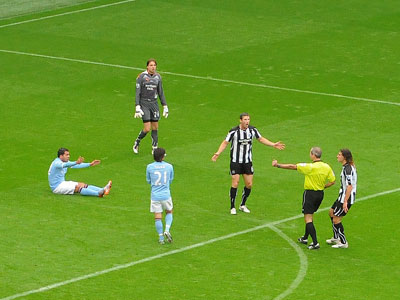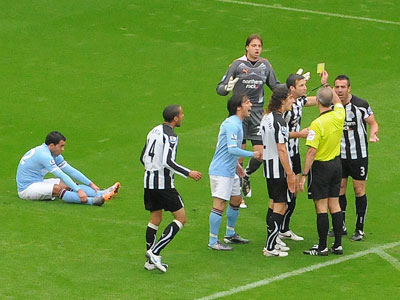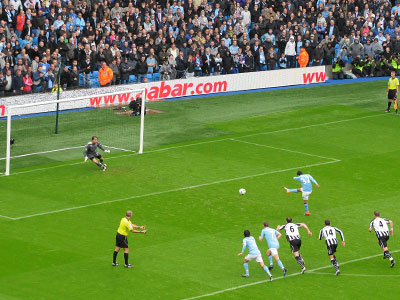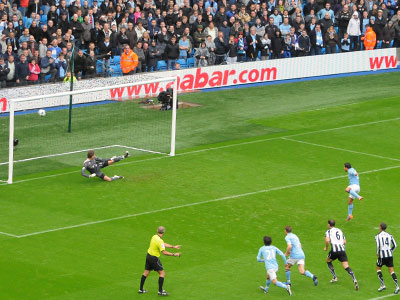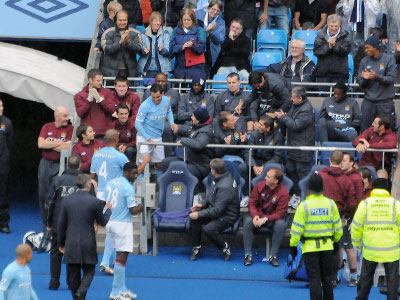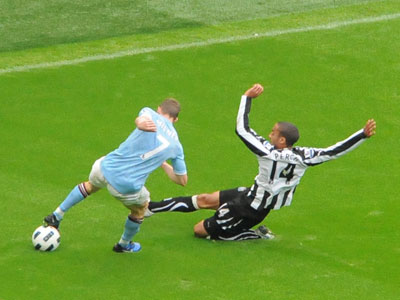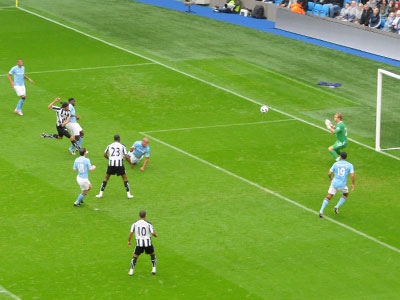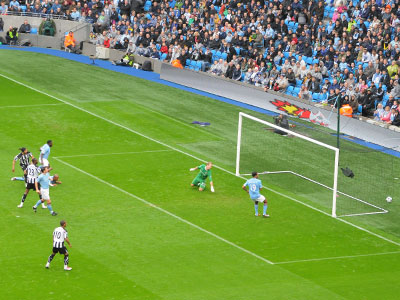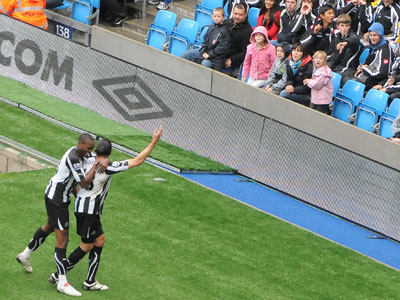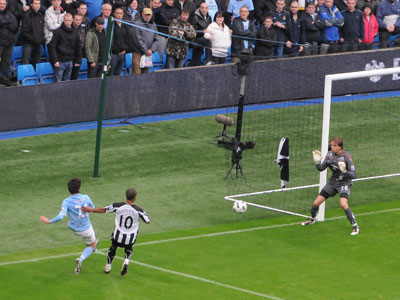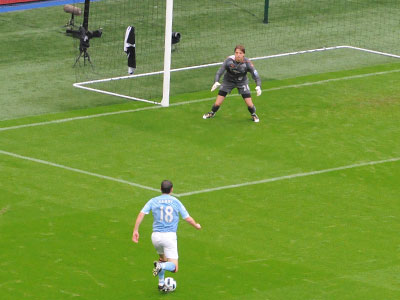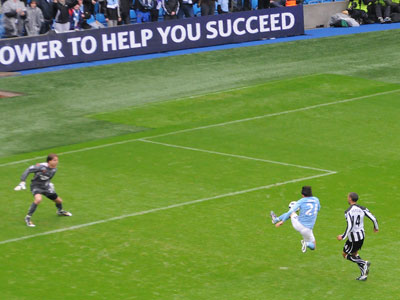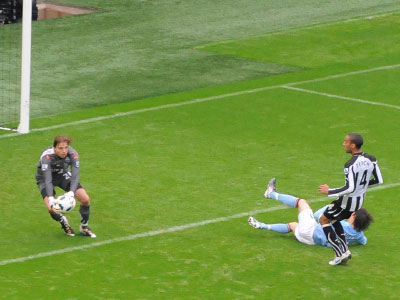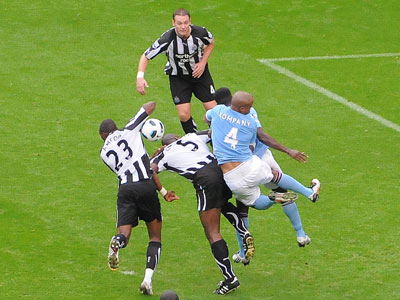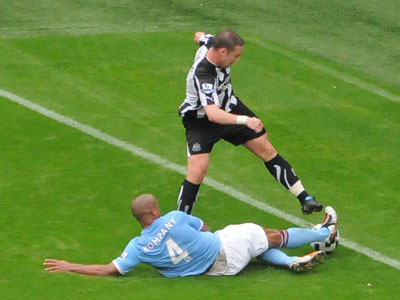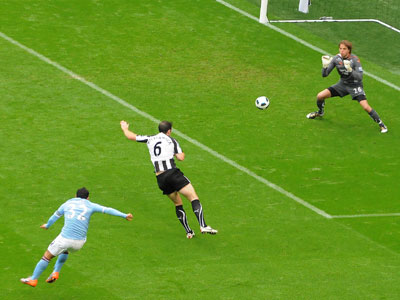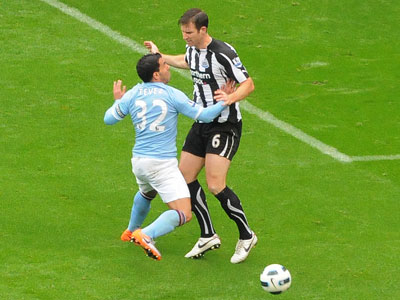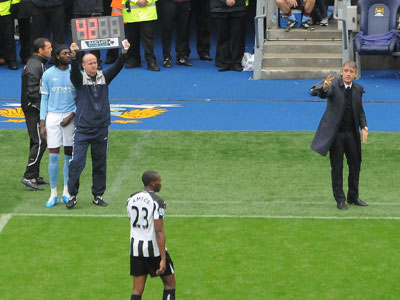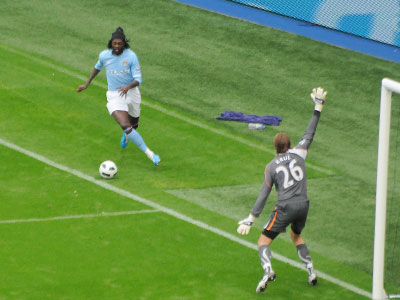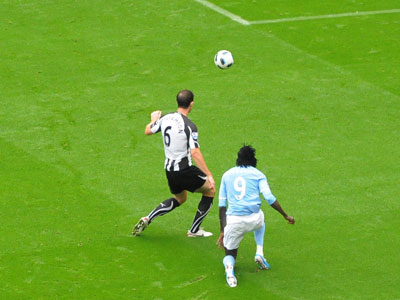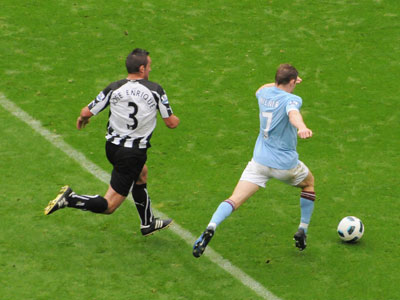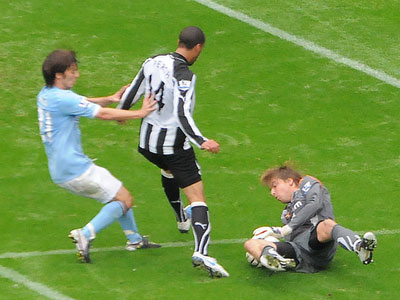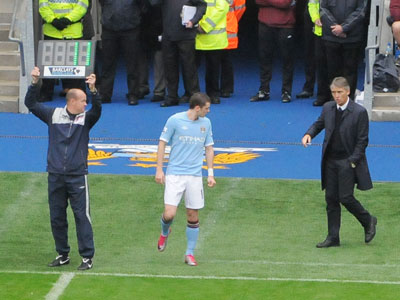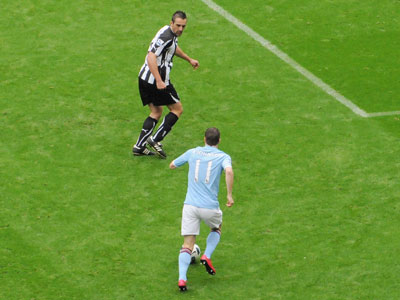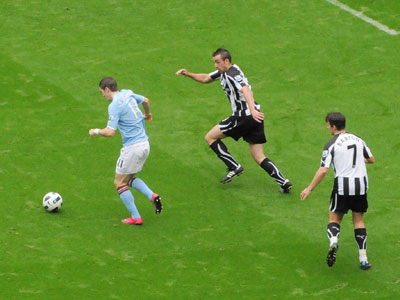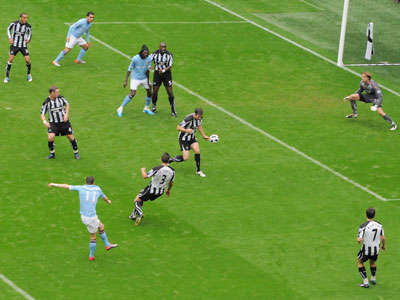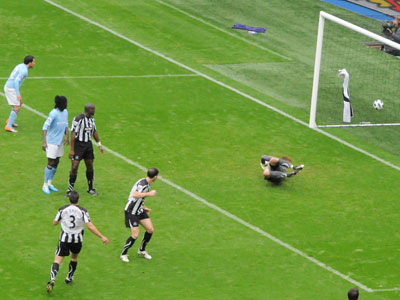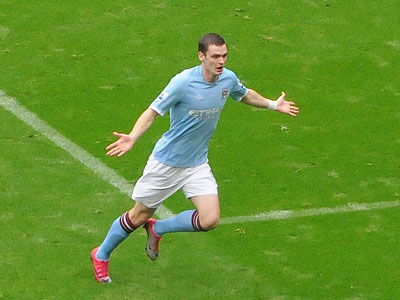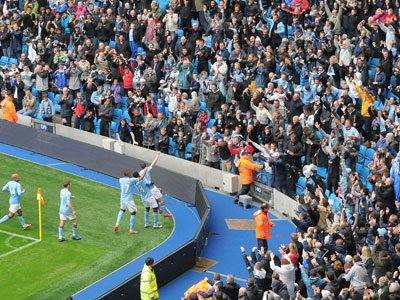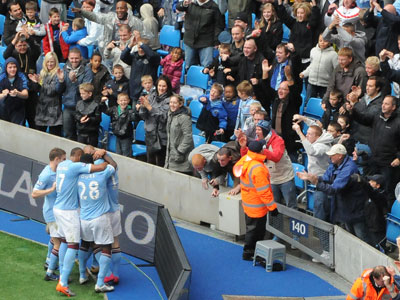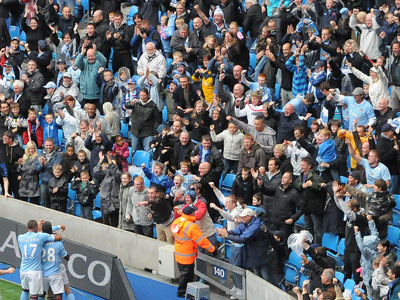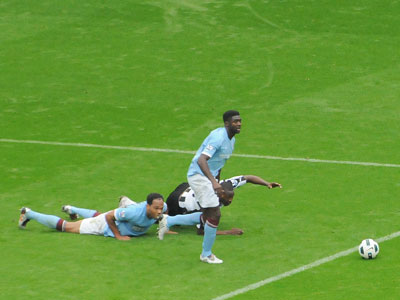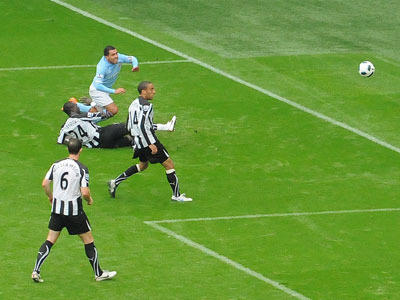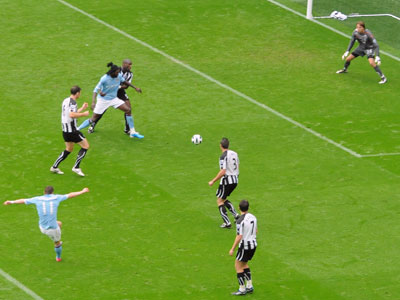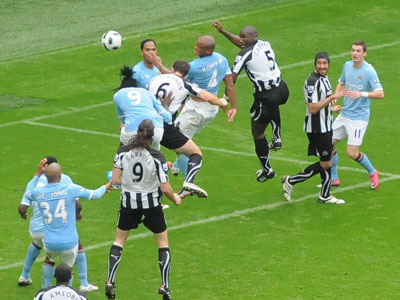 The usual suspects were on the bench though I think several of them will be departing in January
Lescott came in for the injured Zabaleta and Boateng continued at right back.
There was an early blow for the visitors when a strong tackle by De Jong caused a serious injury to Ben Arfa after just 3 minutes
Newcastle United brought their usual high number of dedicated supporters and there were the usual bare chested few among them but it wasn't all that cold today and the sun came out later!
After 13 minutes a short corner taken by Milner gives Newcastle some trouble but thy manage to clear
A few minutes later and Tevez breaks through but is brought down by Williamson ........
..... and referee Atkinson gives a penalty which is highly contested by the defence
Carlos Tevez cracked in his 5th goal of the season blasting the ball past the keeper to give City the lead
For some reason Tevez dashed to Santa Cruz on the bench. Some team joke no doubt
Team
Hart 6.5, Boateng 7, K. Toure 6.5, Kompany 7.5, Lescott 6.5: Y. Toure 6,( Adebayor 6.5) De Jong 7, Barry 7 ( Johnson 7.5), Milner 6, Silva 7 Tevez 7 ( Viera)

A Milner cross failed to find a City player
On 23 minutes Newcastle scored. A shot was blocked by Kompany but the ball ran to Gutierrez who blasted the ball past Hart from close range.
His celebration was not received with much delight from the nearby kids
A cross by Silva on 33 minutes was cleared by Williamson
Shortly after Milner had a great chance but his final effort was poor the keeper being able to block the shot which was more of a pass!
Tevez has half a chance but the ball runs through to the keeper
Another good tackle by Kompany and its 1-1 at half time
Kompany clears a Newcastle attack
Ten minutes into the second half Tevez has a shot saved
Tevez and Williamson practice for 'come dancing'!
On 56 minutes Adebayor comes on for Yaya Toure who was not playing well. He soon had a run down the wing but took the ball out of play
David Silva tries to force his way through
A rather tame effort by Adebayor is saved easily
After 63 minutes Milner had a great chance but he failed to test the keeper
Keeper Krul clutches a loose ball as Silva looms near
Last minutes instructions from Mancini as Johnson comes on after 72 minutes
He had only been on the field a couple of minutes when he got the ball from Milner .He attacked the defence - cut back ......
.... and then shot into the far corner with an excellent finish. What a goal!
Why didn't he come on much earlier as Yaya Toure was clearly out of form.
The City faithful were all smiles with City in the lead and not long to go
City a a narrow escape shortly after when a Lescott tackle looked like a penalty.
Another Tevez effort but alas no goal
Another shot by Johnson but it is saved by Krul
Despite late Newcastle pressure the City defence held out for the three points