City 6 Watford 0
May 18th 2019 att.85,854
Cup Final Wembley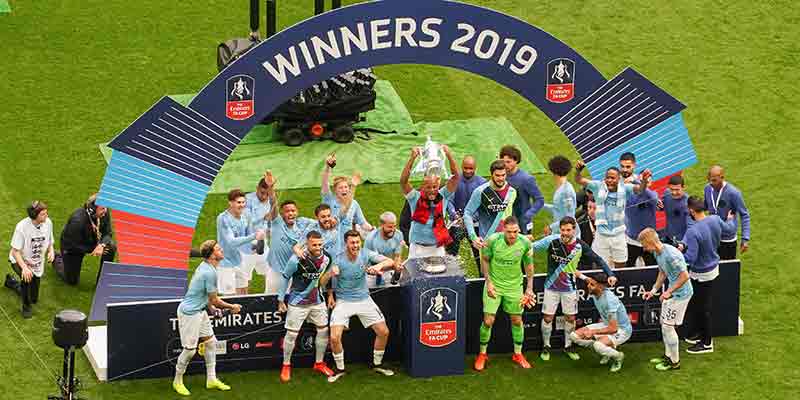 A great victory sealed the historic treble for City as they are the first club to win the League, league Cup and FA Cup in one season. The six nil win was the biggest for many years - Bury beat Derby 6-0 in 1903 - I don't remember that! City are also the first English side to win 50 wins in all competitions in one season - oh yes and we also scored 169 goals -the most by a top team in all competitions.
It could have been so different had not Ederson saved well after just ten minutes following a poor pass by Zinchenko.
David Silva started the ball rolling with a volley on 26 minutes and then Jesus made it 2 - or was it Sterling!! Kompany who I have just heard is leaving City to become player-manager of Anderlecht had a very good first half and we shall miss him a lot. I hope he returns to City in some form.
City really hit good form when De Bruyne came on for Mahrez 10 minutes into the second half. He soon scored and then made a goal for Jesus. Sterling notched two late goals to complete the demolition.
Once again Benardo had a very good game and Gundogan did his best standing in for Fernandinho.
So now we wait to see who will be with us next season. I think there will be some changes.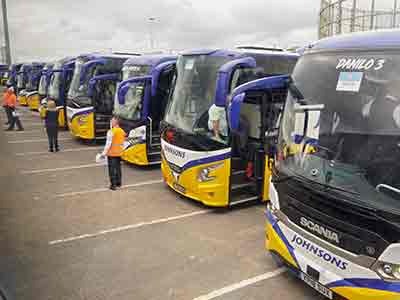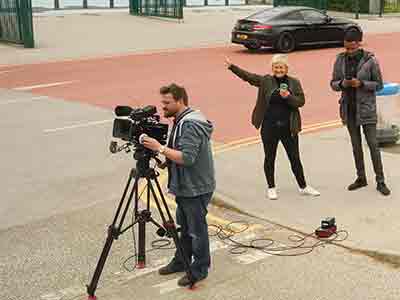 Once again the coaches were well organized and we even had a cameraman to see us off to Wembley!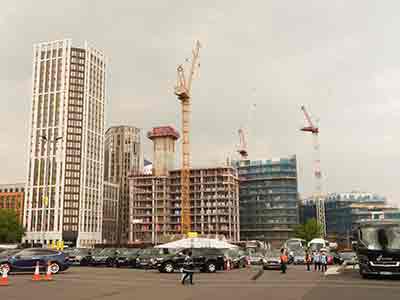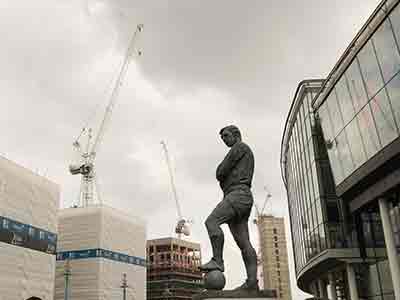 Plenty of building work still going on around Wembley and Bobby has not moved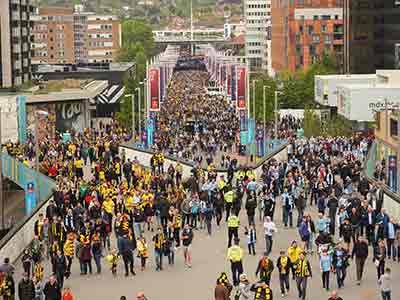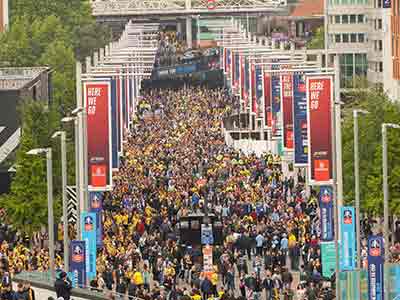 A ,lot of that yellow colour down Wembley Way

An early glimpse of Wembley as we wait for the City teams to be announced and we did get a bit of a shock as Jesus was preferred to Aguero and Mahrez was playing. Sane and De Bruyne on the bench. No sign of Foden or Fernandinho alas.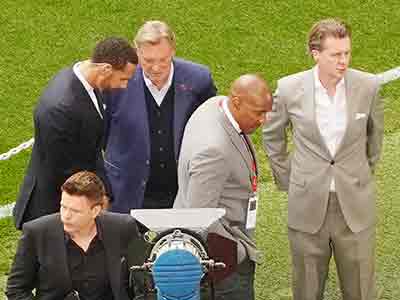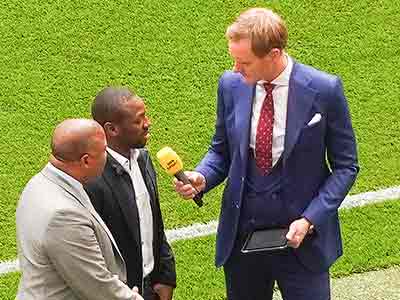 A few interviews in progress and you will recognize the stars - .surprised to see Mr Dublin -
maybe he is checking some houses in the area!!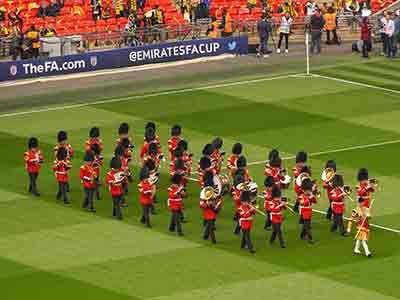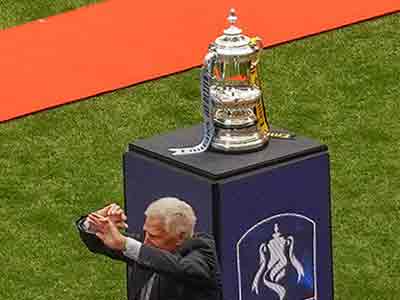 Nice to see a marching band -
we used to have them at Maine Road!
Tony Book brought out the CUP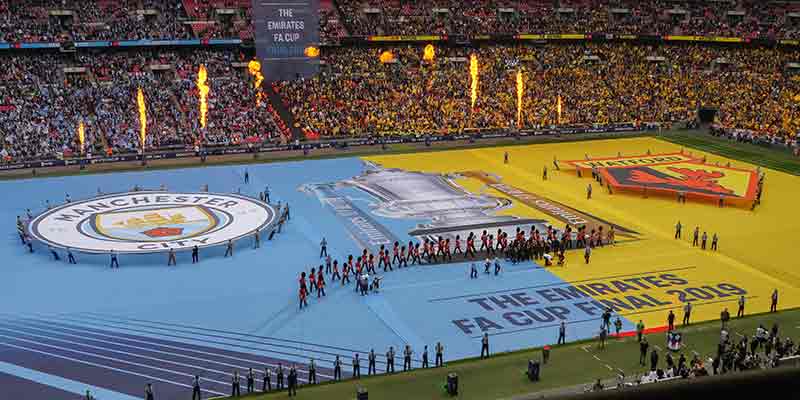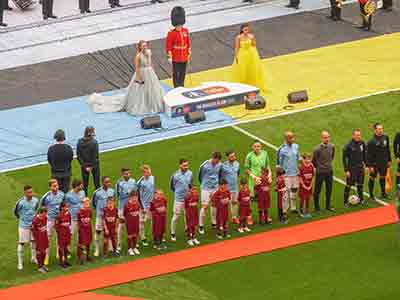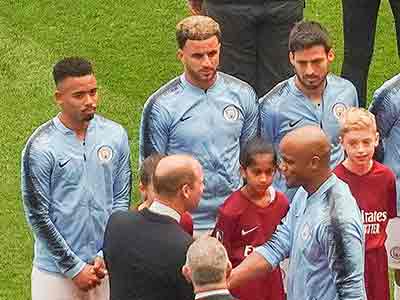 Prince William is introduced to the teams before kick-off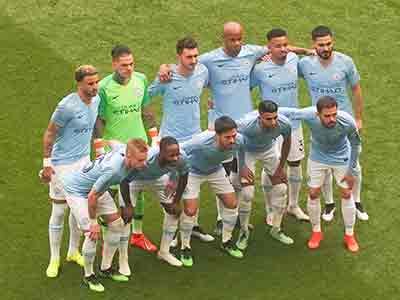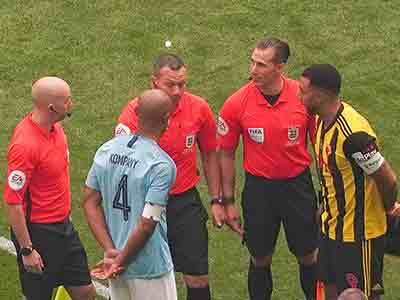 Kompany's last game about to start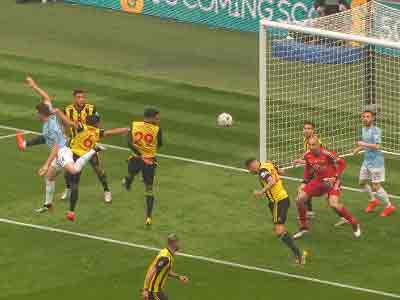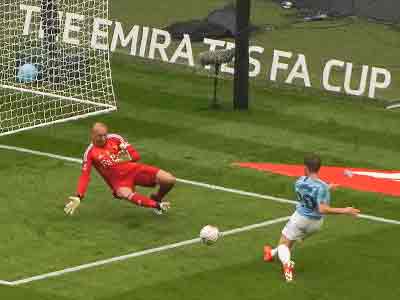 Watford manage to clear an early City attack
Gomes in action saving from Benardo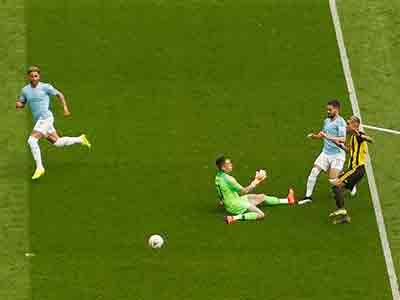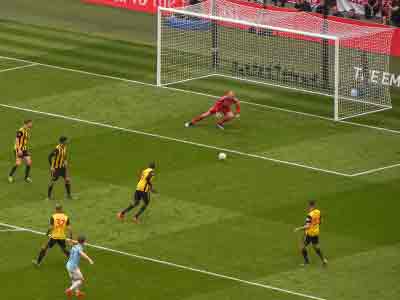 Ederson makes a crucial save from Pereyra
Gomes about to save from Benardo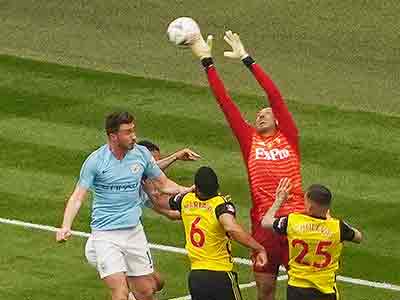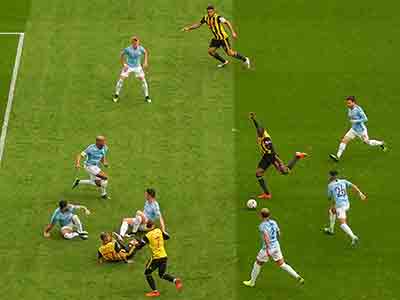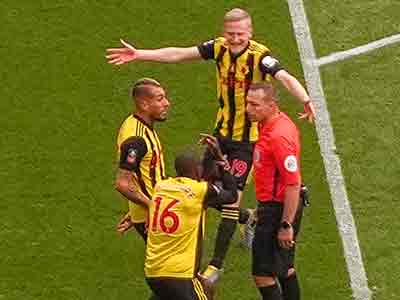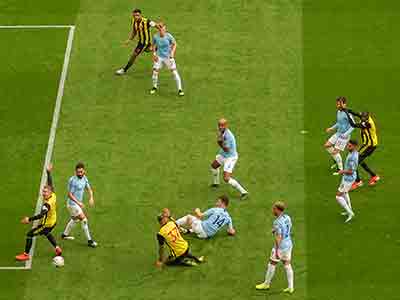 ...but the ball hits Kompany; who has his arm by his side but Watford claim for a penalty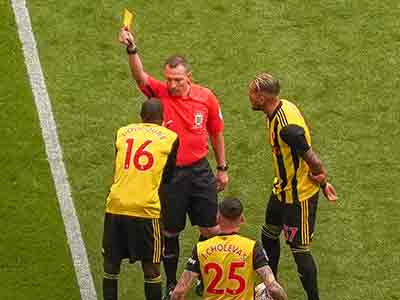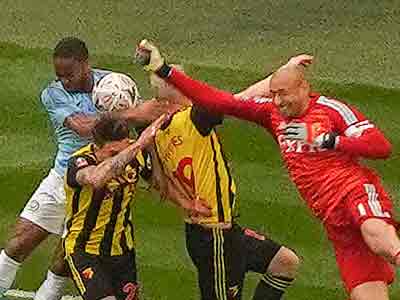 Doucoure is booked for his protests
Gomes will have to claim for overtime!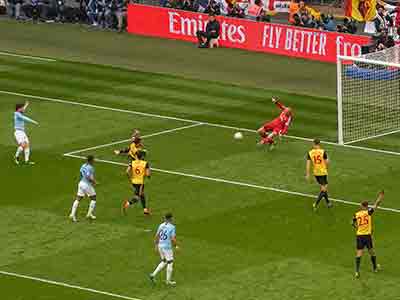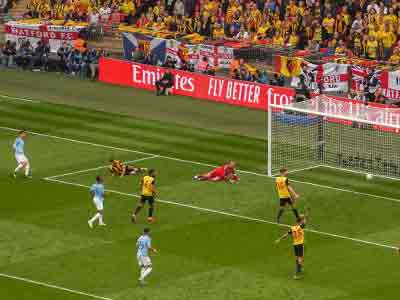 On 26 minutes David Silva hooks the ball . via a deflection past Gomes and City are ahead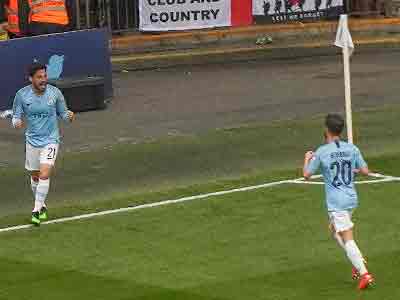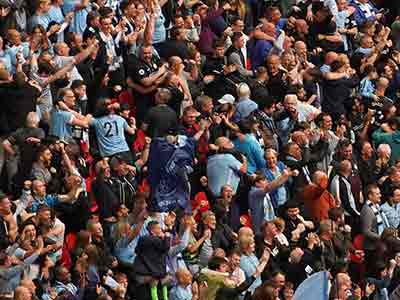 At last we can relax a bit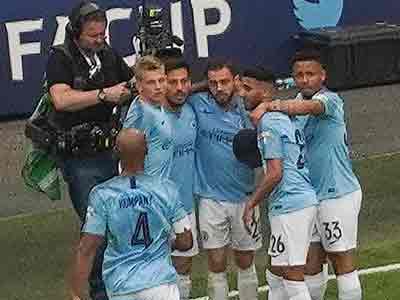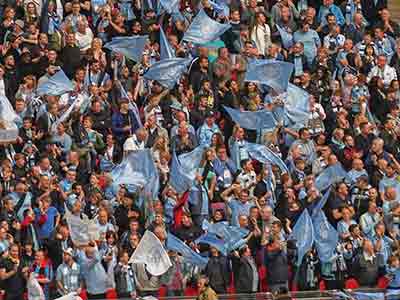 The team and fans have got something to cheer about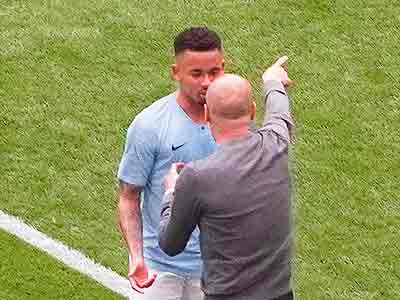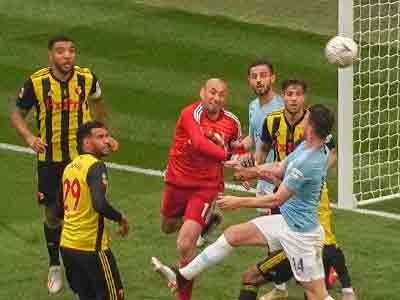 Pep is not happy though and tells Jesus to score a few more!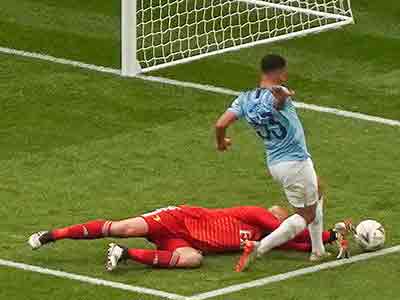 nearly half time and Jesus shoots past Gomes......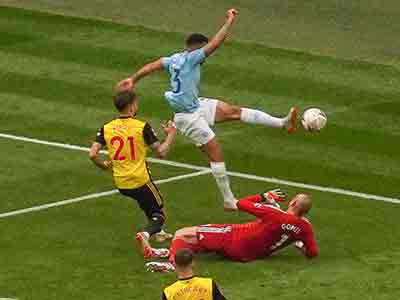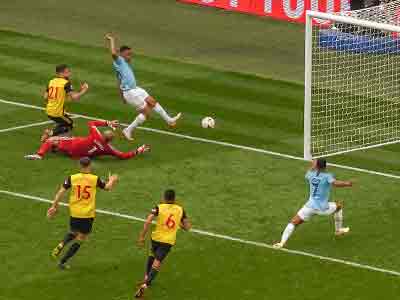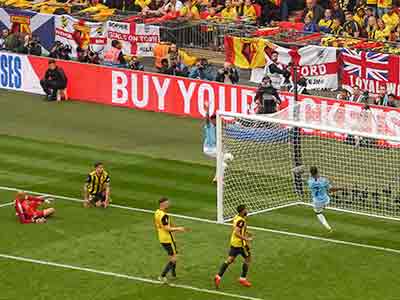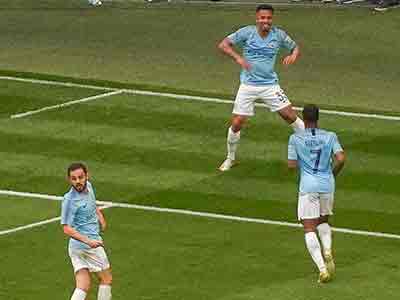 The ball goes very near the line and in runs Sterling to make sure.......
..apparently the ball did go over the line so Jesus gets the goal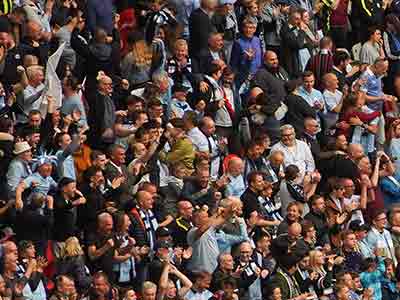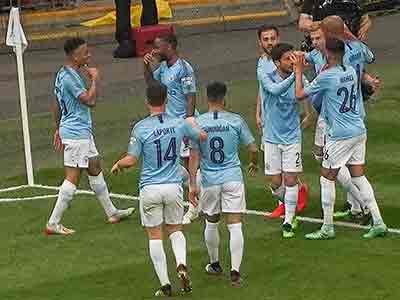 The players and fans can relax a bit more now .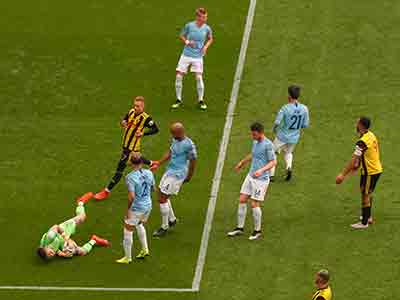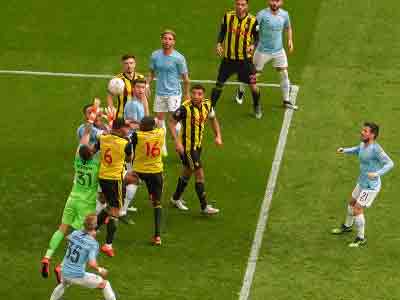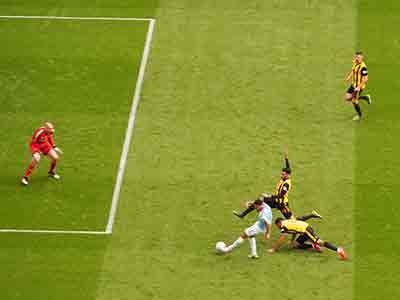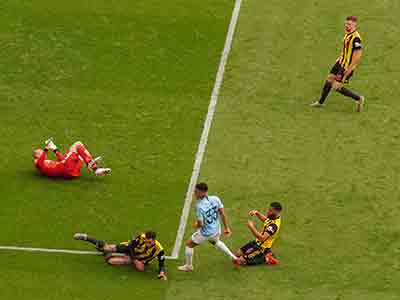 Watford give Ederson some work to do before half time
Jesus has a shot saved by Gomes two minutes into the second half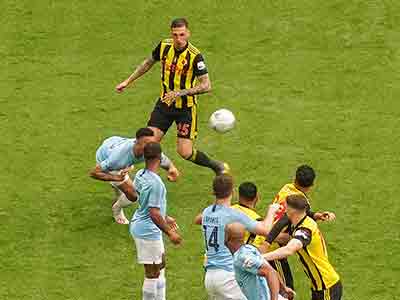 a minute later Jesus scores again with a header but the flag is up for offside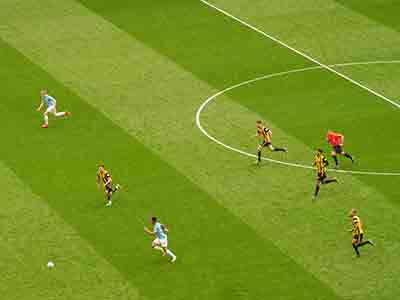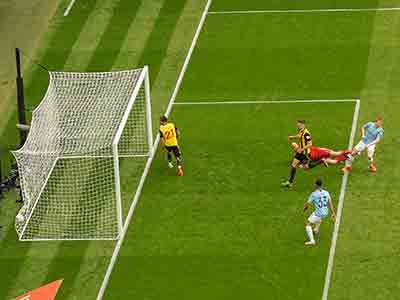 On 61 minutes City break and De Bruyne on for Mahrez takes a pass from Jesus and scores to make it three nil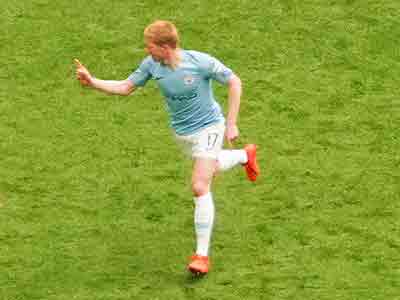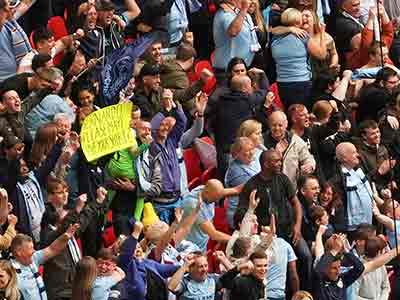 back from injury he looks in good form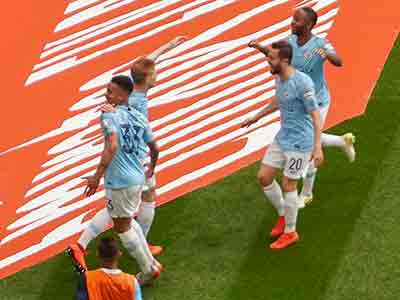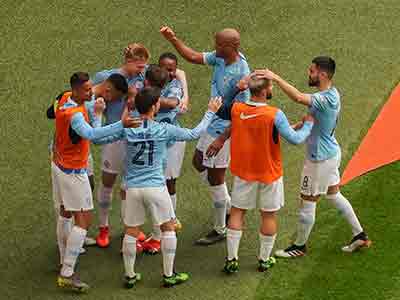 I think the Cup is won now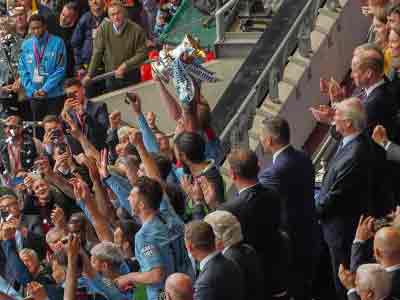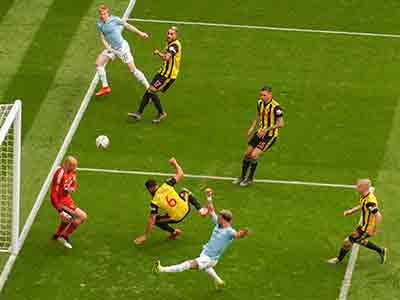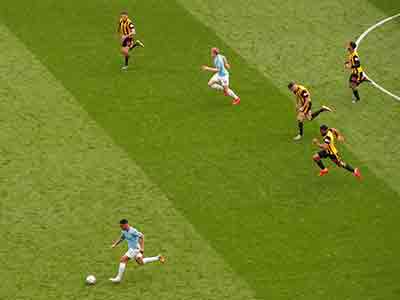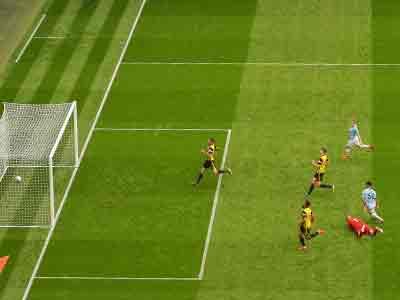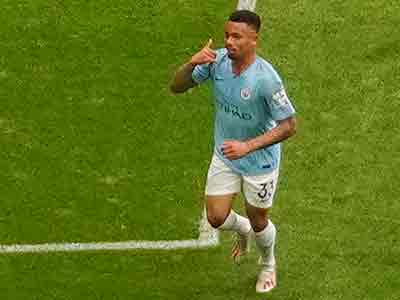 a dangerous cross from Kevin is blocked
De Bruyne and Jesus break.....
...and Jesus scores to make it four nil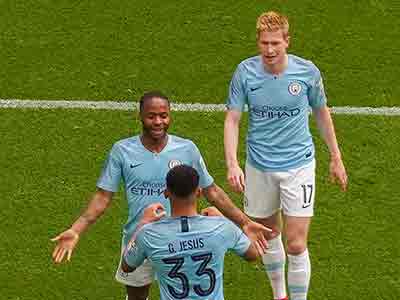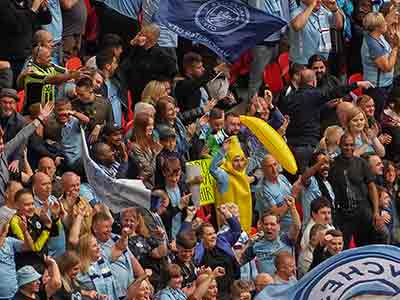 Plenty to cheer about now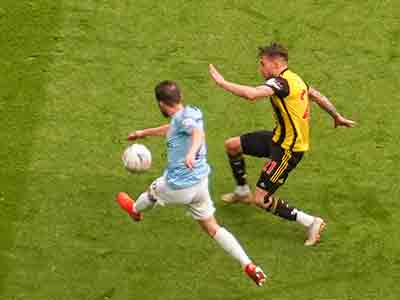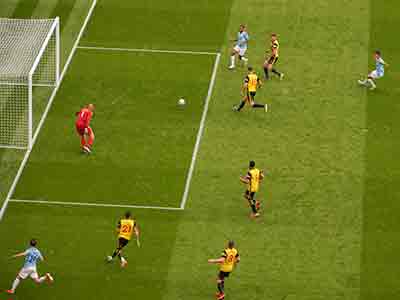 80minutes on the clock and Benardo crosses to a waiting Sterling.....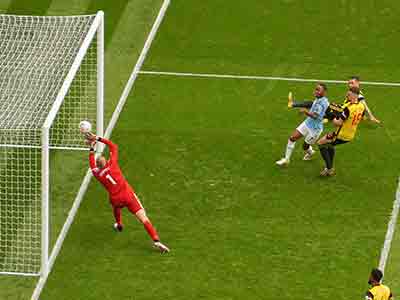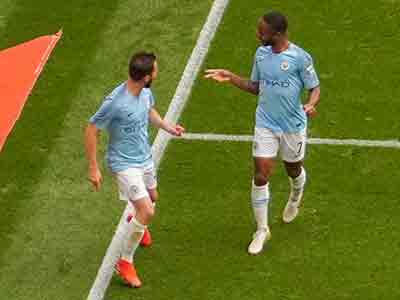 ...who scores to make it five nil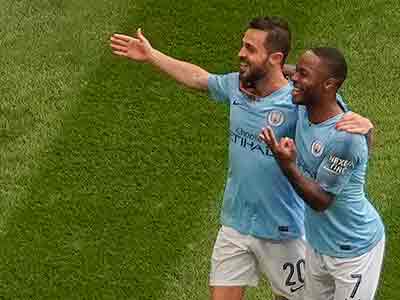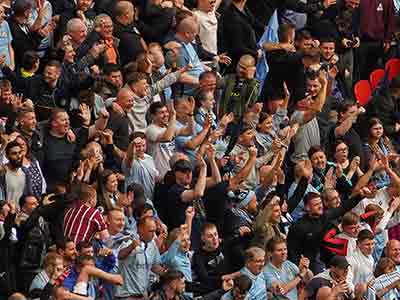 Benardo and Sterling wave to the cheering City fans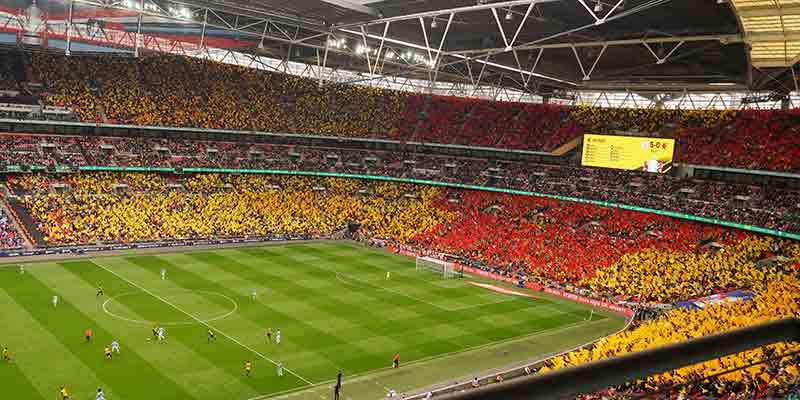 Despite the score the Watford fans make their presence felt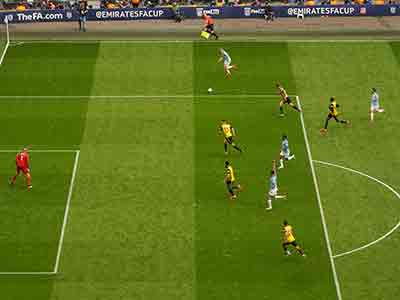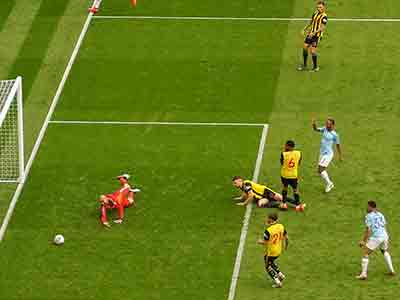 87 minutes and De Bruyne crosses to Sterling who shoots but Gomes saves...../.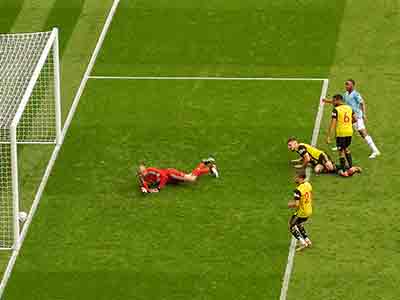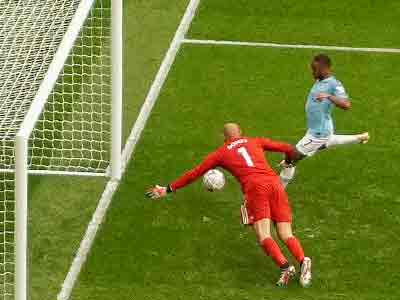 ...the ball hits the post and comes out and Sterling following up nets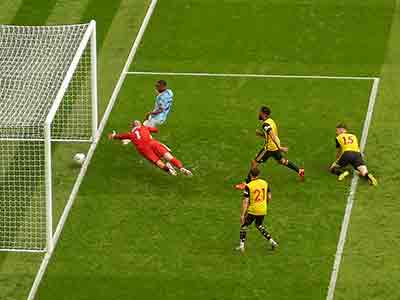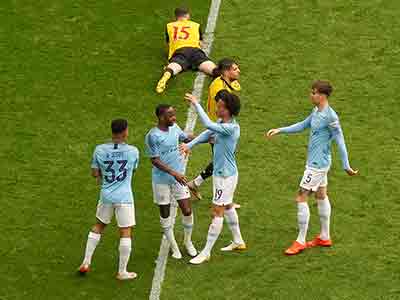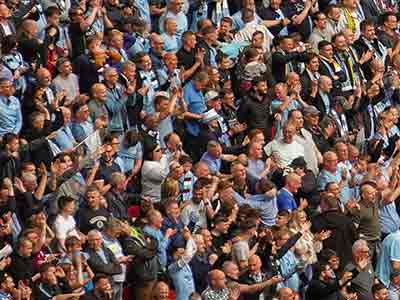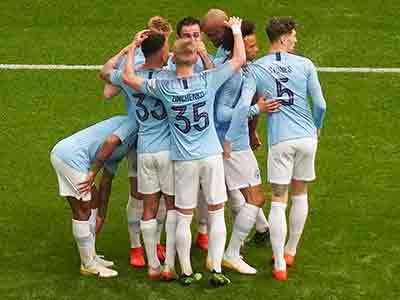 so it almost time and with the score at six nil can we make it 7 !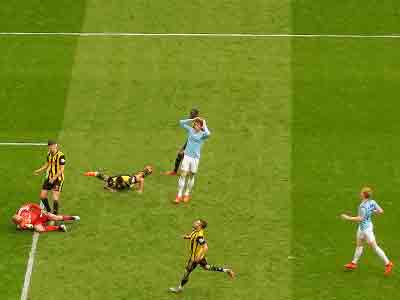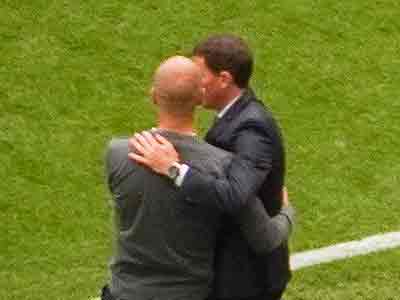 John Stones on for Silva almost makes it 7 before the final whistle and the end of a very good season for Pep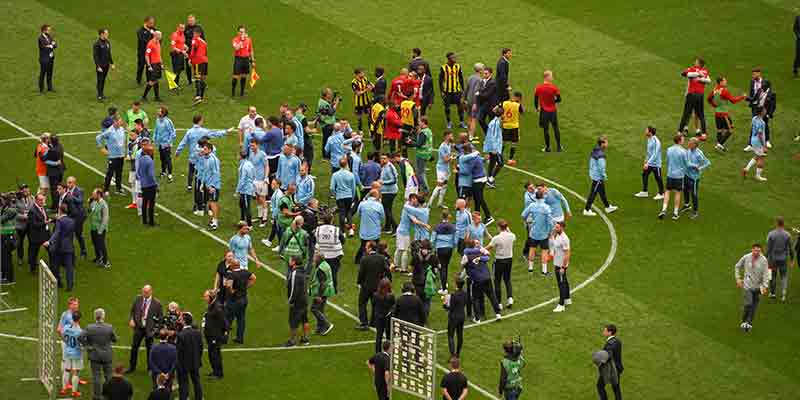 on come all the staff etc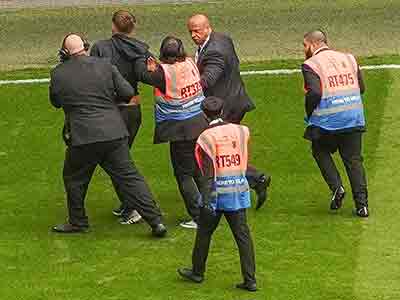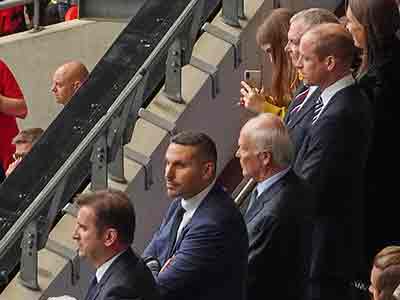 The City management must be very pleased
some idiot tries to get onto the pitch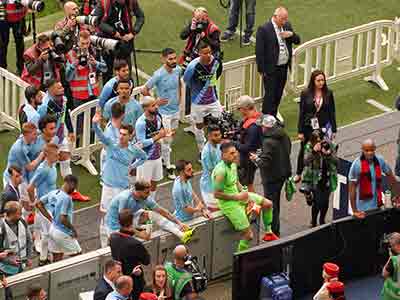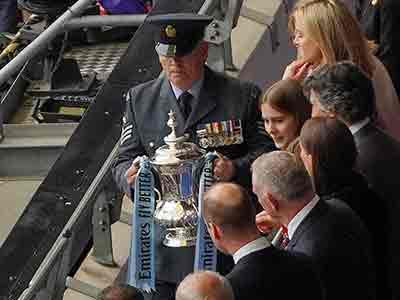 The City players watch as the FA Cup is brought to Prince William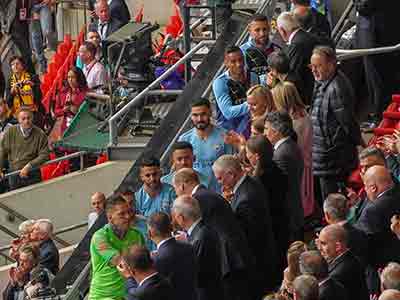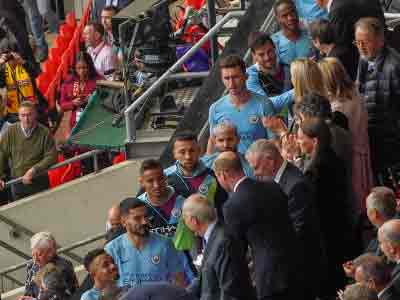 The players collect their medals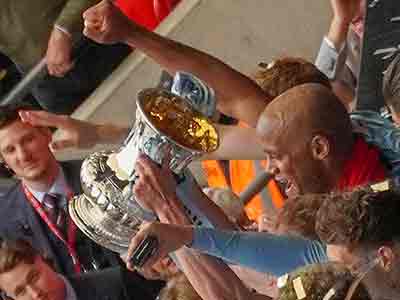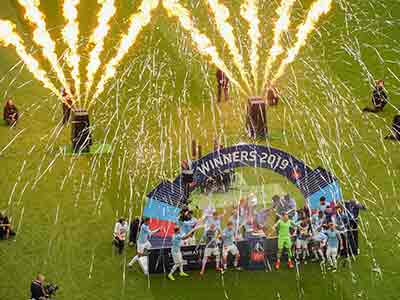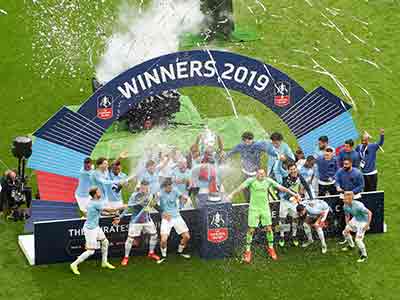 Yet another wonderful season for City fans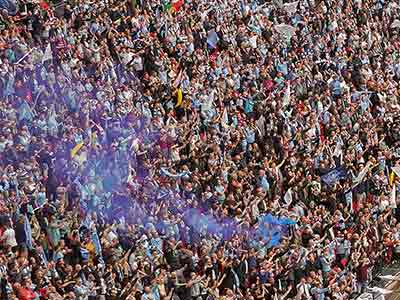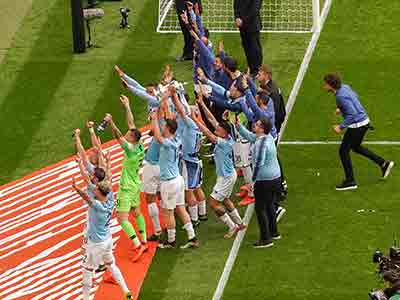 a fond farwell to the amazing season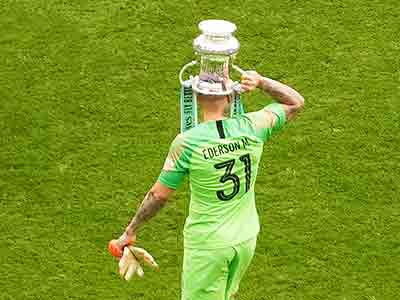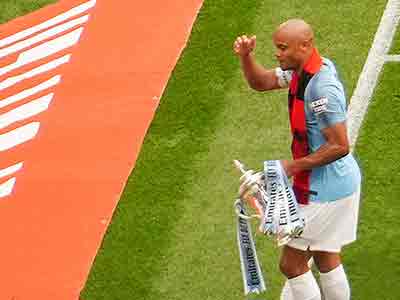 a final image of Vincent Kompany in a City shirt
A special hat for Ederson
team
Ederson 8: Walker 7, Kompany 8.5, Laporte 7.5,Zinchenko 6.5: Gundogan 6.5 (Sane), Silva 7.5 (Stones) , Benardo 8, Mahrez 7(De Bruyne 8.5) Sterling 8 ,Jesus 8.5