City 1 West Brom Albion 0
May 7th 2013 46,158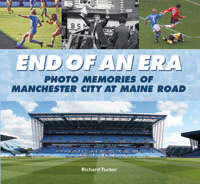 Now available from Amazon ( click on image for link)
WH Smith and the City shop
Not a memorable game but the narrow win ensured City's Champion league place next season and moved them a little nearer to securing second place in the league. With the Cup Final coming up at the weekend City rested many players so it took awhile for the team to settle down and West Brom had several chances to go ahead before Dzeko made up for his terrible miss at Swansea with a good finish after a good run by Tevez. Would that be his last goal for City I wonder? Joe Hart had a busy time keeping another clean sheet especially when he had our 'reserve' back four in front of him.
Both Richards and Rodwell had good games and probably booked their places on the bench at Wembley. Tevez once again worked hard and Milner did enough to be a contender for a Final place.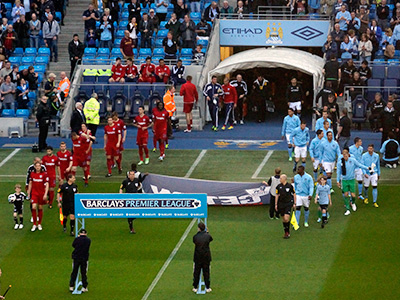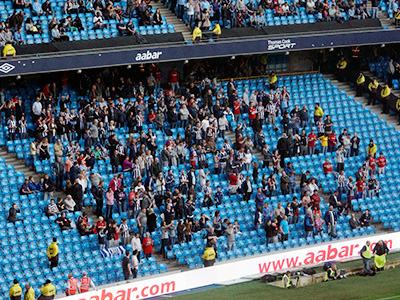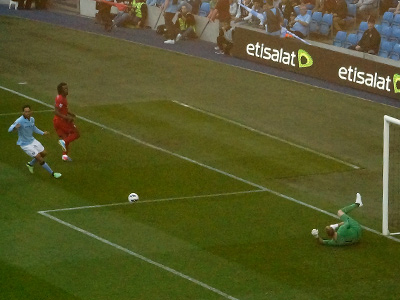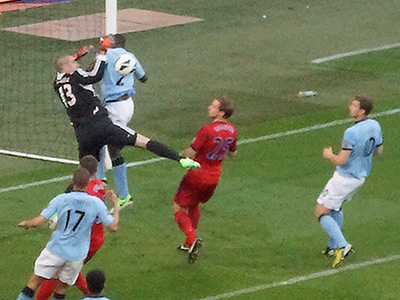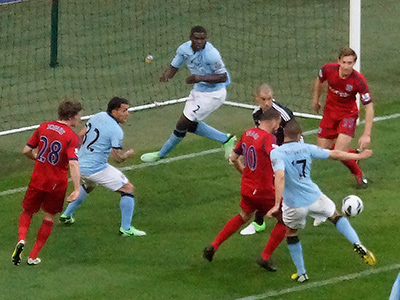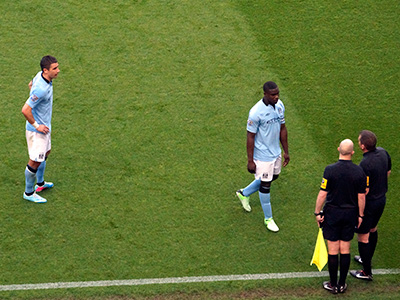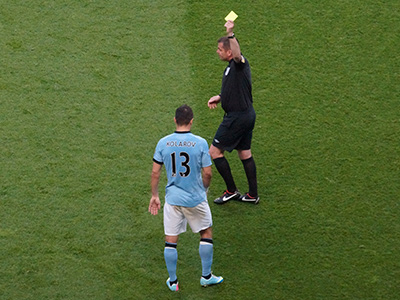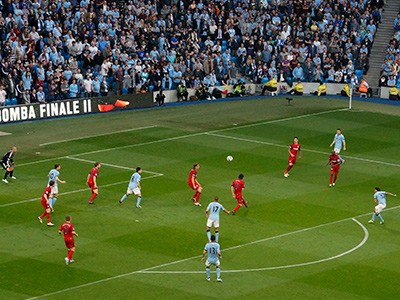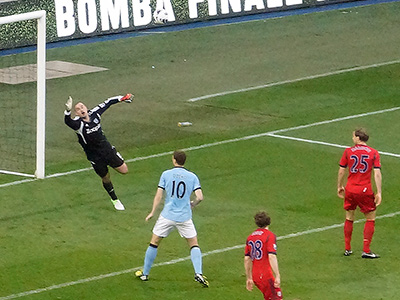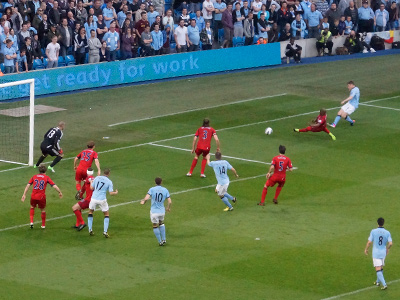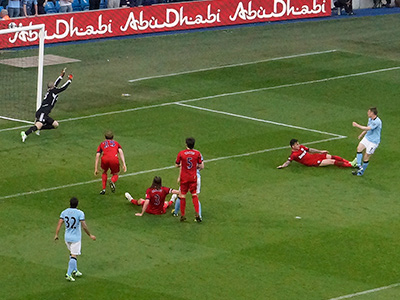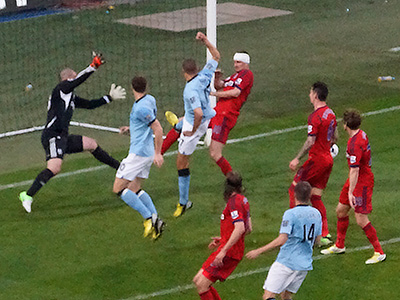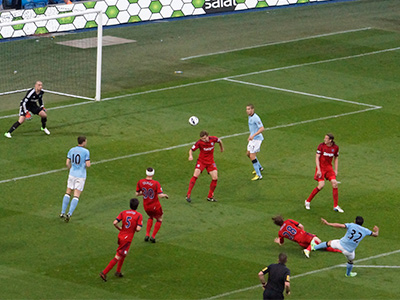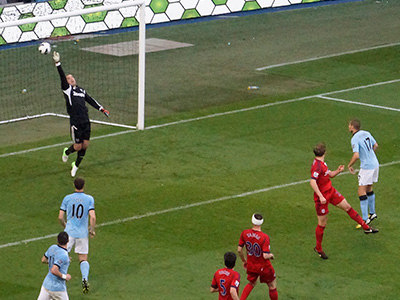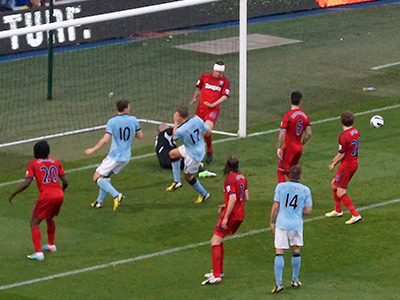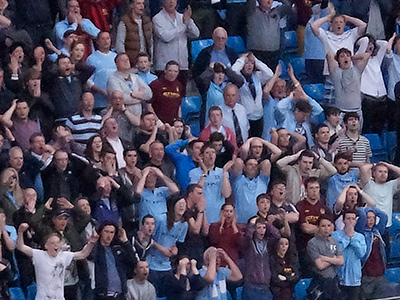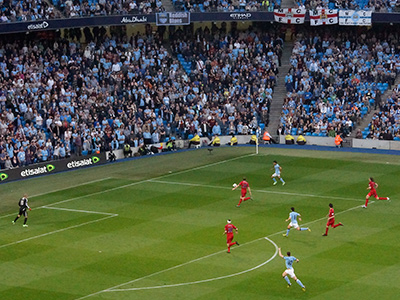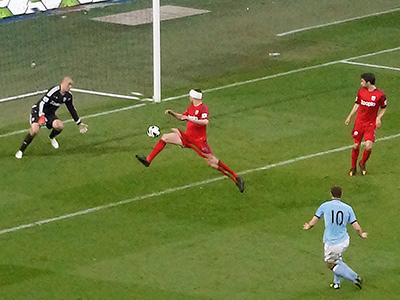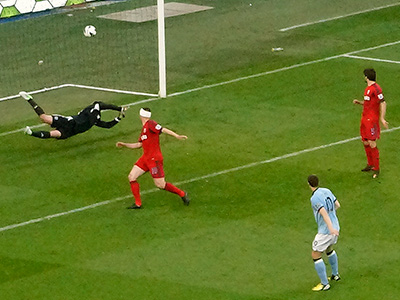 With the Cup Final coming up on Saturday both the City team and attendance were affected. The home side made many changes and Richards was skipper for the day. West Brom only brought a few hundred supporters and there were many gaps in the rest of the stadium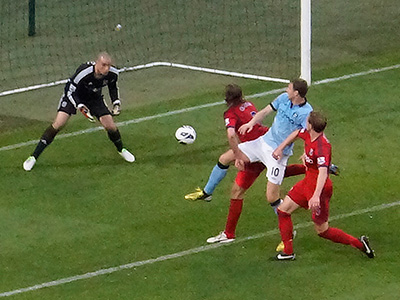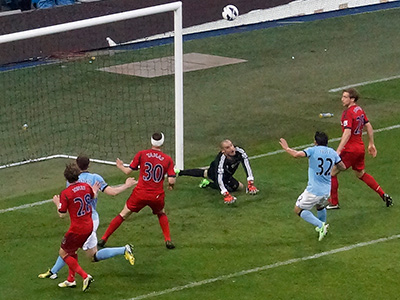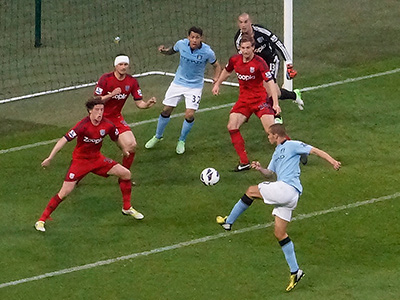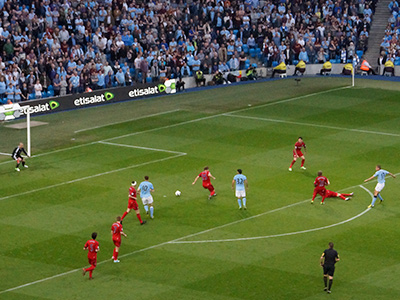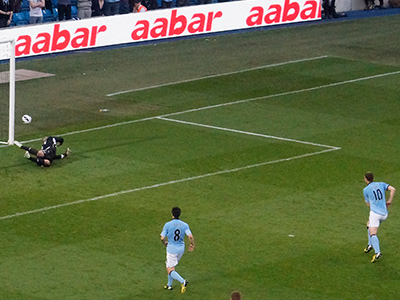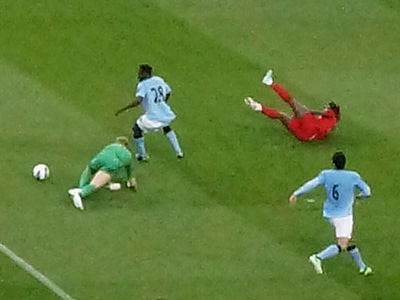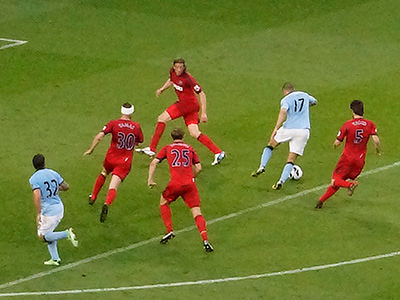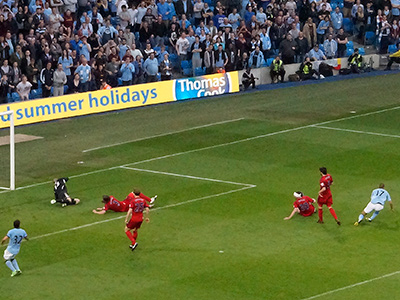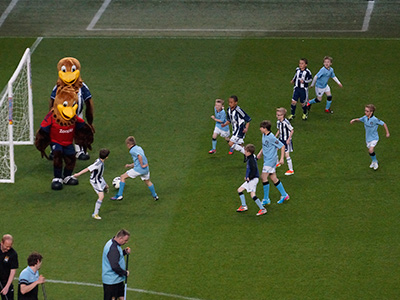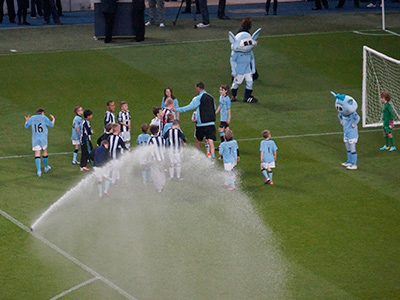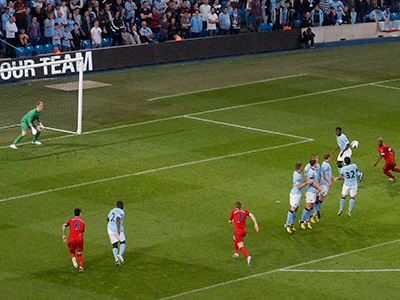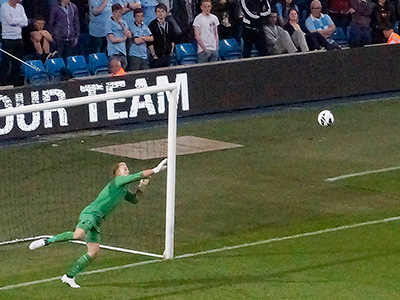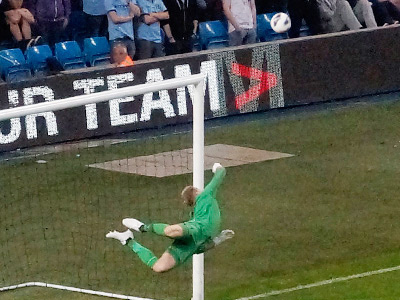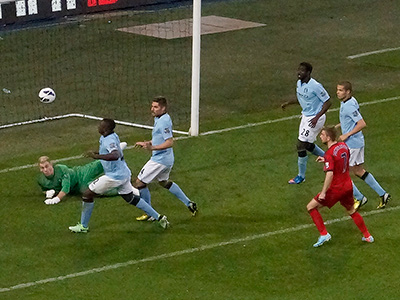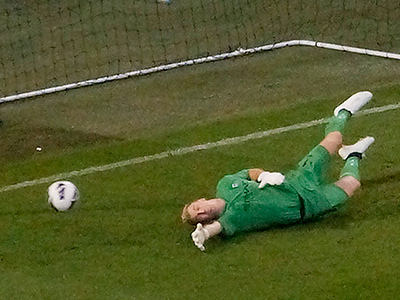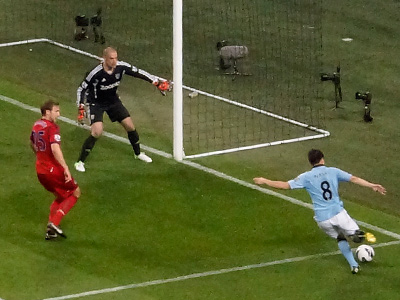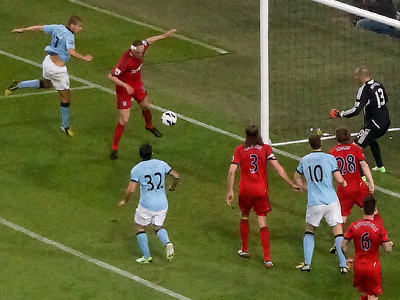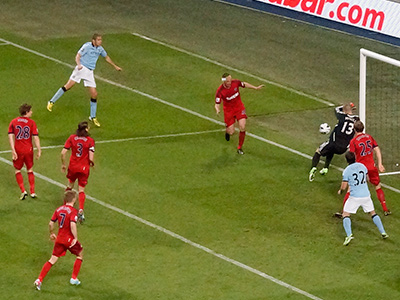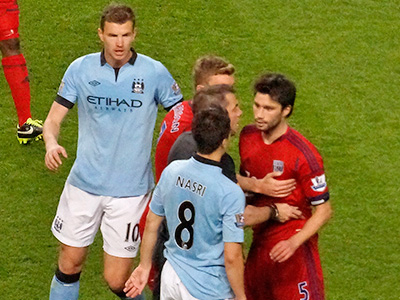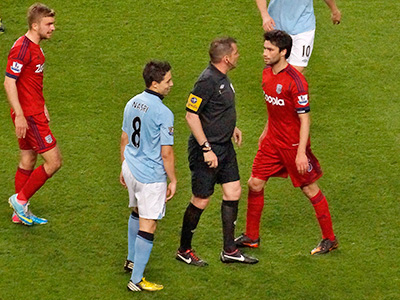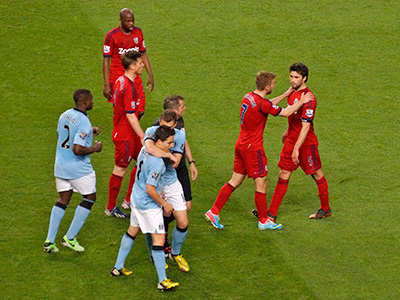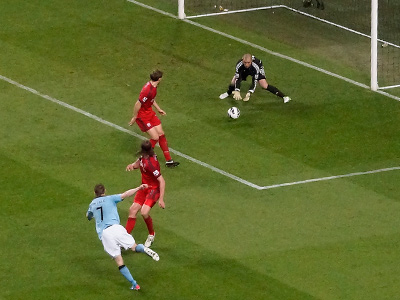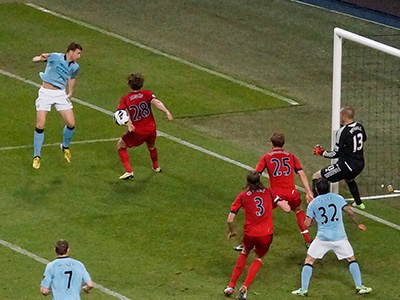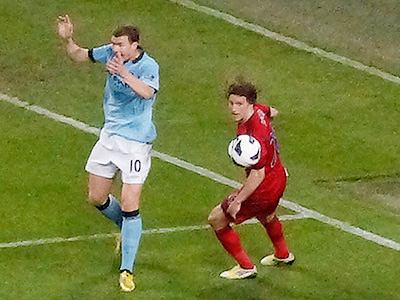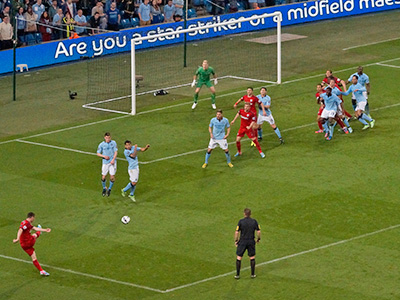 Hart was early in action when Lukaku broke through
West Brom under pressure at a corner
Eventually West Brom clear the danger
On 4 minutes Kolarov injures Tamas...
... and we wait with baited breath as the referee consults his assistant and it ends with a yellow card for Kolarov
on 25 minutes Tevez shoots over the bar
Hart misses the ball at a corner but City clear
Hart saves from Rosenberg
A dangerous cross by Milner is followed by a shot which goes wide
West Brom manage to clear a corner
On 34 minutes Tevez has a good effort saved by the keeper
City supporters express their feelings
a minutes later and Tevez dashed down the wing and with Dzeko dashing into position......
he crossed and Dzeko hit the ball first time past Myhill to give City the lead
Dzeko almost managed to deflect the ball past the keeper
Dzeko thanks Tevez for the cross
Tevez and Rodwell try to add to the score without success
City continue to attack but efforts by Milner and Dzeko fail to hit the target
Hart has to save from Lukaku
Rodwell gets into position to shoot......
...but his effort goes well wide and its half time
City and West Brom battle it out during the interval but.....
...but the water jets bring their efforts to a close
Early in the second half a free kick.....
...hits the bar and City manage to clear
Joe Hart was kept busy as West Brom put the City defence under plenty of pressure
A Nasri effort was blocked
A Rodwell effort thwarted by a defender
another Rodwell effort saved by the keeper
Nasri and Yacob have a slight disagreement which....
....is eventually sorted out and both get yellow cards
A Milner shot goes straight at the keeper
A Dzeko shot hits Jones.....
..and Dzeko appeals for a penalty to no avail
West Brom had a free kick at the end of the game but thankfully it was cleared
team
Hart 7.5, Richards 7.5, Toure 6.5, Lescott 7, Kolarov 6: Milner 7.5, Nasri 7 ( Barry), Garcia 6.5, Rodwell 7.5 ( Maicon), Dzeko 7 , Tevez 7.5 (Razak)