City 1 Manchester United 0
April 30th 2012 47,259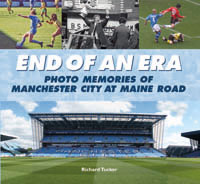 now available from Amazon ( click on image for link)
WH Smith and the City shop
What a game! What a result! This was not a game for the purists or the neutrals. It was a full bloodied derby game that may yet decide who wins the Premiership. City now go top on goal difference and all they have to do now is win at Newcastle and at home against QPR in the final match of the season.
City fully deserved their win. They took control of the midfield even though United had filled it with players and such was the dominance of the City defence that Hart did not have a shot to save all game. Apparently it was the first time for three years that United had failed to have a shot on target. Amazing! Thanks to sterling work by Kompany, Zabaleta, Lescott and Clichy Hart once more kept a clean sheet.
Yaya Toure and Barry were terrific in the centre of the park and Yaya Toure caused a few problems for their defence when he moved forward after De Jong was brought on for the tiring Tevez. Aguero, watched for the first time at the stadium by Maradona worked hard up front ably assisted by Nasri and Silva particularly by the former. There perhaps not quite the same amount of inter passing by City that we have seen at home as United had come to take a point and packed their defence leaving Rooney on his own up front for most of the game and he was continually moaning to the referee who had a difficult game to control and was perhaps a little lenient towards the visitors in the first half.
The wonderful jump and header by skipper Vincent Kompany that rewarded all the fans in blue may bring the title to the blue half of Manchester for the first time for 44 years. It will be a massive achievement and just the start to a new era of City dominance.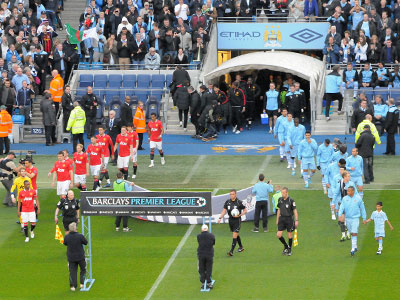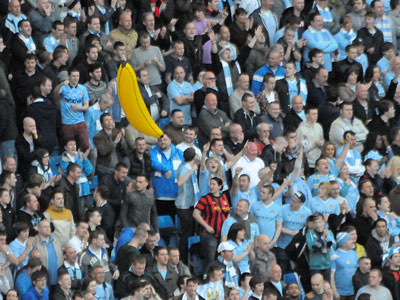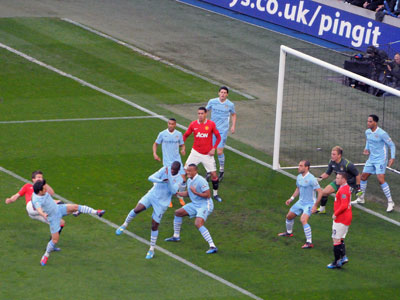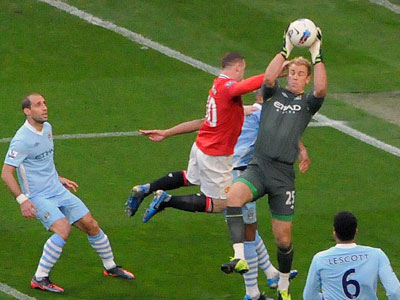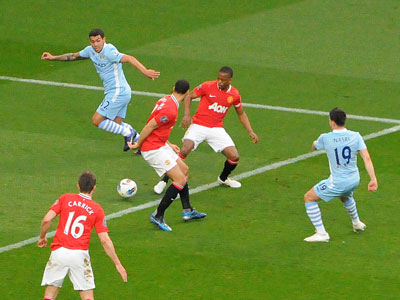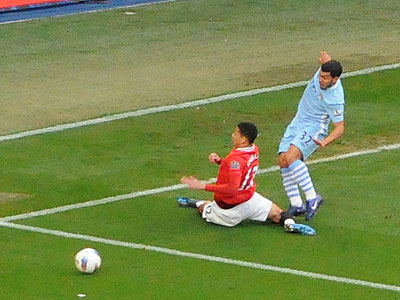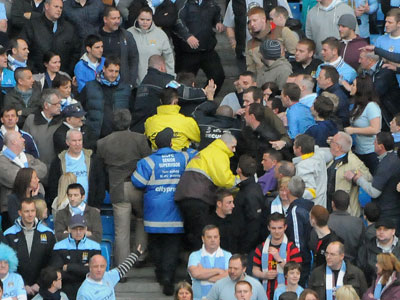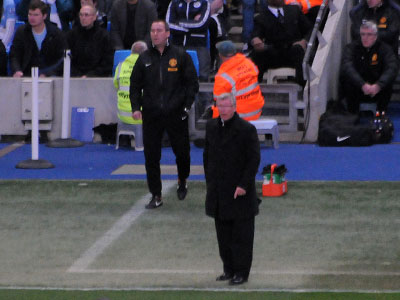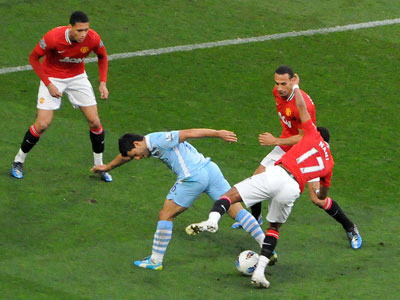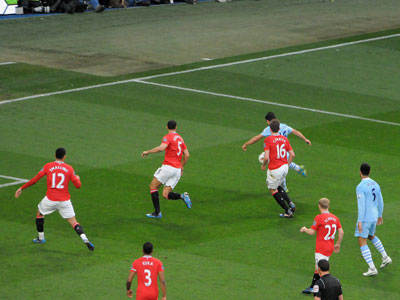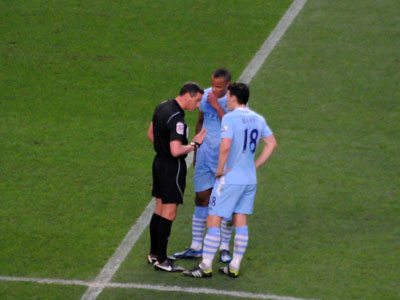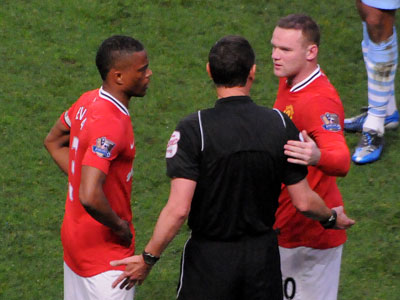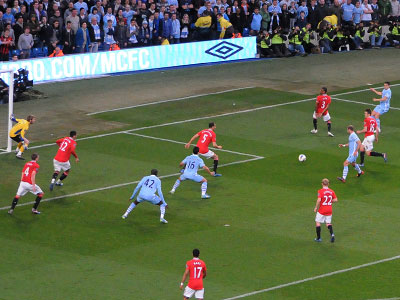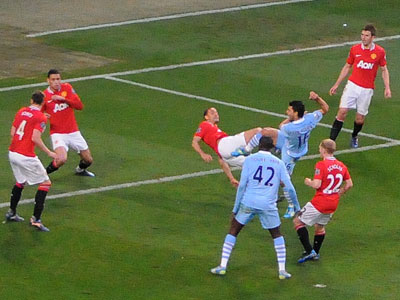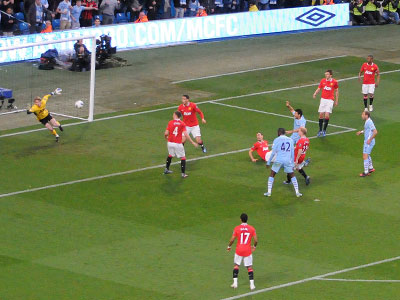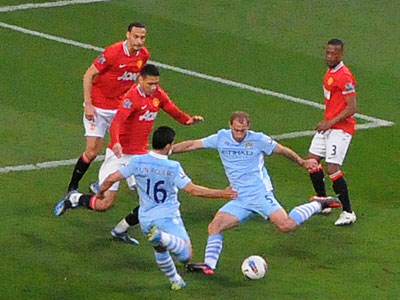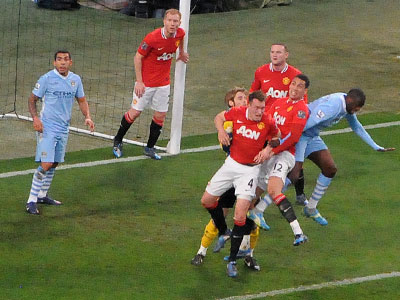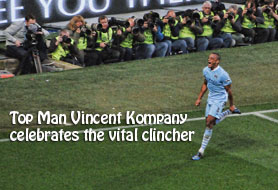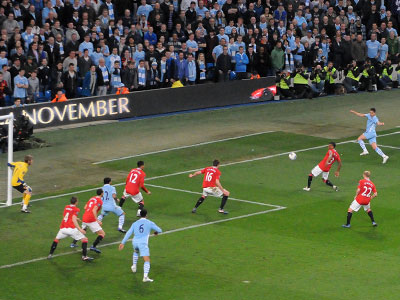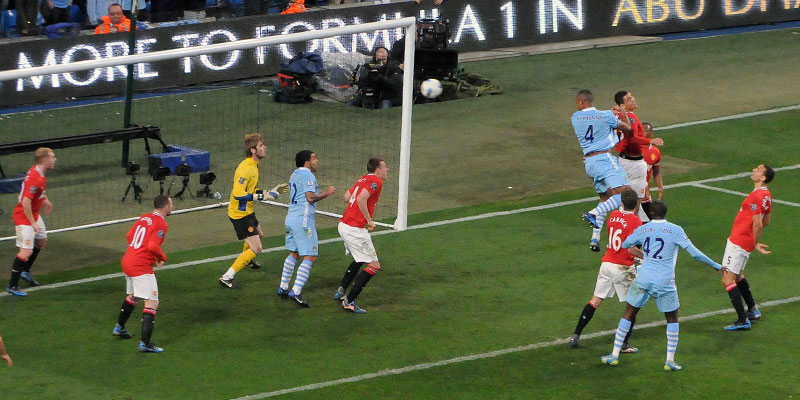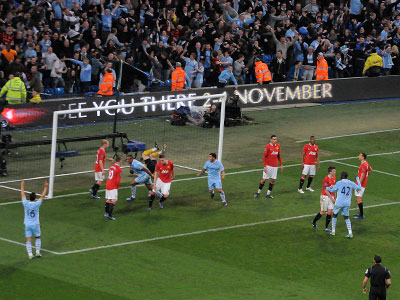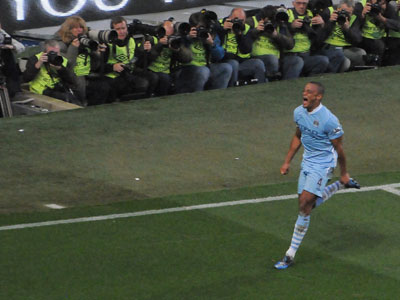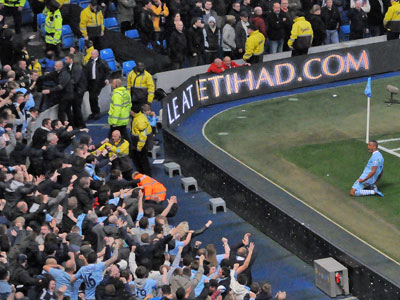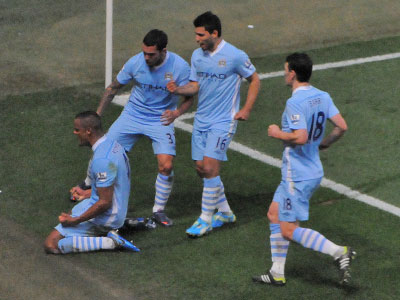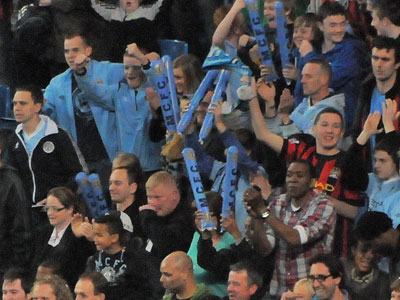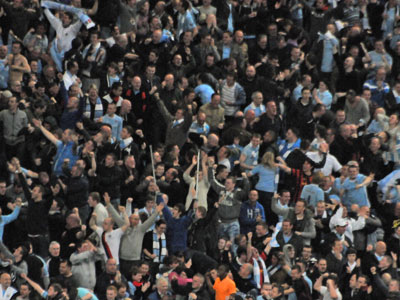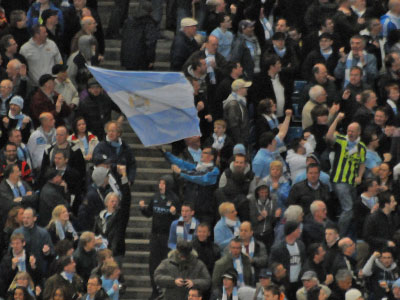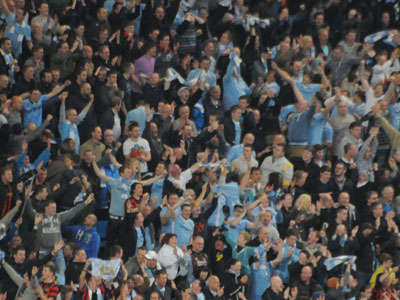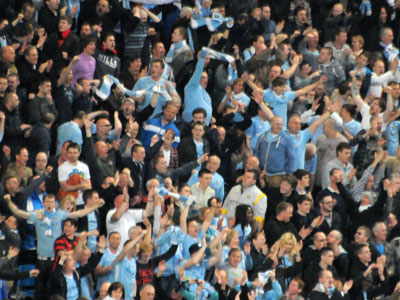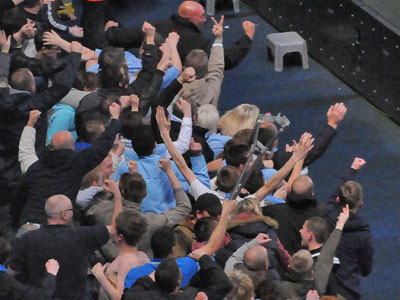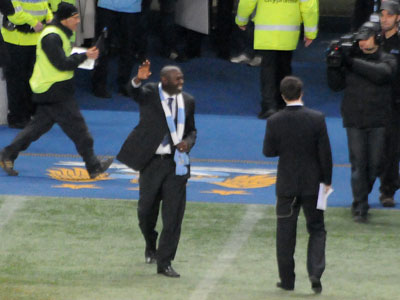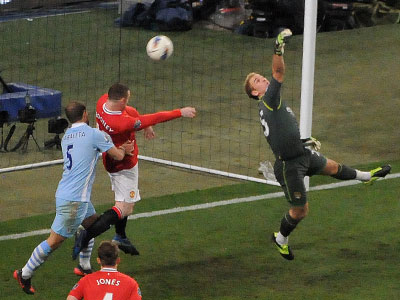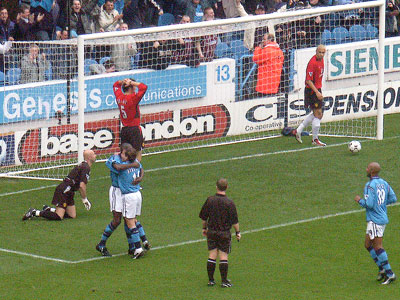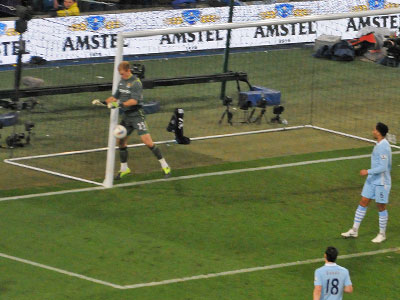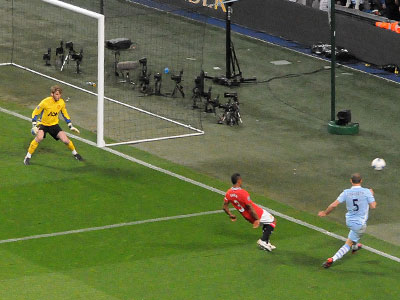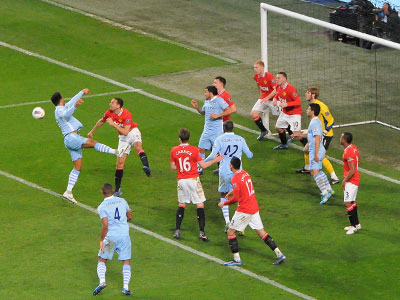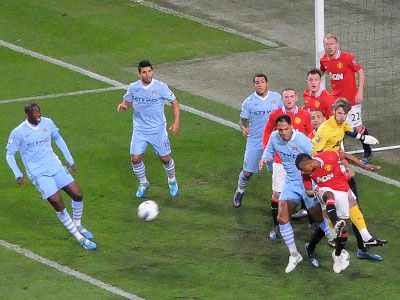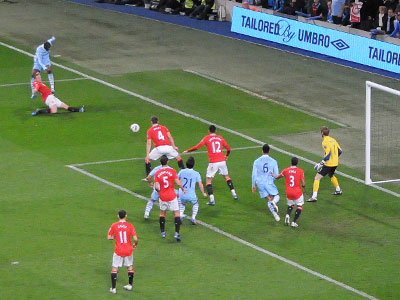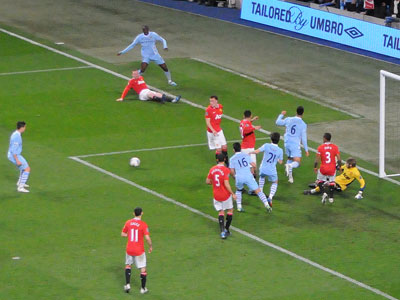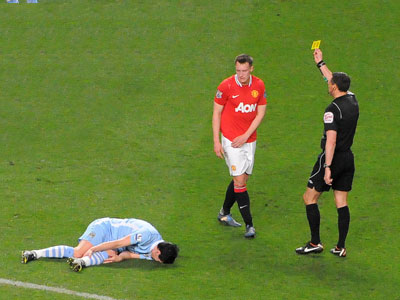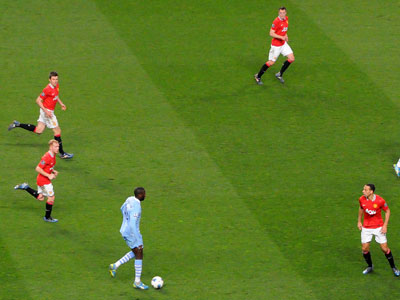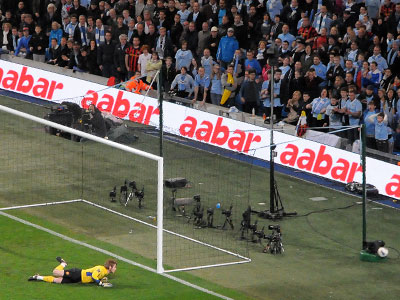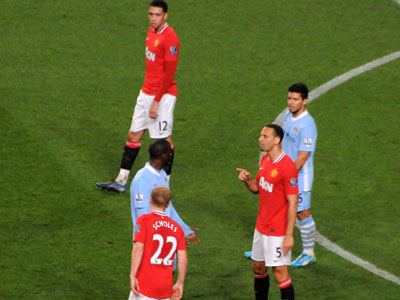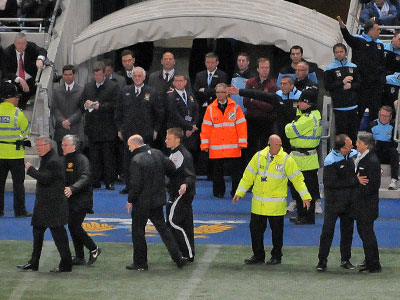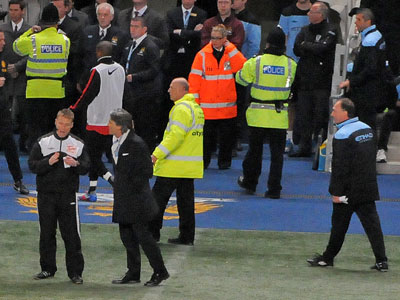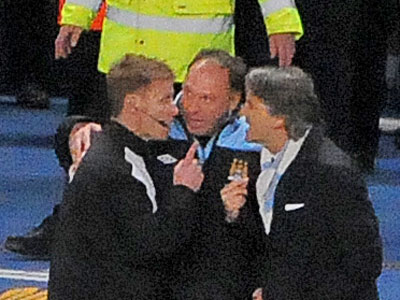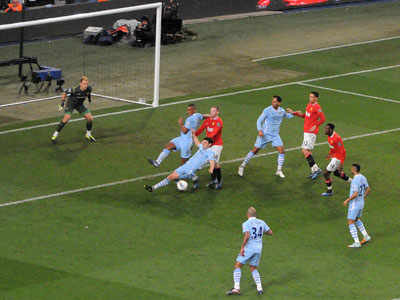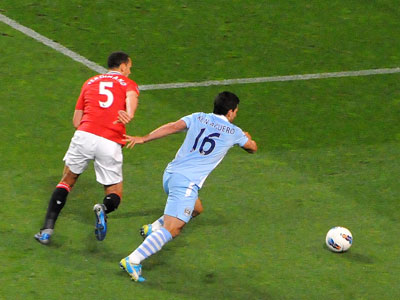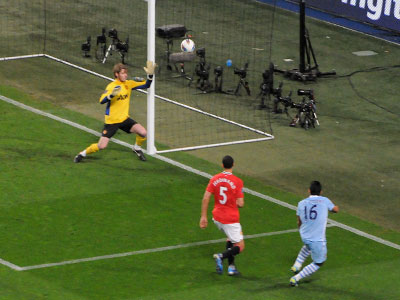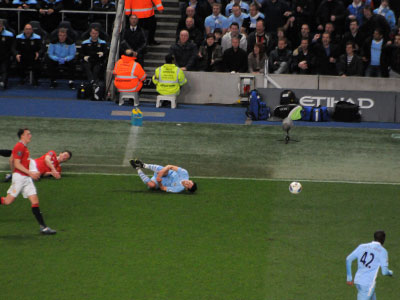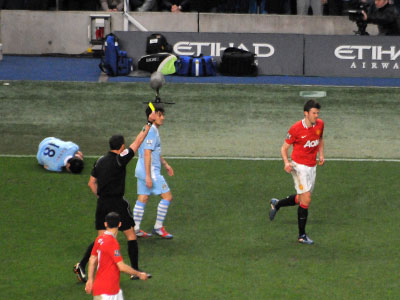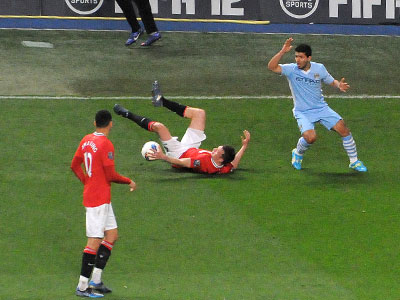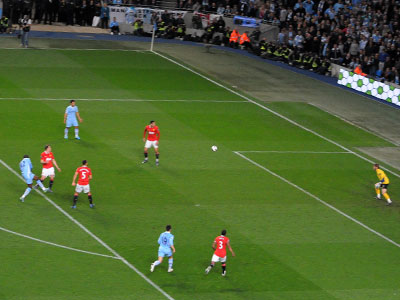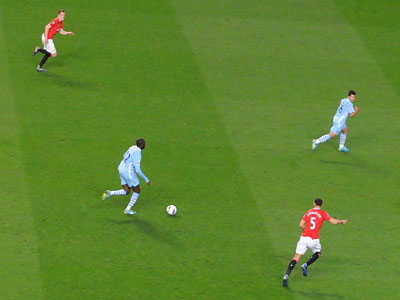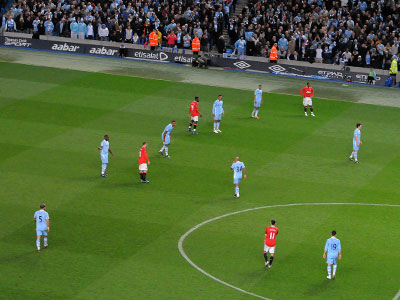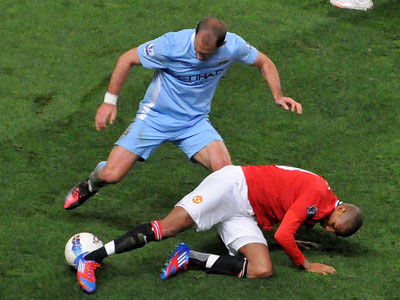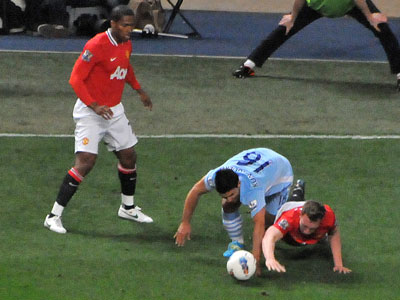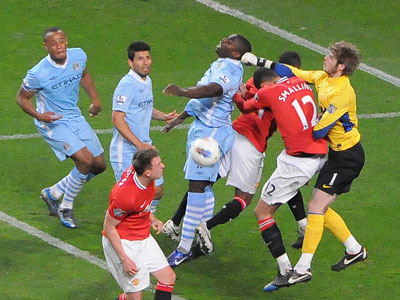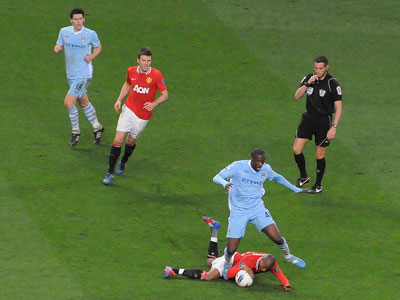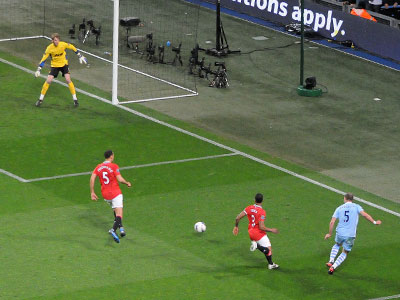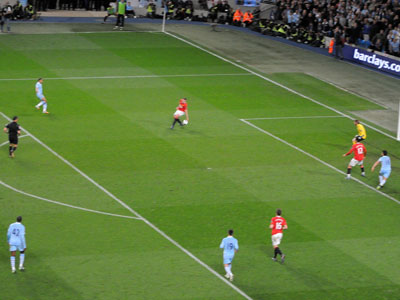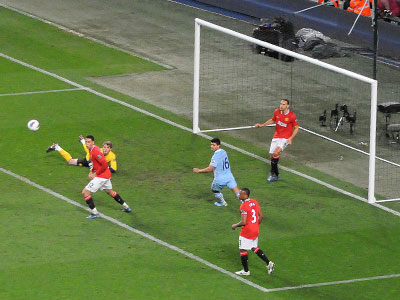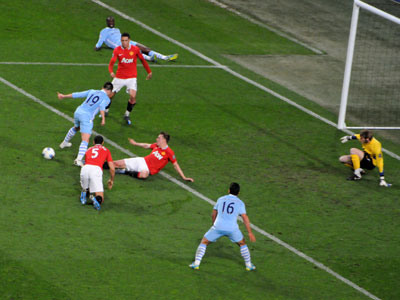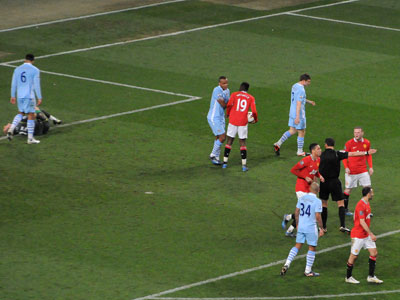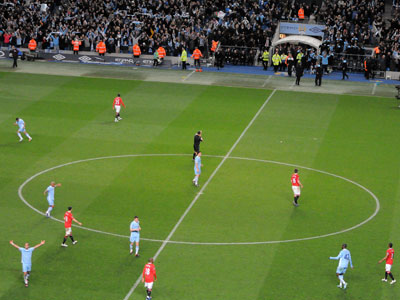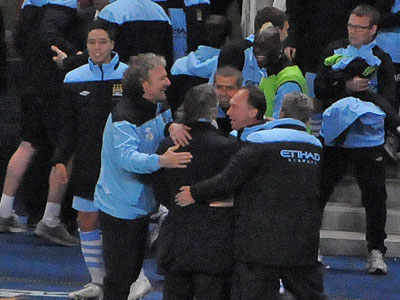 City were unchanged from the side that won at Wolves
The banana made an early appearance
United got an early corner which Hart had to clear despite getting a kneeing from Smalling
City clear another corner
Joe Hart in action again under pressure from Rooney
After early pressure by United City settled and Nasri did well and ....
...put the ball through to Tevez who squared the ball back but Jones cleared for United
A United supporter is discovered in the City section and is lead away to be put away for life -probably!
Sir Alex makes a first stroll to the edge of the technical area
City start to put pressure on the United goal
Aguero has a chance from a narrow angle but shoots well over
The referee has a word with Barry and Kompany.....
..and then has a word with Evra and Rooney
A City attack down the right flank ends with Nasri putting the ball back....
...to Aguero but Ferdinand manages to make him put the shot wide
United manage to clear a corner
Aguero and Zabaleta have a go at the same time!
As Half time approached City piled on the pressure and after one corner they forced another as the seconds ticked away
The corner taken by Silva was majestically headed in by skipper Vincent Kompany. His leap left Smalling for dead and the stadium rocked
It was Kompany's third goal this season and probably the most important of his career.
It was perfect time to score -just before half time
The while stadium erupted and there was certainly no lack of atmosphere
At half time the crowd had a chance to give a cheer to Shaun Goater over from Bermuda.
Who will ever forget his goals in the last derby game at Maine Road in 2002-pic above right
Early in the second half United gave Hart a bit to do
yet another run down the wing by Zabaleta wins a corner for City which is cleared
Another corner for City comes to Yaya Toure.....
....but his shot cum pass is blacked by the United defence
Silva and Tevez clash with Rooney
Jones gets a yellow card for a foul on Barry
Yaya Toure runs at the United defence but his final effort...
Ferdinand has a word with Toure following a foul by Scholes
A foul by De Jong starts a verbal battle between Ferguson and Mancini and 4th official Mike Jones has some sorting out to do. Fortunately we did not have to send for Mr Ricky Hatton
Barry cleared the free kick
Aguero makes a dash for goal....
..ut his final shot hits the side netting
Barry gets fouled yet again -this time by Carrick....
...who gets a yellow card
Aguero is guilty of a foul
Yaya Toure goes on another of his runs but his final shot just goes wide.
After 81 minutes Richards comes on for Silva and City have five at the back!
Zabaleta who had a great game in action
Aguero is fouled and United just manage to clear the free kick
Yaya Toure is pulled up for a foul
yet another good run by Zabaleta ends.....
...with a shot by Clichy which the keeper saves
Then Nasri has a chance but he is crowded out and United clear
As the 5 minutes Fergie Time comes to an end Hart is injured but recovers
Kompany takes the goal kick and the referee blows the final whistle and the City staff congratulate Mancini and we take a major step to winning the league.Wow! What a game and City supporters were singing all the way home
Team
Hart 7: Zabaleta 8, Kompany 9, Lescott 7.5, Clichy 7.5, Yaya Toure 8, Barry 8, Silva 7 (Richards) Nasri 8 (Milner) Tevez 7 (De Jong 7) Aguero 7.5