City 3 Sunderland 3
March 31st 2012 47,007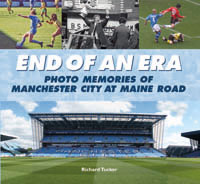 now available from Amazon ( click on image for link)
WH Smith and the City shop
Despite a remarkable late comeback when all looked lost at 3-1 down City failed to hold onto their home winning run and it will be a miracle if they can now win the league. For once our defence looked very fragile and I cannot remember when I last saw us concede three goals at home in the league. With such poor marking Sunderland must have thought Easter gifts had arrived a little early!
I was hoping the return of Kompany would have helped but an early injury to Richards did not help matters and he was replaced at half time by Johnson , Milner dropping back to fullback. The mystery absence of Aguero too did not help - Balotelli and Dzeko leading the attack. Dzeko had a better game of late but Yaya Toure was not his usual self with did not help matters. despite his two goals Balotelli did little and was involved with an argument with colleagues as to the taking of a free kick. Quite extraordinary - and a sign of the pressure the players are under.
After watching Everton beat Sunderland recently I thought we would win comfortably but Sunderland had other ideas and looked the better side in many areas. A really disappointing performance by City.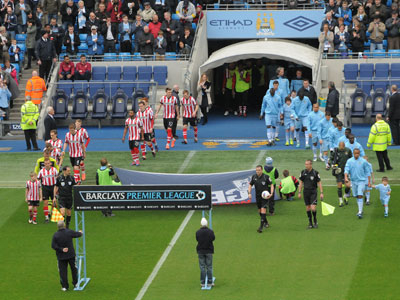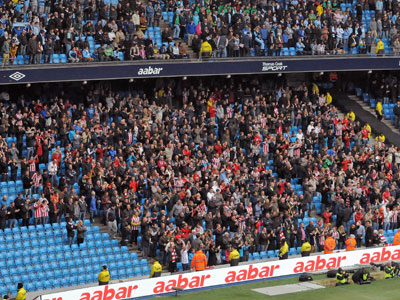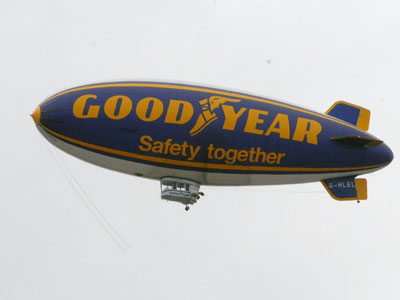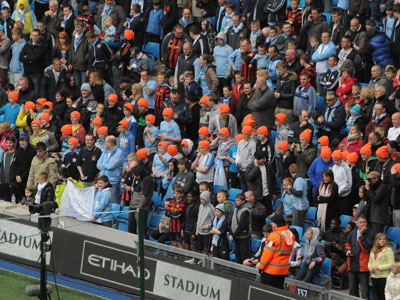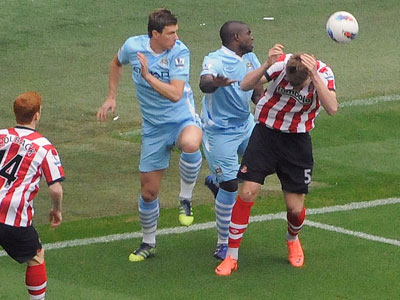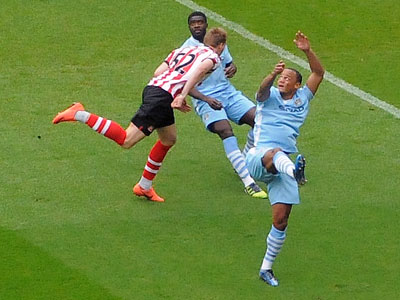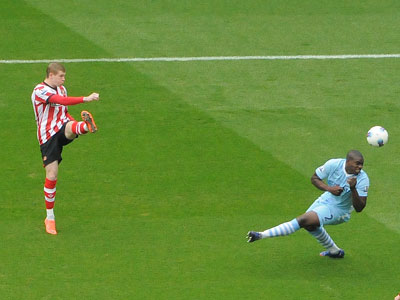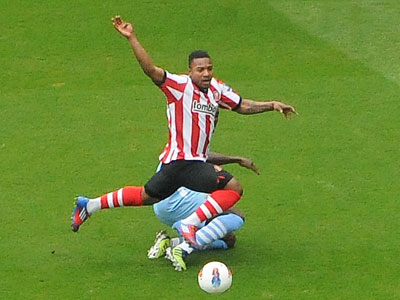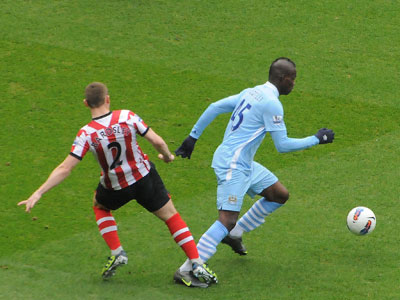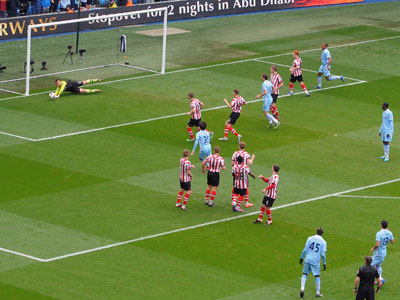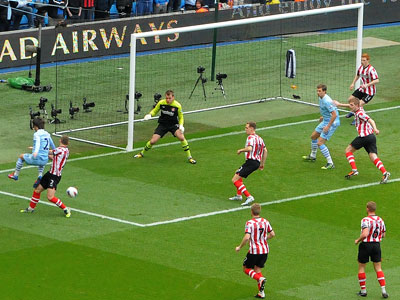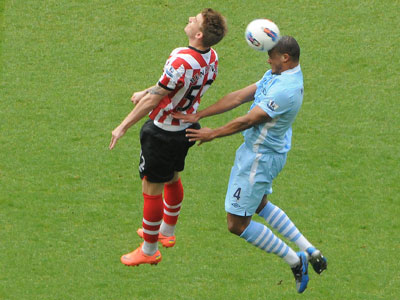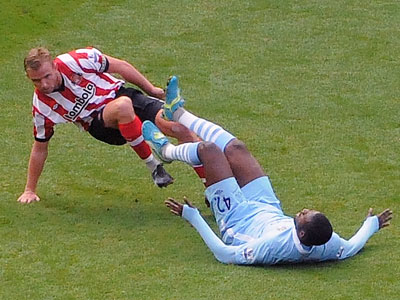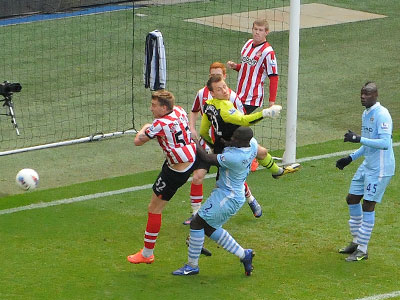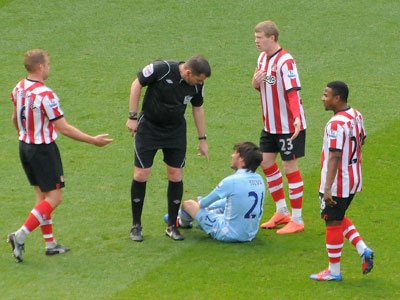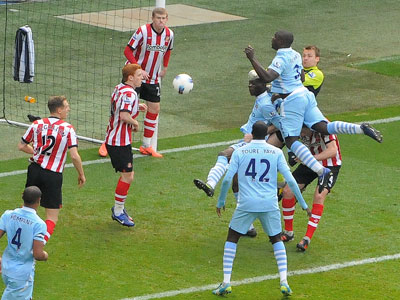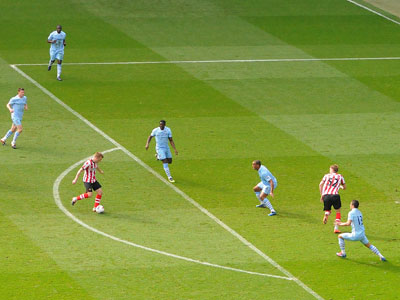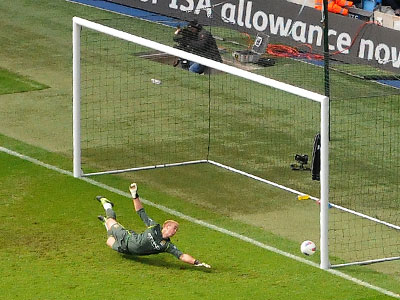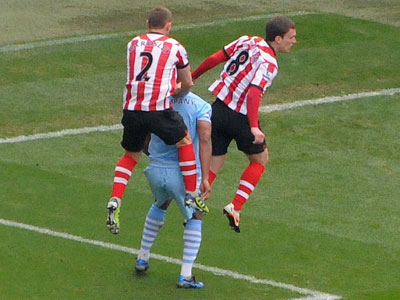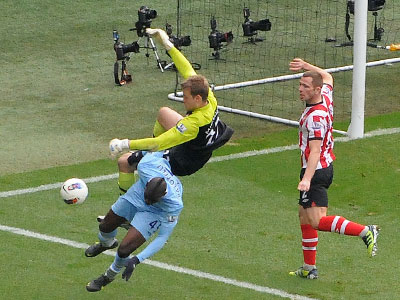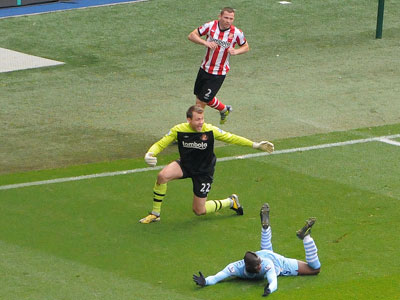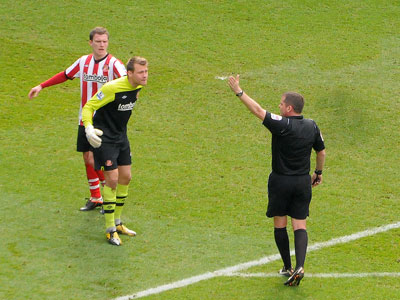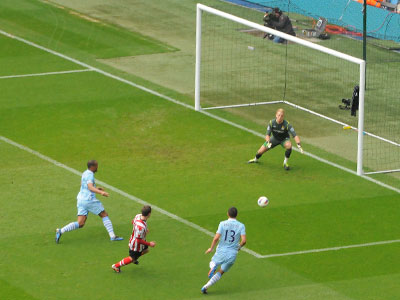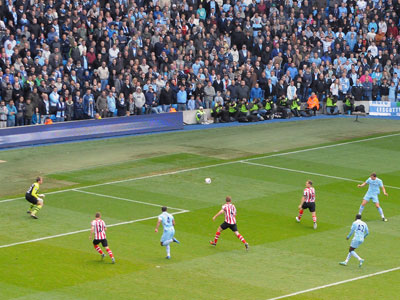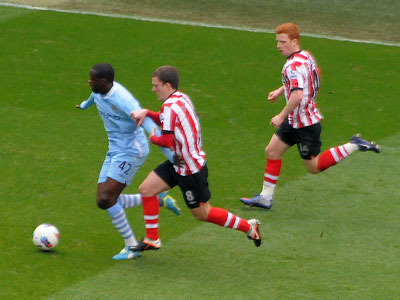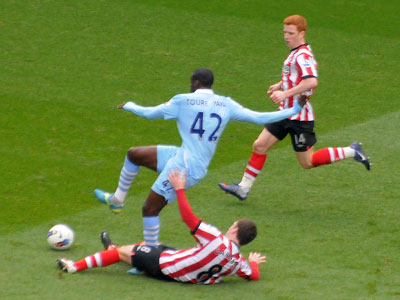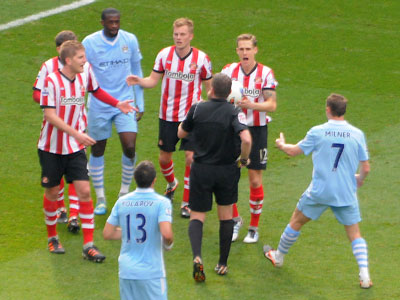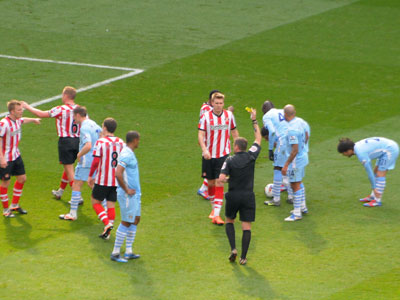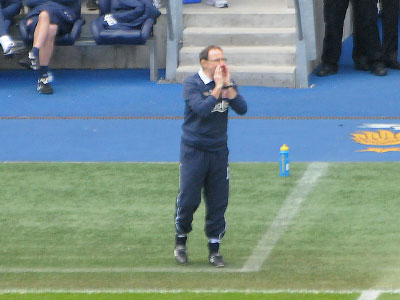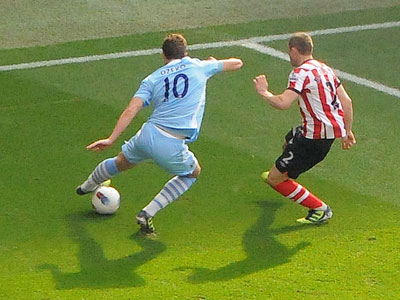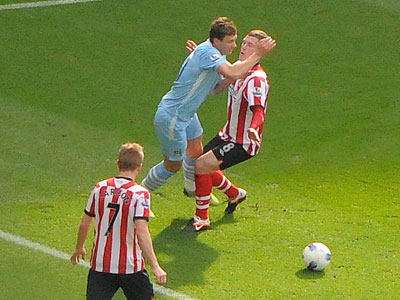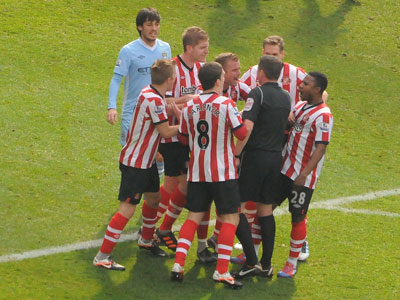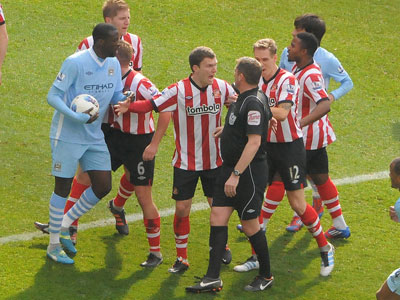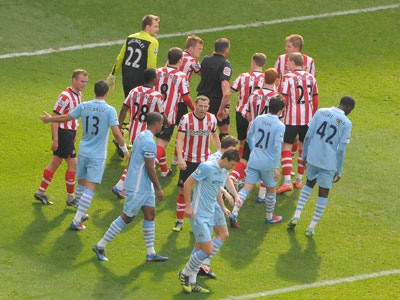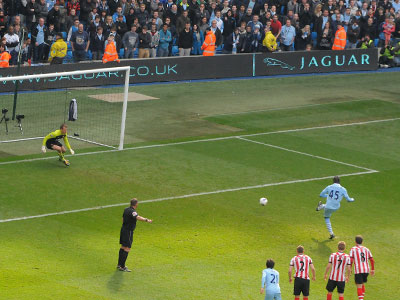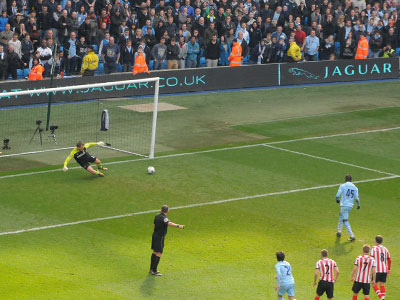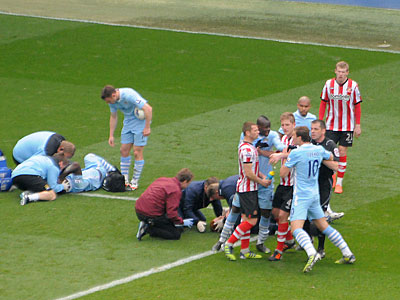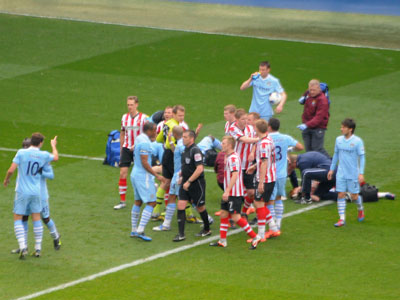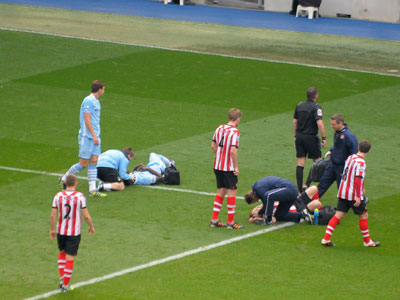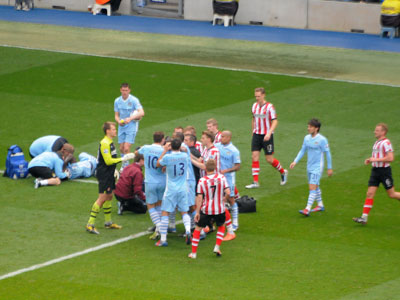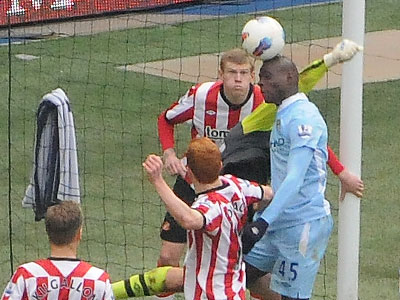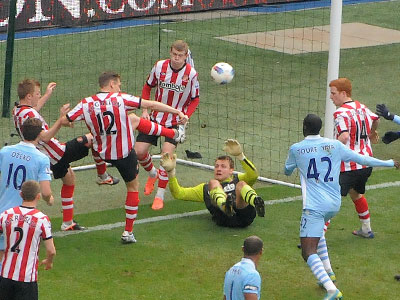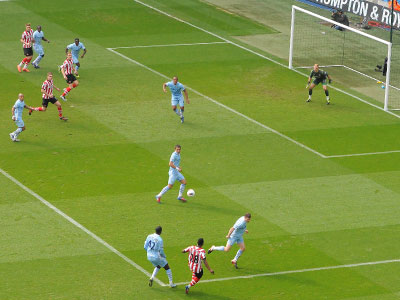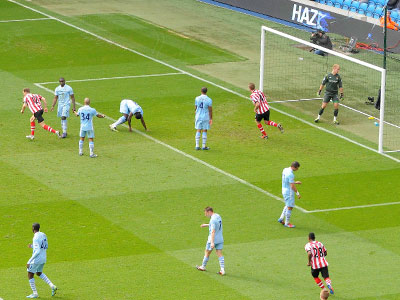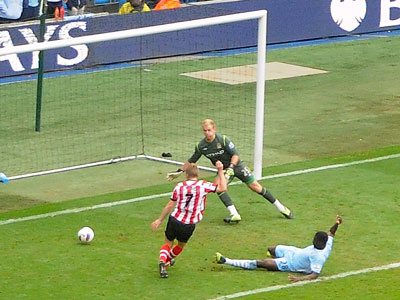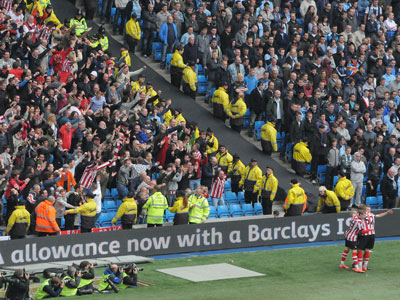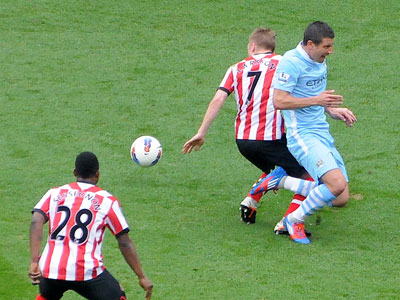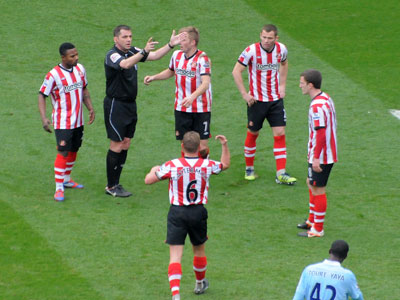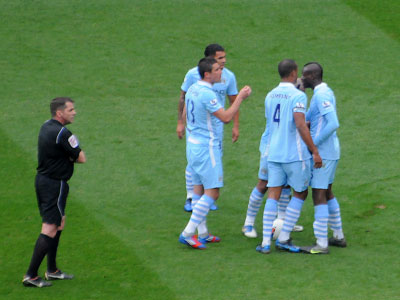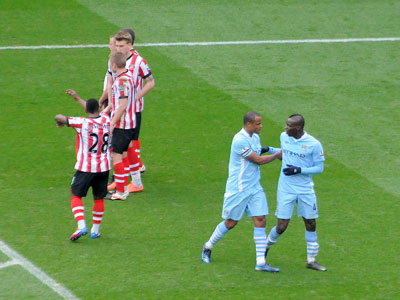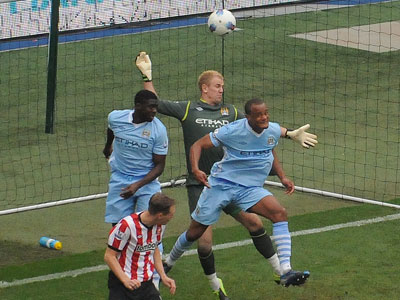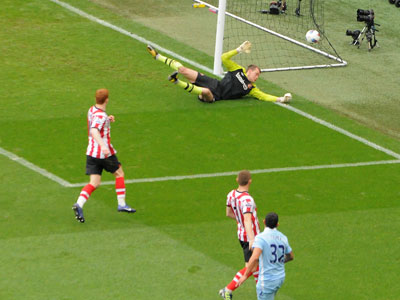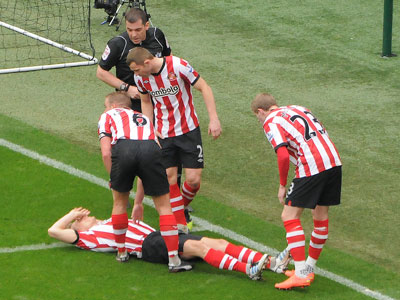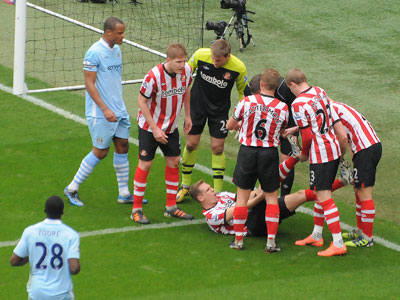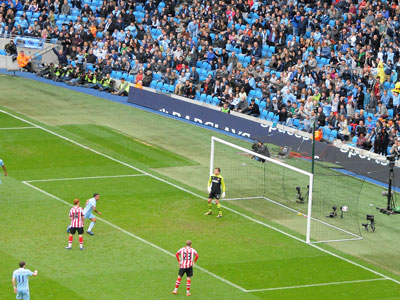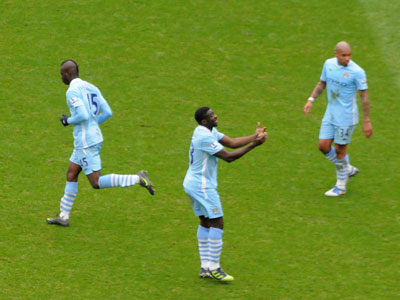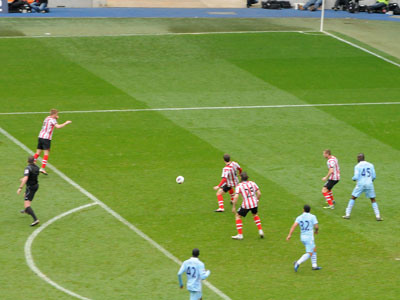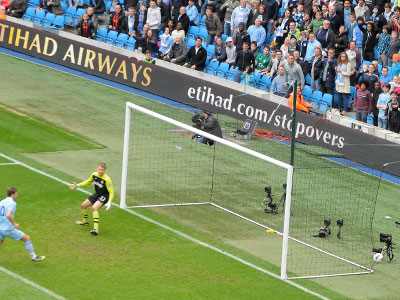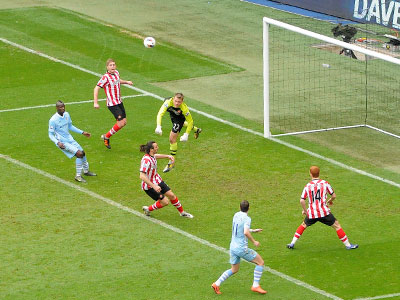 Kompany returned from injury but no Aguero and Nasri was not even on the bench.
Sunderland had a thousand or so supporters
The balloon that was patrolling the sky above the stadium
Not too sure why this bunch were all wearing orange hats
Kompany tries to clear from Bendtner
Richards blocks a Bendtner shot
Good late tackle by Kolo Toure
Bardsley fouls Balotelli and the free kick by Kolarov is well saved by Mignolet
Silva fails to make more from the keepers save of the free kick
Gardner misses a good chance after a good layoff by Sassegnon
Yaya Toure takes a tumble
A good shot by Dzeko is well saved
From the corner City fail to make contact
Silva gets brought down yet again!
City are penalized for a foul on the keeper
It wasn't unexpected when Sunderland took the lead after 30 minutes. Larsson scored with the City defenders standing off and giving him the time to place the ball past Hart
Bardsley uses Kompany's shoulders to gain height!
Balotelli has a close encounter with Mignolet
.... and the Sunderland keeper takes umbrage about the award of a corner
Then it was Yaya Toure's turn to be brought down by Gardner
...and despite the protests Gardner gets a yellow card
Manager O Neill tries to get his message across
Is this a new Mario trick as he goes into orbit!
On 42 minutes Dzeko who was having a better game than of late went down the left wing cut inside but was blocked by Gardner .......
... down went Dzeko and referee Dowd gave a penalty much to the disagreement of the Sunderland players who surrounded the referee
I thought referees were supposed to come down hard on this kind of mass protest but there were no extra yellow cards given out
As expected Balotelli took the kick and once again easily beat the keeper to score his 5th penalty this season and City were level
While two players were having treatment there was a problem between Dzeko and I think Bardsley who had said something to him - no doubt about the penalty
There was even worse to come for City as 9 minutes into the second half Larsson was gifted a goal from a Bendtner cross
The Sunderland goal under pressure at City corners
When the first half had almost reached 49 minutes a cross by Sassegnon was headed past Hart by Bendtner to give Sunderland the lead. As three minutes added time had been shown by the 4th official I wonder where the extra minute had come from
When City were awarded a free kick for a foul on Kolarov we had the amazing sight of Balotelli arguing that he should be taking the kick. Eventually Kolarov took the kick and it went just wide
More pressure on the City goal
Tevez -on for Silva after 58 minutes hits the side netting with his effort
Just as City were about to take a corner a Sunderland player tries to avoid going off the field for the corner
On 84 minutes when all looked lost Balotelli came in from the left and hit a screamer into the net to reduce the arrears
There was no time for celebration and the empty seats showed that many City supporters had left.
A minute later and scores were level when a great shot by Kolarov beat the keeper. Unbelievable- why couldn't city have played like this earlier?
City piled on the pressure in the final few minutes but a draw it ended with United a possible 8 points ahead when we play at Arsenal next Sunday
Team
Hart 5.5: Richards 5 ( Johnson 6) , K. Toure 5.5, Kompany 5.5, Kolarov 6: Milner 5.5 (Pizarro ), Yaya Toure 5, De Jong 5.5, Silva 5 (Tevez 6), Balotelli 5, Dzeko 6.5