City 2 Chelsea 1
March 21st 2012 47,324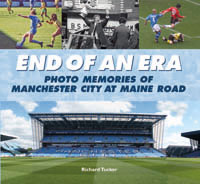 Now available from Amazon ( click on image for link)
WH Smith and the City shop
We knew it was going to be close and in order to keep United on their toes we just had to win this one. When Chelsea took the lead on 60 minutes it looked as though our league championship hopes had gone. On came Carlos Tevez to a 80% positive reaction from the crowd and after the equalizing penalty taken by Aguero Tevez supplied Nazri with a sublime reverse pass to notch the winner. We should have been ahead before half time but Balotelli missed a sitter when through on his own and as he had done little in the first half he was replaced at the interval. Silva too was well off form and he has not been at his best for several games now. He too put one well wide.
Richards, captain for the day was great at the centre of defence where once again we were without Kompany and Lescott. The defence generally did well to keep the Chelsea attack at bay and Joe Hart had few saves to make. Yaya Toure once more showed how dangerous he can be going forward and Nasri probably had his best game for us and it was fitting he should score the winner. This was our 20th home win on the trot and a record for the Premiership and only the fourth in the top flight of the football league. Long may it continue.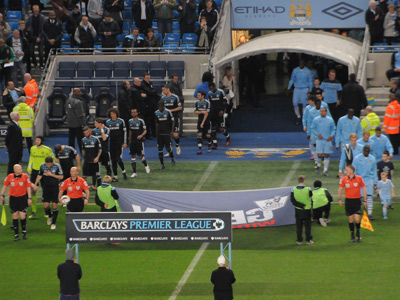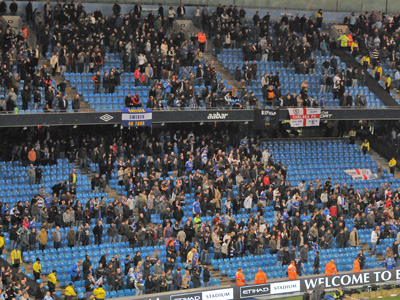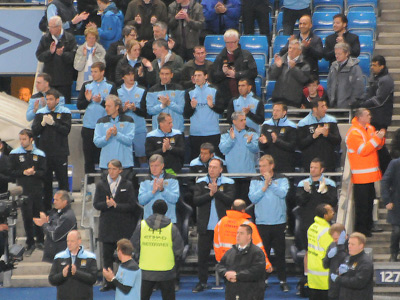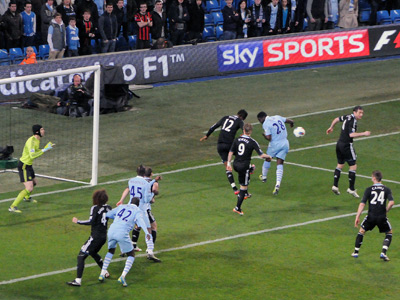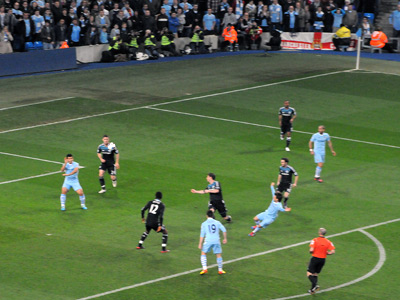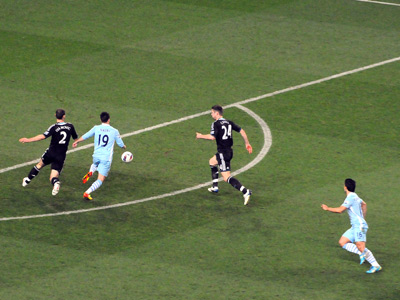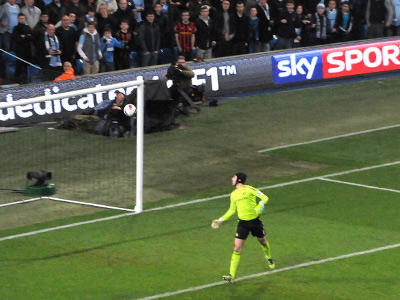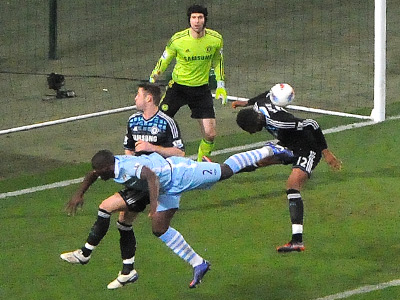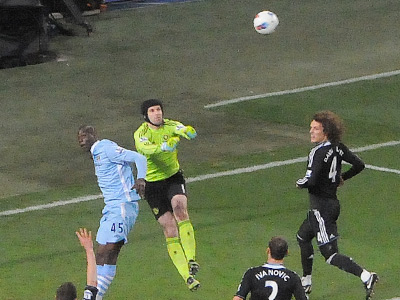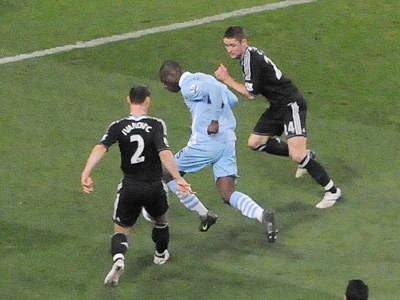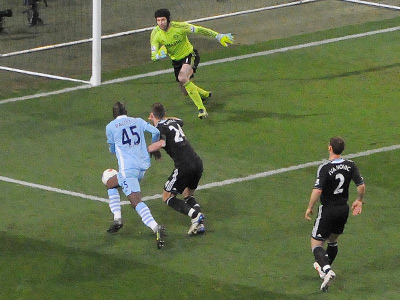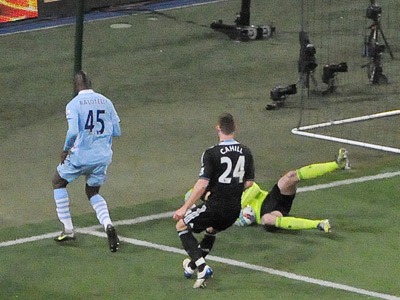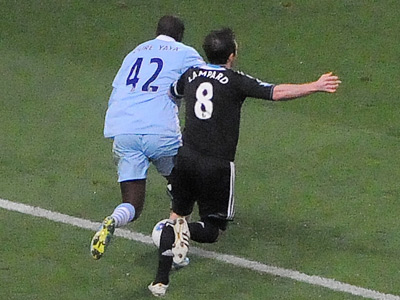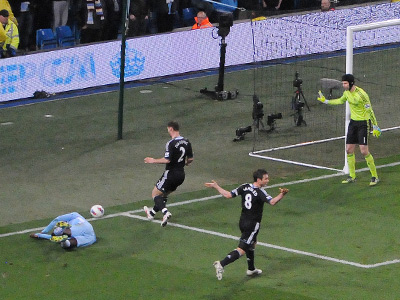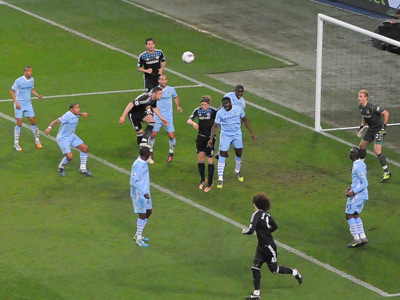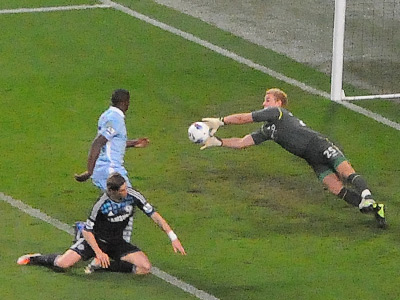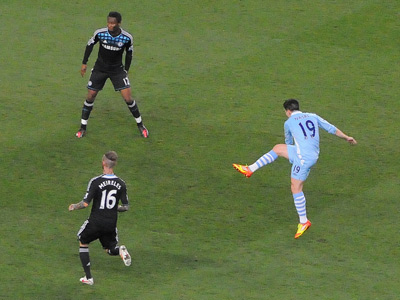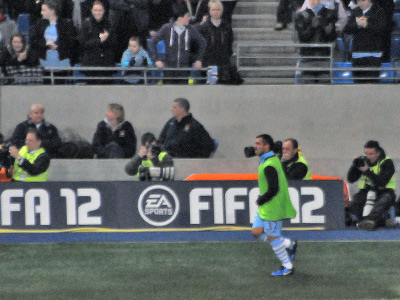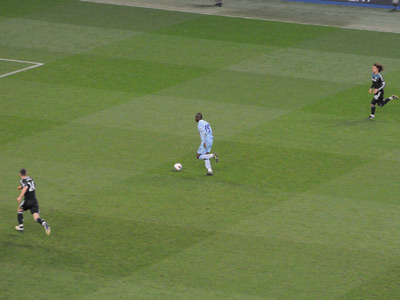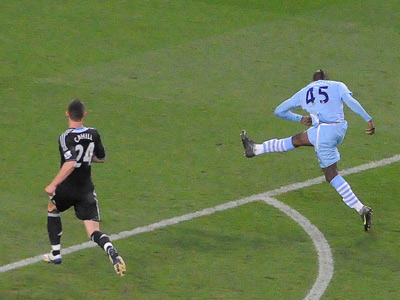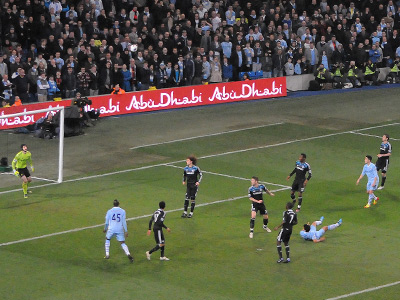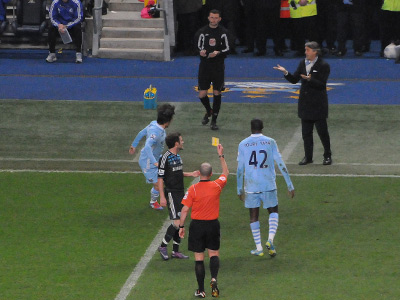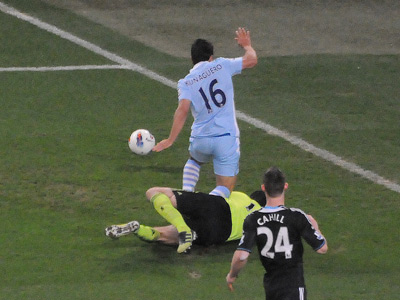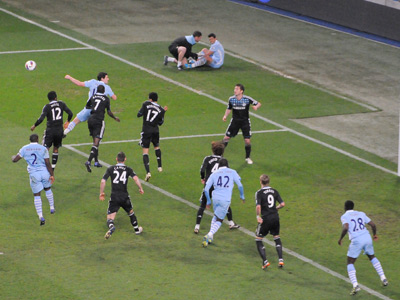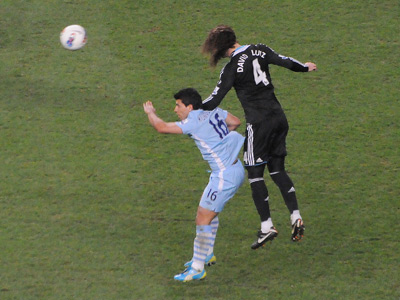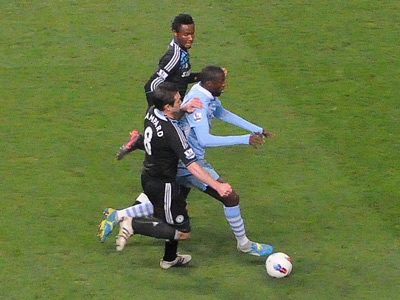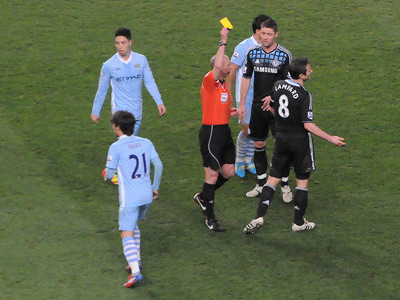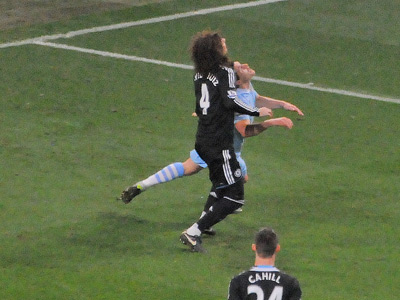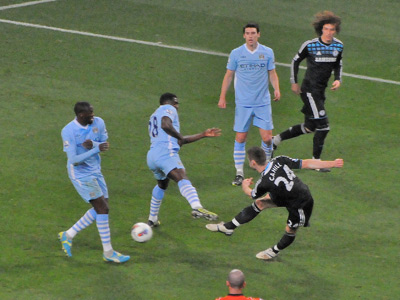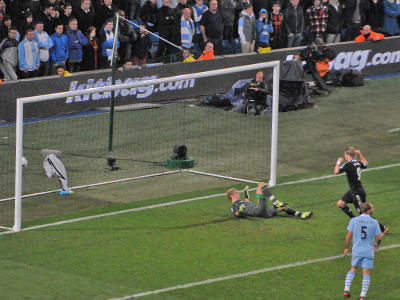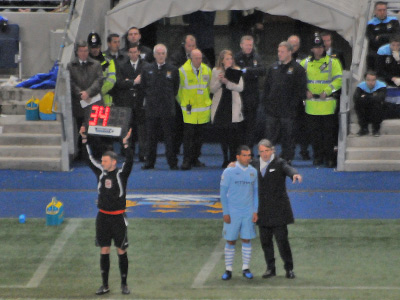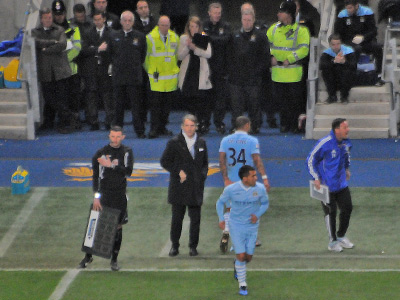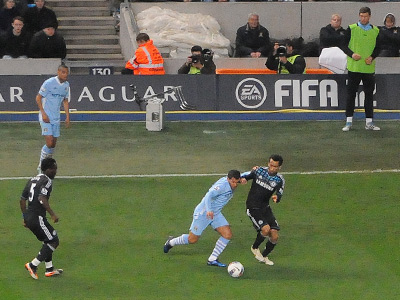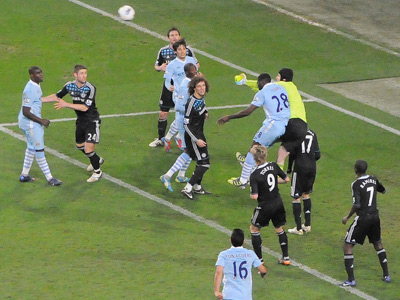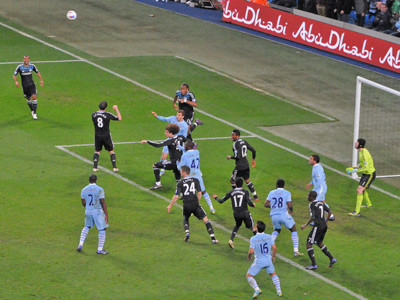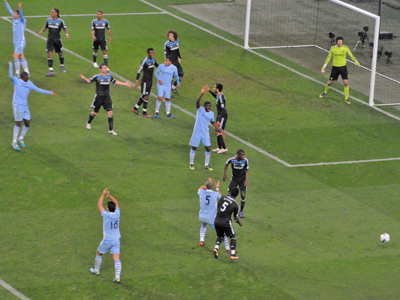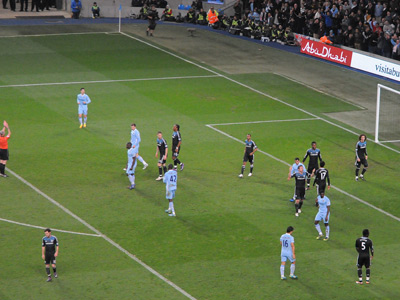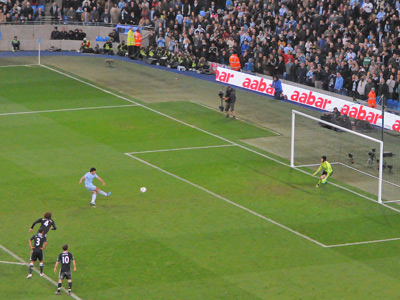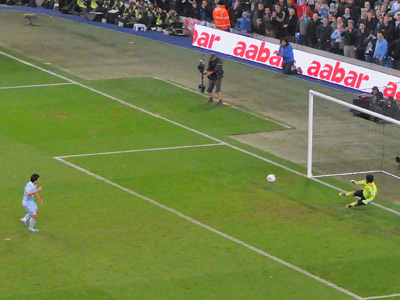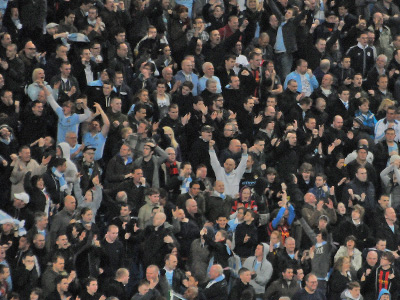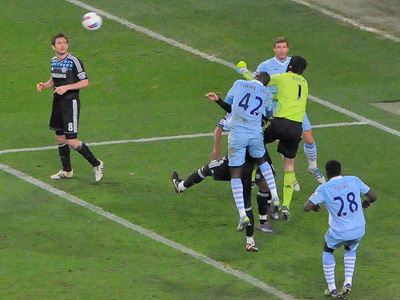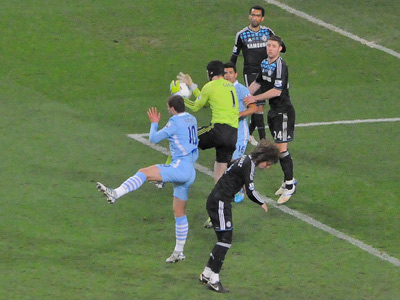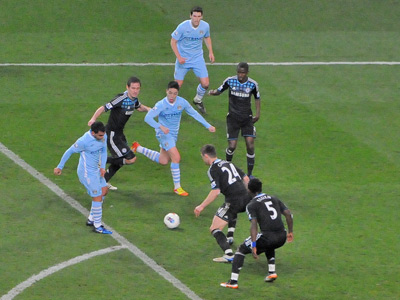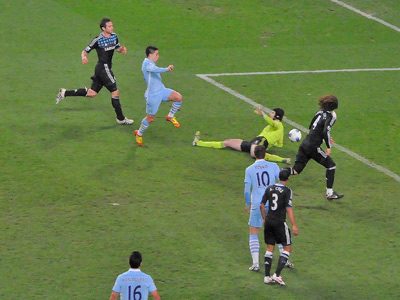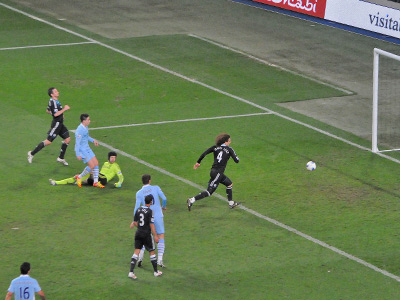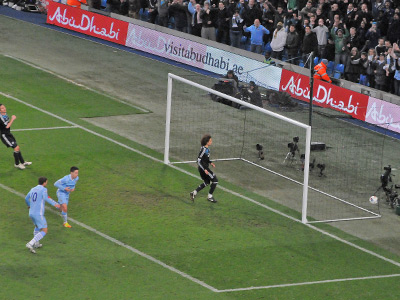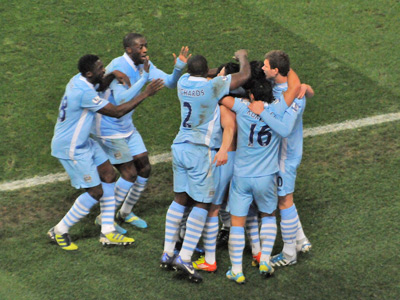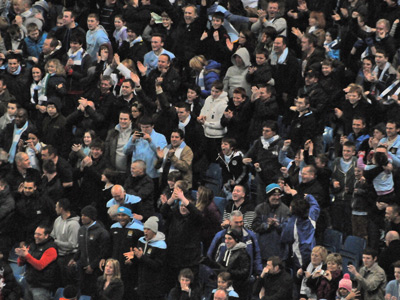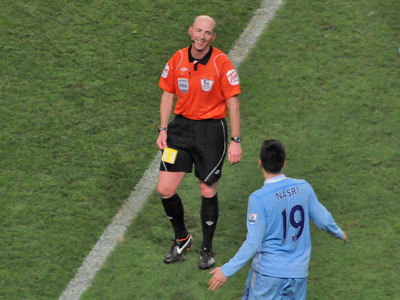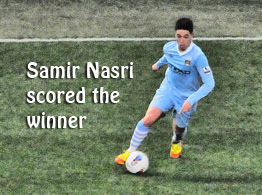 Team
Hart 6.5: Zabaleta 7.5, Richards 8, K.Toure 7, Clichy 7.5, De Jong 7,( Tevez 7) Yaya Toure 8, Nasri 8.5, Silva 5.5 ( Dzeko), Balotelli 6 ( Barry 7) Aguero 7
Tevez was on the bench his first appearance since September. Richards was at centre back and Zabaleta returned from injury
Chelsea had a fair following considering it was midweek and on Sky TV
Tevez joins in the applause for Muamba
City made the early attacks and soon got a corner
Silva shoot over when well placed after taking a pass from Zabaleta
Nasri takes a good pass from Yaya Toure and shoots.....
...but his effort hits the bar with Cech well beaten
Richards in action at a corner
Cech punches clear at a corner
Balotelli breaks through......
.... but he loses control and Cech saves easily
City might have had a penalty when Yaya Toure broke through and Lampard appeared to give him a push but the referee waved play on
Joe Hart was rarely troubled by the Chelsea attack in the early stages
On 26 minutes Nasri tried to surprise Cech with a shot from long range but it went over the bar
A few minutes later Tevez came out to warm up....
.... and a dreadful mistake by Lampard gave the unmarked Balotelli a great chance but he failed to beat the keeper when he should have cored
Aguero tries an overhead shot but fails to hit the target
Just before the interval Mata got a yellow card for a foul on Yaya Toure
Aguero goes on a lone attack and is injured following a clash with Cech
He watches as yet another City corner is cleared
Luiz heads clear from Aguero
Yaya Toure is brought down by Lampard who gets a yellow card
On 60 minutes Chelsea win a comer and it looked like Barry was fouled by Luiz......
.... and the loose ball was picked up by Cahill who shot and the ball was deflected by Toure and past Hart to give Chelsea a surprise lead
It was time for action so on came Tevez to a mainly positive reception by City supporters.
Cech punches away a City corner
After 77 minutes a corner for City ran to Zabaleta who shot fiercely at goal but Essien had both hands in the air as the ball hit them and a penalty was the result
As Essien was quite near to she shot I have these turned down but both Linesman and Referee Dean signaled a penalty and Aguero took the kick.....
..... sending Cech the wrong way and the City faithful were happy and not a Poznan in sight!
City now piled on the pressure giving the Chelsea defence plenty to do
With just five minutes to go Tevez supplied Nasri with a great pass and Samir Nasri shot past Cech.....
.... to score the winning goal and keeping City's chances for the title alive
As the City players celebrated you just new Tevez was going to play some part in this victory
As the City supporters celebrated referee Dean was very apologetic in giving Nasri a yellow card for taking off his shirt in celebration