City 2 Bolton 0
March 3rd 2012 47,219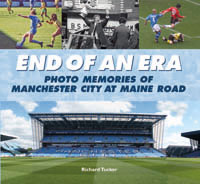 Now available from Amazon ( click on image for link)
WH Smith and the City shop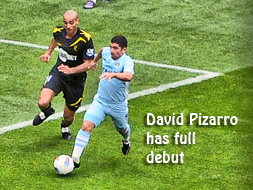 City could have won this game by five or six goals had chances been taken by Balotelli. Two good chances were wasted in the first few minutes but in the end it was yet another easy win at home where City have an amazing record this season.
This win was City's 19th consecutive home win equaling United's existing record.
Bolton played better than Blackburn,City's last visitors here but still only gave Joe Hart one difficult save to make all match.
Even without both Silva and Aguero (both on the bench resting) City often dominated the game their passing being of a high standard though occasionally a pass in defence went very near opposition players - too close for comfort. Pizarro looks very comfortable in the centre of the park pushing passes in different directions - could he be a new Benarbia?
Balotelli worked hard and might have had two penalties but I think he goes down too easily and referees give the benefit of the doubt to defenders. Today Clattenburg tried to keep the game flowing and it was good to see no yellow cards given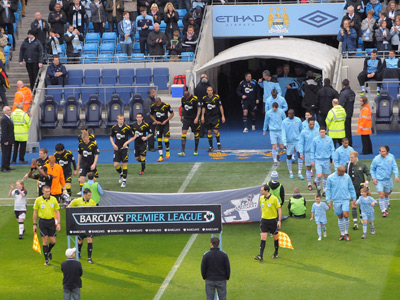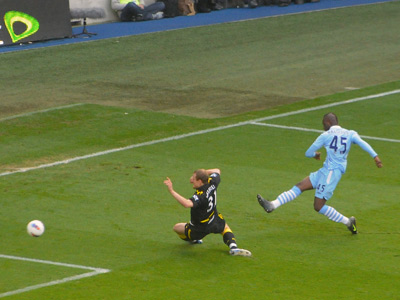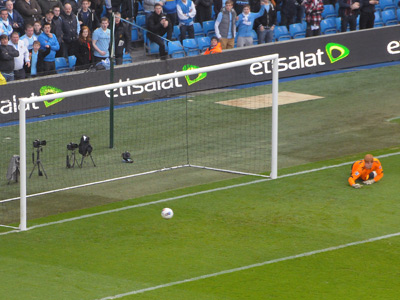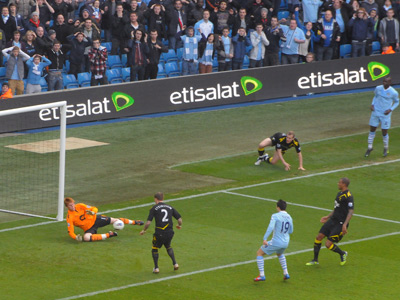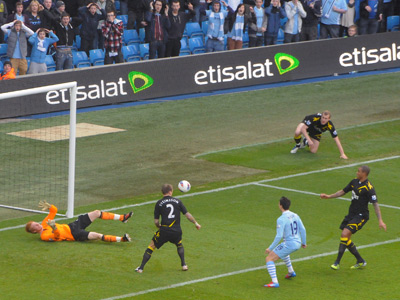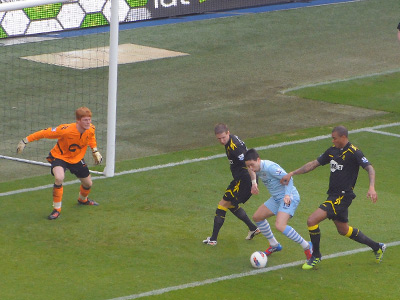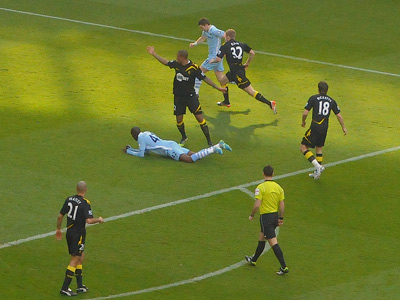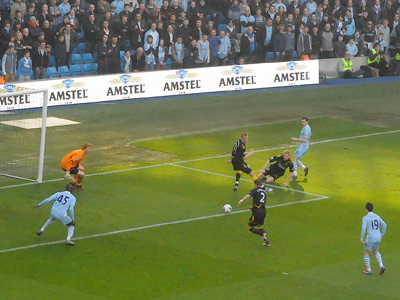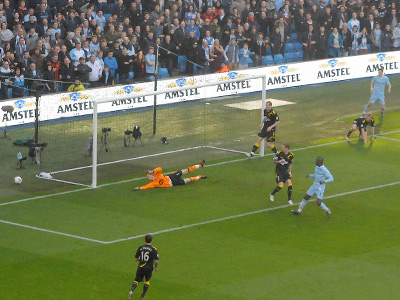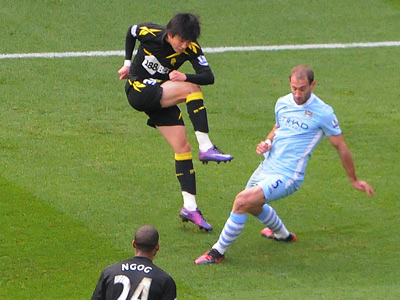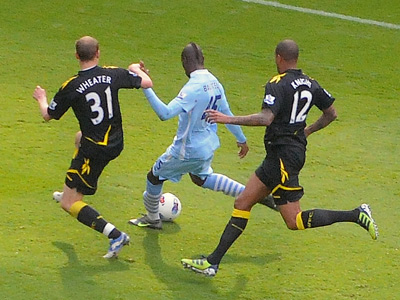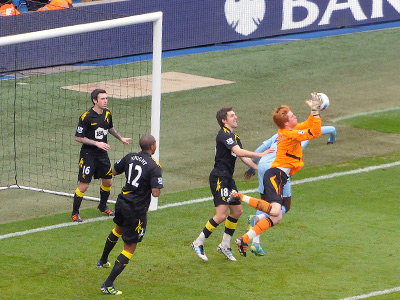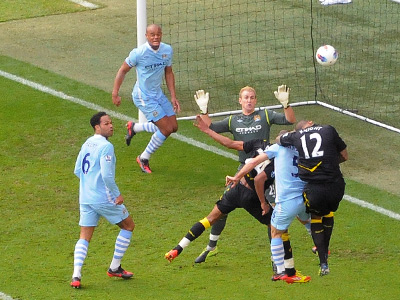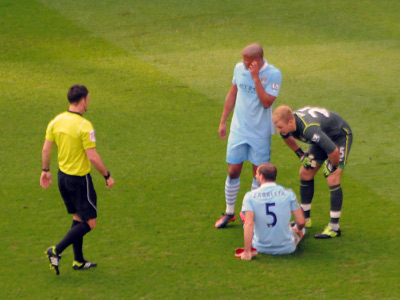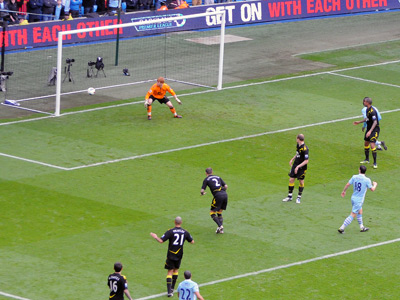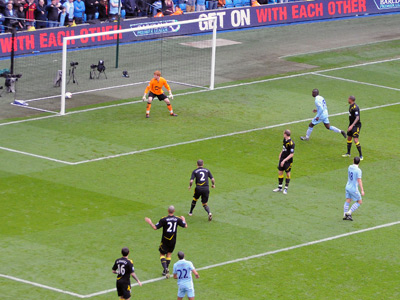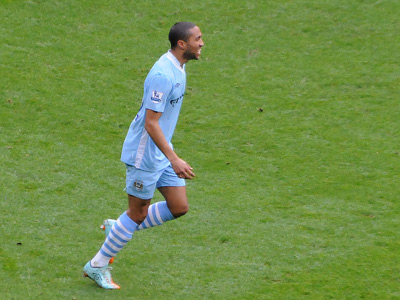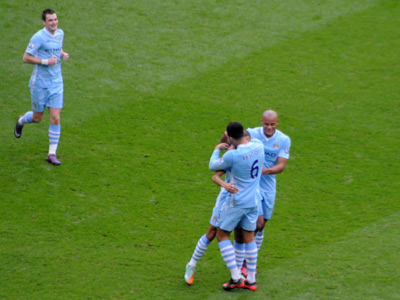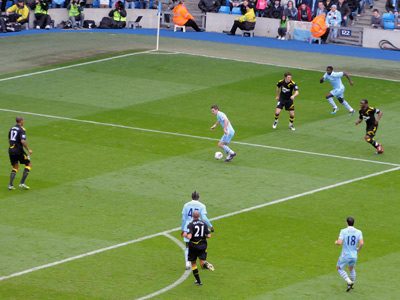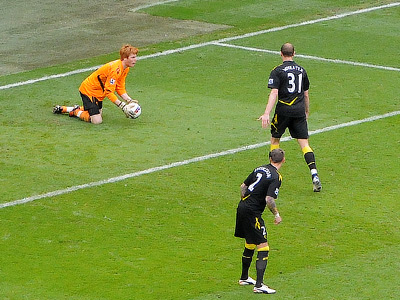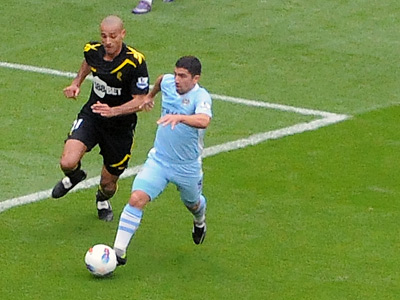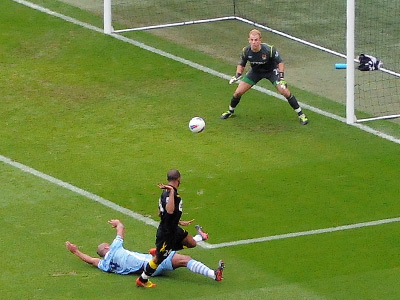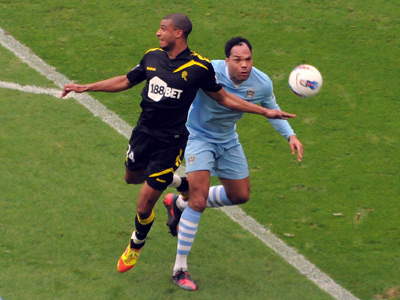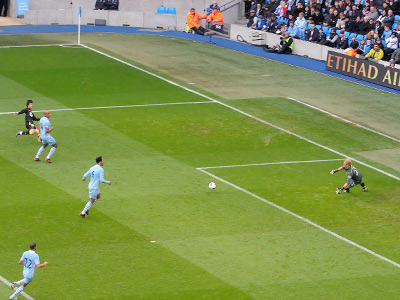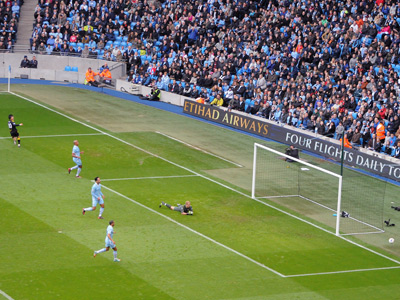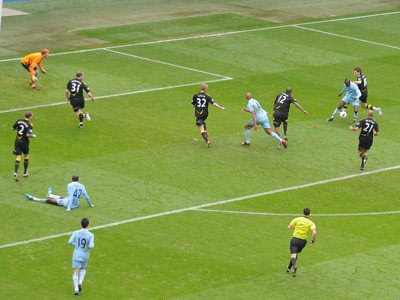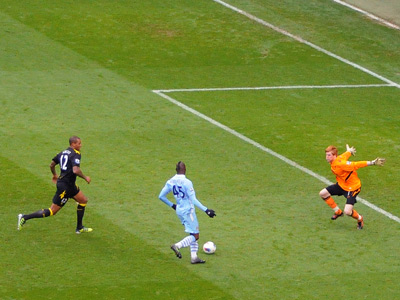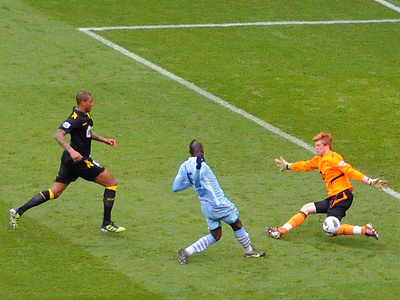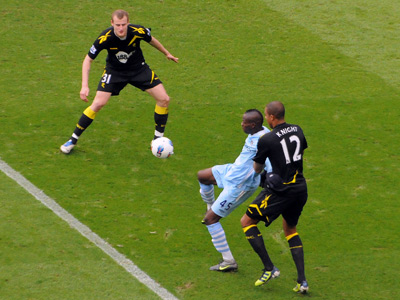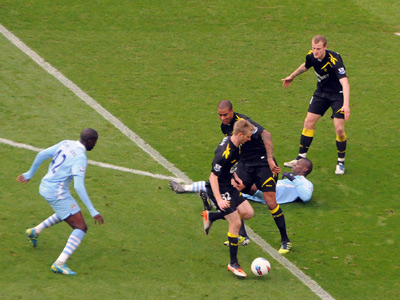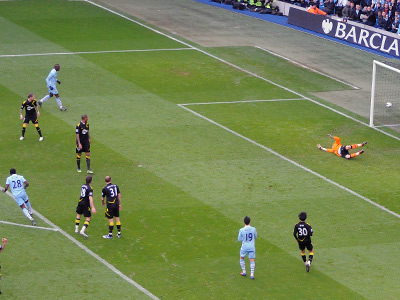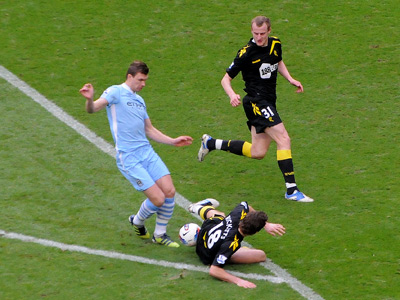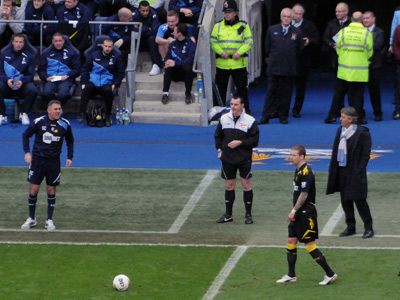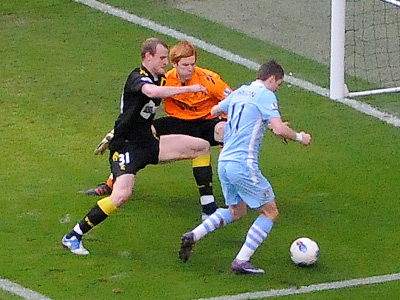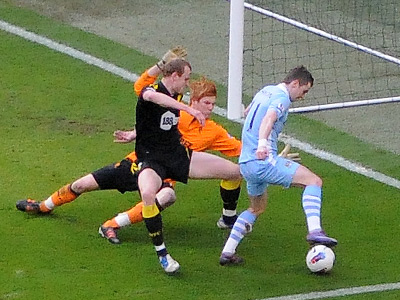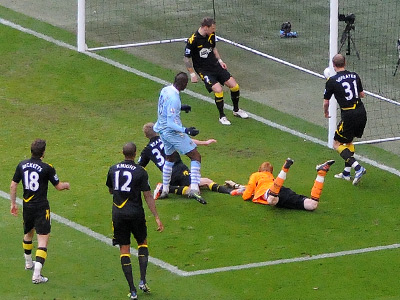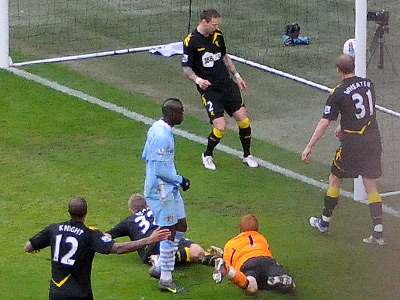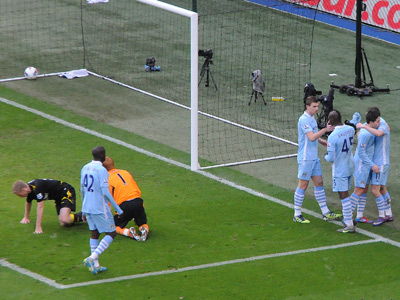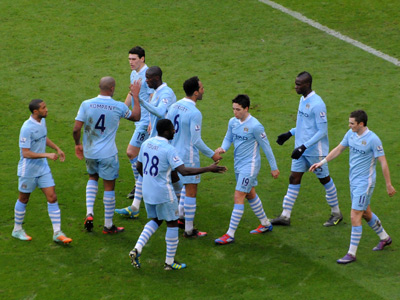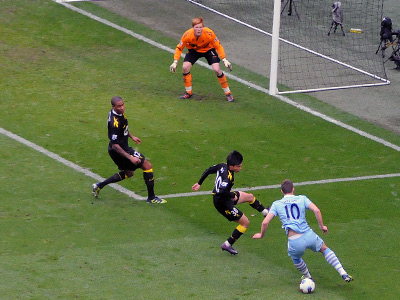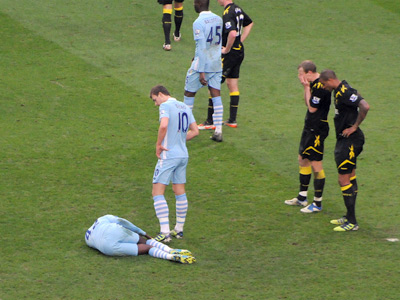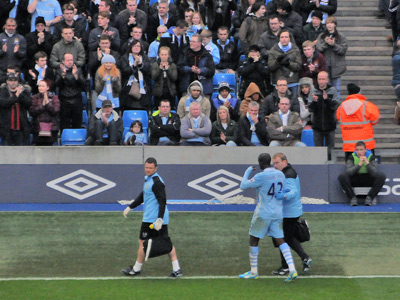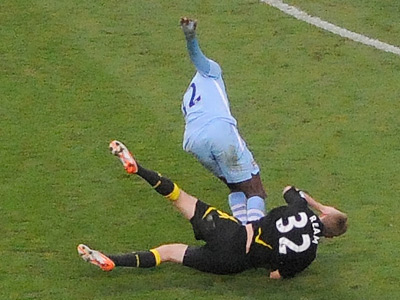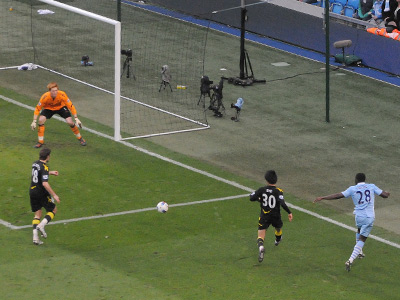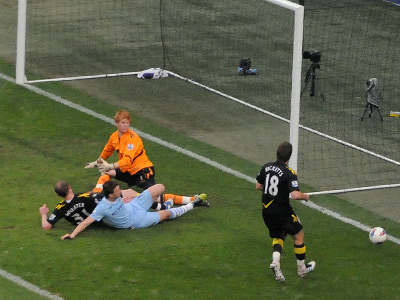 City made several changes with Pizarro making his full debut
In the second minute Balotelli took a great pass from Yaya Toure and shot but......
.....the ball hit the post and ran out to Nasri whose shot hit keeper Bogdan ....
and rolled out again but Bolton managed to clear. Nasri should have made no mistake
Shortly after Bolton were lucky to escape when Balotelli was held in the box
Good work by Johnson gave Balotelli a chance.......
...but he put an excellent opportunity wide
After 12 minutes Balotelli shot over from a promising position when put through
Bolton's keeper was kept busy here saving from a corner
City were rarely troubled by Bolton but in one attack Zabaleta was injured and had to be replaced by Kolo Toure his first appearance since early January
On 23 minutes City took the lead when a good shot by Clichy who has yet to score for City was deflected by Steinsson past his own keeper so it will probably go down as an own goal! They all count however.....
.... and so a delighted Clichy put City one up
City continued to attack and when referee waved play on to give City the advantage the move ended with a shot by Johnson but...
A slip by Kolo Toure let in Miyaichi but a fingertip save by Hart saved the day for City
and a foul on Pizarro just outside the area gave City an opportunity but the free kick taken by Balotelli went over the bar
Bolton did put some pressure on the City defence but Kompany and Lescott held firm and City kept their lead
...it ended with an easy save by the Bolton keeper.
The unassuming Pizarro making his full debut was playing well in mid-field
The very busy Balotelli was upended in the area by Knight but no foul was awarded
a great run by Yaya Toure ended with......
... a great save by Bogdan from who else but Balotelli
a wonderful through pass by Gareth Barry gave Mario yet another chance but he shot against the keepers legs. Would we ever score a second?
Knight was lucky a second time to escape a penalty when he held Balotelli after 50 minutes.
Kolo Toure shoots just wide from just outside the penalty area after 60 minutes.
After 61 minutes Dzeko came on for Pizarro and almost caused an own goal but manager Mancini still looks very pensive waiting for the clinching goal
On 68 minutes Adam Johnson went on a run down the right wing and got to the goal line where he back heeled the ball......
....to a waiting Balotelli who notched his 14th goal of the season from close range
It was congratulations all round and game over as I did not see Bolton coming back from this
Dzeko gave the Bolton defence new problems
Yaya Toure went on a run but was brought down and looked worse for wear.....
...and when he went off we wondered whether the injury was serious but moments later he was back on the field and causing havoc in the Bolton defence!
in the final minutes Kolo Toure went on a run and it was only a last ditch tackle by Wheater saved another goal as Dzeko went in for the kill
Team
Hart 7: Zabaleta 6 ( K. Toure 7.5) Kompany 7, Lescott 7, Clichy 7: Pizarro 7 ( Dzeko) Barry 7.5, Yaya Toure 7.5, Nasri 7 ( Milner) Johnson 7.5 Balotelli 7.5