City 1 Dynamo Kiev 0
March 17th 2011 27,816
Europa Cup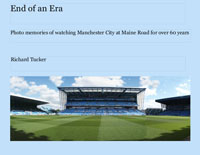 My book 'End of an Era' containing photo memories of days at Maine Road is now available from Blurb.com.
There are over 300 images on 200 pages.
Click on the image for details

City were let down by Balotelli who was sent off for a stupid and unnecessary high tackle after 35 minutes reducing the sky blues to ten men for the rest of the game. A fortunate goal by Kolarov after a goalkeeping error minutes later gave City a chance and although City were a man short they dominated the game but failed to score the second goal which would have led to extra time and maybe penalties.
So we are out of the Europa Cup but maybe it's a blessing in disguise! To finish in the top 4 of the Premiership is more important and there is a possible FA Cup appearance providing we can beat the other Manchester team in the semi! The ten men were heroic and the visitors were lucky to survive the pressure City put on their defence. The referee was not all that good and he dished out 8 yellow cards in addition to the red.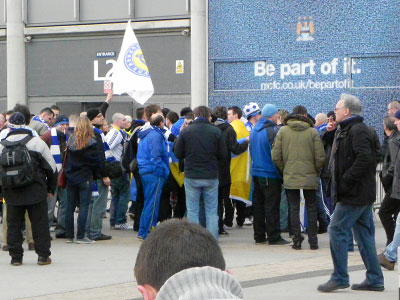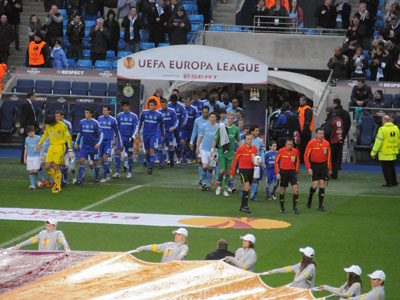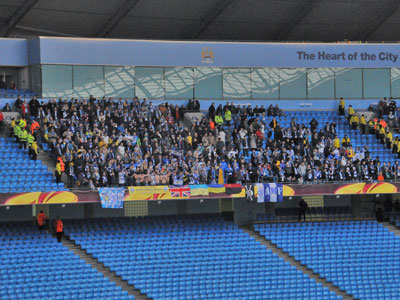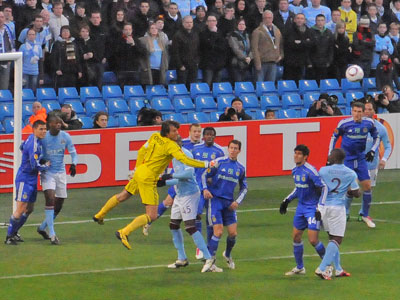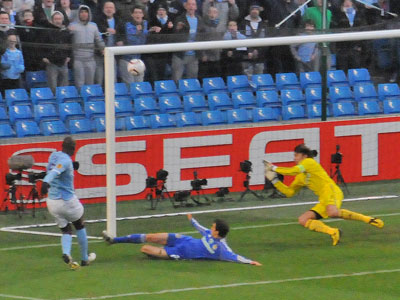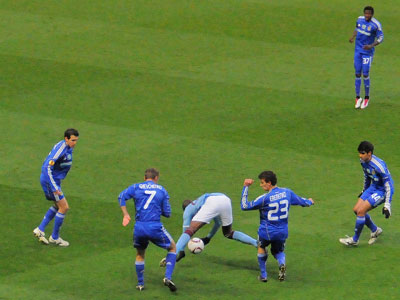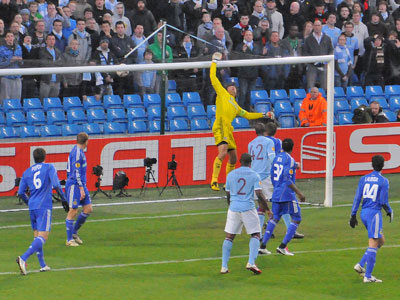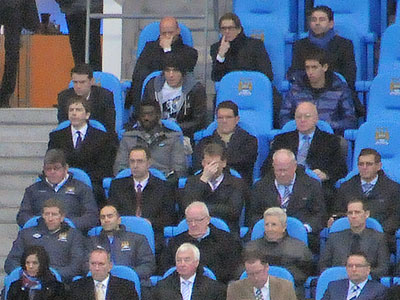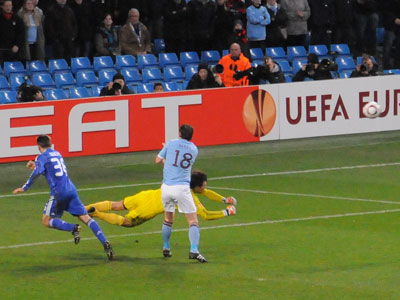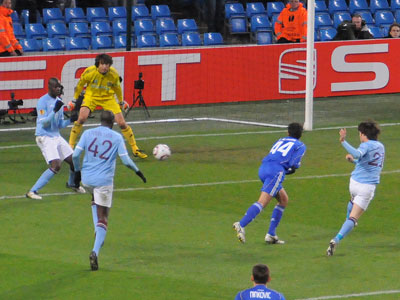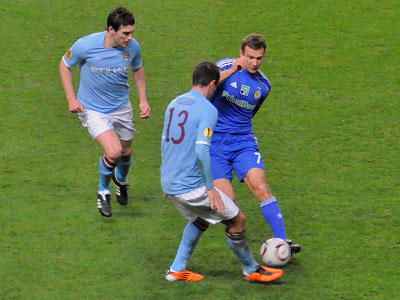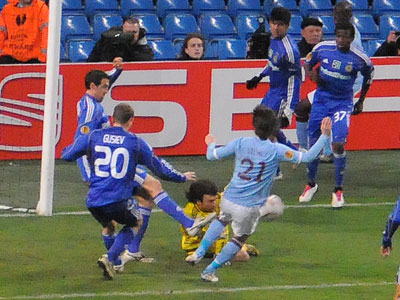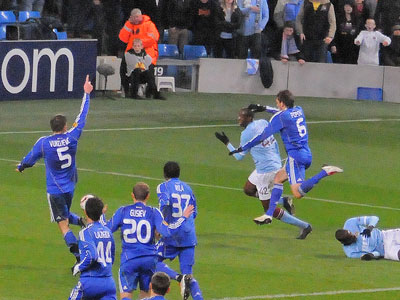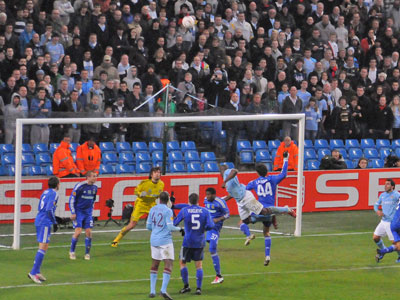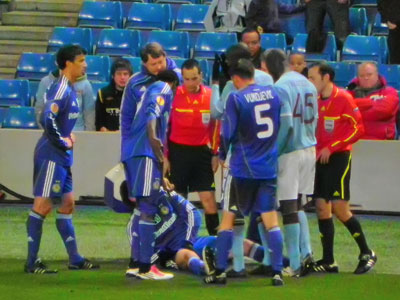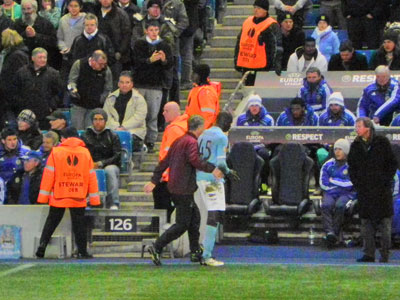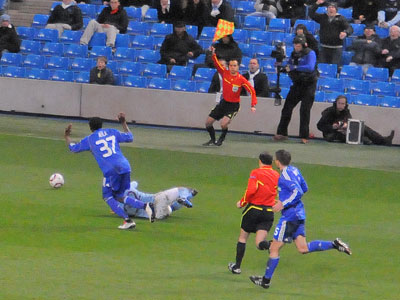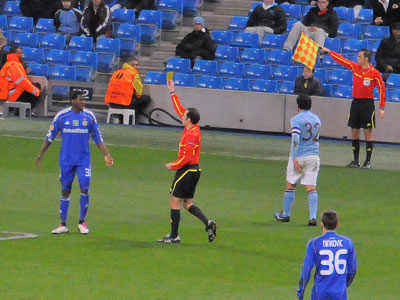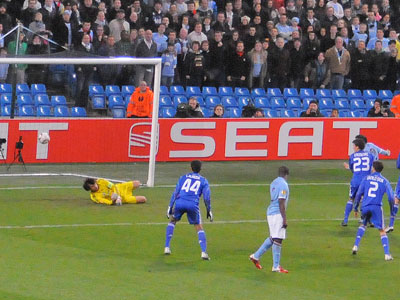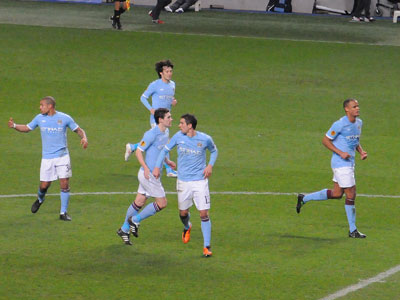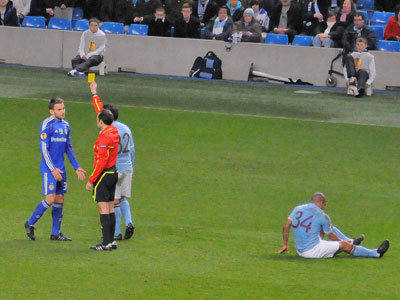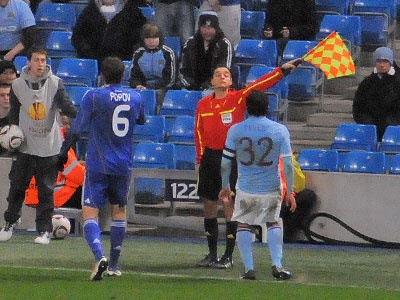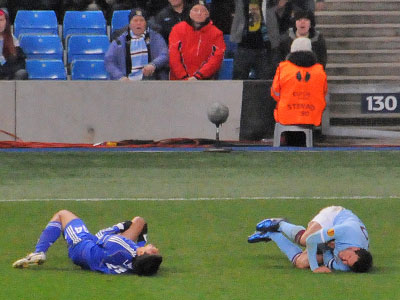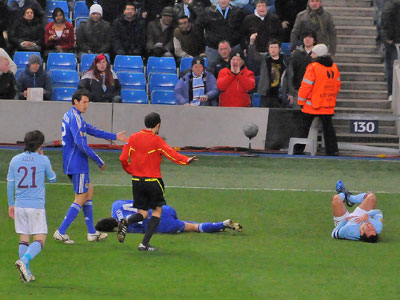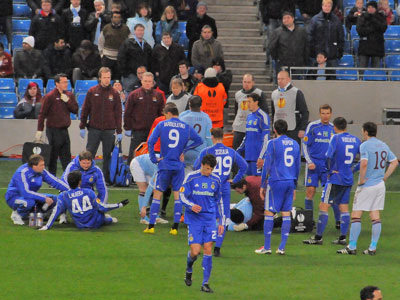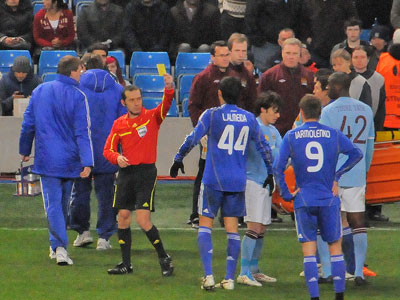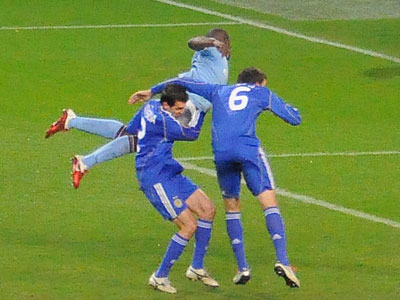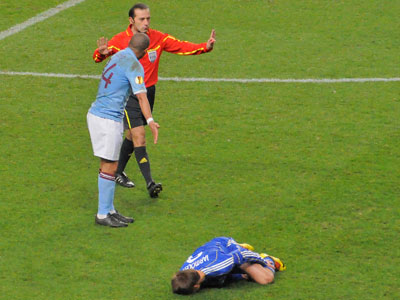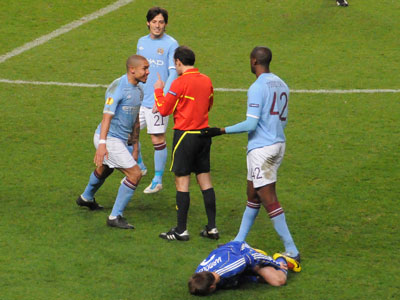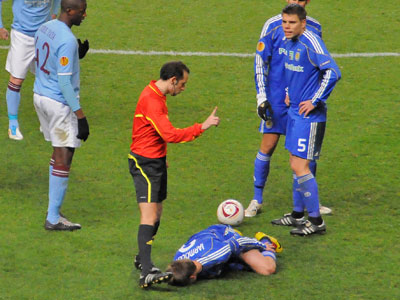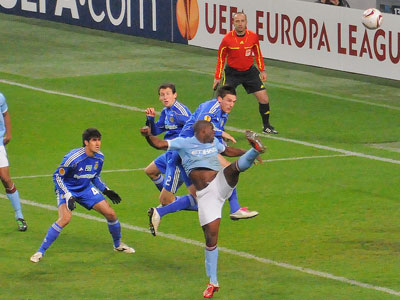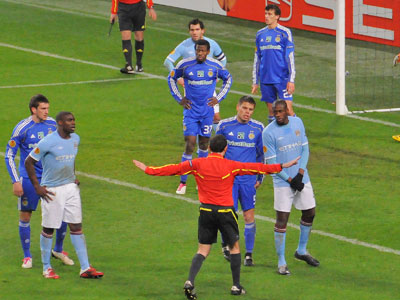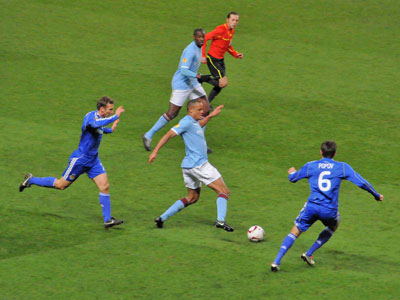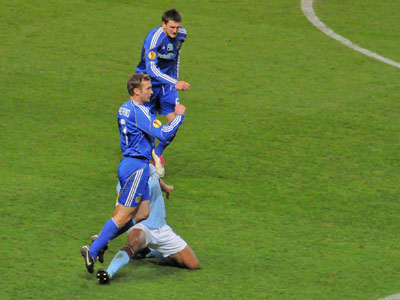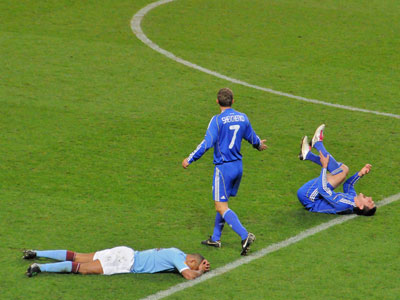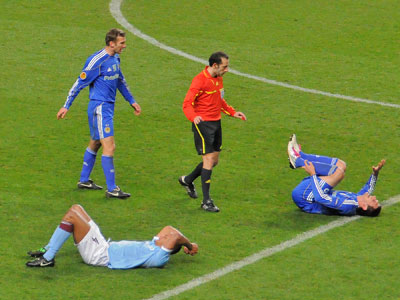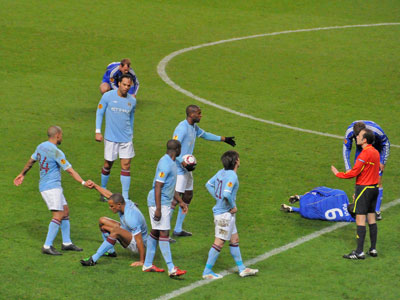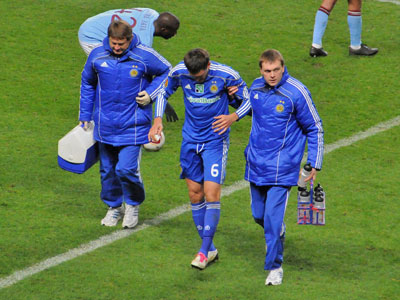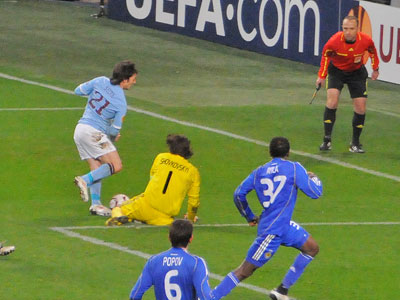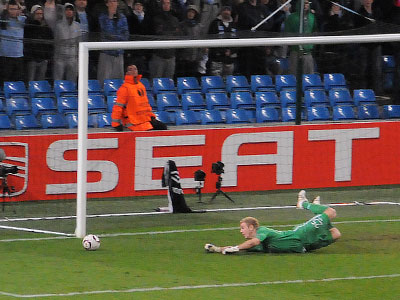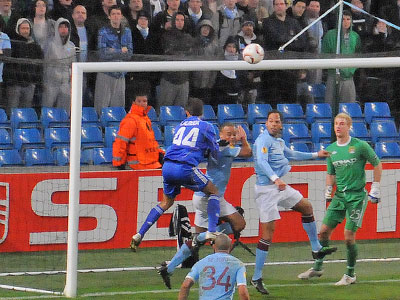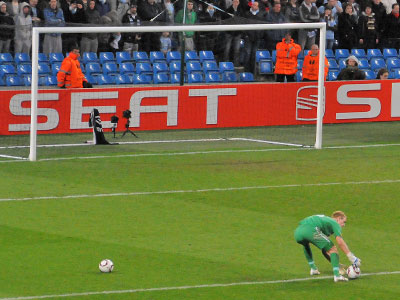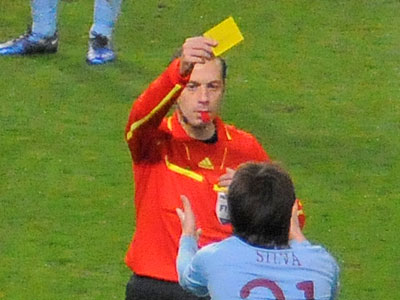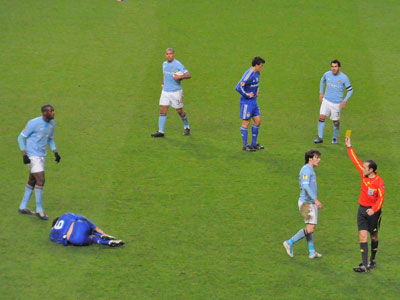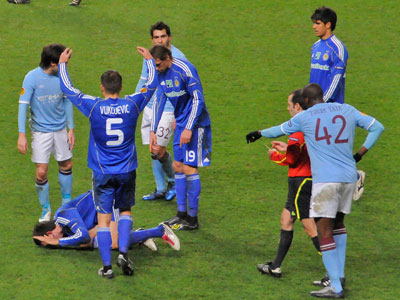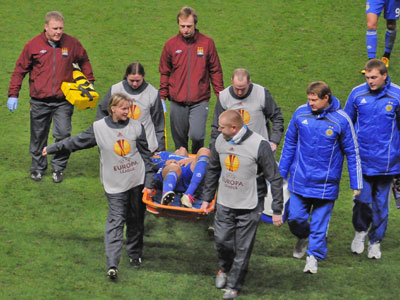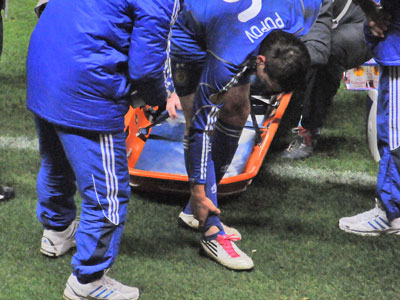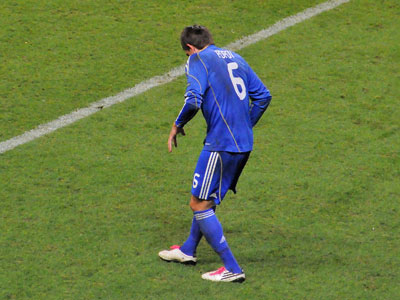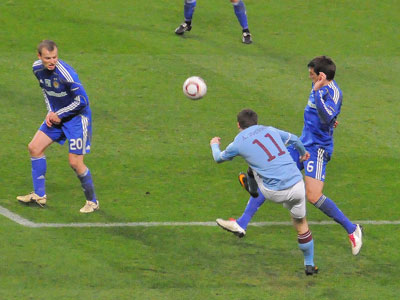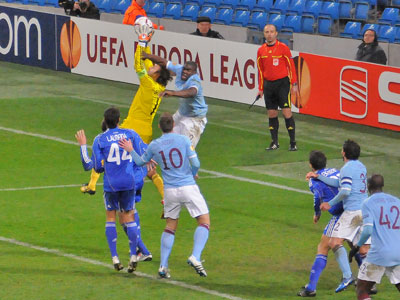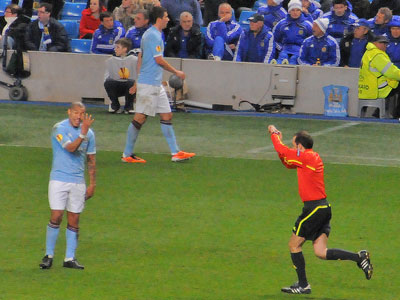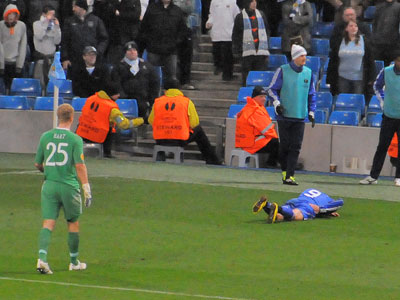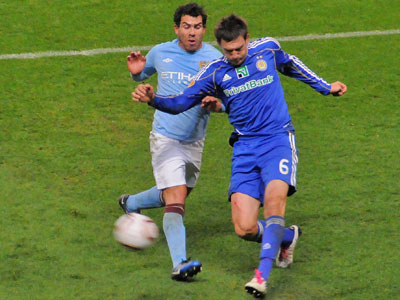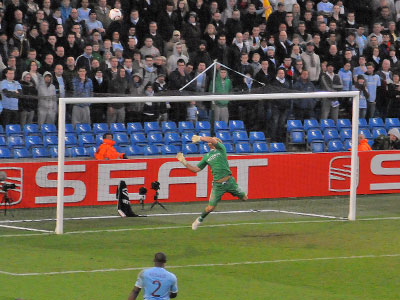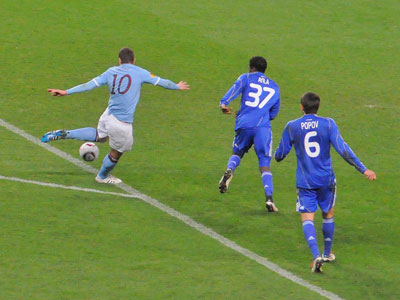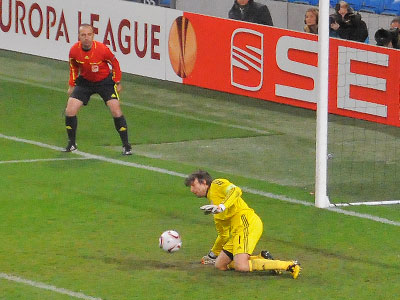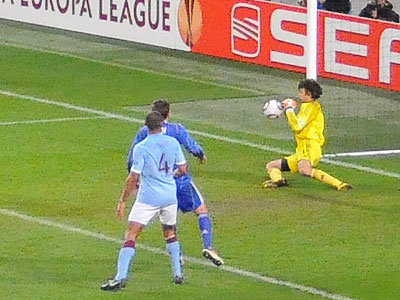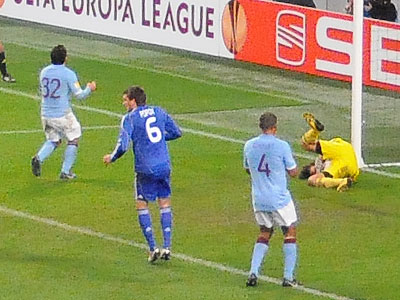 TEAM
Hart 7: Richards 7.5, Kompany 7.5, Lescott 7.5, Kolarov 7 ( Milner) : de Jong 7.5, Barry 6.5 (Johnson 6) Toure 7, Silva 8 (Dzeko) Balotelli 4 Tevez 7.5
Early arrivals were a group from Kiev making themselves heard outside the ground
Mancini was in thoughtful mood while watching the warm-up
City had a strong side out and Milner and Johnstone returning from injury were on the bench.
The small group of visiting supporters were perched on the second tier
City put in early pressure and forced a corner which their keeper punched clear
After just three minutes Balotelli had a great chance but he shot well over the bar when it looked easier to score from the cross by Richards
Kolo Toure was sat next to England Manager Capello in the stand
Balotelli is brought down
A header by Balotelli goes over the bar
Shovkovskiy dives to punch clear
a goal bound shot from David Silva hits Balotelli!
Kolarov tackles Shevchenko - now that's a name I vaguely remember from somewhere!
The Dynamo Kiev defence was kept busy but City were unable to take advantage of their possession
A Richard's header goes over the bar from a corner
Disaster struck after 35 minutes. Mario Balotelli gets a straight red card for a high tackle on Popov
Is it worth playing a player who lets his team mates down. This was his second red card and he has had umpteen yellows. He has a lot of technical skill but this is counteracted by his childish behavior
A couple of minutes later and Tevez was fouled by Yussuf who got a yellow card
Silva took the free kick and passed to Kolarov who shot from distance......
.......the ball went under the keeper and City had scored. A bit lucky perhaps but they all count.
Two minutes before half time and Ninkovic gets a yellow card for a foul on De Jong
The imperious linesman gives a throw-in to Kiev and Tevez objects and gets a yellow card for his trouble
Early in the second half Tevez is fouled by Leandro Almeida who also goes down feigning injury
Eventually the stricken Almeida returned from the dead and was able to resume and collect his yellow card
Richards hurls himself at the ball to try and score at a corner
Oh dear Yarmolenko goes down for nothing!
As Nigel lets the referee know what he thinks and the referee starts to count Yarmolenko out!
Richards was putting in lots of effort - perhaps with Capello watching an England cap was a possibility
Right cut it out says the ref or is he signaling a wide!
Kompany breaks into the opposition half followed by Shevchenko who brings him down......
.......as Shevchenko appeals guess who goes down .... yes it's Popov yet again
The City players were obviously frustrated about the time wasting antics of the Kiev players
Silva who played really well tries to beat the keeper
Hart has to make a last second save from a long range effort
Lescott clears the corner
Silva gets a yellow card for an innocuous challenge on .....yes Popov .... from the inconsistent Turkish referee who did not have the best of goals.
a stretcher is called for as Yaya Toure points out Popov is wasting time
As the emergency services deal with Popov suddenly a miracle occurs and he rises from the dead and is running about freely within a minute or so!
Good to see Johnson on for 20 minutes or so
Richards in action again at a City corner
This time its Yamolenko wasting time as de Jong lets the referee know - who points to his watch!
Tevez must have been really tired after his efforts in this game. He was all over the pitch working his socks off
Hart only had one difficult save to make rom a short by Eremenko
Two minutes into extra time Dzeko had a shot but it went straight at the keeper
A minute later and Dzeko is fouled. Yaya Toure takes the free kick......
....and his shot almost beats the keeper but Shovkovskiy manages to keep hold of the ball and City's journey into Europe ends with a one nil win but a 2-1 loss on aggregate. What a shame the second goal was conceded in the Ukraine