City 3 Aston Villa 0
March 2nd 2011 25,570
FA Cup R5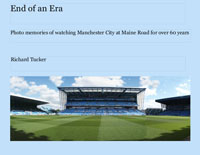 My book 'End of an Era' containing photo memories of days at Maine Road is now available from Blurb.com.
There are over 300 images on 200 pages.
Click on the image for details

A touch of Silva for City and it was a golden moment for the sky blues as a Wembley appearance beckons if the 6th round tie with Reading can be overcome. On this form it should be a doddle but as a City supporter you must never take anything for granted. This was a complete reversal of the form shown against Fulham and for this the return of David Silva was an important factor. When the teams were announced it was a surprise to see Villa missing Dowding and Young in their starting eleven but then City were missing a few too!
It was a shame the attendance was so poor. With the game live on ITV and so many home games coming in such a short period it wasn't a great surprise.
This was a great team display with everybody playing a part. Mancini had made the right decisions in picking his team considering the injuries and number of games to be played in the next few weeks. We had another great goal by Balotelli and sterling work by Zabaleta and Lescott in defence. Silva ruled the midfield and overall it was a first rate display to once again give us hope of a third place in the league which is essential. Remember if by any chance Chelsea or Spurs by some miracle happen to win the Champions League this season they automatically go into the competition next season. So then 4th position may not be good enough.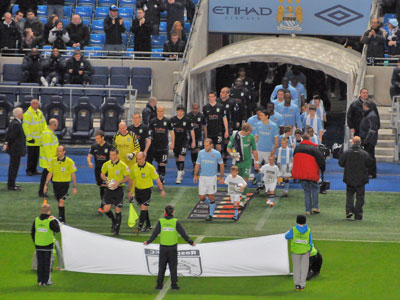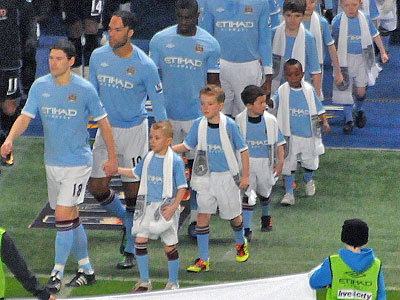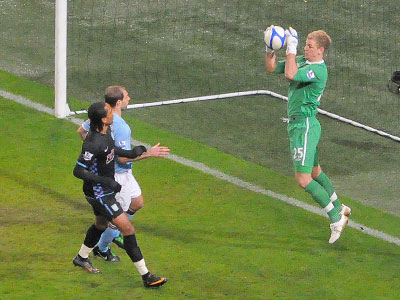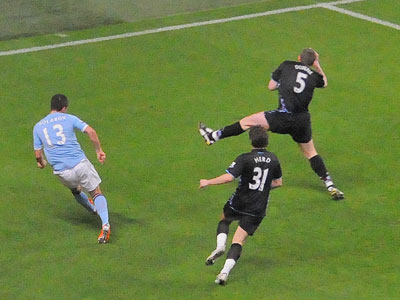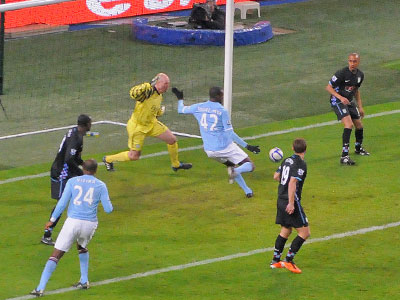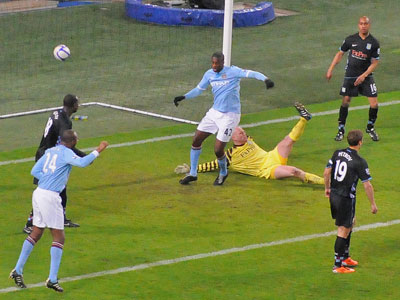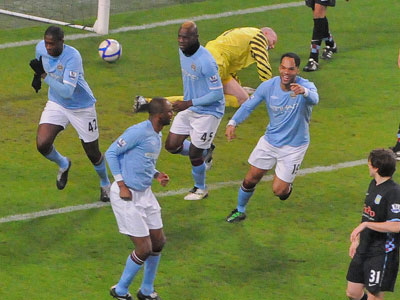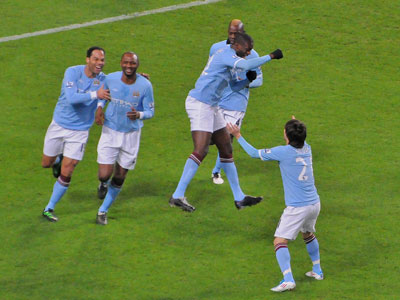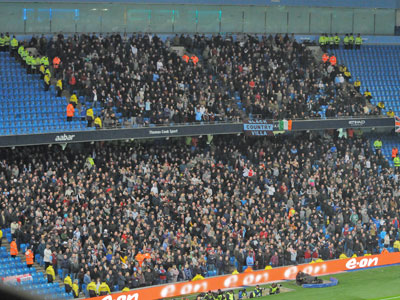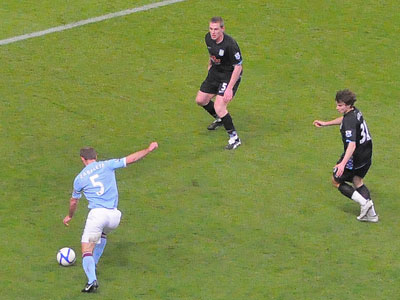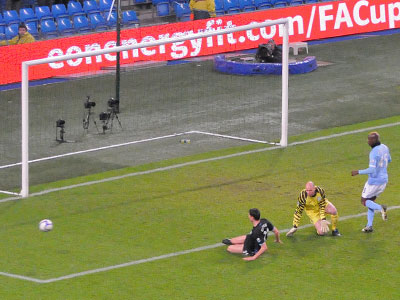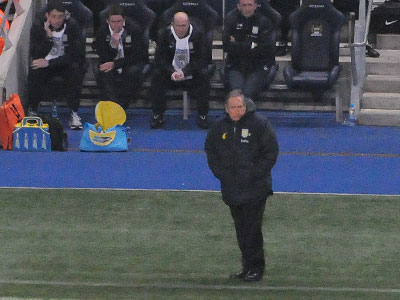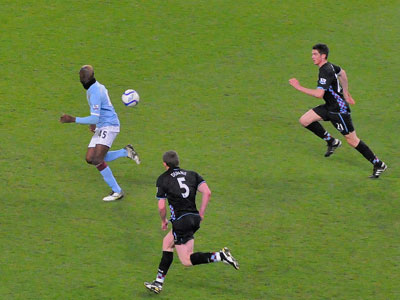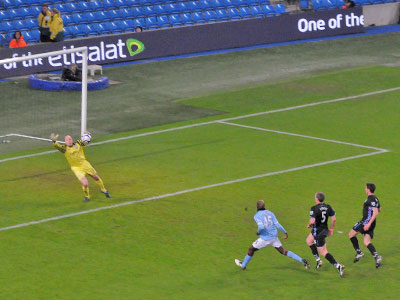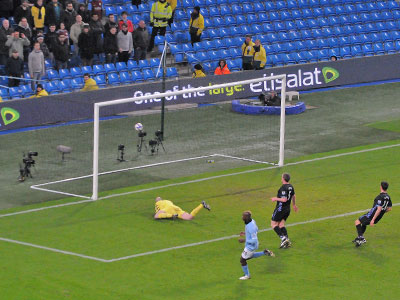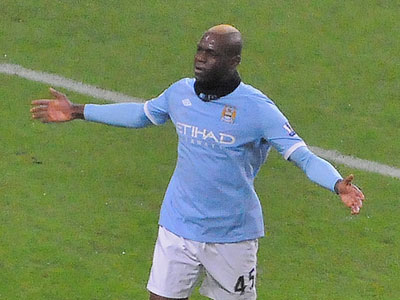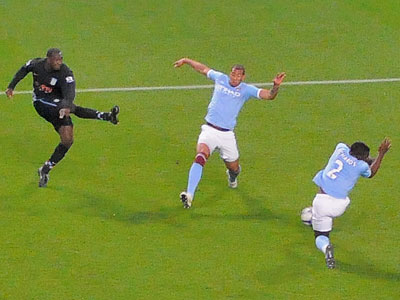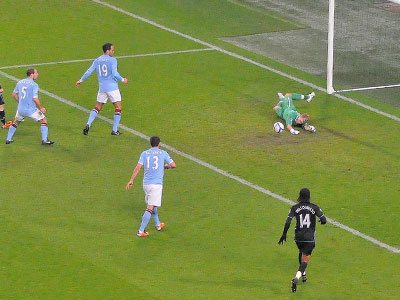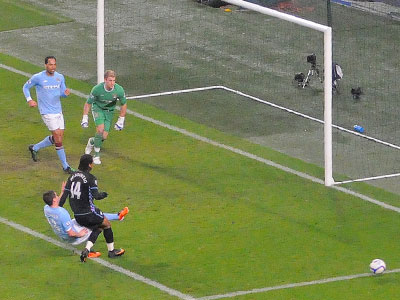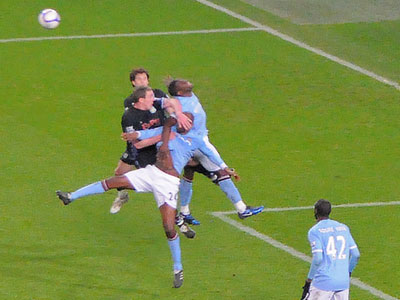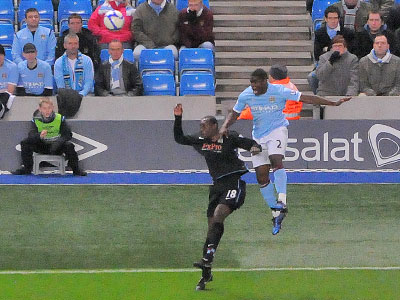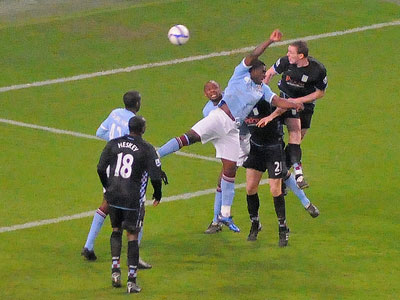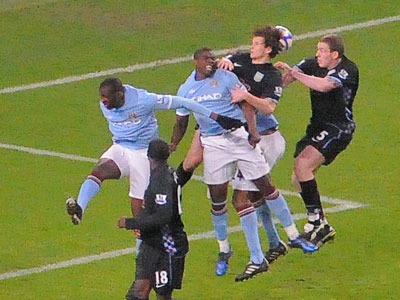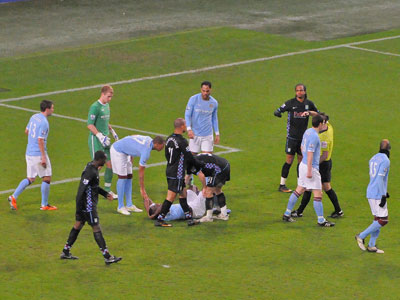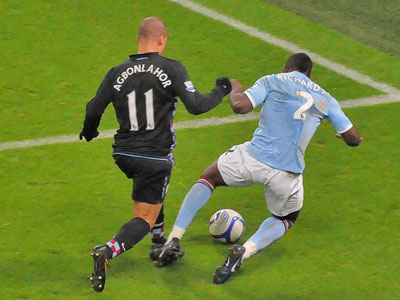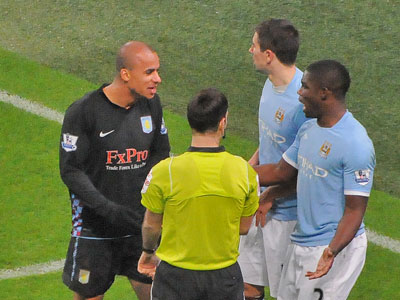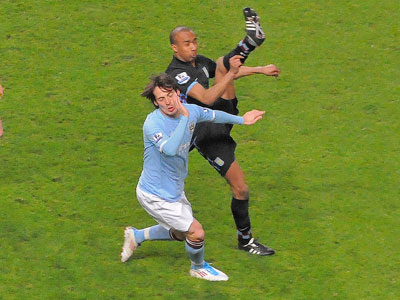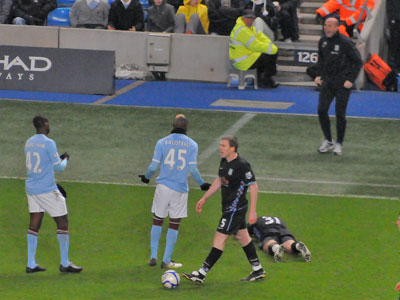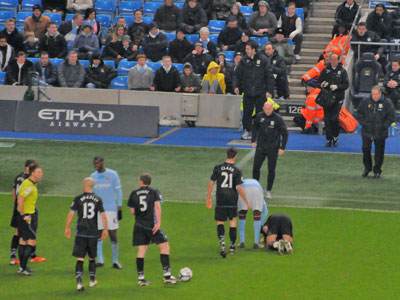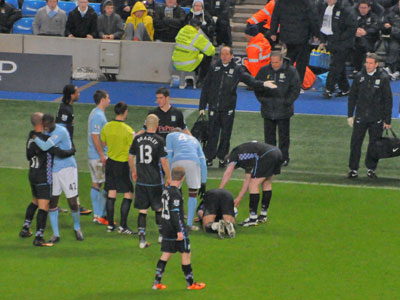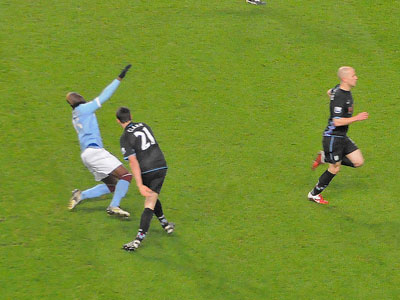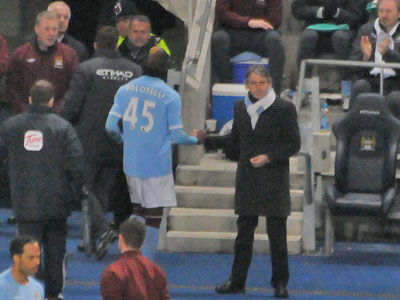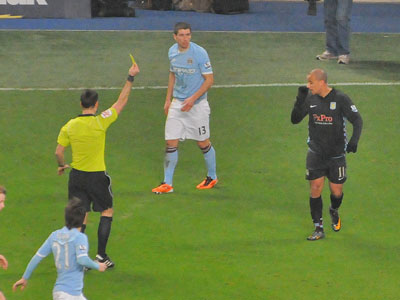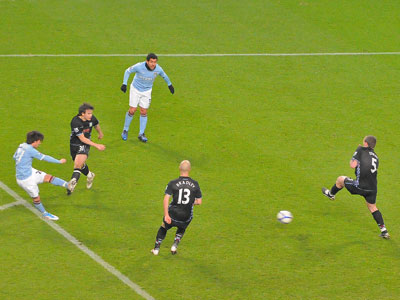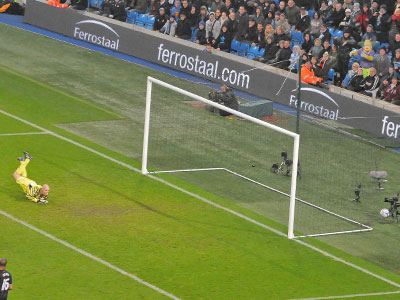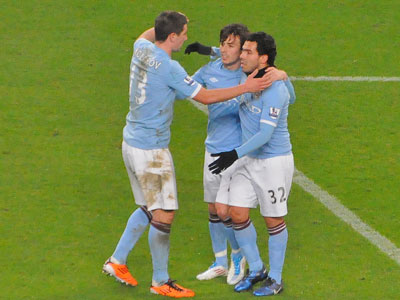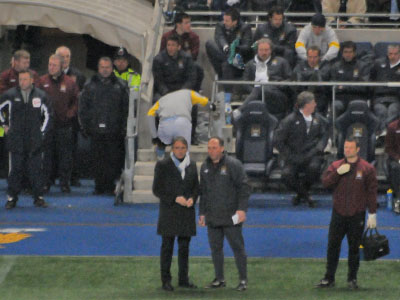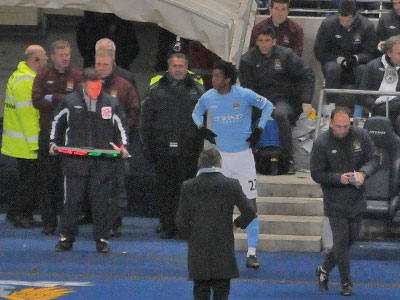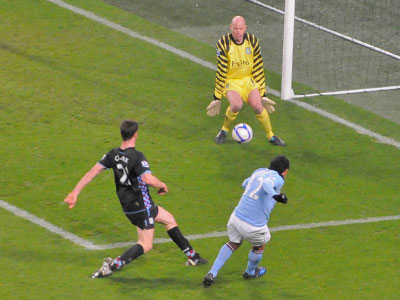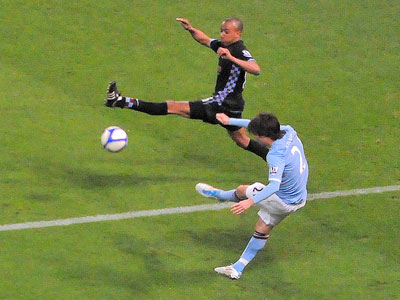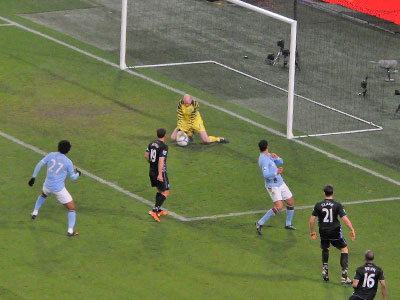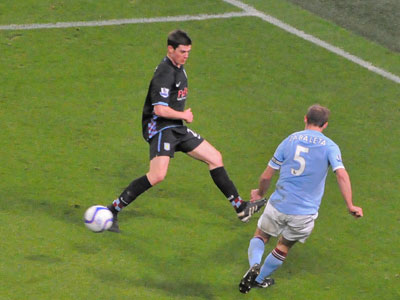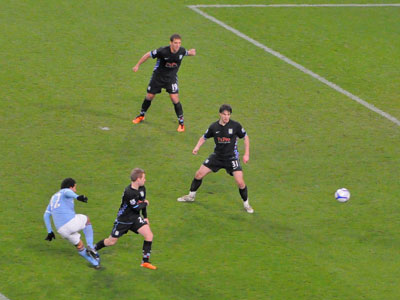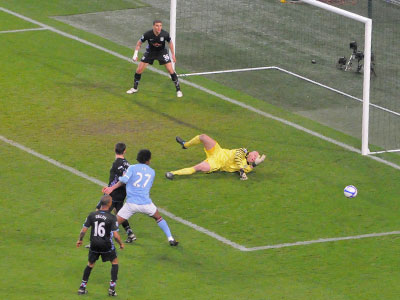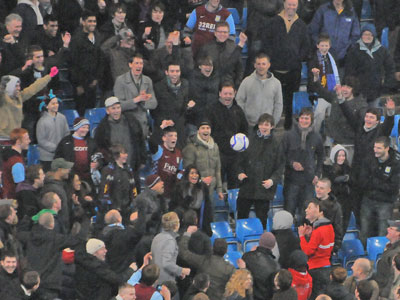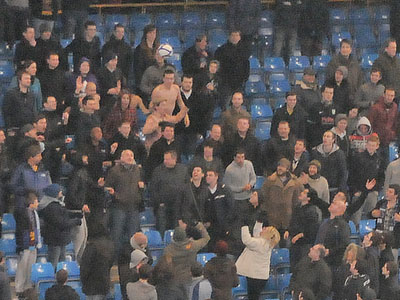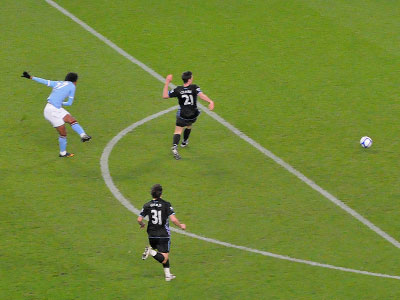 Zabaleta was skipper for the day. Both teams had players missing. Balotelli was on his own upfront. Tevez and Dzeko were on the bench. Michael Johnson was on the bench
I just had to include this image as the young man guarding Lescott is 9 year old James who often sits directly behind me. Nice boots James!
Joe Hart had an early touch of the ball but he had little to do all game
City gained an early corner when a dangerous cross by Kolarov was blocked by Clark
The corner was headed down by Viera and was handled by a defender ........
..... before rolling to Yaya Toure who lashed the ball home from a yard or so out. Good job a defender was still on the line.
So City were in front after only 4 minutes and the City players were delighted
The Villa supporters who were well short of their allocation had much to think about especially about their managers decision to leave out Young and Dowding. Obviously the FA Cup was not a priority!
Zabaleta attacks down the wing and his dangerous cross to the waiting Balotelli is cut out for a corner
On 24 minutes City went two up. A great perfectly weighted through ball by Yaya Toure was met by Balotelli who took it in his stride and hit it past Freidel . A wonderful goal..
This showed the excellent technique of the City striker and he celebrated in his rather understated way
6 minutes later Emile Heskey provided Joe Hart with his only action of the evening when he had to save from the Villa striker
It wasn't the perfect save as the ball ran loose but just as Delfouneso was about to pounce on the rebound Kolarov saved the day putting the ball out for a corner which was cleared with difficulty
Richards clears from Heskey. City went into the break tow nil ahead and looking good
After 47 minutes Villa forced a corner but Dunne was not able to score against his old side
Following another Villa corner Richards was injured but soon recovered
Agbonlahor fouls Richards but does not see eye to eye with the City defender
David Silva has to take evading action against a high foot!
When a Balotelli arm apparently lays out Clark ......
....... there is lots of efforts by the Villa staff to get Mario sent off
While poor Clark gets treatment for his 'injury' at the hands of arch villain Balotelli Richard Dunne has a harsh word for Yaya Toure and far right Mancini rushes into the action! The end result was a yellow card for Mario
Two minutes later and the wonderfully restored Ciaran Clark blatantly blocks Balotelli and gets a yellow card for his trouble
Three minutes after his booking Balotelli is subbed by Tevez. Mario does not go off in a dizzy and goes to his manager but I think looking at a player when shaking hands is better man-management Roberto!
Agbonlahor was the third Villa player to be booked after a foul on Kolarov
In the 70th minute City made the game safe when a cross from the right wing is headed clear to the feet of David Silva who quickly controls the ball and crashes it past Freidel into the corner. Excellent!
A great goal and can we have some more like this please David!
Zabaleta makes a good block on Downing on after 70 minutes
City supporters near me were a little worried when it looked as though Jo was coming on as he first took his jacket off then put it back on before finally coming on as sub for Yaya Toure after 80 minutes
Freidel blocks an effort by Tevez
A dangerous cross by Silva......
..... leads to more action by Freidel
The cross by Zabaleta......
..... an effort by Tevez which is save once more by Freidel
The Villa supporters amused themselves by keeping the ball when it went into the crowd and several games of heading tennis ensued
The Jo fan club nearly went into ecstasy when he had a very late chance but Freidel spoilt their day by saving!
Team
Hart 6.5: Richards 7.5, Boateng 7, Lescott 8, Zabaleta 8, Kolarov 7.5: Yaya Toure 7.5 ( Jo) , Barry 7.5, Viera 7, Silva 8, Balotelli 7.5 ( Tevez 7.5)