City 4 Fulham 0
Jan 25th 2020 att.39,223
FA Cup R 4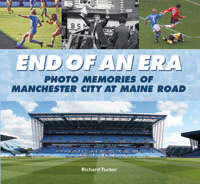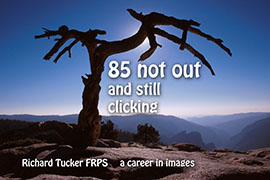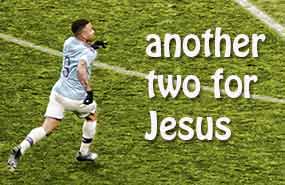 An easy win for City greatly helped by an early penalty and red card. In the 8th minute Jesus was pulled back by Ream and the resultant red card and penalty which was converted by Gundogan meant that the visitors had to play with ten men for the rest of the game and were already a goal down. However Fulham did put up a good fight and kept City to four goals. Benardo added an excellent second goal but we had to wait until well inside the second half for the last two which were notched by Jesus. Benardo's goal was the 100th City have scored in all competitions - a pretty good record in Europe.
Bravo had very little to do as City dominated play. Sterling came off the bench in the second half but once again he was well off his best form. David Silva fortunately was back to his best so Kevin and Sergio were able to wrap up warm on the bench for the game. It was not the best of turn-outs by City fans with lots of empty spaces!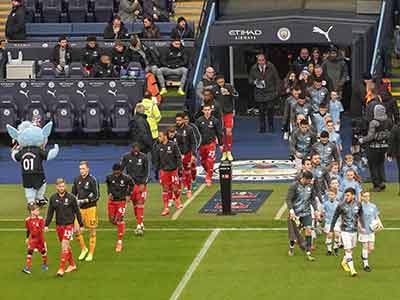 City as usual made umpteen changes from the league win at Sheffield. Garcia, Foden and Angelino were given starts.
There was a very strong bench in case of disasters!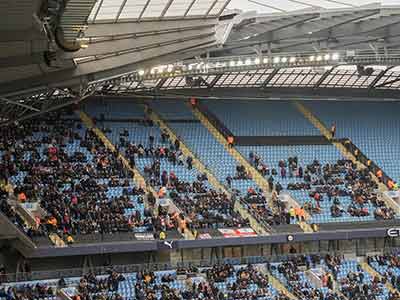 Not many Fulham fans made the trip
Jesus is pulled back when through by number 13!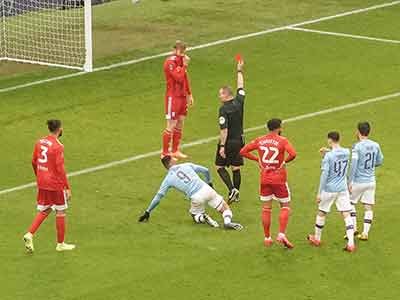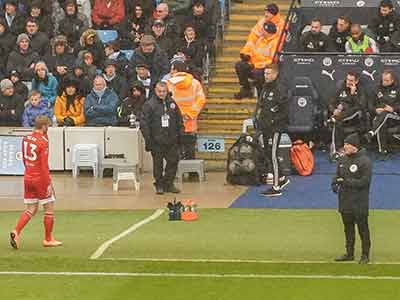 It's a red card for Tim Ream and a penalty for City.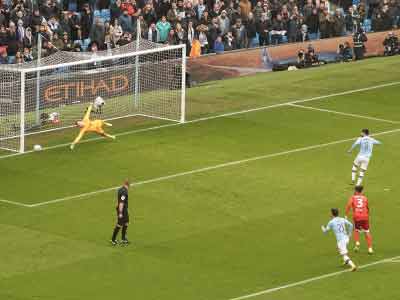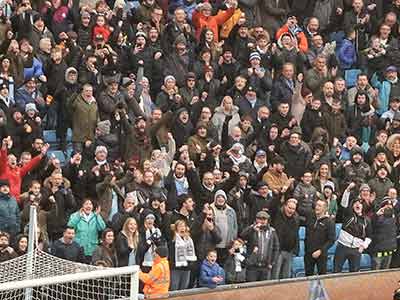 Gundogan slots the ball into the corner and it's an early celebration in the South Stand.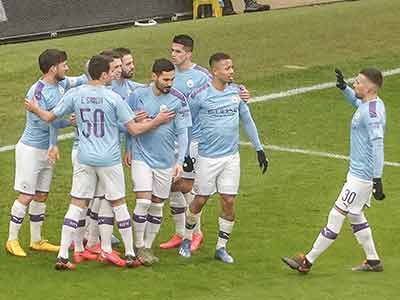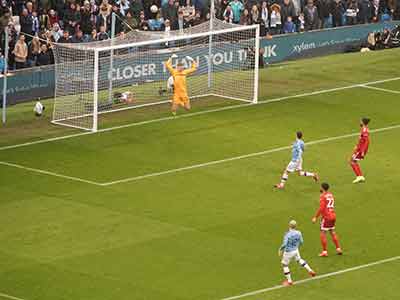 At least Jesus did not take the kick!
A shot by Angelino goes just over the bar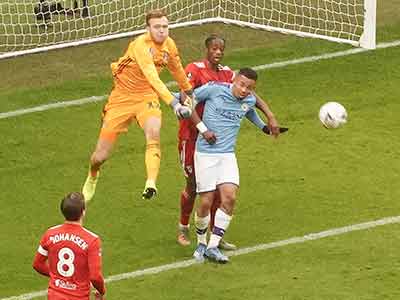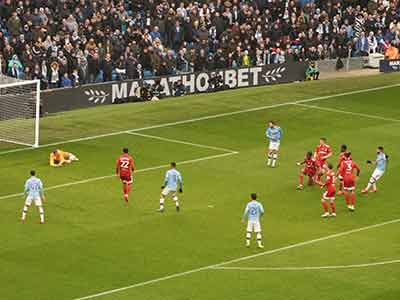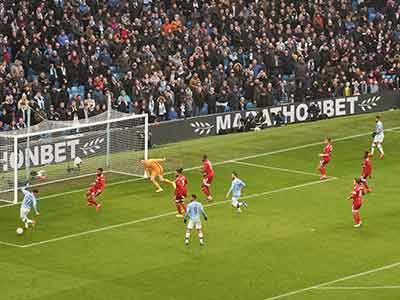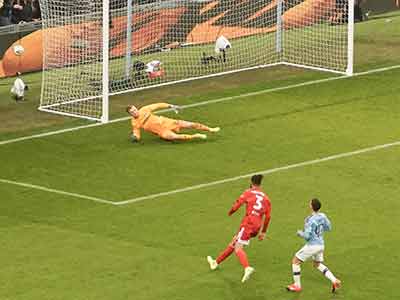 a cross from Mahrez goes just behind Foden
A Foden effort just goes wide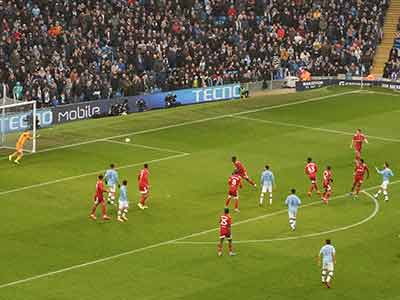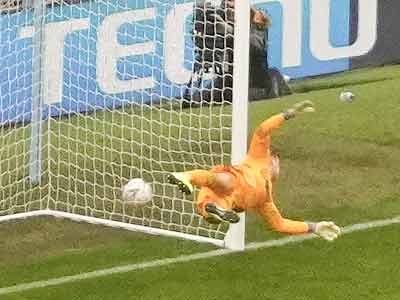 On 19 minutes Foden passes to Benardo who beats several players before shooting past the keeper for number two goal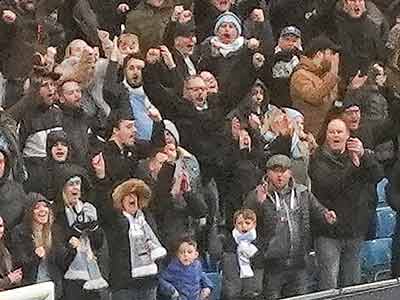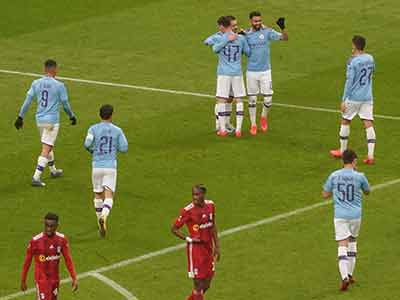 The South Stand and players can celebrate game over -surely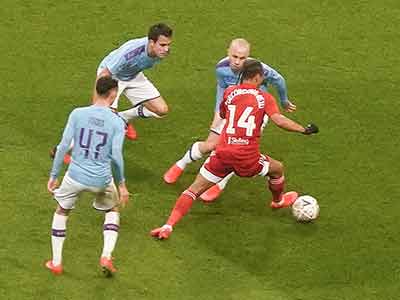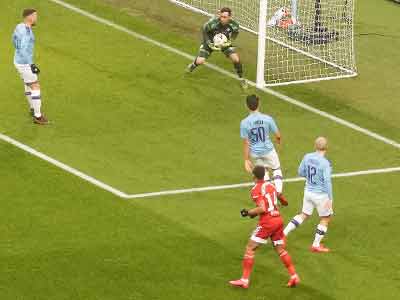 That's awful! Fulham are in our half ! Decordova-Reid manages to get in a shot -but it is right at Bravo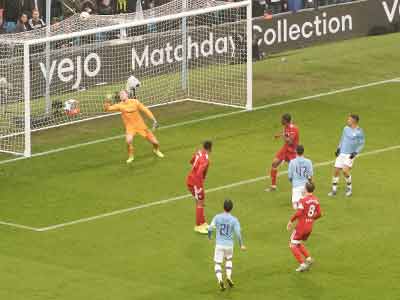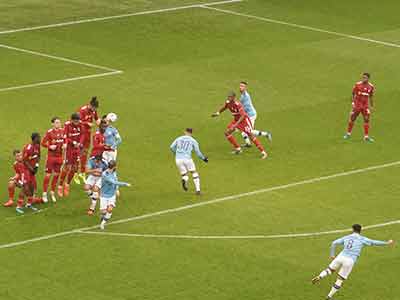 Foden shoots over the bar
A Gundogan free kick hits a defender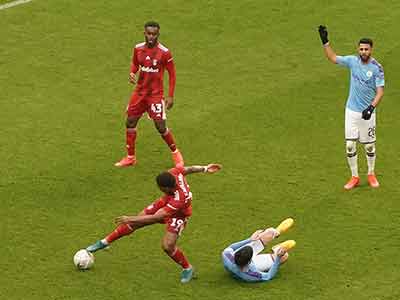 Silva is fouled by Johansen
Oh dear the secret sniper is back Mahrez is down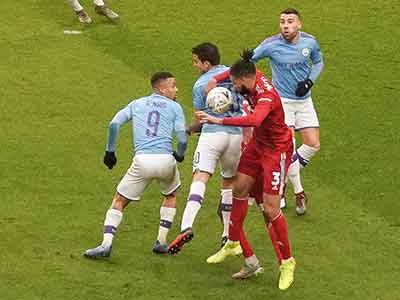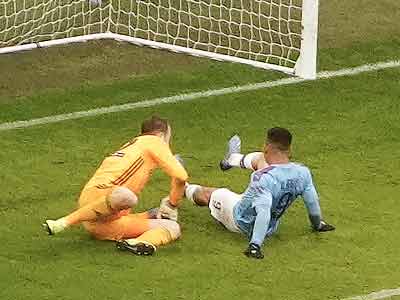 There is a ball in there somewhere!
Jesus just fails to meet a cross and it's soon half time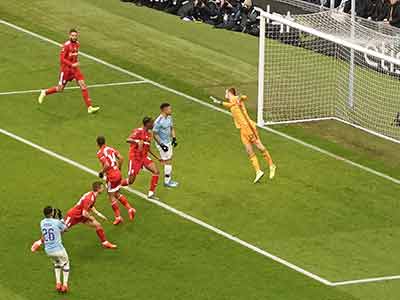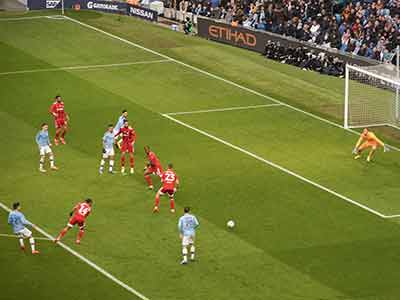 Then Cancelo shoots wide too!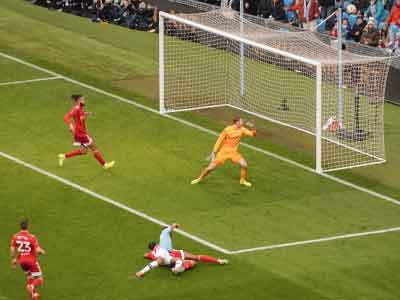 Then Sterling - on for Mahrez- hits the bar!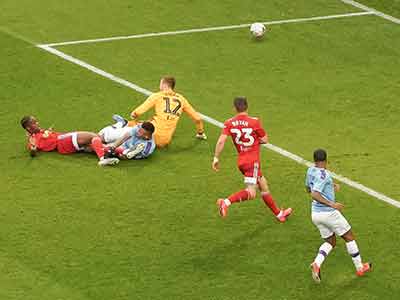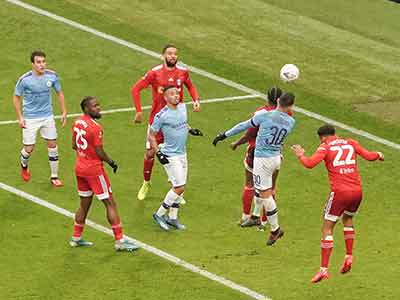 Jesus forces a corner and from it Otamendi heads the ball wide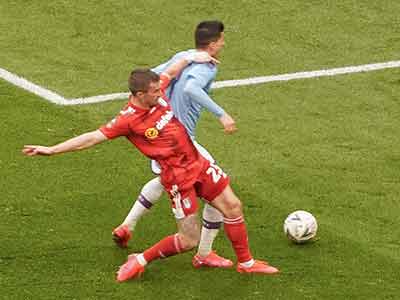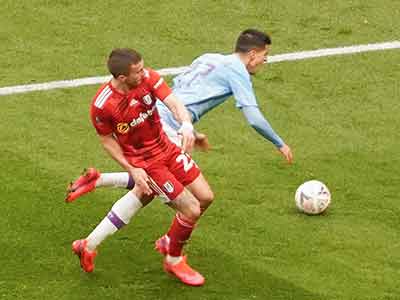 That looked like a good penalty shout when Cancelo was brought down but no VAR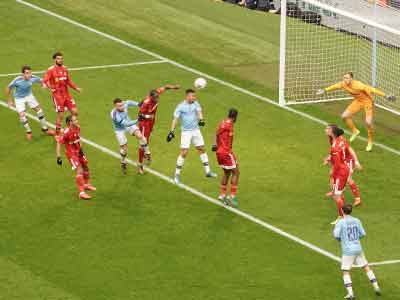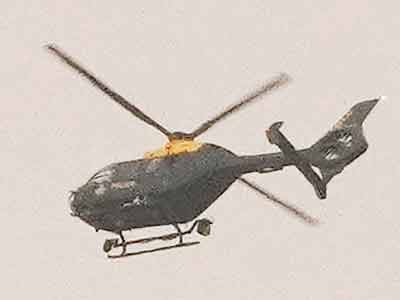 Another City corner and another header over the bar
A helicopter has been busy in the area -surely not checking VAR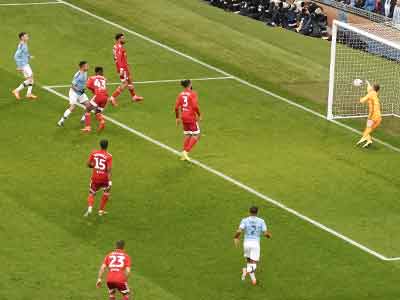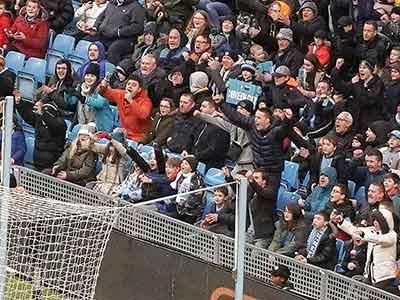 On 72 minutes a header from Jesus beats the keeper and the North Stand can cheer! but wait!.....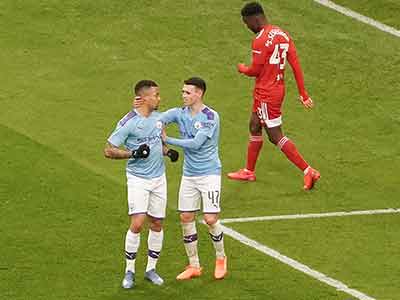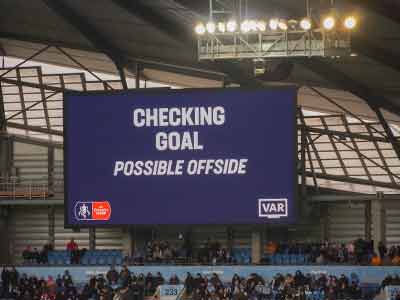 ...while Foden thanks Jesus the dreaded VAR notice comes up!!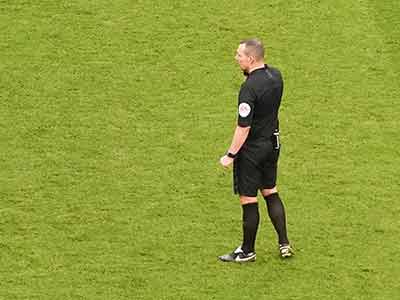 Referee Friend is on the phone to VAR or is he ordering sandwiches for later!
Pep discuses changes while Stones is ready to come on but thank goodness the goal stand and it's 3-0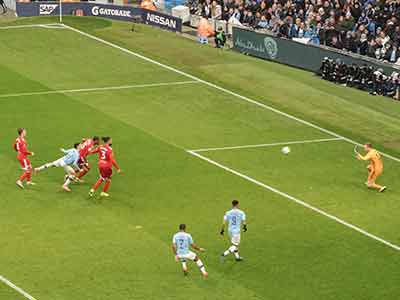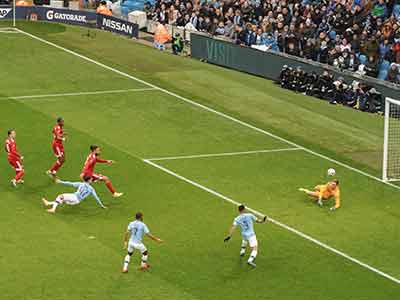 a few minutes later Foden shoots and the keeper saves but the ball.......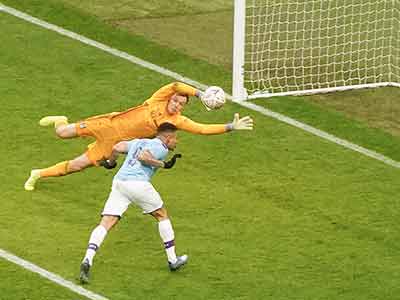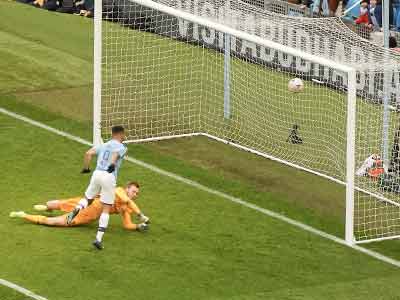 ...comes to the waiting head of Jesus and the ball ends up in the back of the net - four nil to City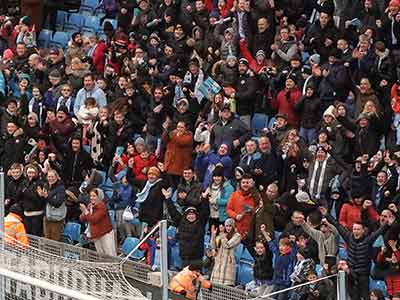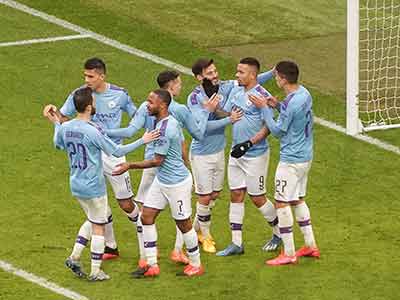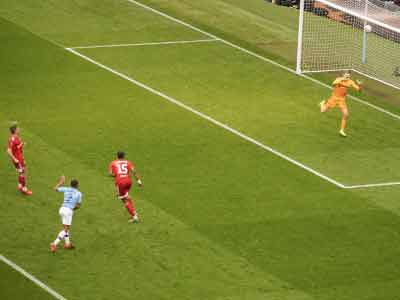 Sterling has another chance but misses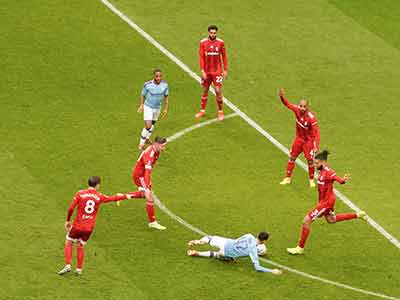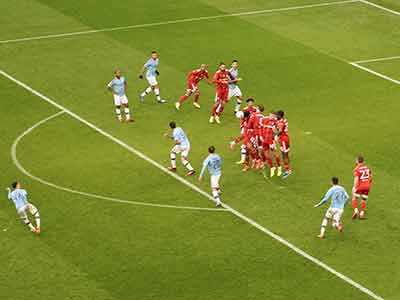 It's nearly full time and Foden is brought down -he takes the free kick but the wall blocks the ball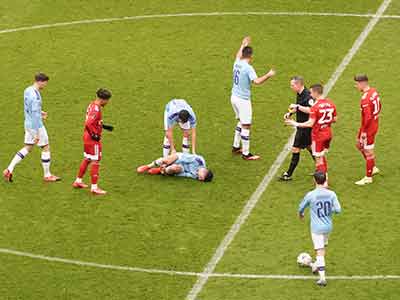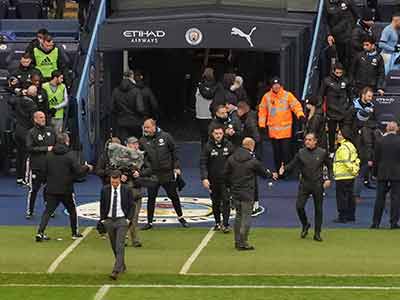 Cancelo is fouled and it's a yellow for Bryan
City are through once more to the 5th round
Bravo 7: Cancelo 7.5, Otamendi 7 (Stones) , Garcia 7, Angelino 7: Gundogan 7.5 (Rodri) Benardo 7.5,
Silva 7.5, Mahrez 7 (Sterling 6) Foden 7, Jesus 7.5