City 0 Liverpool 1
Jan 11th 2012 36,002
Carling Cup Semi-Final first leg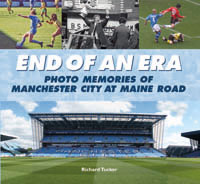 Now available from Amazon ( click on image for link)
WH Smith and the City shop
This was not the greatest game to watch as City lost their second match in a row. Liverpool had the better of the first half and but for a couple of great saves by Joe Hart we could have been further behind at half time. An error by Savic standing in for the suspended Kompany gave Gerrard the chance to score from a penalty and in the second half the visitors went on the defensive packing the last third with players to make sure Reina was well protected. How City missed the creativity of Silva and the probing runs of Yaya Toure!. City had 90% of the play in the second half but just could not break down the Liverpool defence and some of our finishing was awful.
With Liverpool the quickest to the ball in the first half it did seem several players were still tired after their efforts in the second half against United a few days earlier. At least we have a second leg to try and reach Wembley but with vital league games against Wigan and Spurs in the next two weeks Liverpool must be favorites to reach the Final. Richards made captain for the day tried hard and apart from Hart was the best of the City players on the day. While Liverpool had the strong support of some 6000 fans there were many City fans missing I am afraid.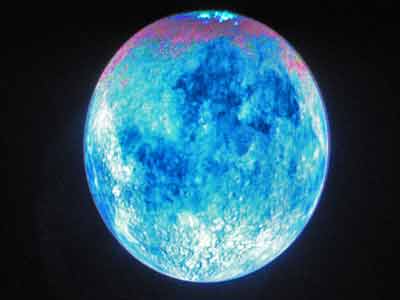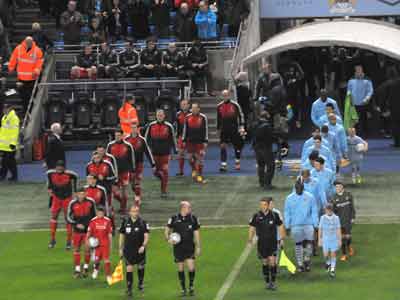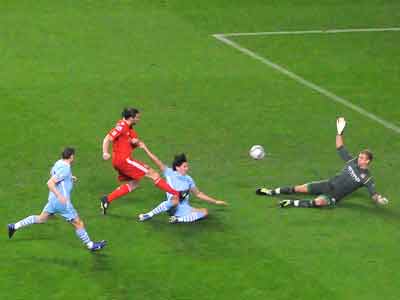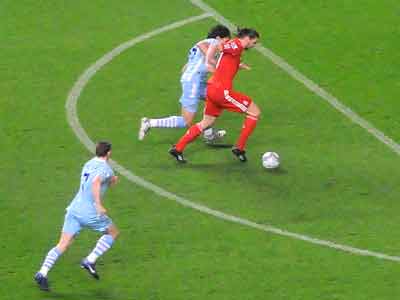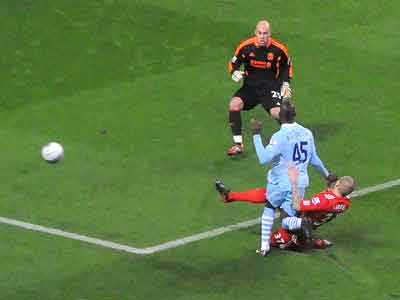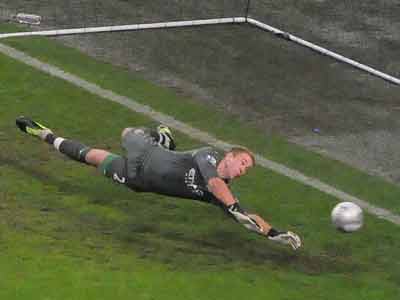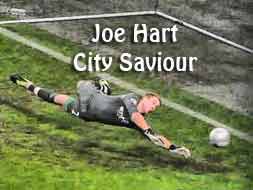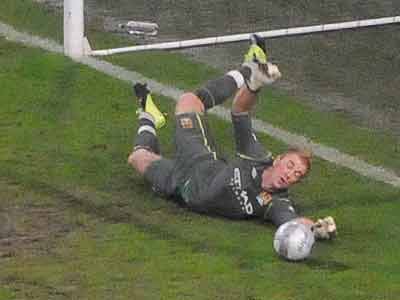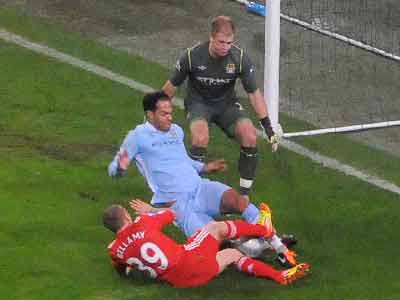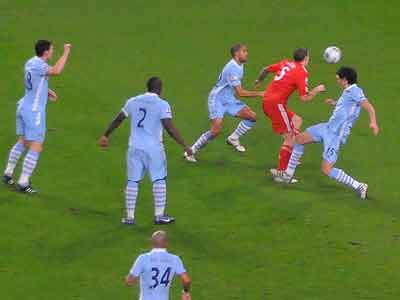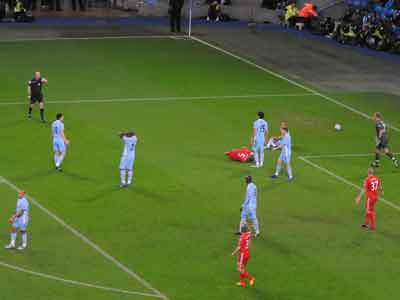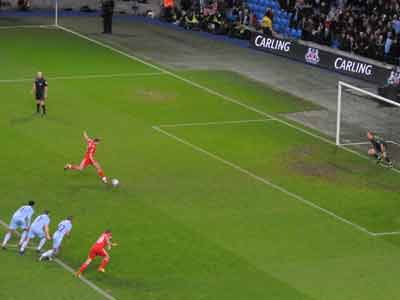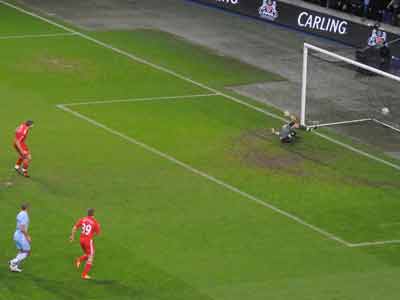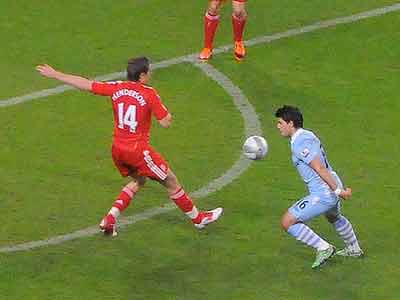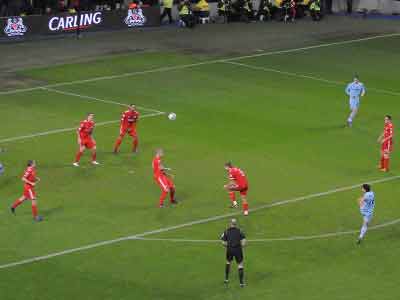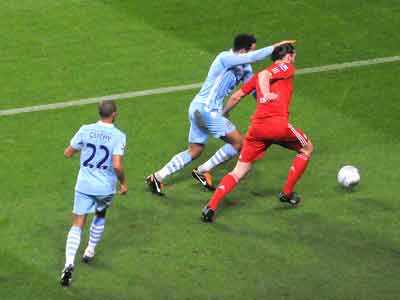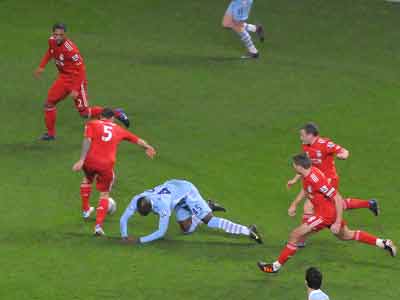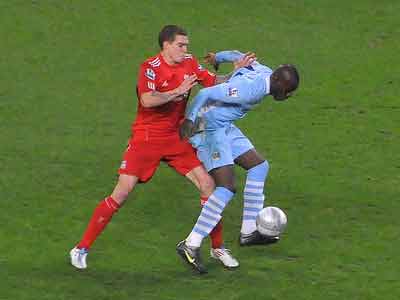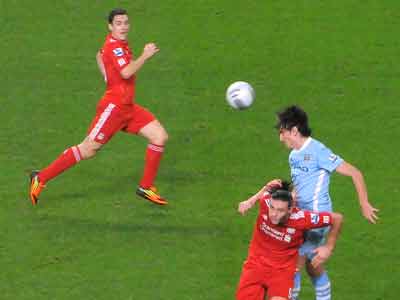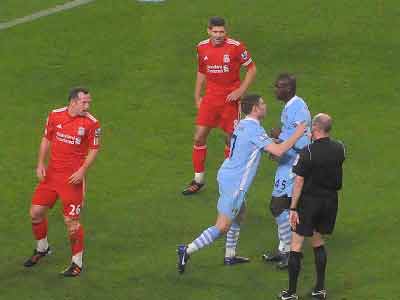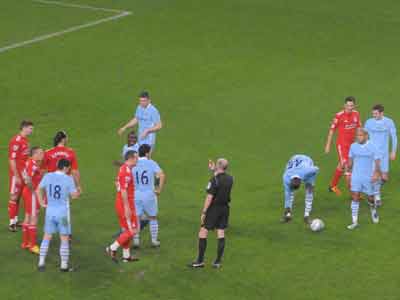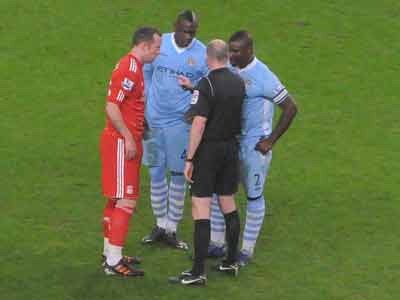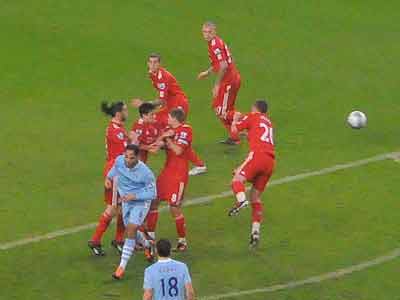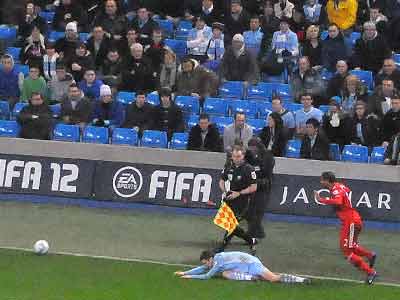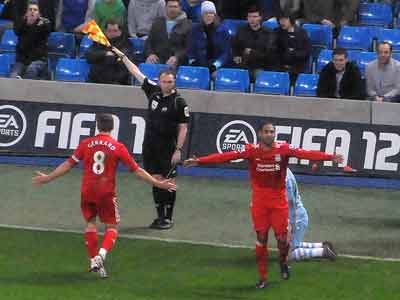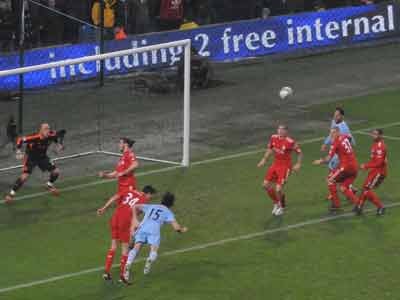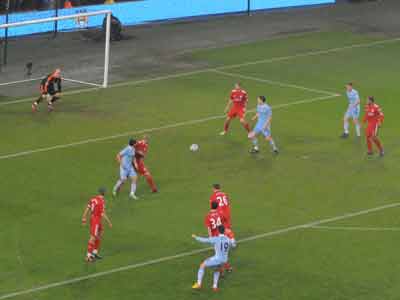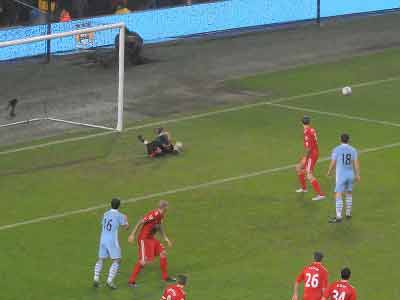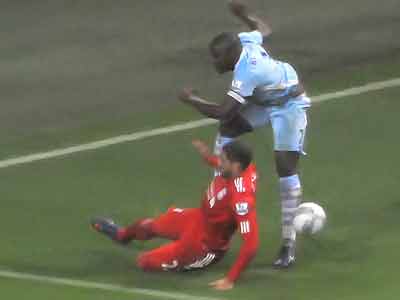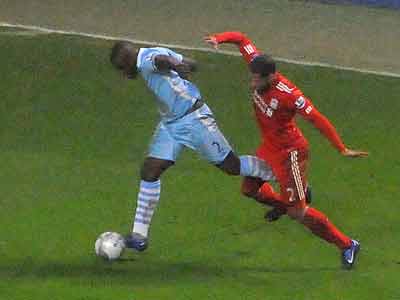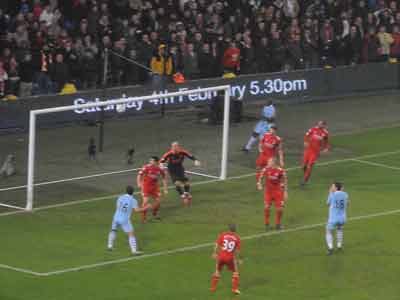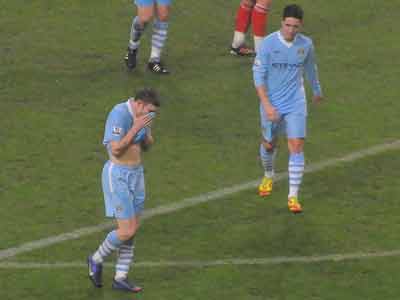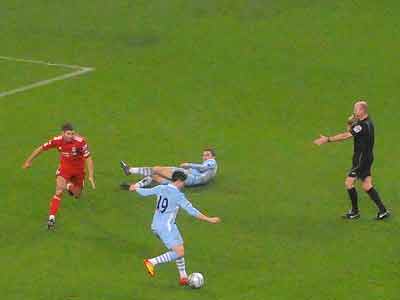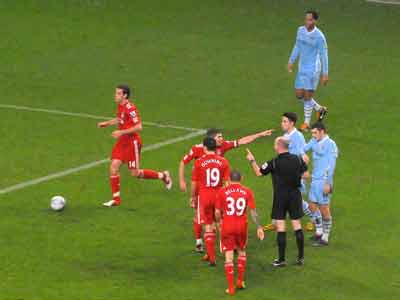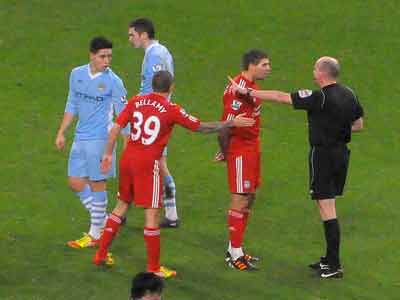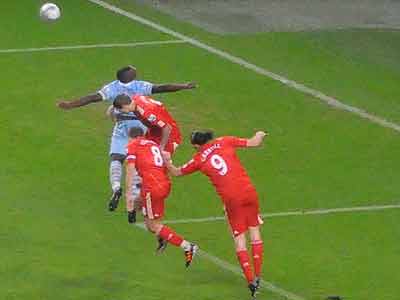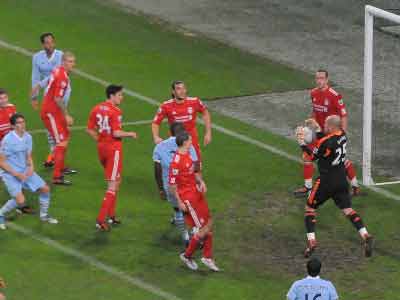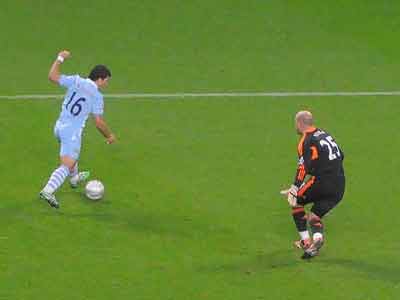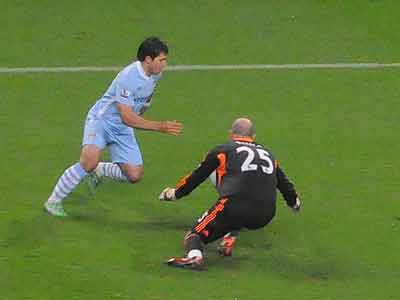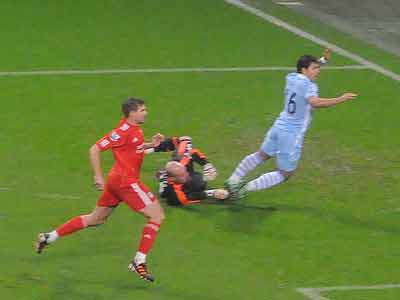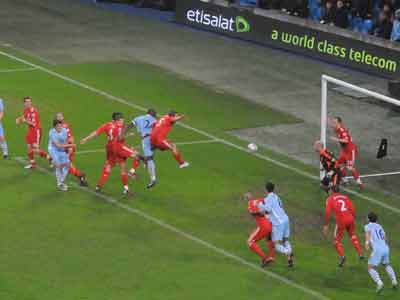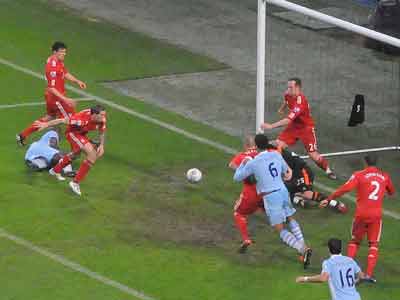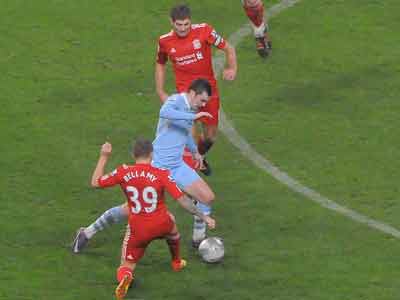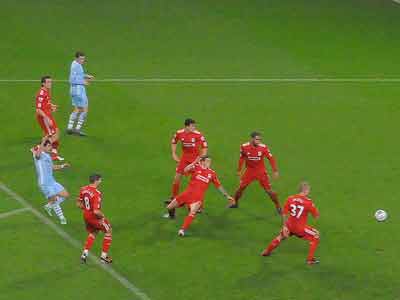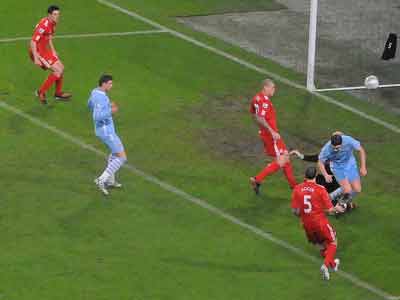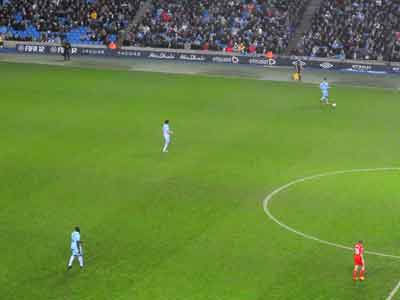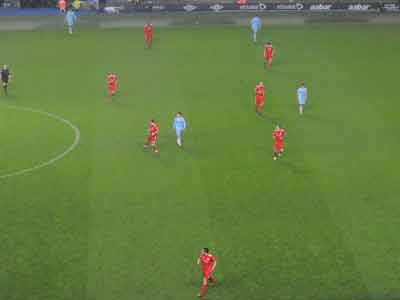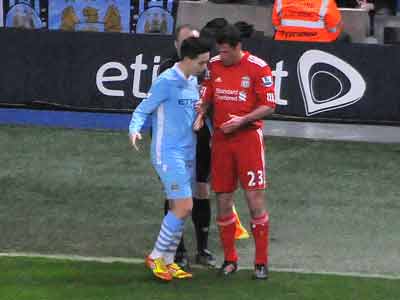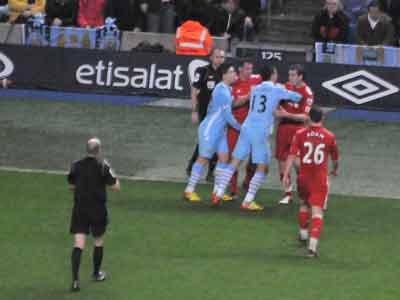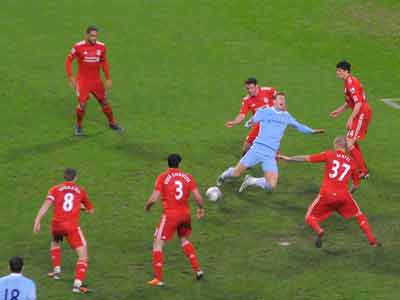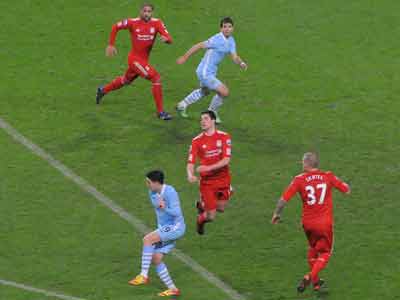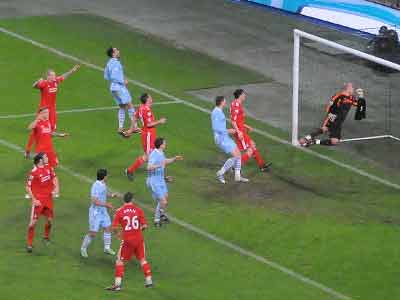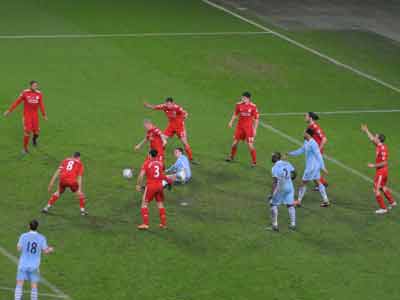 First time we have seen the blue moon for a while and City made several changes from the team that played United . Hart returned to goal, Clichy was in for Kolarov, Savic for Kompany while Balotelli and Barry also returned.
Liverpool almost scored after 4 minutes when Carroll forced his way past Savic and Hart had to make an excellent save.
A very good late tackle by Skrtel denied Balotelli a chance a minute or so later
After ten minutes Hart had to make a great save from Gerrard
From the corner Hart had to make a save from Downing and the boll had to cleared for another corner
From the corner Savic fouled Agger and referee Mason awarded a penalty for Liverpool
Hart dived the right way but could not keep out the fiercely hit shot by Gerrard . Note the Liverpool player in the box before the ball was hit - mind you it's years since I saw a referee penalize this!
On 15 minutes Aguero had a shot from outside the penalty area but his shot went well wide of goal
Carroll was pretty much on his own up front for the visitors but still needed looking after
Agger and Balotelli battle for possession
After 28 minutes Charlie Adam fouled Balotelli who gets a bit annoyed and has to be calmed by Milner
The referee has to have a word with both players to ask them to kiss and make up!
The free kick is taken by Balotelli.......
..... but the wall blocks the ball and is cleared
a minute slater and Adam Johnson is brought down by Glen Johnson
Although Gerrard and Johnson make their pleas the free kick is awarded but Kelly manages to head clear under pressure from Savic
Three minutes before half time Nasri - on for the injured Balotelli-has a shot saved by Reina
With half time approaching Richards made some good runs down the right wing the second of which.........
..... led to a good cross to Milner. Alas Milner's effort sailed wide
Nasri goes to comfort a forlorn Milner
In time added Gerrard fouls Johnson
The referee and Gerrard have a few words
Alas Adam Johnson's free kick is rather wasted so Liverpool lead by that single goal at half time
Richards just fails to make good contact at a corner
Reina has an easy save at another City corner
A bad back pass let in Aguero but he went too wide of the keeper.......
...and the chance was lost
On 58 minutes Richards had a good header at a corner and ........
Adam Johnson tries to break through
After 65 minutes Aguero has a shot which is saved
Reina is kept busy with the City pressure
By now City were just playing three central defenders while Liverpool often had six or more across the back
Nasri had a disagreement with Carragher and then Kolarov got in on the act
Liverpool defence was just about holding on as City piled on the pressure
As the final seconds ticked by Dzeko made a theatrical impassioned plea for a penalty but it was all to no avail and City will have to start again in a couple of weeks to try and retrieve the situation
Hart 8.5: Richards 8, Savic 5, Lescott 7, Clichy 7: Barry 6.5, De Jong 6.5 (Kolarov 5) , Milner 7, Johnson 6.5 (Dzeko 6) Balotelli 6 (Nasri 7) Aguero 7