City 2 United 3
January 8th 2012 46,808
FA Cup R3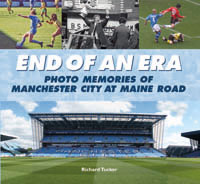 Now available from Amazon ( click on image for link)
WH Smith and the City shop
The result of this game hinged around referee Foy's decision to send off Vincent Kompany after just 11 minutes for a tackle that was strong but by no means dangerous. This gave United a huge lift and they took had a three goal advantage by half time.
Mancini reorganized his team at the interval and Zabaleta and Savic replaced Silva and Johnson.
Kolarov who had a poor first half won a few friends with a splendid free kick to keep City in the game and when Aguero who had impressed with his work rate scored after 65 minutes it was United who were running scared and the atmosphere was electric as City's ten men mounted attack after attack on the United goal. City had a good shout for a penalty themselves for a handball but in the end it was United who went through to the next round to face Liverpool away. It was a very good come back by City who showed terrific team spirit. In addition to Aguero, Milner ,De Jong and Richards fought hard . Disappointing for me was Nasri who failed to show enough effort at times. At least we can now concentrate on winning the league!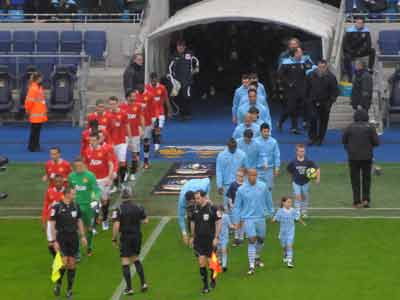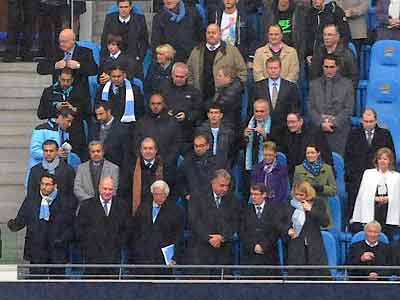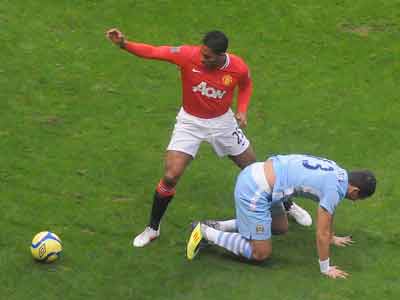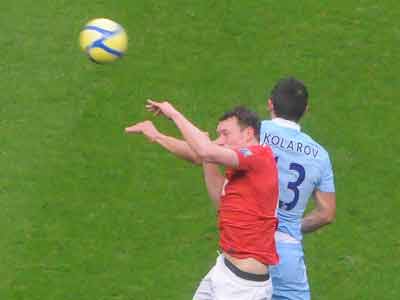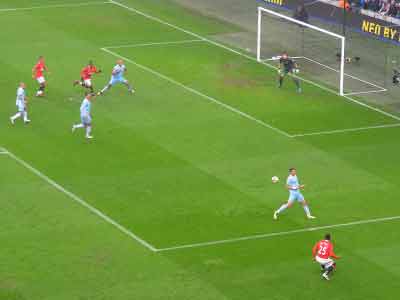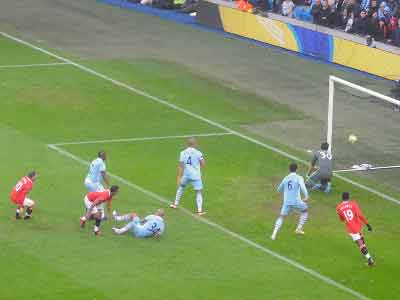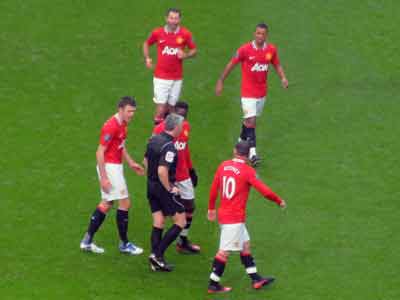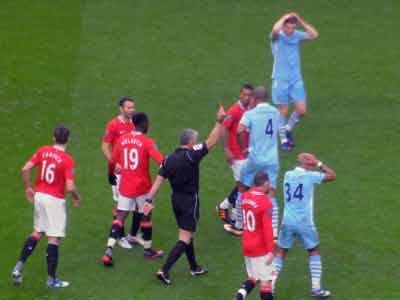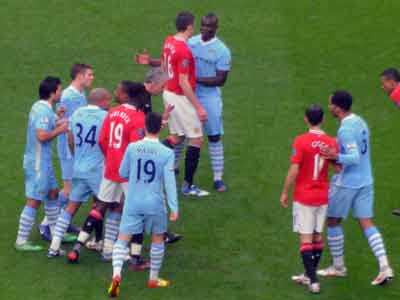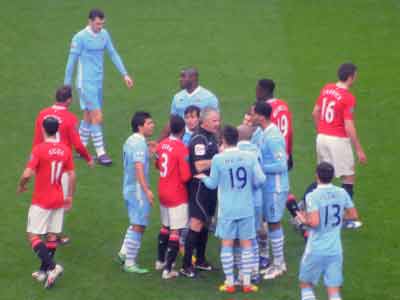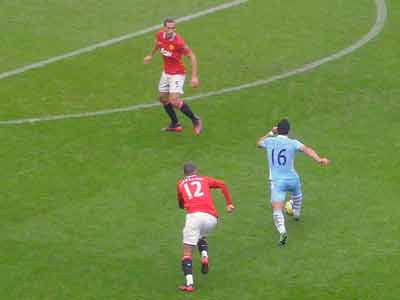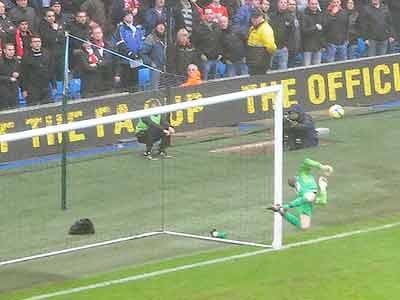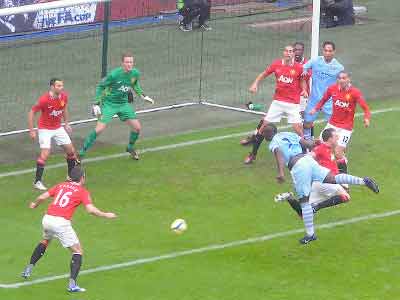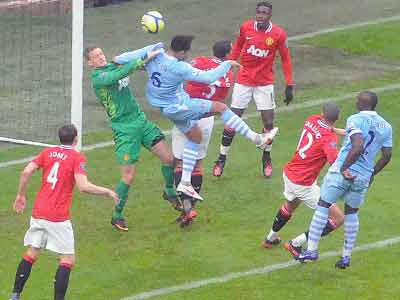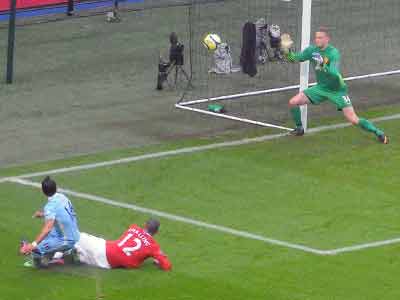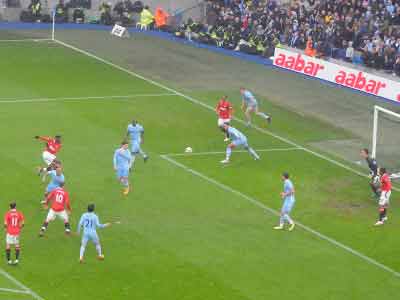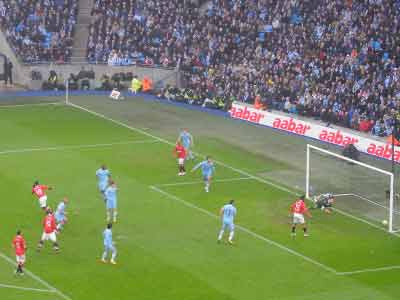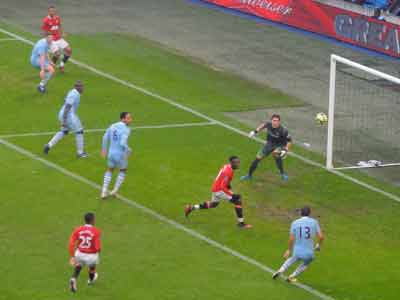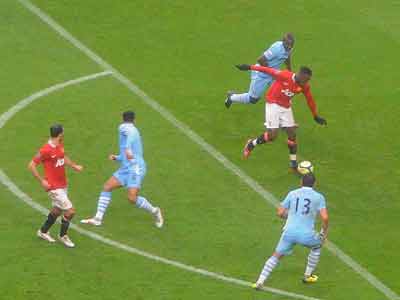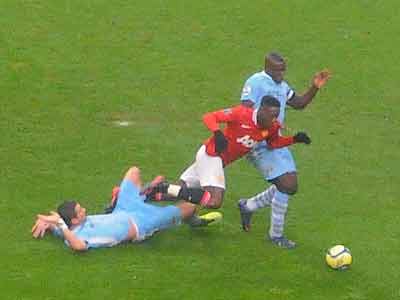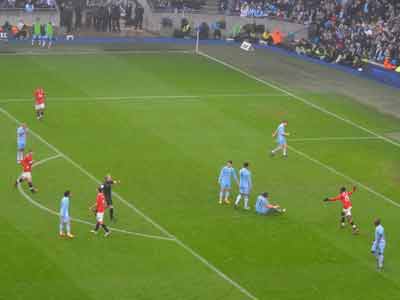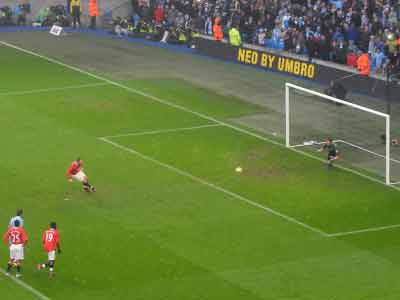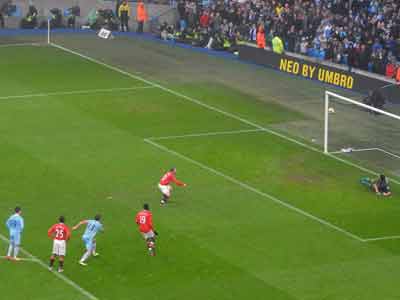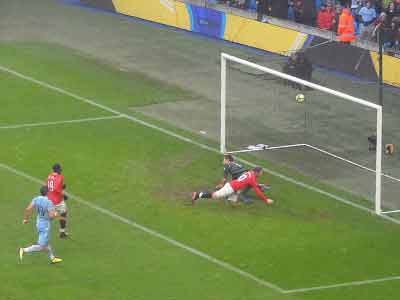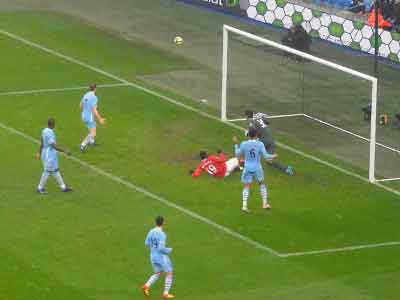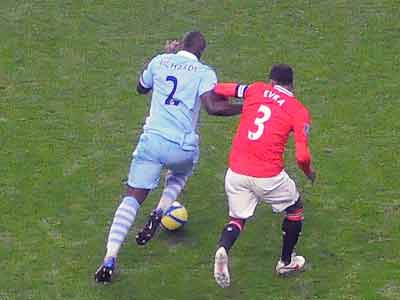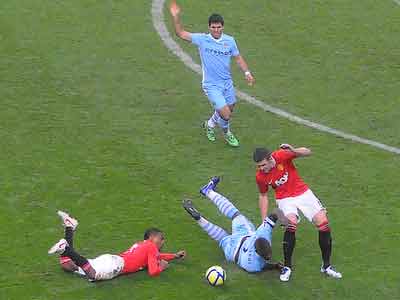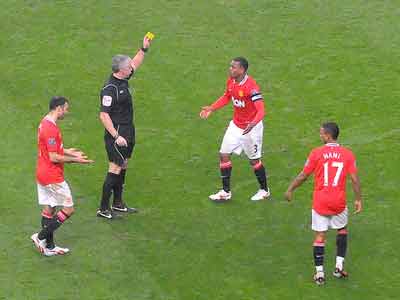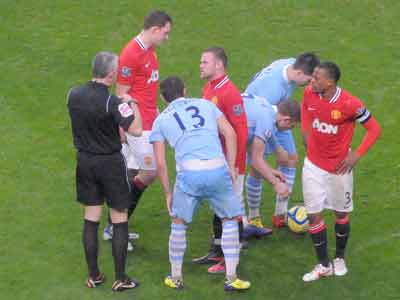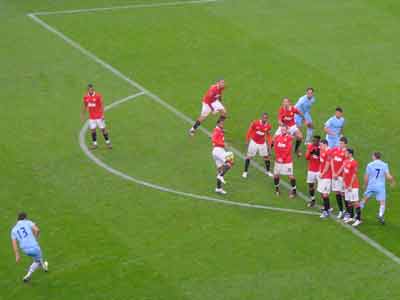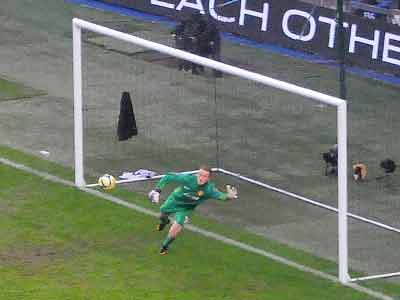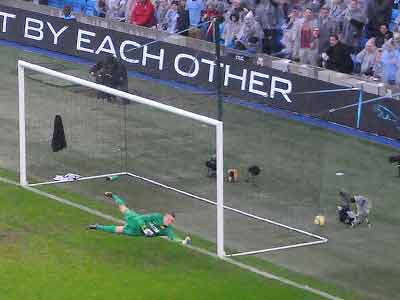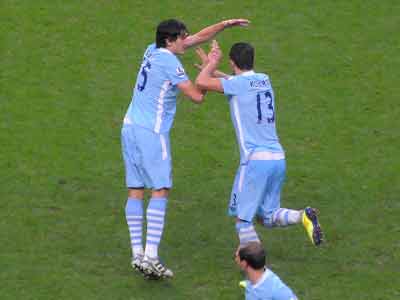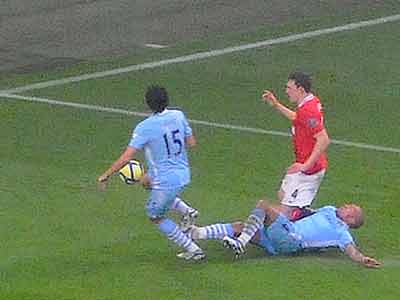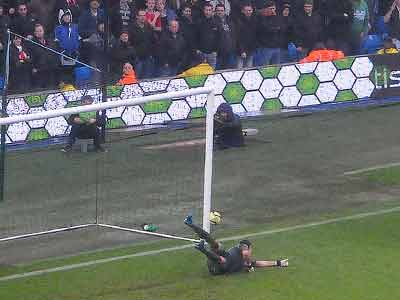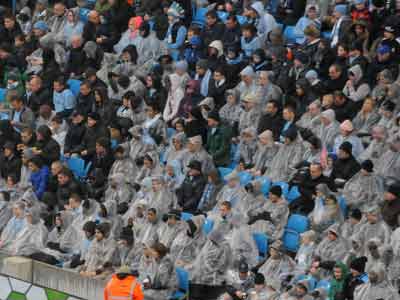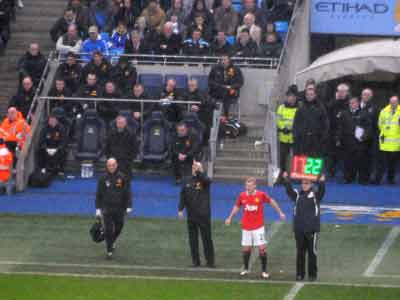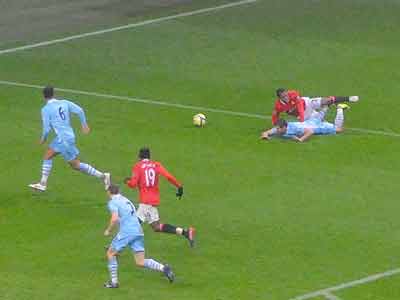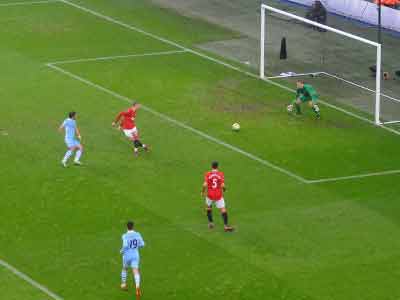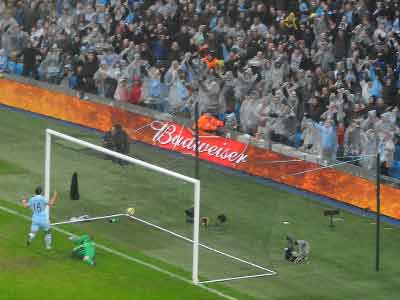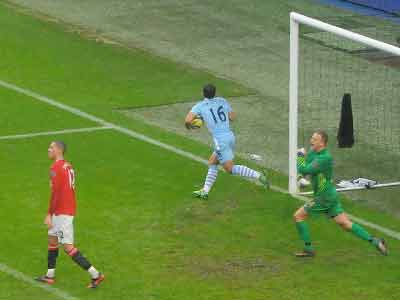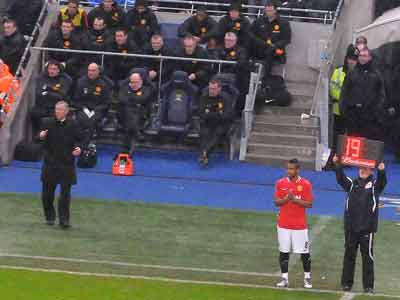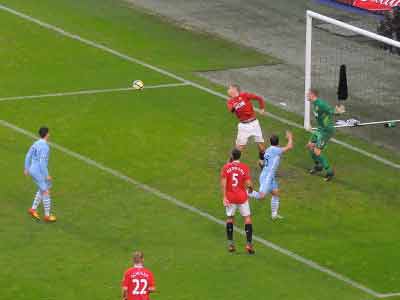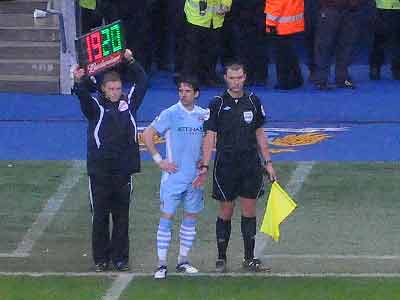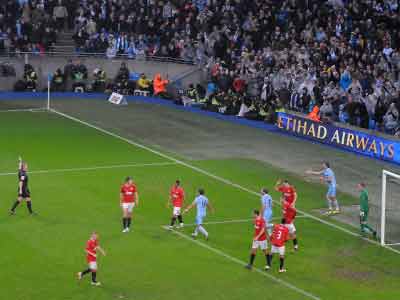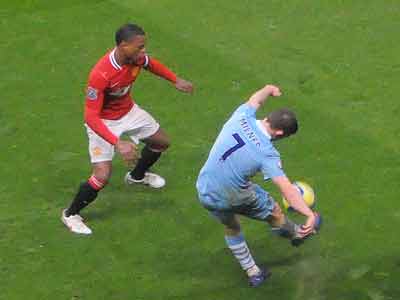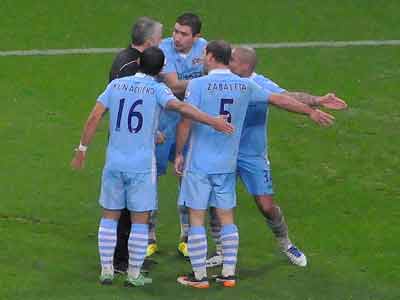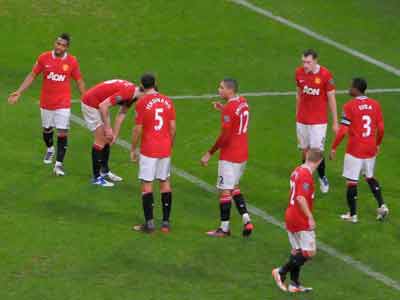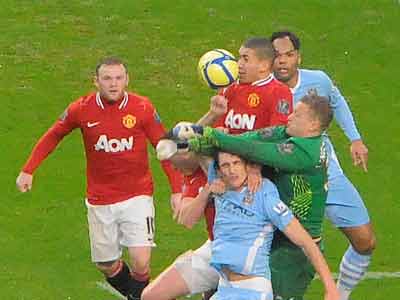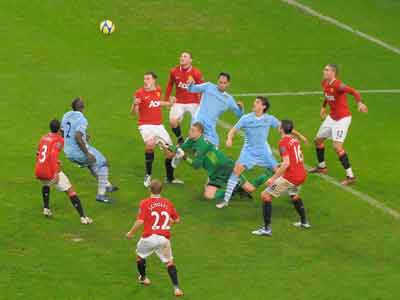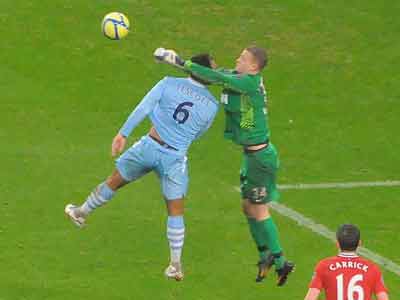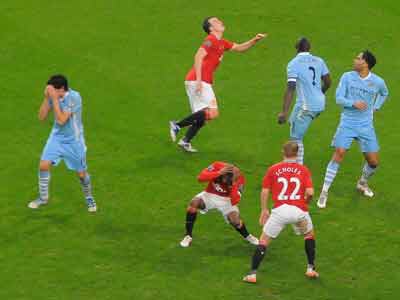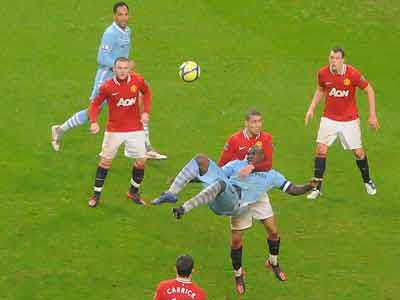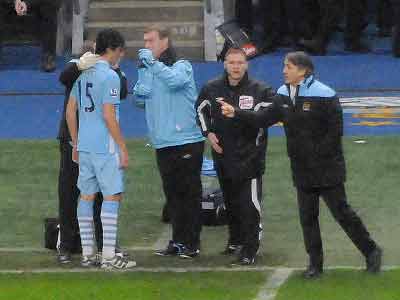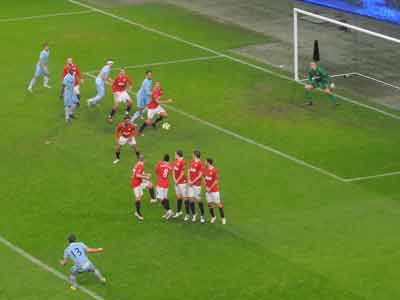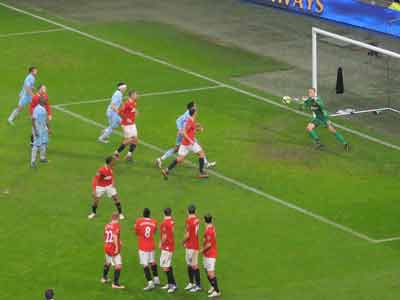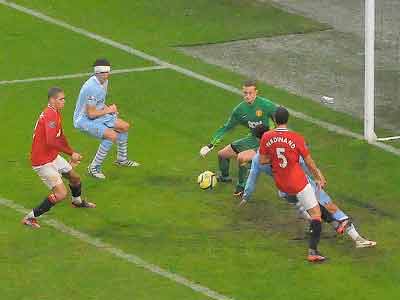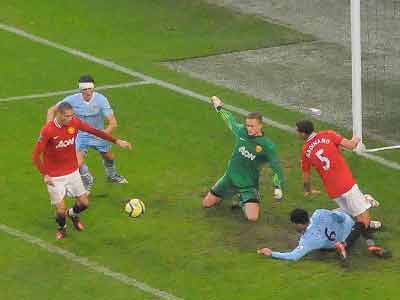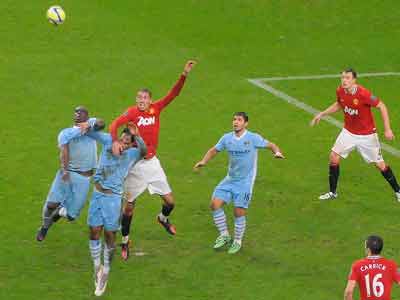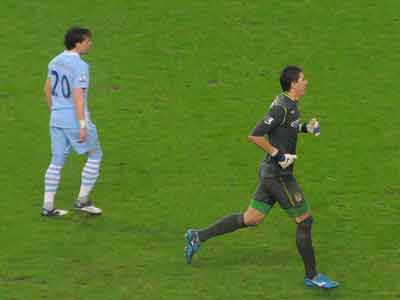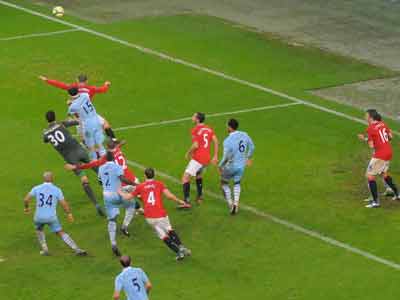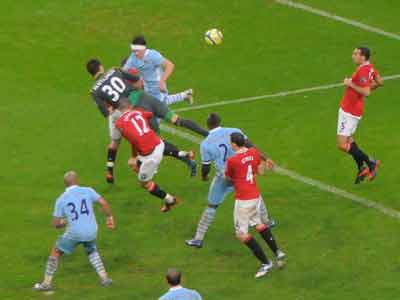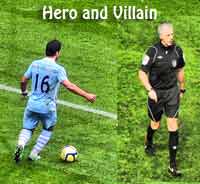 With returning from retirement Scholes on the United bench there was no truth in the rumor that Mancini had asked Mike Summerbee (seated far right) to find his boots!
Surprise for City fans was the resting of Joe Hart. No Balotelli and Dzeko - both injured and of course no Yaya Toure and Barry .
We had a few qualms about the selection of Kolarov over Clichy and he was soon in action
It was the failure of Kolarov to close down Valencia quick enough. The cross was met by Rooney and his header gave Pantilimon no chance
On 11 minutes Kompany tackled Nani who did not complain or appear injured but as the referee went to the player Rooney said something to him and in moments a red card was shown
Replays I have seen since have convinced me that it was a very rash decision by the referee and I am sure City will appeal
So City were down to ten men with 80 minutes to go!
2 minutes later and Aguero put in a great effort but.......
.....alas Lindegaard dived across and pushed the ball for a corner which Richards just failed to head properly
Lindegaard manages to clear a City corner under pressure by Lescott
Another effort by Aguero from a narrow angle goes just wide hitting the side netting
Just on the half hour City went two down after Welbeck gave the keeper no chance with a shot into the corner
We had the novel experience of two foul throws in succession by Nani that had the United manager demonstrating how it should be done!
A cross causes a problem for the City defence
A poor clearance from the City keeper gave Welbeck a chance.....
Kolarov brings down Welbeck and its a penalty
Rooney takes the penalty and Pantilimon makes a great save .......note that Nasri has failed to follow-up!
Rooney heads in the rebounds from the keeper and United are three up
Welbeck misses a cross from Valencia
City came out after the interval in attacking mood and when Richards went on a run he was brought down by Evra
Evra got a yellow card and once again Rooney had a few words with the ref
Kolarov took the free kick and scored direct the ball going over the wall and into the corner.
What a start to the second half

Jones makes a run for united and forces a corner which ends with Rooney shooting just wide
The rain continued to fall and after 60 minutes Scholes came on for Nani
Kolarov was lucky escape another penalty when he made a mess of a tackle on Valencia
A mistake by Scholes let in Milner who crossed to Aguero who shot first time
The keeper saved but Aguero following up put the ball in the net to make it 3-2. Game on!
The United bench were getting worried and sent on Anderson for Welbeck and City brought on Hargreaves for Nasri
A Milner cross is headed clear
A run down the left wing by Kolarov leads to a block by a United defender which City claim was by hand
While the City players do their best to ay it was hand ball the United defenders look a little shaken
United needed to defend strongly as City kept up the pressure
City went down to nine men when Savic had to go off for treatment
Richards does his best at a corner
In extra time City had another free kick but Kolarov could not quite score again but it did give the United defence a scare as the keeper failed to hold the ball
As City gained a final corner in the very last minute keeper Pantilimon rushed up to help
Pantilimon managed to get his head to the ball but the header went wide and United managed to hold out for their narrow win
Game over it was handshake time and City fans went home knowing that their team put up one hell of a fight despite being down to ten men
Pantilimon 6.5: Richards 7, Kompany 5, Lescott 6.5, Kolarov 6, De Jong 6.5, Johnson 6 ( Zabaleta 7) Milner 7.5 , Nasri 5 (Hargreaves) Silva 6 ( Savic 6.5) Aguero 8