City 4 Leicester City 2
January 18th 2011 27,755
FA Cup R3 replay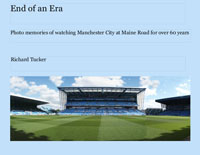 My book 'End of an Era' containing photo memories of days at Maine Road is now available from Blurb.com.
There are over 300 images on 200 pages.
Click on the image for details

A relatively comfortable win over Leicester City in the replay gives City an away 4th round tie against Notts County. It could and should have been more as several good chances were missed and Tevez missed his second penalty on the trot. It was a good game with the visitors showing plenty of attacking ideas but in the last third they rarely gave Hart much trouble. It was nice to see Sven and Faz together on the touchline but although they showed plenty of spirit it was the Premier City side that won the day. A pity the crowd was so poor. The visitors brought plenty of support but there were many gaps in other sections of the ground. Silva and Tevez were the pick of the City players once again and Kolarov got on the score sheet for the first time with an excellent left foot shot to finish the game off. I am still not convinced about the centre of defence. Suddenly there are questions to be asked as more goals are conceded. City showed good discipline by not appealing when a penalty was eventually given for an innocuous touch by Viera on Dyer who appeared to be very late in going down.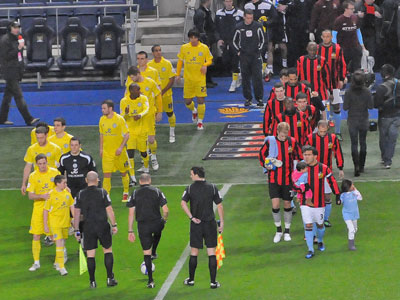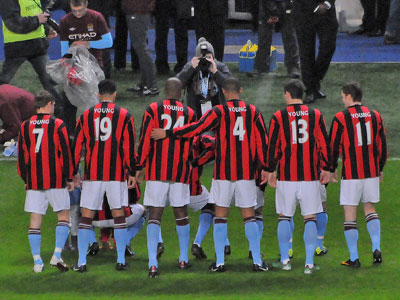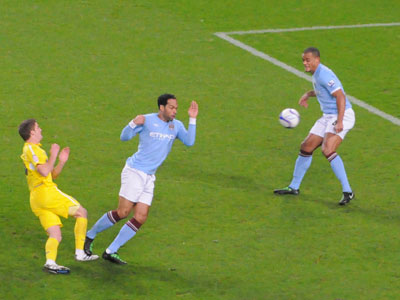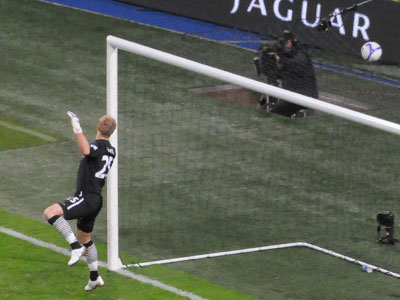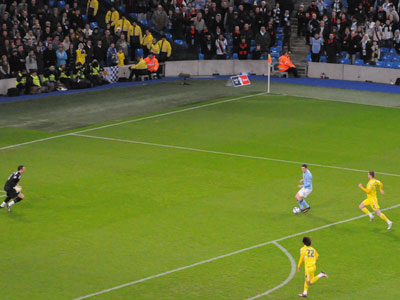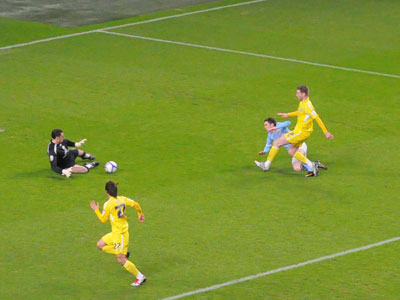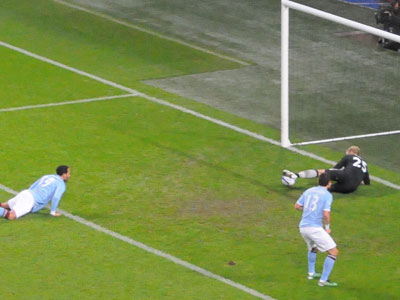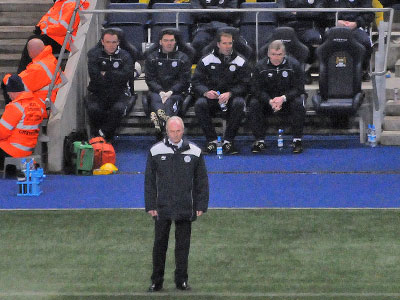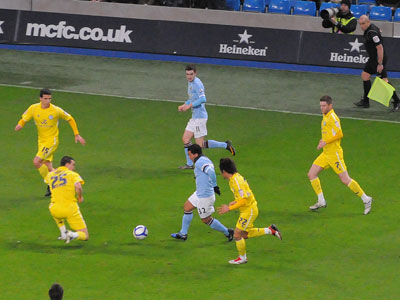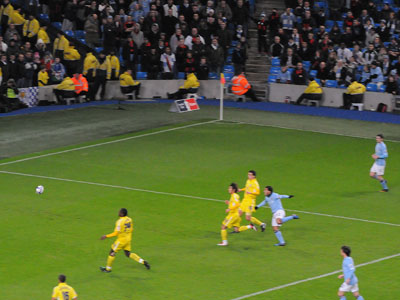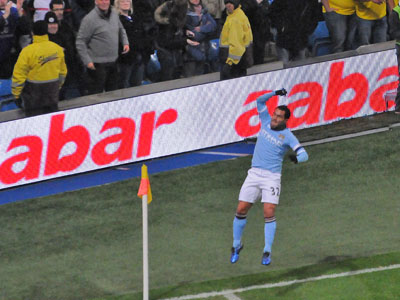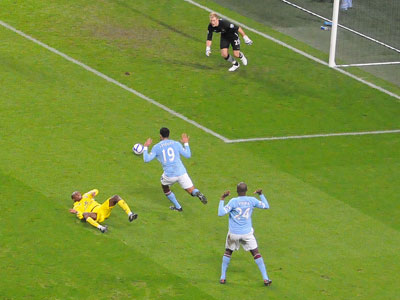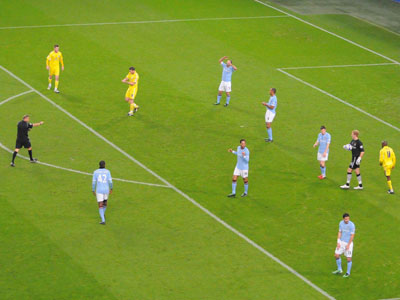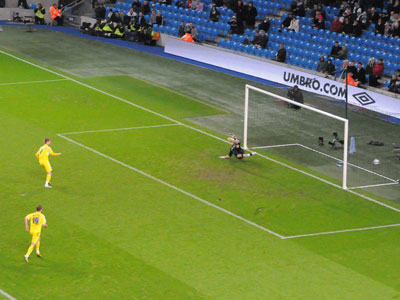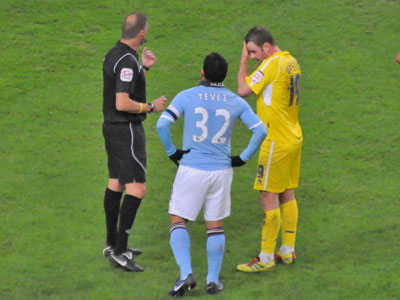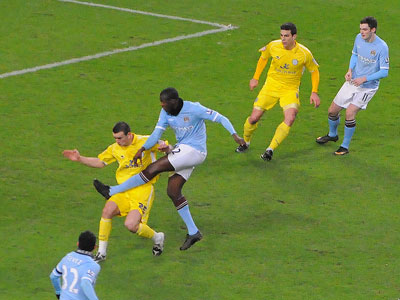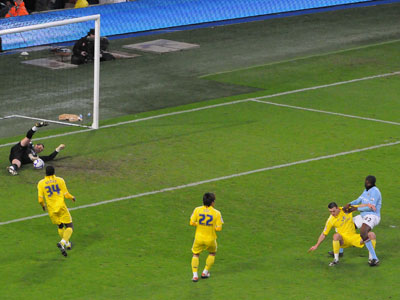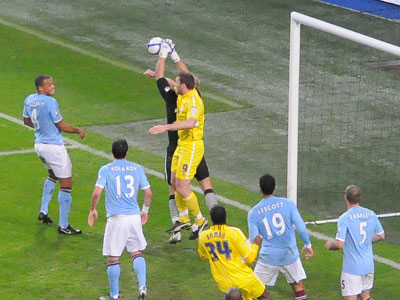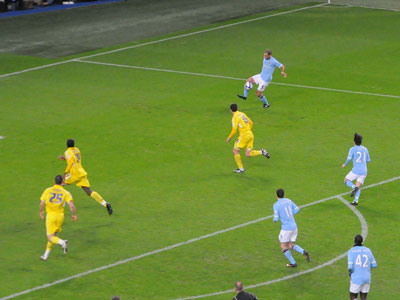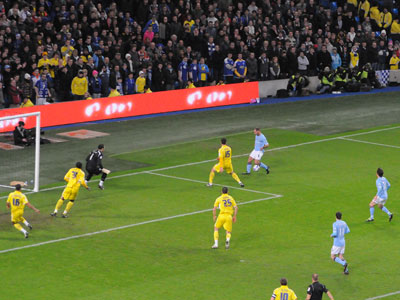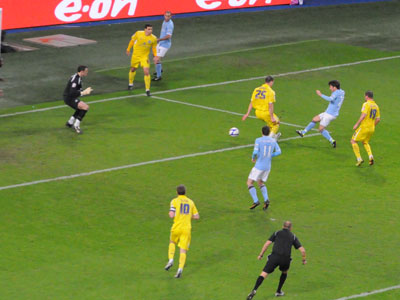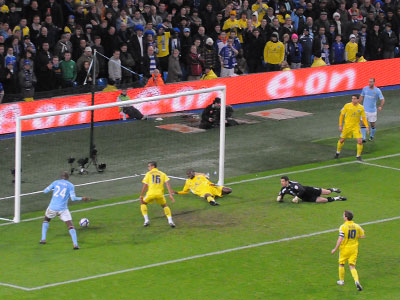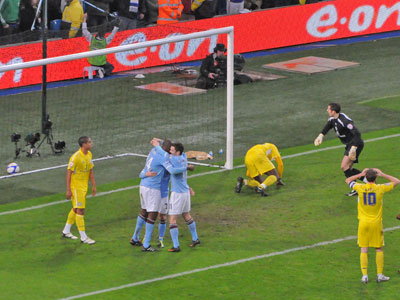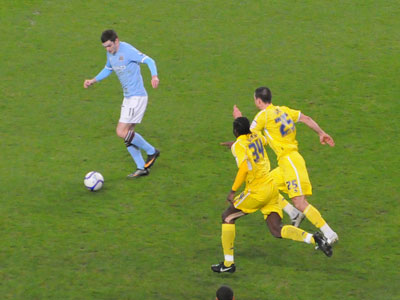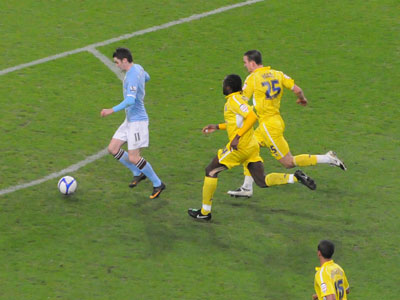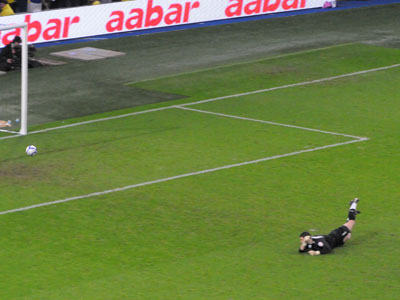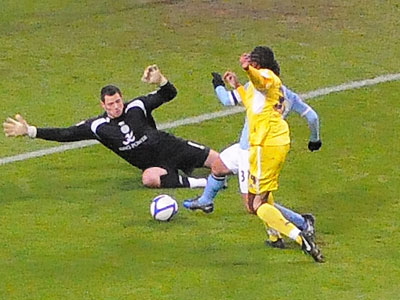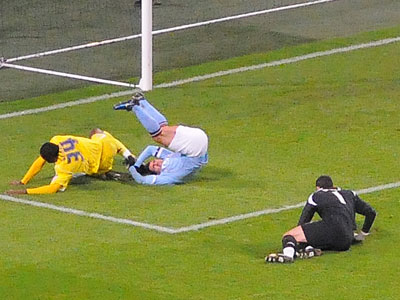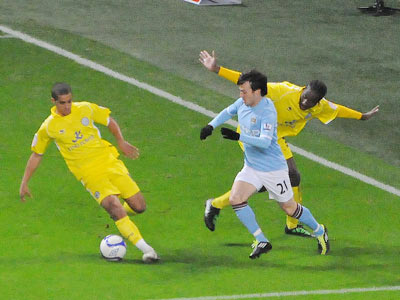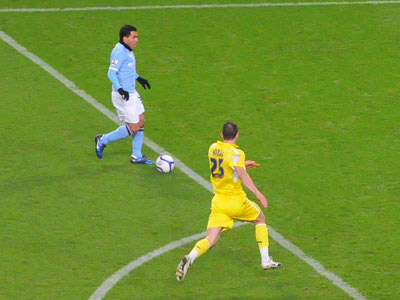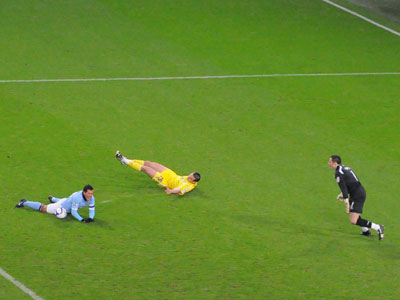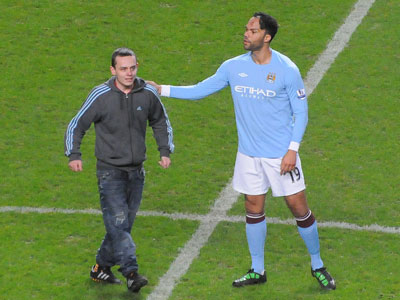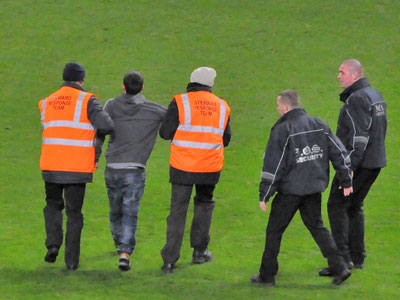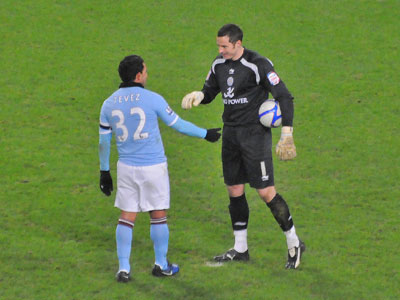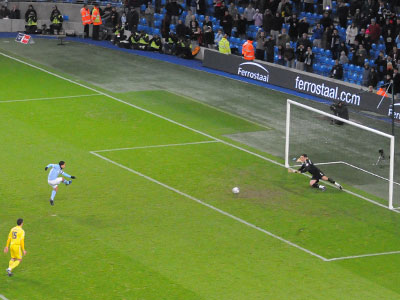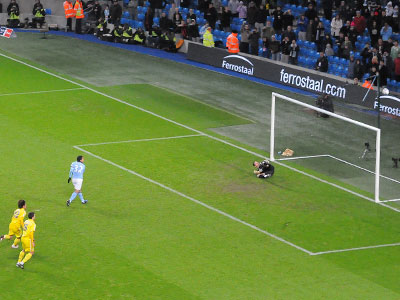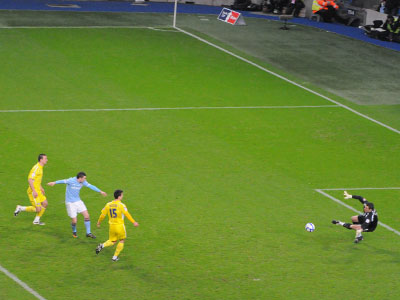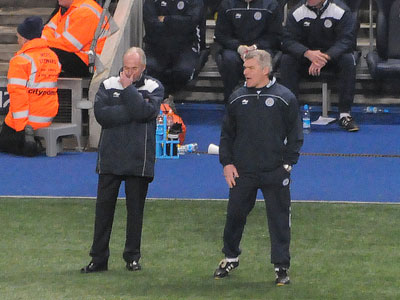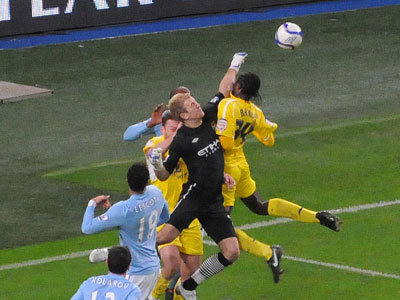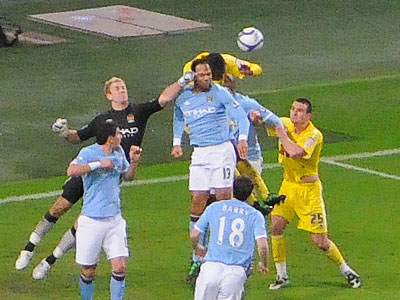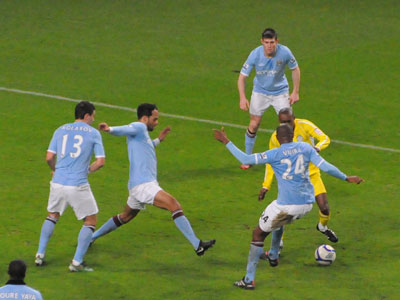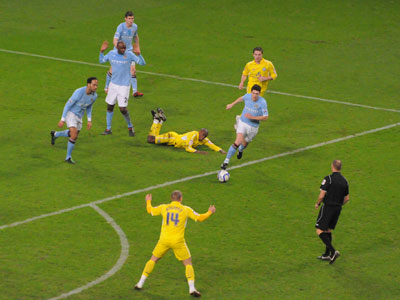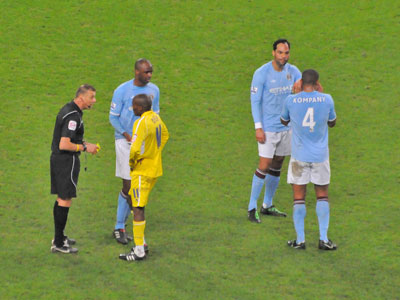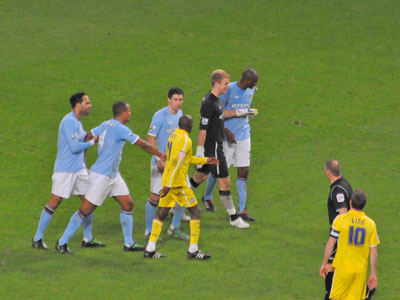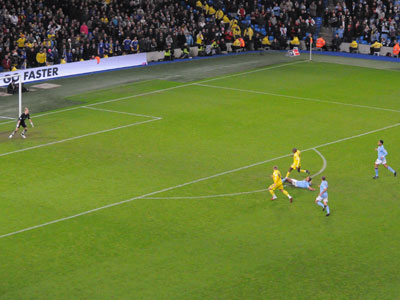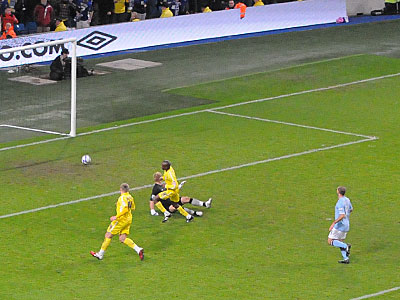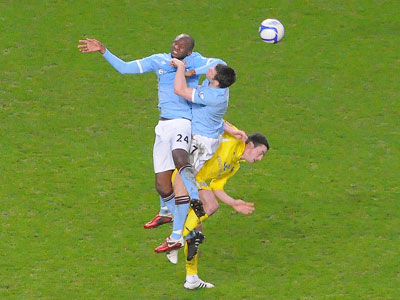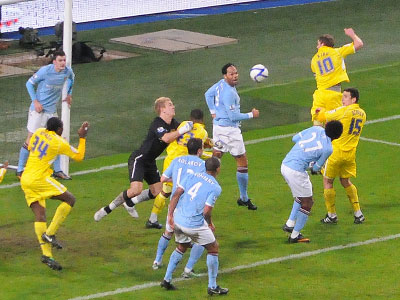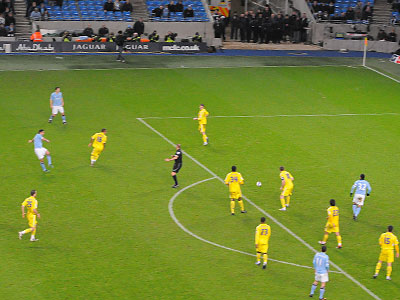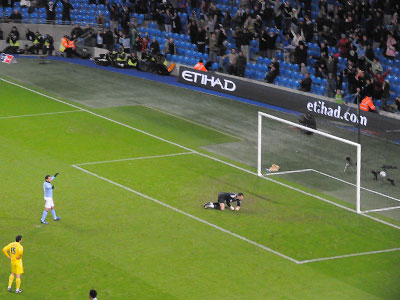 Hart 7: Zabaleta 7.5, Kompany 7, Lescott 6.5, Kolarov 7.5: Viera 6.5, Milner 7, Yaya Toure 7 (Jo 6), Johnson 7, Silva 8 ( Barry 6.5) Tevez 8
De Jong and Barry were rested and with Dzeko unavailable Tevez was on his own up front. City came out in the shirts made famous in the 1969 Cup Final win and in honor of seriously ill Neill Young they all had Young's name on the shirt - a nice touch. I noticed that once again Tevez had his two daughters with him
King's shot is deflected by Lescott onto the top of the bar and over to give City an early fright
When Tevez sent Johnson clear it looked like an early score for City but Johnson failed to beat the keeper when well placed
Joe Hart has to change direction quickly to prevent the ball crossing the line after 12 minutes
A worried Sven watches as City gradually get on top
On 14 minutes City took the lead. Taking a throw from Zabaleta Carlos Tevez goes direct for goal and smashed the ball into the net - the power of the shot beating the keeper.
Just four minutes after Tevez celebrated Viera stuck a leg out and just caught Dyer........
.... after what seemed an eternity referee Halsey pointed to the spot and Gallagher sent Hart the wrong way to equalize
The referee has a few words of advice for Tevez and Wellens after a minor skirmish
After 27 minutes Yaya Toure had a chance but his shot under pressure.....
Hart has a slight problem at this corner
On 36 minutes a great long pass by Tevez found Zabaleta on the right wing. He took the ball to the goal line .....
.... and passed it back to Silva who shot was partially blocked but the ball ran to the unmarked Viera who gratefully plonked it into the net to give City the lead
Celebrations had hardly finished when a great through ball from Silva found Johnson who had made a good run across the defence...
..... this time Johnson made no mistake and suddenly City were 3-1 up
The keeper saves from Tevez and its half time with City 3-1 up
Silva back from injury was once again proving a key player in midfield and attack
After 56 minutes City should have made the game safe when Tevez broke through following a pass from Kolarov
He was brought down in the area by Jack Hobbs - there's a name to conjure with - and a penalty was awarded
But before the kick could be taken we had an intruder on the pitch who had his collar felt by Lescott before.....
..... he was escorted off the pitch and pitched into the deepest dungeon at Eastlands . What stupidity - that's his last game!
Tevez and Weale exchanged a joke before the kick
Alas the keeper saved the penalty - not one of Tevez's best efforts. That's his second miss now - perhaps a change of kicker is needed
Tevez supplied Johnson with yet another chance but the keeper saved
It was like old times to see Sven and Faz on the touchline
Joe Hart had the opportunity to show off his punching ability on several occasions as Leicester tried to reduce the appears
A duel between Viera and Dyer ended with ......
...a yellow card for both of them
After 82 minutes a rebound off the referee gave an opportunity for Leicester and Dyer broke away to score to make it 3-2
Viera and Milner try to out jump each other!
With just a minute to go a good move by City ends with a long low shot by Kolarov hitting the back of the net to give City a 4-2 victory and a visit to Nottingham in the next round