City 4 Wolves 3
January 15th 2011 46,672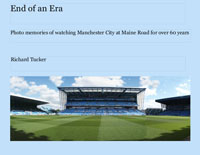 My book 'End of an Era' containing photo memories of days at Maine Road is now available from Blurb.com.
There are over 300 images on 200 pages.
Click on the image for details

A terrific game which will be remembered by a wonderful individual goal by Carlos Tevez. Full marks to Wolves for making it difficult. They looked the better side early on and at times they looked the home side. Taking a well deserved lead they put constant pressure on our defence harrying our defenders giving them no time to settle and pass the ball around. A scrappy equalizer from a corner by Kolo Toure made it 1-1 at half time. City then shot into a 4-1 lead mainly due to the leadership and brilliance of Tevez. Dzeko's lack of match practice showed up at times but in the second half he helped Yaya Toure score and gave glimpses of his skill. More to come I'm sure. City then dropped their guard and a unnecessary foul by Lescott ( on for the inured Kolo Tore) gave away a penalty. A third goal with 4 minutes to go gave City supporters an uncomfortable last 9 minutes as Wolves battled to save a point. I am sure Mancini will have words with the defence and just maybe we will see a further addition in the January transfer window. Well City ended the day in top spot with United to play Spurs 24 hours later.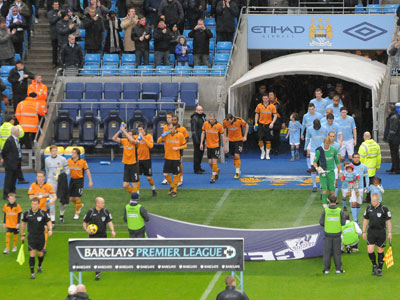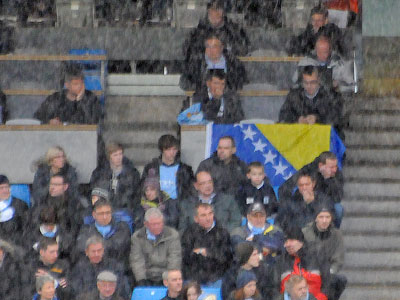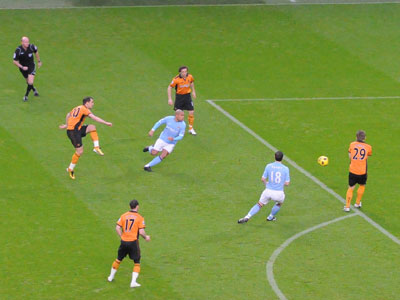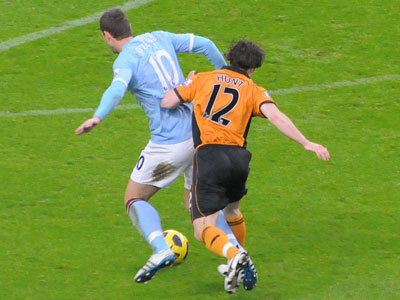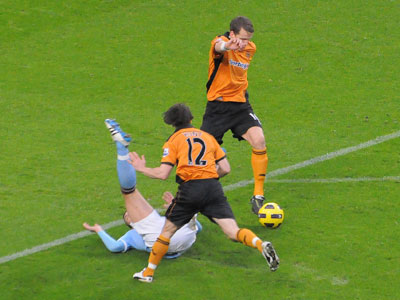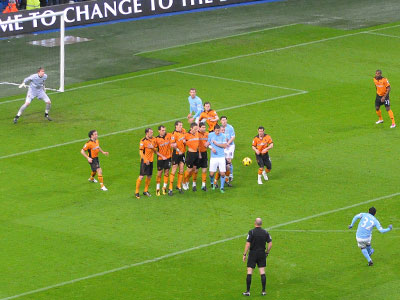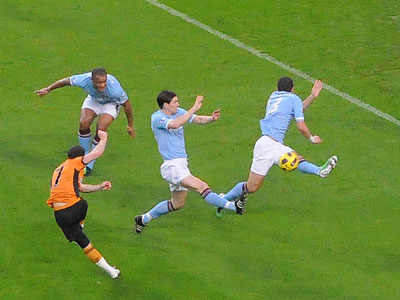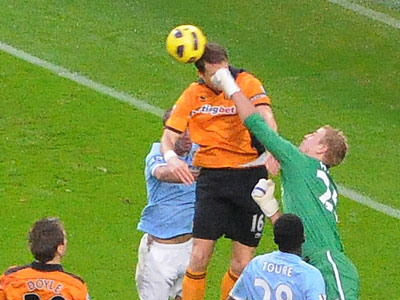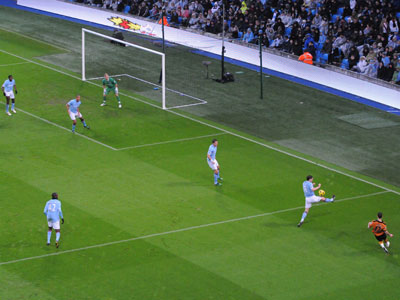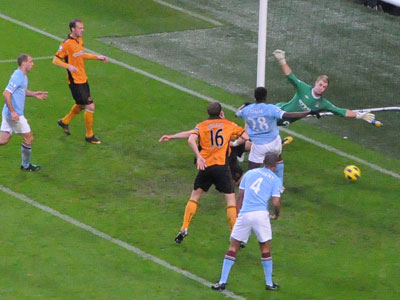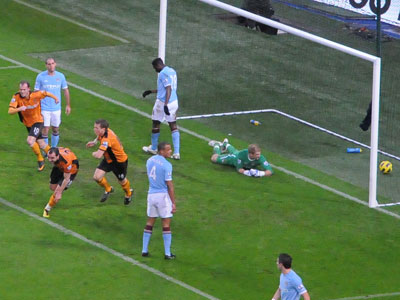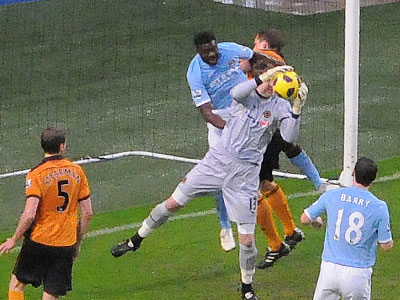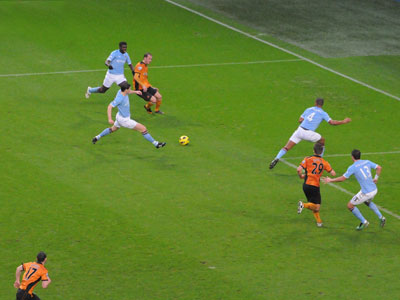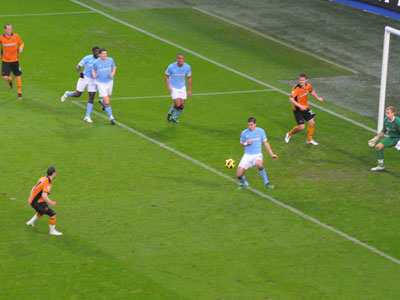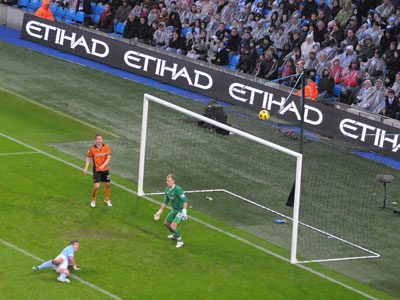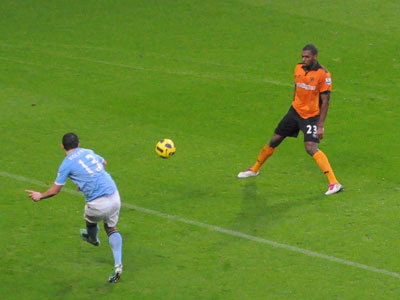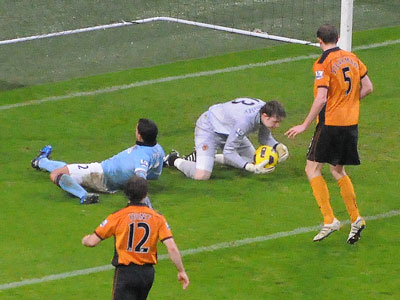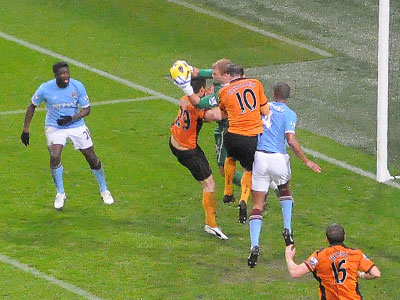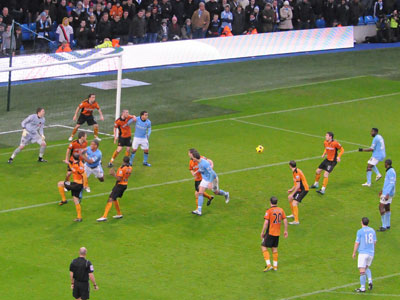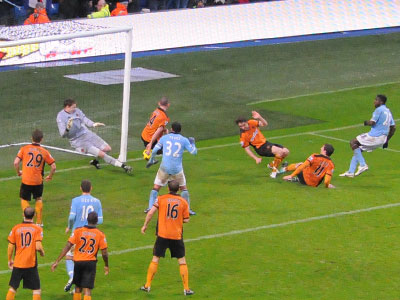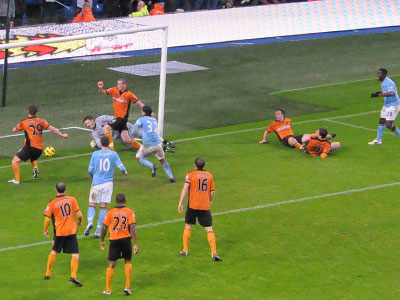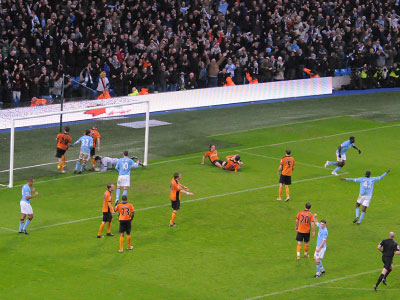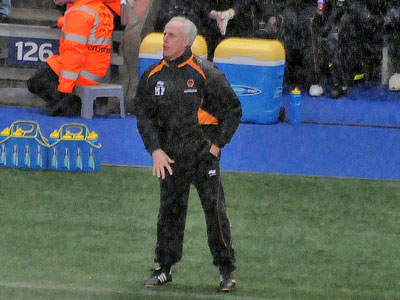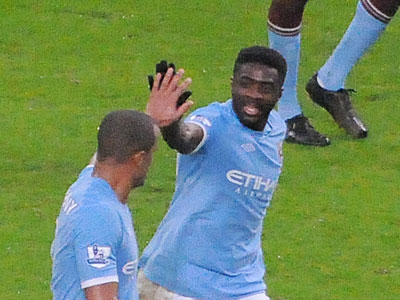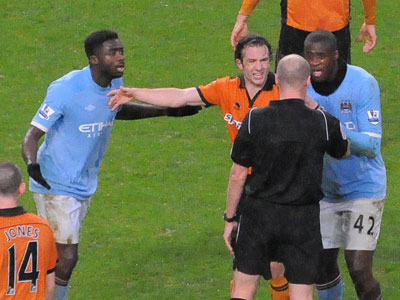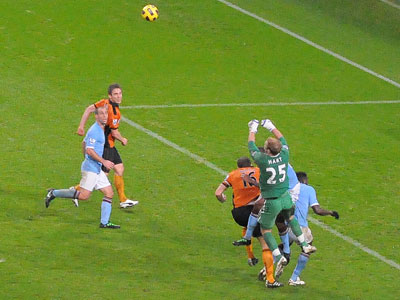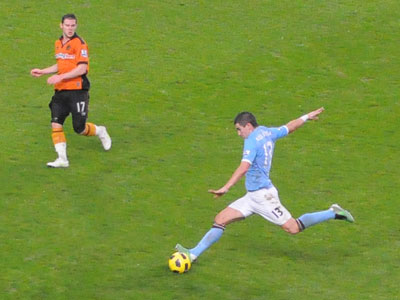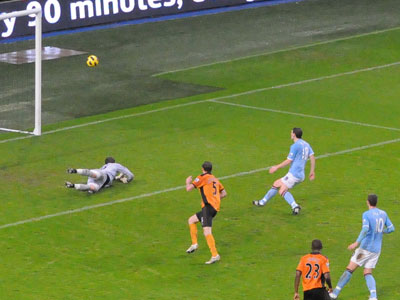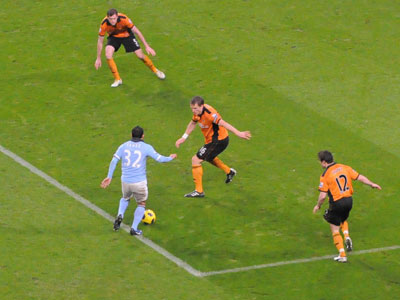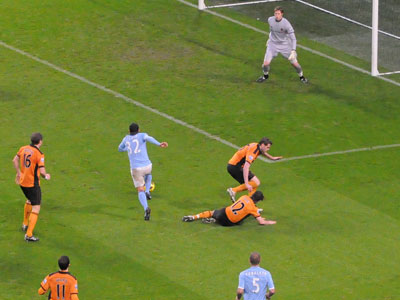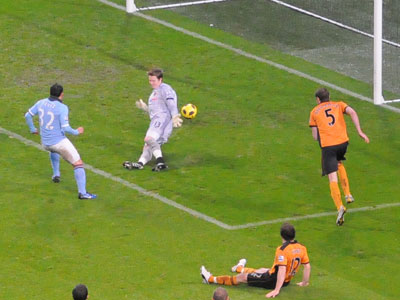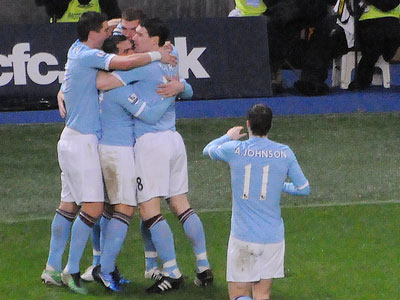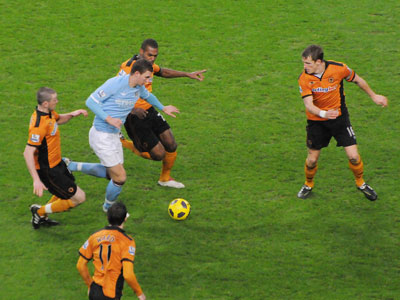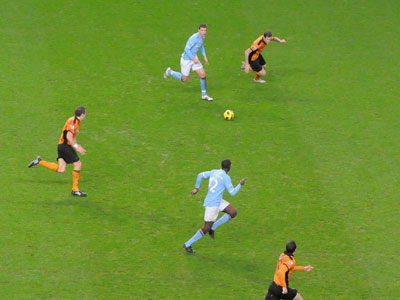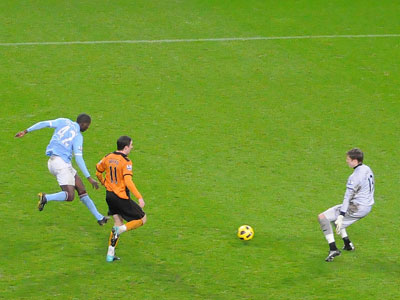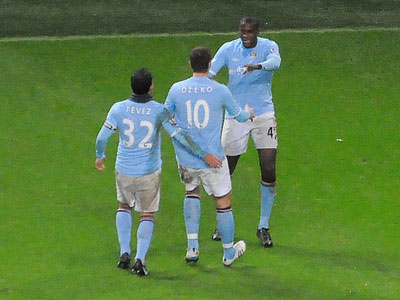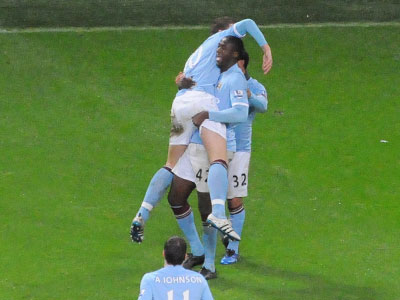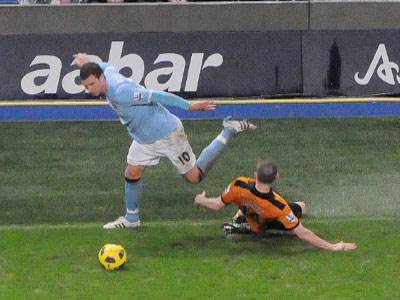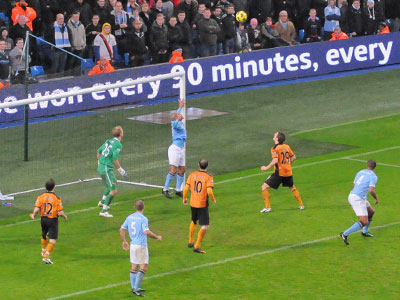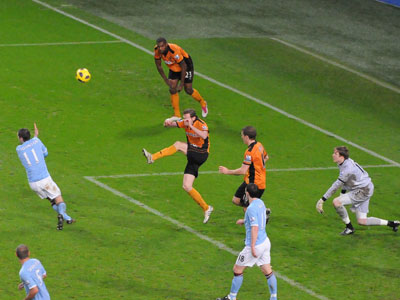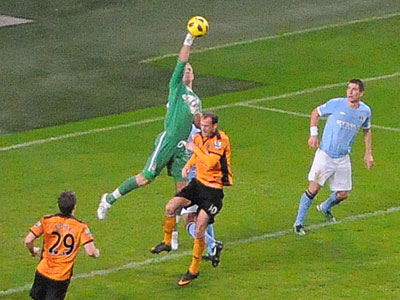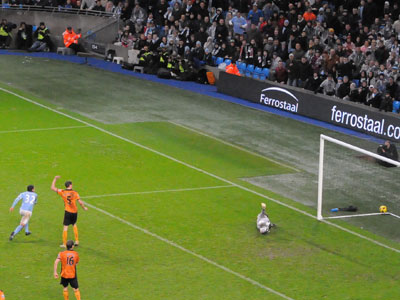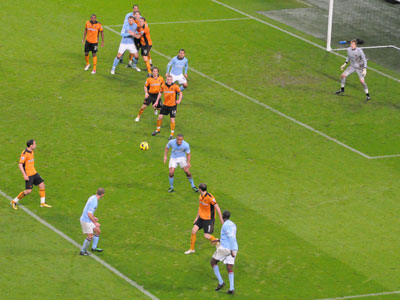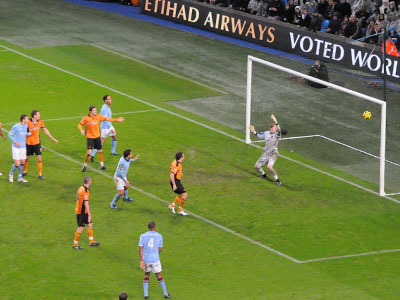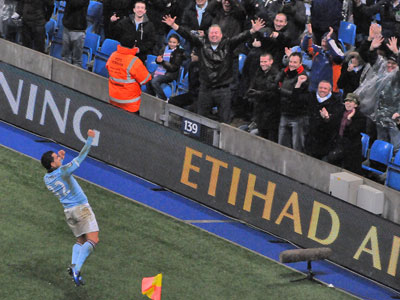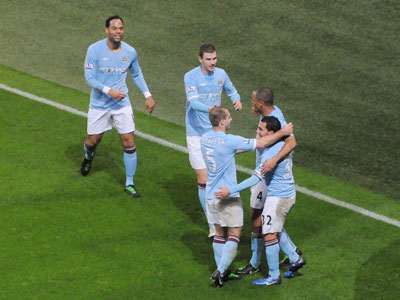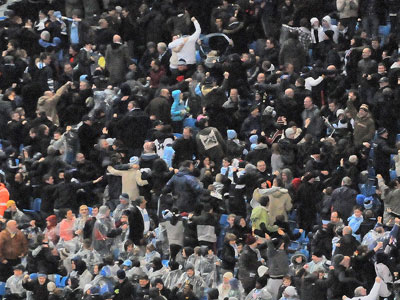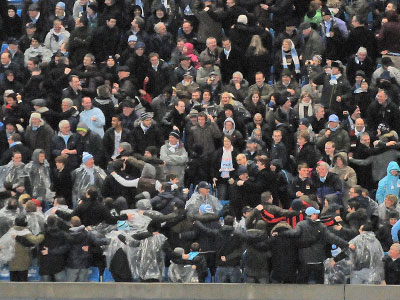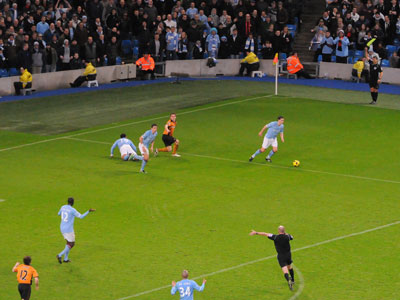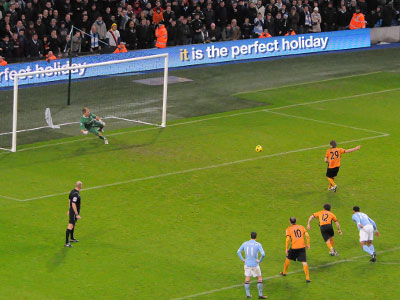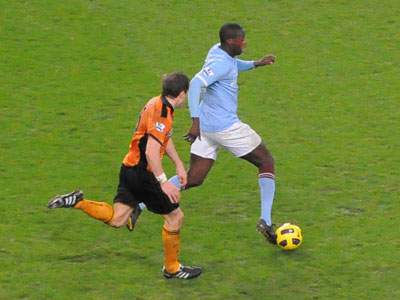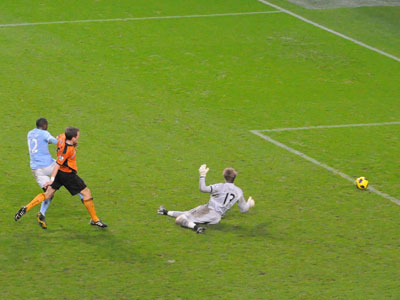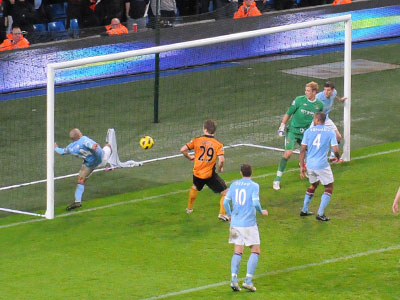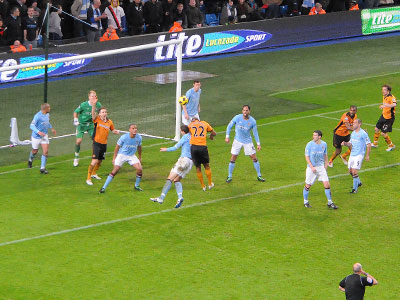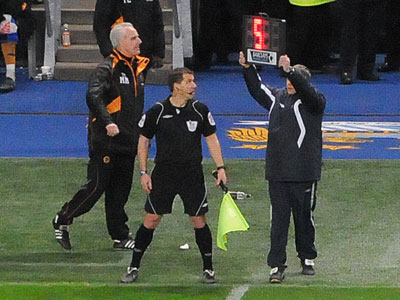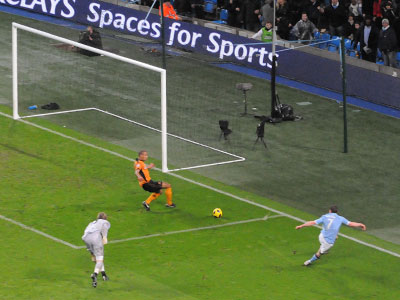 Making his debut for City was Edin Dzeko our new arrival from Wolfsburg. There was even someone with a Bosnian flag in the press box area to give him support.
An early effort by Milijas goes wide after just 15 seconds
Edin Dzeko's first touch of the ball
After 4 minutes Hunt brings Dzeko down right at the edge of the area
From the kick Tevez hits the wall and the ball is cleared
A Jarvis shot is blocked by Kolarov
No it's an optical illusion!
Hart did punch the ball and not Berra
After 12 minutes the Wolves pressure paid off. A cross by Jarvis eludes Barry.....
.... and after Hart had saved from Milijas he could not keep out the second attempt by the Serbian and City were a goal down. We didn't expect that!
Hennessey saves under pressure at a City corner
On 19 minutes City had a narrow escape when a cross from the left .......
......to a waiting Jarvis but a brilliant block by Kolarov deflected the ball for a corner
Kolarov always eager to attack puts in a great cross that Tevez just fails to reach
Joe Hart makes a difficult catch under pressure
With nearly 40 minutes on the clock Johnson took a corner from the left...
. the ball nicked the head of Kompany before running onto Kolo Toure who managed to get the ball over the line.
The Toure brothers in discussion with referee Mason
Don't know the ball evaded those defenders but its 1-1 and City celebrate.
Hart is kept busy as Wolves continue to attack
Just before half time a shot from Kolarov was just touched for a corner by the keeper
Just 3 minutes into the second half we had a moment of magic. Taking a pass from Johnson Carlos Tevez weaved his way through several defenders.....
......before slipping the ball past Hennessey to put City ahead. Goal of the season - probably - unless he scores a better one at Old Trafford later in the season! World Class - even Messi could not have done better!
Dzeko was beginning to show how good a player he is and Wolves manager Mick McCarthy was to have more to worry about shortly after
...when a slick City move ended with a perfect pass from Dzeko finding Yaya Toure who went on to shoot past the Wolves keeper to make it 3-1.
The celebration ending with Yaya Toure doing a bit of weight training by lifting the Bosnian giant!
A header by Zubar hits the woodwork at a corner
Dzeko shows a lot of skill in beating an opponent near the touchline
On 61 minutes a run and centre by Dzeko is cleared by Wolves
Joe Hart manages to clear a corner
A Dzeko shot is just pushed for a corner by the keeper
In the 65th minute a chip from Zabaleta found the head of Tevez who scored his second and his 14th Premiership goal - 4-1 game set and match - or was it!
Now what was all that media furore about him going a few weeks ago!
The Poznan fan feature now appeared in other parts of the ground . I was half listening to the commentary from 5 Live and the commentators were baffled by the crowd reaction. They had no idea why the City fans were acting in this way.
Three minutes later and City gave away a penalty when a silly tackle on Doyle by Lescott gave Wolves a chance to reduce the arrears. Doyle sent Hart the wrong way and it was 4-2
With 8 minutes to go City should have made it 5 when an error by Berra let in Yaya Toure but the keeper managed to save.
When Kolarov headed over for a corner de Jong was late in getting to his position at the left post and when the unmarked Zubar headed for goal De Jong tried to clear but the ball had crossed the line - 4-3
When the 4th official put up 5 minutes we just were beginning to panic a bit! But the game ended with Milner just failing to score with the last kick of the game. Phew! What a cracker of a game. Boring Boring City !
Hart 7: Zabaleta 6.5, Kolo Toure 6 ( Lescott 5), Kompany 6.5, Kolarov 7: Barry 6.5,
de Jong 6.5, Yaya Toure 7, Johnson 6.5 ( Silva), Tevez 9.5 ( Milner 7) Dzeko 7.5