City 1 Blackpool 0
January 1st 2011 47,296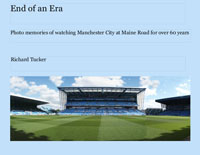 My book 'End of an Era' containing photo memories of days at Maine Road is now available from Blurb.com.
There are over 300 images on 200 pages.
Click on the image for details

A very good open game which will be remembered by the number of chances that Carlos Tevez had and missed including a penalty. This was the first miss at a penalty by a City player since March 2009 when Robinho had his saved by Fulop in a 1-0 win over Sunderland. It was just one of those days for Tevez so I hope he will make up for his lapses by scoring a couple against Arsenal next Wednesday!
Silva too missed a good chance but he worked hard and once more made plenty of terrific opportunities. In defence lescott had a very good game again and he he now showing the form that made us buy him from Everton. With Kompany the partnership must be one of the strongest in the league. Kolarov was too often outpaced down the wing and was subbed by Zabaleta. Boateng has yet to reach the form he showed for Germany in the World Cup. Joe Hart made several good saves and once again kept a clean sheet. Milner showed some nice touches when he came on for the injured Silva but Yaya Toure mixed moments of brilliance with silly errors. Blackpool may no longer have the big names from the past - Armfield, Matthews, Mortenson etc but they play good open football and were always a danger.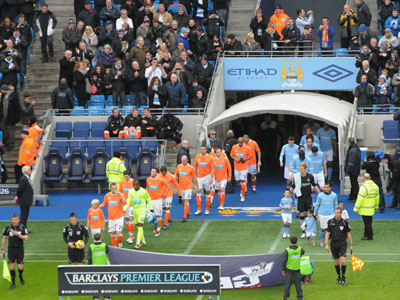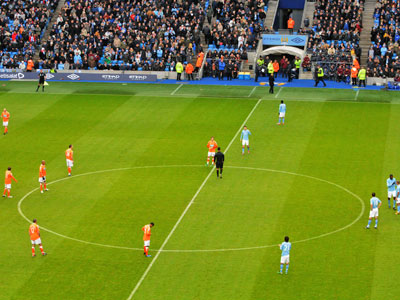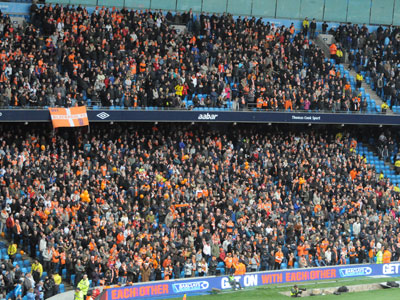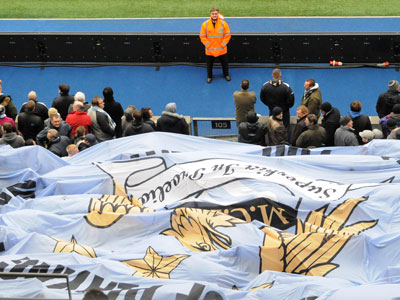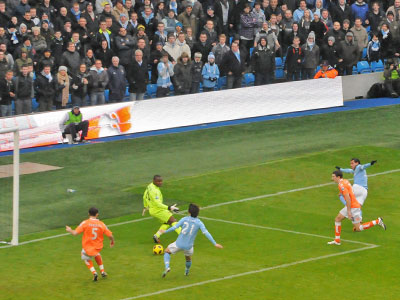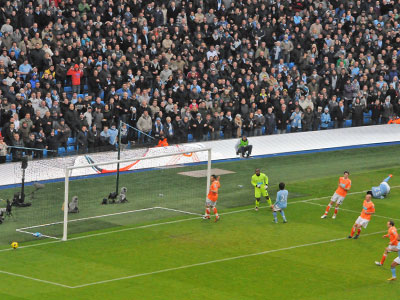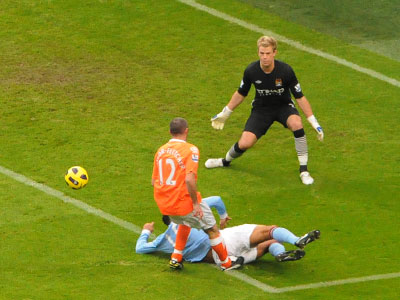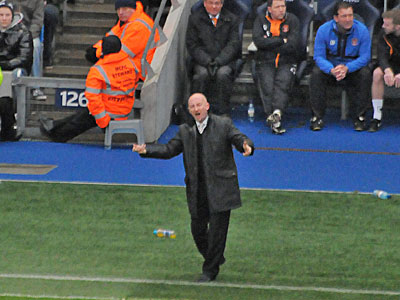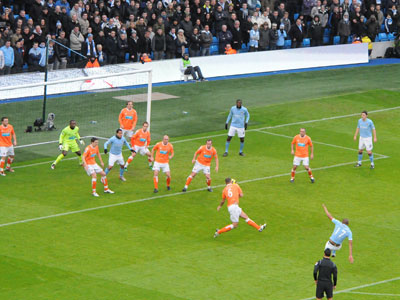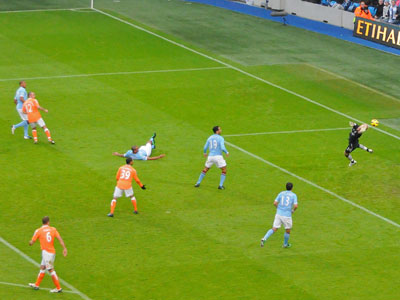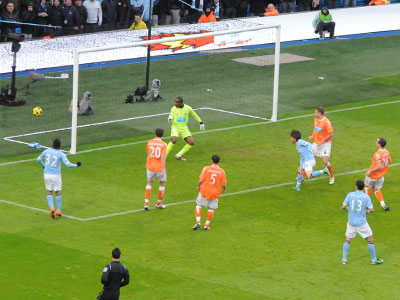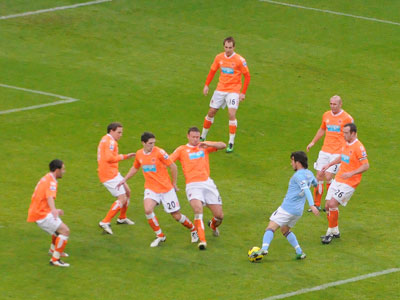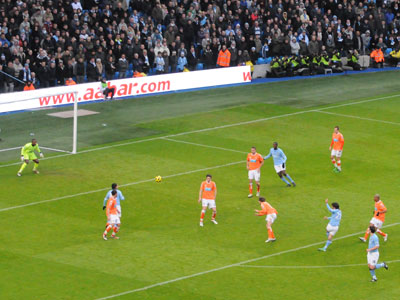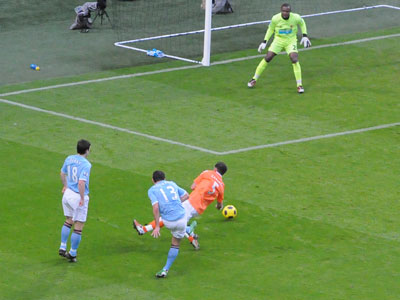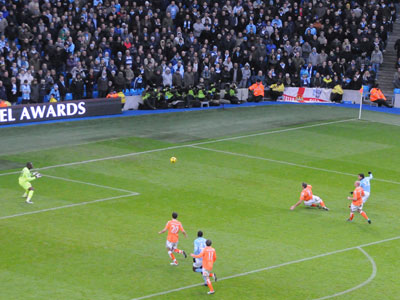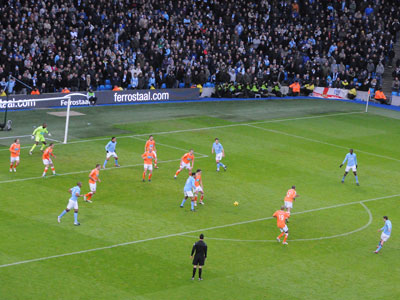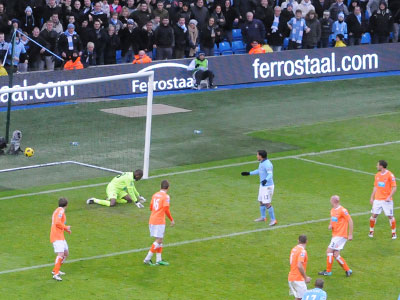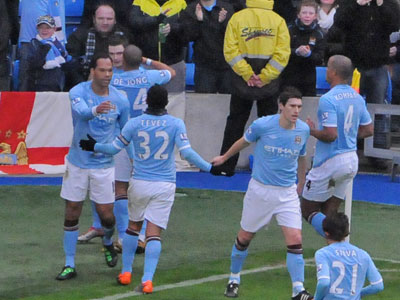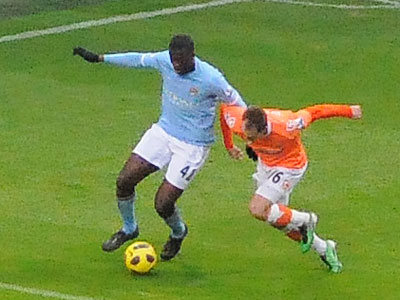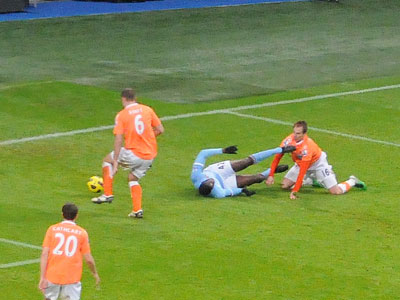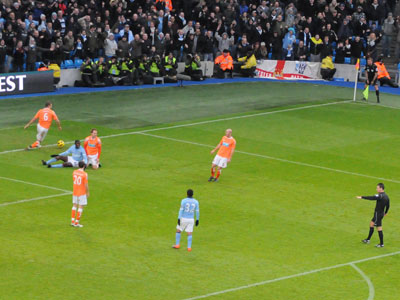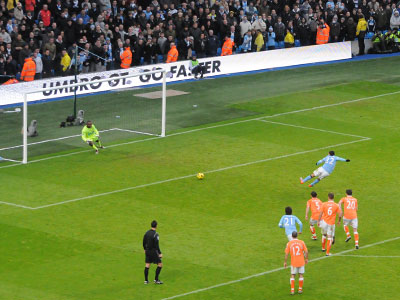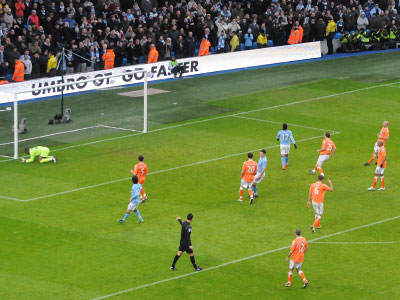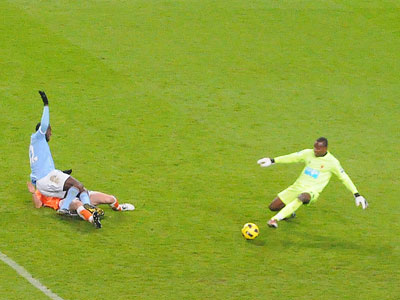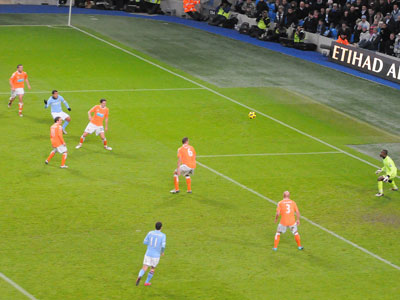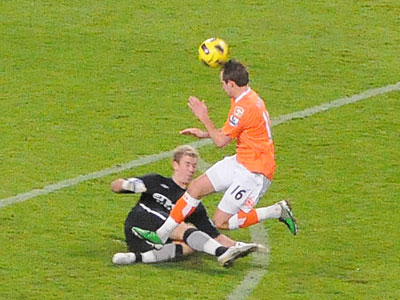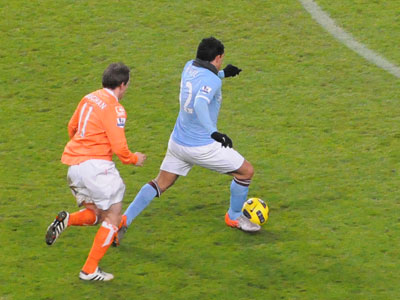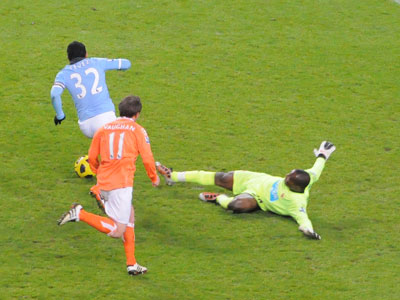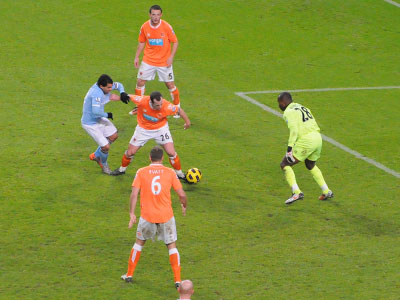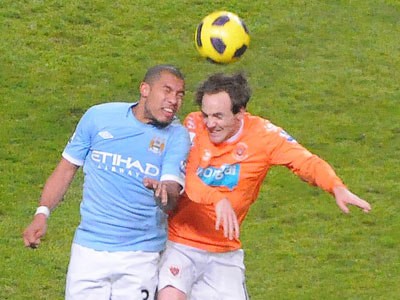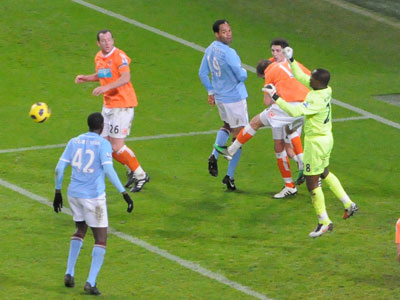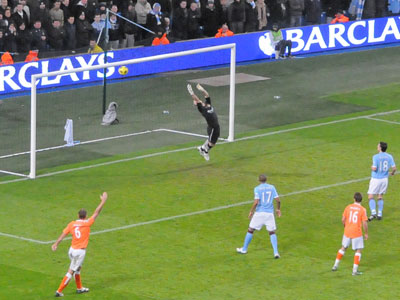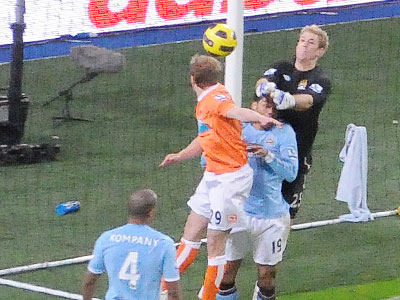 Who has nicked the ball? It was brought out - then disappeared!
Tevez returned as did Barry Boateng and Kolarov. Lescott kept his place and Balotelli was injured.
Blackpool supporters filled the away support area helping to make it the second highest attendance of the season so far.
City almost netted the quickest goal of the season when a shot by Carlos Tevez went just past the far post after just 24 seconds!
Lescott makes a last ditch tackle to deny Taylor-Fletcher
Opposing manager Ian Holloway gives his rendition of 'O Sole Mio'
A Boateng effort is blocked
Taylor-Fletcher forces a very good save by Joe Hart
Another good Tevez/Silva move ends with Silva hitting it first time just past the post
Ian Holloway responds with a version of
'You Need Hands'!
Who said Silva wasn't marked!
On 26 minutes David Silva shoots just wide
Kolarov crosses but the ball eludes everyone
Fed by Toure Carlos Tevez's shot is saved by Kingston for a corner
From the corner the ball is cleared but the ball runs to Adam Johnson who shoots from distance and the ball is slightly deflected past the keeper to give City a deserved lead
Shortly afterwards Yaya Toure made one of his famous runs and.........
.......as he came into the penalty area he was brought down by Varney and the referee awarded a penalty
Up came Carlos Tevez and incredibly shot wide! Just where is Super Mario when you want him!!!
One up at half time City should have made it two when Yaya Toure broke through from the half way line
Yet another Tevez effort fails to increase City's lead
Hart made a good save when Varney almost broke through
Best chance of the second half came when Tevez broke through from a pass from Toure
.....but after rounding the keeper he lost his footing and Blackpool were able to recover and clear.
Always keep your eyes on the ball - preferably open!
Kingson clears a City corner
While City had only a goal lead anything was possible and Blackpool piled on the pressure in the latter stages of the game giving Joe Hart the chance to shine with several good saves
Hart 8: Boateng 6.5, Kompany 7.5, Lescott 8, Kolarov 6 ( Zabaleta 7): Johnson 7.5, Barry 7, Silva 8 ( Milner 7.5) De Jong 7.5, Yaya Toure 7.5 ( Viera) Tevez 7.5)