City 4 Leeds United 0
February 17th 2013 46,849
FA Cup R5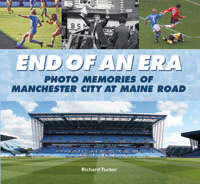 Now available from Amazon ( click on image for link)
WH Smith and the City shop
City strolled into the last 8 of the FA Cup with this easy four nil victory over Leeds United. After the disaster at Southampton last week it was good to see the improvement in the team A much more positive performance with the team firing on all cylinders
The early goal helped a lot. It was a well constructed effort involving Silva, Tevez, Aguero and finally Yaya Toure. A rather soft penalty for a holding offence on Aguero was well taken by the same player to make it two nil after just 15 minutes and City supporters could start to relax.
There was an excellent start to the second half with Tevez netting following a good run and cross from Aguero. Man of the match Aguero completed the scoring with a well timed run and finish following a terrific pass from Silva - who else!
Pantilimon had little to do in goal as the defenders kept any Leeds attack at bay. Although Leeds passed quite well at times they could do little in the final third.
We had no yellow cards at all and I wondered whether this was a world record by Mark Clattenburg!
With the Premiership title almost beyond reach a return to Wembley looks very promising with a 6th round home tie against Barnsley to look forward to.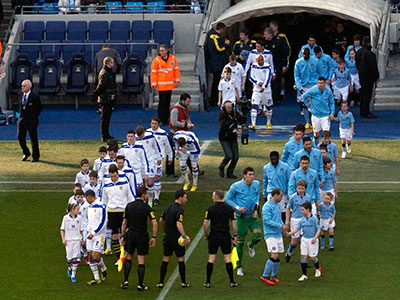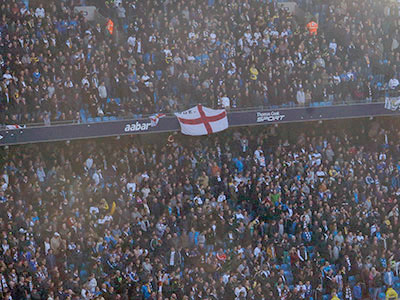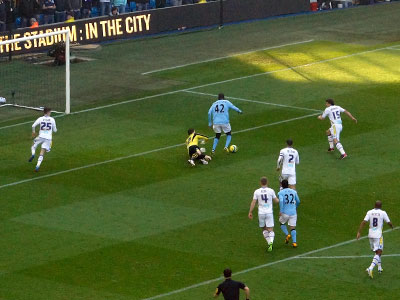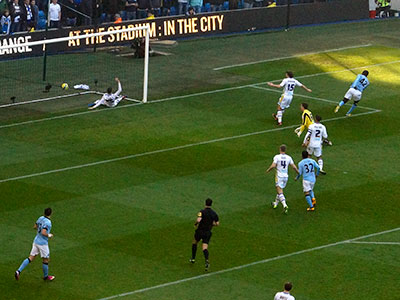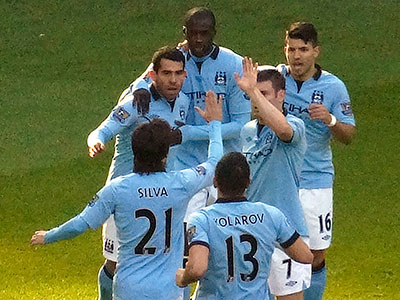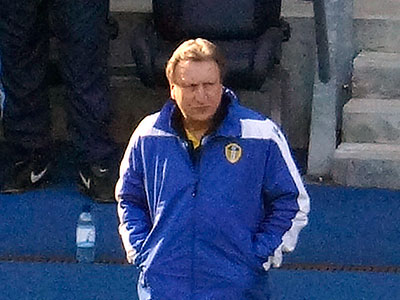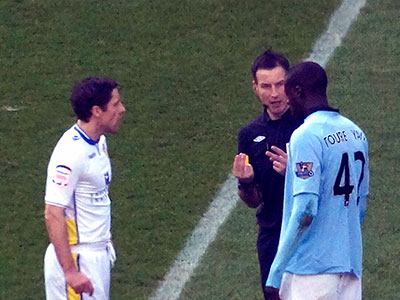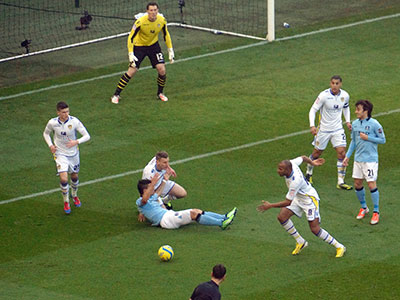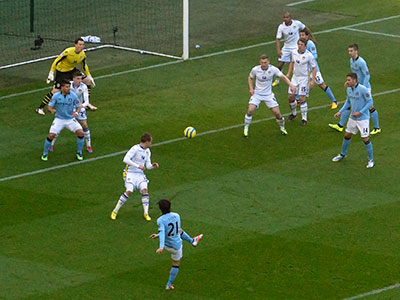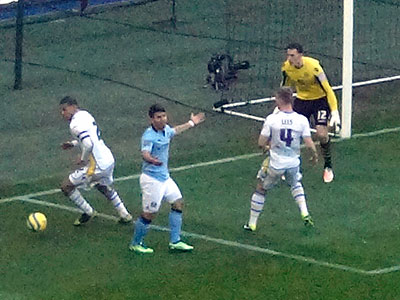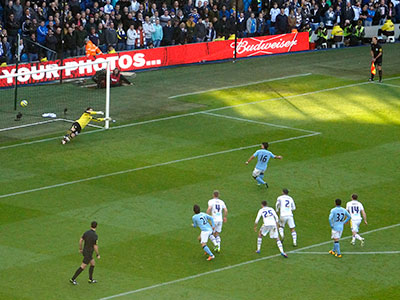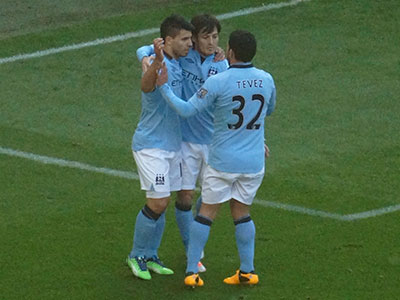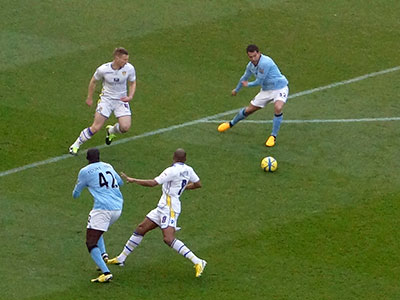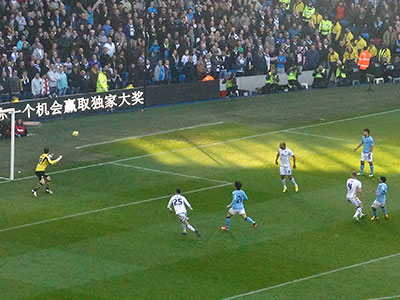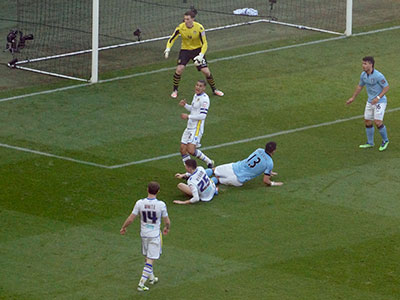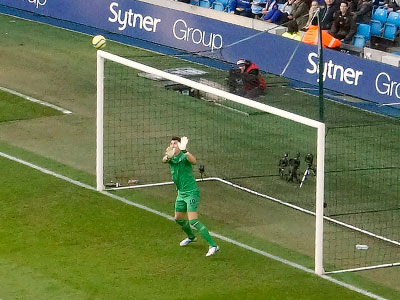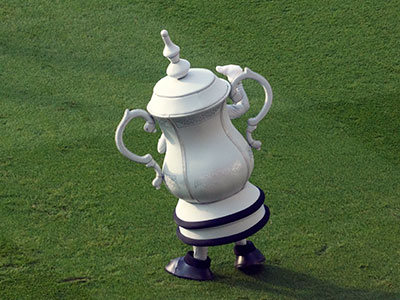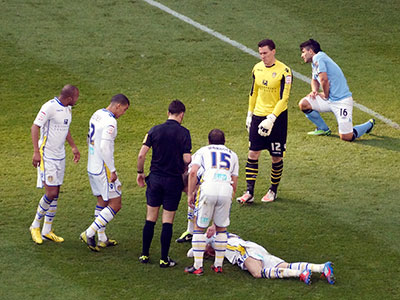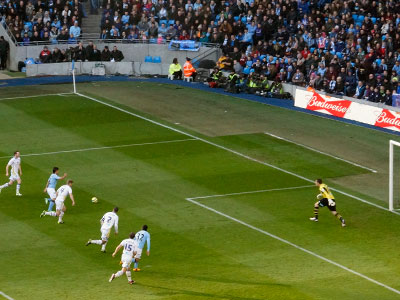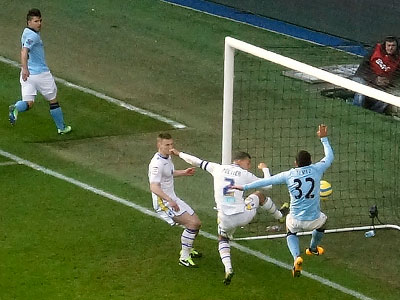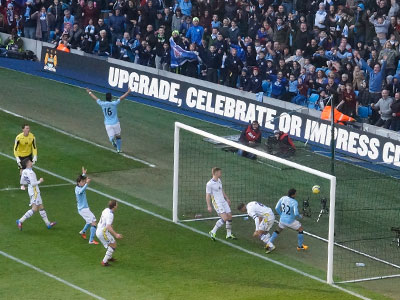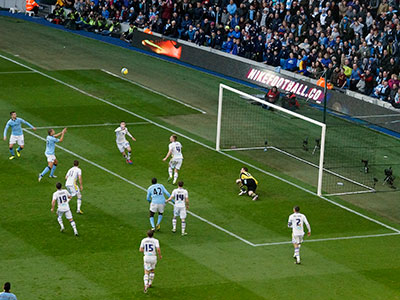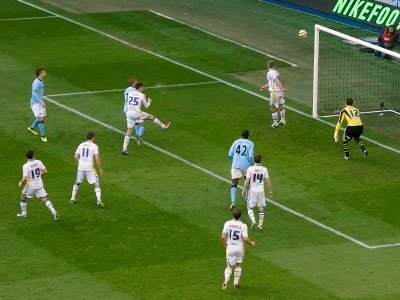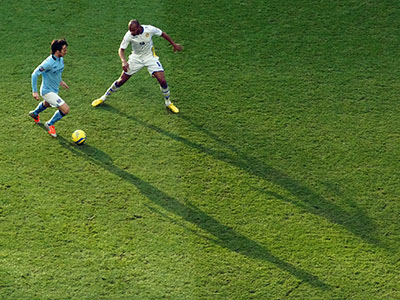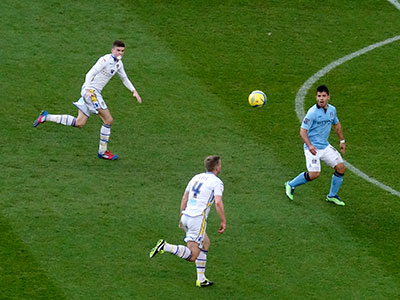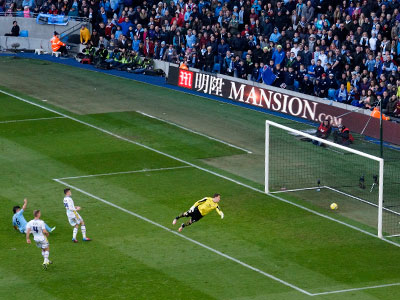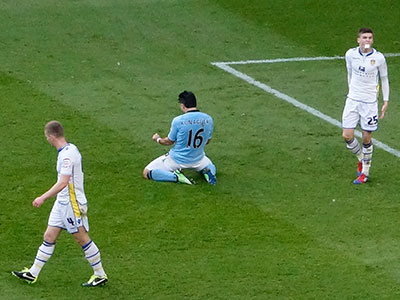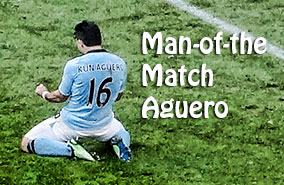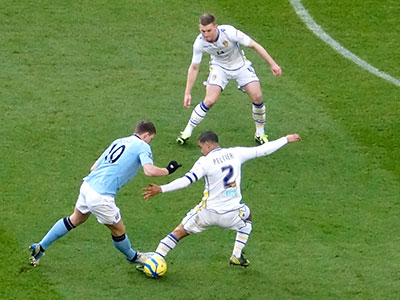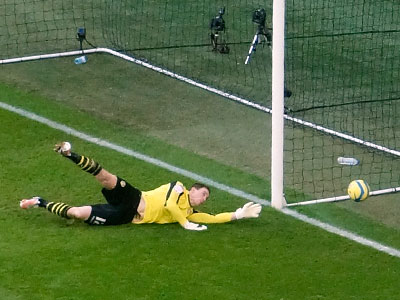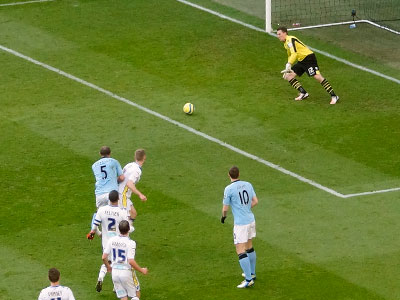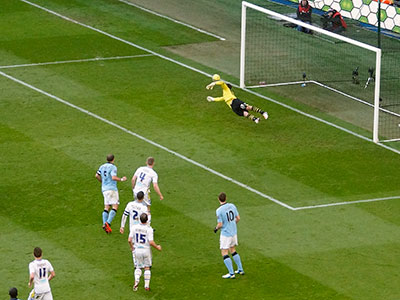 City made six changes from the Southampton game Tevez and Kolo Toure returning
There was lots of good amusing atmospheric support by Leeds fans in the South Stand
After just 5 minutes good interplay by City and a great flick on by Tevez gave Yaya Toure a chance to round the keeper.......
.....and slot the ball home to give City the essential early lead
Leeds manager Neil Warnock is not a happy man
Mark Clattenburg has a word with Ex City player Michael Brown and Yaya Toure following a slight disagreement
Aguero fails to win a penalty after being brought down
A shot by Silva goes wide
Tevez just shoots wide of the goal after 12 minutes
Aguero is held back by Lees and a penalty is given
Aguero takes it and scores easily to give City a two goal lead after just 15 minutes
A last ditch tackle stops Kolarov
A header at a corner by Garcia goes just wide
One of the few saves Pantilimon had to make -
from a free kick
The walking Cup makes an appearance at half time
Two Leeds players have a clash of heads but both survive
After 56 minutes Aguero dashes down the left and puts in a great cross to the waiting Tevez
....... who scores from very close range to make it three nil - game over
Rodwell - on fro Garcia - should have made it four when his header with the keeper on the floor hit the bar!
Then on 73 minutes when that bright thing in the sky was going down Silva made a great long pass through to Aguero who was just onside....
Aguero gave the keeper no chance and City were really home and dry and into round 6
Late sub Dzeko almost scored after 85 minutes the keeper saving near the post
Just before full time skipper Zabaleta almost scored his shot just missing the far post
Team
Pantilimon 7: Zabaleta 7.5, K. Toure 7, Nastasic 7, Kolarov 6.5: Yaya Toure 7.5, Garcia 7 (Rodwell 6) Silva 8, Milner 7.5, Tevez 7.5 ( Maicon), Aguero 8 ( Dzeko)