February 2012
City 3 Blackburn Rovers 0
February 25th 2012 46,782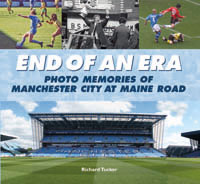 Now available from Amazon ( click on image for link)
WH Smith and the City shop
This was an easy win for City and but for some good saves by Robinson it could have been more than a three goal win. Joe Hart had one of his easiest games his one save coming in the 90th minute.
City had so much of the possession it was almost embarrassing. With Blackburn defending in depth an early goal was important but we had to wait for almost thirty minutes before a bit of magic by the returning Balotelli gave us the lead. Kolarov was the provider. Silva and Yaya Toure were working their creative skills in midfield but we had to wait until the second half when a poor punch by Robinson gave Aguero a chance he took with ease. The third was a brilliant first time move involving first Pizarro who passed to Kolarov and his first time cross was headed down past Robinson by Dzeko who had only been on the pitch for about a minute. City now move five points ahead of United. United play Norwich away today so I hope the Canaries can show the form when I saw them beat United 3-0 in the 3rd round pf the Cup back in January 1959!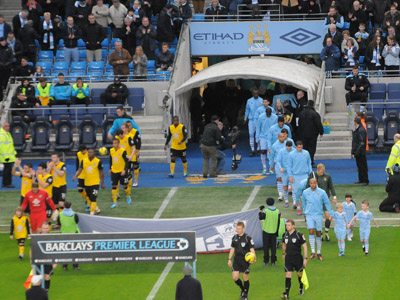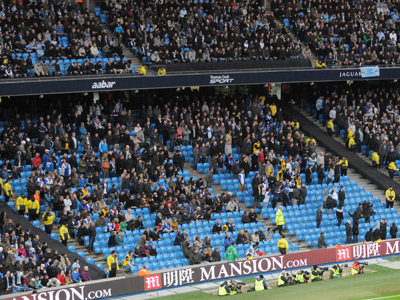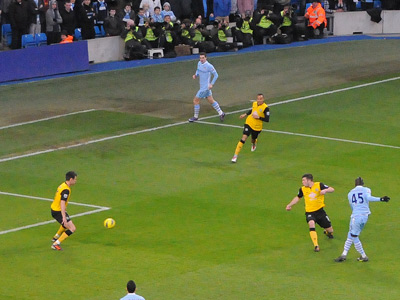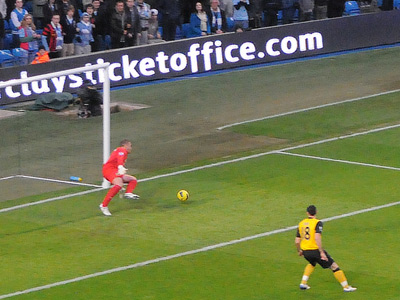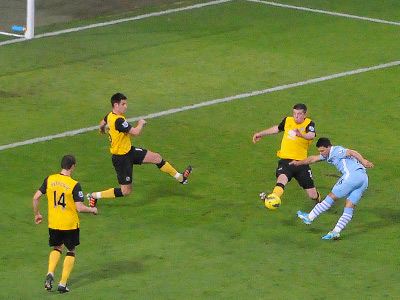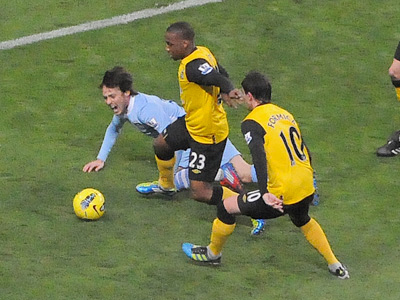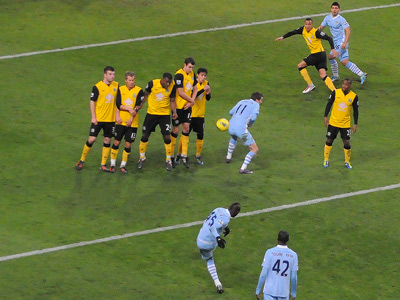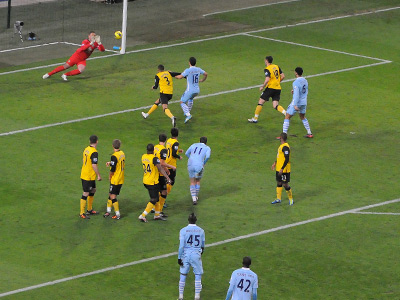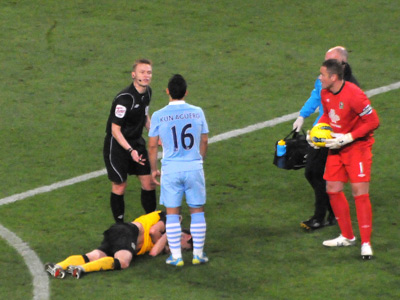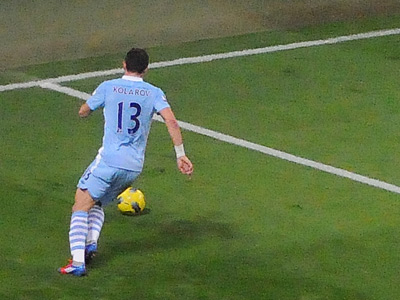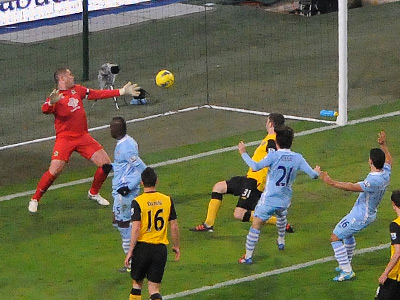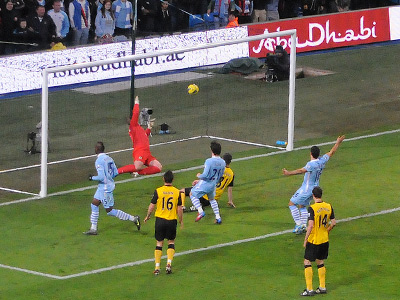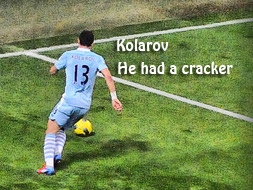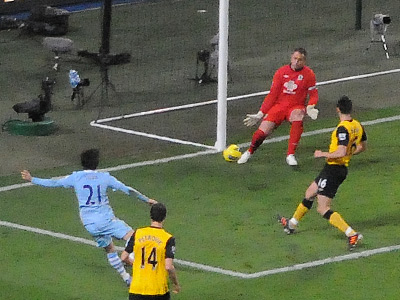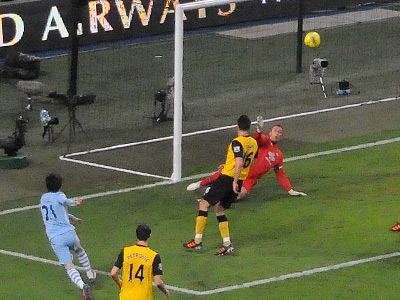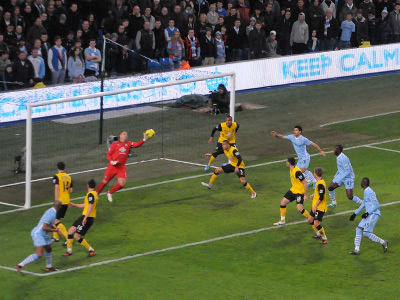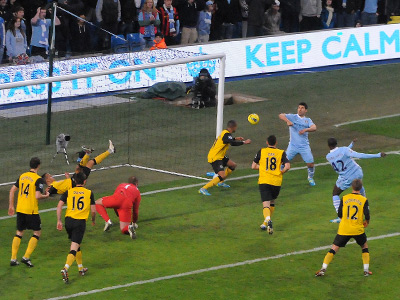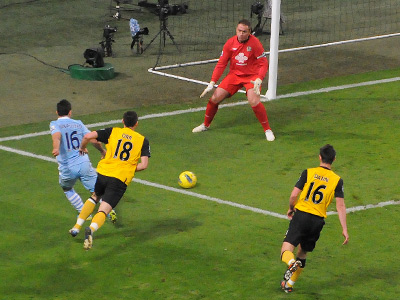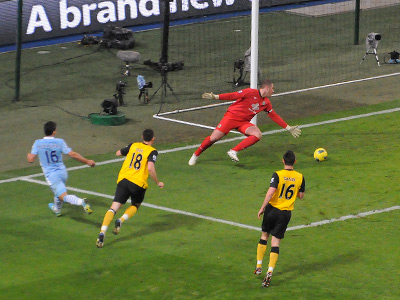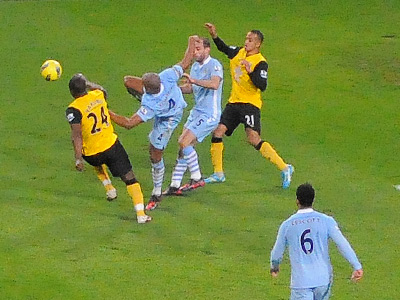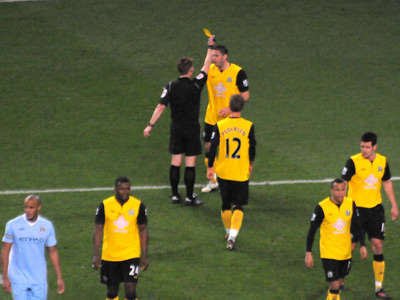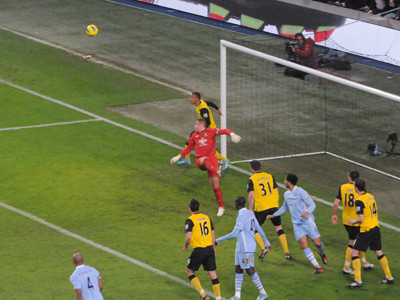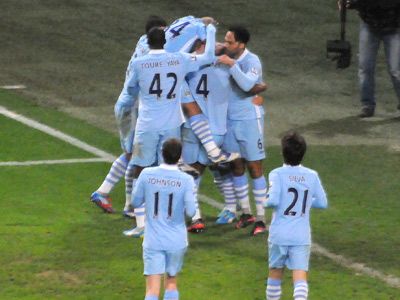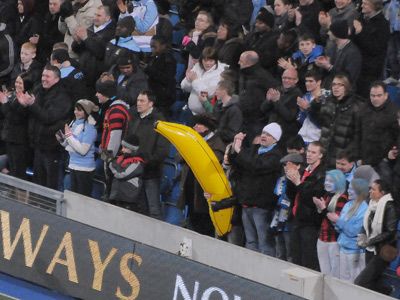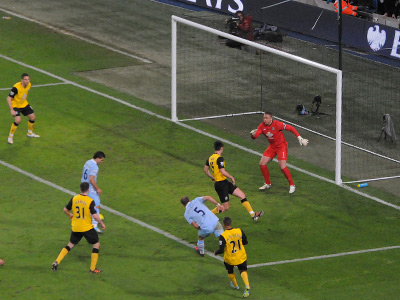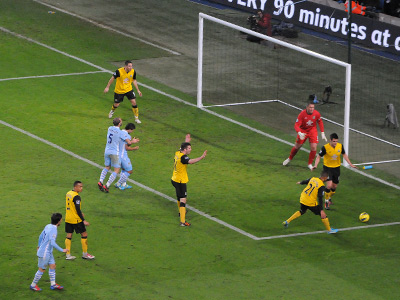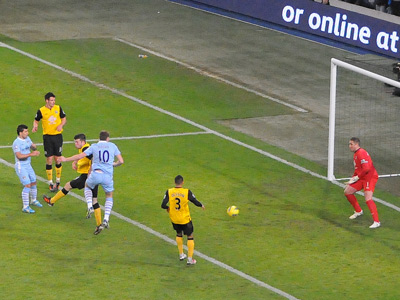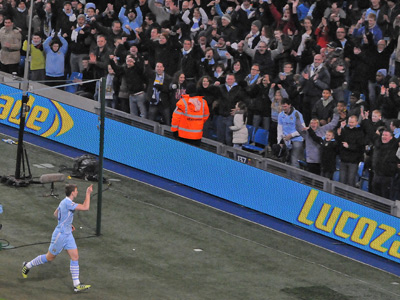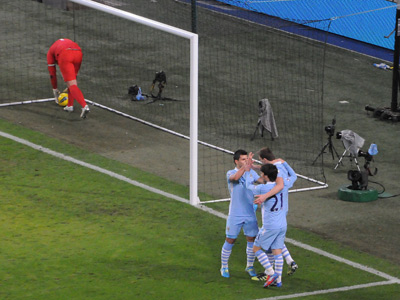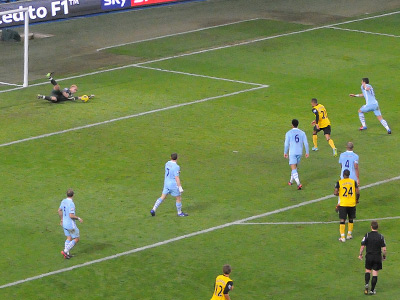 Once again there was a poor turnout by Blackburn fans only a few hundred attending
City had a strong attacking side out with both Aguero and Balotelli up front.
City almost scored in the first minute Robinson having to make a good save from Balotelli
City were piling on the pressure - Aguero had a shot blocked and then Balotelli somehow missed a heading chance
When Silva was fouled on the edge of the box Balotelli took the kick and tried to put it into the far top corner.....
Aguero has a word with the referee re a supposed foul
After 30 minutes Kolarov put in a great cross which was met by Balotelli....
...who flicked past Robinson to give City the lead
He lifted his shirt to show an Italian love message to his girl friend
For a brief moment Blackburn ventured into the City half and they had a shout for a penalty on one De Jong tackle but he had played the ball
Silva had a chance from a narrow angle but Robinson saved
From a corner City missed another chance when Kompany flicked the ball on but Yaya Toure shot just wide
Just before half time Aguero chased down a lost cause and just put his final effort wide
on 51 minutes Orr got a yellow card and from the corner Robinson made a mess of a clearance.....
... and Aguero was on hand to score from close range. Two nil
His team mates were quick to congratulate him and a banana made a come back
Zabaleta and Aguero get in a mix-up and another chance is lost
Dzeko had only been on the pitch a minute or so when he met a brilliant first time cross from Kolarov and headed past Robinson to make it three nil
Yet again Dzeko has scored coming on as late sub.
In the final moments Hart had to make a save from Yakubu. Good job he'd put the book down!
Team
Hart 6.5, Zabaleta 7.5, Kompany 7.5, Lescott 7.5, Kolarov 8: De Jong 7.5, Yaya Toure 8 (Milner) , Johnson 7 (Pizarro), Silva 8, Aguero 8, Balotelli 8 ( Dzeko)