City 3 Fulham 0
February 4th 2012 46,963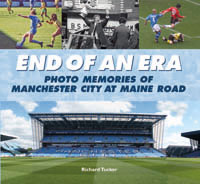 Now available from Amazon ( click on image for link)
WH Smith and the City shop
A fairly comfortable win against Fulham under difficult weather conditions enabled City to improve their goal difference and move three points ahead of United. The snow came down quite heavily at times and for the first time I can remember at the new stadium the game was stopped for the lines to be cleared. Often passes were held up by the ground conditions but the key to this City win was the early lead through a soft penalty after just 9 minutes. Fulham then had to come out and this left gaps which City were able to use. A second goal on the half hour came after a cross cum shot by Johnson was deflected past his own keeper by the unfortunate Baird who had already conceded the penalty. Fulham rarely troubled the City defence in which Lescott did really well and Savic had a better game. This left Richards and Kolarov to attack down the wings to great effect. Dzeko and Aguero linked up quite well and they were responsible for City's third goal. A great run by Aguero ending with a easy chance for Dzeko who gave the keeper no chance. We had our first look at new signing David Pizarro in the final minutes. He made one great cross field pass to Kolarov so we will have to wait a little longer for more from him. A good crowd considering the weather and that the game was being shown live on ESPN freeview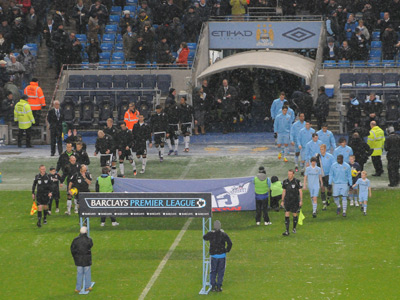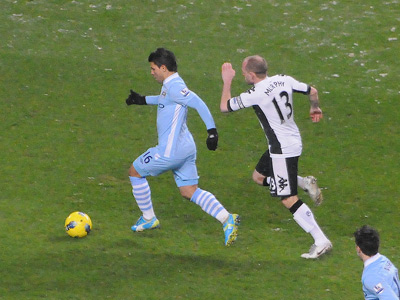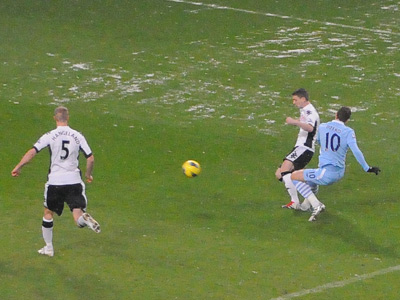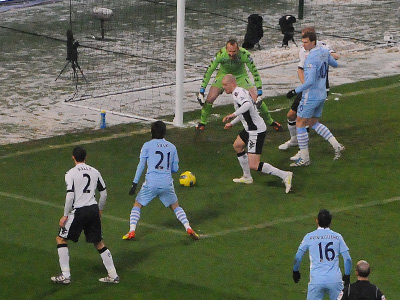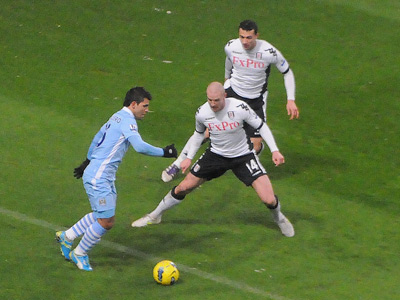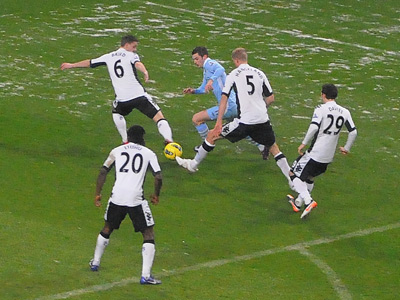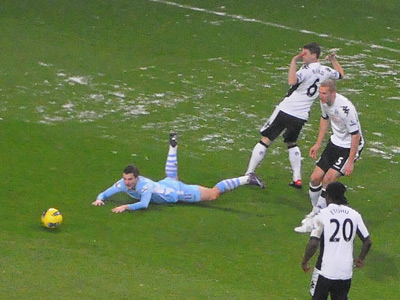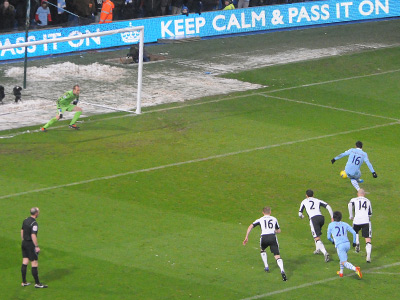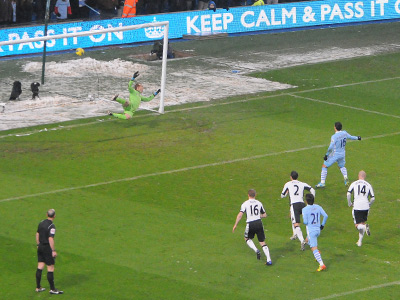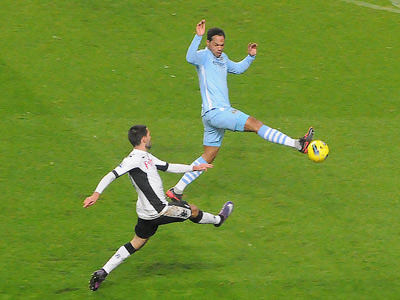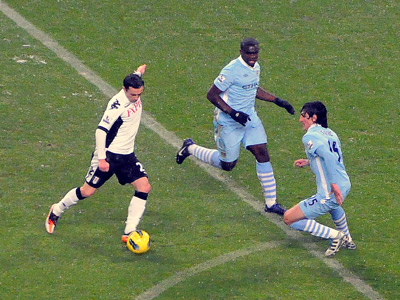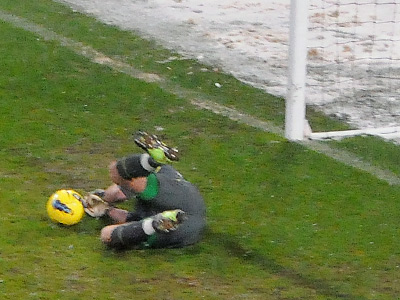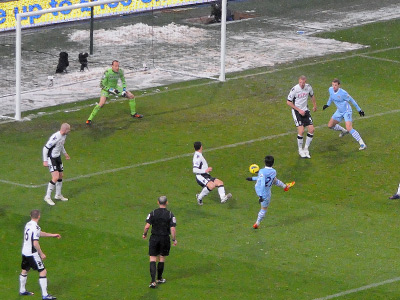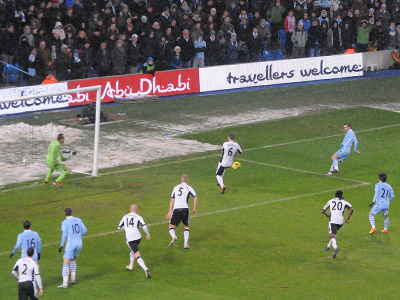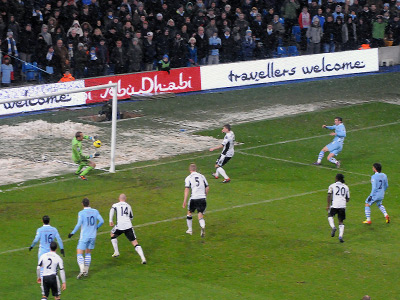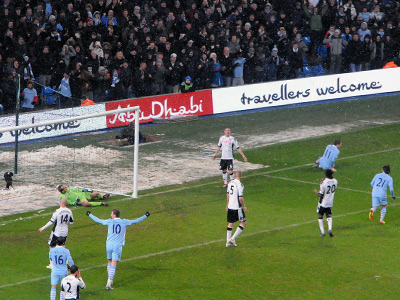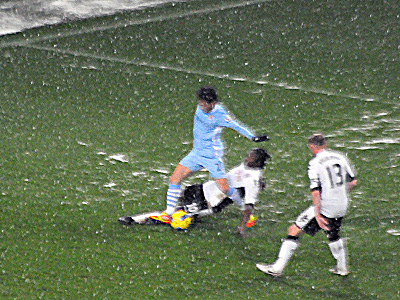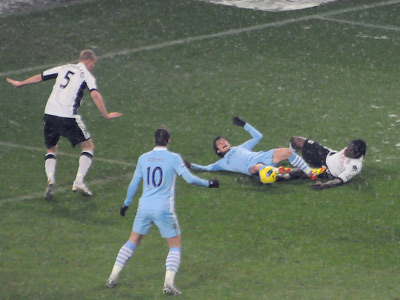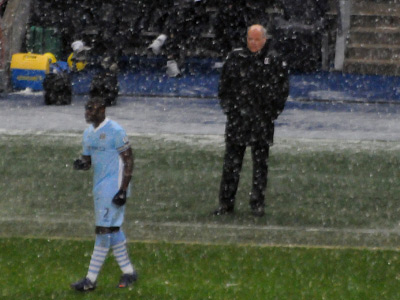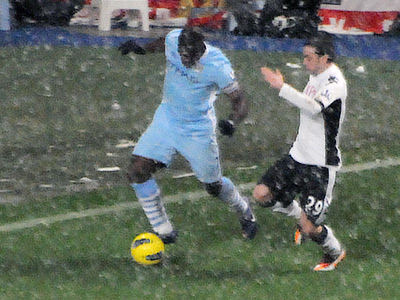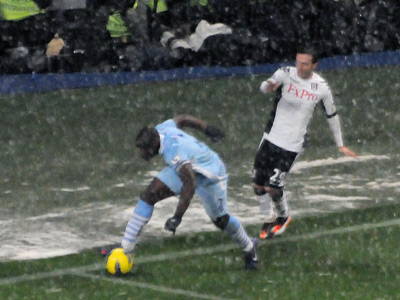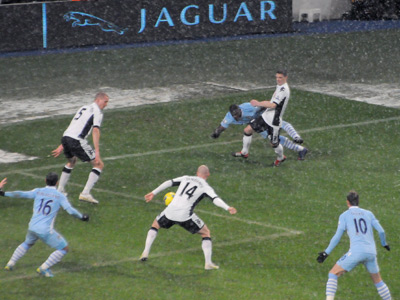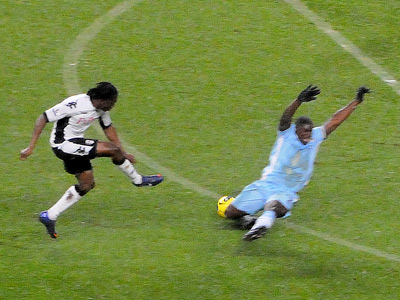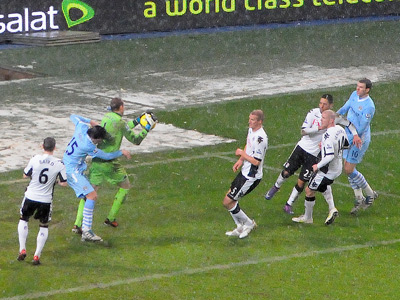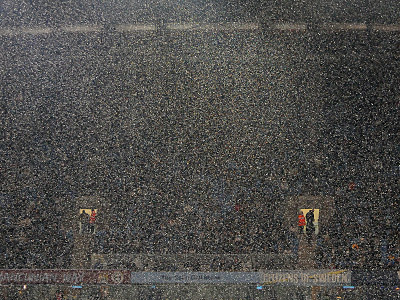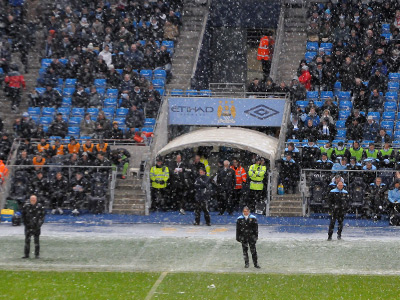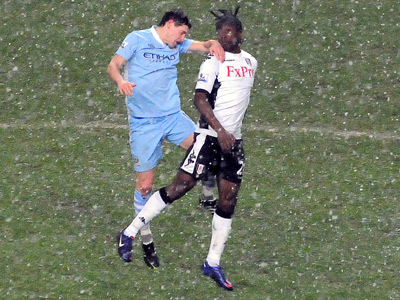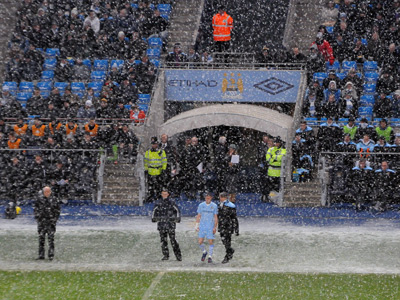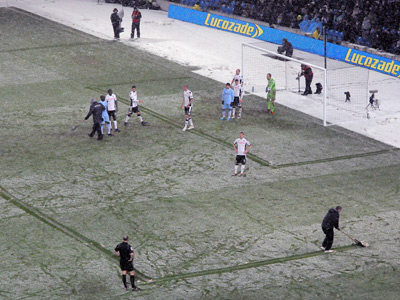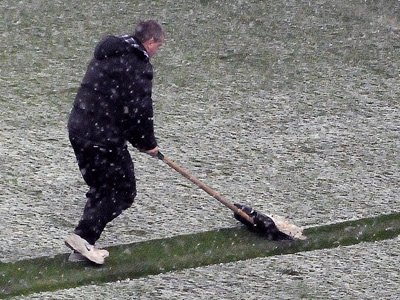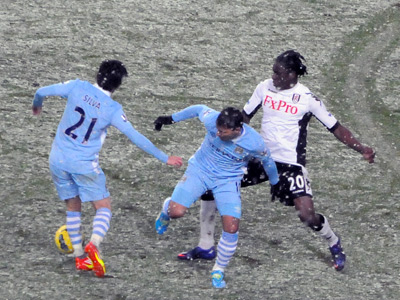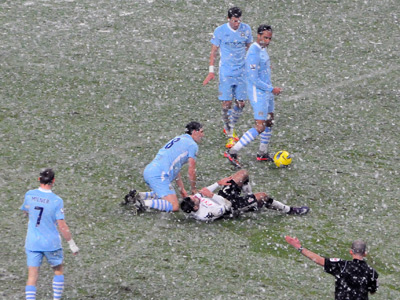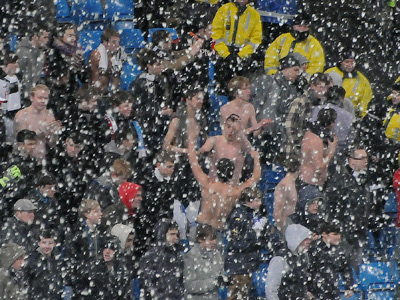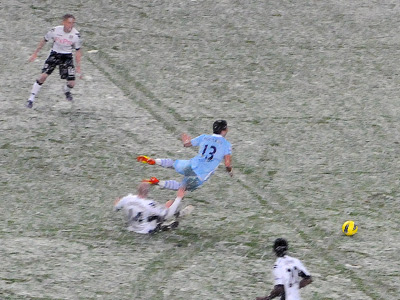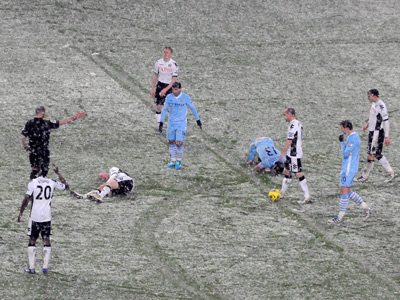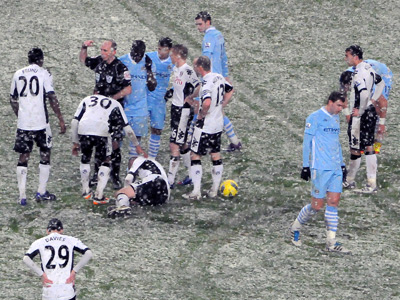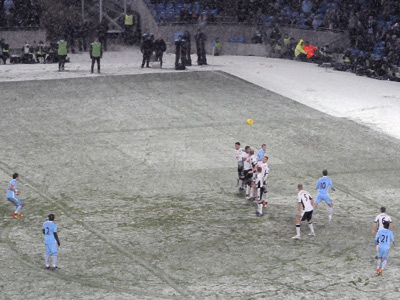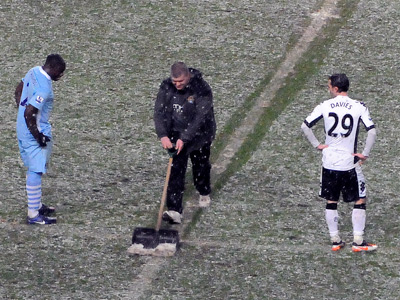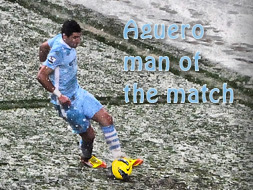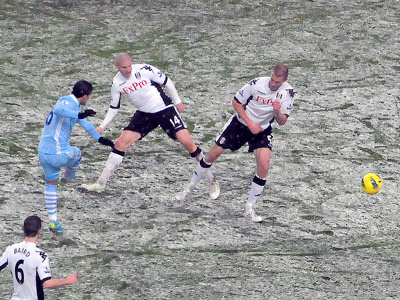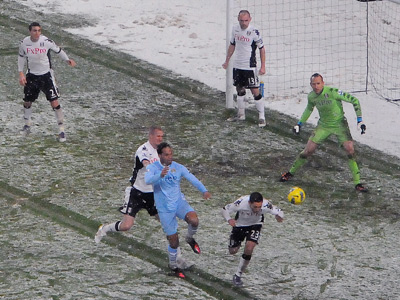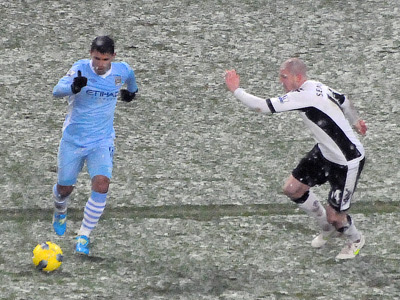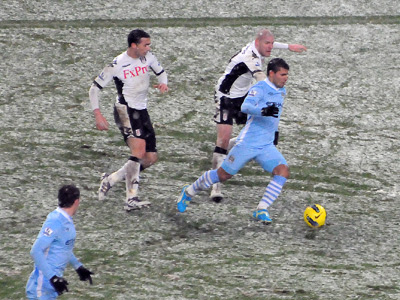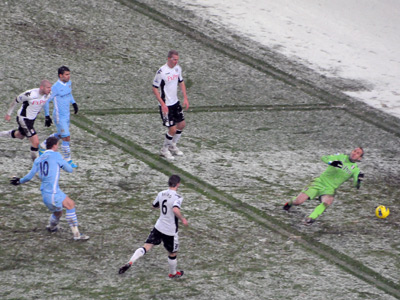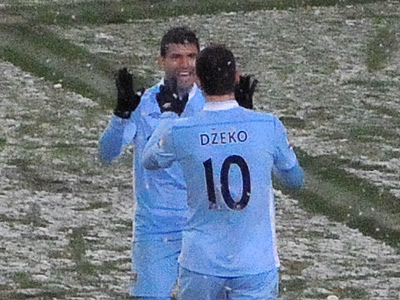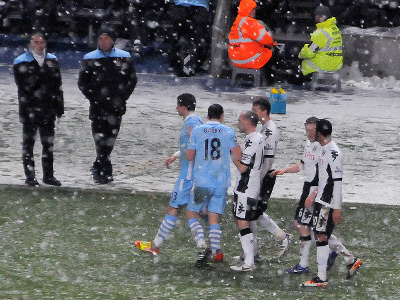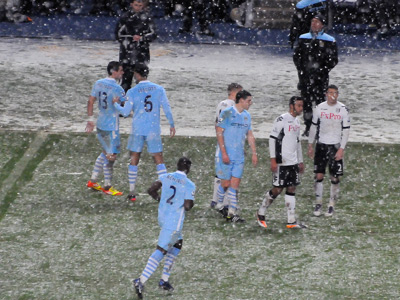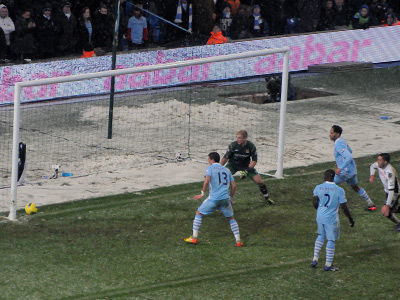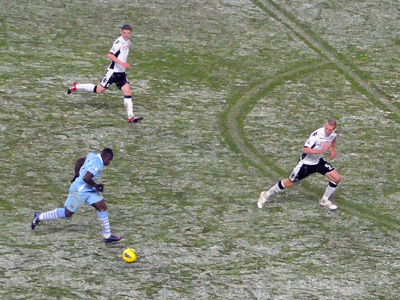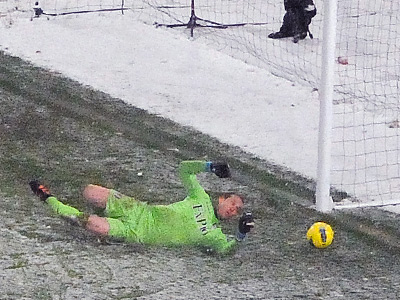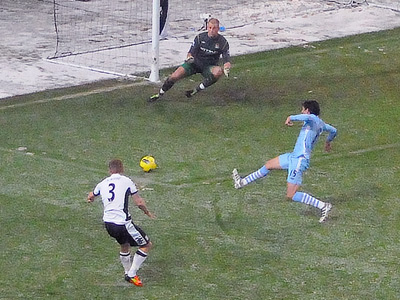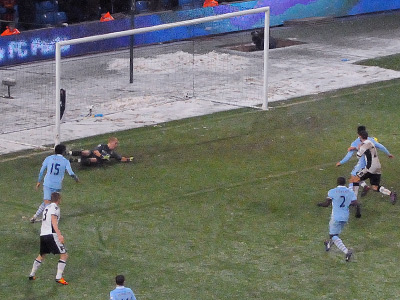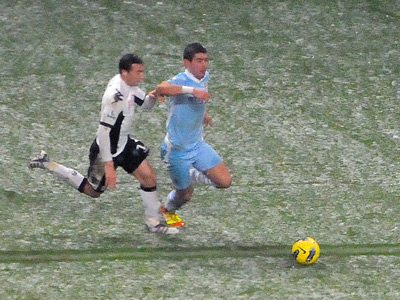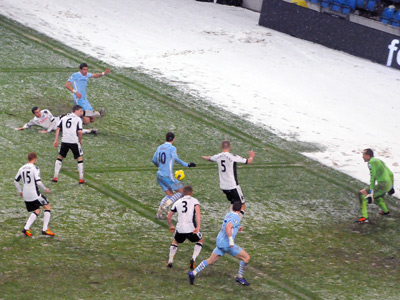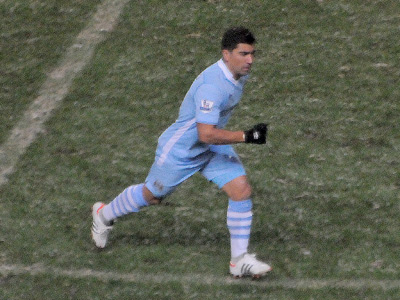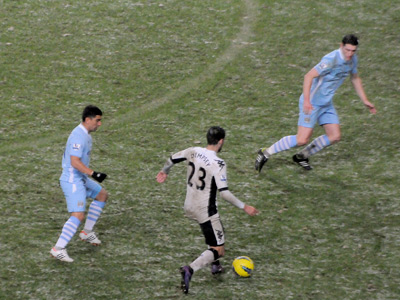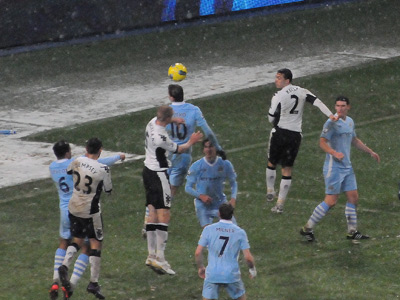 City had an attacking side including both Kolarov and Johnson from the start. Kompany was out injured
Aguero was soon giving the Fulham defence some problems
An early chance in the 2nd minute by Dzeko was saved by Schwarzer
Aguero is confronted by Senderos
Fulham manage to clear a City attack
On 9 minutes Johnson is brought down by Baird and after a second or so consideration referee Mike Dean awarded a penalty
Aguero took the penalty and really thumped the ball past the keeper to give City the lead
Dembele is well covered by Nasri and Savic
Simon Davies has a shot but Hart saves easily
A cross from Kolarov on the wing found Johnson......
....whose first time shot hits Baird and goes into the net to give City a two goal lead
two minutes later and it should have been another - Silva was brought down by Etuhu and it looked like a certain penalty but the referee said no
The snow started to come down more heavily and there were more empty places than usual in the posh seats area!
Johnson and Richards were making good runs down the right wing
One good run by Richards almost ended with a goal but the Fulham defence were able to clear
Savic fails to bother Schwarzer who makes an easy catch
The snow came down even heavier and we wondered how the game would be effected
City made an early substitution Milner coming on for Nasri after 53 minutes
It must be several years since I have seen the markings been cleared during a game. Certainly a first for the Etihad Stadium
Silva and Aguero elude Etuhu
Barry makes a clumsy tackle
Senderos brings down Kolarov just outside the area
A few Fulham supporters try to emulate Newcastle fans by taking their shirts off
Senderos is injured himself in the tackle ...............
........but ends up with a yellow card
Kolarov recovers from the foul to take the free kick but shoots over
Richards and Davies admire the skill of the clearer!
A shot from Aguero fails to test the keeper
Dempsey heads clear a City attack
After 71 minutes Aguero started on a dribble.....
.....past several defenders before slipping the ball to Dzeko who shot past the keeper to make it three nil
Dzeko and Aguero exchange a high fives!
Is this what you call a head to head encounter!?!
The problem between Kolarov and Dembele ends with the City players getting a yellow card
Fulham hit the post to give the City defence a scare
Richards makes a break.......
..but his final effort just goes past the post
On 88 minutes Riise has a good chance but his shot is well saved by Hart who pushes the ball clear
With a minute to go on comes Pizarro for Johnson
City clear a late Fulham corner
In time added Pizarro swung across a great pass .....
..... whose run almost ends in another goal for City. Still three nil was nice enough and well earned in difficult conditions
Team
Hart 7: Richards 8, Savic 7, Lescott 7.5, Kolarov 7.5: Johnson 7.5 ( Pizarro), Barry 7, Nasri 6.5 (Milner 7), Silva 7.5, Aguero 8.5 (De Jong ) Dzeko 7