City 1 Fulham 1
February 27th 2011 43,077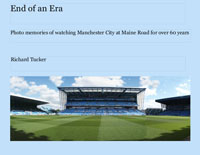 My book 'End of an Era' containing photo memories of days at Maine Road is now available from Blurb.com.
There are over 300 images on 200 pages.
Click on the image for details

We certainly missed Silva and there was no gold at the end of this dire game. Once more Fulham managed to frustrate City. This was not a good display by City. Not a great deal of creativity and many players showed a worrying weariness at times and the absence of Richards, Kompany, de Jong and mainly Silva showed. Fulham had more possession than we should have allowed and the excellent passing movements that we enjoyed in the last game was almost absent. I do hope Silva is fit for the Villa cup game and the rest of the players are up for it. The only good spot in the game was the goal by Balotelli and whilst putting this page together I learnt that a good friend of mine from Congleton had won an Oscar in Hollywood for his work as Visual Effects Supervisor in the film Inception. So that has eased the depression following this dour City effort.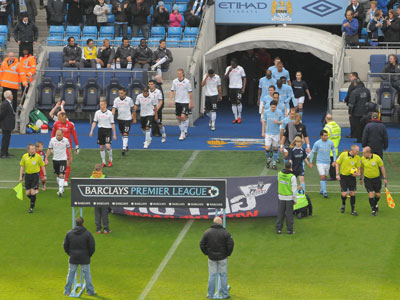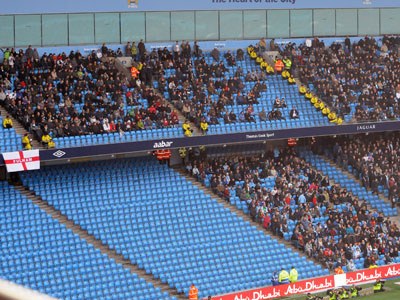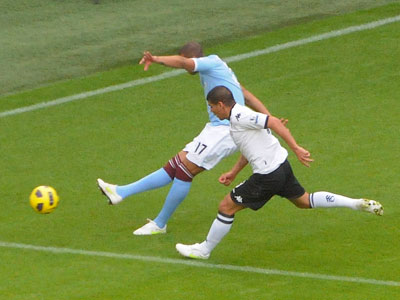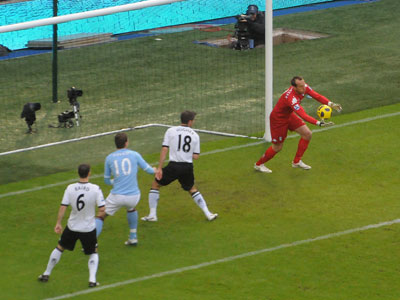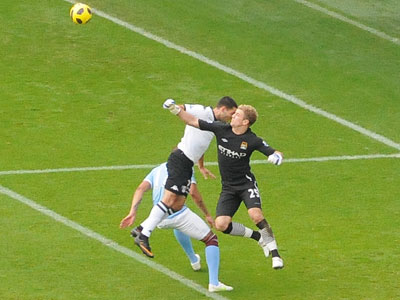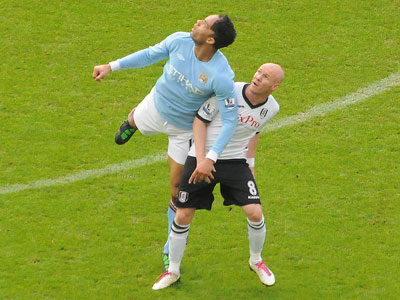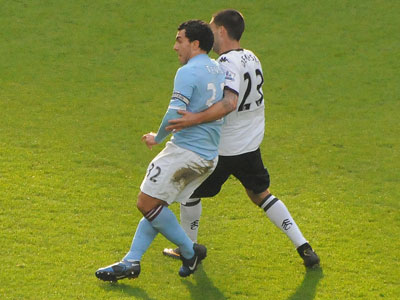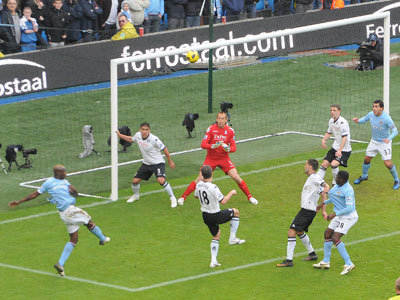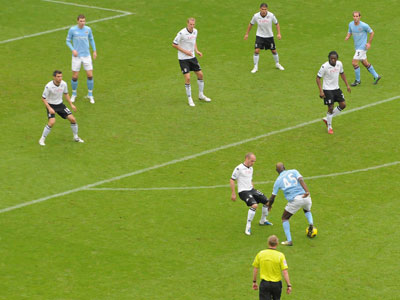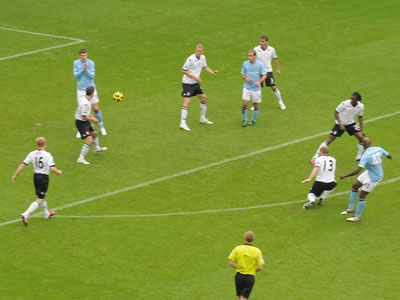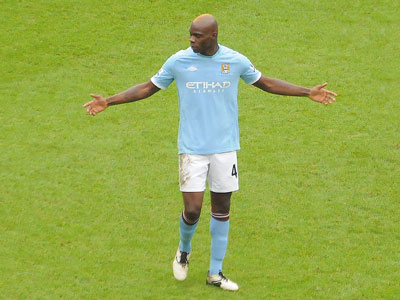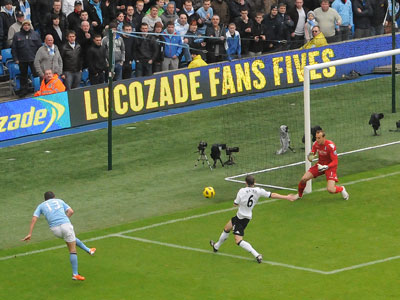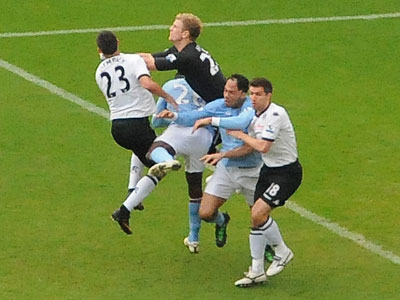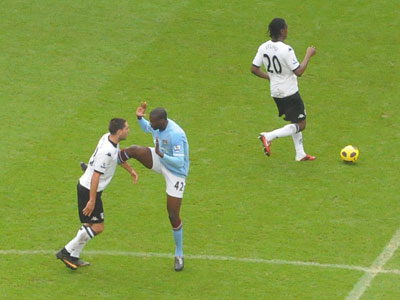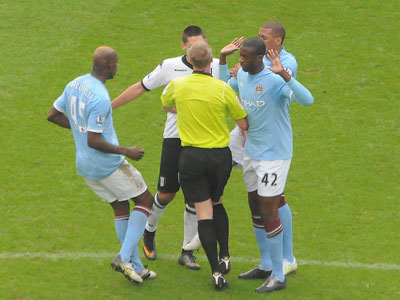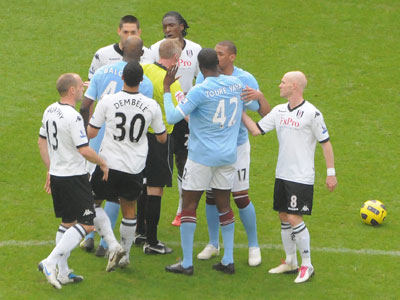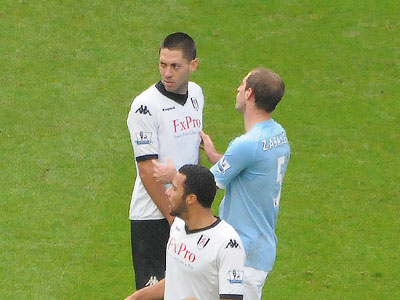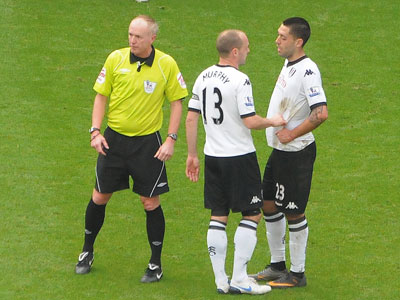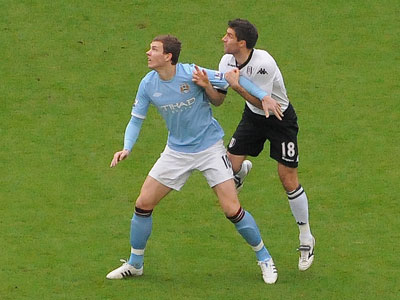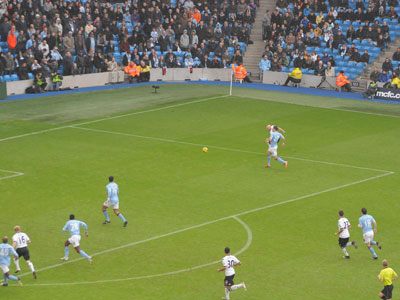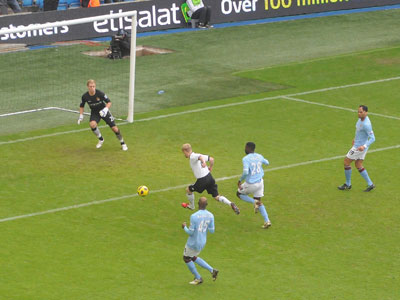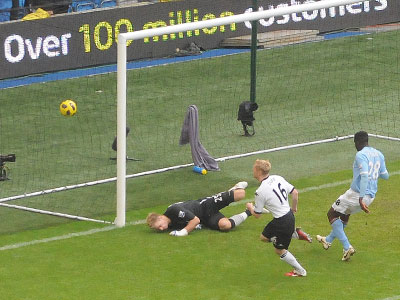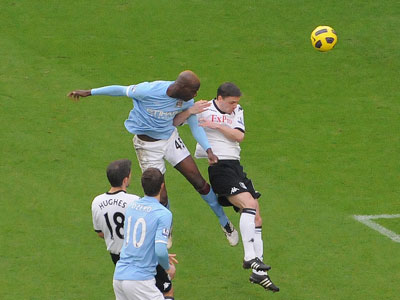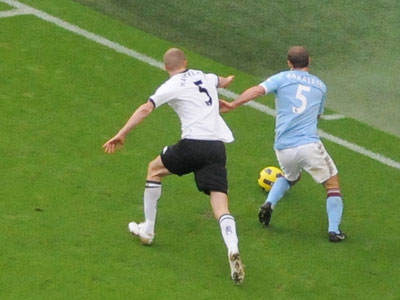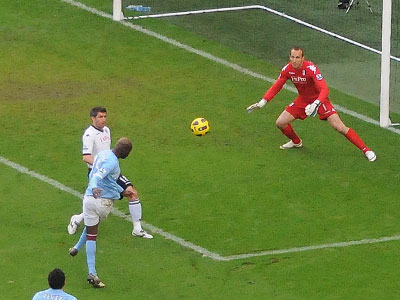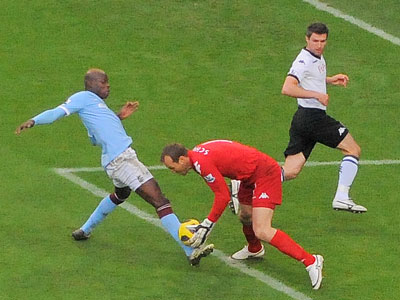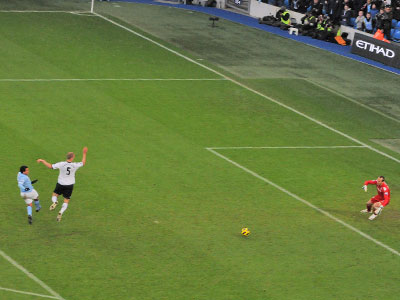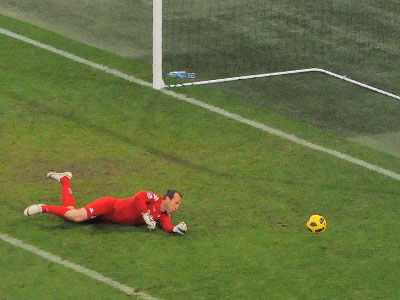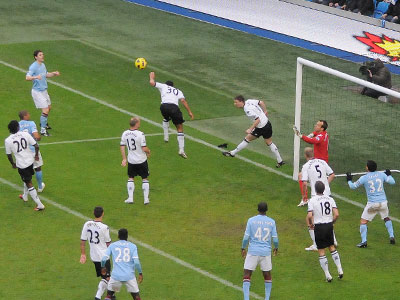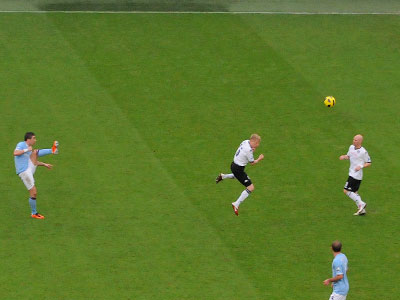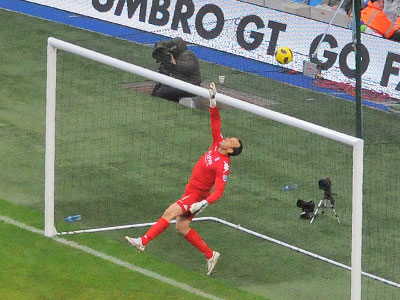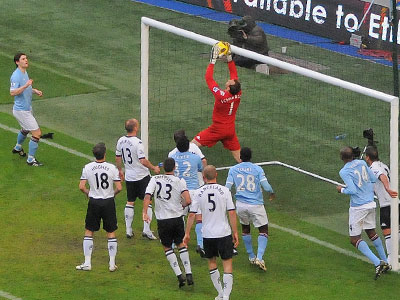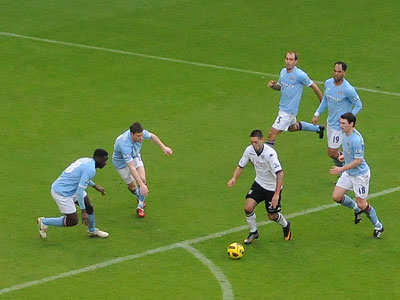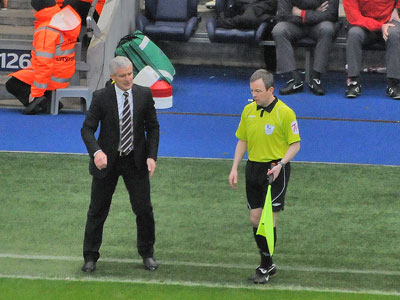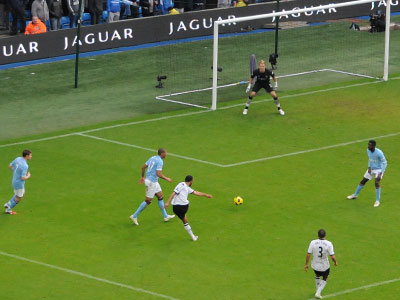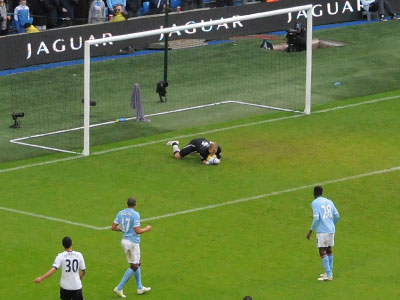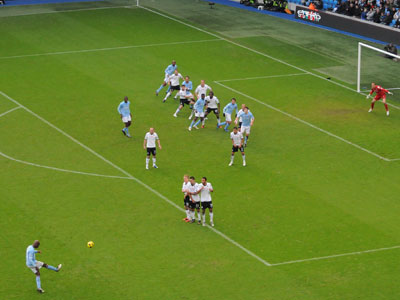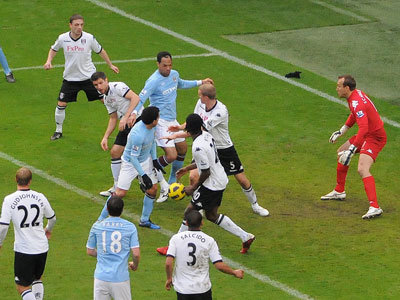 Once again there was a poor turnout from the Fulham fans.Only 400 or so turned up
The absence of Silva and Kompany was the main worry for City supporters. Tevez,Balotelli and Dzeko were in attack
A cross from Boateng was easily cleared by Fulham
Andy Johnson and Lescott have spotted a UFO!
Dempsey puts a 'comforting' arm around Tevez
Balotelli shoots high wide and handsome from a corner
After 26 minutes City took the lead. After a quick interchange with Tevez, Mario Balotelli took the ball infield a few yards and then hit a thunderbolt........
..... past the diving Schwarzer and it was one nil It was the first major chance City had made.
As usual it was a low key celebration by Balotelli before he was joined by his delighted colleagues
The goal certainly deserved a mini Poznan in the South Stand
Kolarov has a shot from a very narrow angle.
Perhaps a cross might have been a better option
Joe Hart punches clear under pressure
Clint Dempsey took exception to the height foot of Yaya Toure and he became very annoyed
In the end referee Walton was at a loss for words ( and a yellow card) and had to call on skipper Murphy to tell the player off!
Hughes has a hold on Dzeko but no offence apparently!
Just after half time Kolarov was outpaced by Johnson on the right wing ....
..... and his cross which City failed to cut off was swept into the net by Duff. Oh dear here we go again with Fulham!
It was almost the 70th minute when Zabaleta dashed down the right wing had a lucky break when a defender slipped........
.....but his cross was completely mishit by a well placed Balotelli
Schwarzer manages to take the ball from the incoming Balotelli
A Tevez shot is pushed for a corner by Schwarzer
City force quite a few corners
Mark Hughes making his first return since his sudden departure was rarely in the technical area
A surprise shot from Kolarov is tipped over the bar by the keeper
yet another corner is caught by Schwarzer
5 City defenders keep an eye on Dempsey
Joe Hart easily saves a shot by Dembele
A free kick taken by Balotelli is cleared and Fulham managed to withstand the last gasp pressure by City and it was two points lost
Team
Hart 6.5: Boateng 5, K. Toure 6, Lescott 6.5, Kolarov 6 {Milner 6): Barry 7, Y. Toure 6, Zabaleta 7, Dzeko 6 (Viera 6) Tevez 6.5 Balotelli 7.5