City 5 Notts County 0
February 20th 2011 27,276
FA Cup R4 replay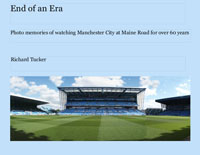 My book 'End of an Era' containing photo memories of days at Maine Road is now available from Blurb.com.
There are over 300 images on 200 pages.
Click on the image for details

The final score does not do justice to the efforts of Notts County who might well have taken the lead when a shot hit the inside of the post and ran clear. City were slow to start and County looked the better side in the first twenty minutes or so. Once Viera had put City ahead the writing was on the wall and as the County players tired City took control and three goals in the last few minutes put the icing on the cake. City now face Aston Villa at home in the 5th Round and then a possible 6th round tie against either Everton or Reading. I don't know what the odds were for Viera getting a headed hat-trick but he nearly did it - perhaps the bandage didn't help with his third attempt. Richards had another good game and was rewarded with an excellently taken goal. Balotelli did not have a great game and his general attitude needs to change. I thought City had a poor slow start giving the ball away and taking too many risks in their defensive third. A shame we also had a poor attendance. With the game on ITV I suppose there are going to have some gaps in the crowd.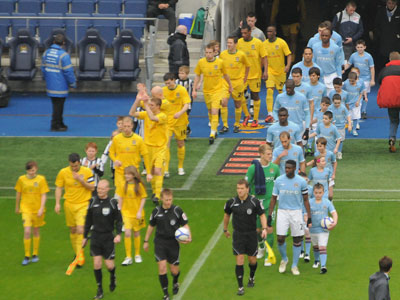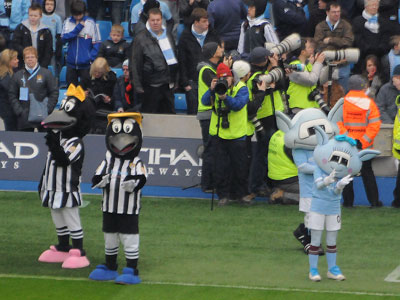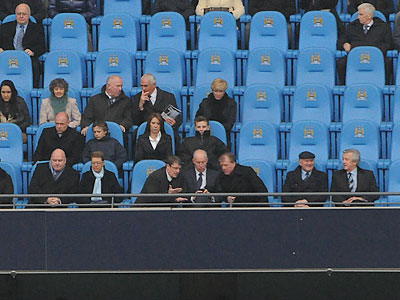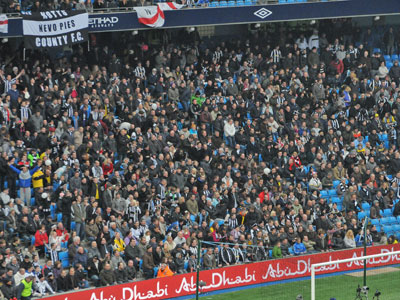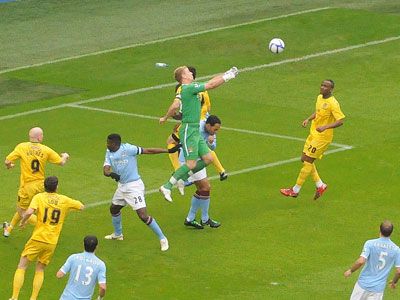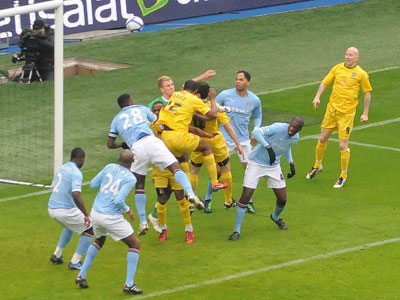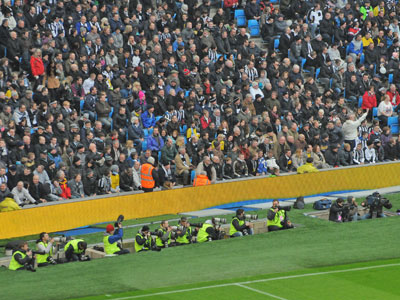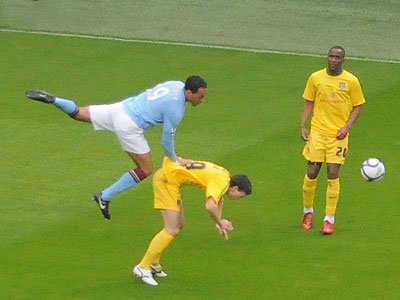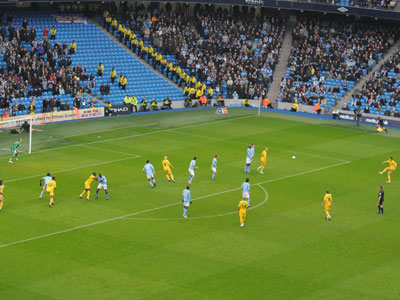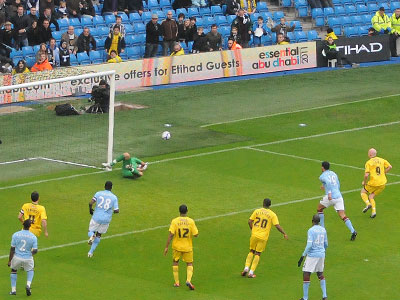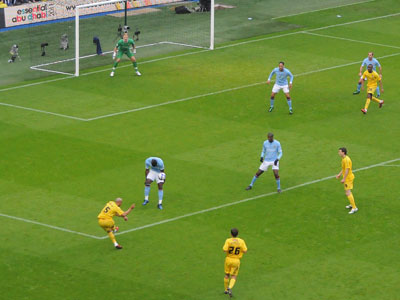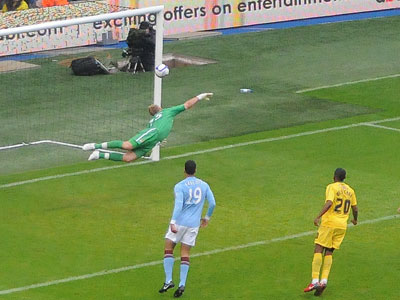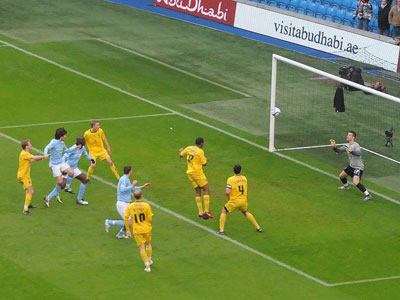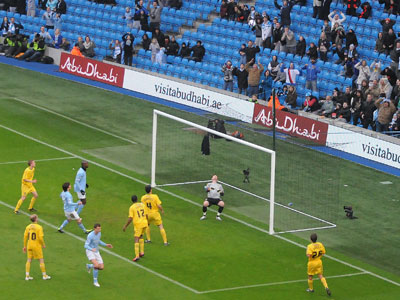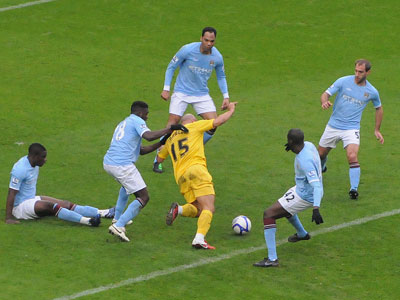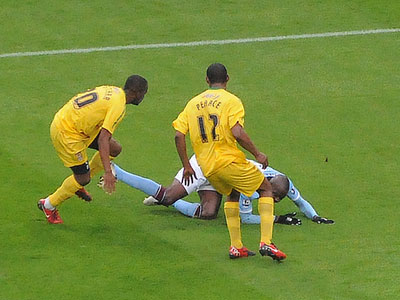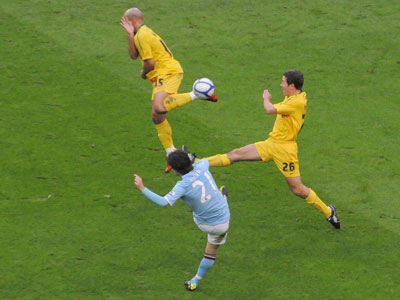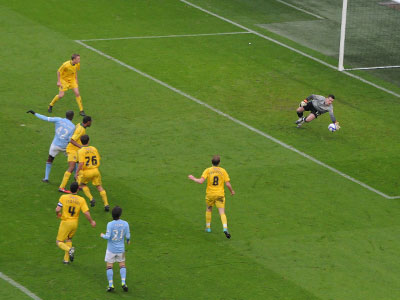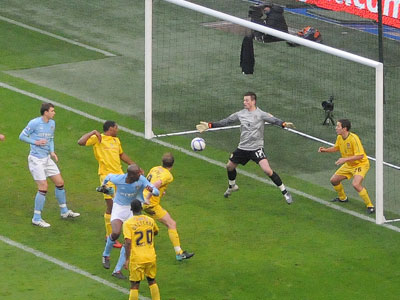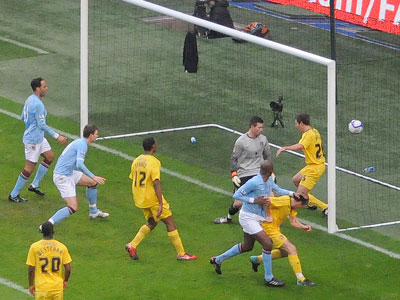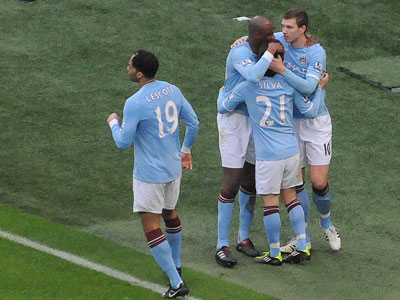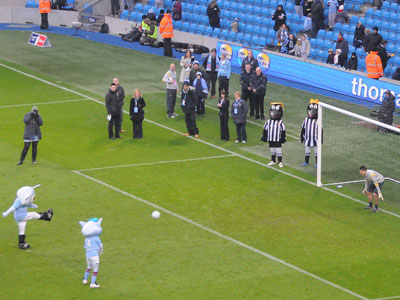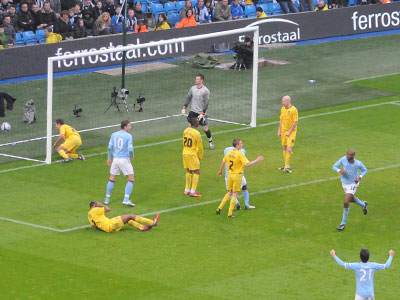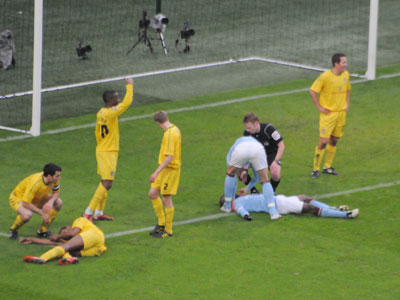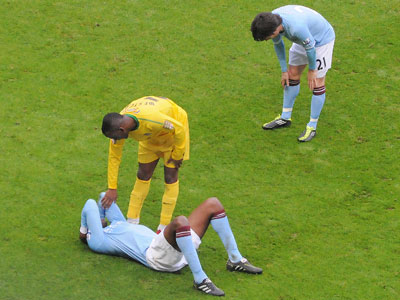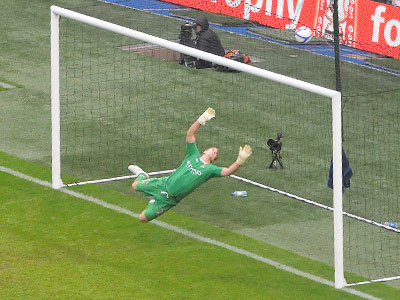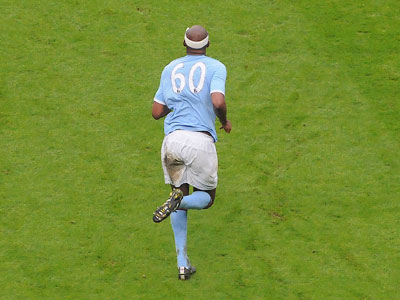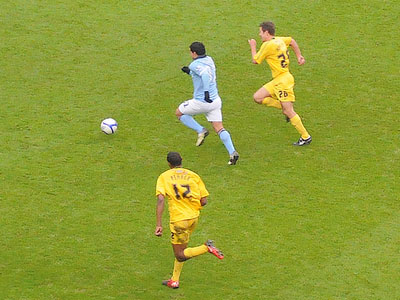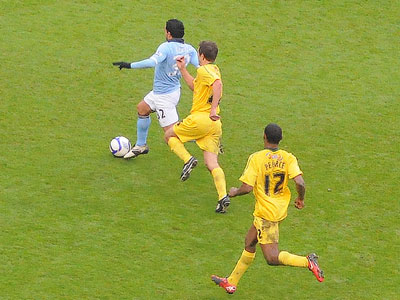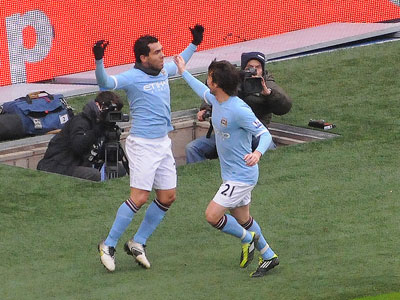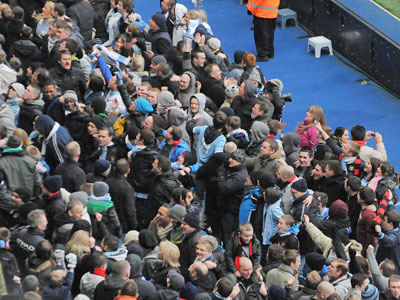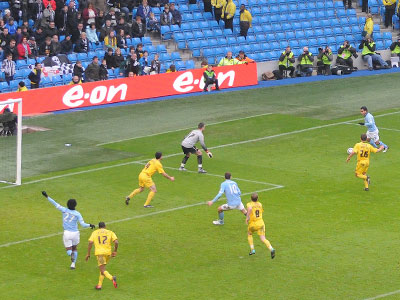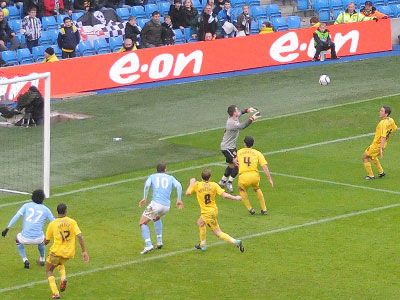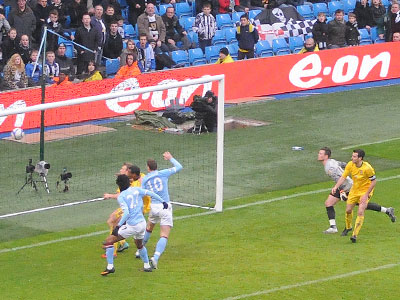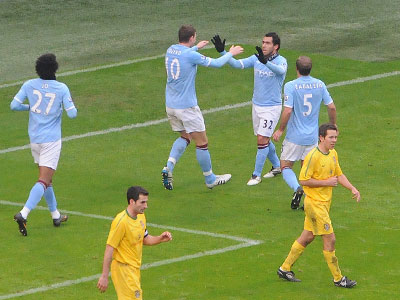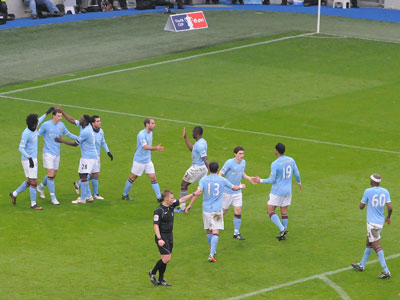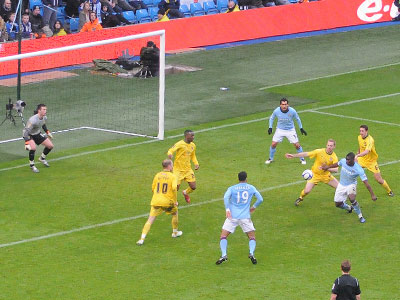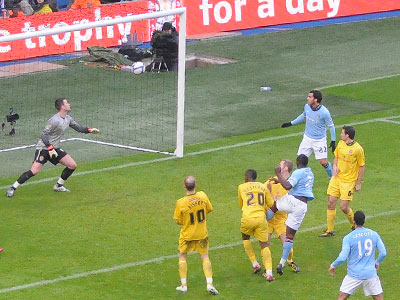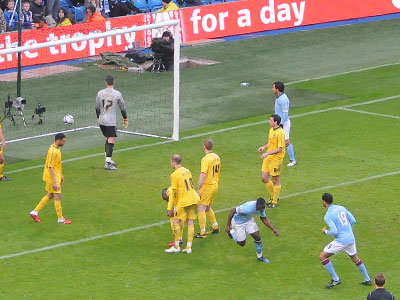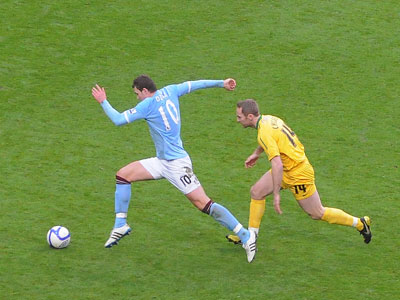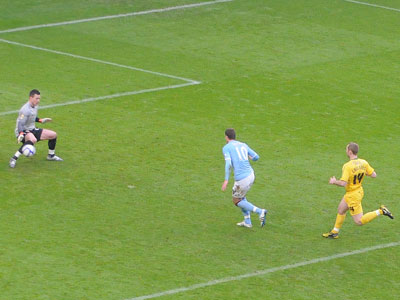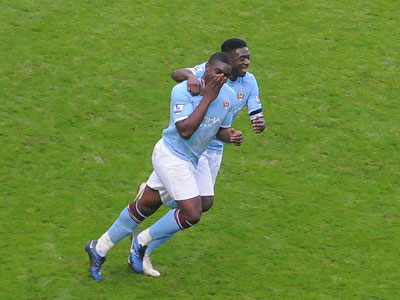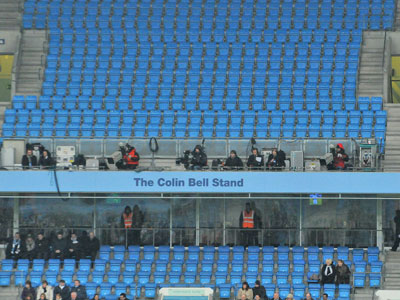 City rested several first teamers but still had a strong side out for this replay. Kolarov continued in midfield. Balotelli returned to the forward line
Moonbeam and Moonchester meet Mr and Mrs Magpie
No doubt Steve McLaren is checking the weather forecast in case he will need his umbrella later!
There was a good turnout by Notts County fans who almost filled their area of the ground
Early pressure on the City goal gave Joe Hart plenty to do. He first was able to punch clear a corner but on the second occasion missed and a header went over the bar
Most of the press photographers were gathered at the Joe Hart end. Did they know something we didn't!
Lescott needed a little help in clearing
A free kick taken by Gow was saved at the foot of the post by Hart
After 21 minutes Karl Hawley shot towards the far corner but the ball hit the inside of the post and ran clear
A good run and cross by Richards gave Dzeko a chance but his powerful header was well saved by Nelson
Five City defenders keep out Hawley
Mario Balotelli had a good call for a penalty after 30 minutes but his plea was turned down by the referee
Five minutes later and excellent work by Silva gave Yaya Toure a chance but a good reaction save by Nelson kept City out
On 36 minutes mounting City pressure paid off and it was Patrick Viera who broke the deadlock with a header
City supporters were relieved after the early Notts County pressure and no doubt Moonchester and Moonbeam enjoyed their half time shootout against their Magpie opponents
12 minutes into the second half and City went two up. A Kolarov corner was headed home by Viera but at the same time there was a collision between Balotelli and Pearce as the ball came in.
So Viera doubled his goals for the season and City supporters were able to relax a bit
Eventually Pearce and Balotelli recovered but Mario was subbed by Tevez. It was not a surprise!
Viera had an injury when some studs nicked the back of his head so he had to leave the field
After 75 minutes Gow got a good shot at goal but Joe Hart made a great save
A minutes later and Viera returned complete with bandage and new shirt. Obviously the local CSI had to check the blood on the old one!
On 84 minutes a good through pass from Dzeko put Tevez through on his own.......
........ and he took the ball wide of the keeper and slotted the ball home to make it three nil
That was Carlo's 50th goal for the club and it was well worth a bit of Poznan from the City supporters.
Once again the BBC commentators Jimmy Armfield and Green did not know what it was all bout. Surely by now commentators should have been briefed about the City supporters celebration!
Moments later a Tevez run down the right wing and his cross .........
...... was headed home by Dzeko to make it 4-0
Most of the team came to give their congratulations
County were suffer even more - in the final minute or so.....
... Richards hit the ball into the back of the net from a corner
The in-form Richards was delighted with his goal
Well ITV up in the third tier had plenty of goals to talk about
There was even time for Dzeko to break through only to see his finish hit the legs of the County keeper.
Five nil was a bit over the top but goal scoring breeds confidence
Team
Hart 6.5: Richards 7.5, K.Toure 7. Lescott 7 Zabaleta 7: Y. Toure 7 ( Barry), Viera 7.5, Silva 7.5 ( Jo) Kolarov 7, Balotelli 5.5 (Tevez 7.5) Dzeko 7