City 3 West Brom 0
February 5th 2011 46,846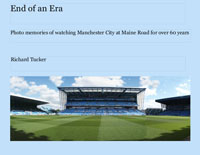 My book 'End of an Era' containing photo memories of days at Maine Road is now available from Blurb.com.
There are over 300 images on 200 pages.
Click on the image for details

It was happy birthday to Carlos Tevez who celebrated his 27th birthday with a hat trick in the first half of this easy win over West Brom. City could have added even more but they took their foot off the accelerator and a reorganized side kept a clean sheet with Joe Hart back to form with several good saves. It was an interesting team setup with Kolarov starting in midfield rather than left back. It worked quite well but at the expense of Dzeko who was on the bench. Once again Silva and Tevez played well together so it's going to be difficult for the manager to decide on his best formation especially when Balotelli becomes available. With Johnson out of action with injury we do need to attack on a wide front and no doubt that is why Kolarov was used as a wide midfielder. With the derby game next it will be interesting to see the tactics in a weeks time. Arsenal's 4-4 draw at Newcastle and the United loss at Wolves has added to the importance of the Old Trafford game.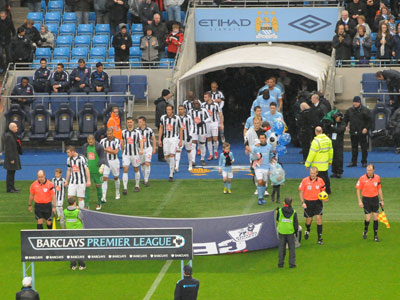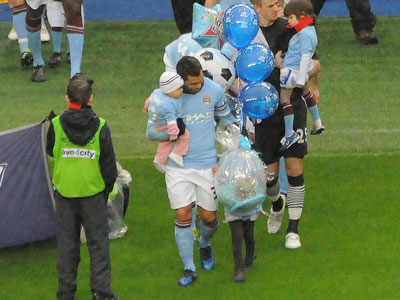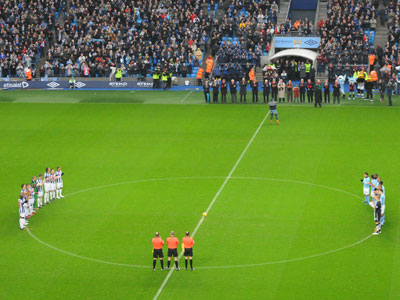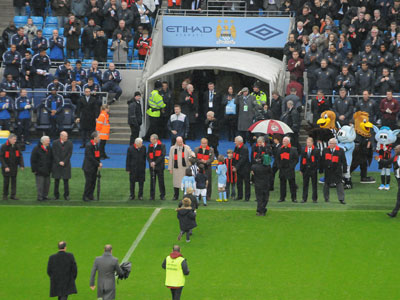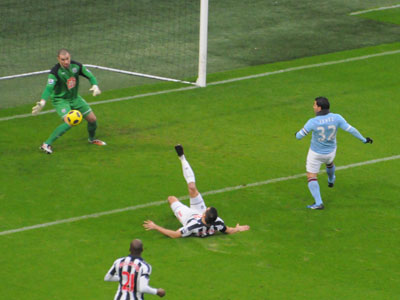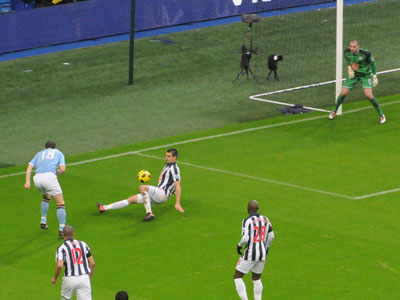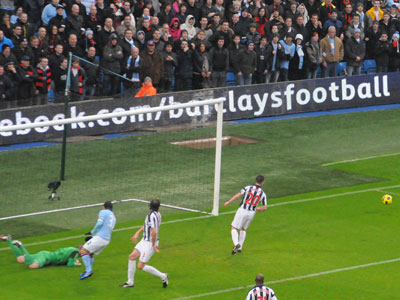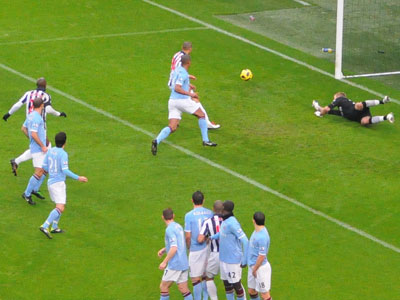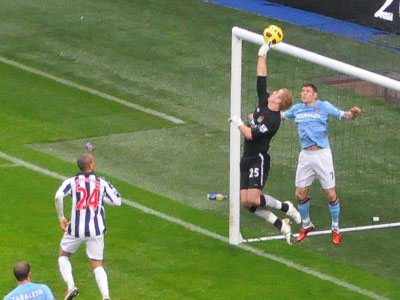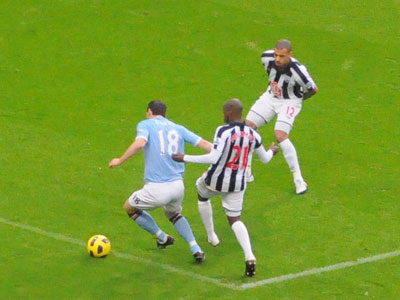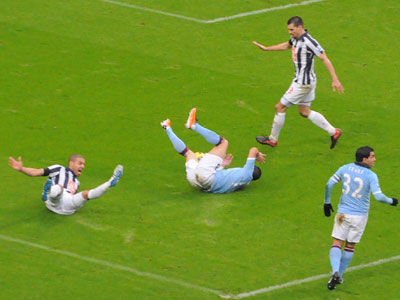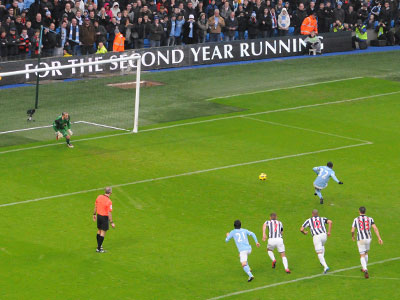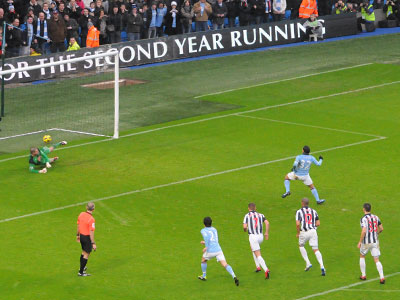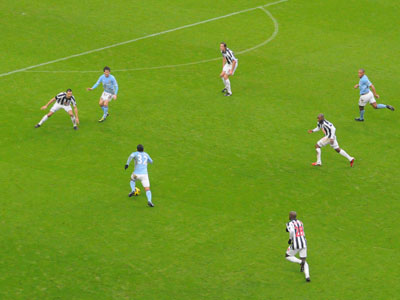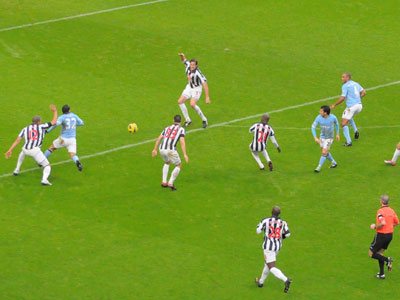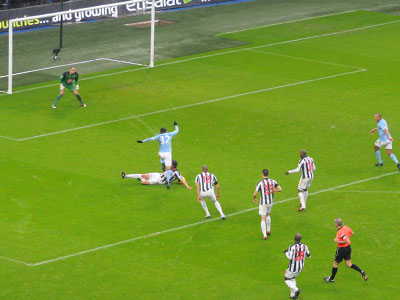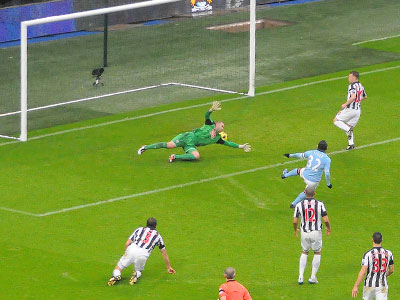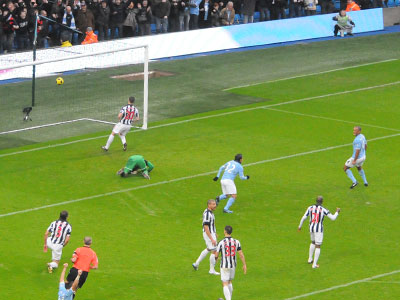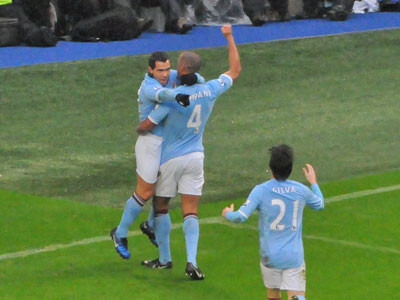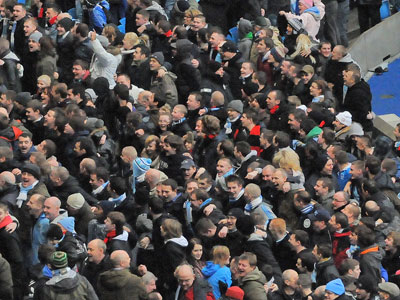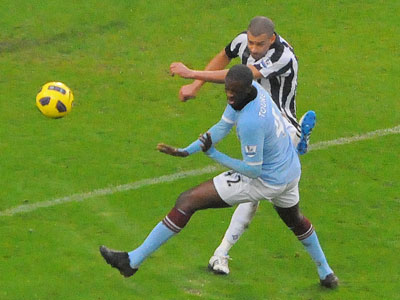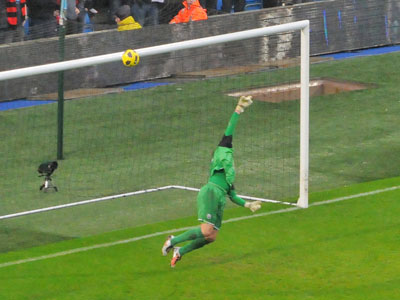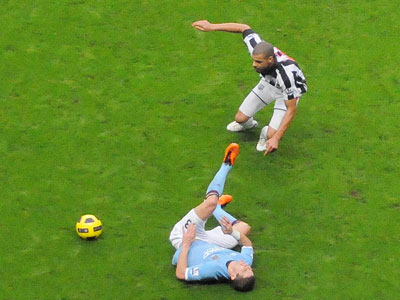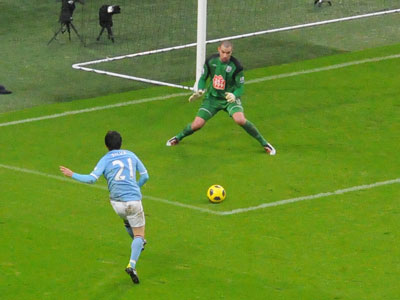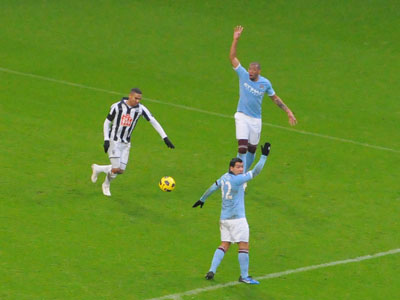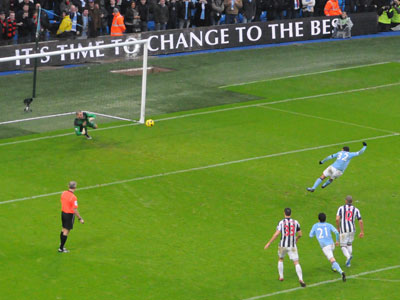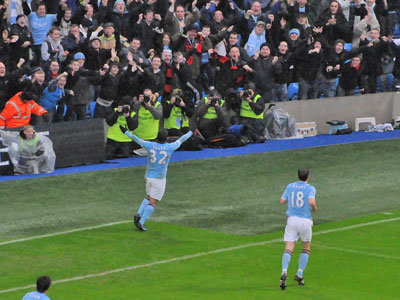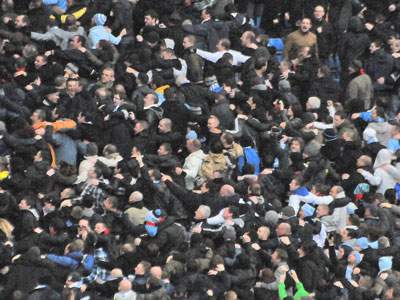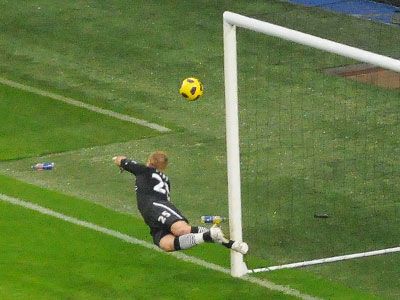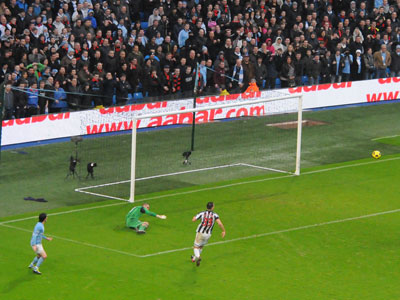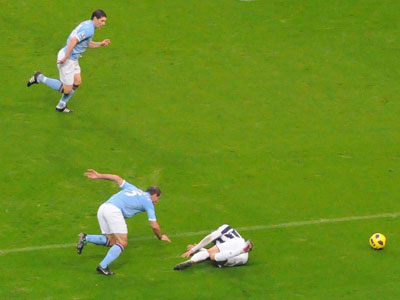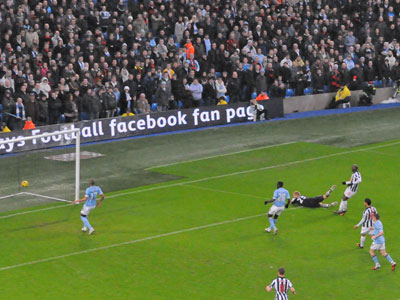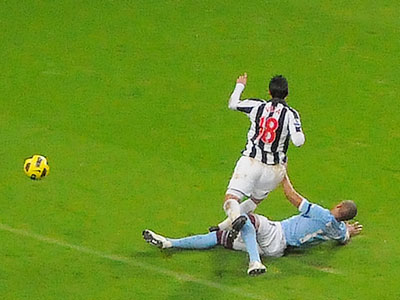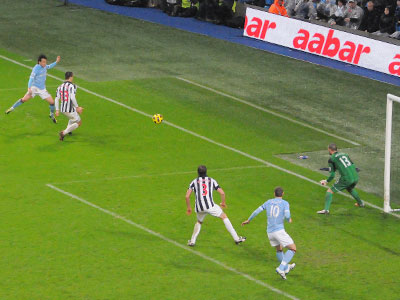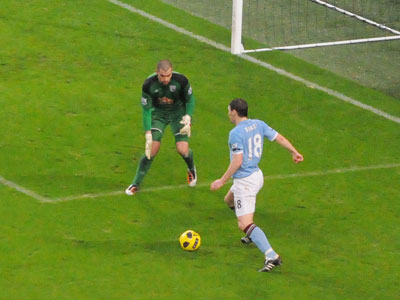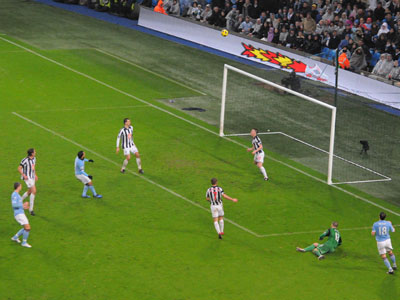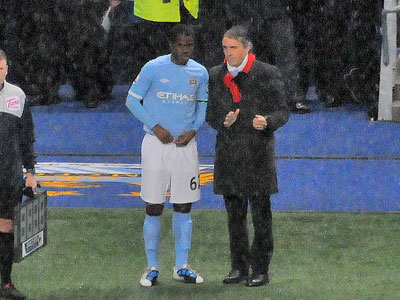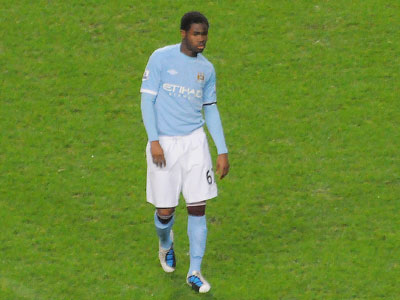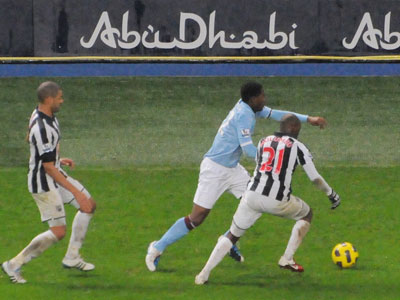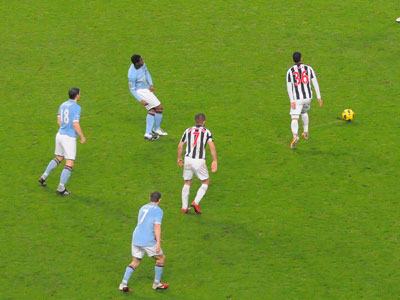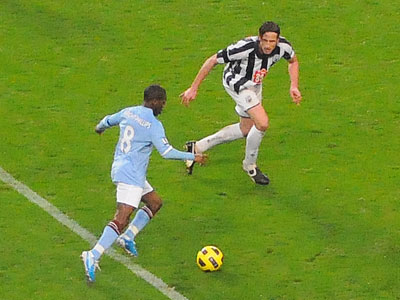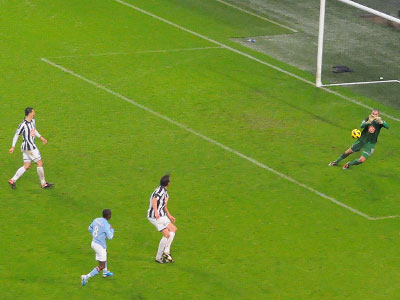 Richards and de Jong were absent from the squad with injury but we had the return of the Toure brothers and with Kolarov in midfield Dzeko was on the bench
Once again Carlos Tevez appeared with his daughters well protected from the rain and complete with balloons for his birthday
We had a minutes applause in memory of Neil Young City legend who died recently. Many of his past colleagues were there to pay a final tribute to a great player
Joe Hart was given an early chance to show his form with this clean catch
After just 5 minutes Tevez hit the post with a first time effort from a great cross from Kolarov
Three minutes later and another Kolarov cross was nearly converted by Tevez
Hart saves a free kick by Brunt pushing the ball wide and away to safety
He then had to push an effort from the corner over the bar
Following a free kick for a foul on Tevez Kolarov made a break down the left wing and was brought down by Reid and a penalty was awarded
Despite missing his last penalties Carlos Tevez made no mistake this time sending the keeper the wrong way
City went further ahead a few minutes later with a great move. Kompany ran with the ball from defence - passed to Tevez who used Silva for a wall pass ... and .....
...hey presto Carlos Tevez placed it past Myhill to give City a two goal lead after just 22 minutes
It was an excellent goal and the three players involved were quick to celebrate
The Poznan now has spread to many parts of the ground
Yaya Toure tries to block a clearance
A stunning shot from Kolarov is just tipped over the bar by Myhll
Kolarov was a constant danger to West Brom and was brought down several times
Silva missed a great opportunity to add to the score after 36 minutes after being put through by Tevez
Two minutes later and a cross by Zabaleta was handled by Thomas in the box and Tevez put away the penalty
So City went three up and Carlos Tevez celebrated a hat-trick on his birthday and the crowd went Poznan!
Zabaleta was booked for this foul on Odemwingie
After 60 minutes Fortune missed a good chance when he shot wide from a good position
A great late tackle by Boateng deprives Vela of a chance
Silva shoots from a narrow angle into the side netting
Barry gave Tevez a great chance to add to the score but Carlos shot over the bar
With just a few minutes to go we had a late substitution when number 62 ( City's highest) the unknown Abdul Razak came on for Silva
The young 19 year old Ghanaian was a surprise choice for the bench but he showed some nice touches in the short time he had on the pitch
There was a big cheer for SWP when he came on as sub for Tevez after 86 minutes. He forced a save out of Myhill in the last minute
Hart 7.5: Boateng 6.5, K. Toure 7, Kompany 7.5, Zabaleta 6.5: Milner 7, Y. Toure 7 (Dzeko 6.5), Barry 7, Kolarov 7.5, Silva 8 (Razak) Tevez 9 ( Wright-Phillips)