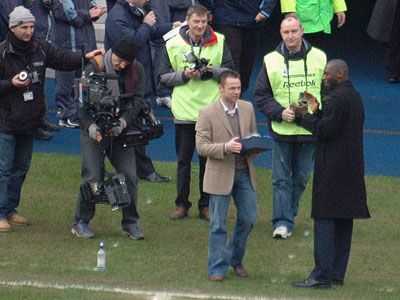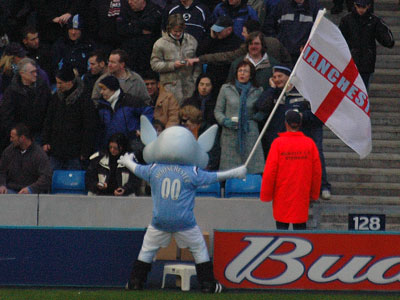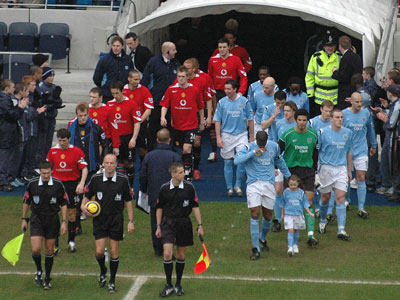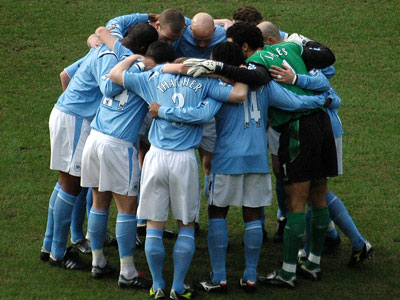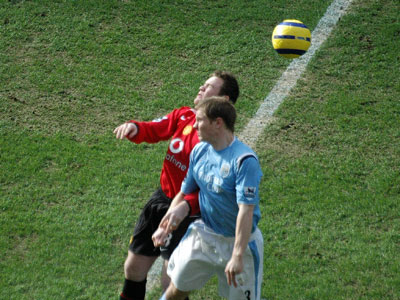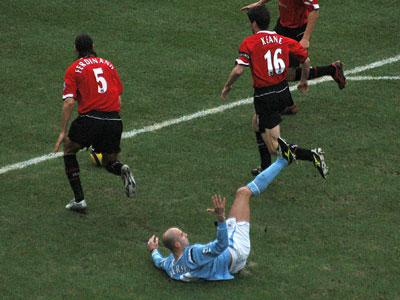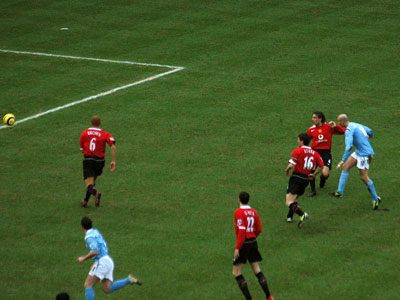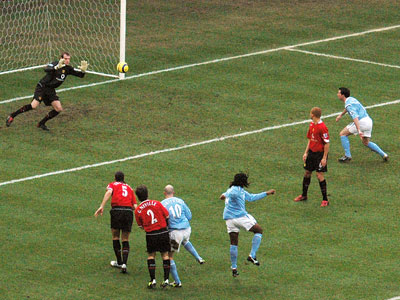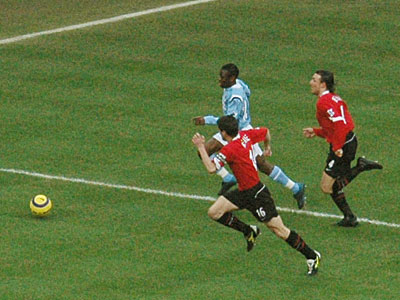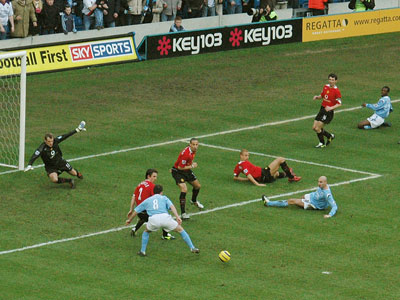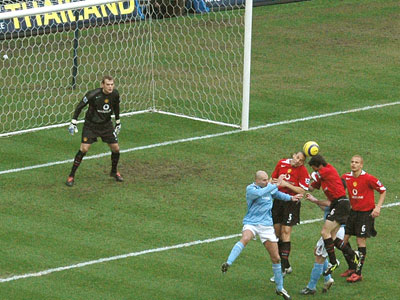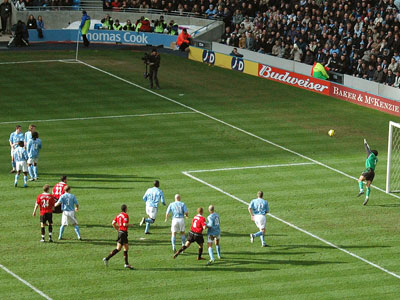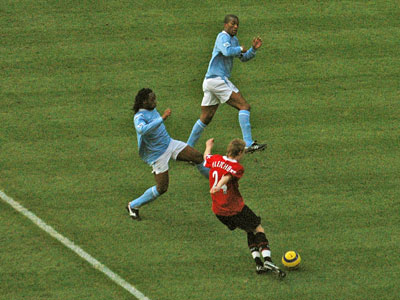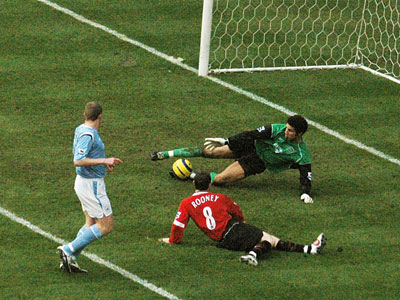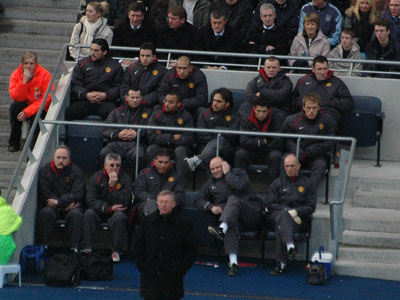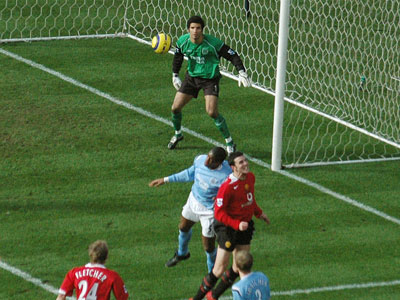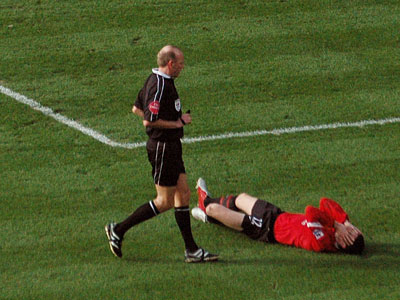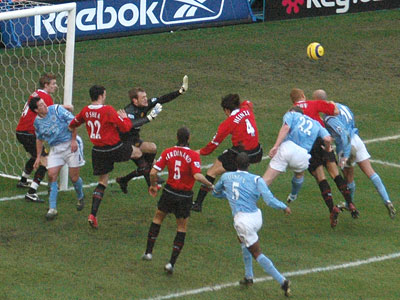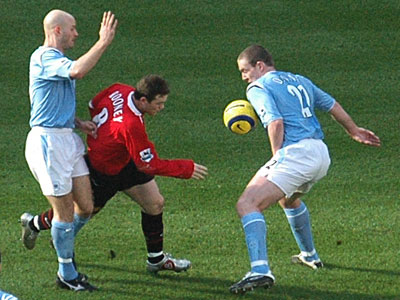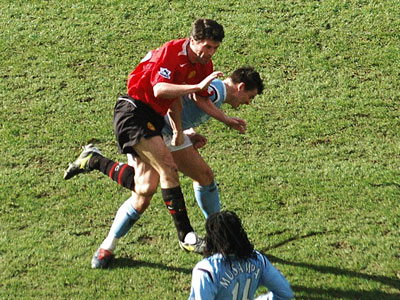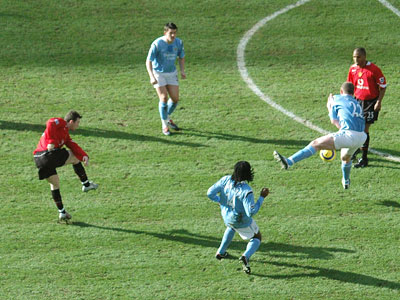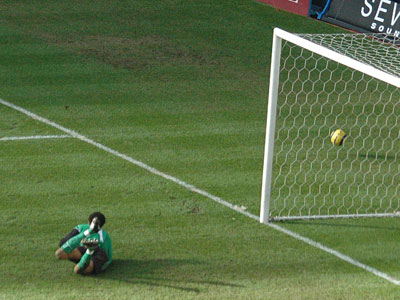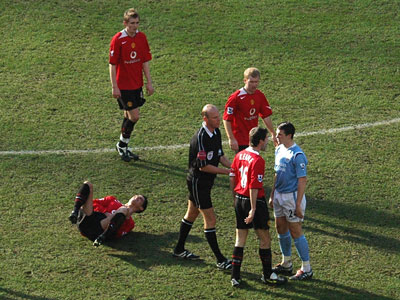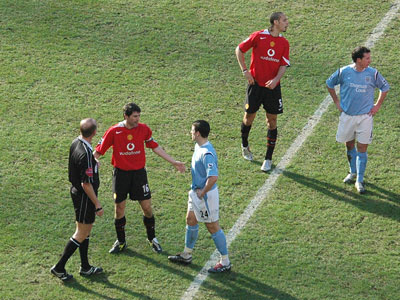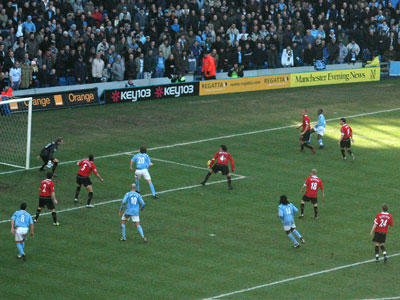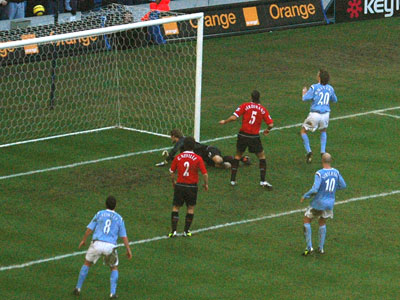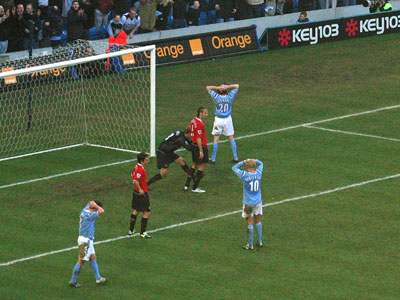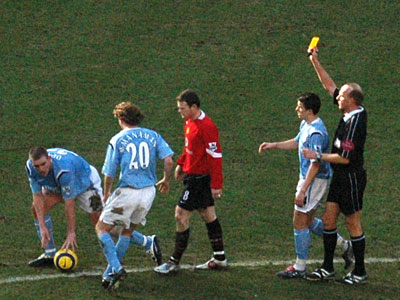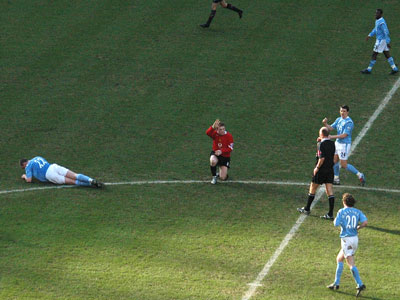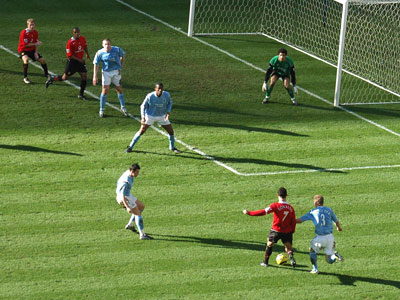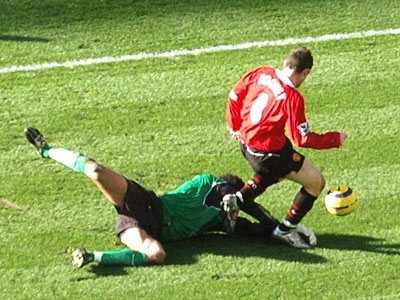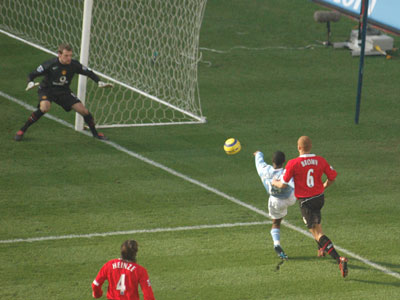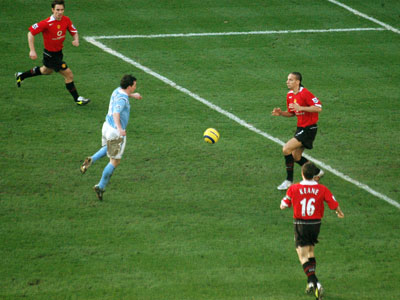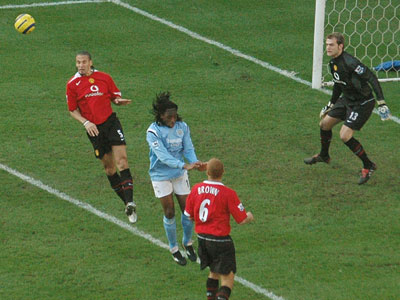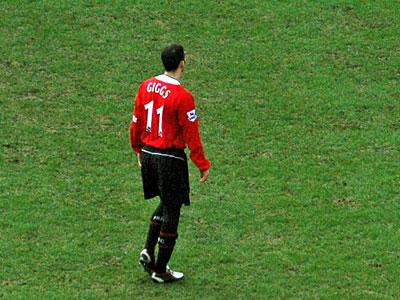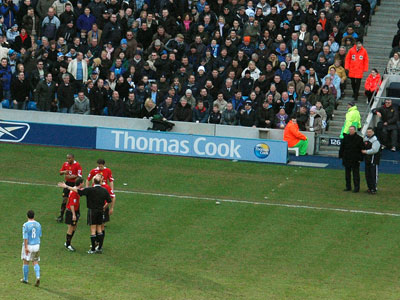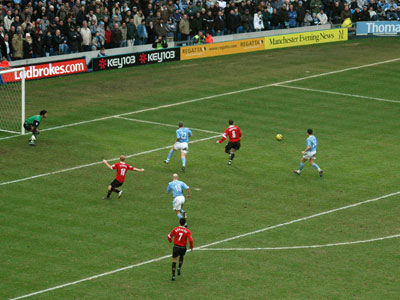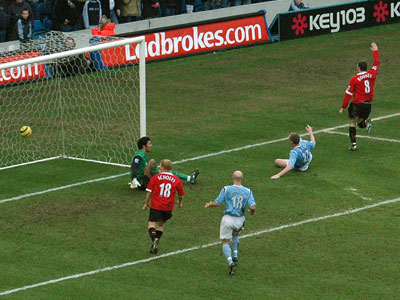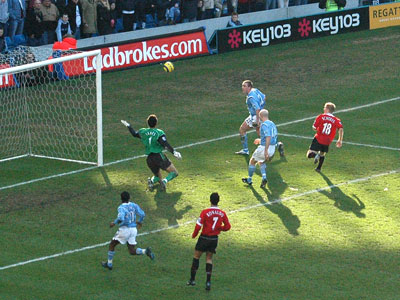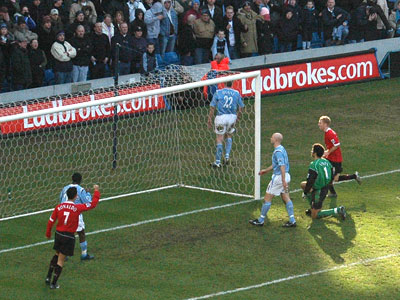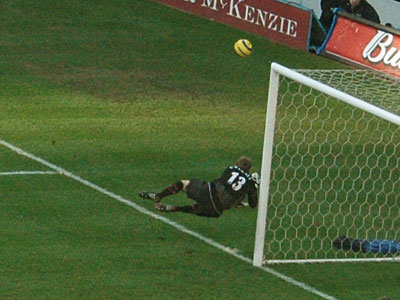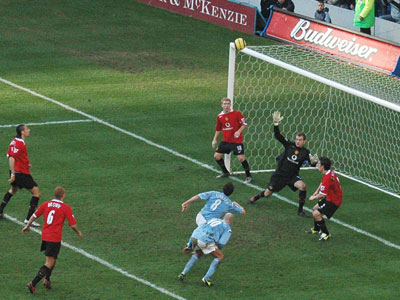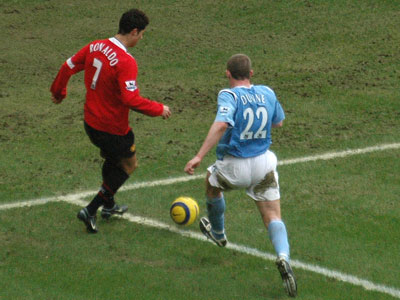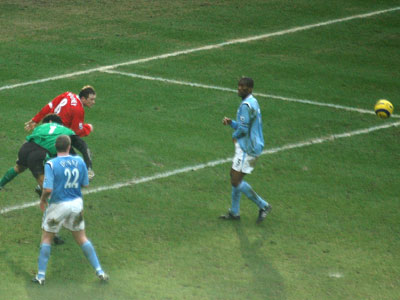 Team
James 6: Mills 6 (Bradley Wright-Phillips 5), Dunne 7, Distin 7, Thatcher 7: Shaun Wright-Phillips 6, Barton 5 (Macken 5), Sibierski 5, McManaman 5, Musampa 5: Fowler 5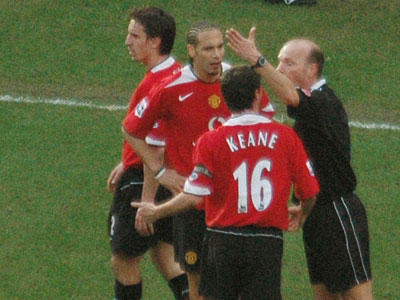 What a miss by McManaman. A good run down the right by SWP and Steve was splendidly placed to slot home from the inside the six yard box. He put it wide and I wonder whether that would be the last chance of his career as he is likely to quit at the end of the season.
The City players were devastated. It could have been three nil by this time ( 36 minutes).So McManaman still has not scored a goal for City!
Manchester City 0 Manchester United 2
Feb 13th att. 47,111
After their great effort against Chelsea at Stamford Bridge with stunning displays by City players James and Dunne, expectations among City supporters were high for the 'derby' game against their rivals who had to win to keep anywhere near Chelsea in the run-in for the Premier League Championship. However as we were to find out City are City and nothing is certain.
A pre-match presentation saw City favorite Shaun Goater present Paul Dickov an award for the fans best-ever City goal - the all important equalizing goal against Gillingham in 1999 -see here
Moonchester tries to summon some passion from City supporters before kickoff
With Bosvelt suspended McManaman filled his place.
Robbie Fowler was the lone striker with 5 in midfield.
The now familiar City pre-match huddle had that little extra significance.
There was early action for Thatcher who I thought had a good first half - here in a duel with Rooney.
Sibierski now away from the left of midfield was more comfortable on the ball -except here of course
An early shot on goal by Sibierski went wide but at least City were attacking.
Kiki Musampa now settling in well nearly scored in the 3rd minute but Carroll saved.
A pass by Barton put Shaun Wright -Phillips away down the right wing but his centre failed to find Fowler or Sibierski neither of whom had pulled away from their markers to give a target. Another good chance down the drain.
Rio Ferdinand clears a City attack
United's only effort early on was a free-kick by Rooney which was saved by David James for a corner.
An attack down the right by Fletcher ends with a good James save at the feet of Rooney.
The United manager and bench watch impassively as their team fail to make any headway.
A lively tussle between Barton and Keane is closely watched by referee Bennett.
A clash of heads between Distin and O'Shea ended with the United player in some distress. He later recovered and played on
Dunne does his best to avoid handling the ball in this skirmish with Rooney.
Plenty of bodies at this City corner but United survived again.
Joey Barton and Roy Keane in another midfield battle.
Looks like a painful block by Richard Dunne.
Rooney hits a long range shot just past the post.
John O'Shea goes down a second time and is substituted by Ronaldo after just over half an hour.
In the ongoing encounter between Barton and Keane I tried to lip read but just could not decipher what film they were going to see tonight! Fowler and Ferdinand seem to be more interested in other goings-on - was it an American flag being waved at the North end.
Rooney brings down Richard Dunne and gets booked for the foul.
With Ronaldo now on for O'Shea Ben Thatcher had more to cope with down the right flank.
Another good save by James at the feet of Rooney.
Half time and it was goalless but City had the best of the chances and should have been ahead but it was the 13th.
Moments after the restart a throw-in puts Wright-Phillips away. He beats Brown and when Carroll beats out the cross there is Fowler to put the rebound wide! Another fine miss!
After 64 minutes Giggs replaced Fletcher and what a brave man he was - appearing in black tights! The City supporters gave him a suitable welcome on his 400th Premiership appearance
A hair raising experience for Musampa as Ferdinand heads clear.
Roy Keane continued to give the referee lots of grief all match while the 4th official has to restrain the United manager
On 68 minutes United took the lead. Musampa, caught out of position allowed Gary Neville to slot through a good ball to Rooney who flicked it in the net via Dunne foot. A similar position to McManamans miss! The deadlock was broken and City were tiring.
A few minutes later and it was game, set and match. Rooney crossed from the right and Richard Dunne trying to clear put it over his own keeper for an own goal. A great shame for Dunne who had played well and 99 times out of 100 he would have cleared it hence no shout from James I presume.
City tried to get back into the game. Musampa had a good effort saved by Carroll after 80 minutes
A minutes later Fowler puts over the bar from a good position. It was not City's day.
By now City were a spent force and despite putting on Bradley Wright-Phillips and Macken they were unable to make inroads on the United goal. In fact United came nearer to scoring with efforts by Ronaldo,Giggs and Rooney. In the latter stages United brought on Philip Neville so we had the novelty of two sets of brothers playing in a derby game.
Missed chances cost City this game. Territorially United easily won on points but had City taken those early chances it might have been very different. City supporters will be interested to learn that also today Anelka scored one and made another in a 4-0 win for Fenerbahce against Istanbul Sporting in his first full match. He also came on last week after 60 minutes in a 1-1 away draw
So not exactly a poor performance. City had their chances but spurned them all. Defensively Thatcher had one of his better games. Mills defends well but passes badly, Distin played well as did Dunne apart from his own goal. Sibierski looks happier in the centre of midfield. Musampa flits in and out of the game and will get better as he comes to terms with the Premiership. Shaun Wright-Phillips was well marked and we need a plan B and generally much better finishing.