City v Newcastle United 1-1
Feb 2nd att. 45,752
The January Sales window ended in an anticlimax with no time for a replacement for Anelka who eventually penned his signature for Turkish club Fenerbache. Life without Anelka now starts but then did it ever exist with him. Yes he did score his fair share of goals for City - 45 in 101 games which is a pretty good percentage but he never seemed to fit in somehow. He was tried with several partners upfront but nothing seemed to work. There was not a word about him in the programme today. Nothing about his ever smiling face which lit up both dressing room and stadium. Nothing about his gushing personality and eagerness to carry out extra PR work on behalf of the club. Nothing about his eagerness to shrug off minor injuries and devotion to training. Ah well we have saved a bit of cash for the summer and with the pending departure of Kevin Keegan next season the new manager/coach will have some pocket money to play with. Interesting caller on GMR last night mentioned that a foreign coach had already been lined up! I wonder who that could be?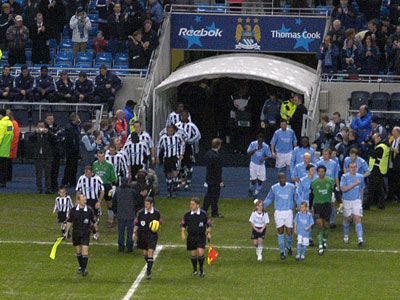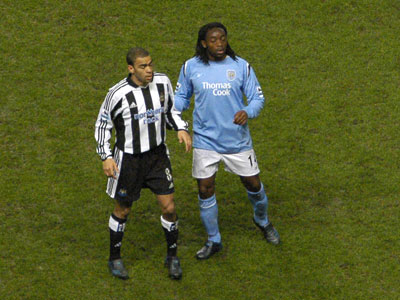 City made a few changes. Thatcher came in for Jordan at left back and making his debut on the left side of midfield was Kiki Musampa , a loan signing from Athletico Madrid. I gave details of the new player here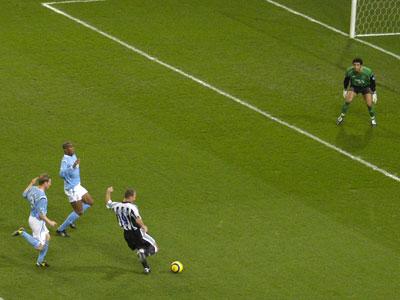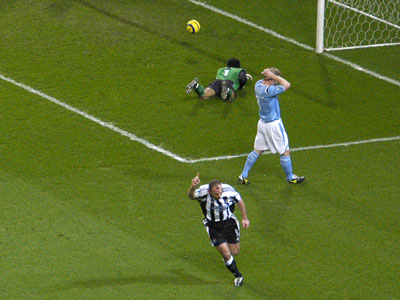 After just 9 minutes Newcastle took the lead. A long cross field ball from Titus Bramble caught Thatcher out of position. It reached Shearer who brought it down with his chest took a couple of strides and crashed it past James who had little chance.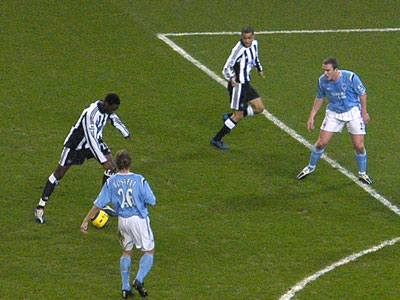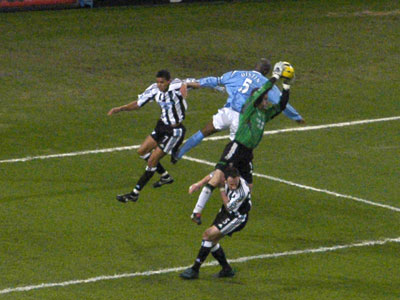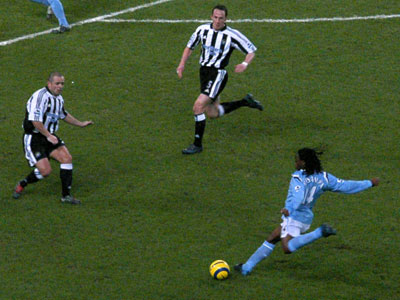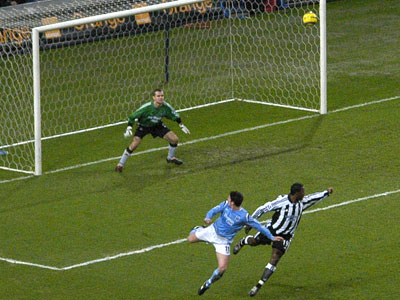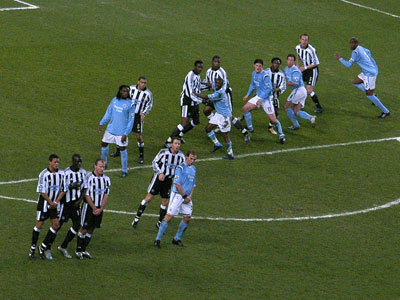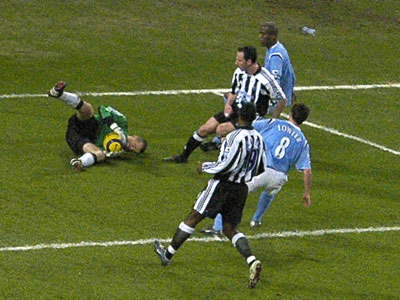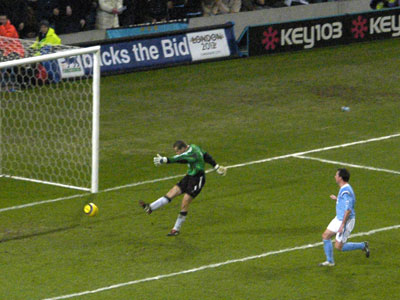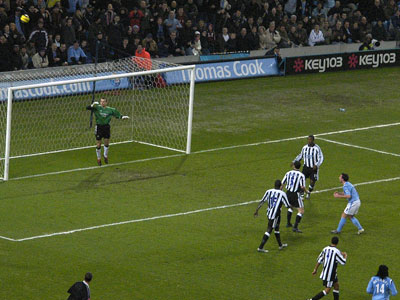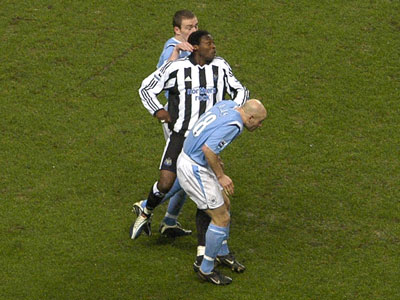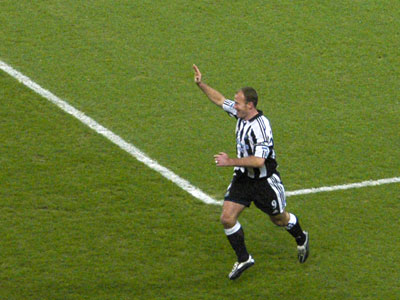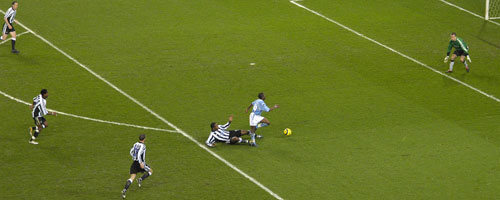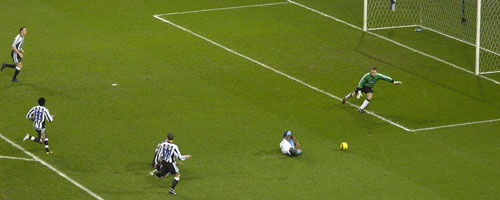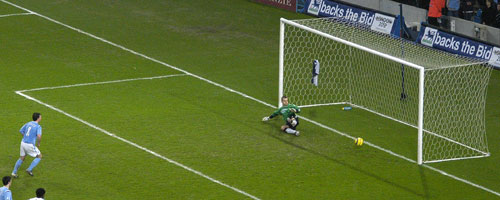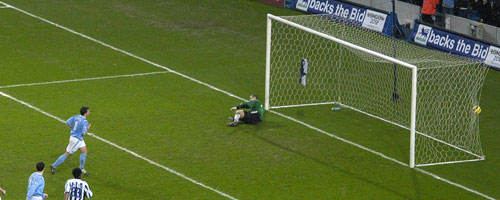 Generally speaking SWP was well marked by Titus Bramble so his effectiveness today was limited.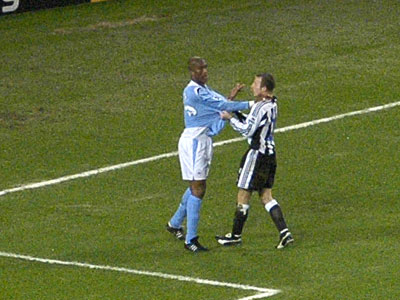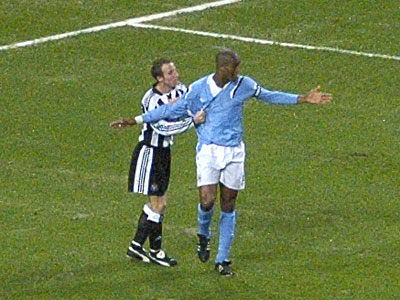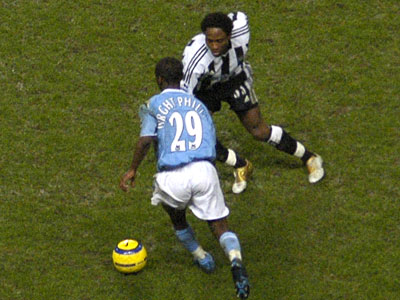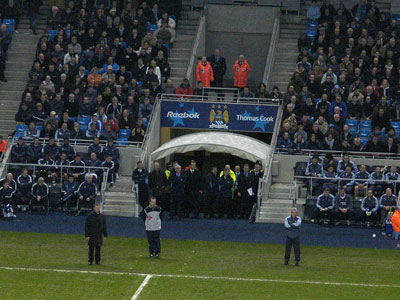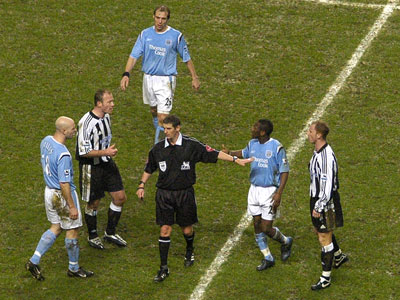 It was Shearer's 250th goal in his career and at 34 he is still a formidable opponent.
5 minutes later and Shola Ameobi had a chance but shot well over the bar
Apart from the odd free-kick City gave Given little to do in the first half
New signing Kiki Musampa showed lots of skill and looked very comfortable on the ball with many nice touches.
A Macken flick goes harmlessly wide.
Barton seems to be the player taking free-kicks at the moment. Pity they are not very good! Ah for the days of Tarnat.
One of the few saves Given had to make.
Given gave the visiting supporters a shock when he miss-kicked a back pass. He had to recover quickly with Fowler hovering nearby
Just before half-time Fowler had a good chance from a Distin pass but headed well over the bar
It looks as though Dunne is nicking Ameobi's ear ring whilst Mills is just keeping his head down! Mills' passing often left a lot to be desired especially in the first half.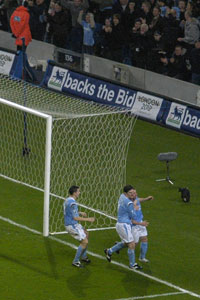 After a dull first half with little action the second could only get better. It did after 4 minutes after the restart a move involving Barton and Macken saw Shaun Wright-Phillips break into the box where he was floored by Titus Bramble. He was lucky to escape a card as he looked like the last defender. Some refs would have given him a red.
The resultant penalty was scored by Robbie Fowler who sent Shay Given the wrong way.
Six minutes later and Distin and Bowyer nearly came to blows and both were booked for their trouble though the Newcastle player looked the guilty party.
As the second half progressed the game became stretched but neither keeper had any big saves to make
It was a game neither side deserved to win and there were two frustrated managers on the touchline wondering how such talented players could give the keepers nothing to do
.
Referee Andy D'Urso has to sort out minor arguments with Nicky Butt a sub for Dyer being the focus of attention. Ex United player Butt got a warm welcome from he home crowd!
Team
James 6: Mills 5, Dunne 7, Distin 7, Thatcher 6: Wright-Phillips 7, Bosvelt 7, Barton 6, Musampa 7: Macken 6, Fowler 7

Not the best of games and instantly forgettable. A draw was a fair result and there were very few highlights. Bosvelt who got booked as well as Distin will now miss the 'derby' game. Pity. We will miss him in midfield.