City 3 Stoke City 0
December 21st 2011 46,321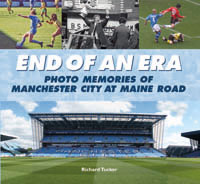 Now available from Amazon ( click on image for link)
WH Smith and the City shop
This victory was so easy it was almost embarrassing. So City will be top of the Premiership at Christmas for the first time since 1929. Under the leadership of Roberto Mancini they have achieved a faultless home record with 9 wins out of 9 scoring 28 goals and conceding only 4. It was almost Mancini's 2nd anniversary and I cannot remember another City manager who regularly gets his name chanted and sung by the supporters in so positive a way. Long may he reign!
The game was so different from the Arsenal one. Stoke came to get a point and rested several key players and they defended with often six at the back so City had to be patient. After the first goal though City completely dominated the game and Joe Hart had one of his easiest days. Two goals from Aguero and a cracker from Adam Johnson completed the rout and it could have been double that. Aguero was a constant threat and should have had a couple more and Johnson making a rare start had a good game too. Stoke were never in the game and rarely got into our half. Their supporters - a bit low in numbers - had one chorus of 'Delilah' before the game and from the first whistle they had little to cheer about. I was impressed with the way the City players wanted the ball and the movement off the ball was really good making spaces for others to run into and the passing was first rate. Stoke tried to stifle the City attack by sheer numbers of players filling the last third so considering the hard game against Arsenal at the weekend when there was no time to relax it was refreshing to see how fluid the City attacking plan has become. With two tough away games at West brom and Sunderland to come it was no surprise to see City ease off once they had obtained a three goal lead.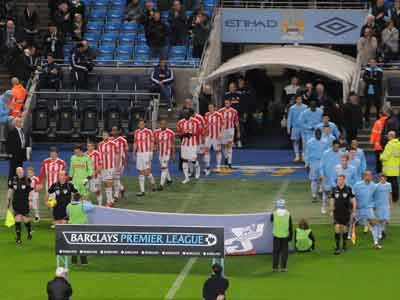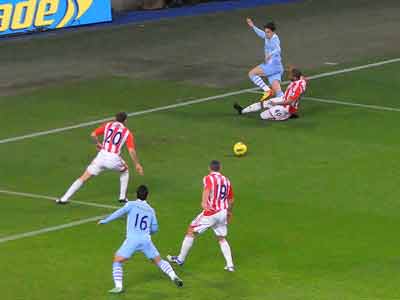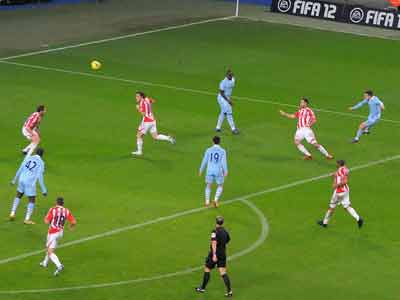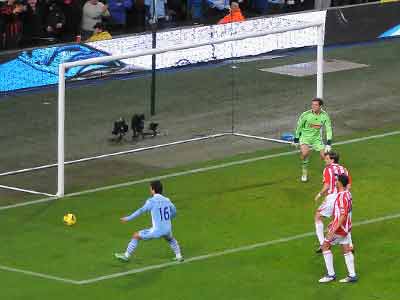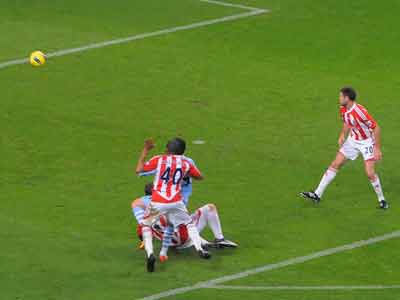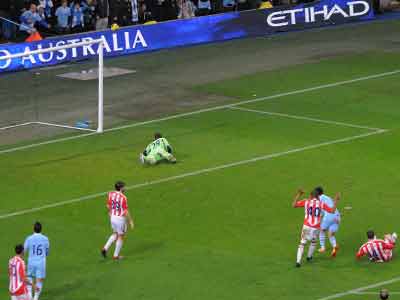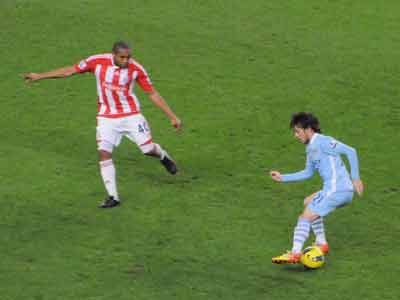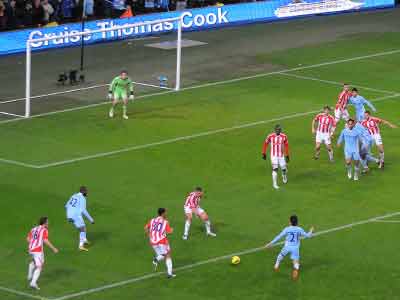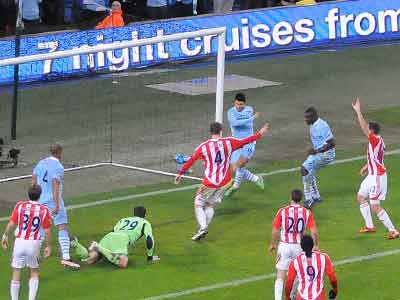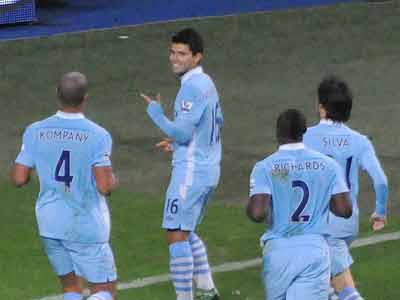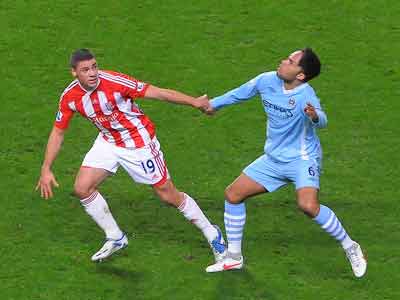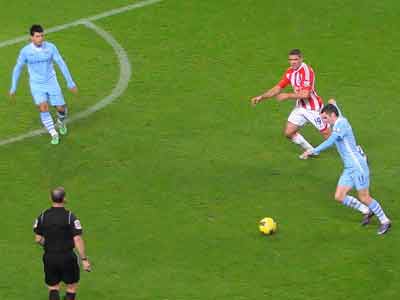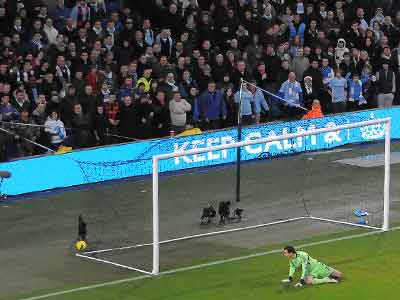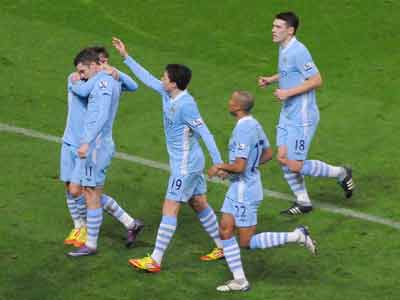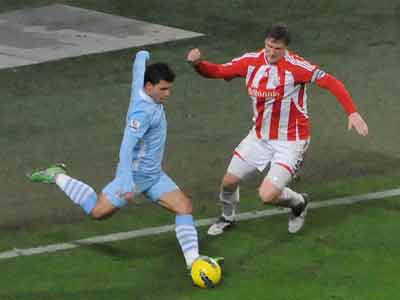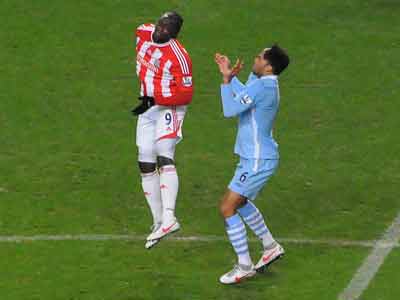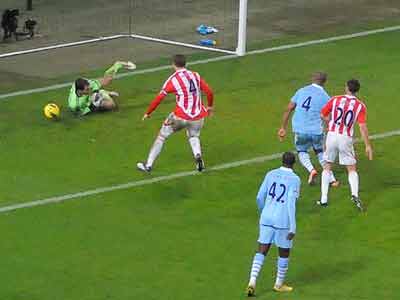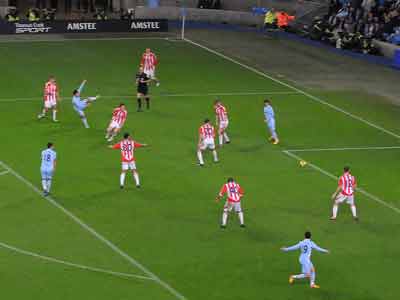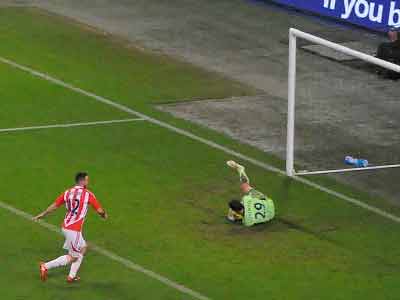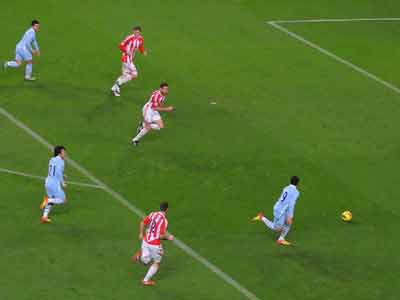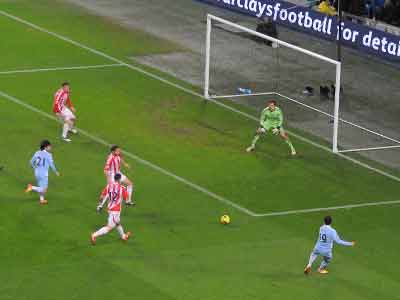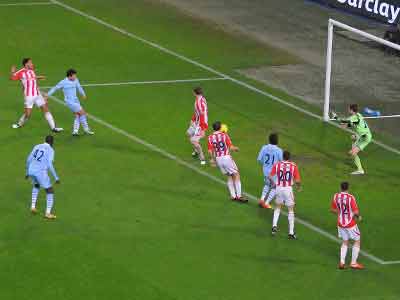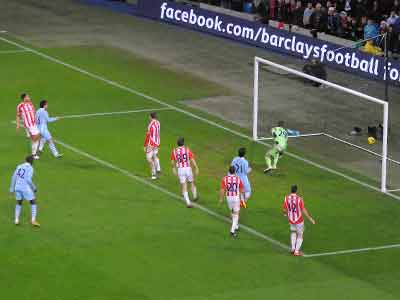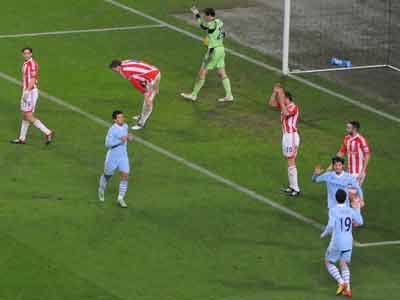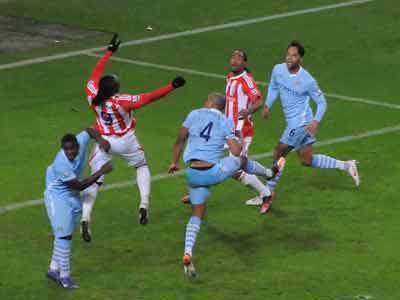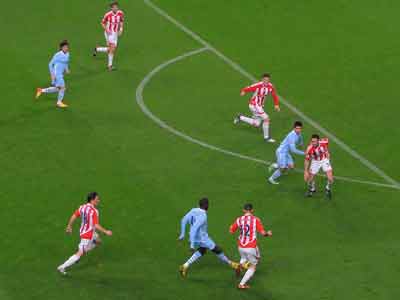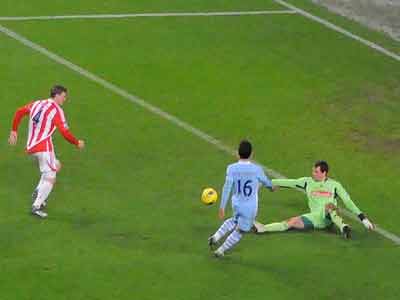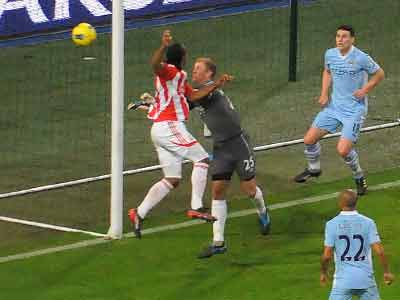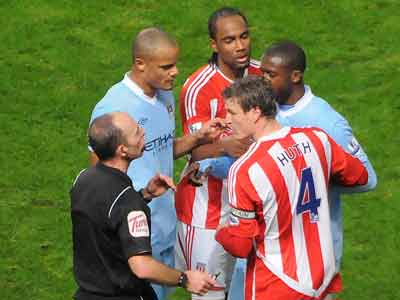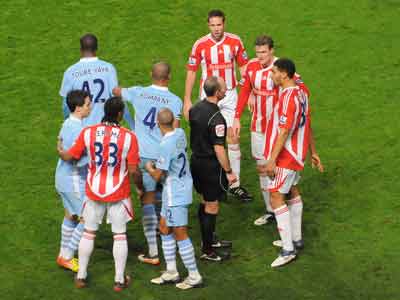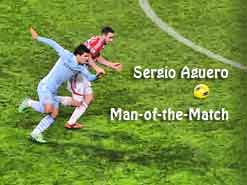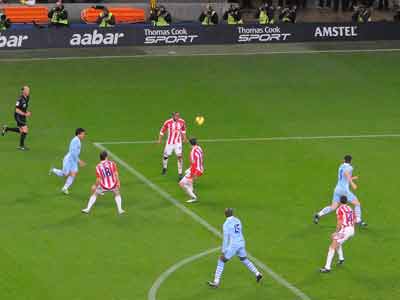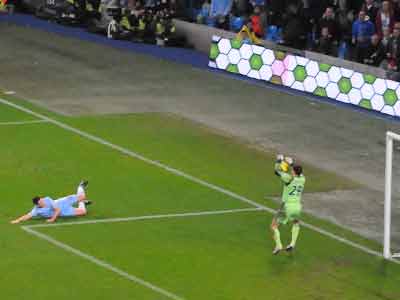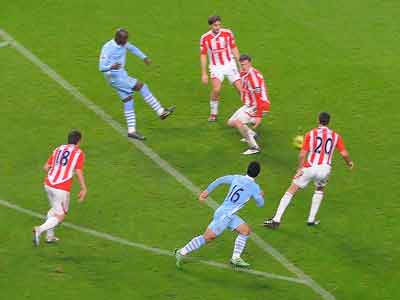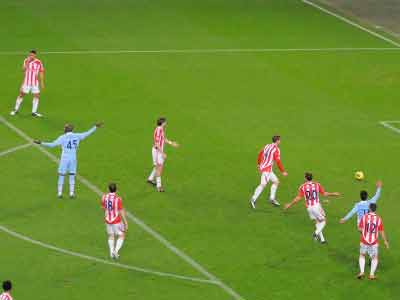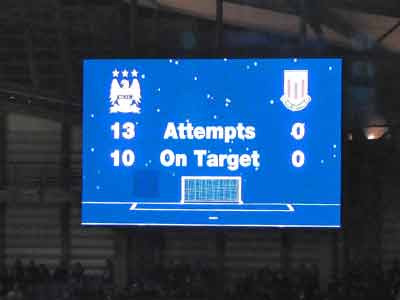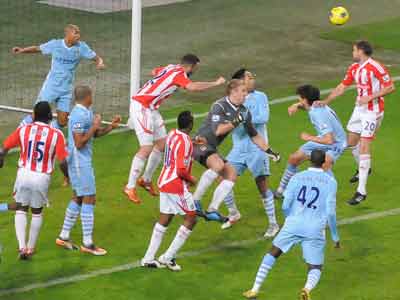 Clichy returned after suspension and Lescott came in for Kolo Toure and Johnson made a rare start
City were soon on attack with Nasri down the right flank
Johnson made his presence felt early on when he hit the bar with an excellent effort after 14 minutes
On 18 minutes a shot by Nasri goes just wide of the goal
Stoke often had six players strung across the box in an effort to hamper City
David Silva was always a threat and after 28 minutes his pass found Yaya Toure ......
.........whose effort was parried out by Sorensen to the far post where Aguero was at hand to tap the ball into the net
Stoke did appeal for offside but the goal counted and City had the much needed first goal
Aguero enjoys his 14th of the season so far
Walters tries to get Lescott's attention!
A few minutes later and Adam Johnson fastened onto a faulty clarence and cracked the ball past the keeper to make it two nil
It was a great strike and Adam's 6th goal of the season
Robert Huth had his work cut out dealing with Aguero
Sorensen just manages to save a free kick
Lescott demonstrates his cricket catching technique.
Will he play for Lanky next season?
7 minutes into the second half and Aguero once again tests Sorensen
There was better to come and a minute or so later Nasri breaks down the right.......
...... and puts across a strong pass which is hit first time into the goal by Aguero- three nil and game over
It was really too easy and just reward for some splendid passing
Stoke did occasionally get into the City penalty area!
A few minutes later and Aguero should have been celebrating his hat trick. A great pass from Yaya Toure put Aguero through with only sorensen to beat but his attempted nick over the keeper failed and the ball went wide
Kun Kun shows his dismay at the miss
Hart had little to do all game
Mike Dean has a word with a few players after a tackle but it must have been an easy game for him to referee He did however have to adjudicate at the rare occurrence of a foul throw-in - by a Stoke player!
Aguero puts Barry through with a great pass but Barry's final effort is saved by Sorensen at the expense of a corner
Mario Balotelli on for Silva after 68 minutes appeals for a penalty after his shot is blocked by Huth with his arm but it was from very close range and the ref said no penalty
There was much laughter when these stats went up on the video board towards the end.
Hart was brought into action in the final minutes but City cleared their lines to once again keep a clean sheet
Team
Hart 6.5: Richards 7, (Savic 6.5) Kompany 7.5, Lescott 7, Clichy 7: Johnson 8, Barry 7.5 (Milner), Nasri 7.5, Silva 7.5 (Balotelli 7)Yaya Toure 7.5, Aguero 8.5